PayPal Adaptive Payments
This plugin connects Easy Digital Downloads to the versatile PayPal Adaptive Payments gateway. With the PayPal Adaptive Payments gateway integration, you can easily split payments with up to 6 different receivers at the same time. You can set each receiver up with a specific percentage of the payment within the settings for this gateway. You can also determine whether you would like to use chained or parallel payments.
Get more information about Adaptive Payments.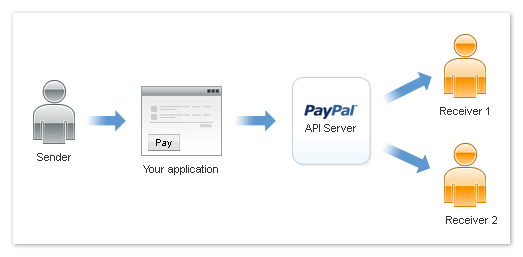 Note: if you are wishing to use PayPal Adaptive Payments for crowd funding, please see PayPal's policies on crowd funding sites.
Changelog
Version 1.3, January 15, 2016
Fix: Conflict with Multi Currency and Currency Switcher plugins.
Version 1.2.4 - October 25, 2014
Fix: Issue with timezones after time changes
Version 1.2.3 - August 26, 2014
Fix: Issue with invalid email when trying to make a purchase
Version 1.2.2 - March 25, 2014
Fix: Fees Payer variable missing on Preapproval api call
Version 1.2.1, November 5, 2013
Fixed: fatal error during EDD upgrade
Version 1.2 - October 28, 2013
New: Preapproval and Payment tokens to prevent the need for IPN
New: Additional logging for payments and preapprovals
Update: Remove unnecessary Meta Tags
Update: Language files
Fix: Issue where sender email was blank
Fix: Incorrect filter name for filtering receivers
Version 1.1.4 - October 21, 2013
Fixed a bug with cancelling payments before going through with the payment.
Version 1.1.3 - September 9, 2013
Fixed an issue with the cart contents not getting emptied.
Version 1.1.2 - July 10, 2013
Fixed: Fatal error: Cannot access empty property
Version 1.1.1 - June 20, 2013
New: Added additional gateway errors.
Fix: Conflicts with EDD 1.6+.
Version 1.1 - June 2, 2013
New: Introduce separate preapproval processing function for use with other extensions.
Fix: Make sure there are no errors even when PayPal marks a payment as success.
Version 1.0.1
Added an option to set who pays the payment fees.
Version 1.0