Affiliates Pro Integration Pack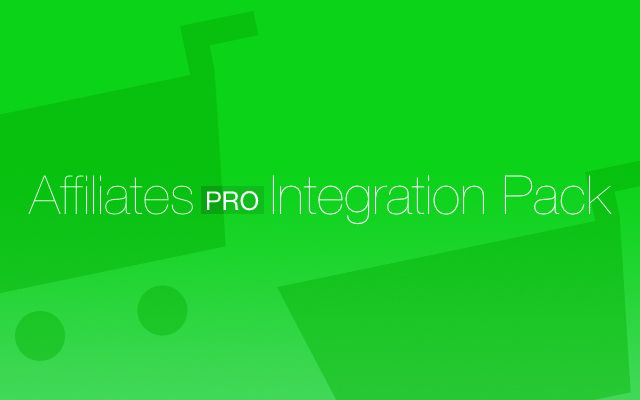 Affiliates Pro is a phenomenal WordPress plugin that allows you to create a complete affiliate system within your WordPress website, without requiring any third party services.
Boost Sales with Affiliate Marketing for your WordPress site.
The Affiliates Pro plugin provides an affiliate management system for sellers, shops and developers, who want to increase sales with their own affiliate program immediately.
Features of Affiliates Pro
Real-time reporting
Referrals and affiliate link statistics are recorded and available instantly, as transactions are processed.
Unlimited Affiliates
Easy affiliate recruitment
Affiliates can sign themselves up or be added manually
Fixed, percentage or formula based commissions
Referral amounts can be flat rates, percentage of net sales amounts and based on custom formulas.
Support for default referral rates, and user-specific rates
Flexible affiliate areas
Create as many pages as you need showing affiliates their stats, banners, links, profile, …
PayPal Mass Payments
Simply pay your affiliates all at once. Pay-outs can be based on accumulated totals.
Quick & Easy Installation
Upload/install and activate the plugin from your WordPress Dashboard.
Screenshots
These screenshots are of the Affiliate Pro plugin itself.
This integration pack includes two plugins:
Affiliates Pro
Easy Digital Downloads Affiliates Pro Integration
For documentation on using Affiliates Pro, please refer to the plugin's official documentation.
Affiliates Pro is the same plugin that powers this website's affiliate program.
Change Log
Affiliates Pro
Version 2.4.0
addded missing text domains on labels
fixed some options not being saved under certain conditions
fixed cookie expiration for 0 days
GUI improvements (labels/checkboxes)
GUI improvements (highlight active filters)
Example contact form now produces a reference for referrals
added affiliate email search filter
improved hit recording (not querying robots when unused)
added referral notifications by status
added alternative admin email option for notifications
fixed empty filters without clearing on affiliates screen
EDD Integration
Version 1.2.0
added status update synchronization between payments and referrals
added dependency checks
Version 1.1.1
updated to use edd_… functions to retrieve payment meta and amount
Version 1.1.0
Updated integration to work with changed payment data.
Added update notifier.
Version 1.0
initial release