For the last month, we have been working toward releasing a major update to our Commissions extension. Commissions are a cornerstone of the business model used by many of our customers, not to mention our own website. Unfortunately, our Commissions extension has remained virtually unchanged for quite some time. This release is our humble attempt to remedy some of its more obvious shortcomings, and to make it a more robust and user friendly platform for our users.
The final release of Commissions 3.3 will be out soon, but we wanted to give store owners a chance to see the changes for themselves, offer feedback and help ensure the final release goes smoothly. Let's take a look at the changes you will find in the 3.3 release.
Improved product configuration UI
Historically, the configuration UI has been tucked out of the way in a metabox on the side of the product edit page. Configuration was accomplished through a few simple text fields through which you could enter a string of comma separated values to identify users who should receive commissions and the rates which they should receive. While this worked, and worked well, it afforded a very poor user experience in comparison with the standard we have set for our core products. In this release, we have made our first steps towards addressing this oversight.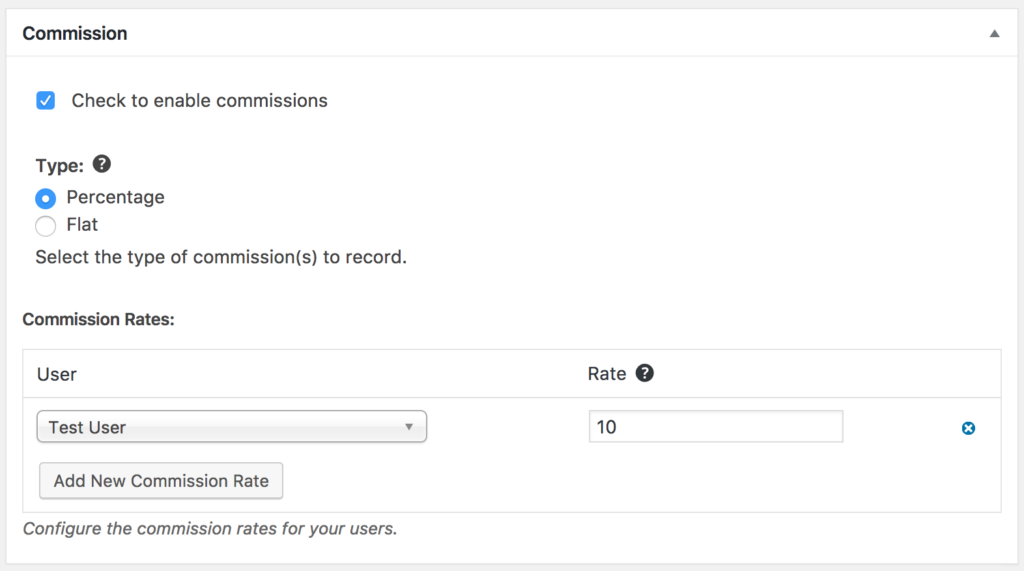 The first thing we did towards this goal was to move the metabox from the sidebar, to the core metabox section. This allowed us to provide users with a more intuitive and flexible interface for configuring products. The previously used comma separated text fields have been replaced with a more familiar repeatable field inspired by the repeatable fields present in EDD core. Each row in the repeatable field provides site owners with an easy to use dropdown for selecting users, and a text field for entering commission rates. Inline tooltips provide helpful documentation for the more complex points of the metabox.
Improved commission view and edit UI
Recently, we have been migrating many of our view and edit screens to what we call a card view. This view provides a much cleaner, better integrated interface through which you can view and edit commission records.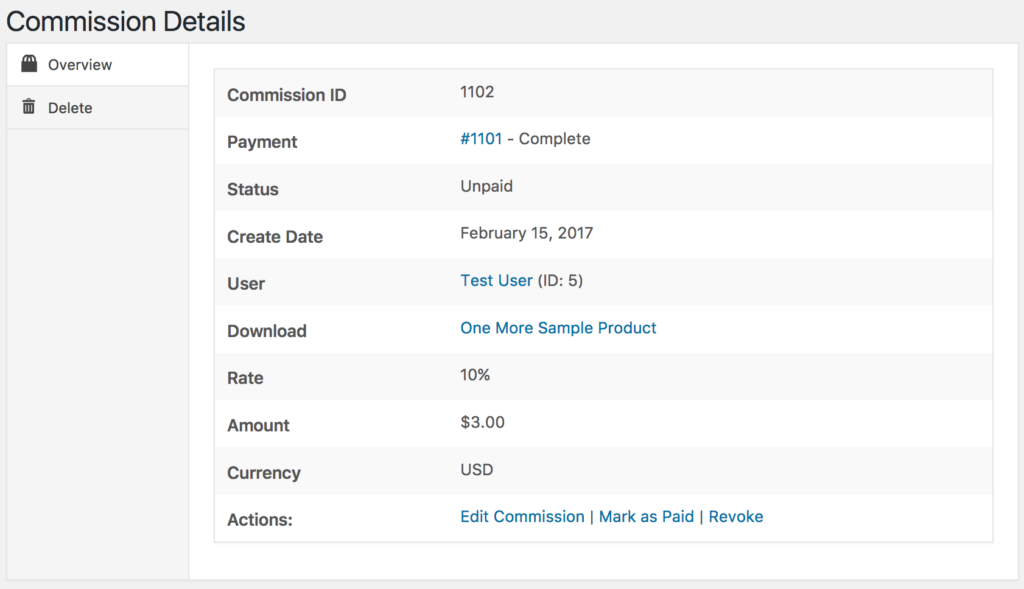 Prior to this release, viewing or editing commissions was accomplished through a very simple page consisting of a few fields to allow adjusting the relevant data. It worked, but was far from ideal in comparison to the pages present in EDD core. Our new card view presents the same data in a much more elegant way, and adds a few new utilities to improve your experience. Of note, we have added the ability to reassign commissions.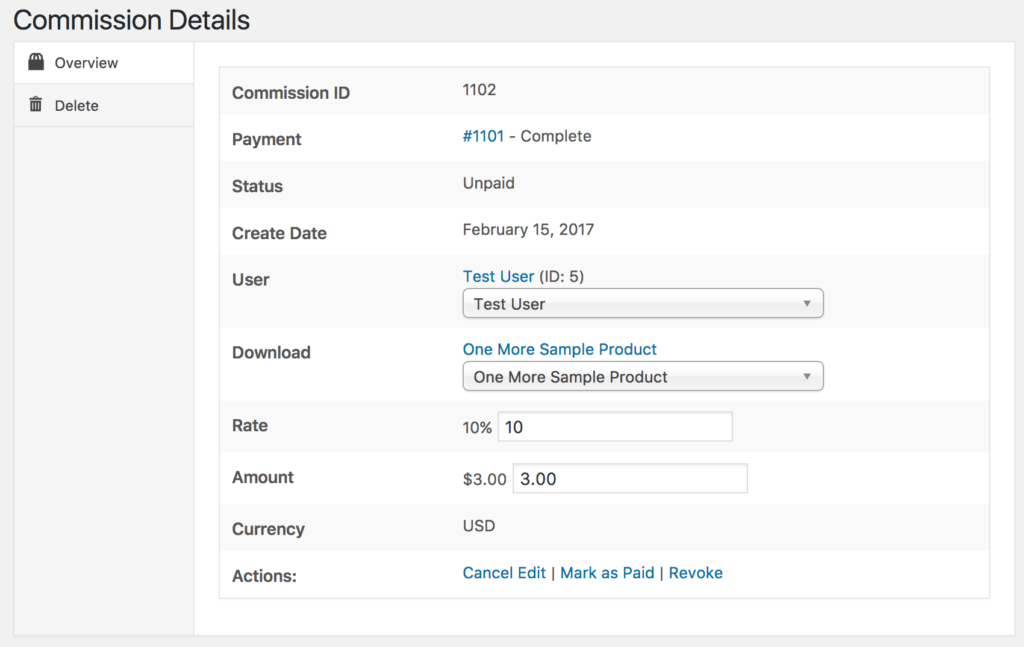 Those of our users who have created custom integrations will be pleased to know that we've made Commissions more flexible through the addition of several new action hooks in the metabox.
New export functionality
We have always provided our users with the means to export commission reports detailing commissions for a given time period through the Generate Payout File button above the commission table. However, this export does not provide the simplistic overview that some of our users would like. As such, we have added a new exporter which can be found under the Downloads → Reports menu item. This exporter generates a CSV showing the number and amounts of commissions awarded, paid and revoked for the selected range, along with gross and net totals.

Other improvements and fixes
Beyond the aforementioned changes, this release provides a number of stability and quality of life changes which are outlined below.
If commissions are recorded in multiple currencies, batch payout files now display the correct currencies for each item.
Added several new hooks for developers.
Added option to automatically revoke unpaid commissions when their sales are refunded.
Added option to disable notification emails for commissions.
Batch payout files now display user ID in addition to the user email
Fixed a longstanding compatibility issue when Commissions, Simple Shipping and Paypal Adaptive Payments were used together.
Commissions can now be recorded on renewals.
The commission list table now correctly displays commission rate data if commission types are changed.
Commission payout files now correctly handle custom date ranges.
Beta testing
Since this is a fairly large change to how the Commissions extension works, we have opted to release it first as a beta before sending it into the wild. We would appreciate any feedback you can provide before the final release date to ensure that the the update goes smoothly. The beta is 100% backwards compatible, so no need to worry about having to reconfigure commissions on your existing products. In short, there's no good reason you can't help us with testing the latest release! So how do you get your hands on the beta?
Since Easy Digital Downloads 2.6.11, you can now enable beta versions through the Downloads → Tools → Beta Versions page on your WordPress site. Simply check the box next to Commissions to receive beta update notifications and the latest beta will show up on your Plugins page just like any other update.
Notes:
Access to the beta is restricted to active license holders. Don't have one? Purchase one today.
You will need Easy Digital Downloads 2.6.17 or later in order to use the automatic beta install option.
Please let us know what you think! If you notice any problems, you may let us know in the comments below or by submitting a support ticket.