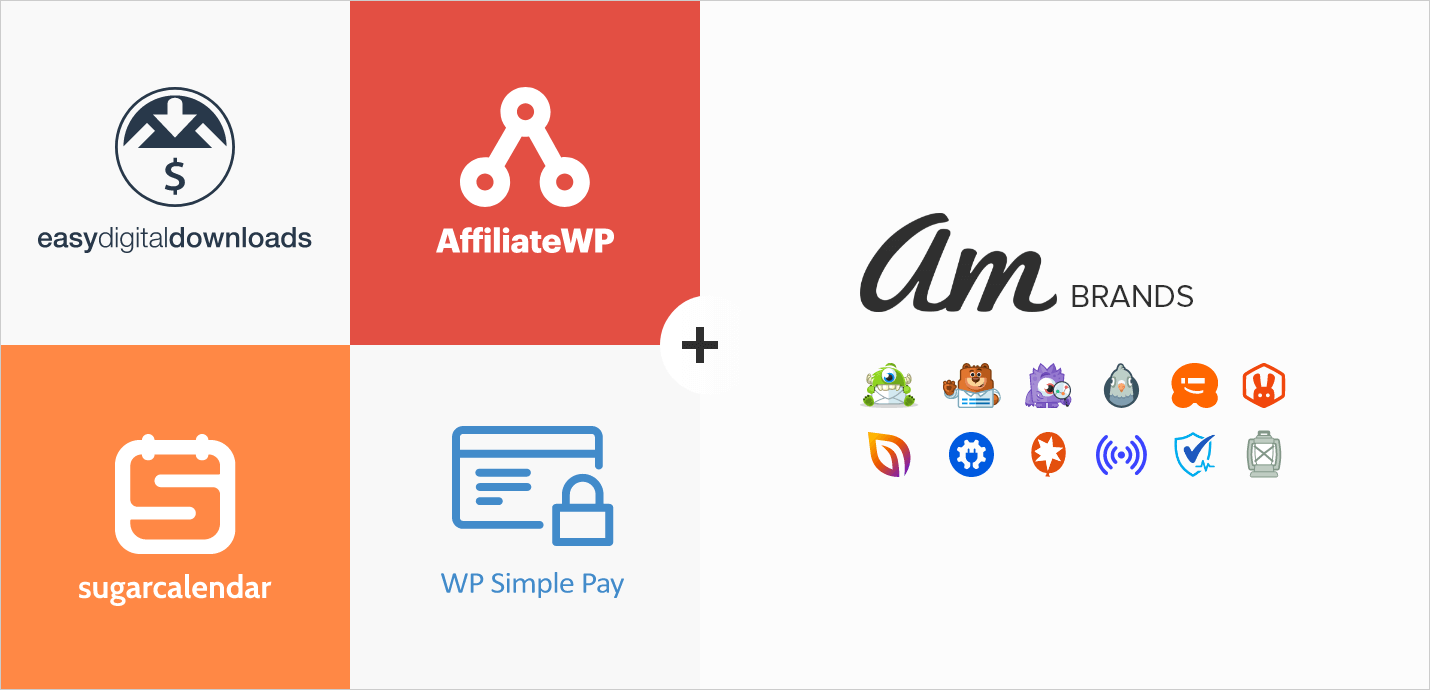 Today, I'm excited to share that Easy Digital Downloads along with all other Sandhills Development plugins are joining Awesome Motive.
Since this is BIG NEWS, you probably have a lot of questions like: who is Awesome Motive, how did this acquisition come about, what will happen to the Easy Digital Downloads team, what's coming next, etc.
Who's Awesome Motive?
Awesome Motive is a company started by Syed Balkhi with a mission to help small businesses grow and compete with the big guys.
The AM team is behind some of the most popular plugins and resources in the WordPress ecosystem:
WPBeginner – the largest free WordPress resource site for beginners.
OptinMonster – popular conversion optimization software that helps you convert abandoning visitors into subscribers and customers.
WPForms – the most beginner friendly WordPress form builder.
MonsterInsights – the most popular WordPress Analytics plugin that helps you grow your business with confidence.
AIOSEO – the original WordPress SEO plugin to help you get more traffic.
WP Mail SMTP – the #1 plugin that helps improve your WordPress email deliverability.
SeedProd – the best drag & drop landing page builder for WordPress.
RafflePress – powerful WordPress giveaway and contest plugin to grow your website traffic.
Smash Balloon – most popular social media feeds plugin for WordPress.
PushEngage – leading web push notification software for small businesses.
SearchWP – the most advanced WordPress search plugin.
… and many more.
Collectively over 17 million websites use Awesome Motive plugins.
And I've always admired their commitment to customer success.
Background Story
I have known Syed Balkhi for many years. We've both been in the WordPress space for a long time, and our paths have crossed at dozens of industry events.
Syed has supported Easy Digital Downloads since the early days by featuring it on WPBeginner.
Awesome Motive is also one of the biggest users of Easy Digital Downloads, AffiliateWP, and other Sandhills products.
Over the summer, Syed and I started chatting about what it would look like if Sandhills joined Awesome Motive.
Given Awesome Motive's track record of building popular plugins, their knowledge, resources, and Syed's vision for the future, it made perfect sense.
Within just a few days, we had come to an agreement that allowed me to exit completely, so I can focus on my family while ensuring the entire Sandhills team joined AM.
My business partners: Chris Klosowski, Andrew Munro, and Phil Derksen will be joining AM as partners, and Chris will continue to lead Easy Digital Downloads.
I have a lot of respect for what Syed and the team has built at Awesome Motive, and I am confident that Easy Digital Downloads will only get better under their leadership.
Since Awesome Motive uses EDD at scale to power several of their large businesses most notably OptinMonster, WPForms, and MonsterInsights, they have built a lot of really cool internal tools and extensions that I know will benefit the community at large.
What will happen to the Easy Digital Downloads Team?
As I mentioned, as part of this acquisition the Easy Digital Downloads team will be joining Awesome Motive.
My business partners: Chris Klosowski, Andrew Munro, and Phil Derksen will be joining AM as partners, and Chris will continue to lead Easy Digital Downloads.
I will stay on for the next month to help with transition before exiting the WordPress ecosystem to focus on my family. Read more in my personal blog post.
This acquisition also means that we will be hiring and growing the Easy Digital Downloads team, so we can bring even more powerful solutions your way (faster).
See the Awesome Motive Careers page for open positions.
What's Changing / Coming Next?
Aside from ownership change, it's business as usual. You can continue to use the plugin that you love without any interruption.
Behind the scenes, we're upgrading our support workflows and growing the team, so we can better serve our community.
In the coming weeks, you'll likely see a lot more helpful tutorials on our blog to better highlight all the amazing features that are available in our plugins.
Chris will be working with Syed to create our future product roadmap, and we will be coming out with a lot of features that you have been asking for. This is going to be a game changer.
Once again, I want to thank you for your continued support of Easy Digital Downloads, and Chris and the team can't wait to bring more exciting features your way.
Pippin Williamson
Founder of Easy Digital Downloads