Easy Digital Downloads features & functionality
Everything you need to create your online store in minutes
Shopping cart
supports Stripe and PayPal, for free
customize action button text
allow potential customer cart saving
support registered user or guest checkout
require agreement of terms before purchase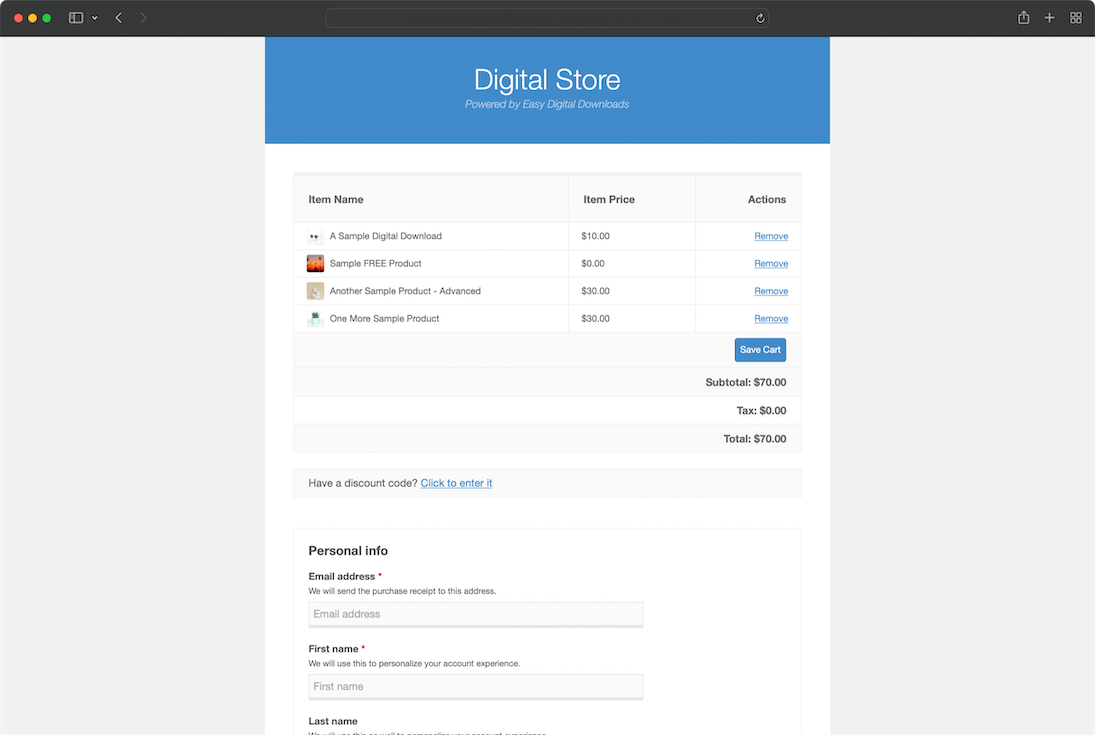 Detailed reporting
gain actionable insights into your business
filter reports by specific dates and products
track refunds and get control of churn
export store data to CSV file
monitor all aspects of your store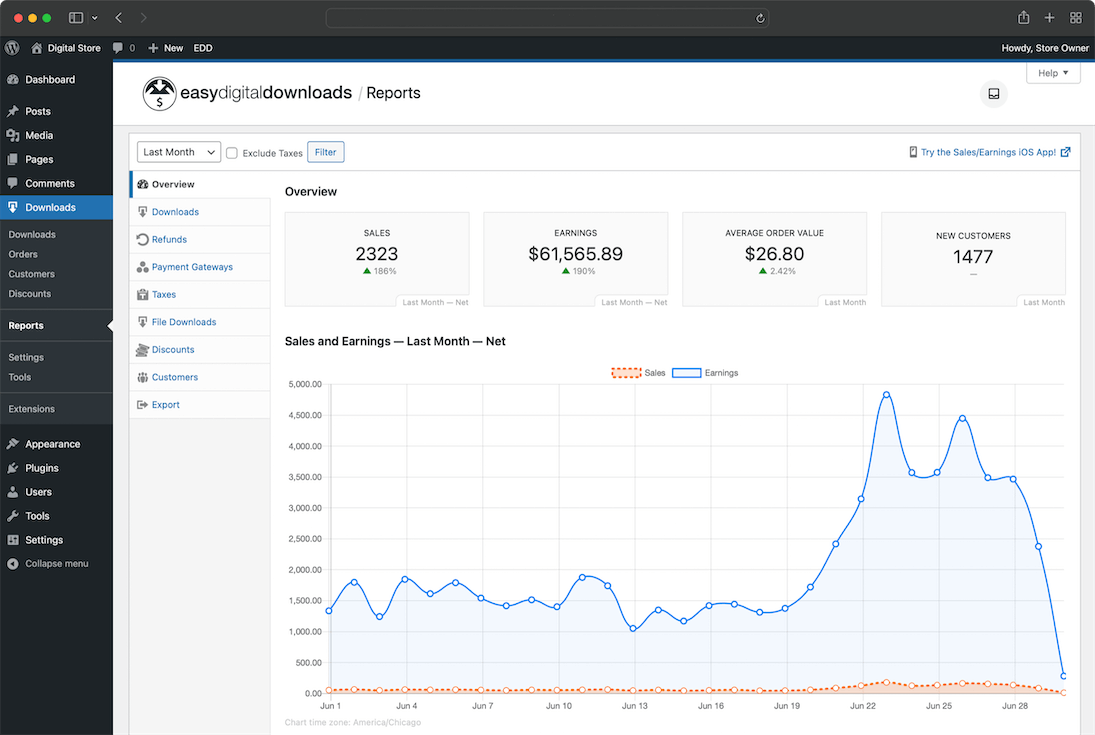 Order management
manage order status
reassign customer details
advanced refunds feature
role based capabilities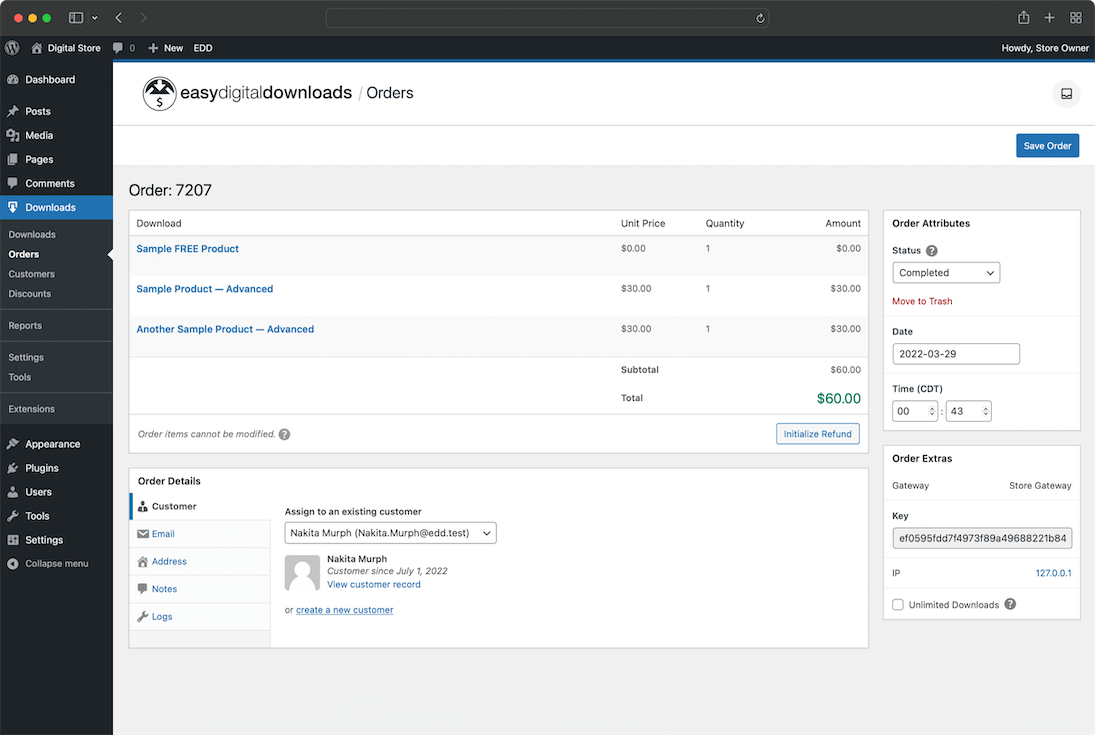 Customer management
maintain a separate record for each customer
view, edit, or delete any customer record
track customer lifetime value and activity
link customer records to user profiles
create customer account page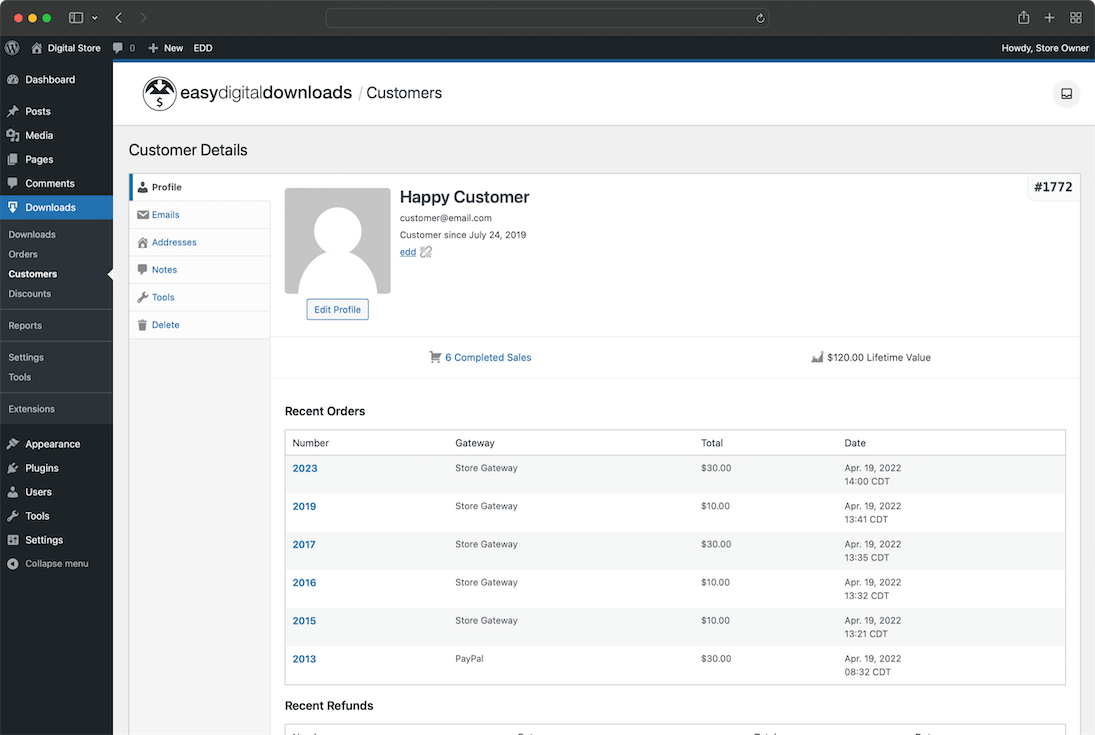 Josh Pollock – CalderaWP
When I started CalderaWP, I asked a few trusted WordPress friends what eCommerce plugin to use. They all said Easy Digital Downloads. They were right.
Bob Dunn – BobWP
If anyone asks me what they should use for downloadable products on their WordPress site, it's a no-brainer as far as EDD goes.
Start selling your digital products today.
Join over 50,000 smart store owners, and start using the easiest way to sell digital products with WordPress.
Additional features & benefits
See what makes Easy Digital Downloads a great solution for thousands of users.
Rest API
Developers and external applications can take advantage of a complete RESTful API that provides easy access to sales and product information in either jSON or XML format.
Payment history
Record payment records of every transaction in your system and use the familiar Payment History interface to see key details about payments, resend purchase receipts, and much more.
File download logs
View everything there is to know about customer file downloads from your system. You will have access to details such as download dates & times, IP address, and attached payment record.
File access control
All product files are restricted to authorized customers only. No configurations is required. You may also set the file download limit and download link expiration.
Customer account page
Through the use of a single shortcode, output an entire purchase history table that is only viewable by logged in customers. Unauthorized users will not have access.
Actively supported
An evolving software tool is only as good as its support. Our dedicated team ensures that all customers have access to free, timely support with no strings attached.
Extension catalog
While Easy Digital Downloads is a full eCommerce platform, the true power lies in its extensibility. With hundreds of available extensions, you can tailor EDD to your needs. View all extensions.
Payment gateways
Payment gateways are an absolute must for eCommerce businesses to securely process payments. EDD supports the industry's most popular payment processors and several more. View payment gateways.
Refund tracking
For most online businesses, refunds are inevitable and processing refunds can be a daunting task. With select payment gateways, EDD makes processing refunds a hassle-free experience.
Affiliate system integration
The limitness nature of digital products makes affiliate integration an attractive component. EDD is fully supported by AffiliateWP right out of the box. View AffiliateWP.
Mailing list integration
Build relationships with your customers by keeping in touch with them after the purchase. Using our newsletter extensions, connect EDD to you favorite email marketing service tool. View newsletter extensions.
External file storage
For some, WordPress' Media Library is not enough to host product files. For that reason, EDD supports content delivery tools like Amazon S3 and Dropbox for hosting product files.
Actively developed
Not a day goes by that EDD is not actively developed. Issue logging, bug fixing, and feature enhancements are a daily occurance for the development team and supporting contributors.
Open sourced & GPL
As a platform built on WordPress, EDD is licensed under GPLv3. To go a step further, EDD is also an open-source software with a dedicated community of developers and contributors.
Developer friendly
While there are hundreds of extensions available for use, being extensible means the options are limitless. Actions, filters, and smart coding make EDD a developer-friendly platform.
Intelligently designed
The effects of site design on customer behavior are well-known. EDD plays its role by including a base style that looks great as-is, but is also ready to integrate with any WordPress theme.