The PayPal Commerce Pro payment gateway extension for Easy Digital Downloads allows you to accept credit cards, debit cards, and alternative payments alongside PayPal on your WordPress sites.
With PayPal Commerce enabled for your online store, you'll provide a higher converting, more secure checkout experience for your customers than previously offered by PayPal. It's also much simpler and less technical to set up than in the past.
Enable On-site Checkout for Multiple Payment Modes
One of the most important areas to optimize for all eCommerce sites is the checkout experience. With the PayPal Commerce Pro extension, you can configure your checkout to show any combination of the following buttons:
PayPal wallet
Debit or credit card
Alternative payment methods (i.e. Sofort, iDEAL, giropay, etc.)


PayPal wallet payments keep your customer on your site without redirecting away to a PayPal page, which in itself can improve conversion rates. If the customer clicks the PayPal button, a modal popup will appear to prompt them to log in to their PayPal account and complete their purchase.
If the debit or credit card button is clicked, inline card fields will be displayed for the customer to complete.
Alternatively, the debit or credit card fields can also be configured to be displayed on the page immediately without an extra button click.
Note that the ability to display non-branded credit card/debit card fields directly on the page is currently subject to these country and currency limitations and an account evaluation by PayPal.
Alternative Payment Methods for Supported Countries
PayPal now supports alternative payment methods in various countries if that's something you'd like to offer for your customers, such as Sofort, iDEAL, Bancontact, and giropay.
See the full list of supported alternative payment methods
Full Support for Subscription Sales
Our experience, and the experience of many other online sellers, has been that acquiring new customers almost always costs significantly more than retaining existing customers. By using PayPal Commerce Pro along with our Recurring Payments extension to offer subscriptions, you can dramatically increase customer retention.
This is extremely powerful for anyone selling licenses for software, services, courses, all access passes, and more. You can configure your products so that customers are charged on a recurring schedule until they cancel. Additionally, you can even connect recurring payments from multiple EDD sites to a single PayPal account, something that was not possible in the past.
With the PayPal Commerce Pro payment gateway and Recurring Payments extensions working together, there's no need for customers to manually return and purchase again.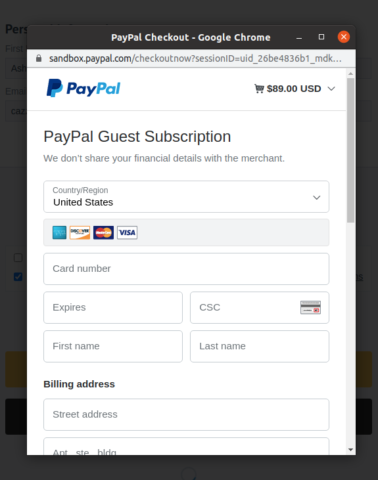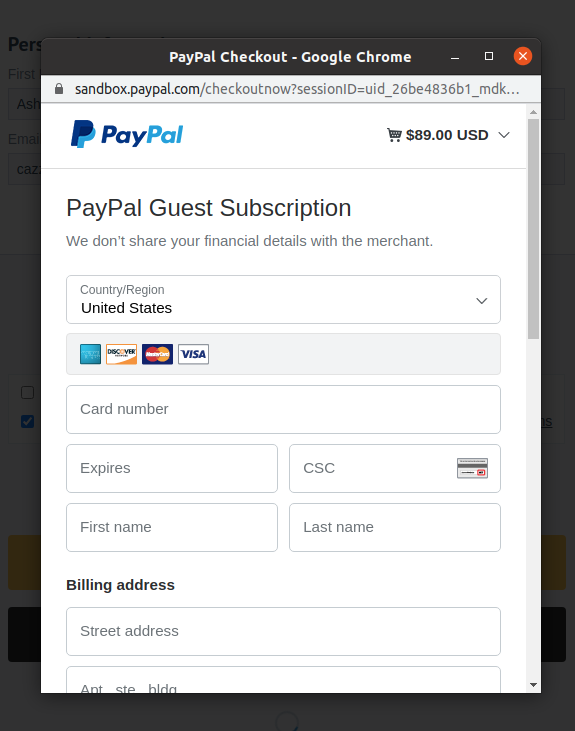 Approve or Decline Refunds Right Within WordPress
Refunds are never fun, but at least with PayPal they are easy. Instead of wasting time logging into your PayPal account to return funds to your customers, you can do it all with one click from your site's dashboard. Edit any payment record, change the status to refunded, and Easy Digital Downloads will do the rest!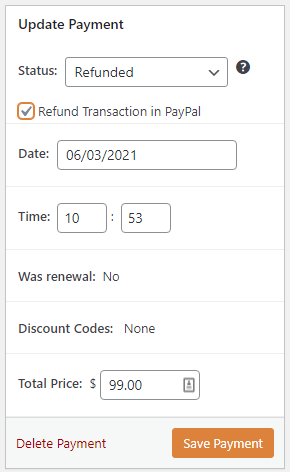 Easily Enable Test Payment Mode
If your store isn't working properly, you are losing money. For this reason, testing every aspect of your site, especially any eCommerce functionality, is critical. Fortunately testing with PayPal Commerce is as simple as it gets. Just activate test mode and you're all set to begin simulating customer actions and troubleshooting issues without it affecting your reports.
Simplified Setup for Connecting With PayPal
We know how busy you are. You have better things to do with your time than spend it installing, configuring, and testing your eCommerce software. Fortunately, connecting your store to PayPal with this Easy Digital Downloads extension is straightforward and painless. Once the plugin is installed and activated, connecting to PayPal is as simple as clicking the "Connect with PayPal" button in the settings. Once that's done, you're ready to start accepting payments. No more hassling with creating and entering identity keys, IPNs, and API keys.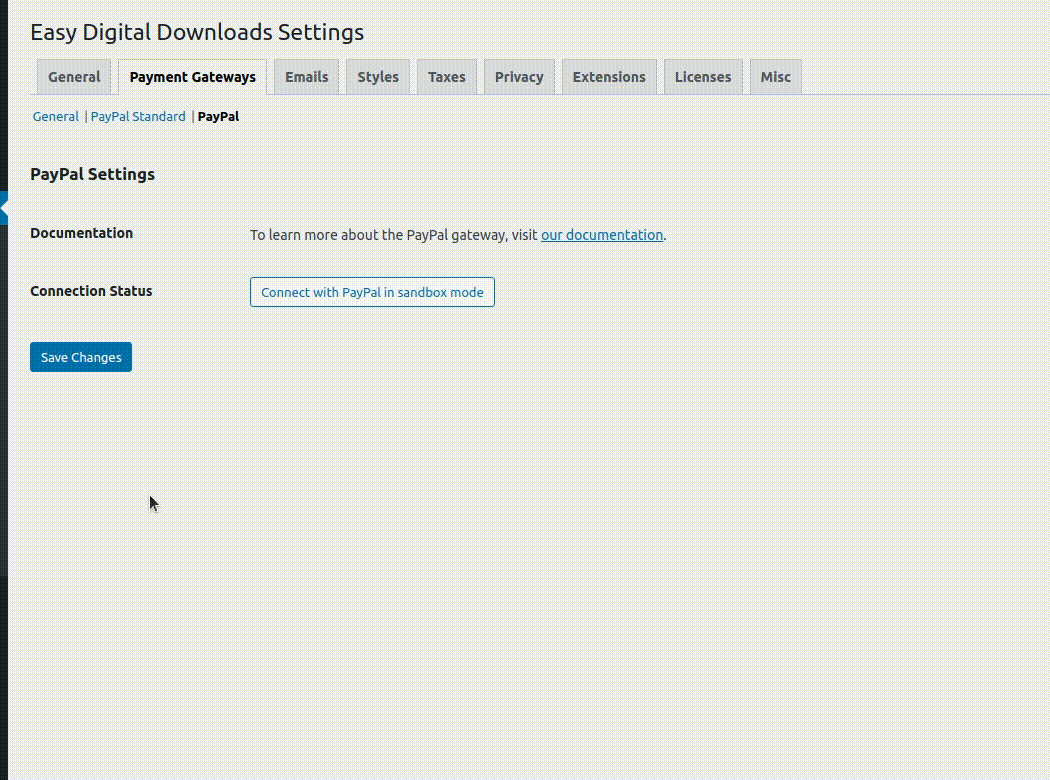 Pricing
PayPal has a per-transaction charge which varies by country and payment type. See PayPal's merchant fees page for more information.
The PayPal Commerce Pro extension for Easy Digital Downloads does not charge additional fees beyond your license purchase as long as this extension is installed and activated.
Global support
PayPal currently supports over 200 countries and 25 currencies.
Note that the ability to display non-branded credit card/debit card fields directly on the page is currently subject to these country and currency limitations and an account evaluation by PayPal.
Learn more about PayPal and Easy Digital Downloads
If you want to better understand how our integration with PayPal works and how it can be configured, take a look at our documentation. If you still have unanswered questions, get in touch with us! We're happy to help.
Supported features, currencies, and countries
Features
Credit Card Processing, Digital Products, Direct Bank Transfers, Integrated Refunds, On-site Checkout, Recurring Payments
Countries
Algeria, Angola, Benin, Botswana, Burkina Faso, Burundi, Cameroon, Cape Verde, Chad, Comoros, Côte d'Ivoire, Democratic Republic of the Congo, Djibouti, Egypt, Eritrea, Ethiopia, Gabon Republic, Gambia, Guinea, Guinea-Bissau, Kenya, Lesotho, Madagascar, Malawi, Mali, Mauritania, Mauritius, Mayotte, Morocco, Mozambique, Namibia, Niger, Nigeria, Republic of the Congo, Reunion, Rwanda, Saint Helena, Sao Tome and Principe, Senegal, Seychelles, Sierra Leone, Somalia, South Africa, Swaziland, Tanzania, Togo, Tunisia, Uganda, Zambia, Zimbabwe
The countries and currencies shown here may not reflect the most up-to-date supported lists of the merchant processor.