PDF Invoices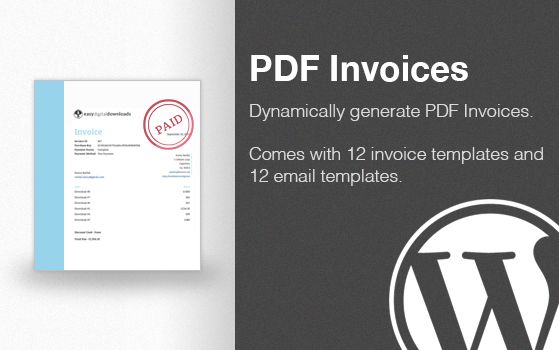 PDF Invoices for Easy Digital Downloads provides a complete system for generating invoices for all customers. It allows you and yours customers to download invoices of any purchases in a nice and easy way. This add-on is a huge asset for your website and allows you to tailor invoices for your websites with the customizable settings.
To download an invoice, simply visit the "Payment History" page and a Download Invoice link will be available for each download.
Customers can download the same invoices for the purchases that they've made from the Purchase History page (requires that you use the [purchase_history] short code).
A template tag can also be added to the Purchase Receipt (under Settings > Emails) to create a link to the downloadable invoice in the emailed purchase receipts.
All the invoices can be easily customized to display the text, label, notes, etc, that you wish.
12 fully designed invoice templates are included, as well as 12 matching email receipt templates.
Extension developed by Sunny Ratilal.
Change Log
Version 2.2.1, March 20, 2014
Fixed a bug that caused invoice links to be shown on pending payments.
Version 2.2, March 14, 2014
Fixed a bug with Euro sign encoding
Added support for sequential order numbers coming in EDD v2.0
Version 2.1.13, February 7, 2014
Fixed a bug with product title encoding
Version 2.1.12, February 6, 2014
Replace unserialize() with maybe_unserialize()
Version 2.1.11, January 24, 2014
Fixed a bug with blank purchase receipts.
Version 2.1.10, January 23, 2014
Fixed a fatal error
Don't show Download Invoice on non-complete purchases
Version 2.1.9, January 20, 2014
Make sure invoice link isn't displayed for free downloads
Version 2.1.8
Fixed a bug with Euro signs encoding.
Version 2.1.7, December 27, 2013
Fixed a bug with Euro signs encoding.
Version 2.1.6, December 6, 2013
Fixed a fatal error bug with EDD 1.8.4 and earlier.
Version 2.1.5, December 4, 2013
Fixed a fatal error bug caused by an incorrect function name
Version 2.1.4, December 3, 2013
Fixed bug where total was incorrect when using discount codes
Version 2.1.3, November 5, 2013
Fix bug where invoice generation failed on some hosts.
Version 2.1.2
Display price option name on the invoice
Add an option to disable invoices for free downloads
Version 2.1.1
Fixed a fatal error.
2.1
Display customer addresses
Refactor a lot of code
Performance improvements and bug fixes
Fix bug with logo display
2.0.4
Remove image size check because it fails when trying to retrieve the size of a remote image.
Version 2.0.3
Fixed a localization issue.
Version 2.0.2
Added support for showing cart fees as invoice line items.
Fixed bug with payment meta not always displaying.
Fixed bug where 'Total Amount' wasn't showing correctly.
Version 2.0.1
Fixed and issue with internationalization.
Version 2.0
Changed to using TCPDF, FPDF is no longer used (any custom templates that were built need to be upgraded to use TCPDF)
Fixed major bug with characters in Greek alphabet not displaying properly
Added option to change fonts to Free Sans/Free Serif for characters not displaying properly
Major code refactoring
Fixed a bug with the the verification of the invoice request
Updated PHPDoc
Changed Additional Notes to use date_i18n() rather than date()
Updated language files
Added WPML support
Version 1.0.4
Fixed syntax error and minor bug
Invoice link now displays on Sorry, trouble retrieving payment receipt. shortcode
Version 1.0.3
Added support for displaying taxed amount.
Version 1.0.2
Added filter for showing custom templates name in the Settings
Version 1.0.1
Added support for iOS Devices
Version 1.0
Initial release.