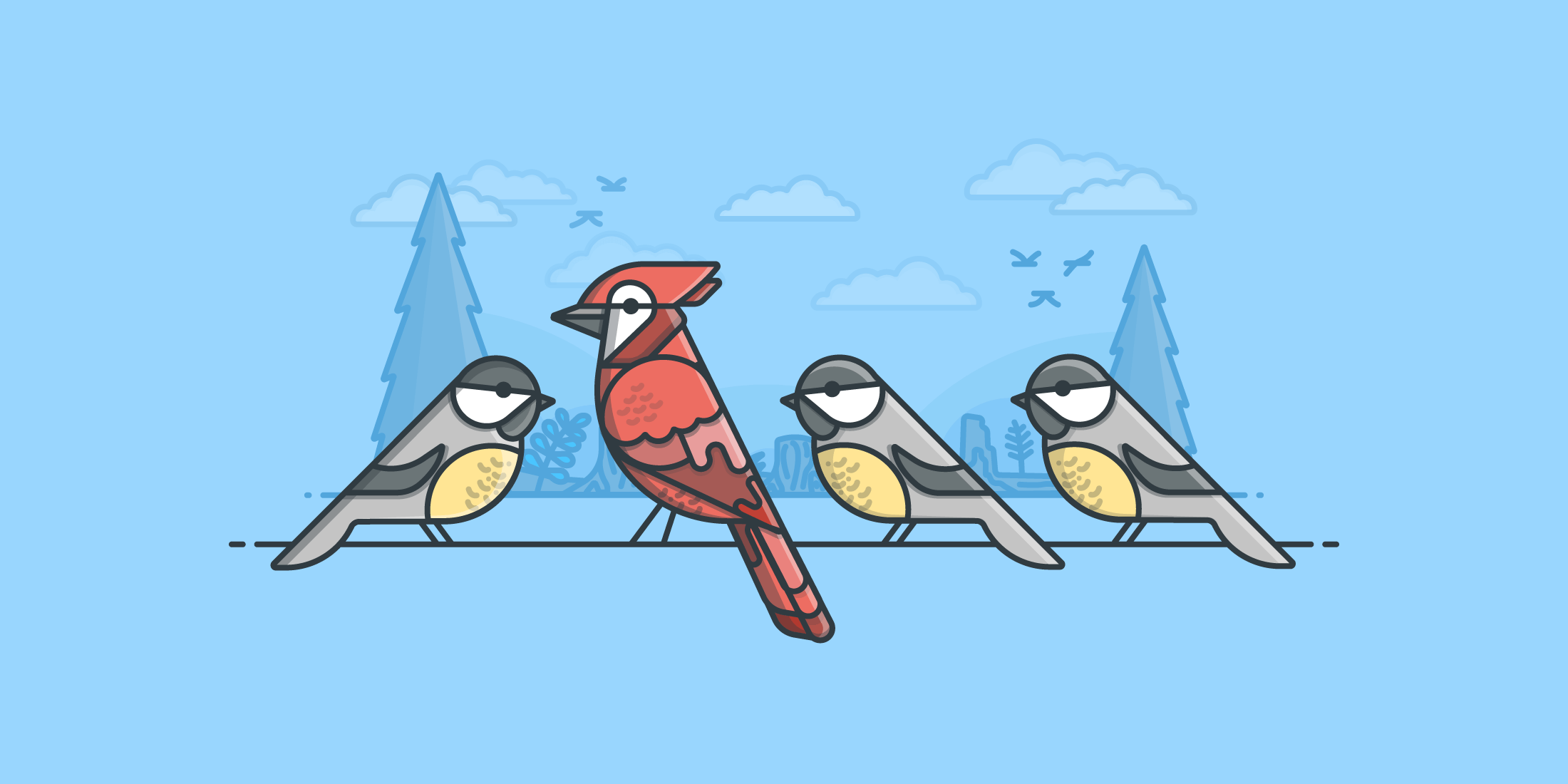 These days, it's easy to feel as if there's no such thing as an original idea.
The following article was written for Easy Digital Downloads by guest author Christie Chirinos, co-founder of CalderaWP.
When I joined Caldera Forms co-founder Josh Pollock in business to get Caldera Labs off the ground as a 100% WordPress product shop, a riddle presented itself. How did Caldera Forms, a WordPress form plugin entering the market after well-established solutions like Gravity Forms and Ninja Forms, manage to amass an active usership of 20,000+?
Better yet, how could we penetrate this market to get to 100,000+ (we hit that milestone last September!)? What about 1,000,000+ (still working on it!)?
There's no one single answer. However, there was a set of advice available for us to examine – the wisdom of the ancients, if you will – management science.
In the following post, I'm going to teach you a handful of new words and phrases. They are based on the kinds of curriculum that business schools around the world are teaching. When training people who aspire to be corporate executives, establishing long-term competitive advantage is the ultimate goal. It's within these frameworks that we found guidance, if not answers, on how to stand out in a crowded market.
The jargon
First off, what are we even talking about when we say "crowded market"? In general, this is a reference to market spaces that have many options, lots of demand, and fierce competition.
WordPress form plugins are a good example – there are many options, including leading independent ones such as Contact Form 7, Gravity Forms, Ninja Forms and Caldera Forms, and also the contact form plugins affiliated with certain ecosystems, such as the contact form options for Jetpack or the contact form module for Divi.
If you're a digital artist or graphic designer, you'll know how crowded the market is by simply looking at the sheer number of creators in marketplaces like Envato Market, Etsy, Creative Market, and more.
Another example is social networking sites: if you want to make a social networking site for a certain niche, you better be ready to compete with large social networks for everything, existing niche ones, and users who are tired of joining new networks.
Market competition
Crowded markets are also known as saturated markets. In general, anything that is easier to enter tends to be saturated. A high barrier to entry can prevent saturation. For example, think airline companies. It's very expensive to start an airline: you have to buy planes.
In general, when we're talking about selling digital products, such as software, these types of venture tend to be low barrier to entry. After all, anyone with a computer and some coding knowledge can start a software company. Software companies are not, however, the lowest barrier to entry – the education, and time required, serve as barriers.
Something like a cleaning business tends to be the lowest barrier to entry – but even then, you have to purchase supplies, find clients, and be good at cleaning. These days, most businesses that one can start are relatively low barrier to entry. Casinos, airlines and other such exceptions remain among the few high barrier ventures.
Competition strategy
So, how does one compete in a market where competition is always fierce? This is where, again, a textbook can tell us a framework on how this might work.
When it comes to competing, we usually think of businesses having two types of strategies: low-cost strategy or differentiation strategy.
You are familiar with low-cost strategy which is commonly employed by discount brands. This is the strategy of large warehouse stores such as IKEA, Metro and Costco. The way in which they stand out in the market is by providing customers the lowest price possible. Many people shop on price, especially on essentials where there is no perceived difference between the higher cost and lower cost products, or at least not one that is important enough to say a higher price for, except for a few special consumers.
That is where differentiation strategy comes in: this is where you try to convince your potential customer that your product is worth what you are pricing it through good marketing and problem-product fit. As you can probably imagine, this is the strategy that most of us will take on. Low-cost strategies require more investment, and are usually harder to do than the existing leaders.
Competition strategy is not a binary, however. It is a matrix. On the other column exist the scope of your concept. How wide or narrow you reach in terms of who you are trying to serve can provide a combination of a winning strategy, for example, perhaps you can't compete with Metro's all-encompassing, all consumer goods for affordable prices model, but perhaps you can be the lowest cost provider of consumer goods in a specific city.
Alternatively, taking a differentiated and niche product to mass market through good distribution strategy can lead to a highly successful product.
With these terms in mind, let's take a look at some potential ways in which you can help your product stand out in a crowded market.
Tip #1: Find a niche
You've probably heard this one before: find a niche. This is oldest, tried and true way to compete in a crowded market. But perhaps hearing this advice in the past didn't feel actionable. With the terminology above, you can ask yourself the following questions:
Do I have access to a cheap resource that could allow me to offer an already-popular service for a lower fee, such as a large distribution channel?
Is there something I can do better than anyone else?
Is there a service that is missing in my city?
Oftentimes, people get stuck on thinking of a niche by thinking "yes, but somebody else has done it already." When coming upon this problem, it's worthwhile to think about second mover advantage.
First mover advantage is the benefit that comes from being first to market. Being the first person to execute an idea mean that you can create buzz around your innovation, capture the attention and loyalty of early adopters, and usually obtain the largest amount of the potential customer pool.
But, second mover advantage can be an excellent way to find a niche. The second entrant to a market can look at the market leader, and release a product that fixes the largest complaints of the market leader. Take Uber, for example: Uber was first to market with app-based ride sharing, and amassed massive user counts before Lyft came along. However, Lyft specifically focused on the few things that it could do better than Uber: people were frustrated that they couldn't tip their Uber drivers, for example, so Lyft had that feature upon launch. When Uber's questionable corporate practices were brought to light, Lyft ensured that it presented itself as an ethical option. This strategy worked: many people exclusively use Lyft for these reasons, even though today, Uber has diversified its leadership and offered a tipping option.
But what if you're entering a very saturated market, not one where there's only one or two options? There is such a thing as a late mover advantage. Going back to the ride-sharing app example, there are still ride-sharing apps coming out. However, now, they are taking all of the lessons from the first market entrants, and they are also benefiting from the fact that now everyone knows what a ride-sharing app is.
So, now they are finding specific niches in which to launch a ride-sharing app. Take for example, regional ride-sharing apps such as Gett or Taxi Beat which are more popular in certain geographical areas than others for its specific features. For example, Taxi Beat has a feature where when you call for a ride, you have 3 driver options, and at the end of the ride, you can pay with cash. This means that this app is more popular in places where safety is a larger concern, and where a larger percentage of the population would prefer to not pay with a card.
To extrapolate these kinds of strategies to software, consider Caldera Forms. We were a later entrant to the form plugin market, and we've presented many of our features in the light of second mover advantage. There were other form plugins out there, but where they all drag and drop? Did they all have conditional logic directly out of the box? Did they all take CSS easily? These traits helped us stand out.
Tip #2: Innovate on the business model, not the product
This is where it helps to think of yourself as not only a product creator, but a business owner. Sometimes, the product is great – what we want to change and improve is how people pay for it.
WordPress plugins is a great example of this. First, consider how WordPress plugins were first sold: pay once, get the files. This gave way to subscription models. And what about freemium models? "Get this for free, but have a pro option" is an experiment in seeing if you can create product economics that sustain all of your users, free and paid, from revenue only from the latter group.
In the vocabulary lesson in the introduction, we would refer to this as finding spaces of consumer surplus. Economic surplus, or consumer surplus, in this context, refers to the difference between the maximum price customers were willing to pay and the price they actually paid.
Think of the last time you got a really great deal at a store. About that item, ask yourself: what is the most I would have paid for this? At some point, there's a price that would have turned you away. This price tends to be different for all consumers, so in every instance of a product existing, there's someone who would've paid a little more. In some instances, there's enough people who would've paid more for one low-cost, but new feature, to build an entire business around them.
Sometimes, you don't even need that new feature – think about luxury brands. Sometimes, good marketing can create a brand that is desired by people who simply have more money to spend.
Tip #3: Cater to the overlooked
On the flip side of that last tip, however, exists catering to the overlooked. Groups that have primarily not had many options that cater to their tastes, either due to lack of representation in business, geographical distance to the source of the products, etc., tend to be opportunities to enter a crowded market.
We know that 4 in 10 minority-owned businesses in the United States are seeing 11% growth or higher every year. Generally, this is attributed to the fact that minority-owned businesses in the United States are usually catering to tastes that were previously not catered to – think foreign cuisine, or hard-to-obtain imported goods that remind expatriates of home, or intercultural design. You might think the restaurant industry is a crowded industry, but what if one was to open a Peruvian restaurant in a medium-sized city in the United States? It would likely be rewarded with curious customers, and welcomed by any existing Peruvian expatriate community in the city.
This strategy for standing out in a crowded market is a combination of all of the strategies outlined above. In it, you are hoping to capture money that the customer was already spending, but to divert that business away from a generic option and to your more tailored one (differentiation). However, oftentimes this strategy comes with the challenge of managing your costs very well, and making sure that your product delivers on its promise.
Final thoughts
Yes, it is possible to enter a crowded market. After all, today, most markets are crowded. The key lies in planning, thinking strategically, and a little bit of believing in yourself. But above all, don't get too worried about these principles. They are, after all, just that: principles. In practice, what you do that is different and good will be what spells out success for your product.
Have you launched into an existing, saturated market? What did you learn from your experience? Share your journey in the comments!
Illustration by Jessica Johnston.