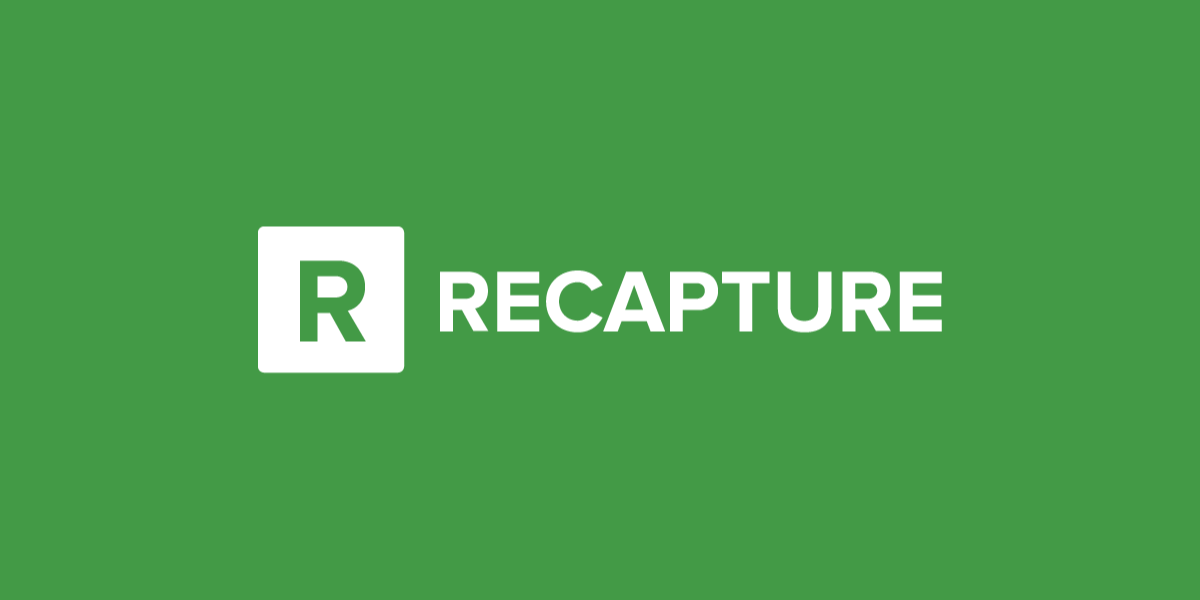 Over the last few months, we've been using Recapture to recover abandoned carts on our own Easy Digital Downloads-powered stores. We switched to Recapture due to their tight integration with EDD and several unique, compelling features. The results have been quite positive, so we can now recommend them as the top solution for abandoned cart recovery for any Easy Digital Downloads store.
Why should you recover abandoned carts?
If you're not familiar with what abandoned carts are and why you need to address them, here's the short version. Naturally, people who browse ecommerce sites don't always end up purchasing. You've probably done this yourself. You might be researching, comparing prices, saving items to your wish list, etc. As of this writing, Baymard Institute estimates that 69.80% of all shopping carts are abandoned.
Some of these reasons for cart abandonment are a natural part of the online shopping experience and are unavoidable. But many of these reasons can be easily addressed. Some shoppers get discouraged at checkout by added taxes and fees. Others get impatient with the checkout or account creation process. Many simply get distracted while finishing their purchase and forget to come back.
For these folks, assuming they've already entered their email at some point, you can help them complete their checkout process by sending reminder emails in the form of an abandoned cart email campaign.
How much can you recover?
Suppose your store has 100 sales per month at $50 per order. That comes to a total of $5,000 per month. Let's also assume your store has an average abandonment rate of 70% (meaning for every 10 customers that visit your store, 7 of them leave and never purchase). Based on your $5,000 a month and 100 sales, that means you're missing out on 230 sales from those lost customers, (which amounts to $11,500 in lost sales). That's a lot of missed opportunities.
What's at stake here? Let's say that of this $11,500 abandoned, you then manage to recover 5% of these sales. If we take 5% of $11,500, that comes out to an extra $575 per month. If we double that recovery rate (which is definitely attainable!) to 10%, suddenly that's an extra $1,150 per month. With no additional work or traffic to your site required. It's like free money that you're missing out on. Some stores are even recovering between 15-20% or more!
At the time of this post, easydigitaldownloads.com itself had a 13% recovery rate over the last 30 days. Here's a screenshot showing these actual numbers from the Recapture dashboard to show you what's possible:

How Recapture works
After install, Recapture connects to your Easy Digital Downloads store to start tracking carts on your site and associates email addresses to those carts. Recapture can detect when someone enters an email anywhere on your store — whether it's a sidebar, header, footer, toaster widget, popup or checkout page. Once they have the email and the cart, the magic begins.
At the proper time, Recapture will send a predefined email campaign to send them a link with their shopping cart saved, more information about your products to help them make a decision, or even offer them a discount code. Your customers will likely click on these emails, return to your site and complete the sale. That's the power of Recapture — simple reminders that increase sales. Recapture gives you default content to get started (with proven results!), but you can customize the email content, design, and timing to your liking.
Setting up Recapture
Although Recapture offers their abandoned cart recovery service for other platforms such as Shopify, WooCommerce, and Restrict Content Pro, they have a specific WordPress plugin for connecting to Easy Digital Downloads.
To get Recapture working with your EDD site, within your WordPress admin, simply navigate to Downloads > Settings > Recapture and click Connect with Recapture.

Alternatively, you can search for the "Recapture for EDD" plugin in your WordPress admin or download from the WordPress plugin repository.
After you install and activate the plugin, Recapture will walk you through the rest of the onboarding process. You can also consult the Recapture for EDD setup guide if needed, but you should be up and running fairly quickly.
Once your account is set up, you'll want to activate the default email campaigns. Of course you can customize these as much as you want now or anytime later down the road.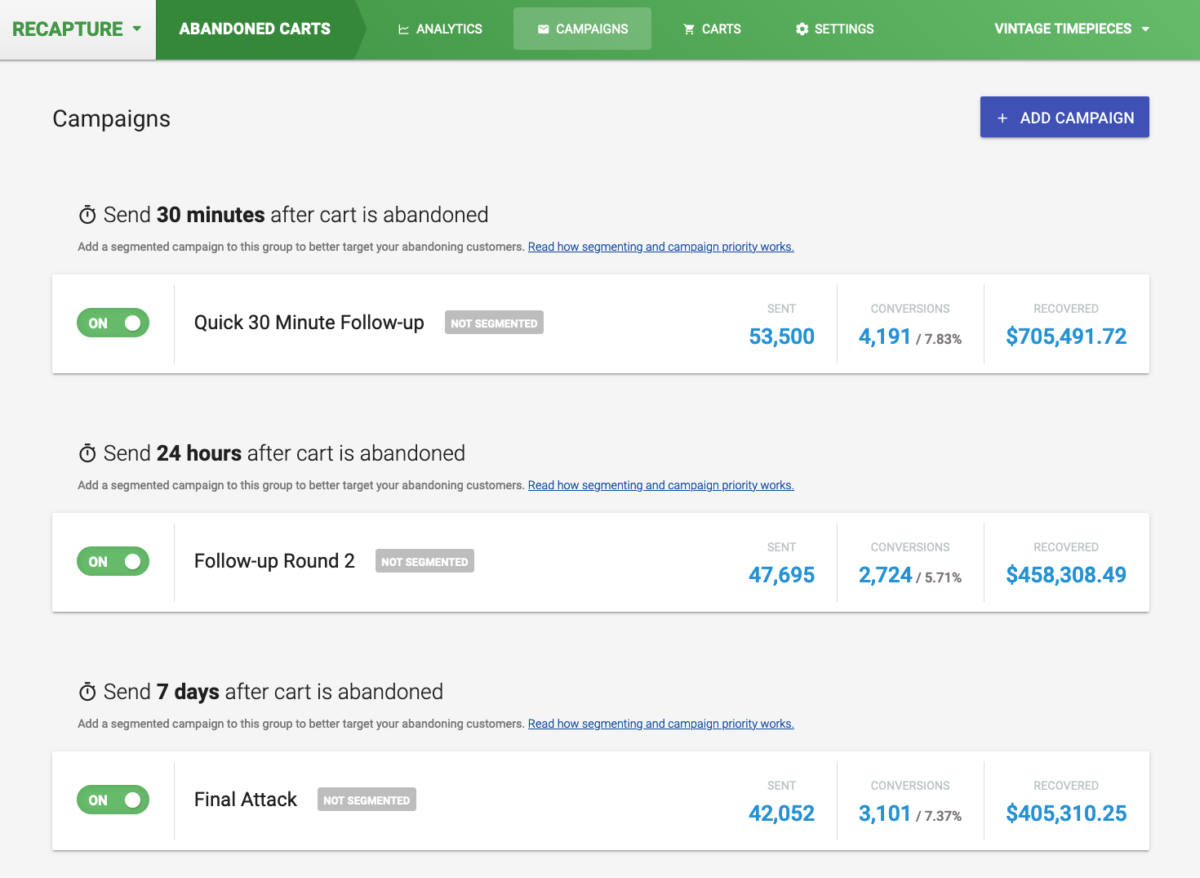 Additional Recapture features
Besides personalized, responsive emails and easy to setup email campaigns, Recapture also includes these useful features:
Abandoned cart recovery. Automatically send personalized, responsive emails to customers who abandon their shopping cart. Every email includes links that regenerate the customers exact session on your store, regardless of the device they are on.
SMS messages for abandoned carts and order notifications. Recapture now supports SMS messages to do cart recovery and order/shipping updates. Recapture lets you use the right channel to reach your customers.
Segmented, targeted campaigns. Build segments for each campaign to send highly relevant and targeted emails to each customer. Sending relevant emails will result in higher open rates and more conversions. Segments are intuitive and quick to create!
Email collectors, Add to Cart popup & exit intent popups. Deploy a fully responsive email collector popup to build your email list and help identify more carts. Choose from their customizable templates or provide your own, then decide exactly when and where to show a popup to each customer.
Amazing analytics. Know exactly how your campaigns perform, down to the email.  Stay in the loop with daily, weekly, or monthly email reports. All the numbers you care about, delivered right to your inbox.
Watch your customers, LIVE. Recapture has a Live Cart Feed, letting you watch your customers in real time add and remove items from carts. No one else has this feature!
Ease of use for everyone. Drag-and-drop email editor built with non-technical folks in mind. And they support custom HTML too, if you want to get fancy.
All the heavy lifting with delivery. Fully responsive emails, pre-tested on all major email clients. Mail delivery issues are a thing of the past (Recapture handles DKIM, SPF, blacklists, reply-to, etc). And they support custom sender domains, too.
Integrations you can use. Automatic sync to your Mailchimp lists. Connect to Zapier, too, which opens thousands of triggered actions all supported from Recapture.
Reliable to the core. Built on Amazon Web Services for reliability and speed. No need to worry if they can handle your traffic!
Painless setup and excellent support. 5-minute setup, no joke — that's all it takes. And if you run into issues, they have responsive live chat and email support.
We trust Recapture as they are backed by a team with a long history of ecommerce success — they've recovered over $150,000,000 for all kinds of stores since 2015. As your store grows, their reliable platform will scale with you.
Recapture's pricing is value-based on the additional revenue they recover for you each month, plus you can recover up to $500 on their platform at no cost to your store. They also offer a 15-day free trial and even a demo connected to a real, live store. Recapture puts the "Easy" in abandoned cart recovery for your Easy Digital Downloads store.
Stop missing out on lost cart revenue and add an abandoned cart campaign (or three!) to your Easy Digital Downloads store today!