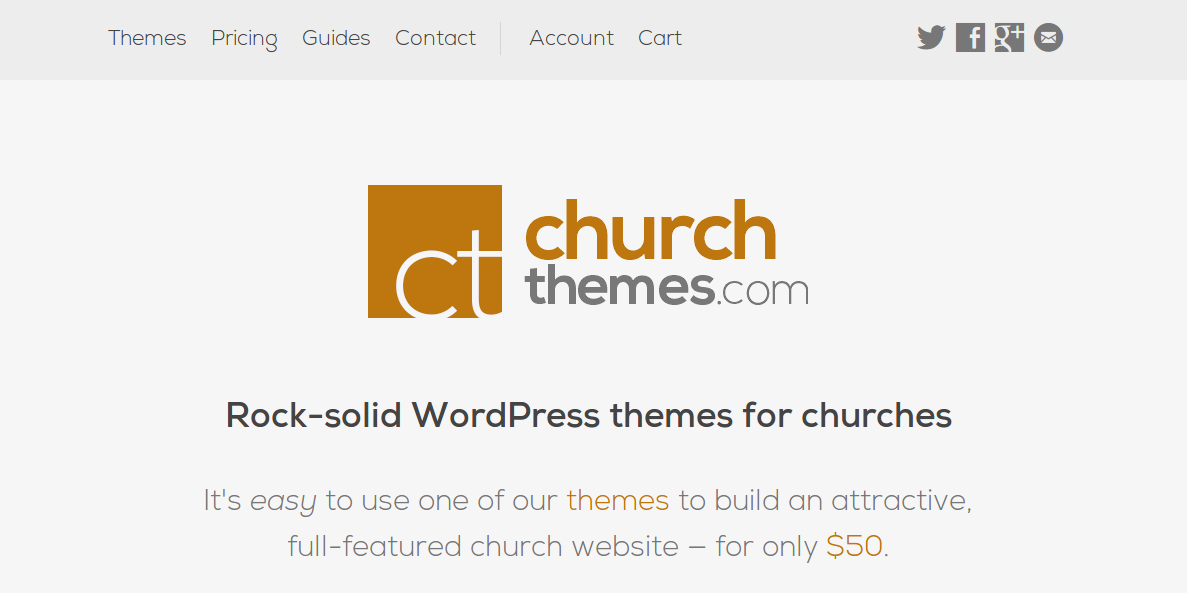 Churchthemes.com, a WordPress theme shop run by Dream Dolphin Media and focused themes built specifically for Churches has just recently launched their new site with Easy Digital Downloads powering the store. Steven Gliebe was kind enough to answer a few questions for us about their experience using Easy Digital Downloads.
1. What about Easy Digital Downloads made you choose it as a platform to sell your theme?
I was specifically interested in the Software Licensing add-on since we would be selling WordPress themes. We wanted to deliver automatic updates for our themes and price access to these updates on a per site and per year basis. It looked as though Easy Digital Downloads would let us do these things and sure enough that was the case.
Seeing interviews on this very blog with the guys behind established WordPress theme shops like Organic Themes and Mint Themes was also encouraging. The fact that you yourself use the Software Licensing add-on in a very similar way to how we wanted to use it was icing on the cake. Sometimes you get a list of features but with EDD I felt like I was getting proof of a solution that works.
2. Are there features in Easy Digital Downloads that you find indispensable?
The developer features. Its filters, actions and template overrides are indispensable. I like seeing different implementations of EDD because the checkout pages are so different. That says a lot about how customizable and flexible EDD is for developers.
The Software Licensing addon has also been indispensable for a business like ours. I looked at other solutions and there are none that come in a nice neat package that is ready to use like this add-on. There are none that have been proven like this.
The cart and checkout process is indispensable but that one's obvious!
3. How was your experience setting up and configuring Easy Digital Downloads for your site?
Once I got serious, I was pleased to find nearly everything I needed in the documentation and forums to put together a customized implementation of EDD with various add-ons. The most pleasing part of setting things up was that it did the things I wanted out of the box.
The settings provide a lot of flexibility. We're in Texas so we must collect sales tax for those residents. EDD has that figured out already. We're a theme shop and want our own site to look pretty. EDD let us disable the default styles and have at it so that the plugin's output melted right into our own theme. The shortcodes for logging in and editing the profile were also very handy. If we had to develop that ourselves, it would have taken more time.
It's work to build an e-commerce site but Easy Digital Downloads provided for us many features and resources to make that process easier and quicker. I would say the setup experience was a very good one overall and did not take any longer than I hoped.
4. Are you using any Easy Digital Downloads extensions? If so, which ones?
Yes, in addition to Software Licensing, the major ones we rely on are Stripe and MailChimp. It's a joy to deal with Stripe and a huge plus to collect willing customers into our mailing list while checking out. We also use Manual Purchases and User History for added convenience and insight.
5. What's a feature you wish Easy Digital Downloads had but doesn't?
The truth is Easy Digital Downloads has everything we absolutely must have, and more. I can only request a minuscule improvement, not even to the EDD core itself, but to an add-on.
With Software Licensing, the ability to edit the activated Site Count for a license via the admin area would be useful. We limit updates to one site per theme license so when a user moves their site but forgets to deactivate the license beforehand, we manually reset the count for them. We're able to do this with our database client so this is no deal killer.
6. Your turn: tell us anything about EDD that you love or hate.
One thing I love is that it is so very actively developed, has a repo on GitHub for contributions and reporting issues, and that there is a massive and growing ecosystem of add-ons. There's strength in numbers. The documentation is also very thorough and that is something to be thankful for.
The greatest thing about Easy Digital Downloads though is how much time it has saved us. I've been building on the web for a long time and turn-key solutions as good as EDD did not always exist. You had to build it yourself much of the time. churchthemes.com would not be online for another six months if I had to integrate with a payment processor and build a backend for managing customers and products myself. It wouldn't be as complete as it is either.
Time really is money when you're doing business so the cost of purchasing a few premium add-ons is small compared to what we've saved and hope to earn.