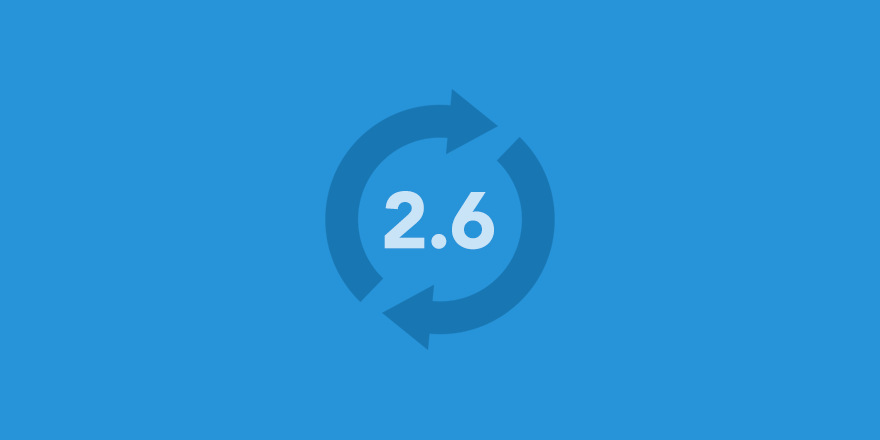 After more than six months in development, we are thrilled to announce that Easy Digital Downloads version 2.6 has been released! This is a major release that includes numerous significant improvements, which we would like to show you now.
Native import options
Six months ago, with version 2.5, we introduced improved export options for products. Now, in 2.6, we have completed the second half of the project by adding native support for importing payments and products.
From the Downloads > Tools > Import/Export screen, site administrators are now given options to import products and payments from CSV files.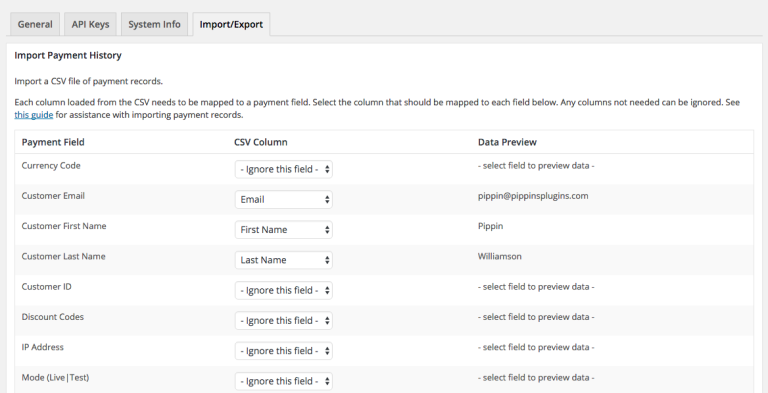 The import process is built to easily handle hundreds or even thousands of records so even the largest of CSV files can be imported without problem.
These import options replace our old CSV Manager plugin in order to provide a more pleasant, easier to use, and native system for importing records into your store.
You can find complete instructions on using the new import options on our documentation site.
Additional customer emails
Almost everyone has, or at least knows someone, that has more than one email address. It's very common for customers to purchase with one email address then come back and purchase again with a second email address.
In 2.6 we have introduced support for registering additional email addresses on customer records.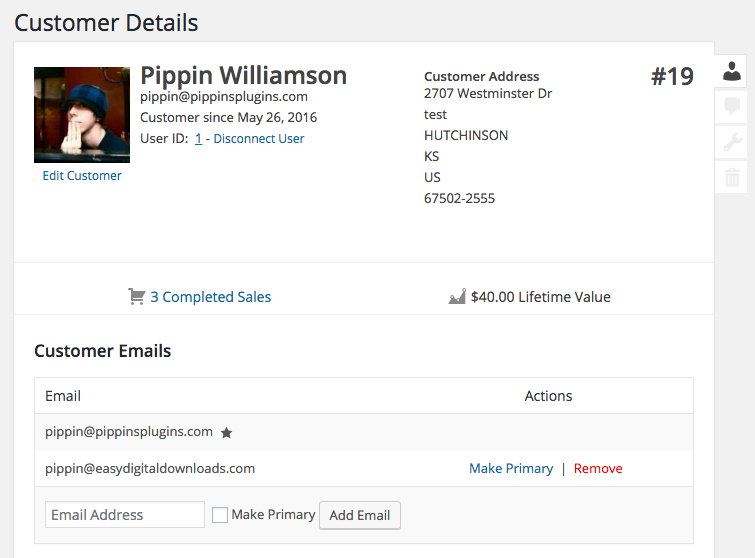 Email addresses can be manually added or removed by site administrators. If a customer makes a purchase while logged in but they use a different email than is already associated with their account, the second email will be automatically attributed to their existing customer record.
This makes managing customer records much simpler as you will no longer have multiple records for a single customer.
Refund processing for PayPal Standard
While not usually something store administrators take great pleasure in handling, refunds are a very real part of running an eCommerce store. As much as we would love to, we can't make the actual refund more enjoyable, but we can make refunds easier to process.
In Easy Digital Downloads 2.6, we have added support for processing refunds directly from the View Order Details screen for purchases made through PayPal Standard.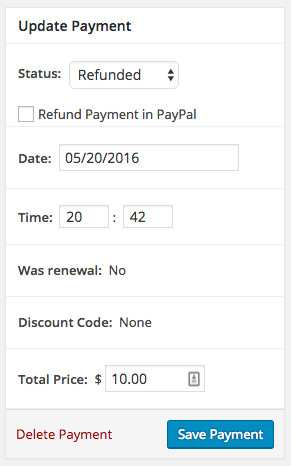 You can learn more about enabling refund processing for PayPal Standard in our documentation.
Customer metadata
With 2.6, we have introduced a complete metadata API for customers that allows Easy Digital Downloads and extensions store metadata associated with customer records.
What exactly does this mean? If you are an extension developer, it provides a great way to store additional information on customer accounts. For store owners, it means many of your favorite extensions will soon be receiving updates that make them better.
The customer metadata API is an underlying infrastructural component that we have needed for a long time, so we're thrilled to have it included in 2.6.
Improved inline documentation
While we strive to make Easy Digital Downloads live up to its name, there are always times when certain things are not quite clear. To help alleviate any uncertainty, we have introduced improved descriptions and help texts throughout the plugin. Along with the improved descriptions, we have also added tooltips in many places that offer verbose definitions of options.


Other notable changes
REST API V2. We have introduced the second version of our REST API. This version includes several noticeable improvements, including support for categories and tags on the products endpoint, product search, and date ranges for the customer endpoint. See the API versioning documentation for information on how to use version 2.
Better mobile checkout. When purchasing with a debit or credit card from a mobile phone, the card number input field will now properly set the phone's keyboard to a numerical keyboard.
Prices on oEmbed. When embedding a download product on another site, using WordPress core's oEmbed feature, the product prices are now shown.
Resolved schema problems. Up until 2.6, there have been numerous reports of schema micro data not being correct, resulting in validation errors by Google. These have been resolved.
Improved accessibility. To make Easy Digital Downloads more accessible to more users, we worked directly with a member of the WordPress accessibility team to help resolve accessibility issues throughout the administrative interfaces.
Developer improvements. Numerous enhancements have been made that are targeted at developers. If that is you, head over to our Developer Notes post.
In total, version 2.6 includes 47 distinct improvements and 37 bug fixes. The complete changelog can be found on WordPress.org.