---
Few things are more important than the visual appearance of your website.
To make (and increase) sales on your eCommerce site, your theme needs to:
Make a great first impression
Allow for easy product browsing and selection
Provide a quick easy purchase process
That's a tall order. How do you do all of these things while looking good?
For more than 1.6 million people there is a simple answer to that question. Use Astra! 🚀
What is Astra?

Astra is, simply put, the most popular theme for WordPress. It's built by Brainstorm Force, a group of WordPress experts that have been building sites since 2009. They launched Astra in 2017.
That's actually pretty late in the game for WordPress themes, yet it has grown to be a top theme. Maybe the top theme.
What is a WordPress theme?

Just in case you are not familiar with themes. A theme (aka 'template') is the collection of HTML, CSS, PHP and Javascript files that control your website's appearance. Every WordPress site is using one.

There are tens of thousands of them available with both paid and free options. Not sure which one you're using? On your WordPress dashboard go to Appearance > Themes. You can see which one is activated and download themes right from your dashboard.
Why is Astra So Cool?
How? Why? Hard work and focus. The team knows what makes a theme great, and they just keep making it better. The Astra WordPress theme has everything that matters:
✅ Speed – this theme is proven to load fast. In most situations it'll load in a half a second. That's 0.5 seconds! 🏎
✅ Lightweight – Astra uses less server resources (50 kilobytes) than most themes that use hundreds of kilobytes. This helps your site run fast for more customers at the same time. It's almost like magic. 🪄
✅ Flexible and customizable – You can make your Astra-themed WordPress site look however you want it to. Without any code.

And you can do this with all the popular WordPress plugins. Want to work with page builder plugins like Elementor or Beaver Builder? Gutenberg? The Customizer? Choose your flavor, or mix a few together! 🍭
It Just Got Even Better!
🎉 Now Astra is fully integrated with Easy Digital Downloads (EDD)!

Use the free version of Astra and easily customize how your EDD downloads and store pages look. You can have a beautiful store that matches your brand in minutes.
Standard EDD Integration
When your WordPress site has EDD and Astra installed, you'll find a new tab just for EDD on your Customizer.
Go to Appearance > Customize to open the Astra Customizer window.
On the left side you'll see a tab labeled Easy Digital Downloads.
Click on that tab, then click Product Archive to customize how your shop page appears.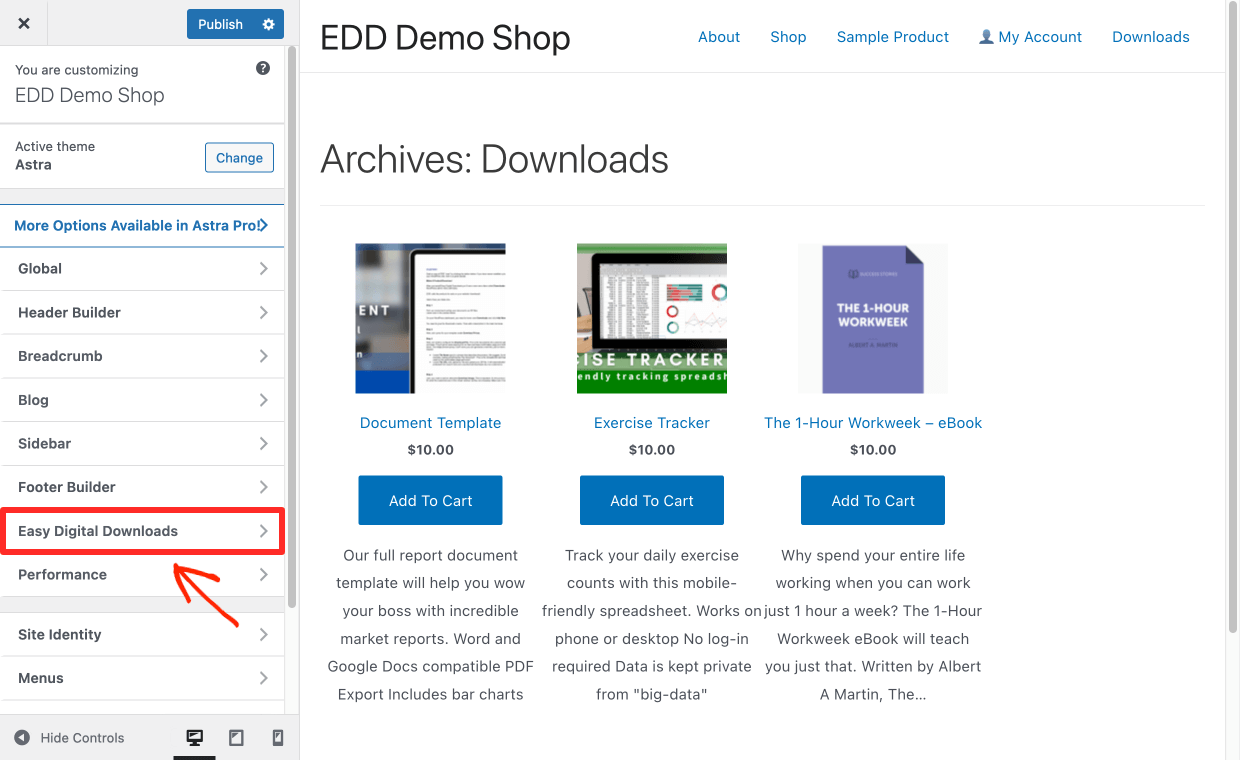 Note: The EDD shop page is called a Product Archive. In WordPress-speak a page that displays a list of Posts is an Archive. Each product in your EDD store is a Custom Post called a Download. Your Product Archive page displays a list (or archive) of these Downloads.
You'll have tons of options like:
How many columns of products to display (on desktop, tablet, and mobile)
What to show and not to show (like product images or short descriptions
How to label each type of button
The width of the content area
For example, below, say I think it's too crowded to display my short descriptions.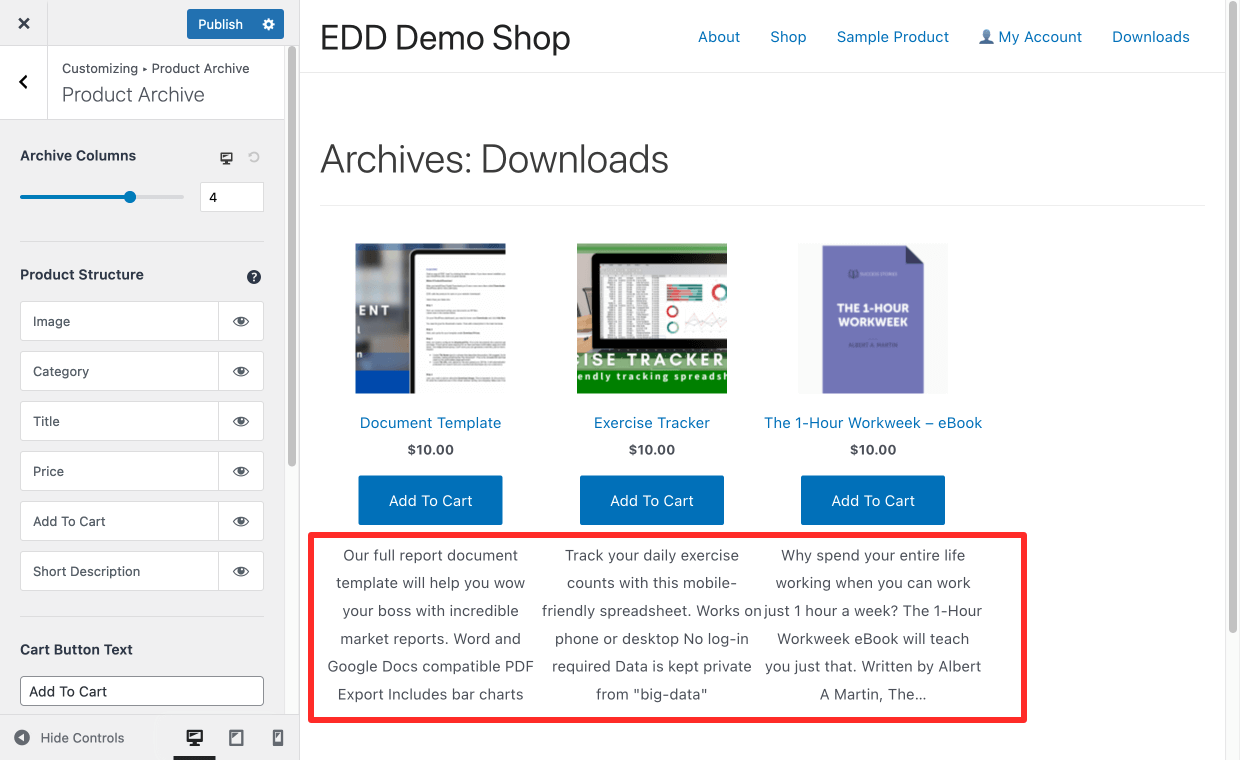 I can simply toggle that off!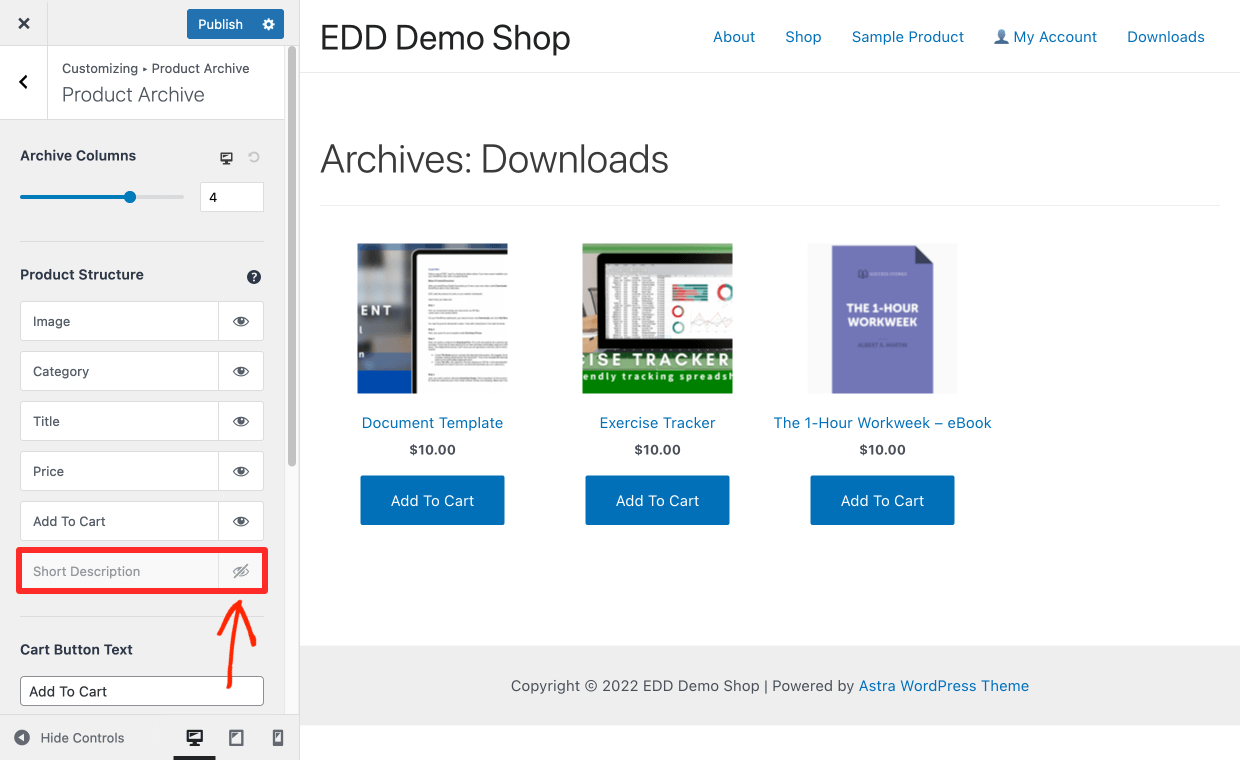 Starter Themes
The free version of Astra also gives you access to Starter Themes. Choose from more than 100 free Starter Themes that are ready to import into your website and easily customize.
The eBook theme is EDD-integrated and ready for selling digital products.

Astra has starter themes for building any kind of website. Astra has done all the web design for you. You just customize the colors, add blog posts and content, and you're ready!
🔎 Learn more about Astra + EDD at Astra's Docs.
Go Pro
Be sure to grab Astra Pro to give your site an even more professional edge over your competition.
You'll get the Easy Digital Downloads Module. This module gives you more controls and ways to enhance the user experience on your website.
Header cart icon and style
Advanced Product Archive controls
Advanced Single Product page controls
Checkout page controls
Detailed font, color, and background color controls for each aspect of your store
For example, on the Product Archive you'll see more layout options: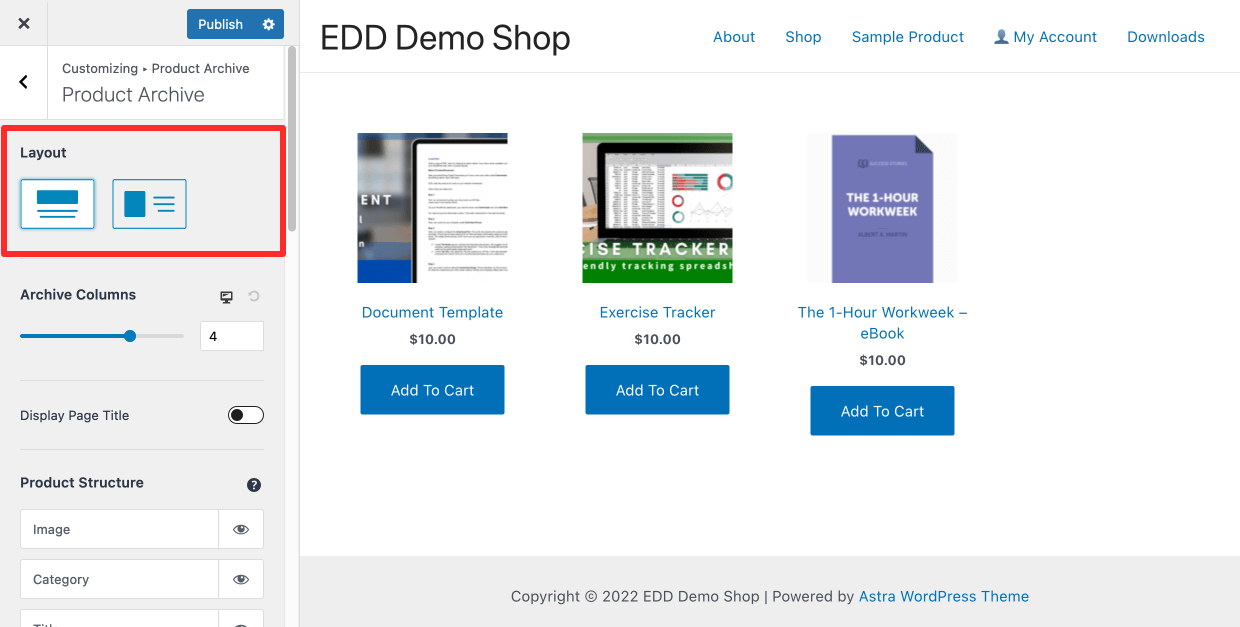 Or, you can add stylish details to enhance the shopping experience like a Box Hover Shadow that allows the product to stand out when the shopper hovers over it.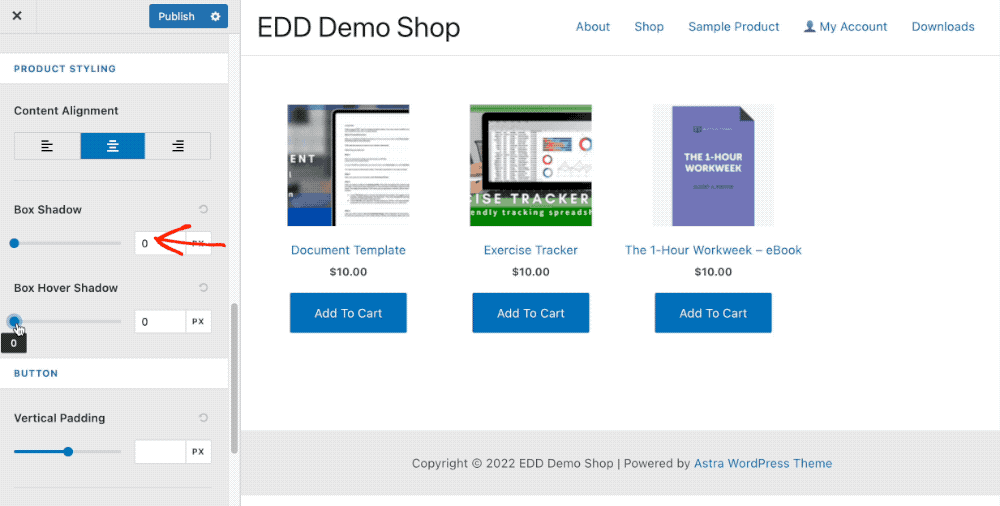 🔎 Learn more about the EDD module at Astra's Docs. Everything is very thoroughly explained!
Also Included with Pro
Get Astra Pro for the EDD module. Stay for the other goodies.
You get A LOT more with Astra Pro than just the EDD module. Although we think the EDD module alone is worth it. (But let's face it, we're biased 😇).
Astra Pro also gets you:
More site layouts, more nuanced color controls, and better fonts and typography options
Header sections, footer sections, a mega-menu option
White label (removes all Astra branding from the frontend and backend, great if you are building a site for a client)
Add The Essential Bundle for:
180+ Premium Starter templates
WP Portfolio plugin
The choice of one Ultimate Add-ons for either Elementor or Beaver Builder
Or opt for the Growth Bundle to add:
Convert Pro plugin
Schema Pro plugin
Both the Elementor and Beaver Builder Ultimate Add-ons
A free membership to the SkillJet Academy
We're confident that Astra can help you build a better and more beautiful store. It's a great theme option if you're just starting out, or want to do an overhaul of your site's visuals with little work.
---
Are You Using EDD?
Not yet using Easy Digital Downloads to sell your digital products yet?
Well let's do that!
EDD is the best way to sell digital products (aka downloads, downloadable products, or virtual products) with WordPress. We have a 10-year proven track record of helping more than 50,000 businesses sell their digital creations.
Just like Astra, EDD has a free version. Not a free trial. With just a few clicks you'll get:
Protected product files, only paying customers will have access to your digital downloads
Flexible checkout options
Customizable shopping cart
Discount codes
Customer management (basic CRM)
White label (full control over branding)
eCommerce reports
Stripe and PayPal integrations

Use Stripe or Paypal to accept credit cards
Use Stripe to accept Apple Pay or Google Pay
As your business grows, EDD can grow with you. When you need more functionality, purchase an EDD Pass to add features like email marketing integration, subscriptions, invoices, or product reviews. Start for free, pay when you need to!
Happy selling,
Joe Wells
Product Educator, Easy Digital Downloads