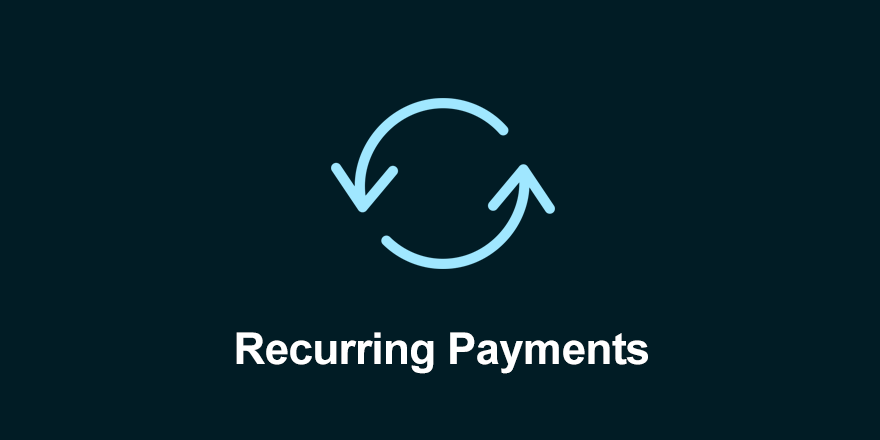 Recurring Payments is one of our most widely used extensions, for good reasons, and has been the focus of a significant amount of our development time in the last 12 months. In February, 2016, we announced the first release of the new Recurring Payments plugin; today we're excited to announce yet another release with another set of sweeping improvements.
First, however, you might ask why recurring payments?
One of the biggest advantages of recurring revenue is predictability. Building a predictable revenue stream allows businesses to properly forecast their future revenue and expense management.
Setting up recurring revenue with your online store might just be the most important business decision you ever make.
In this new version of Recurring Payments, we have added several significant new features, and I'd like to show those to you now.
Manual subscription creation
Since the release of version 2.4, one of the most requested features has been manual subscription creation. We listened and now it is here!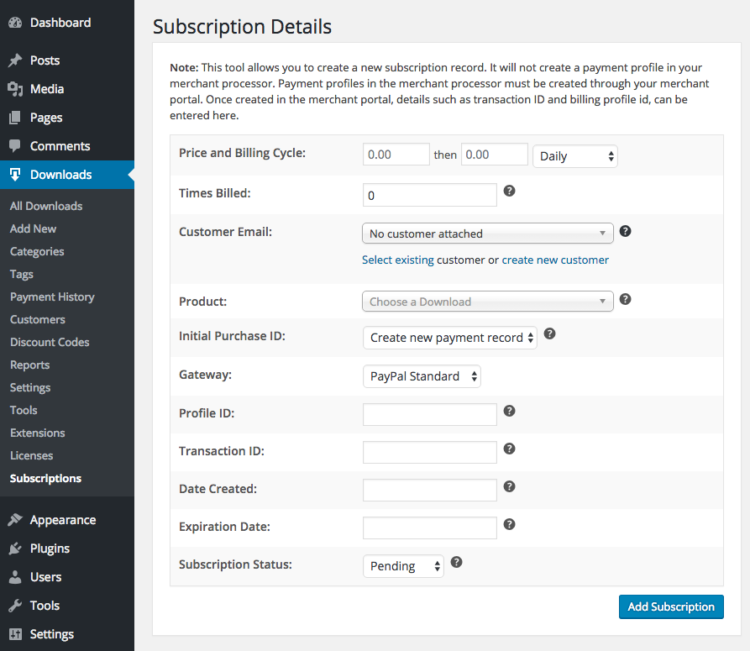 This tool allows site administrators to manually enter subscription records into the database that can then be synced with existing recurring profiles in merchant accounts.
Do you have existing subscriptions in Stripe, PayPal, or 2Checkout and now wish they could show up in Easy Digital Downloads? With 2.5 this is exactly what you can do.
With manual subscription creation, you can also manage offline subscriptions that are paid by check or other non-digital form of payment.
Subscription searching
It is now easier than ever to find subscription records in the database. We have added a search tool that allows you to find subscriptions by customer, profile ID, transaction ID, and more.

Custom Prices integration
The Custom Prices extension is another customer favorite that is widely used and provides options for customers to enter "pay what you want" amounts. With this new version of Recurring Payments we have introduced complete support for Custom Prices, meaning you can now set up "pay what you want" subscription options.

This is a commonly used feature on donation sites as it allows campaign donors to have more control over the exact amounts they wish to donate. Oh, and both Recurring Payments and Custom Prices are fully integrated with our Donations extension.
Quarterly and semi-annual subscriptions
Since 1.0, we have supported daily, weekly, monthly, and yearly subscriptions in Recurring Payments. These work for most use cases but a significant number of sites need something slightly different. Today we're happy to announce support for quarterly and semi-annual subscription terms. This means you can now charge customers each quarter (three month) and/or twice per year (every six months).

Garbage collection
We strive to keep Easy Digital Downloads lean and efficient, and part of that means cleaning up after ourselves. In 2.5 we have introduced better "garbage collection" that cleans up orphaned entries in the database, incomplete subscription records, and other unused data that would, without this, sit around clogging up the database. You won't ever see anything in your administration areas for this, but rest assured it is working in the background to keep your database clean and happy.
Improved admin subscription management
Whether it is cancelling a subscription, manually entering a renewal payment, or extending the expiration date, site administrators need options to update subscription records. In version 2.5 we have extended the options available to site administrators. Along with the added support for manually created subscriptions, we have also added a workflow for manually renewing a subscription record and we have added an option to change the product that a subscription is assigned to.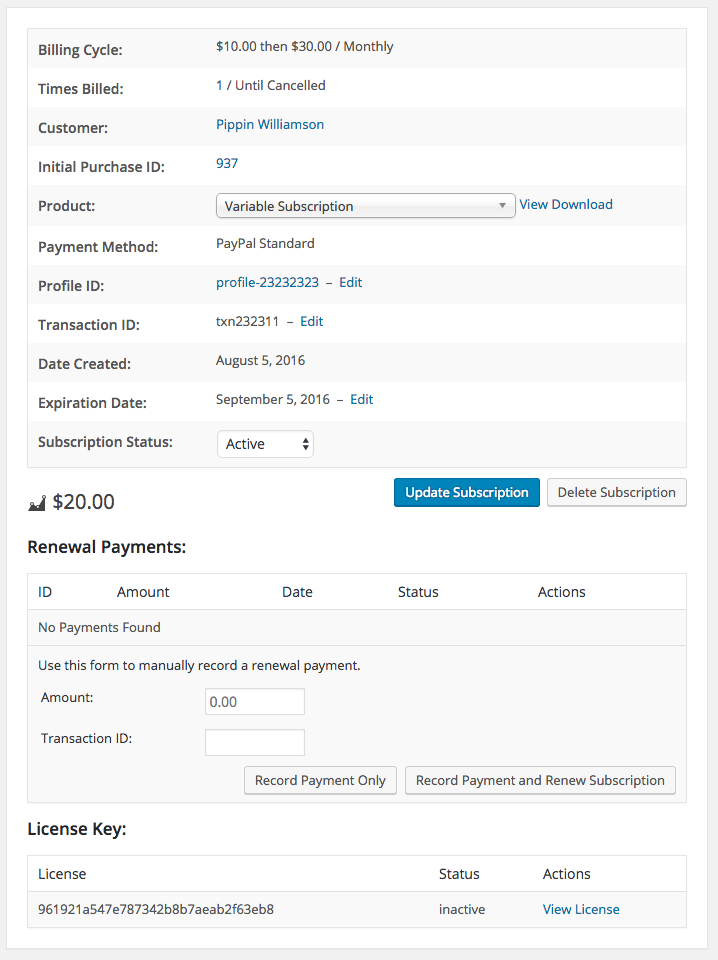 How to get the update
If you have already purchased Recurring Payments and have a valid license key, the update is available for one-click install from your WordPress Plugin's page. For those that prefer manual installation of updates, the new version can be downloaded from your account page.
For anyone that has not yet purchased Recurring Payments but is ready to start building their business upon subscriptions, head on over to the extension's details page for pricing and more information.