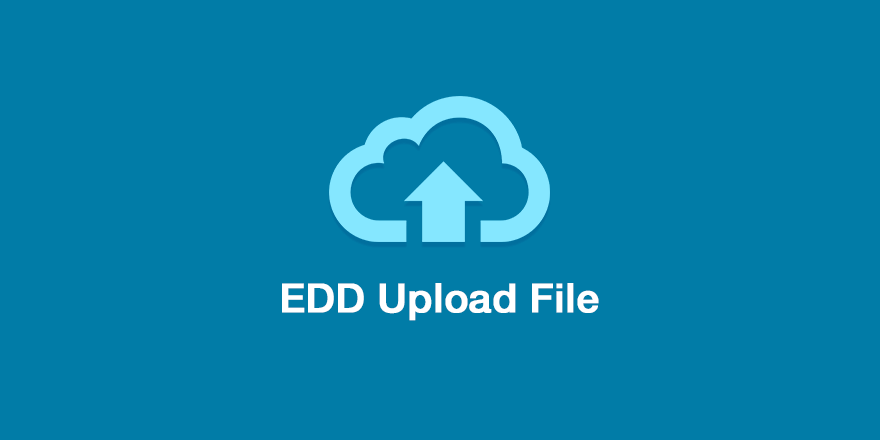 The Upload File extension has come a long way since its initial release in late 2013. Designed to allow collecting specifications, images and similar from customers, Upload File has long served its purpose, but never really lived up to its full potential. All that changes with the recently-released version, 2.0.0.
One of the things that makes Easy Digital Downloads such a powerful platform is the level of flexibility it provides to store owners. In fact, not every site running Easy Digital Downloads falls into the traditional "shop" category. Easy Digital Downloads users sell everything from software to services and, in many cases, may have reason to collect information beyond the scope of the checkout form. What if your shop sells custom t-shirts and you need a way for users to provide their designs? Or what if you run a service provider powered by EDD and need to collect specifications or documentation during the signup process? These are the markets that Upload File is tailored to.
In this release, Upload File has undergone a complete overhaul addressing many of the issues that have plagued it since day one, and I'd like to take a moment to show them to you.
Drag & drop upload support
Historically, Upload File has used a very simple upload form. With the 2.0.0 rewrite, we've updated the uploader to use a more modern, more fluid system with drag & drop support! Beyond that, the new uploader features chunked file support, allowing your users to upload significantly larger files, and auto-resume support in the event of network loss.
Beyond the functional changes, Upload File now supports direct uploading on a per-product basis. Previous versions featured "pooled" uploading; while this method worked, it wasn't very intuitive for admins. If a customer purchased three separate products which allowed one upload a piece, the uploader simply asked for three files. Now, uploaders are displayed for each product individually, and work completely independently. In other words, if you have an uploader which requires a single image, and another which requires up to two documents, they are now separately displayed, and the relevant files are attached directly to the relevant cart items.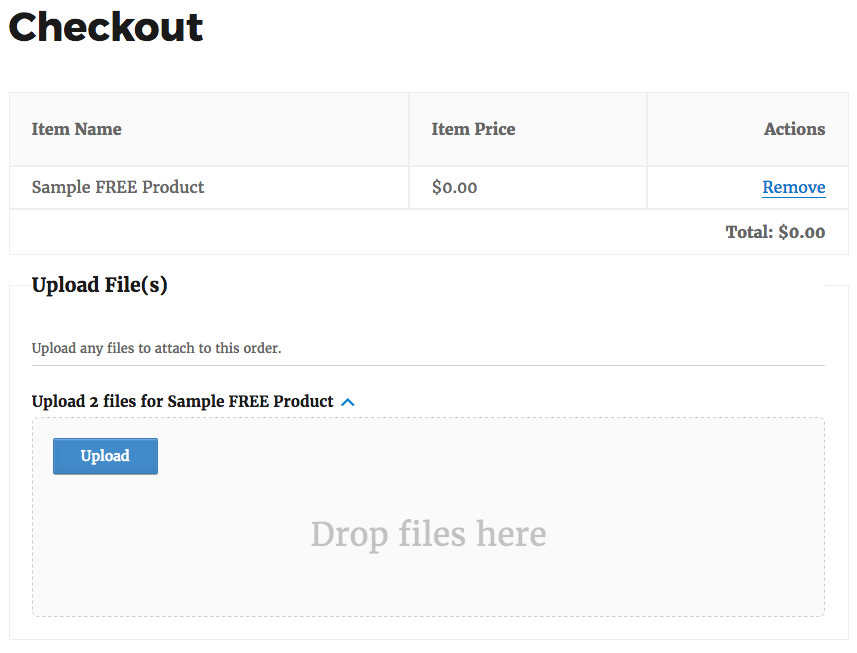 A better user experience
While the improved uploader already provides a better user experience than previous versions, we wanted to take this release a step further. In that vein, uploaded files are now shown on both the receipt and payment history pages. Additionally, we've added an option to allow users to re-download their uploaded files should they feel the need to. Of course, this option can be enabled (or disabled) at will.
A more flexible admin experience
The customer side isn't the only thing that received a bit of love in this update. Our settings section has been completely redesigned with a number of new options, and more flexibility in how and where you display your upload form. Many of the options are also configurable per-product.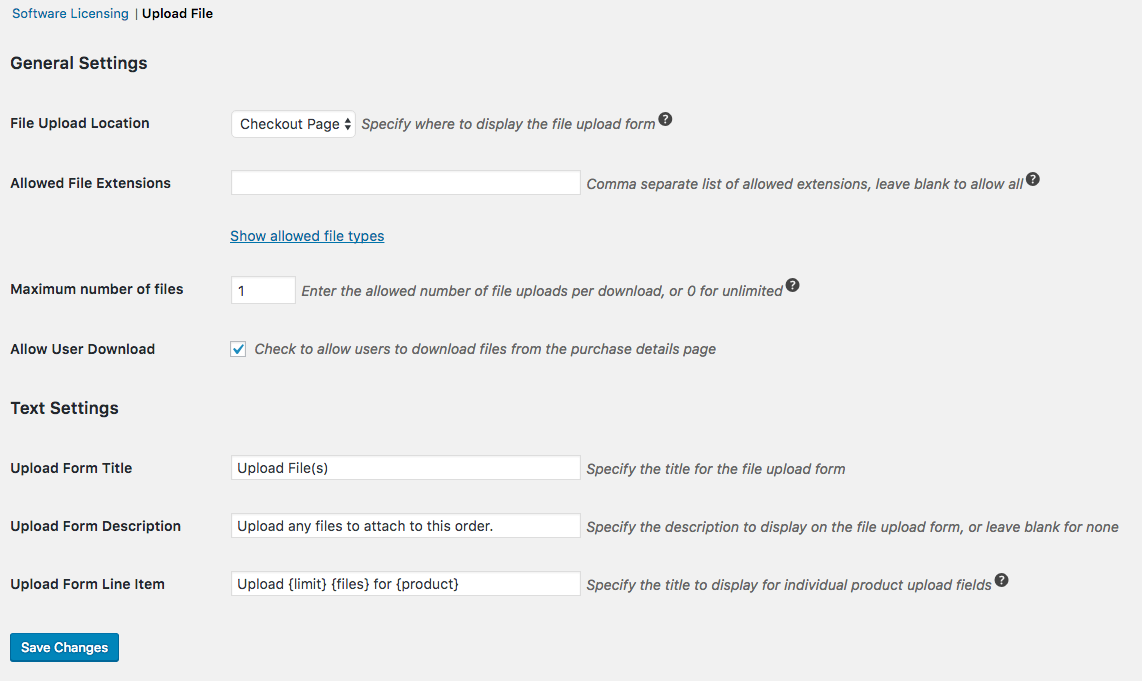 Finally, once files have been uploaded, the admin experience has been significantly improved. Previously, we just dumped the files into a meta box on the purchase history page. Not terribly useful if a user purchased multiple products supporting uploads! Our new meta box breaks down uploaded files on a per-product basis and presents the admin with a clean, easy to understand table.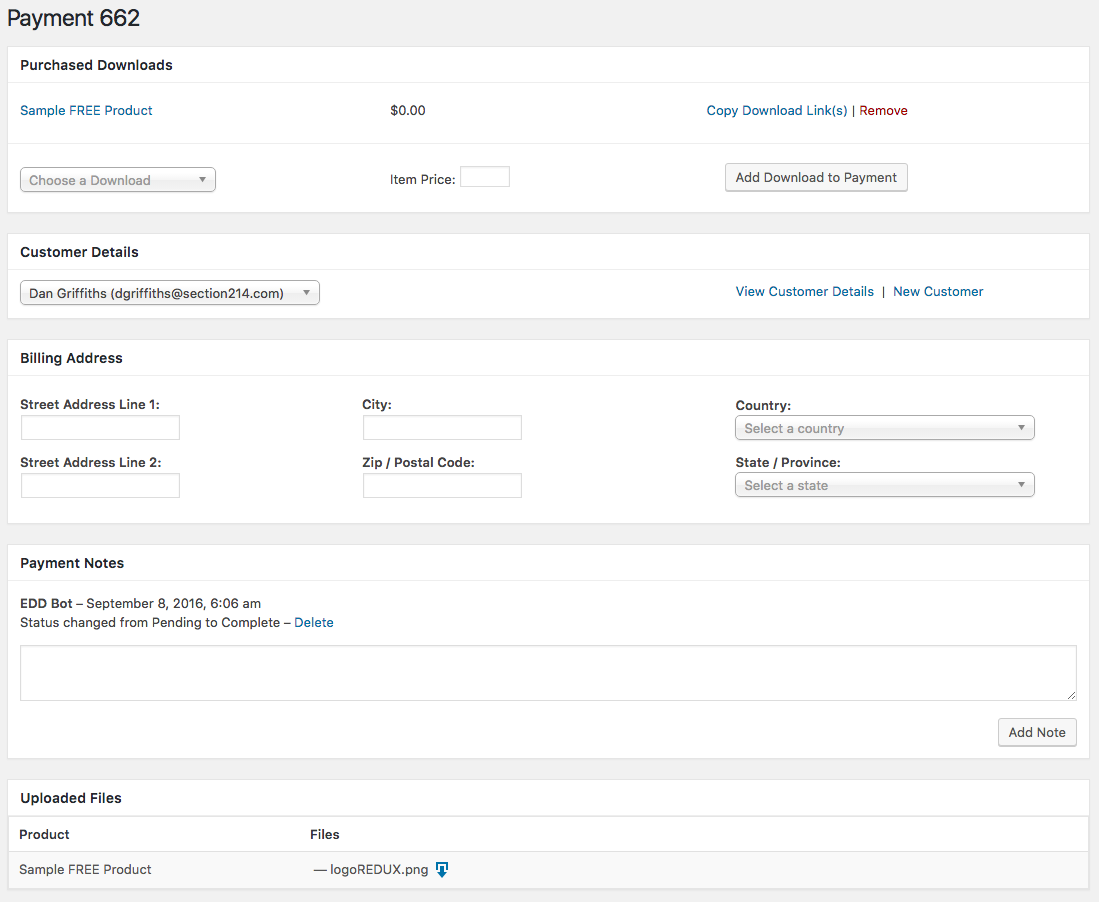 How to get it
If you have already purchased Upload File and have a valid license key, the update can be installed directly from the Plugins page of your WordPress Dashboard. If you prefer to update manually, the update can be downloaded from your account page.
If you haven't purchased Upload File yet, there's no time like the present! Head on over to the extension's details page for pricing and more information.