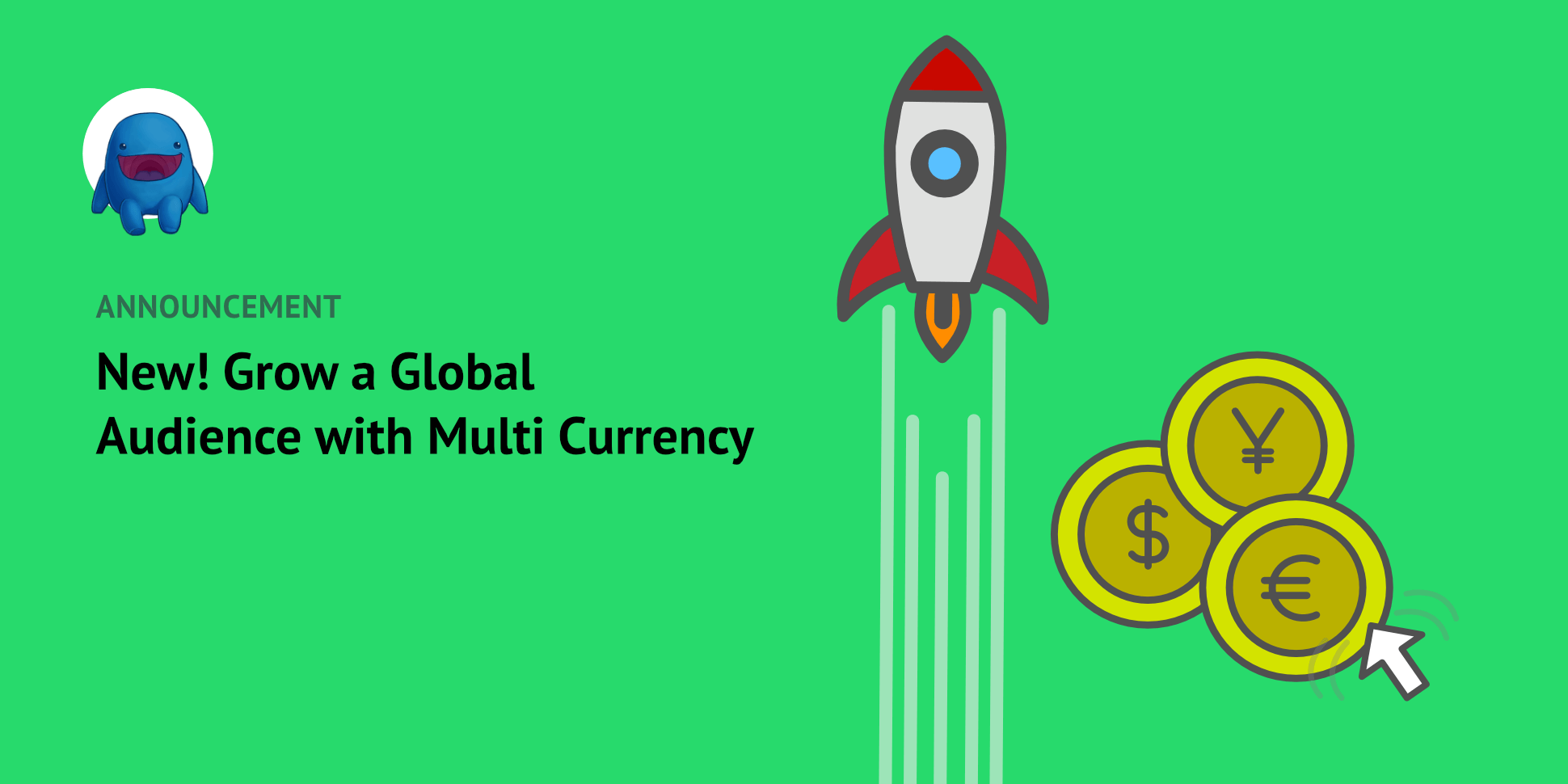 Want to increase sales? Customers are more likely to purchase from a store if the prices are in their own currency.
Easy Digital Downloads now makes it easier than ever to display and accept payments in more than 200 currencies anywhere in the world. 🌐
🎉 Today we are excited to announce Multi Currency for EDD 💶 💷 💴 💵
With multi-currency support, potential customers will be more likely to purchase from your website because:
They can see prices in their own currency (no mental math!) and
Avoid additional currency conversion fees on their bank statements (no surprises)
Take that competitors!
In the past you needed in-depth knowledge of code or had to hire a developer for functionality like this. Not anymore. You can manage it all with EDD without leaving your WordPress dashboard.
We'll walk you through the highlights:
A currency switcher for site visitors on the frontend
Complete exchange rate controls on the backend
Fully integrated and supporting 200 currencies
Currency Switcher
Customers can switch currencies with just a click. Choose from buttons if you'll support a few, or a dropdown if you'll support a bunch. Display the currencies in a widget. This widget can be shown on product pages and the checkout page to give potential customers every opportunity to switch.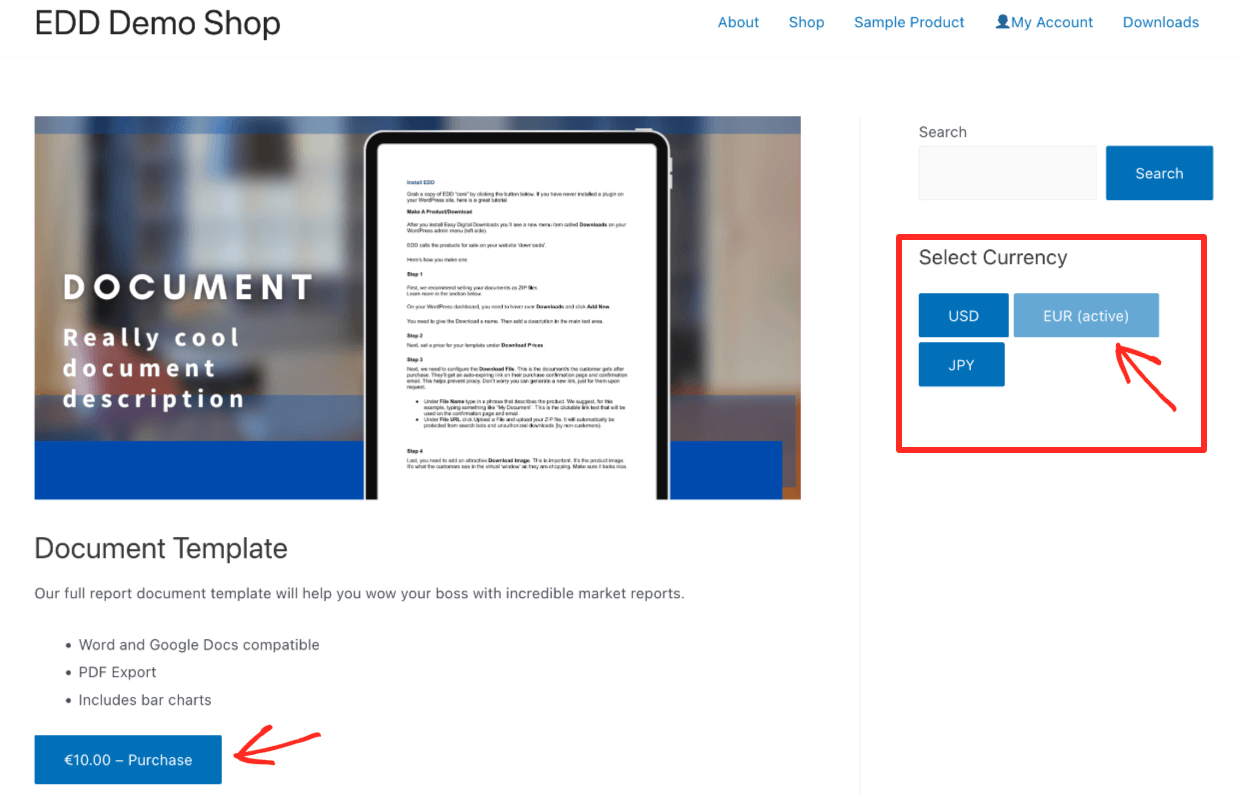 Set the Exchange Rate Yourself or Automatically
EDD's Multi Currency extension lets you automatically 'set and forget' the exchange rates with the Open Exchange Rates API. Leave it automatic and never have to think about it again. Select the Auto Update Exchange Rates option.
Simply leave the 'Set the exchange rate manually' unchecked on any currency you want automated.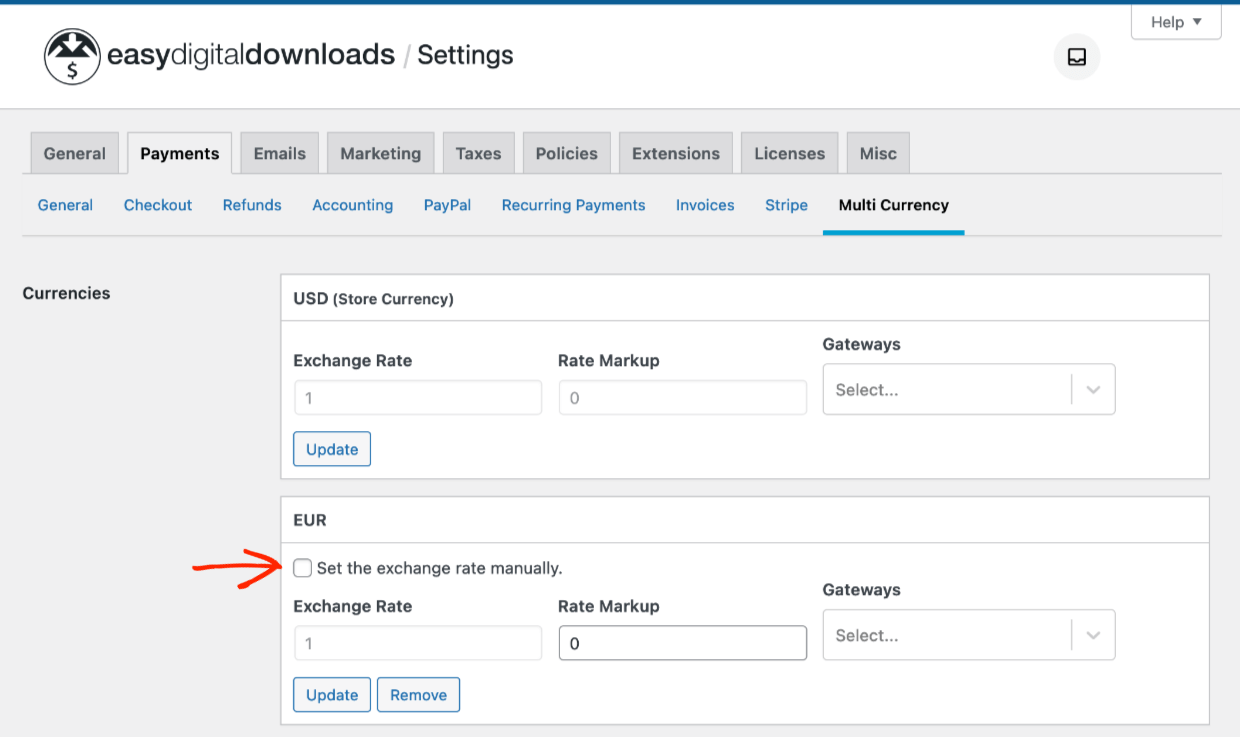 Open Exchange Rates is a trusted provider of live and historical currency exchange rates. It's used by many of the biggest brands you trust each day! Learn More.
For the rates set to auto, you can choose how often you want to check and update the rates. Choose hourly, once daily, twice daily, and weekly.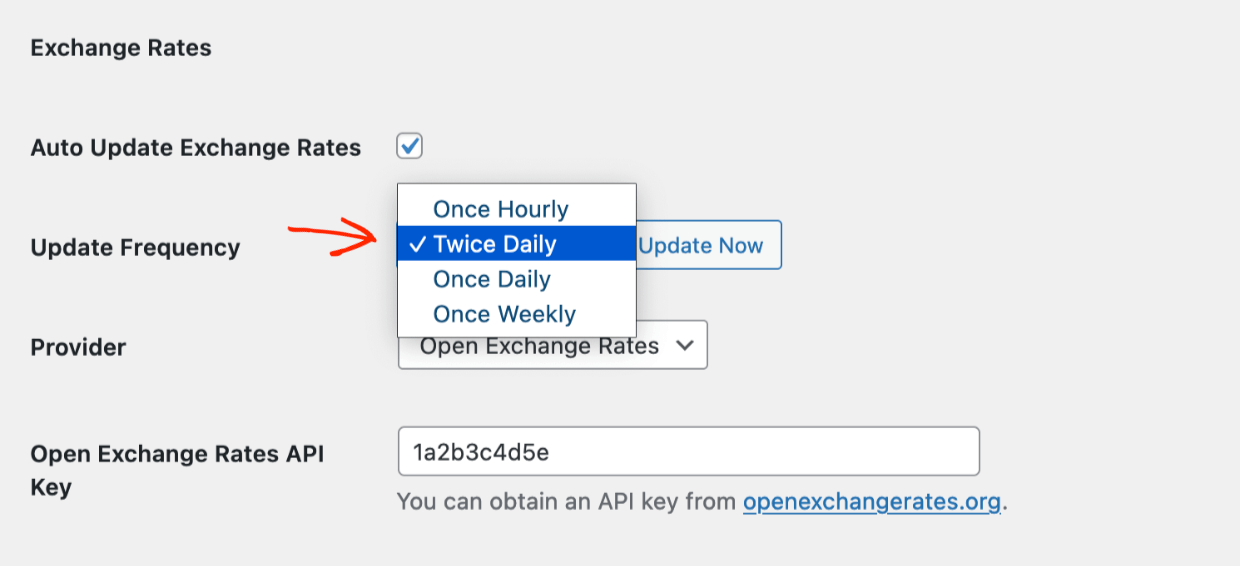 Need to set one or two manually for some reason? Just do it. You can individually set an exchange rate yourself by clicking the 'Set the exchange rate manually' box and setting a rate.

🚨 Important Note:
If you are or were using the third-party Aelia Currency Switcher extension you can migrate everything over to Multi Currency. Be sure you have our Multi Currency extension activated before migrating from an EDD version 2 site to an EDD version 3 site.

🔎 Learn more on this Doc
Fully Integrated and Supports 200 Currencies
You let us know that you wanted this functionality and didn't want to rely on third party extensions. Set up Multi Currency and never worry about it again. It's part of EDD's official features now and we'll keep maintaining and improving it.
Multi Currency supports over 200 world currencies. No matter where your site visitors are from, they won't think twice about making a purchase, without any hassles or fees. This will set your website apart from the others.
You never have to deal with manual calculations or conversions again.
🌐 Multi Currency helps you grow your business without growing your busy work!
We know that Multi Currency will improve conversion rates. It's such a simple way to grow your business.
Multi Currency is included with any EDD Pass.
Thanks for using EDD. We'll keep bringing you features like Multi Currency, to help increase your conversion rates. Did you hear about version 3.0? It's a big deal, it'll make improvements faster than ever.
Share your digital creations with the whole world!
Cheers,
Joe Wells
Product Educator, Easy Digital Downloads
P.S. Be sure to subscribe to our newsletter and follow us on Facebook or Twitter to stay up to date on EDD, WordPress, and digital creator tips.