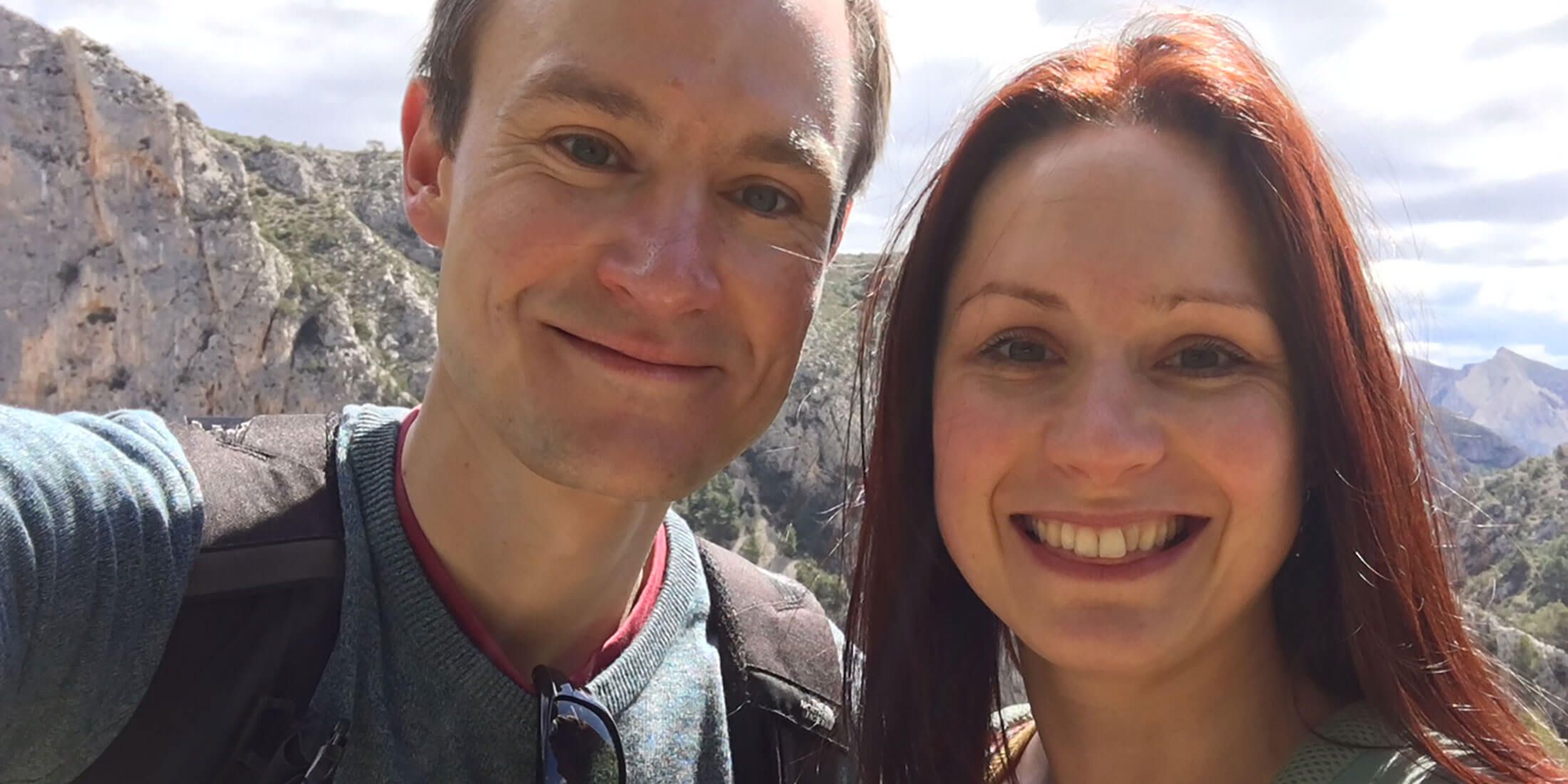 "Success is having the freedom to do the work you love in a way that fits with your lifestyle" says Katie Keith, one half of Barn2 Media.
You've probably heard of Katie and Andy Keith, who, tucked away in the rolling hills of coastal Devon, England, have spent the better half of a decade fine-tuning the direction of their company, Barn2 Media. Earlier this year they featured on Indiehackers, and have recently appeared on other blogs as well. We spoke with Katie who was extremely kind to share the major facets of their success with us.
The story
In 2009, the desire for a self-employed lifestyle tempted the pair, and the budding WordPress market prompted Andy to boldly quit his day job to launch their design and development business. As the technical lead, he had a huge amount of work on his hands with the growing business. Fortunately, Katie's flexible schedule with her previous job permitted her to spend time working alongside Andy to take care of the day-to-day management. The flourishing business meant that after her maternity leave in 2011, Katie had no need to return to her old job, instead assuming the full-time role of Operations Director (encompassing support, marketing, and business development).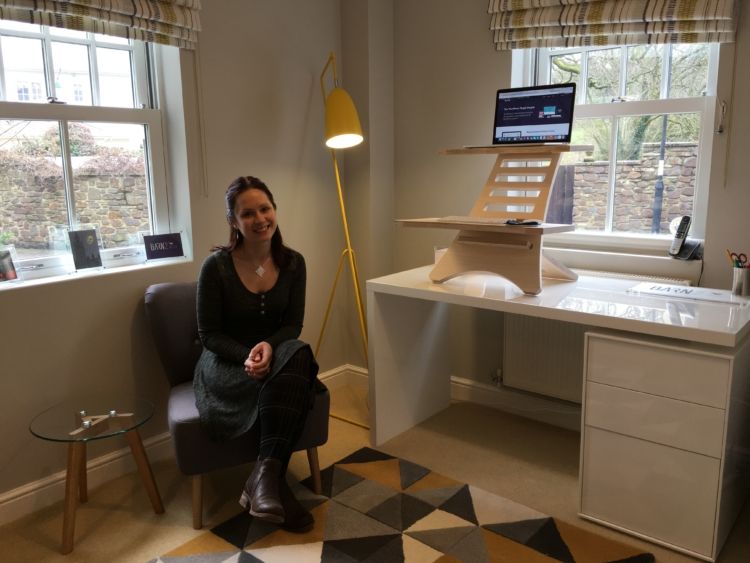 But with a client-based service business model came struggles. Growth was coming from the wrong direction. The success of designing websites brought in so much work, it started eating time away from their underlying interest in product development. After some thought, the decision was made to focus on building and selling WordPress plugins. Katie elaborated on this major step-change in their business model: 
"Until 2016, we were a typical WordPress design and development shop, spending most of our time designing clients' websites. However, we always dreamed of a more 'scalable' business model selling product instead of services. This fit better with our lifestyle goals such as a better work-life balance. In early 2016 we made the transition to selling plugins, and never looked back."
This pivot would become a crucial turning point in Barn2 Media's journey. Katie and Andy tuned in to what customers were looking for and started creating unique WordPress plugins that solve specific problems for store owners. The next step was to start selling their plugins, and as their preferred choice, Easy Digital Downloads offered them a quick route to market:
"As Barn2 Media's sole developer, Andy needed to spend his time developing plugins rather than building our website. EDD and its extensions had all the functionality we needed, allowing us to start selling plugins more quickly.
"…Easy Digital Downloads was the perfect solution because its core eCommerce plugin offered the main features we needed while still being lightweight and simple to use. It was easy to customize the templates to suit our brand and the way we wanted to sell.
"With over 6 years experience building WordPress sites, we had worked with many plugins of varying quality. We were painfully aware how important – and how difficult – it is to find robust, well-coded plugins that you can rely on. While we hadn't used his plugins before, we were aware of Pippin's reputation as an excellent developer with a strong commitment to quality code. This made EDD a very attractive option."
Through their client-based work, they'd also seen some of the issues feature-heavy plugins can cause:
"Our experience of building WordPress sites had also shown us the pitfalls of bloated plugins with too many features. We liked the fact that EDD only sells digital products, so it doesn't contain features we don't need such as physical products and shipping options. This is a major reason why we chose it over WooCommerce. We also liked the fact that it's lightweight and wouldn't slow down our site.
"We hoped our new plugin business would be successful and grow over time. We wanted an eCommerce plugin that would meet our needs now and into the future, both through its core features and official extensions. EDD has many excellent extensions and is well-established, so we felt confident that it was a solid long-term decision."
Barn2 Media's EDD extension stack
Barn2 Media use 11 official Easy Digital Downloads extensions, as well as a few third-party extensions. By implementing extensions such as Software Licensing, Recurring Payments, Reviews, PayPal Express & Stripe Payment Gateway, and Per Product Emails (to name a few), they have created a custom store that is efficient and scalable as they continue to grow. Katie shared with us the extensions that have had the most impact on their success, and how they use them.
As a business that sells software, it of course makes sense that the Software Licensing extension is at the foundation of their stack. Katie explains why it's important for their plugins:
"Since we sell WordPress plugins, they have to be GPL compliant. However we still need to protect our products where possible, and EDD's Software Licensing extension helps with this. The Software Licensing plugin lets us use license keys to protect our plugins from unauthorized use. [Customers] also need a valid license key to install plugin updates and receive support."
When it comes to purchasing online, credit card is king. For safe, swift spending, Barn2 Media's store caters to various payment preferences to ensure there are no barriers to purchase:
"We use EDD's PayPal Express and Stripe Payment Gateway plugins. Customers are less likely to buy from us if we don't support their chosen payment method, so I think it's important to give them a choice. 60% of our sales use Stripe (our default gateway due to the lower fees!) and 40% use PayPal, which suggests that both options are important to our customers."
Barn2 Media use annual subscriptions for their plugin licenses which automatically renew on the anniversary of the original purchase date – known as recurring revenue. Recurring revenue is one of the most effective ways to retain customers and boost profit, and Recurring Payments has helped them achieve. And we think Katie might be a just a little bit of a fan:
"This is the number one plugin that I believe all EDD stores should install! Everyone knows that it's easier to retain an existing customer than to recruit a new one, and ongoing revenue is essential to this.
"When a customer buys one of our plugins, they are signed up to an annual subscription which is renewed automatically each year. Statistics show that far more people will renew with this method than if you ask them to do it manually, and this is supported by my own experience.
"Here's the proof: We installed the Recurring Payments plugin in October 2016. This means that our customers' subscriptions first started to auto-renew in October 2017. Before October 2017, hardly anyone renewed their plugin license key – we received a couple of hundred dollars in renewal income each month. Within 2 months of the automatic renewals kicking in, we were making a couple of thousand dollars per month from renewals alone!
"The Recurring Payments extension also helps us to predict future revenue and iron out any temporary drops in sales. And the best thing is that the more our sales increase, the higher our recurring revenue will be in a year's time!"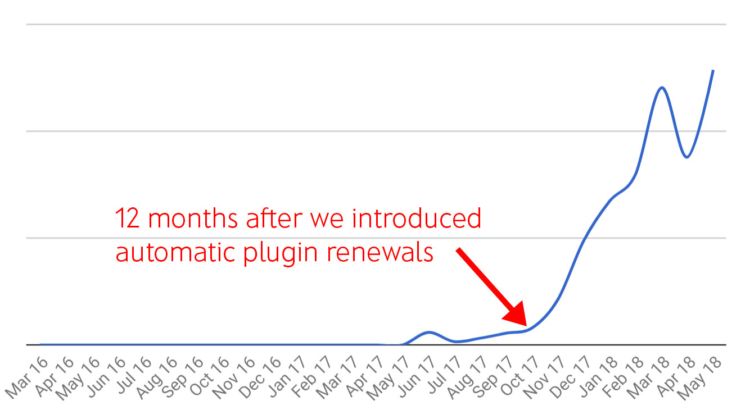 In the age of word of mouth, social media, and savvy buyers, social proof is the most effective form of marketing. The Reviews extension helps Andy and Katie easily collect feedback from their existing customers and display it on their website. Real reviews from real customers further boost their already reputable products, and instil confidence in potential new customers.
"We're not a high profile company. Since we sell such niche plugins, the vast majority of our customers have never heard of us before. This means that our website needs to reassure them that we are a genuine, reputable company with high quality plugins they can trust. Reviews are an important way of adding social proof. We use EDD's Reviews extension to add star ratings and reviews to our sales pages, along with a facility for customers to leave a review. This shows customers that our plugins are popular and that people like them, which I think makes a big difference to sales!"
With several plugins for sale, Per Product Emails allows Barn2 Media more control and customization over the confirmation emails sent to a customer after purchase. According to Katie, this not only decreased their support load, but has also made onboarding a better experience for their users.
"When we first started selling WordPress plugins, we received a lot of support requests from people who didn't know how to start setting up the plugin. Since we sell more than one plugin, it soon became obvious that we needed to send a different order confirmation email for each plugin. Per Product Emails was the perfect solution.
"We use Per Product Emails to disable the default global email that customers receive after a purchase. Instead, we've created a unique email for each plugin. The email contains the download link, license key, PDF invoice (provided by another EDD extension), plus getting started instructions with links to the knowledge base. This helps with the onboarding process, giving customers to the right information when they need it so that they enjoy setting up the plugin and are less likely to request a refund. It also reduces support time for us."
Barn-d for greatness
Today, the husband and wife team make over 300 sales per month between subscriptions and new licenses, bringing in a monthly revenue of over $30,000. And with five commercial plugins and three free plugins, their products are helping 5000+ businesses in over 75 countries succeed as well.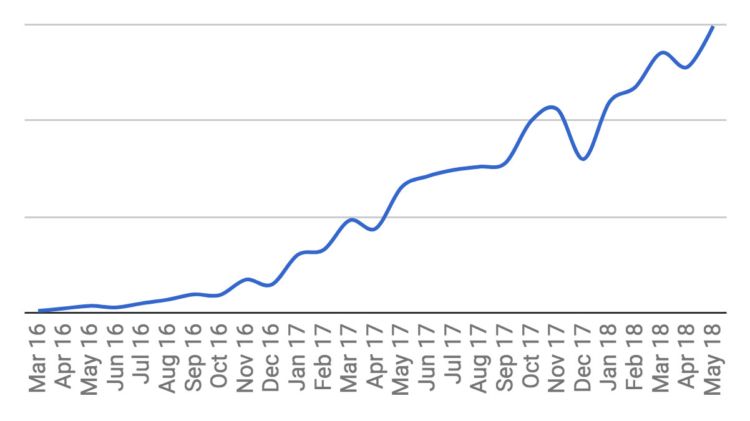 We asked Katie how she defines their success:
"Part of this is financial because a business needs to bring in enough income to allow you to take a step back and pursue a better lifestyle. However, it's much more than that because the most important thing in life is to be happy. This means that a truly successful business must be structured and managed in a way that allows you to work when you want, but not all the time. The rest of the time, you need to be able to do other things that are important to you, such as spending time with family and friends.
"I can't imagine going back to a traditional 9 to 5 job, with no choice over when or where to work. I work hard, and even do about an hour of work per day while I'm on holiday to keep on top of plugin support! However, I also have the freedom to take time out when I choose to. I hope I never have to give that up!
"In the future, I hope to continue moving in this direction so that the business can run more and more without me. I enjoyed Pippin's 2017 Year in Review where he talked about successfully hiring himself out of a job. However, I share Pippin's mixed feelings about this. After all if you enjoy your work and love your company, then you will want to stay involved even when you no longer need to! So success isn't giving up work completely – it's having the freedom and flexibility to choose your work and not be a slave to it."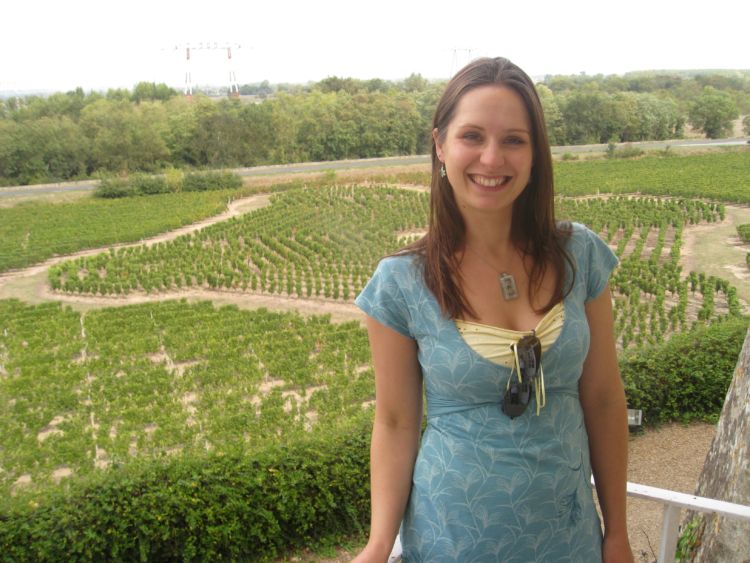 Barn2 Media is the epitome of an adaptive business, and we're stoked that Easy Digital Downloads is helping Katie and Andy create their own success. If success, like Katie says, is having freedom to work on what you love in a way that fits your lifestyle, these guys have nailed it. They're successfully growing their business, successfully delivering digital products that make a difference, and successfully living a lifestyle they dreamed of in beautiful Devon. And that, my friends, is The EDDge.
Do you have a story like Barn2 Media's? Email us at support@easydigitaldownloads.com and tell us how Easy Digital Downloads gives you The EDDge!