Knowing how visitors arrive at your site is important, doubly so when you're running an eCommerce site. You've probably used Google Analytics to see this type of data before, but by combining the power of Google Analytics Custom Campaigns and the new Campaign Tracker extension for Easy Digital Downloads, you'll have great insight into how your external links are performing in sales. You'll be able to have sales and earnings stats for any campaign data, graphed and filterable with the Easy Digital Downloads reporting section.
Custom Campaigns
The idea behind custom campaigns is that whenever you publish a link on an external website (ads, guest blog posts, promotional page, etc), the URL should be uniquely identifiable, so that you can track how effective it is.
If you aren't familiar with how Google Analytics uses custom campaigns to help you track incoming traffic, you can use these two official Google Documents to familiarize yourself with what Custom Campaign links are, and how to create them:
This information becomes useful when you want to change the wording or design of an advertisement or campaign. By using the same campaign, but altering the 'term' tag, you can effectively see how a campaign performs through time, when changes are made.
Relating Campaigns to Earnings
Up until recently, in order to see the performance of a Custom Campaign, you were required to leave your WordPress admin, and use to Google Analytics dashboards to view information about a campaign. There are a few challenges with Google Analytics that users typically ran into:
The Google Analytics user interface can be overwhelming
It can differ from your sales data at times due to external influences like disabled Javascript, payment gateways, etc
Data is slightly delayed in Google Analytics while they parse it
The Campaign Tracker extension for Easy Digital Downloads solves all 3 of these issues, and without leaving your own site.
By giving you access to sales and earnings data directly from within the existing reporting section of EDD. You can filter by dates and campaigns to get the specific report you are looking for.

Campaign Tracker doesn't rely on any Google Analytics resources to log the sale within EDD. It identifies visitors arriving at your site with the Custom Campaign parameters described above, pulls out the relevant information, and saves directly in the Easy Digital Downloads purchase data. Because of this, Easy Digital Downloads (and WordPress) have access to seeing campaign information without needing to wait for Google Analytics to parse the data.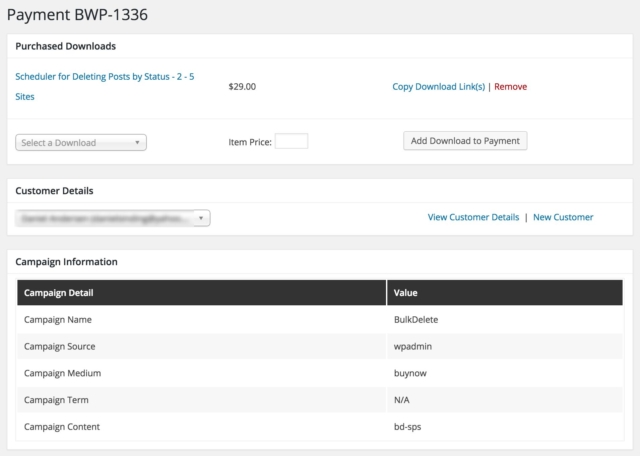 It also works in real-time. No waiting for Google Analytics to parse through your campaigns, as sales come in, any campaign data is readily available from the moment they hit 'Purchase'.
Using this data
At Easy Digital Downloads we use Custom Campaigns to help us understand the effectiveness of some key parts of our business. Links from social media, email campaigns, plugin directories, and other sources, all contain these campaign parameters. Combining campaigns with changes helps us know if we've improved or damaged the effectiveness of a link back to our site. Using the Campaign Tracker extension, we can get a quicker view into how a campaign is performing, and if we want more detailed information about campaigns, we can supplement it with the data provided in Google Analytics.