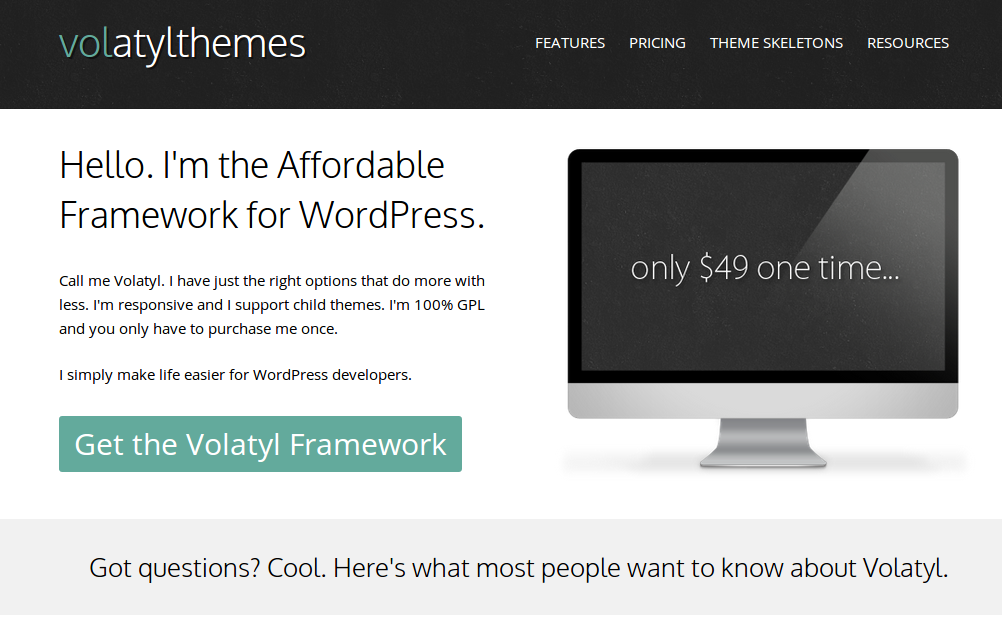 Volatyl Themes is a theme framework built by Sean Davis. He recently launched his store powered by Easy Digital Downloads and was kind enough to answer a few questions for us.
1. What about Easy Digital Downloads made you choose it as a platform to sell your theme?
Social proof played a huge role in choosing EDD for launching my themes site. A developer friend of mine was excited to use it for a future project of his. So when it was time for me to find a way to manage and distribute my WordPress framework, he was more than willing to suggest what he had already decided on.
After checking it out, what I really loved about it was the extensions. I was "hovering" around EDD trying to decide if it was right for me or not when I saw the Software Licensing extension. At this point, my WordPress framework didn't have an automatic update system, something I both wanted and needed. Once I saw the capabilities of that extension, I was sold.
2. Are there features in Easy Digital Downloads that you find indispensable?
I think the way EDD was coded makes the entire plugin indispensable. Sure, I love the pricing options, the use of Ajax, and the email system, to name a few features. What really stands out to me, though, is the fact that you are not locked into a default EDD experience.
Extensions, actions, filters, and functions make EDD the perfect platform for building unique systems. EDD would be a great plugin with just its core functionality. But if I had a say in its future, I'd make sure that its flexibility was never muffled or removed.
3. How was your experience setting up and configuring Easy Digital Downloads for your site?
Setting up EDD was a breeze. After installation, it was easy to notice the new admin menu item. All of the options were kept in one place, which I really like. I simply started with the first tab on the settings page and read the descriptive labels for each option.
The options require very little thinking as most of them are simple on/off selections. Using the Downloads system was even easier. It felt no different from creating a WordPress Post or Page with a few extra, self-explanatory options beneath the editor.
4. Are you using any Easy Digital Downloads extensions? If so, which ones?
I am definitely using EDD extensions. The main extension that sold me on the plugin was the Software Licensing extension. Because of that extension, I was able to integrate the automatic updates system right into my WordPress framework. That was a crucial feature I had given up on for its release until I discovered this extension.
I also use the Affiliates Pro Integration Pack for managing my entire affiliate program. I loved not having to integrate my system with a third party script. Though it still had to be done, EDD handled it for me.
Lastly, I use the Manual Purchases extension. Creating purchases at will allows me to distribute development copies of my downloads without having to sacrifice download history or user accounts.
More importantly, I recently decided to remove a pricing option and associated file from one specific Download to its own separate Download. Because of this, the purchase histories of my customers were altered. They wouldn't have access to downloads they had purchased now that the pricing option and associated download file was moved. Thanks to Manual Purchases, I was able to manually create mock purchases which placed the moved files in their purchase history. Awesome.
5. What's a feature you wish Easy Digital Downloads had but doesn't?
Honestly, I can't really think of anything. The plugin itself was built with intent and covered all the bases needed for a well-rounded digital downloads solution. If there's something else that I need, I've learned to replace "there's an app for that" with "there's an extension for that." So far, it's worked for me.
6. Your turn: tell us anything about EDD that you love or hate.
Man, we'll be here for days if I say everything I love about EDD. I use it on two websites. The themes site is the one putting EDD to the test. It's the core of my entire themes business and is responsible for one of the most crucial features of my framework, the automatic updates.
The other website is where I sell very simple files. I use just the base plugin with no extensions and it has met all of my needs.
Again, the greatest thing about EDD is its flexibility. It's obvious that EDD focuses on the right options instead of options for the sake of options. I'm the kind of guy that likes to dig in and learn systems to get the most value out of them. EDD was ready for me.
I have absolutely no complaints.