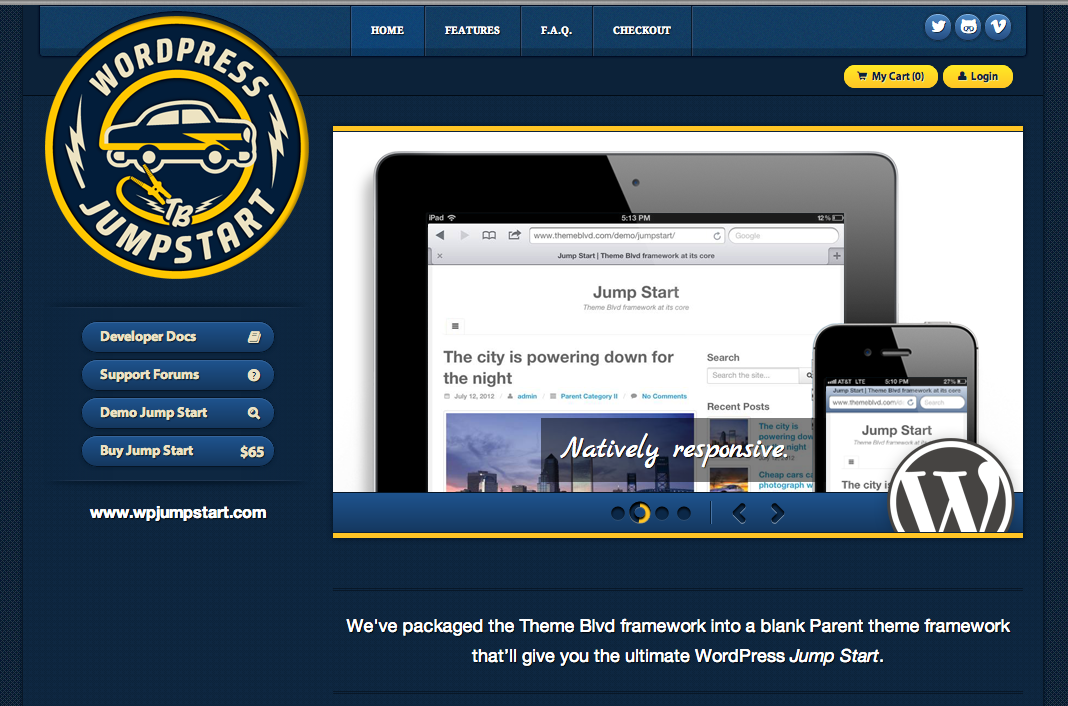 WP Jump Start is a phenomenal WordPress theme framework built by Jason Bobich of ThemeBlvd, and the new website has just relaunched with its store powered by Easy Digital Downloads. Jump Start is actually the same framework that powers this site. Jason was kind enough to answer some questions about the implementation.

Why did you decide to use Easy Digital Downloads for Jump Start?
When I was setting up an online store to sell Jump Start, I was looking to create a simple checkout process, while still keeping it professional. Currently, I only sell one product on the site and so everything is essentially centered around this one "Add to Cart" button.
In looking around at other shopping cart plugins, it seemed I'd either have to go with the most simple, with something like having my "Add to Cart" button send customers directly to PayPal, which would look sort of unprofessional. Or conversely, my other alternatives were the most complex of plugins where the concept of selling digital products was an added feature or after thought.
I felt EDD provided the perfect solution designed around specifically selling digital products and gave me just the kinds of features I was looking for. Customers are given a clean, simple checkout process. They pay, they receive their downloads, and I'm given a simple interface to manage it all. That's all I needed and what EDD gave me. And the best part? In the future, if I want to expand my store to start selling more products, I'll already have the infrastructure in place to do that because of EDD.
How was experience customizing your site with Easy Digital Downloads?
For me personally, I love to hack away at things. Naturally, as development moved on, I kept coming up with specific, unique things that I wanted to incorporate into my site to spice things up like a floating shopping cart, custom Ajax add to cart button, making users' downloads available throughout a multi-site network, displaying version numbers, adding expirations to product downloads, etc.
No matter what it was that I wanted to accomplish, if I just dug through the available functions, action hooks, and filters available in EDD, it felt like there was a way I could accomplish just about anything from my site's own custom plugins. As a developer, this extendibility is something I truly appreciate.
Are you using any extensions for EDD? If so, which ones?
On my site I'm currently using PDF Invoices, which adds a nice professional touch to the checkout process by giving customers a downloadable PDF invoice. Although, the extension I'm still really excited to be using is the Software Licensing plugin, which provides my customers a way to update the theme they've purchased through their WordPress admin panels directly from my servers. The day I went live with my EDD-powered store, to kick everything off, I went to my live demo of the WordPress theme I'm selling and did the first official live update. Take my word for it; it was a beautiful thing seeing my live demo's theme automatically update from Beta to v1.0.0 without a hitch in a matter of seconds.
In the future, as I try to expand on the Jump Start project and inevitably attach a child theme shop onto the site, I'm excited to explore the other extensions EDD has to offer like Affiliates Pro, Manual Purchases, User History, Email Templates, and the other various ways of incorporating payment gateways outside of PayPal.
Any advice or guidance you'd give someone considering making the switch to EDD?
In my opinion, the beauty of the system that Pippin has setup is that it's a completely free open-source plugin that people can contribute to on Github, but because of his passion and how he can benefit from sales on the extensions, you can be sure he's kept motivated to keep it going and make sure it's always the best that it can be. So, if you're considering making the switch to EDD, this means that you have the freedom to simply try it out for free. Setup a WordPress site, install EDD, and decide if you like it or not. Why not, right?