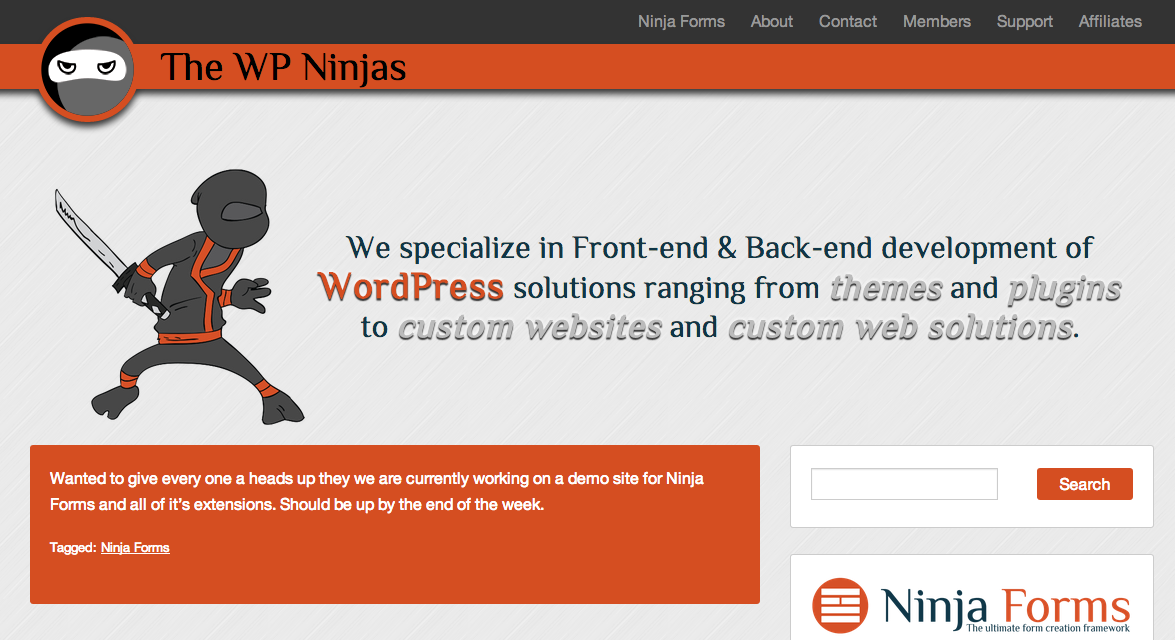 WP Ninjas, a WordPress plugin development team and the developers behind the great Ninja Forms plugin recently relaunched their store on Easy Digital Downloads.
They were kind enough to answer a few questions for us about their experience.
1. What about Easy Digital Downloads made you choose it as a platform to sell your plugin?
Our decision to use Easy Digital Downloads really came down to ease of implementation and customization. We spend thousands of hours building our products and when they're ready for the public we don't want to spend one more minute than necessary getting them live. The features available in the base plugin and the extensions such as licensing, content restriction, manual payments, etc. all factored into why we thought Easy Digital Downloads was the best option for us. And I'm glad to report that we were right.
I will say that another contributing factor was you yourself, Pippin. I've read your blog and used other plugins of yours. Your code is extremely well written and you have been very responsive to questions anyone has ever asked. Since support is such a huge part of a great product and something we take very seriously we wanted to use a plugin that was really backed by great developers that we felt like we knew on some level.
2. Are there features in Easy Digital Downloads that you find indispensable?
I can't think of one feature that we use that is more indispensable than another. I will say that the being able to extend the plugin for our situation was crucial and something so many other eCommerce solutions lack. For instance we wanted to serve our products and automatically update then through our own SVN where we do our development. Easy Digital Downloads was built in such a way that we were able to hook into all those processes very easily. When we update one of our products the licensing extension checks our repo and zips and serves the current stable version. I can't even begin to explain the hours this saves us as our product offerings increase.
3. How was your experience setting up and configuring Easy Digital Downloads for your site?
Easy Digital Downloads couldn't have been easier to implement. We had been selling a few plugins with a homegrown eCommerce solution that was riddled with issues. The frustration was that as crucial as the selling piece was we didn't have the time to take away from our products to fix it. When we got ready to launch our 2.0 of our main plugin we were also changing our entire structure. We had hundreds of customers that need to be converted into the new structure as well as twice as many products because of this new structure.
Easy Digital Downloads made this process extremely easy. The best part for me as we extend our products is that it scales. I know that regardless of what we decide to build next that Easy Digital Downloads if fully capable of handling even the strangest of edge cases.
4. Are you using any Easy Digital Downloads extensions? If so, which ones?
Absolutely! In fact, this is one of the things I love about Easy Digital Downloads. We loved it so much that it's the direction we went with one of our own products. Currently we use Content Restriction, Manual Purchases, PayPal Pro & Express Gateway, and Software Licenses. We plan on using a few more in the future.
All of these extensions are crucial to our work flow. The great part about extensions is the removal of unnecessary bloat that comes with many plugins. Instead of having to navigate every option someone could possibly think of you can add just the ones that are necessary for you.
5. What's a feature you wish Easy Digital Downloads had but doesn't?
This is tough because I thinks it's very dependent on my own uses cases and not something everyone might need but I can think of two things right off and one of which I believe is in the works in one way or another.
The first would be the ability to bundles products so you could offer several of them together at a discounted rate and allow each to still have an appropriate license. We would love to offer a discount to customers who buy all our extensions at once and although we can work around this a bit with discounts an actual official bundle would be ideal.
The second feature is more unique to us perhaps. While Easy Digital Downloads does include some reporting for sales tax it's not ideal for my situation. Right now it's kind of an opt-in option that adds tax to the total purchase. If I were that customer I would never opt-in to pay more and therefore I'm never really appropriately reporting sales tax I am responsible for.
I would prefer the option to have customers required to include their address and calculate how much sales tax I would need to report on their purchase based on my fixed price. That way the customer pays the same and I take on the burden of the sales tax. Again, this is really probably an edge case that would be awesome if it were an option but doesn't make or break the system in any way.
In the end, Easy Digital Downloads is the only WordPress plugin I would recommend if solely selling digital products. There simply isn't a better solution available. And it keeps getting better.