Frontend Submissions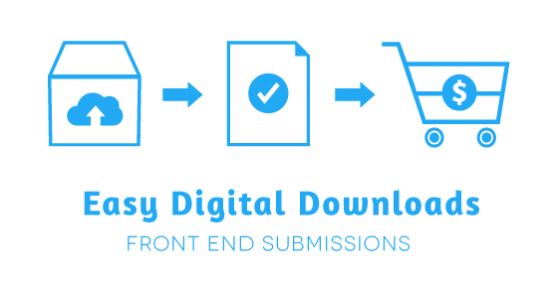 Frontend Submissions provides a full-featured package to allow users to submit products for review from the frontend of your site.
Users can register and apply to become a vendor; once approved, vendors are free to upload new products from their frontend vendor's dashboard. When a product is uploaded for review, site admins are alerted of the submission and are then free to review the product. Submissions can be accepted or rejected with the click of a button.
The Vendor's Dashboard displays a list of pending and accepted products for the vendor, as well as a stats table that shows the number of sales for each product.
Frontend Submissions is the perfect extension to turn your Easy Digital Downloads store into a full-fledged marketplace.
This extension is fully integrated with
Commissions
to automatically set the vendor as the recipient of commissions when they upload products. Use the FESCOMMISSIONS discount code to save 20% when both are purchased together.
Change Log
Version 2.1.9.1, 04/02/2014
Removed the settings dump on System Info
Version 2.1.9, 3/24/2014
Bug: issue with avatars not saving on application submission.
Version 2.1.8, 3/18/2014
Bug: updated licensing / updater to use the version included in EDD core.
Version 2.1.7, 3/11/2014
Bug: Fixed an issue with discount code validation.
Version 2.1.6: 3/9/2014
Bug: Fixed an issue with the featured image not saving
Bug: Fixed an issue that caused products to be duplicated many, many times
Bug: Fixed an issue with the profile avatar field not saving
Bug: Removed ability for vendors to upload unfiltered HTML
Bug: Fixed issue with avatar field not being able to be added to the form editor properly
Bug: Fixed some improper colloquial language
Bug: Fixed outdated language files
2.1.5: 2/25/2014
Bug: Fixed an issue with editing / saving multiple files with the File Upload field
Version 2.1.4, 1/30/2014
Fixed an undefined variable error shown when editing a product.
Version 2.1.3, 1/23/2014
Bug: clicking "Add Price Option" added two rows
Bug: Price options couldn't be deleted
Bug: Price name isn't saved when submitting just one price
Version 2.1.2: 1/18/2013
Bug: avatars could not be deleted from the profile editor
Bug: fields container goes off screen on small screens, making it impossible to add some fields
Bug: commissions not automatically enabled on product submission
Version 2.1.1: January 14, 2014
Bug: vendors could see media files that were not their own
Bug: minor layout issues on the Vendor Dashboard page
Bug: Disabling vendor registration didn't work
Version 2.1, January 11, 2014
Feature: Added the ability for vendors to delete products
Feature: Added the ability for vendors to edit products
Feature: The application process is now an FES form
Feature: Removed a ton of CSS and JS
Feature: FES Formbuilder has been improved with better labels, more responsive css, and a new design
Bug: Removed Add New button from FES forms page
Bug: CSS classes are now consistent
Bug: Fixed an issue with Author URLs getting hijacked for non-vendors
Bug: Fixed an issue with vendor pages showing all downloads, not just those of the current vendor
Bug: Fixed an issue with 404′s on author pages
Bug: Improved the install/update script
Bug: Fixed an issue with approving / denying vendor applications in bulk
Bug: Fixed numerous undefined index errors
Bug: Fixed improper and missing text domains
Version 2.0.5 – December, 21, 2013
Fixes CSS Setting issue
Version 2.0.4, December 10, 2013
Feature: Adds options to prices and files field
Bug: Field values of login/register forms not lost on error now
Bug: Vendors not allowed to upload product files
Version 2.0.3 – 11/24/2013
Bug: change "changes" to uppercase on settings panel
Bug: Flash of intro message on FES_forms on saved forms fixed
Bug: Shortcode redirects no longer cause fatal errors
Bug: Vendors were accidentally always getting approved
Version 2.0.2 – 11/23/13
New: Replaced CList with direct links to FES-forms
New: MP6 compatibility
New: Author page now redirects to vendor page
Bug: Vendors if allowed to go to backend, can no longer edit products
Bug: Fatal error caused by typo of email function name
Bug: Comments form hidden on submission form view
Bug: CSS caused publish button to look odd on edit download
Version 2.0.1, November 18, 2013
Corrected a spelling mistake and solved an install bug.
Version 2.0, November 14, 2013
New: FES Forms added
New: Vendor dashboard reorganized
New: Admin download list reorganized
Bugs: Hundreds of bugs fixed.
Version 1.1.9
Fixed an issue with file uploads.
Version 1.1.6
Fixed an error with a missing upload dir function.
Version 1.1.5
Fixes the last email bug
Adds partial s3 support
Version 1.1: 6/17/2013
Fix email bug
Fix styling bug
Version 1.0.1
Fixed an issue with the licensing / updater.
Version 1.0
Initial release.