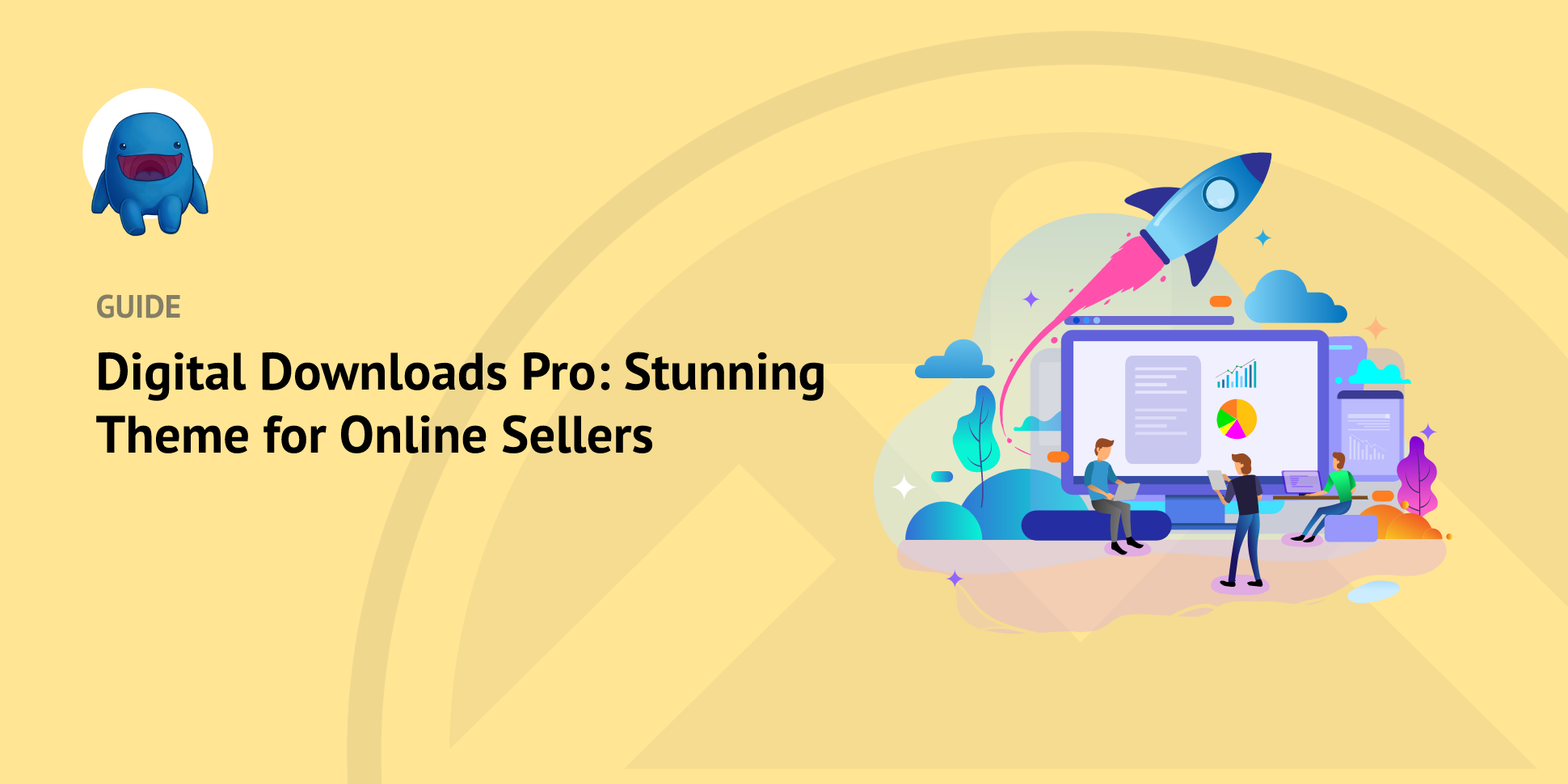 The WordPress theme you use for your online store can influence your success. That's why it's important to choose one built specifically for the type of eCommerce website you have. For digital downloads, a new option to consider is brandiD's Digital Downloads Pro.
Powerful and pretty, this is one of several themes the web design/development agency has carefully built to integrate seamlessly with our Easy Digital Downloads (EDD) plugin. While our complete eCommerce solution helps you start and manage an online store in WordPress, the Digital Downloads Pro theme helps ensure everything looks as impressive as it functions.
🔎 In this post, we'll cover:
An Introduction to the Digital Downloads Pro Theme
At Easy Digital Downloads, our mission is to make the eCommerce journey easy for online sellers and business owners. That's why we offer an all-in-one solution for selling and managing digital products and downloads in WordPress.
It's also why we partner with talented third-party designers and developers in the community to help get high-quality yet affordable themes and tools into the hands of our users. This includes several brandiD-powered themes, such as Hello Commerce and Coaching Pro.
🖌 Learn More About EDD + brandID's Coaching Pro & Commerce themes
Most recently, brandiD launched the Digital Downloads Pro theme: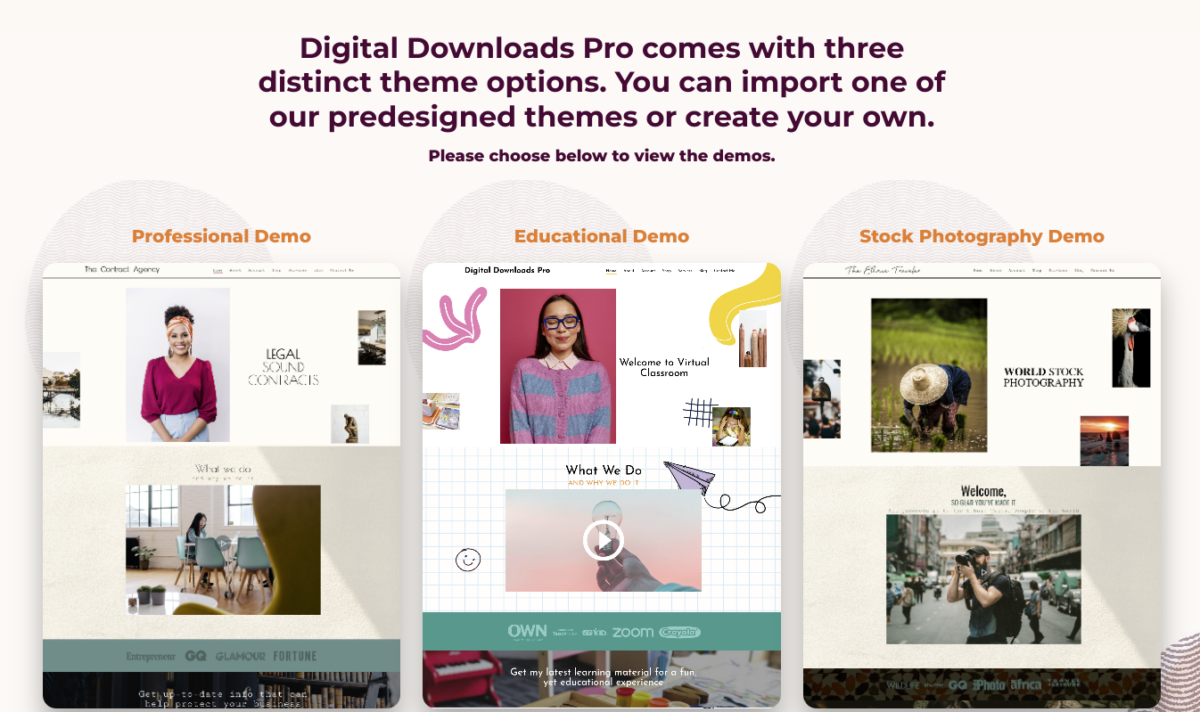 Created using the Genesis framework, this fast, reliable theme fully integrates with Easy Digital Downloads. It comes with three unique design options (Professional, Educational, and Stock Photography), and the option to build your own.
Digital Downloads Pro: Key Features & Demos
Naturally, we love that this theme fully supports Easy Digital Downloads. That means it's built to fit your online store and work smoothly with all our features. But there are a lot of other benefits that we love about brandiD's themes, including this latest one.
Some of the key features include:
One-click Setup Wizard. The setup wizard lets you follow simple, easy-to-understand instructions and prompts to get started in no time. You can view the starter packs, see the recommended plugins, and import demos. The setup wizard even installs the EDD plugin for you!
Block patterns & widget areas. If you're familiar with the WordPress block editor, you'll have no trouble using Digital Downloads Pro. The block patterns and widget areas let you easily place sections as needed and modify them to suit your branding.
Plenty of Customizer controls. Thanks to the Customizer controls and preview, you can see the updates you're making in real-time. You can quickly change the colors, fonts, and other design elements.
Demo content. Each starter pack comes with demo content. This includes important website pages like Home, About, Contact, etc. You can quickly and easily replace the placeholder content with your custom text.
Digital Downloads Pro comes with three starter packs:
You can click on each to preview their demos. The Professional demo is a versatile, beautiful layout suitable for a wide variety of businesses. Stock Photography and Educational are more niche, both are easy to customize and can help you take your eCommerce site to the next level.
Using Digital Downloads Pro for WordPress + EDD
If you think Digital Downloads Pro would make a solid theme for your Easy Digital Downloads store, it's important to know how to use it. In this section, we'll walk you through the step-by-step process of how to install and set up your Digital Downloads Pro theme for WordPress & Easy Digital Downloads sites.
Step 1: Download & Install the Genesis Framework
Digital Downloads Pro is a child theme of Genesis. That means you need to download and install the Genesis theme framework on your WordPress website before using Digital Downloads Pro.
It's free to download. Visit the Genesis StudioPress website, then click on Get Genesis Framework for Free: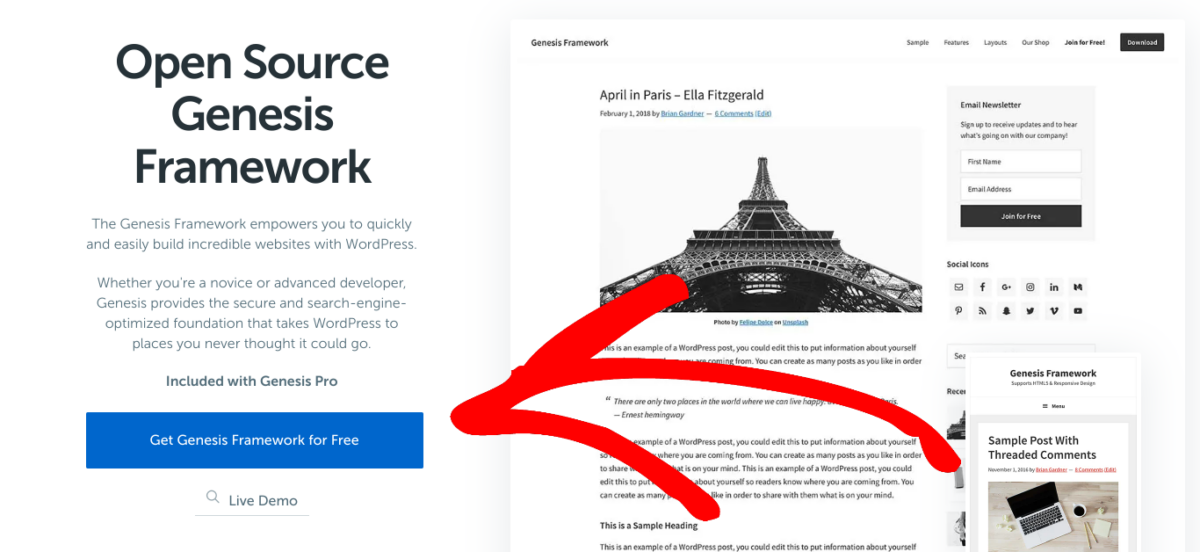 Next, you'll need to enter your email address. Then you can select Get Genesis: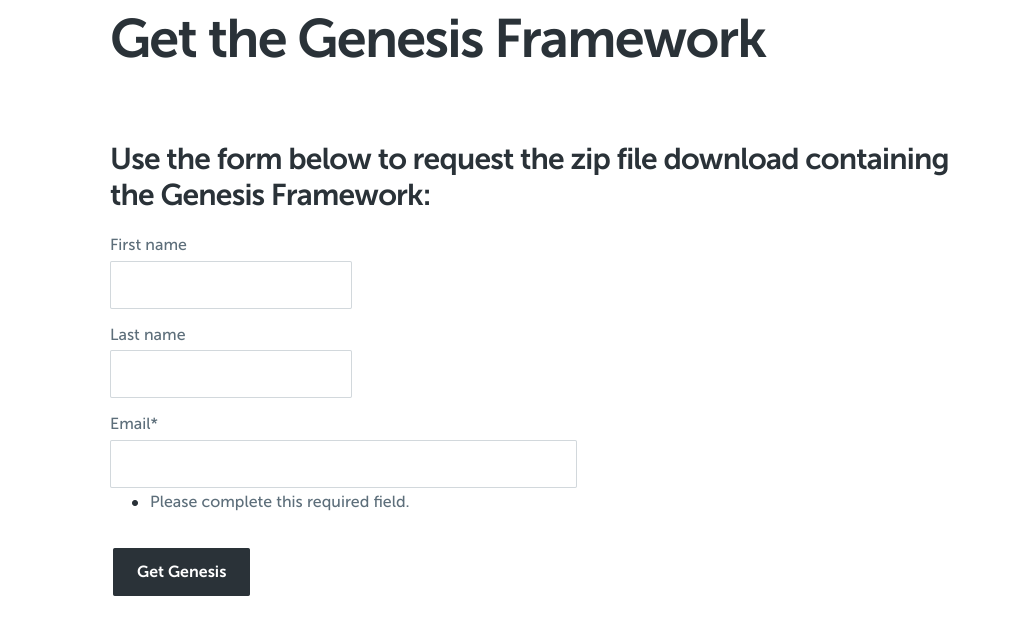 The zip file should download automatically to your device.
Next, go to your WordPress dashboard. Then go to Themes » Add New » Upload Theme: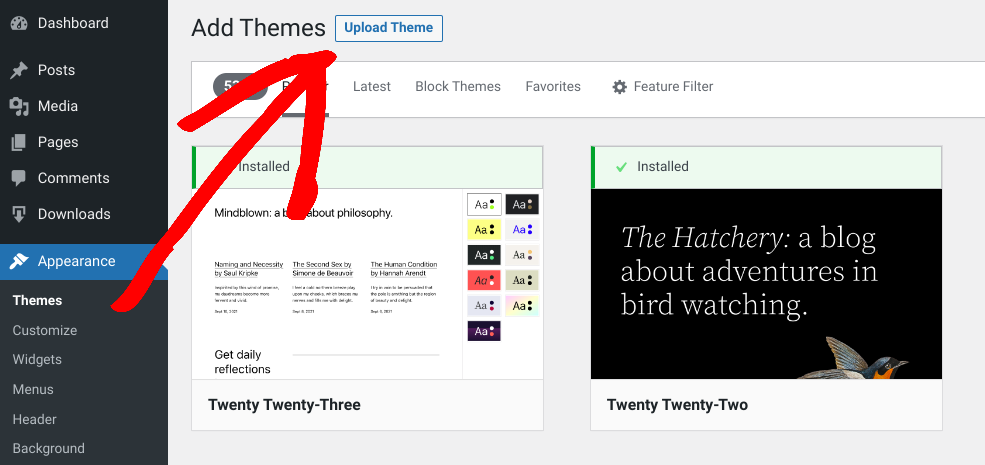 Click on Choose File. Then select the Genesis zip file that was just downloaded. Click on Install Now.
You should now see a screen letting you know the installation was successful:

Step 2: Buy & Install Digital Downloads Pro
If you haven't already, the next step is to purchase and download the Digital Downloads Pro theme. Again, go to Appearance » Themes » Upload Theme from your WordPress admin area. Select the theme's zip file followed by Install Now:

Once it's installed, you can click on the Activate link on the success page:
Step 3: Choose & Customize Your Theme Starter Pack
Next, you can choose which starter pack you want to use from the setup wizard that automatically opens: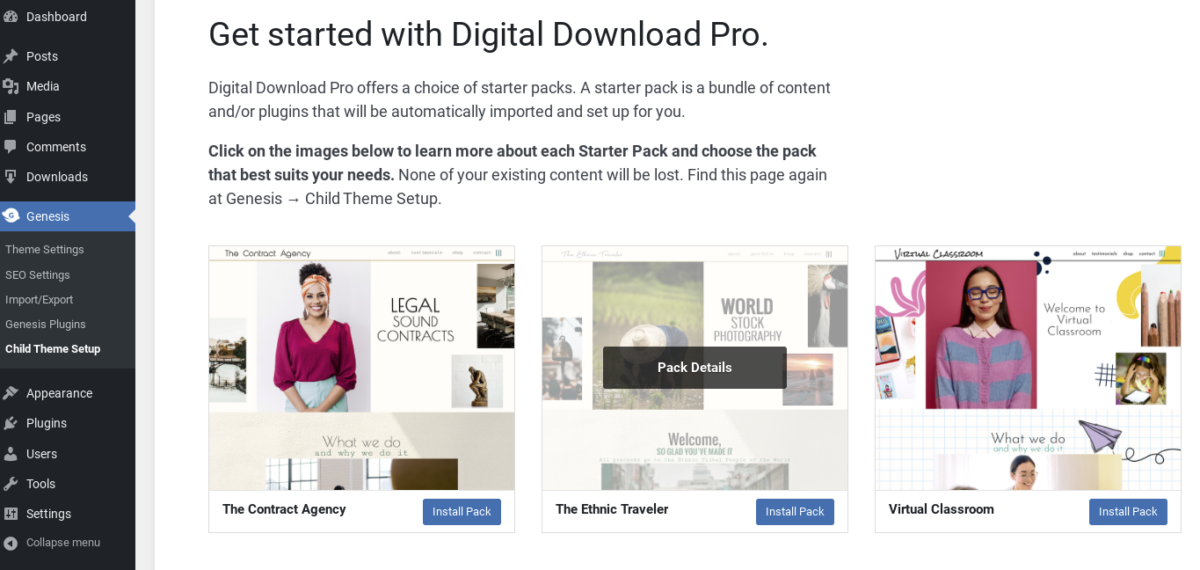 You can hover over each option and click on Pack Details to learn more. When you know which one you want to use, select Install Pack.
Next, you'll be asked if you want to overwrite previous settings to import these styles and content. You can leave both options selected, then click on Proceed with Installation: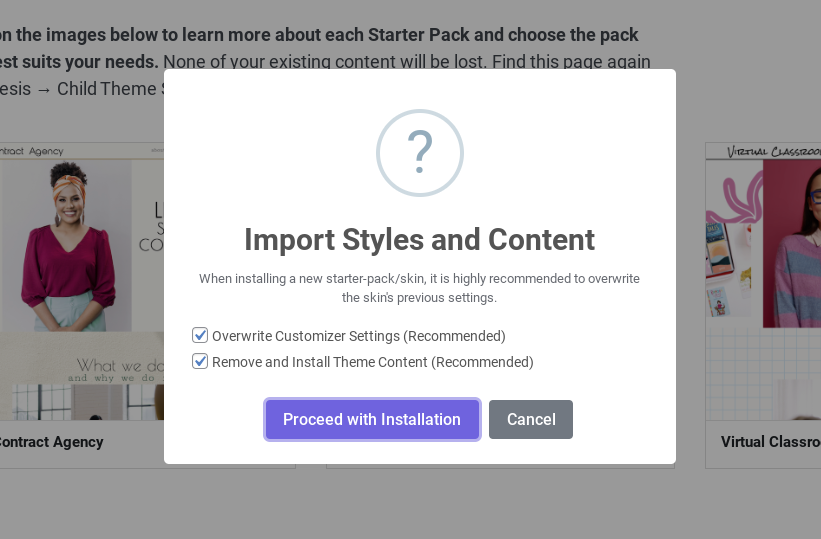 The setup wizard will install and activate the recommended plugins (like Easy Digital Downloads) and add sample content. From here, you can select View Your Homepage or Edit Your Homepage: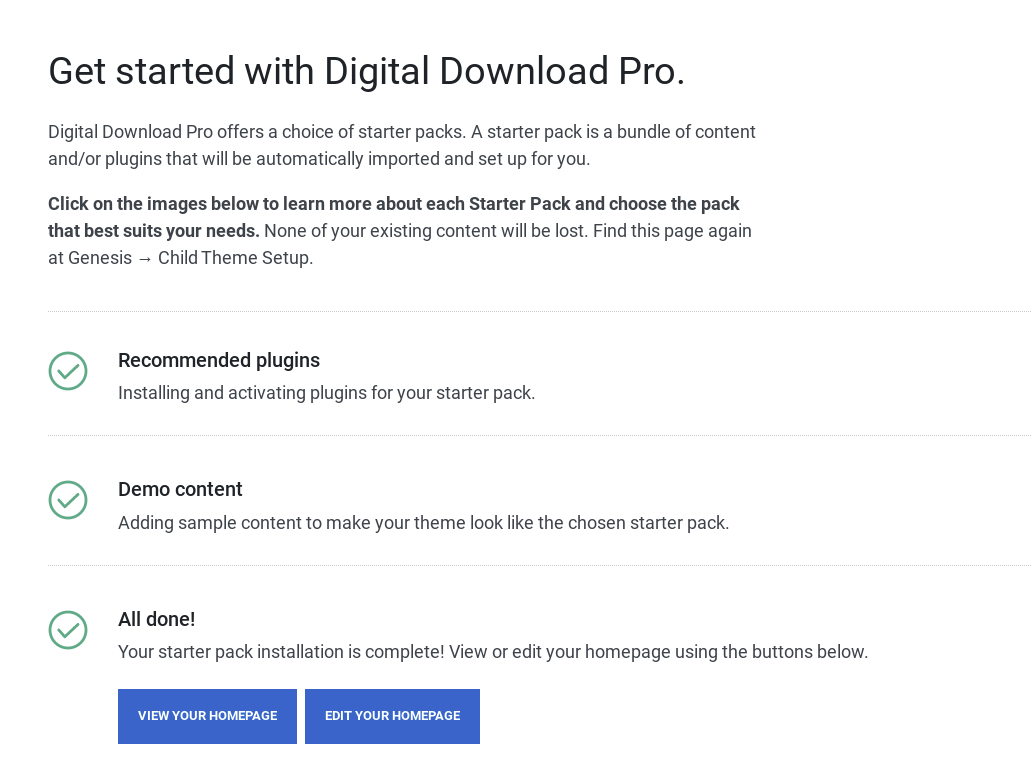 Now you can begin exploring and customizing your theme. You can use the Genesis and GenerateBlocks and Customizer (Genesis » Theme Settings):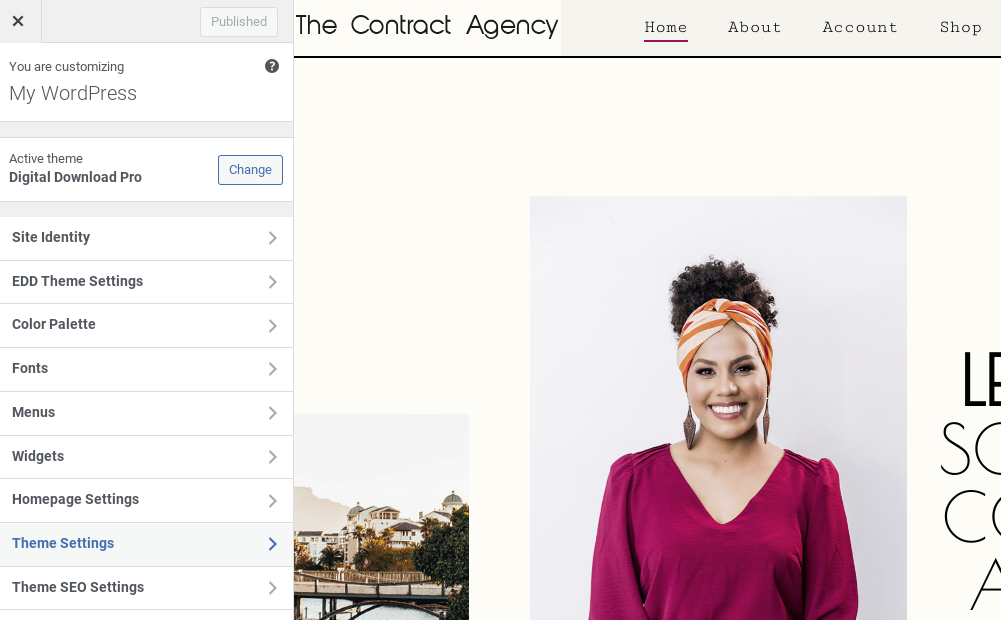 You can also deactivate or uninstall any plugins you don't plan to use. For instance, if you don't sell physical goods, you likely won't need WooCommerce.
Build a Quality Site With EDD + Digital Downloads Pro
If you use an eCommerce solution like Easy Digital Downloads, it makes sense to choose a WordPress theme that supports it. Installing a theme like Digital Downloads Pro by brandiD can help you build a beautiful yet flexible online store within minutes.
If you don't use Easy Digital Downloads yet and want to make sure it's the right option, feel free to try:
Using WordPress and want to get Easy Digital Downloads for free?
Enter the URL to your WordPress website to install.
📣 P.S. Be sure to subscribe to our newsletter and follow us on Facebook or Twitter for more WordPress resources!