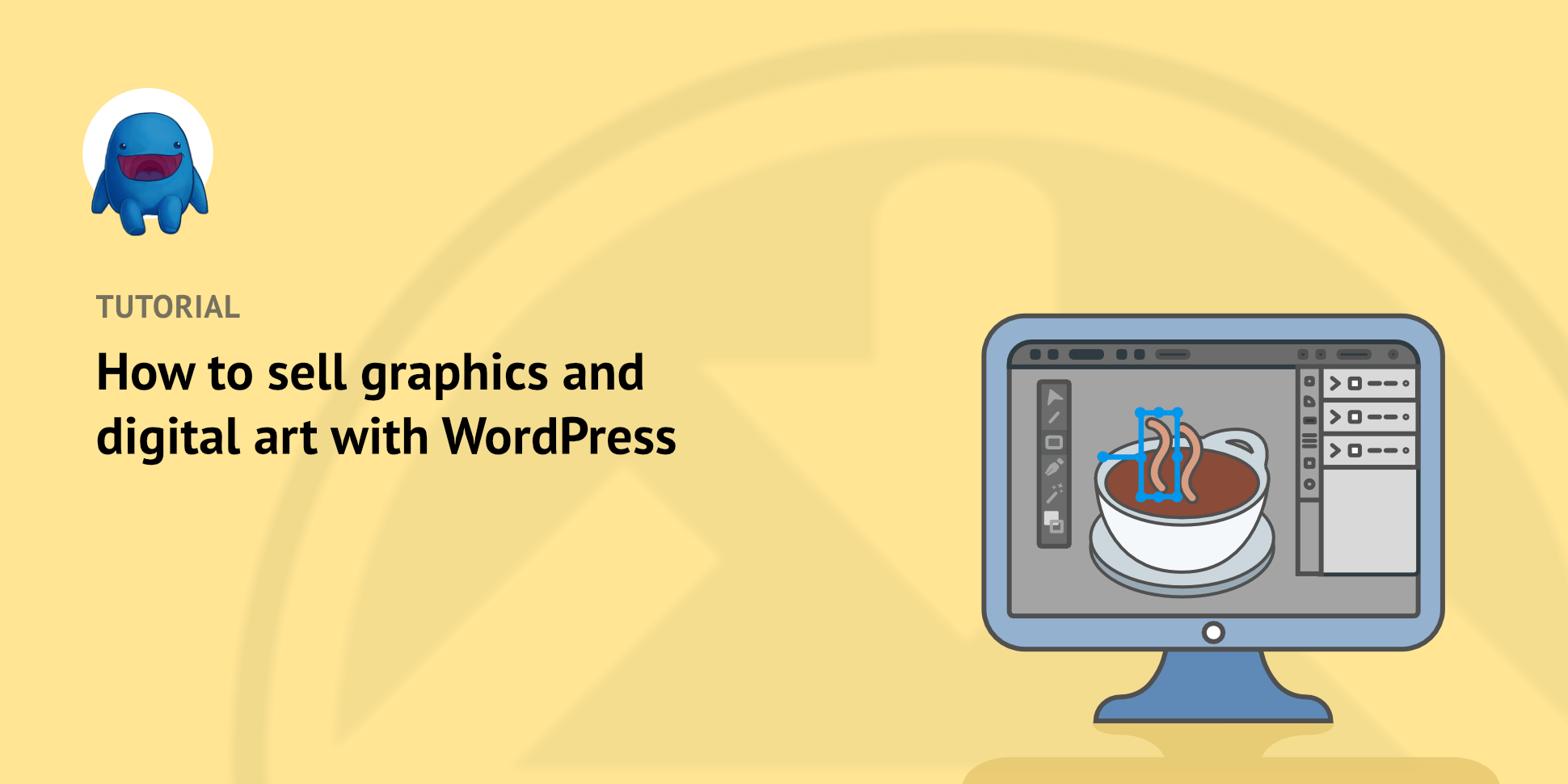 Do you want to make money online using your creative skills? Selling graphics and digital art is a great way to generate passive income.
Smart digital artists and graphic designers are setting up their own websites with online stores to sell their digital art online.
In this article we'll show you how to easily sell art with WordPress.
We'll also share product ideas and tell you what you need to know about file formats to successfully sell digital art online.
How to Sell Digital Artwork with WordPress
eCommerce has opened a whole new world for artists and creators. You can set up an online store with less effort and expense than setting up a physical store.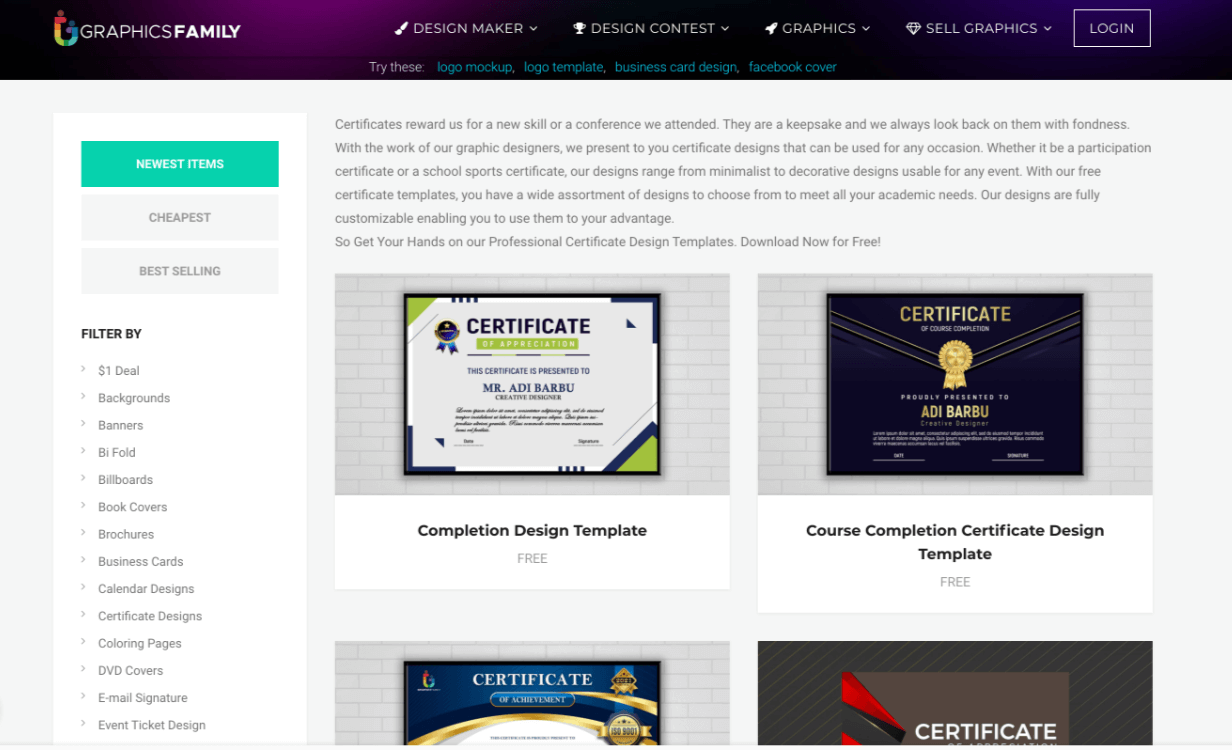 In the past setting up a store was hard, but now WordPress makes it quick, easy, and even free (assuming you have a WordPress site already).
You can get started in no time.
Build your own site
The best way to sell your digital artwork on your own website. This allows you to build your own consistent brand, grow your own audience, and maximize your profits.

A big downside of many online marketplaces and platforms out there, such as Etsy or Creative Market, is that they act as a sort of middleman. They take a cut of anything you make. Or you have to add a markup to make any money at all. The more you make, the more they take.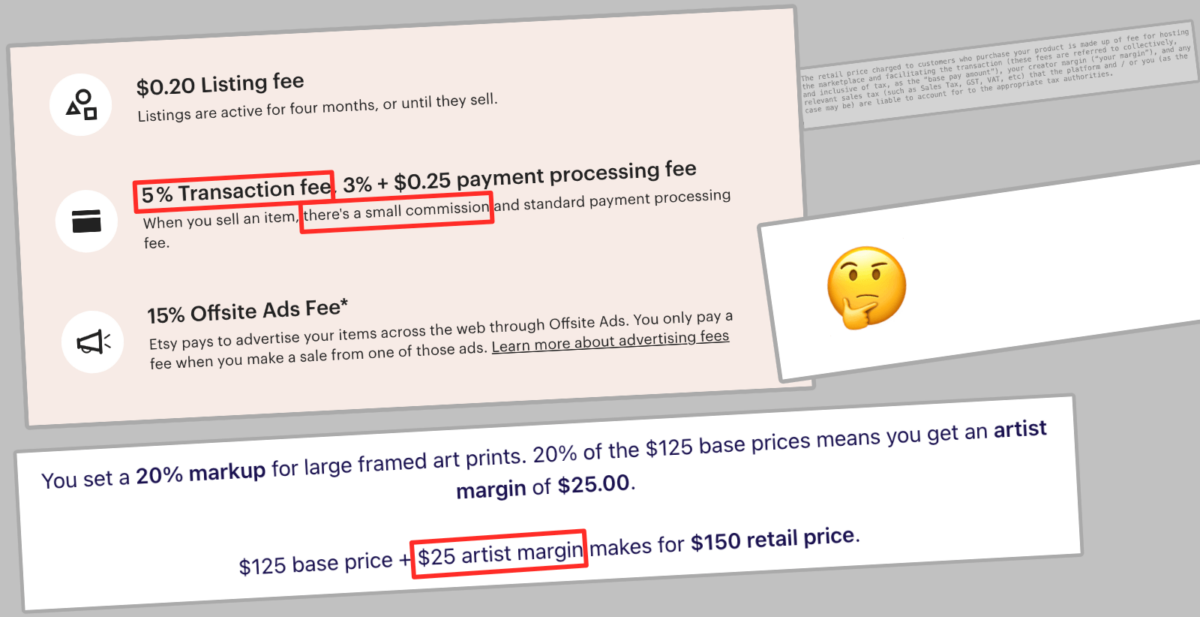 Another downside is that many of these platforms are not designed first and foremost for selling digital products. This is true of Shopify, Wix, and the popular WordPress plugin WooCommerce.
For these solutions, selling downloads is an afterthought. They are built for physical products. You'll likely waste time setting up shipping and inventory functionality that you don't need when selling digital products.
Easy Digital Downloads
The best way to sell digital products with WordPress is Easy Digital Downloads (EDD).


EDD is purpose-built for selling downloadable digital products, like your graphics and digital artwork. And there are no middleman fees, just industry-standard credit card transaction fees.
🎉 EDD is quick to set up. And best of all it's free to use!
Click here to download Easy Digital Downloads.
If you're new to WordPress or not sure how to install a plugin, click here to view a step-by-step guide.
Install and activate the EDD plugin on your website. After that, it's just 3 steps to start selling your digital artwork.
Set Up Your First Art File as a Download
When you install EDD on your website, you'll see a new menu item on the right side of your WordPress dashboard that says Downloads.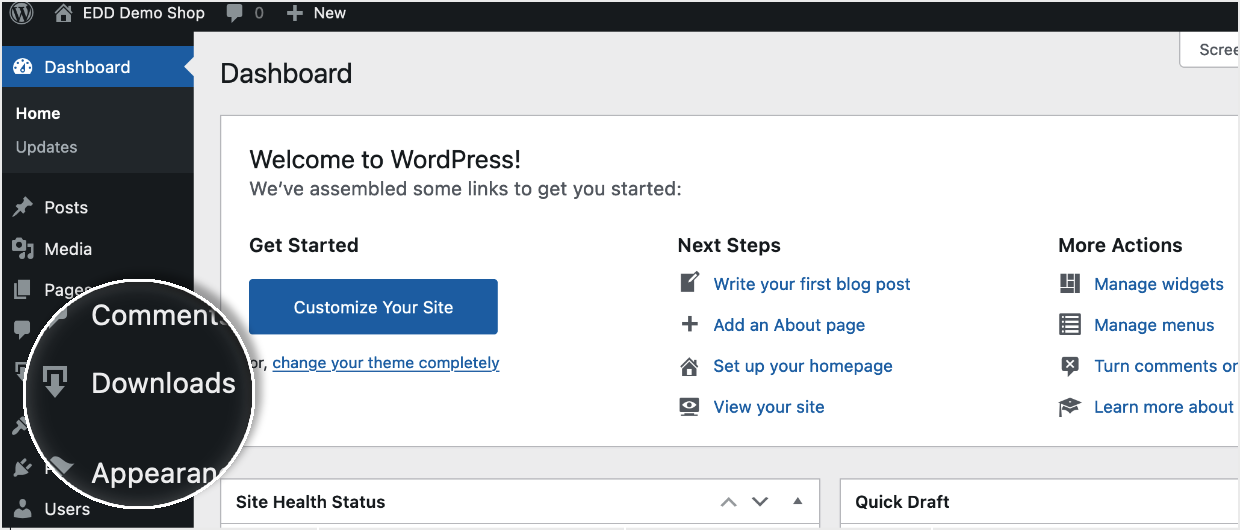 EDD calls the items for sale on your website downloads.
Let's get an art file up on your site. For today's example we'll use this really nice resumé template from GraphicsFamily. They have a really cool graphics store powered by EDD. They were nice enough to let us use one of their digital files as a sample.
On your WordPress dashboard, hover over Downloads and click Add New.
Name and Description
First you need to give the Download a name. Then add a description.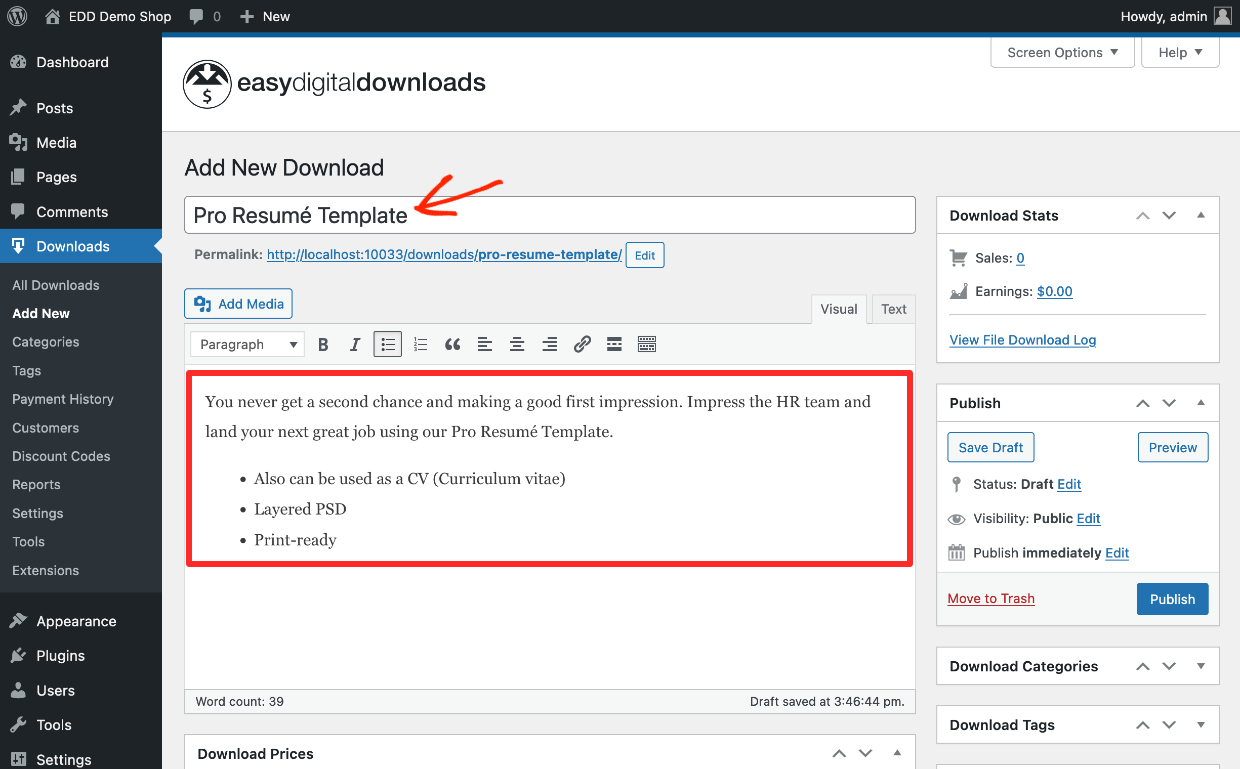 Price and File Settings
Next, set a price for your digital art file.

After that, we need to configure the Download File. This is the file the customer gets when they purchase.
Next, under File Name type in a phrase that describes what will happen when they click on the link. We suggest, for this example, typing "Download digital art file".
After that, under File URL click the upload button and add the digital art file.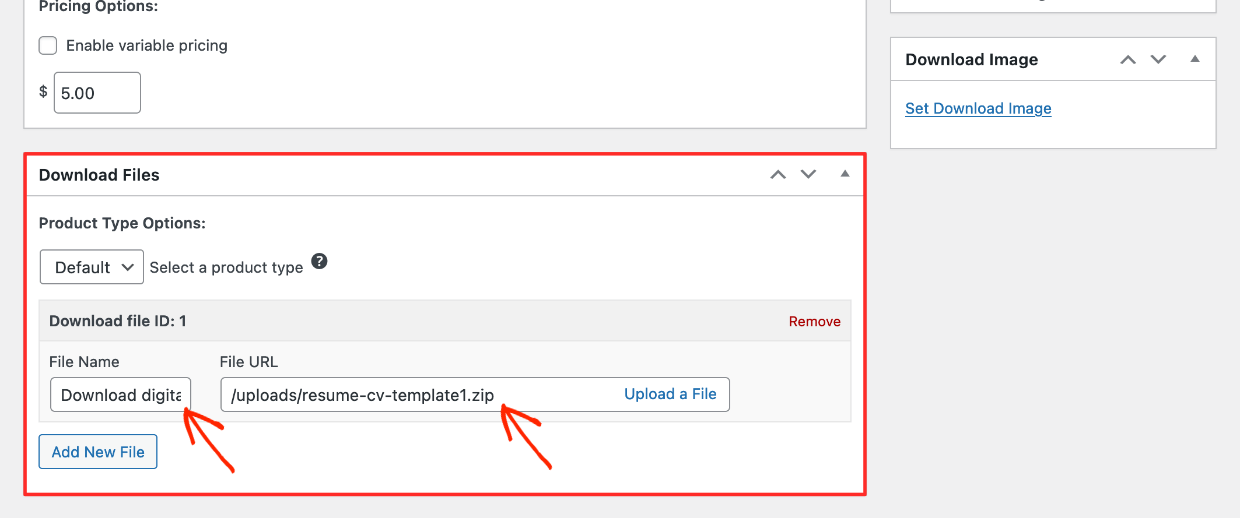 Product Image
Last, you need to add an attractive product image.
This may be an exact preview of the file. Or you may want to put the file into a context. See how GraphicsFamily puts the resumé into context by having it look like an actual print-out. They add details like a drop-shadow around the document, and have it sitting on a blue desk under the shadow of a palm tree. This makes you feel all warm and fuzzy.
To add a product image go under Download Image and click Set Download Image.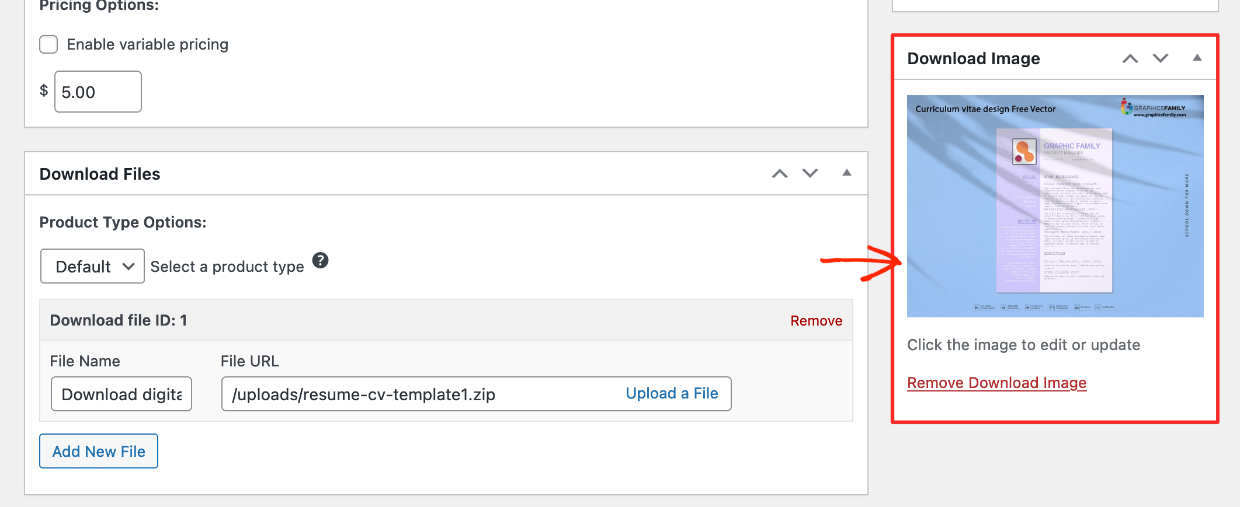 Good job! Click Publish.
Your art file is set up as a product to sell on your website. Next, you should give it a preview and then do a test purchase.
Click on View Download on the top notification banner that appeared after you published.

You'll see your art file page on the front-end of the website.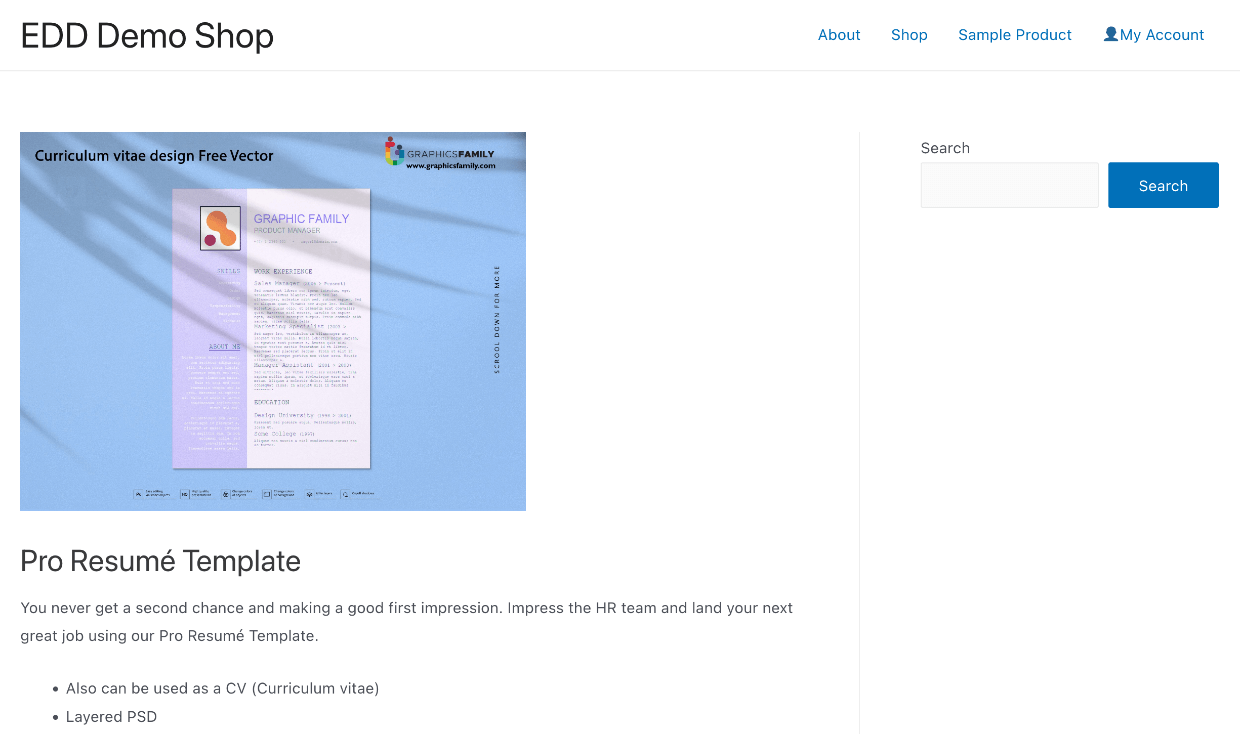 In the example below we are using the free WP Astra theme. The look and feel of your page will vary depending on which WordPress theme you have.
Do a Test Purchase
It's best to do a test purchase. Pretend we are purchasing the digital art file from your Download page.
First, make sure your site is set up for test purchases. Go to Downloads » Settings » Payment Gateways.
You need to select the Test Mode checkbox.
Then, select the Test Payment option in the Payment Gateways section below that.
Lastly, set the Default Gateway to Test Payment.
Next, go back to the front-end view of your template page.
Click the Purchase button.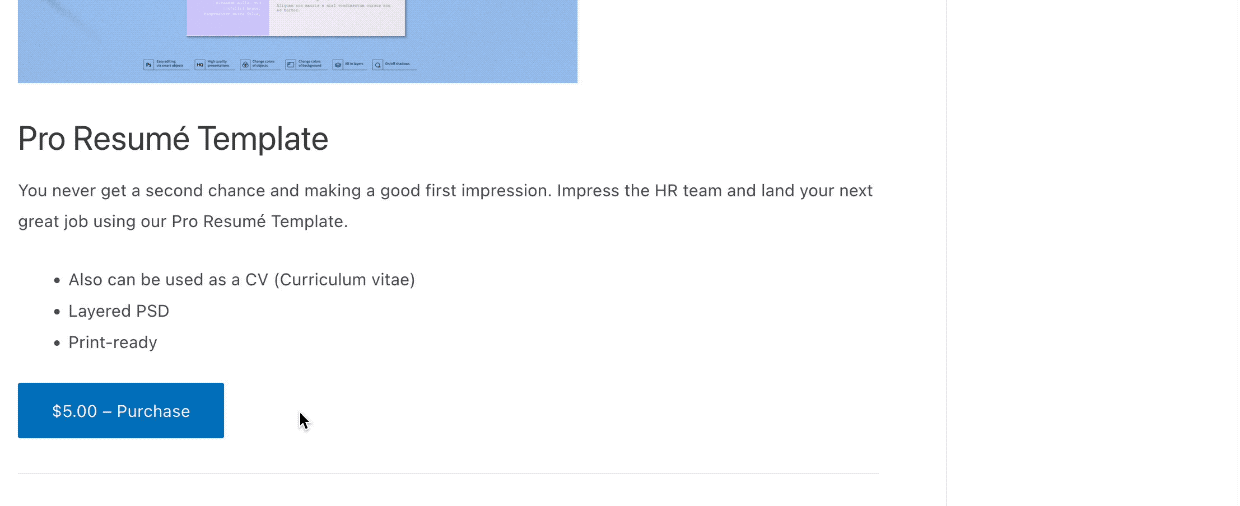 The item will be added to your cart. Next, you need to click the button again, which now says Checkout.
You will be taken to the checkout. For tests like these you won't have to enter any credit card info. Just enter your email address, name, and click Purchase to complete a test purchase.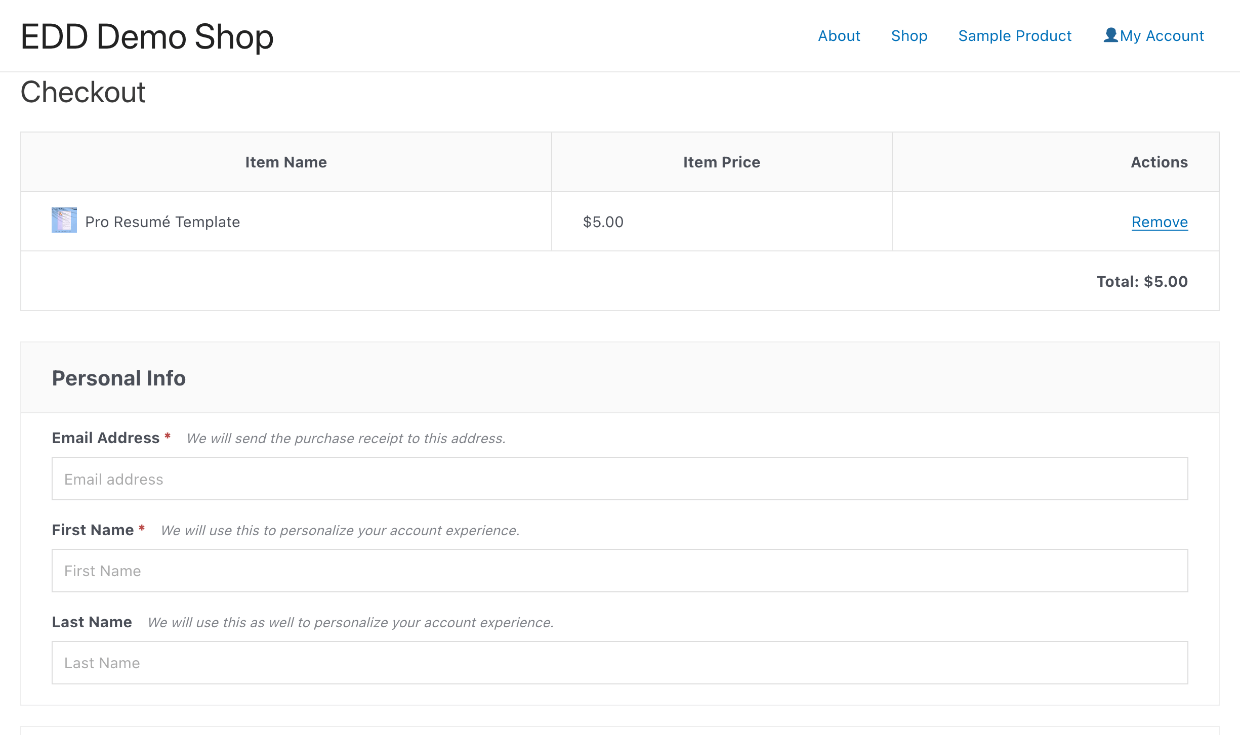 You will get a purchase confirmation email after completing your pretend purchase.

The default email looks like this: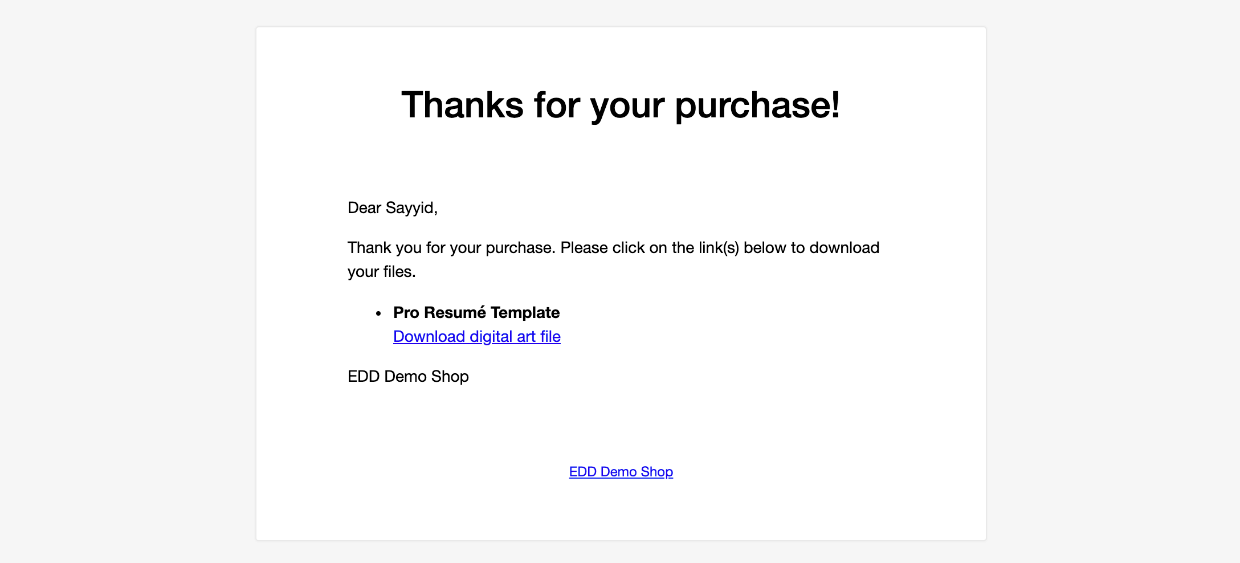 Customers click on the blue link to download their art file.
Great work! You now have a powerful eCommerce store set up. You are almost ready to sell art online.
Set Up a Payment Method
You need to set up a way for customers to pay you. We recommend using Stripe. PayPal is also a good option if Stripe is not available in your area.
With Stripe you can accept credit cards, ApplePay, and GooglePay!
Get started with a payment method here:
Tips For Marketing and Selling Your Digital Artwork
Share Your Artwork on Social Media Platforms
Visual content, like your digital art, stands out on people's feeds. Put that to your advantage and grow awareness and sales for your products. Consider using Buffer, a social media scheduling and collaboration app, to streamline and schedule your publishing.
Do Collaborations with Other Artists
It can be a win-win for you and fellow creators to gain more followers and customers by sharing each other's art. You can even sell other artists' work on your site with EDD's Frontend Submissions extension.
Create a Lead Magnet on Your Site
A lead magnet is a free resource you give away in exchange for a site visitor's email address. You can use email to share your products with them in the future and win them as a customer. Click here for a full tutorial.
Digital Artwork Product Ideas
How many digital art files can you sell? They sky is the limit.
The great thing about selling digital products is you don't have to worry about inventory. You can sell an unlimited number of products and never run out!
There is also no limit to the types of art file products you can come up with. Just imagine what types of individuals and organizations could make use of your digital art:
Small businesses
Busy entrepreneurs
Side hustlers
Digital marketing agencies
Nonprofits organizations and NGOs
Art lovers
Comic/movie/anime fans (personal use)
Types of Products You Can Make
Fan art that customers can print on t-shirts or laptop stickers
Fine art
Art prints
eBooks
Grown-up coloring books
Children's activity sheets or worksheets
Flyer templates
Resume templates
Business card templates
Social media templates
Certificate templates
Logos
Powerpoint, Keynote, and Google Slides templates
Affiliate marketing banners and creatives
Workbooks
Infographics
Media or branding kits
Planners
You can also sell the building blocks needed for other designers or beginners to create their own designs:
Fonts
Custom brushes for Adobe Photoshop or Illustrator
Custom brushes for Affinity Photo or Designer
Stock photos
Stock illustrations (vector art)
Icons
There is really no limit to the kinds of digital products you can sell.
What You Need to Know About File Formats
When it comes to file formats, you need to keep in mind the end use of your customer. How will they use the file?
Output Formats
If the customer is not going to edit the file, and is going to use it on websites and social media you'll want to go with a file format that is designed for final output.

PNG (portable network graphics)

PNGs are one of the most used file formats on the web. They can have transparent backgrounds.

JPEG (joint photographic expert group)

JEPGs are also one of the most used file formats on the web. They cannot have a transparent background and are best for photographs.

PDF (portable document format)

PDFs is a popular Adobe-owned format. They are great for documents that are going to be printed.

SVG (simple vector graphic)

SVGs are fast becoming the new standard for vector files. Unlike JPEGs or PNGs which are made up of a fixed number of dots, vector files can be scaled to any size and always be high quality.
A good starting point is to use PNGs or JPEGs for art files used on websites, PDFs for printable items, and SVGs for logos and icons.
Edit Formats (Layered Source Files)

If the customer is going to use the file to edit or integrate into their own graphics they'll need the layered source file. These are the most popular layered source file apps and formats:
Adobe Photoshop (PSD – Photoshop Document)
Adobe Illustrator – (AI – Adobe Illustrator File)
Affinity Photo (AFPHOTO file)
Affinity Designer (AFDESIGN file)
Canva

Canva is a fast-growing online design platform. They don't really have a downloadable file format, you do all your design work with their browser-based design editor. You should consider selling Canva templates because of their popularity. To share a Canva template your share a special website link. Click here for a full tutorial.
You'll want sell in as many of these file formats as possible. Good news, you don't necessarily have to own all of these apps.
You can output PSDs from Affinity Photo
You can output EPS or SVG files in Affinity Designer that can be used in Adobe Illustrator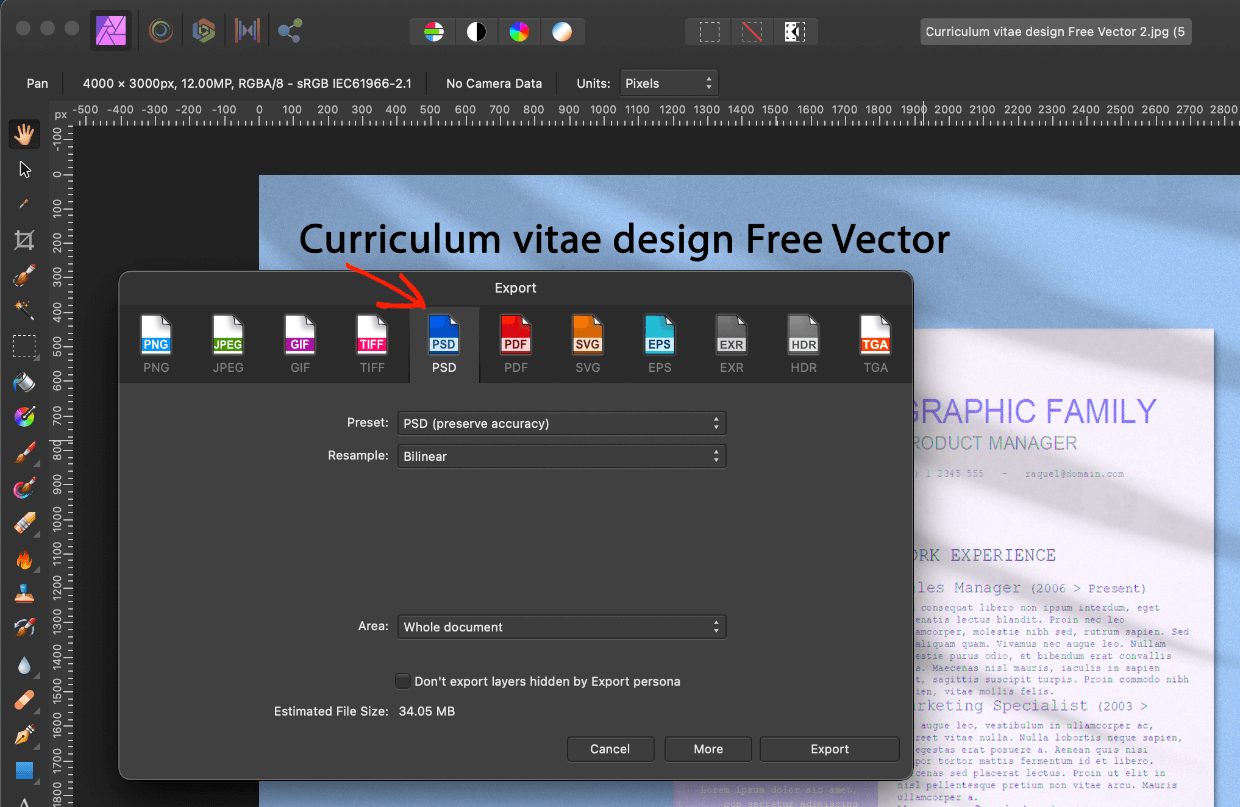 ➡️ The more file formats you can sell in your digital art products, the wider your audience will be.
Upload Your Graphic Files a ZIP Files
No matter which graphic file format/s you decide to sell, upload the final products as ZIP files. ZIP files work best with EDD and most website hosts.
ZIP files are compressed files or folders that take up less space and download faster for your customers.
In the past, you had to have third-party apps to make ZIP files. But now you can make a ZIP file with just a few clicks in Windows or macOS.
Make a ZIP file on Windows
Select the file or group of files that make up the digital art product to be downloaded
Right-click (or press and hold) the file or group of files and choose Compress to ZIP file

On older versions of Windows you may have to select Send to and then Compressed zipped folder

Windows will compress the file or files and you'll have a new .zip file
Upload that file when creating your EDD Download (product)

Make a ZIP fille on Macs (macOS)
Select the file or group of files that make up the digital art product to be downloaded
Right-click the file or group of files and choose Compress
macOS will compress the file or files and you'll have a new .zip file
Upload that file for your product
Final Thoughts on Selling Graphics and Digital Artwork
Awesome! You're ready to start selling graphics and digital art on your own storefront. This is a great way to be creative and generate passive income.
Check out this article on selling Canva templates. This is a fast-growing market for selling digital art that you'll want to consider!
One great way to grow traffic and sales on your store is to make a lead magnet (freebie). Check out this article to learn how.
To get the most out of EDD grab an EDD pass with 50%-off introductory pricing!
Be sure to follow us on Facebook and Twitter to get more WordPress resources and tips.