---
Do you want to boost sales and grow your business? Of course! One proven way to do this is to grow an email list by using lead magnets in WordPress.

In this article we'll explain how to add lead magnets to your WordPress website, so you can start growing your email list in no time.
What is a Lead Magnet?
A lead magnet is a free resource available on your website that users can easily download by simply entering their email address. This is sometimes called content locking.
While there are many types of lead magnets such as eBooks, worksheets, checklists, etc, they all have one thing in common: they help the user do something they want to do, while promoting your business.
Here are the steps that we'll cover in our tutorial:
Additional Tips:

Why Lead Magnets are Important
Create A Lead Magnet with our Free Template
Let's get started!
---
How to Add Your Lead Magnet in WordPress
The easiest way to add a lead magnet in WordPress is to use Easy Digital Downloads (EDD). EDD is trusted by more than 50,000 business to sell and share digital files and products like lead magnets.
If you're new to WordPress or not sure how to install a plugin, you can check out this step-by-step guide on how to install a WordPress plugin on WPBeginner.
Once you have installed Easy Digital Downloads (EDD), you'll need to purchase an extension Pass to use the Free Downloads extension. This extension allows your site visitors to download your lead magnet for free, only if they provide their email address.
An EDD Pass also includes email integration extensions. You'll probably want those too. We'll talk about this later in the article.

Ready to follow along and complete all of the steps in this article? Click below to set up your 100% risk-free EDD account.

Once you have purchased a Pass, you can log in to your account screen. From there, click View your downloads!
On this page, you'll see a list of extensions that are available with the Pass you purchased.
You need to find the Free Downloads extension and click on the Download Now button. The plugin file will be downloaded to your computer as a ZIP file.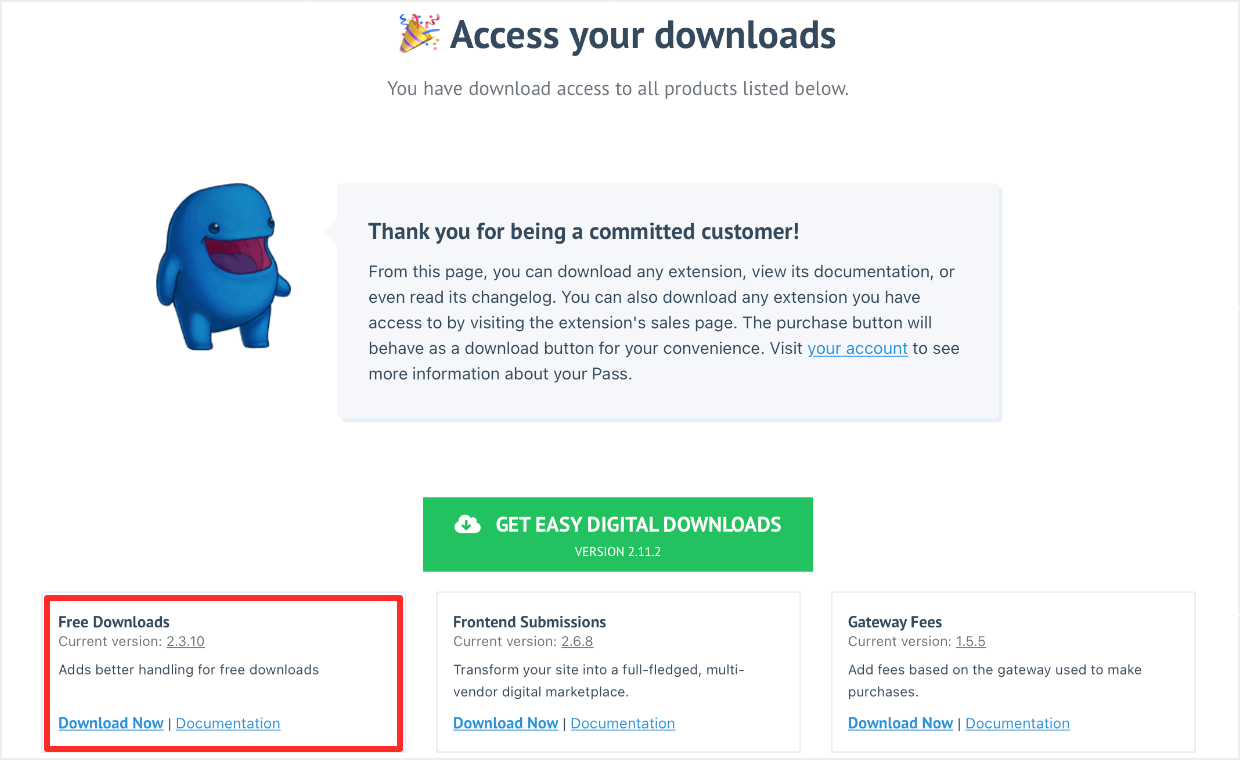 Next, you need to install that ZIP file.

To do that, simply click Plugins » Add New from your WordPress side menu. Then, click on the Upload button. This allows you to install a ZIP file from your computer. Click on the Choose File or Browse button (what the button says depends on which web browser you have).

You'll then be able to locate the file on your computer and upload it. It will probably be in your Downloads folder.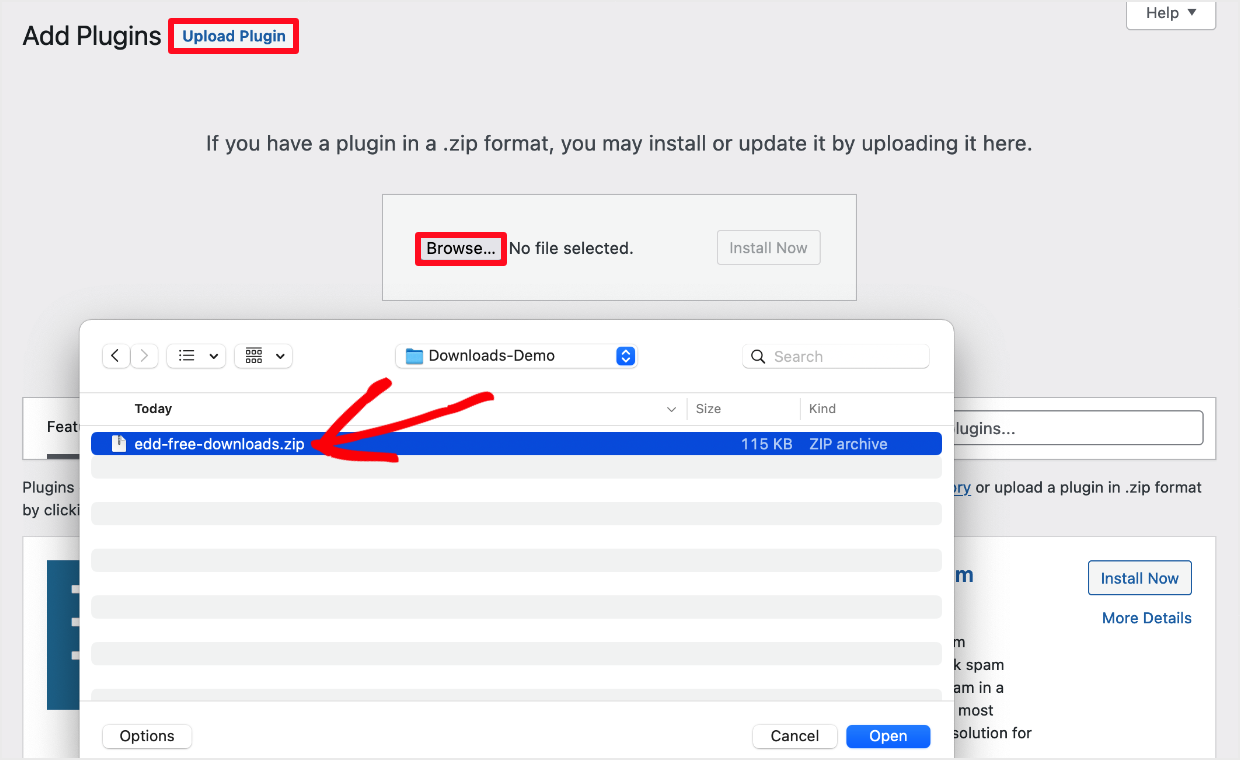 Once the installation process is completed, you need to click Activate.
Sweet! Now you have EDD and Free Downloads installed, and you are almost ready to roll.
Configure the Free Downloads Extension
Now that you've installed EDD and Free Downloads, you'll see a new section on the left side of your WordPress dashboard menu. Look for Downloads.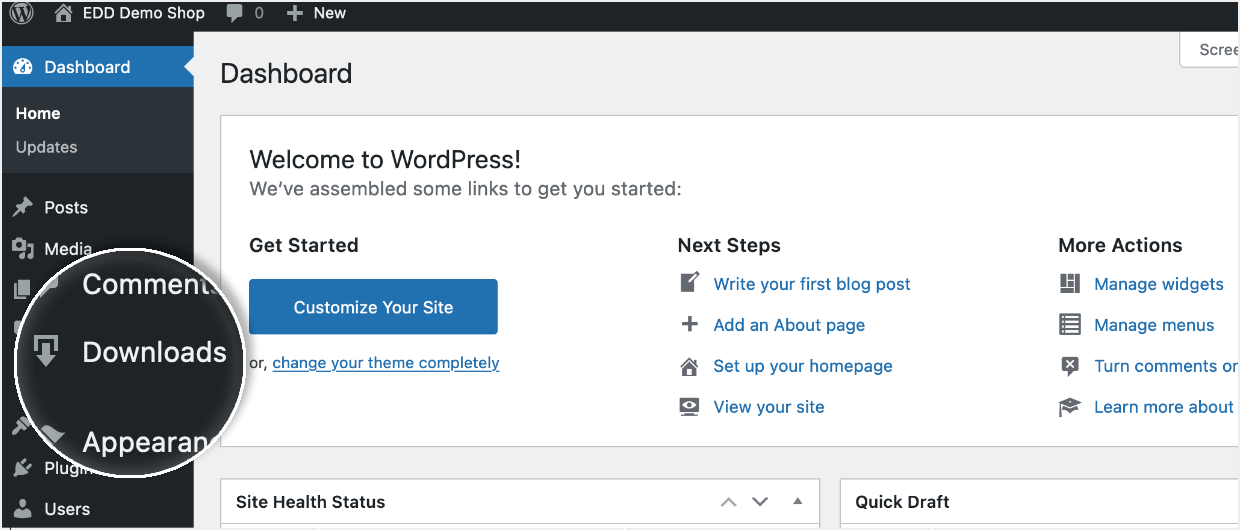 Let's configure the Free Downloads extension. Go under Downloads » Settings » Extensions in a new secondary tab entitled Free Downloads.
If Free Downloads is your first and only EDD extension, the settings for it will display with no secondary tab.
(Note: make sure you are under Free Download's General Settings, not EDD's General settings).
We recommend these settings when you're first getting started. You can't go wrong with these.
Button Label – Decide how you want to word your download call-to-action. The default is 'Download now', but you can set it to 'Get your free resource!' or anything you like.
Modal Button Label – Set the same call-to-action text here.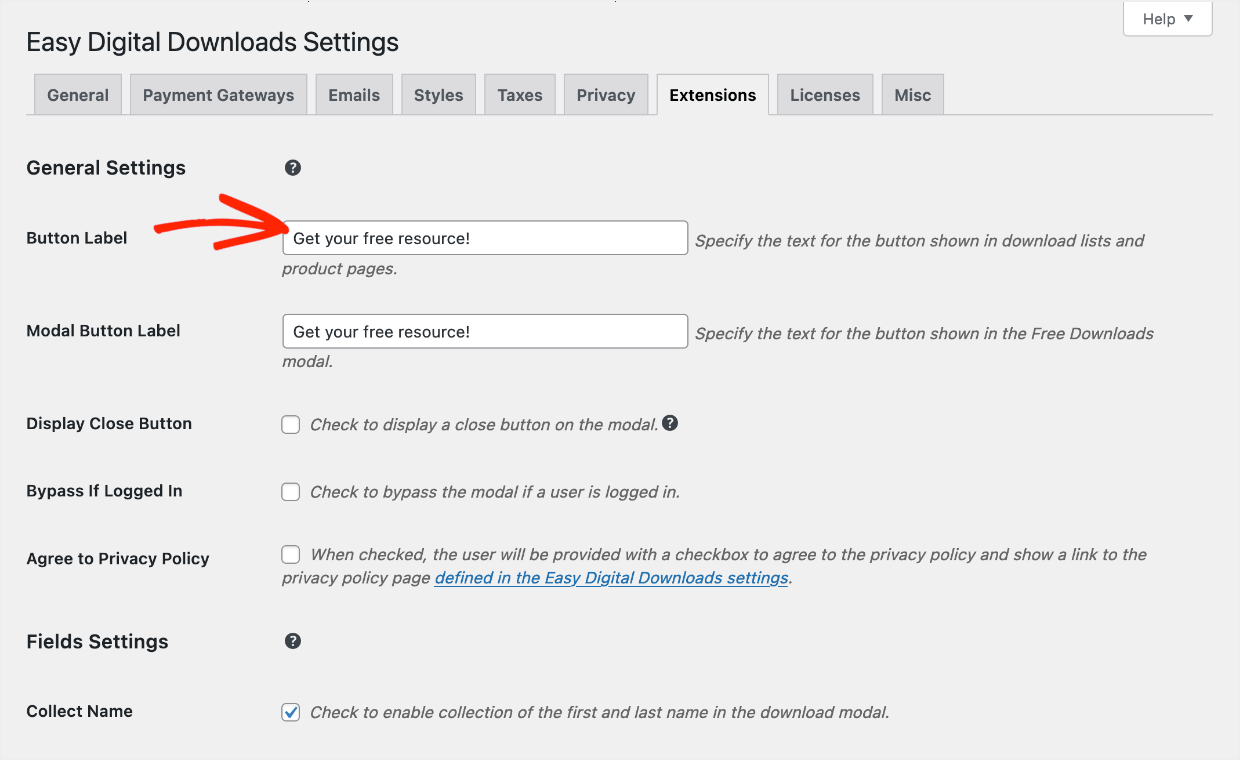 Collect Name – Check this box to collect first and last names. This allows you to be more personable in your emails. You can choose whether the form will require names, or just request them.
Require Email Verification – You should also check this box. You'll require site visitors to provide a real active email address and not a fake one.

When you're done there, click the Save Changes button at the bottom of the page.
You can learn more about Free Downloads settings on this Doc.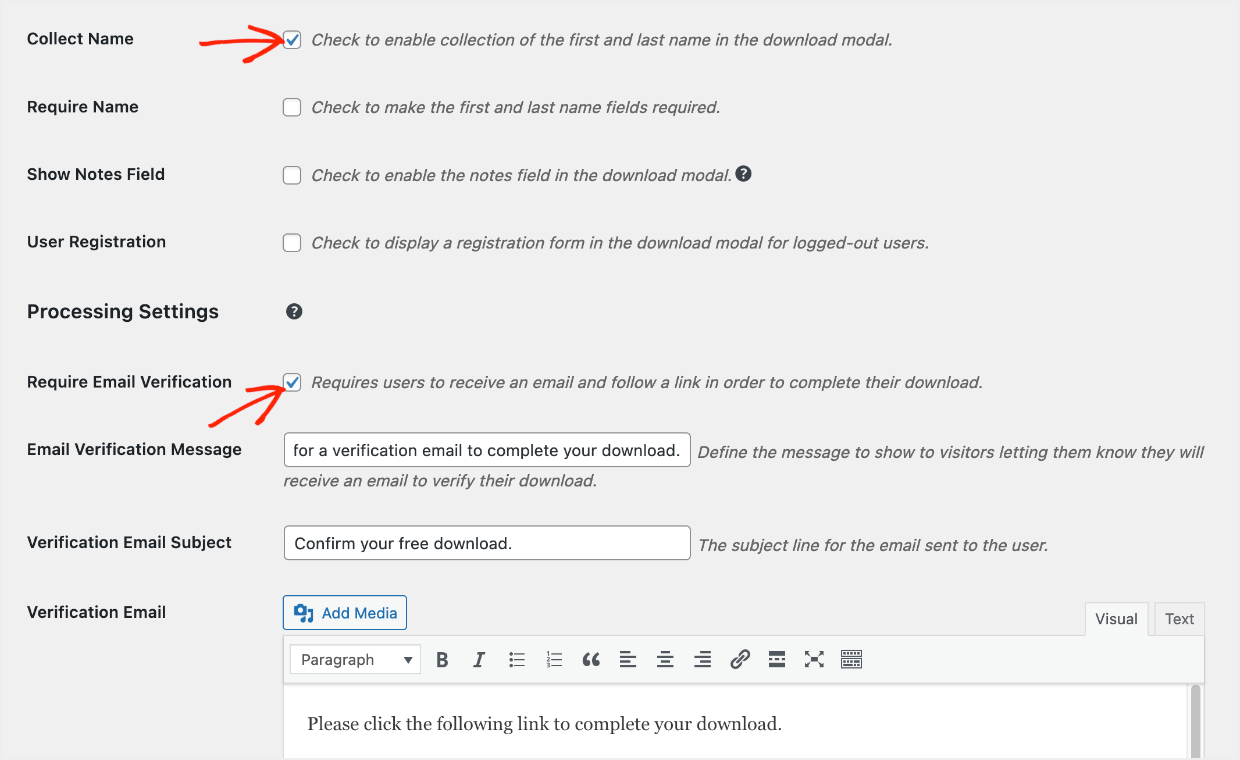 Publish your Lead Magnet
Let's get your lead magnet published on your site. On your WordPress dashboard go to Downloads » Add New. You're now creating an actual digital product on your site.
In this example, we're uploading a PDF resource created above. First, be sure to add a title, a description, and set the price to 0.00.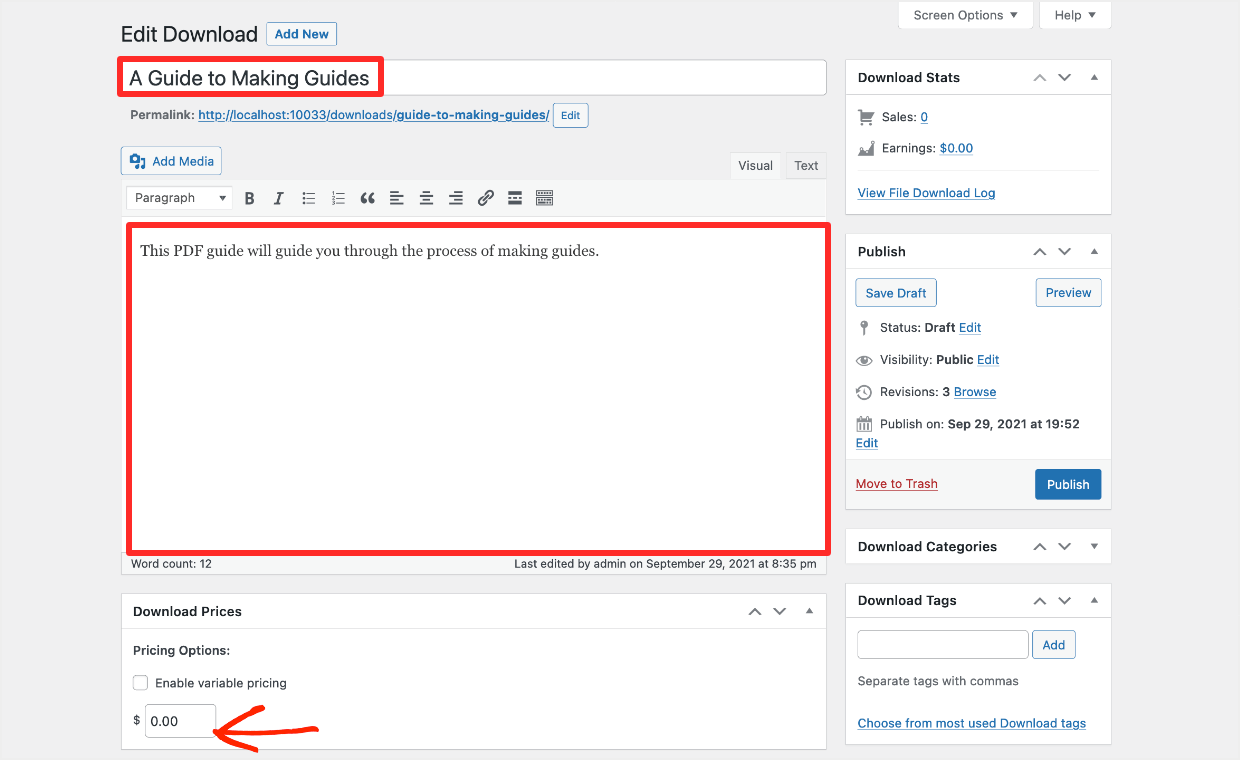 Note: setting the price to 0.00 will automatically have EDD set your lead magnet resource as a free download. Paid downloads get added to the cart or take the visitor to the checkout screen.
Next, upload your lead magnet. Under Download Files area, click Upload a File then add the file from your computer.
This will add your lead magnet to the Media folder on your WordPress site. EDD will hide this file from Google and site visitors unless they give you their email address.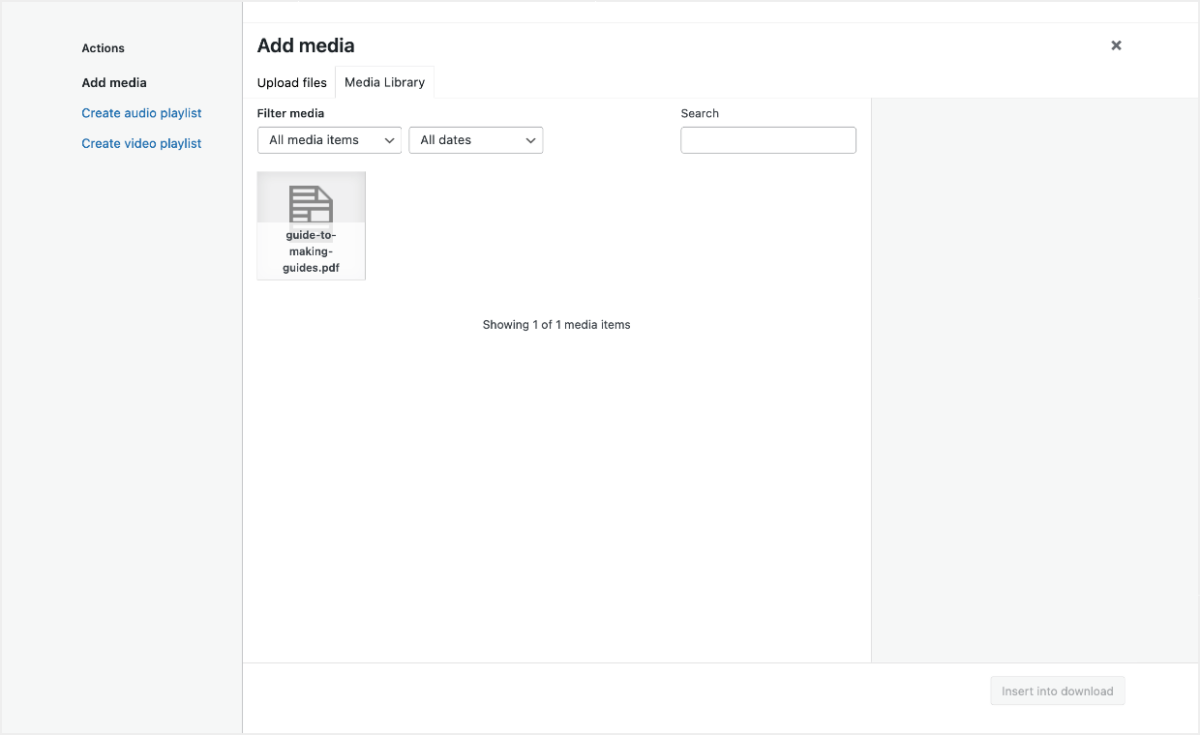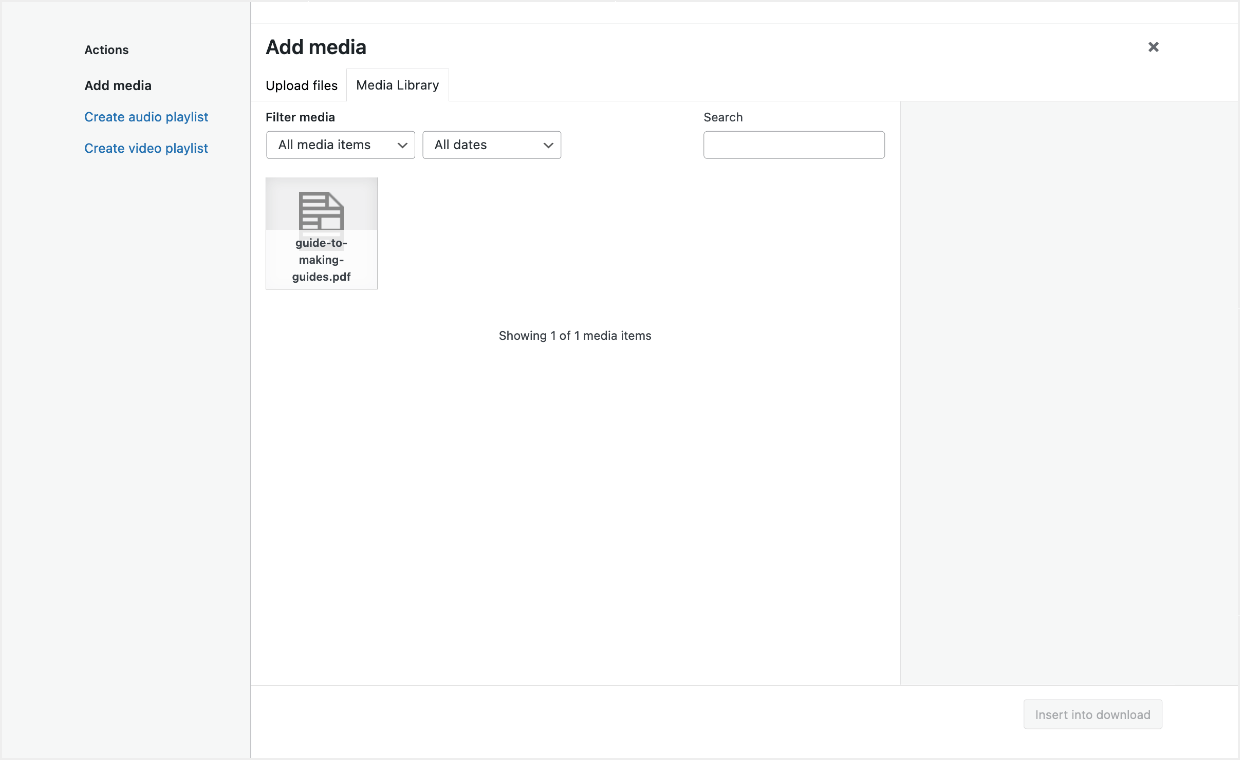 After all that hit Publish.
Your lead magnet is ready to go on your site!
Click the View Download link on the green banner on the top of the page.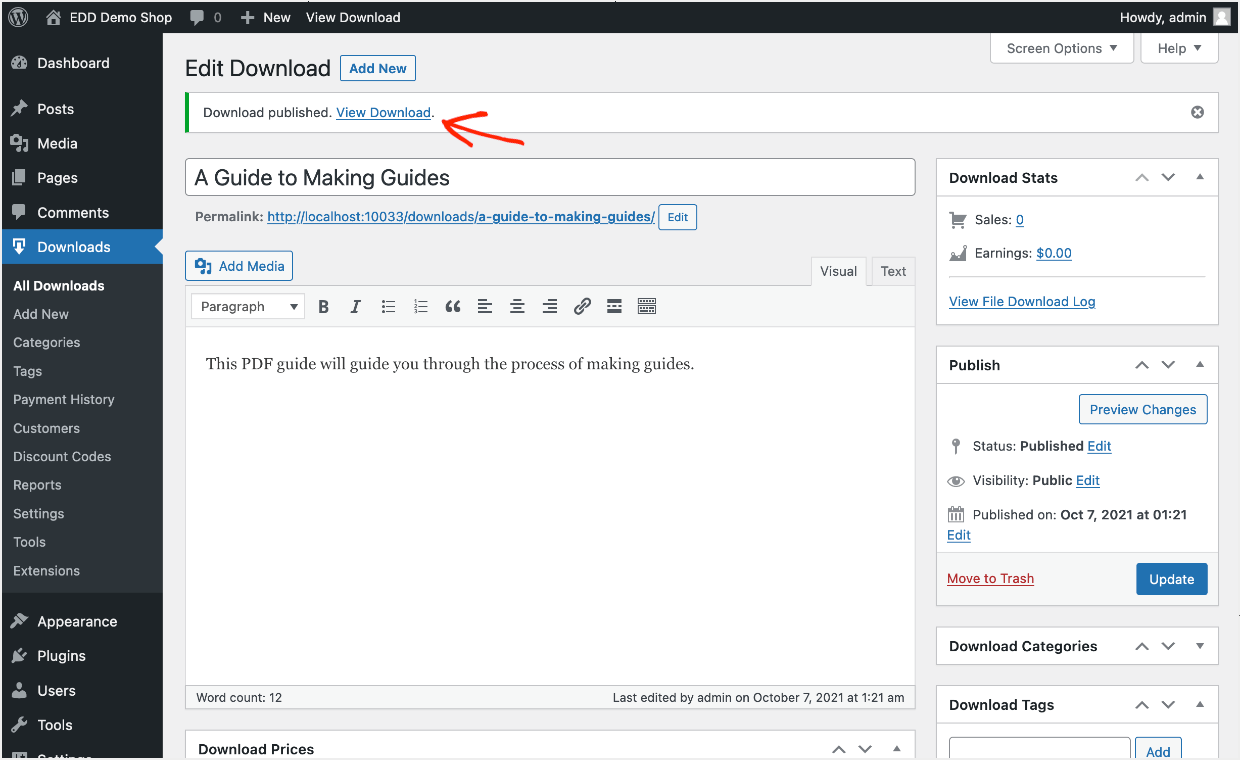 Your Download page will look like this. The look and feel will vary depending on which WordPress theme you are using. In the example below we are using the free WP Astra Theme.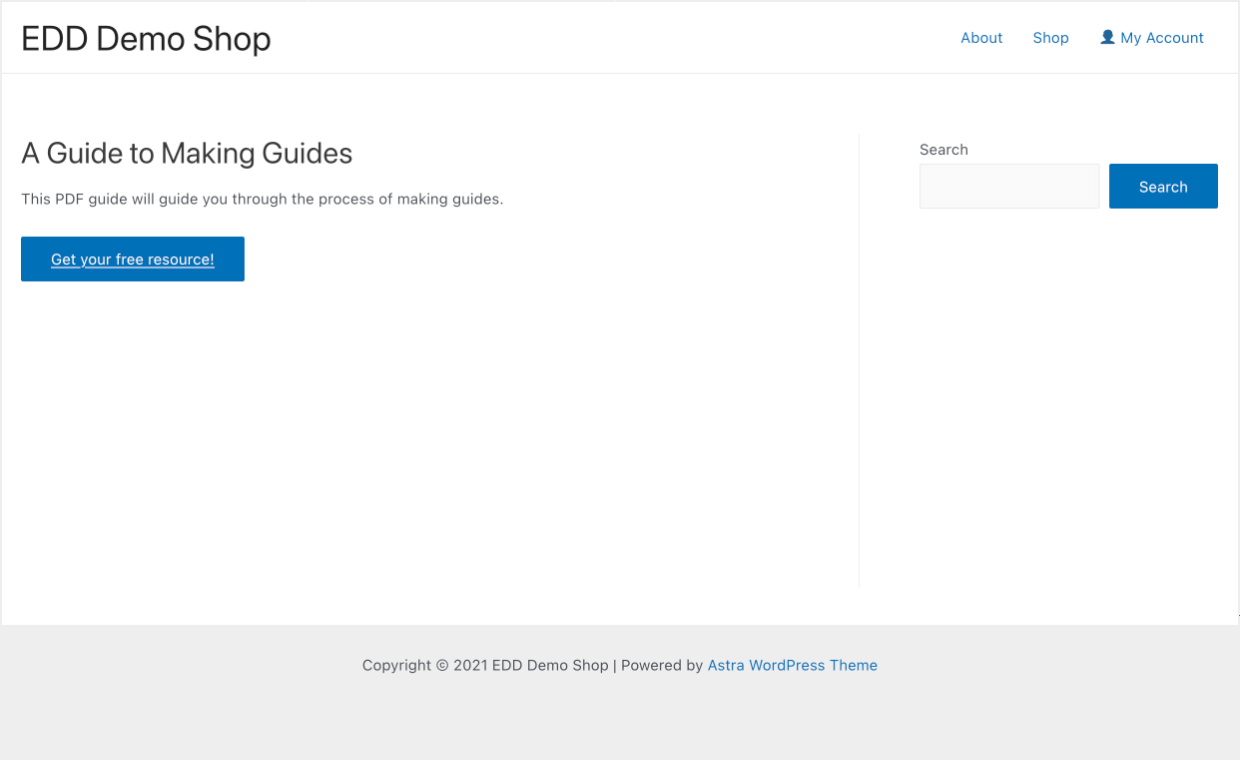 When a visitor to this page clicks the Get your free resource! button, a modal pops up. They will have to enter their name and email address. This is your newsletter signup form. Then, they will receive a verification email with a link to complete the download process.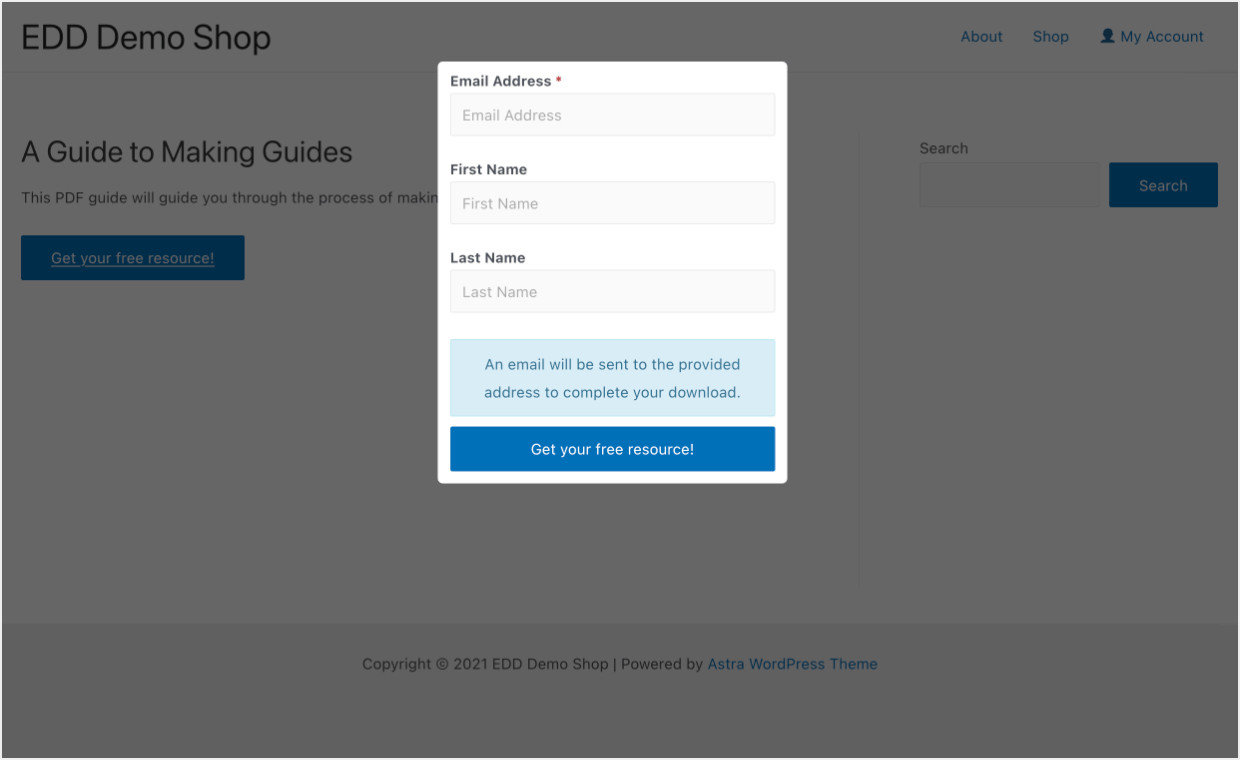 How to Manage your Growing Email List
As visitors download your lead magnet, EDD will start storing them as 'customers' on your website. Simply go to Downloads » Customers. Here you will see a list of your new leads!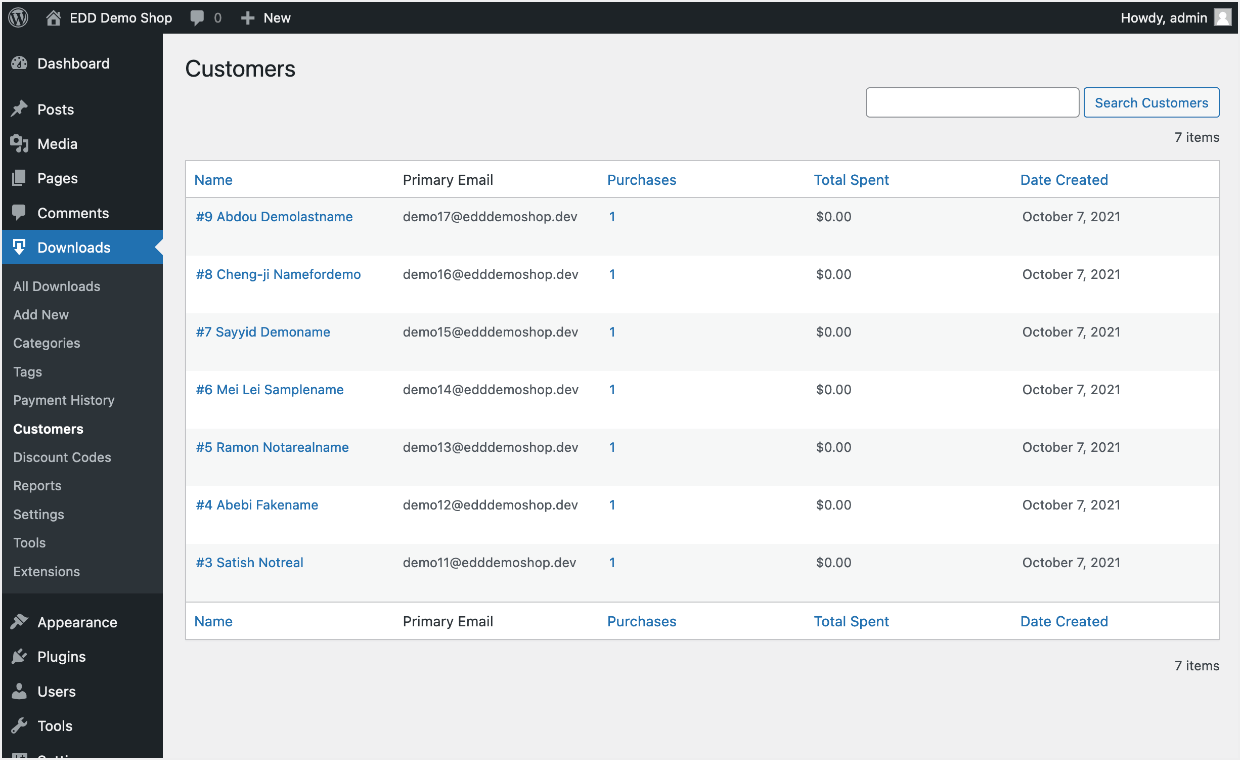 Note: even though they are called 'customers' within EDD, you can track which ones are 'leads' by how much they have spent. Look for the column labeled Total Spent. Any 'customer' who has not spent any money on your site is a 'lead'.
What should you do with these leads?
Choose an Email Marketing Platform
You don't want to email these leads one-at-a-time from your personal email account. That takes too much time. Also if you send an email from your personal email account, to a large list of recipients, your email will likely go to the spam or junk folder.
When you are emailing lots of people, you need a professional email marketing platform. Some people refer to these as email service providers (ESPs). These allow you to:
Manage your lists of contacts (leads)
Send emails from trusted servers so they don't go to junk or spam folders
Send emails that are professional-looking, and
Integrate with your website and store

For example: you can configure EDD to automatically subscribe customers to a certain email list when they make a purchase or download
There are many email marketing platforms out there. Most of them have free plans. EDD integrates with most of the popular ones, here is our list of email extensions.
Which email marketing platform should you use? Here are some of our top recommendations:
For more information, here's an article on the 7 best email marketing services.
Stay in Touch with Your Leads
Keep in touch with your leads and try to convert them into paying customers.
Consider setting up a welcome email. Thank them for downloading your resource. Then share more about your company, values, and products.
You can also set up an email newsletter. Share industry news and trends with your leads.
Your main goal with emailing leads is to show them how you can help solve their problems.
There's a great guide on WPBeginner on how to create an email newsletter.
---
Additional Tips
Here is more information on why to make a lead magnet. We also have a process for dreaming up your own lead magnet and a free template to create your own quickly.
Why is a Lead Magnet Important?
A lead magnet is a great way for turning engaged website visitors into email subscribers and then paying customers.
When a user downloads and uses your free resource, it helps establish trust.
Since you get the visitor's email address in exchange for a free download, you can follow up with them. You can use email marketing to deliver additional resources and offer special offers to convert the subscriber into a paying customer.
This is why all smart business owners use lead magnets as part of their growth strategy.
Adding a lead magnet used to be hard in the old days, but WordPress makes it super easy, and you can do it in just a few minutes without writing any code.
How to Create a Lead Magnet (Free Resource)
First, we need to make a free resource that will entice our website visitors to share their email address.
The type of lead magnet depends entirely on your business, industry, and target market.
But generally, a lead magnet must have high perceived value for your site visitors.
Some questions to think about when coming up with lead magnet ideas:
What are my website visitors hoping to accomplish?
Do they have pain points?
What problems do they need to solve?
After that, you need to create a free resource that helps them achieve their desired end results.
Here are some common types of lead magnets:
A PDF guide
An eBook
An audio interview or presentation
A Google Doc or Word template
A Google Sheet or Excel template
A graphic
A layered graphic file (Adobe, Sketch, or Affinity)
A Canva template (link)
For more details, see this helpful guide with 69 irresistible lead magnet ideas.
Once you have the idea in mind, your first step is to create the lead magnet resource and have that ready to upload to your WordPress site.
Free Lead Magnet Template
The easiest lead magnet trick is to convert your most popular blog post into a downloadable PDF with some additional bonus resources. Use our free template (learn more below).
You want to make it look professional with a graphic at the top that includes your logo. You can do this yourself without hiring a designer!
There are all sorts of free tools and resources available on the web for this.
Here's a quick list of free resources that you can use right away:
Use Canva to create a Document. Canva is an online app for making graphics. They have lots of useful templates to get started quickly. You can export your final graphic as a PDF. All for free.
You can add icons with Streamline's free icon set, and don't forget you can use good ol' emoji as well. Who doesn't love emoji?
Here's an example I made in 15 minutes using the Canva editor: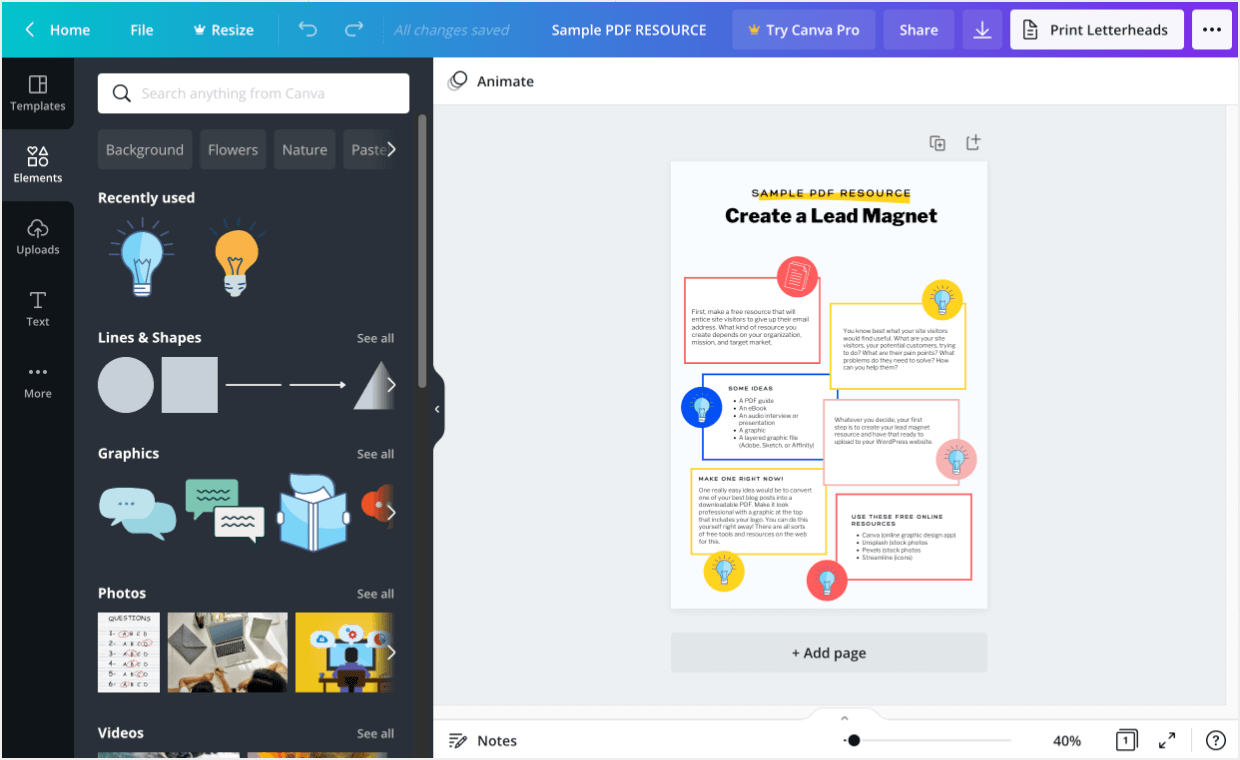 Once you have your lead magnet file ready, you need to add it to your WordPress site.
---
Conclusion
Good job! You've successfully added a lead magnet and have begun growing your email list.
Now you might be wondering what to do next. Here are 3 effective things we recommend.
Work on developing a welcome email or email series. Here is a good article on getting started with a custom welcome email.
Create an email newsletter to build trust with your leads.
Keep an eye on your site analytics to understand how well your lead magnet is performing. Then you can make improvements. Not sure how? Consider using MonsterInsights. It's free, and they have all the guides you need to get set up!
We hope you found our article on adding lead magnets in WordPress helpful.
You might also want to check out the email marketing platforms that are integrated with EDD. It's a big list and covers the most popular platforms.
If you enjoyed this article, follow us on Facebook and Twitter for more free WordPress resources.