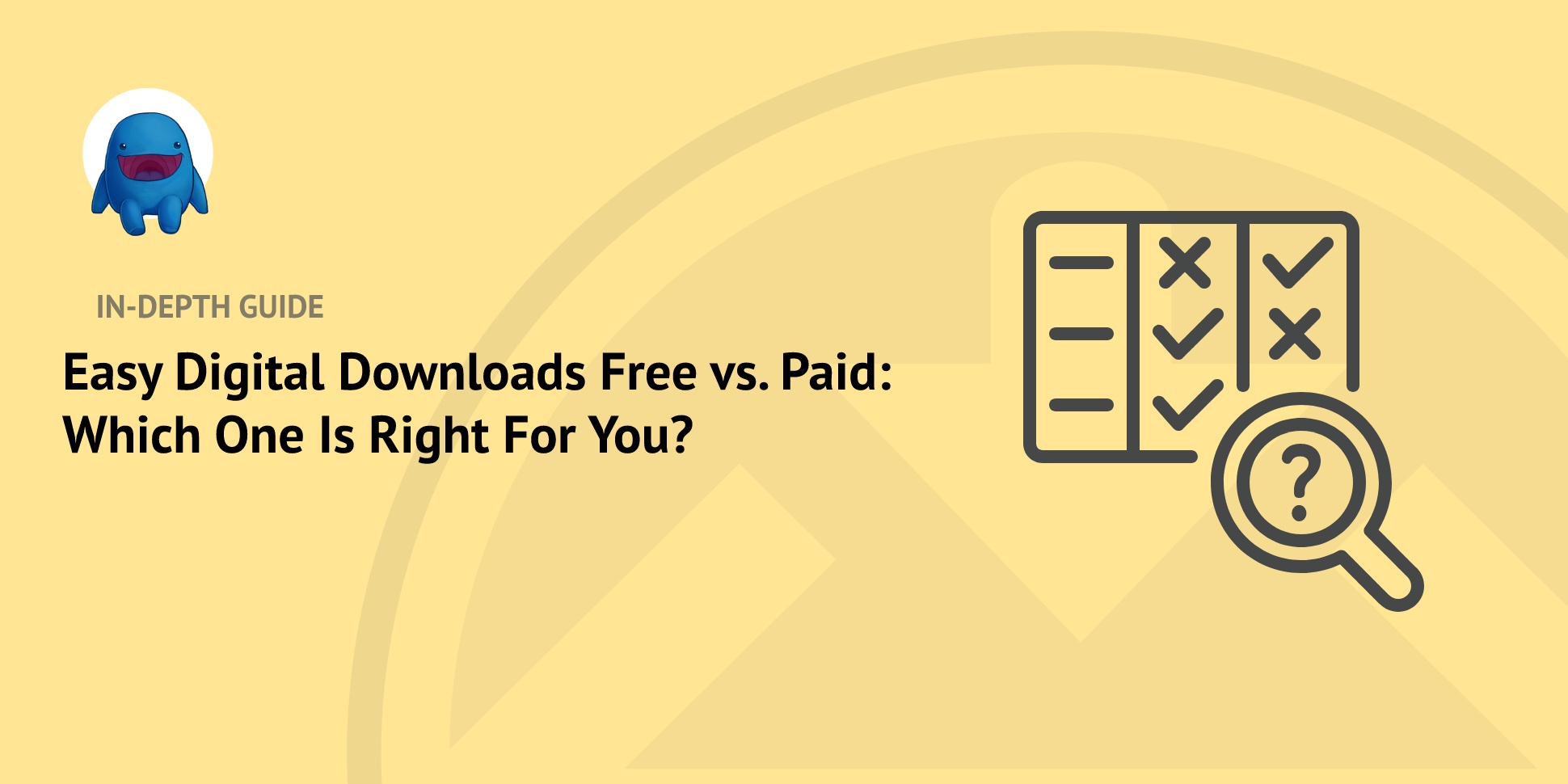 Easy Digital Downloads (EDD) is the best WordPress plugin for selling digital products and downloads. But if you're thinking about using it, you might be wondering whether to go with the free or paid version. In this EDD free vs pro comparison post, we'll help you decide!
The EDD Core plugin is packed with powerful features. It provides all the staple tools you need to build an online store. But, depending on the functionality and sophistication you're looking for, a premium pass can be well worth the cost. EDD Pro is available to all pass holders.
In this post, we'll cover what Easy Digital Downloads is and compare the free version with a paid plan across key areas:
What Easy Digital Downloads Is
Easy Digital Downloads is a WordPress plugin that allows you to sell digital products from your website. With EDD, you can sell anything from eBooks to software to videos, and more. You can also offer downloads for free.

With over 50,000 active WordPress installations, EDD is an impressive WooCommerce alternative. This complete eCommerce solution makes it easy to set up your digital store and start selling products. You can add them to your existing WordPress site or create a new one using the EDD WordPress theme and Managed EDD + SiteGround Hosting!
Easy Digital Downloads includes all the features you need to run a successful digital store, including a shopping cart, checkout system, payment gateway integration, and product management tools. You can also use it to create discount codes and track your sales. Plus, there are plenty of add-ons to choose from that let you extend its features and functionality.
Easy Digital Downloads Free vs Pro: Key Comparisons
Before we get into the specifics of how the free vs paid versions compare, let's briefly discuss EDD pricing. The core plugin is free to download and use.
When you're using the free version, you can purchase any of the EDD premium extensions available in the library. Each one is priced differently. In the comparison tables included throughout this post, if a feature or extension is listed as not included with the free plugin (✖), it doesn't mean it's not supported – just that it's only available for an individual fee or with a plan upgrade.
Alternatively, you can purchase a premium EDD plugin license: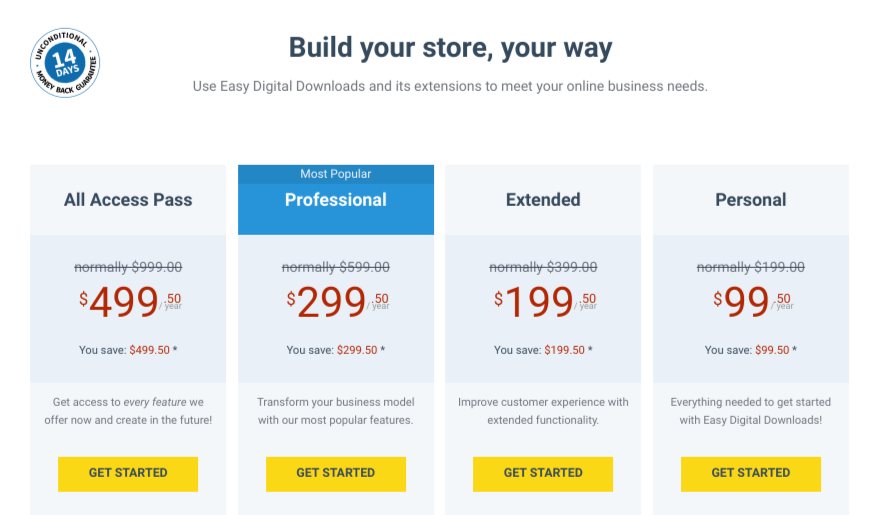 There are four pricing tiers:
Personal: $99.50 per year (1 website)
Extended: $199.50 per year (1 website)
Professional: $299.50 per year (1 website)
All Access: $499.50 per year (3 websites)
If you want to have access to the entire suite of extensions, features, and tools that Easy Digital Downloads offers, we recommend an All Access Pass. But plenty of extensions are included with the other tiers.
All EDD premium pass holders can use EDD Pro. Below are some of the biggest differences between Easy Digital Downloads Ffree vs Pro plugins.
Now let's get into the specifics of EDD free vs paid.
Getting Started with EDD
If you want to add eCommerce functionality to your WordPress site and start selling digital products quickly, EDD can help make that happen. The entire process is simple.
You can download the Easy Digital Downloads Core plugin from the WordPress Repository (Plugins » Add New):

Alternatively, you can sign up for a plan on the website. After you complete your purchase, you can manage your settings and download the EDD plugin from your account dashboard: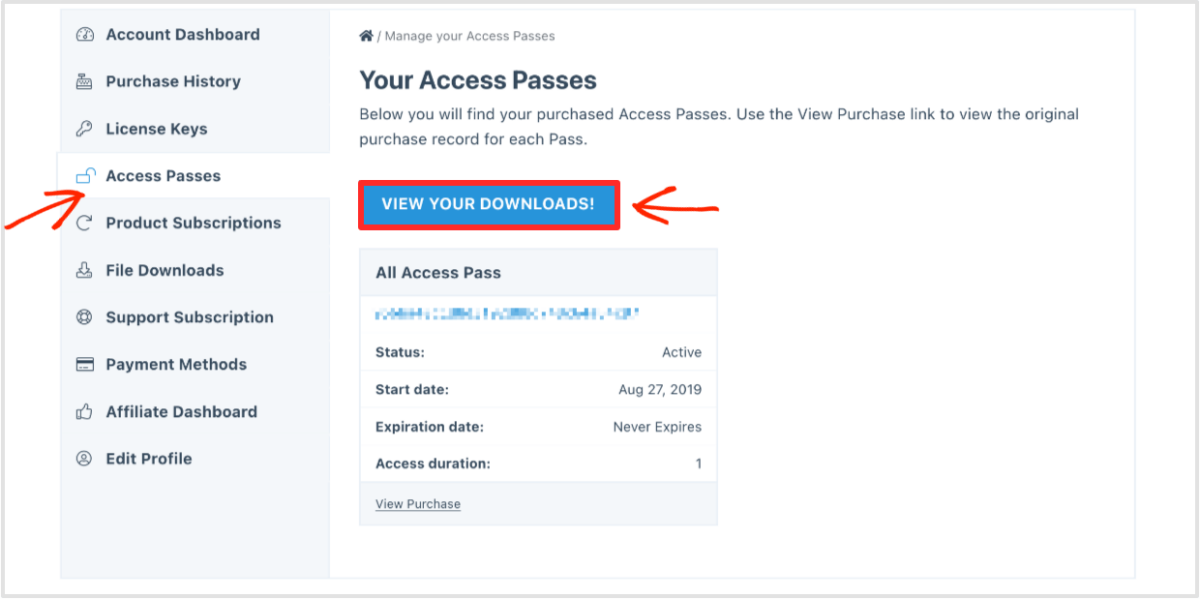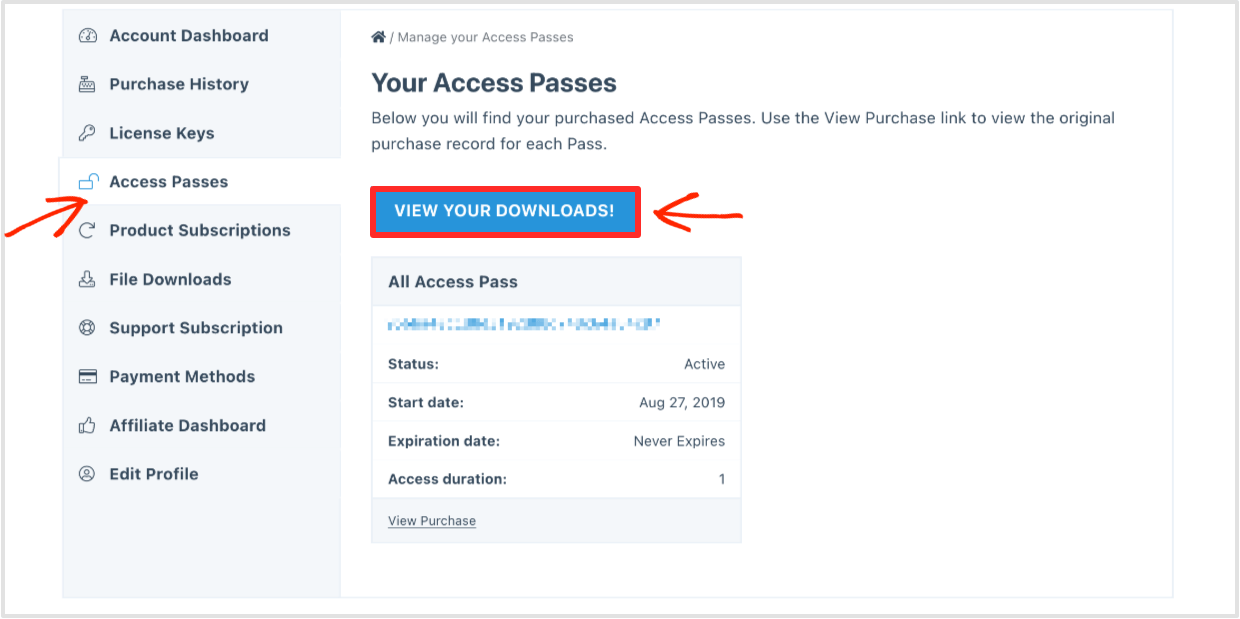 After uploading the EDD plugin to your WordPress site, you can locate it under the Downloads menu item added to your dashboard: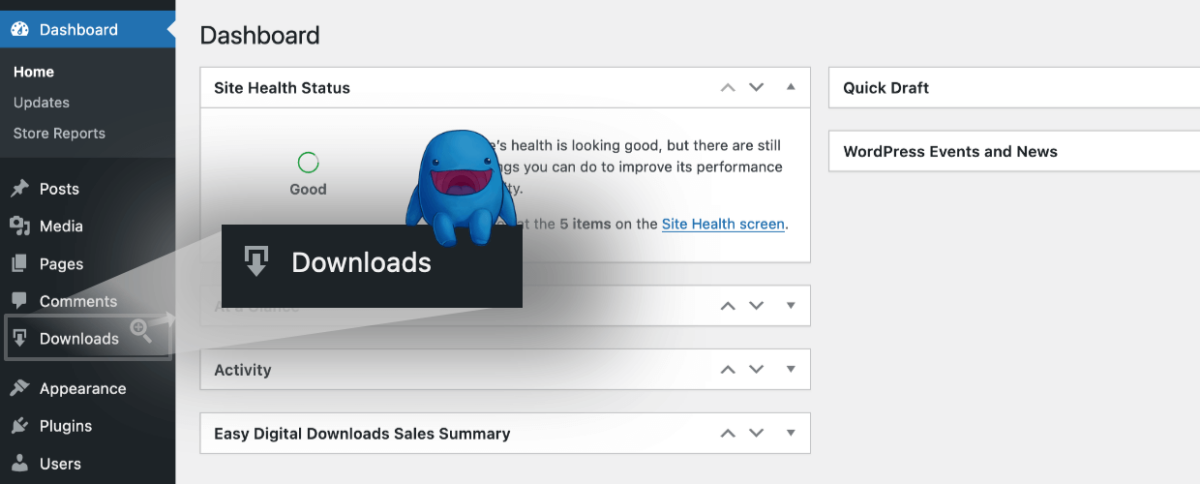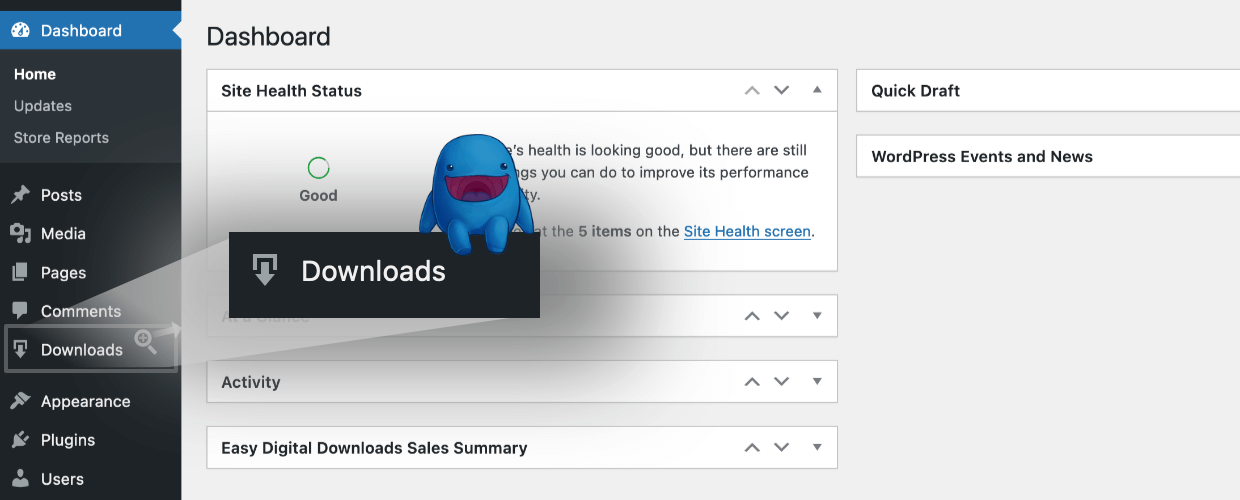 You can also follow the Onboarding Wizard to get your store up and running within minutes: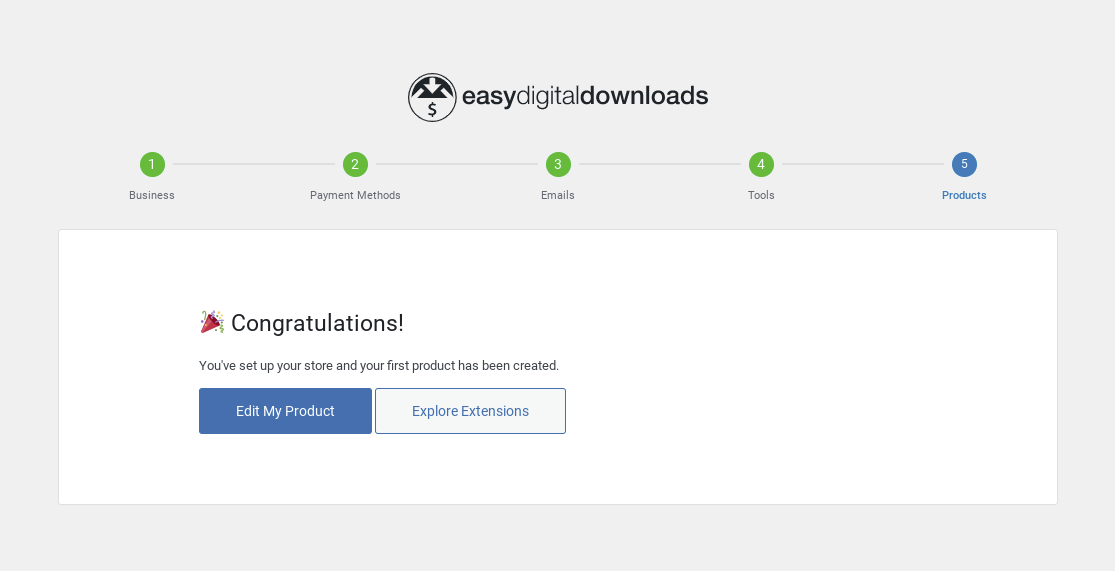 One of the steps in the Onboarding Wizard lets you install & integrate popular and powerful WordPress plugins to help with conversions and optimization. These include:
When it comes to usability, there is no major difference in the EDD free vs pro. It boasts a clean, organized interface that is easy to navigate.
All products are added to Downloads: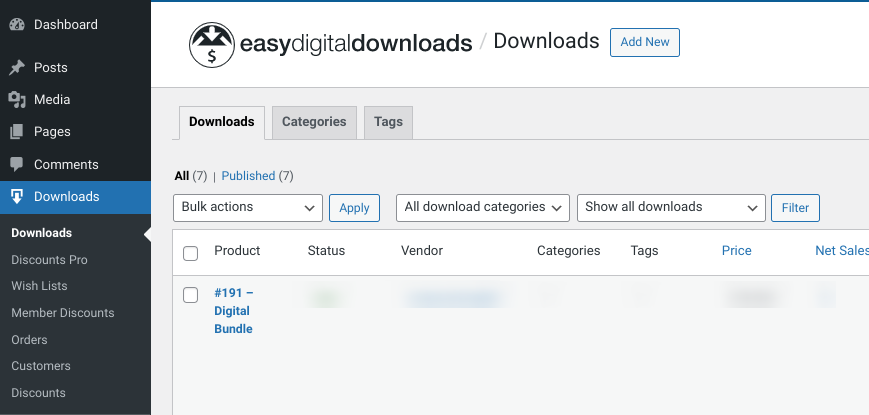 The overall interface looks and functions similarly to the regular WordPress editor. However, there are more settings below and to the right where you can control the download settings: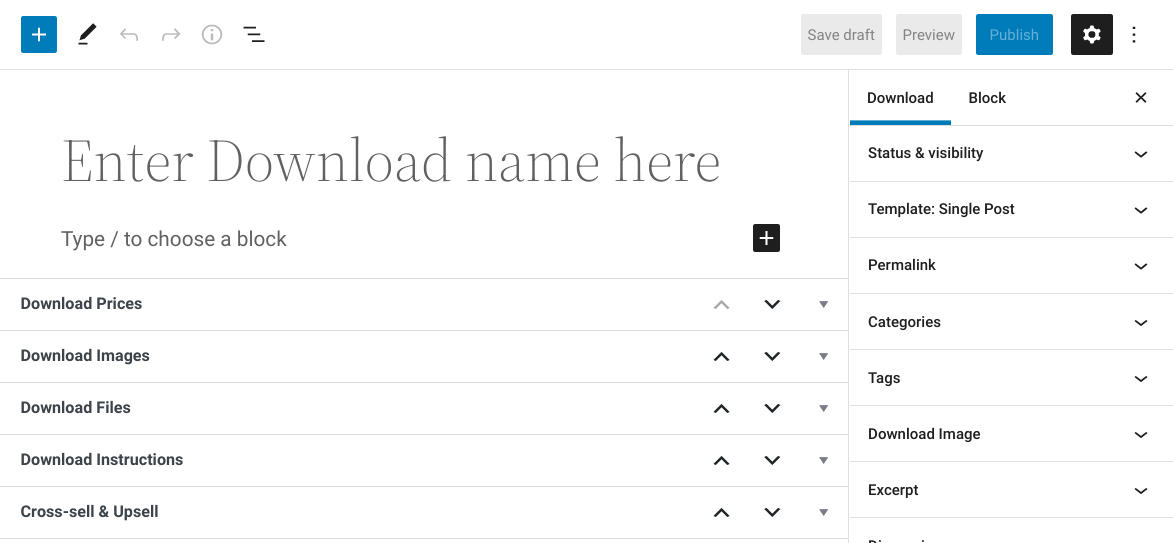 However, one of the notable differences is that with EDD Pro, you can install and manage extensions directly from WordPress:
If you're using the Lite/free version, you can still explore EDD extensions on this screen in WordPress. But you'll have to click on the Upgrade Now button to visit the EDD website and purchase the add-on or upgrade to a premium plan.
Payment Gateways in EDD Free vs Pro
When you're done activating and authenticating your license key, one of the first steps will be to configure a payment processor (Downloads » Settings » Payments » General):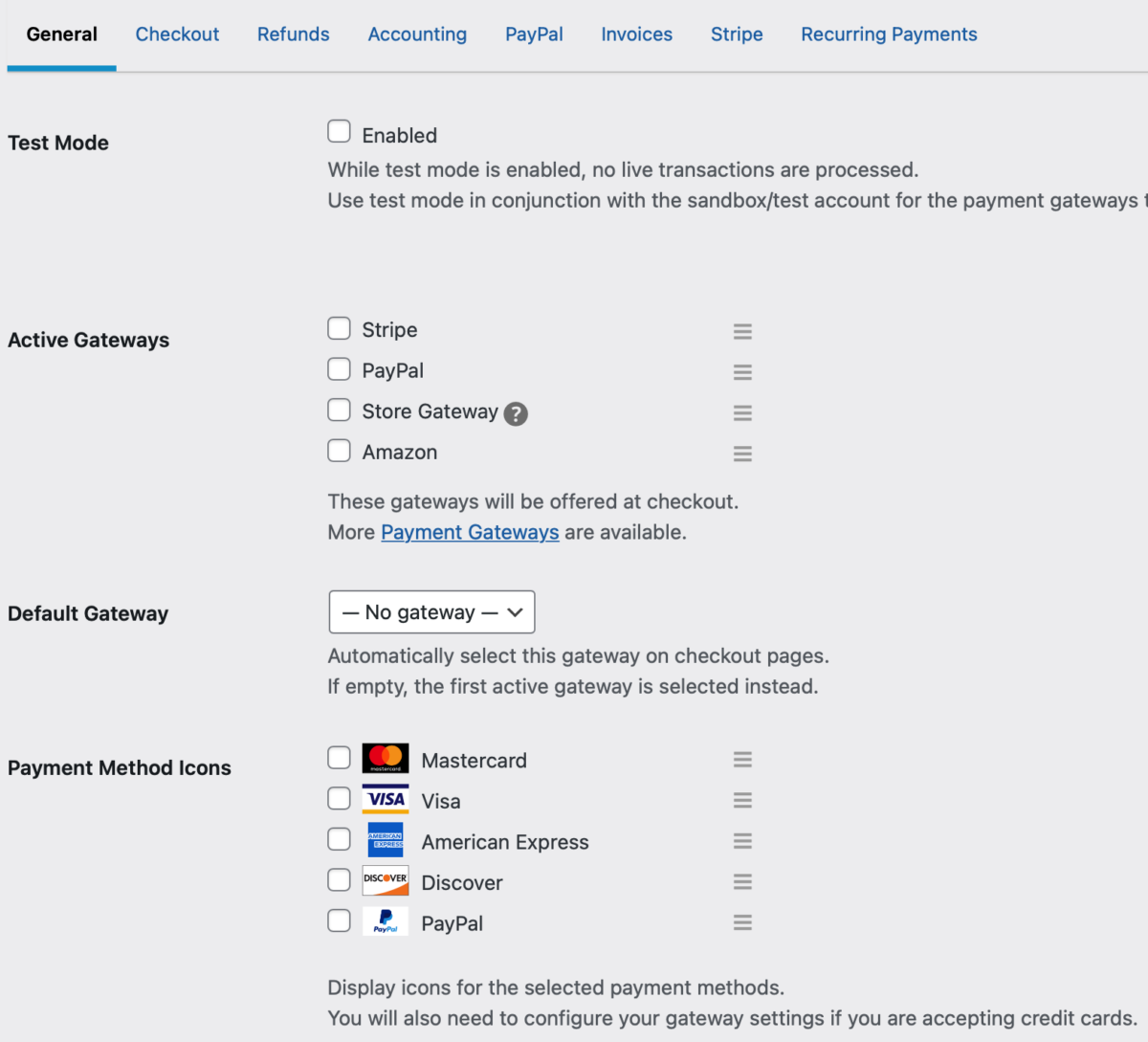 The free plugin lets you choose from Stripe, PayPal, and Amazon Pay for the active payment gateways. This means your customers will be able to use any major credit card as well as their PayPal or Amazon account to check out.
If you upgrade to a paid plan, you get a lot more options. There are a ton of extensions you can add for additional payment gateways, such as Authorize.net, Braintree, and PayPal Commerce. In addition, for Extended passes or higher, EDD users can use Stripe Pro.
This includes integration with Payment Element for a smoother, safer, and more reliable checkout process:

You can also turn on Test Mode. With this enabled, no live transactions will be made.
| Gateway | EDD Free | EDD Paid |
| --- | --- | --- |
| Stripe | ✅ | ✅ |
| PayPal | ✅ | ✅ |
| Braintree | ✖ | ✅ |
| Authorize.net | ✖ | ✅ |
| Stripe Pro | ✖ | ✅ |
| Apple/Google Pay | ✖ | ✅ |
| PayPal Commerce Pro | ✖ | ✅ |
| SOFORT Banking | ✖ | ✅ |
| Coinbase | ✖ | ✅ |
| ClickBank Gateway | ✖ | ✅ |
| MultiCurrency | ✖ | ✅ |
| EDD Wallet | ✖ | ✅ |
| Check Payment | ✖ | ✅ |
Shopping Cart and Checkout in EDD Free vs Pro
One of the benefits of using Easy Digital Downloads is that it comes with a full, customizable shopping cart system. After visitors add a product to their cart, you can redirect them to the Checkout page: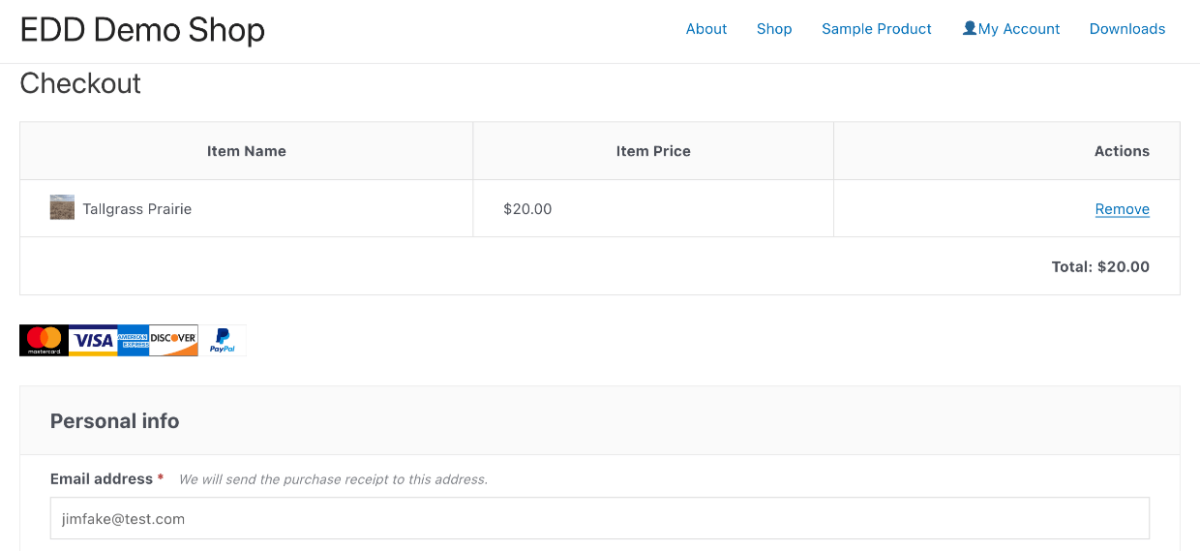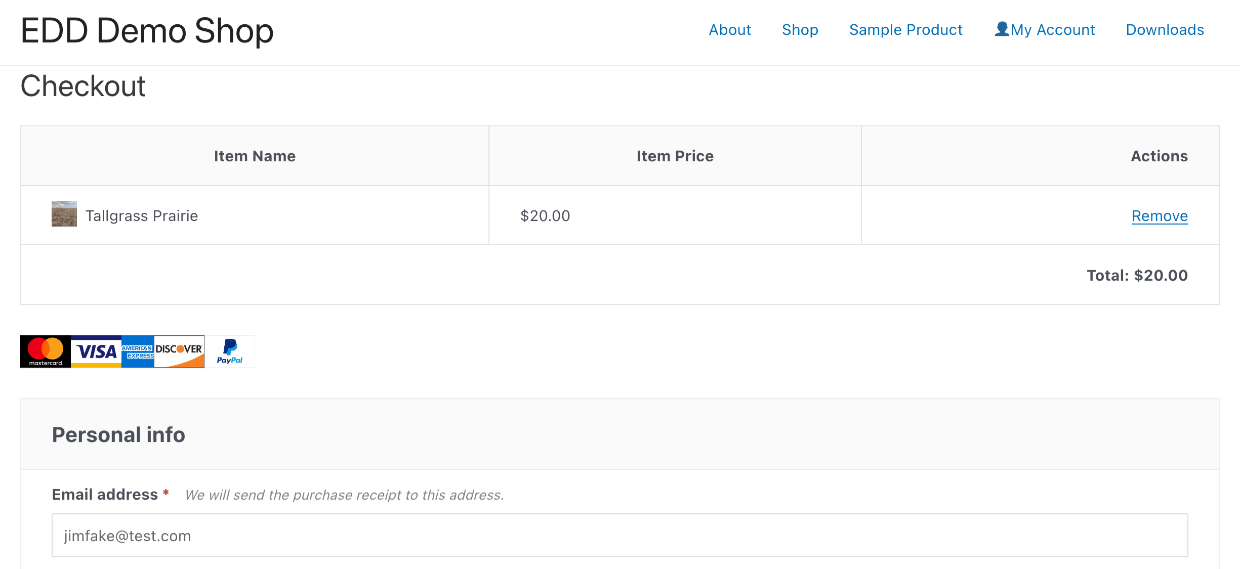 As of version 3.1, the Core EDD free plugin includes 10 new blocks, including ones for Cart, Checkout, and Buy Button. When you use the Cart block, you can choose to display the full cart or a more concise, mini version.
If you want to skip the Cart page to consolidate your checkout process, you can also use the Buy Button block.

You can use the drag-and-drop builder to create custom checkout forms (Downloads » Checkout Forms):

In addition, you can offer registered users or guest checkouts and enable cart saving. The latter generates a unique, temporary link to a customer's cart so they can bookmark or share it.
There is also an option to require users to agree to terms before completing a purchase. All of these features are included in both the free and paid versions. But, with a premium plan, you get additional capabilities that can provide a more customizable and sophisticated checkout experience.
For instance, you can include an Add To Cart popup and install the Checkout Fields Manager extension for free.
| Feature | EDD Free | EDD Pro |
| --- | --- | --- |
| Full Shopping Cart | ✅ | ✅ |
| Mini Shopping Cart | ✅ | ✅ |
| Buy Button Block | ✅ | ✅ |
| Custom Checkout Form | ✅ | ✅ |
| Purchase Agreement of Terms | ✅ | ✅ |
| Checkout Block | ✅ | ✅ |
| Free Downloads | ✖ | ✅ |
| Add To Cart Popup | ✖ | ✅ |
| Checkout Fields Manager | ✖ | ✅ |
Subscriptions and Memberships in EDD Free vs Paid
When deciding between the Easy Digital Downloads free plugin or a premium license, it's important to consider the type of eCommerce site you want to create. This includes the pricing structure you want to offer customers.
The core plugin lets you set Download Prices as well as enable variable pricing:

But if you're looking to create a subscription or membership site, you'll likely want to access the Recurring Payments and Content Restriction add-ons. You can buy them individually or install them for free when you purchase a paid package.
You can also add tools for offering custom prices and commissions.
| Feature | EDD Free | EDD Premium |
| --- | --- | --- |
| Software Licensing | ✖ | ✅ |
| Recurring Payments | ✖ | ✅ |
| Custom Prices | ✖ | ✅ |
| Content Restriction | ✖ | ✅ |
| RestrictContent Pro | ✖ | ✅ |
| Commissions | ✖ | ✅ |
eCommerce Reporting in EDD Free vs Pro
With Easy Digital Downloads, you'll never have to wonder how your store is performing. All the data and information you need is available under the Reports section of the plugin: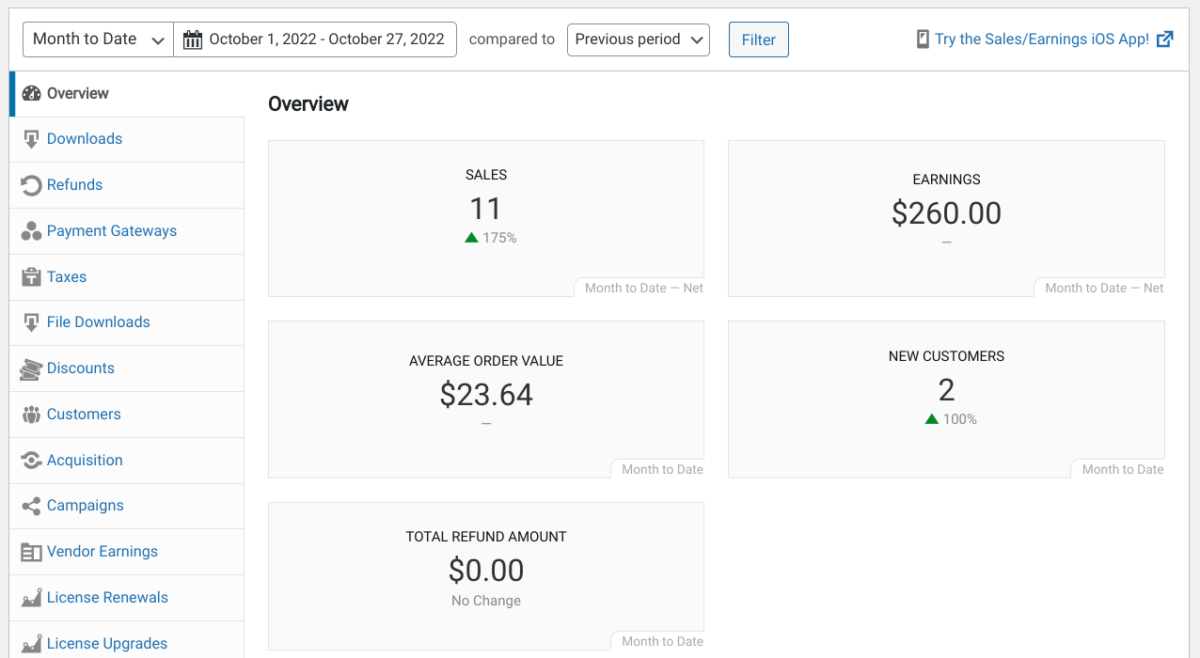 The built-in tracker automatically keeps a record of your earnings, refunds, sales, and more. You can filter your reports by specific dates and products. It lets you monitor all aspects of your eCommerce store and export the data into a CSV file.
EDD also keeps records for each of your customers. You can view, edit, and manage them directly from the backend of your site.
EDD paid plans offer access to extensions that can help enhance and extend your tracking and reporting options. In addition to Advanced Reports, you can use EDD Email Reports. This extension will deliver detailed, daily sales reports directly to your inbox.
Paid plans also come with the Campaign Tracker add-on. You can use this tool to track Google campaign data and integrate it with EDD orders.
| Feature | EDD Free | EDD Pro |
| --- | --- | --- |
| Earnings | ✅ | ✅ |
| Refunds | ✅ | ✅ |
| Sales | ✅ | ✅ |
| Advanced Reports | ✖ | ✅ |
| Campaign Tracker | ✖ | ✅ |
| EDD Email Reports | ✖ | ✅ |
Discounts in EDD Free vs Pro
It's important to have a strategy for attracting new customers and increasing loyalty. One way to do that is to offer discounts and rewards.
Easy Digital Downloads makes doing so easy. The free plugin comes with built-in functionality for creating and adding discounts (Downloads » Discounts » Add New):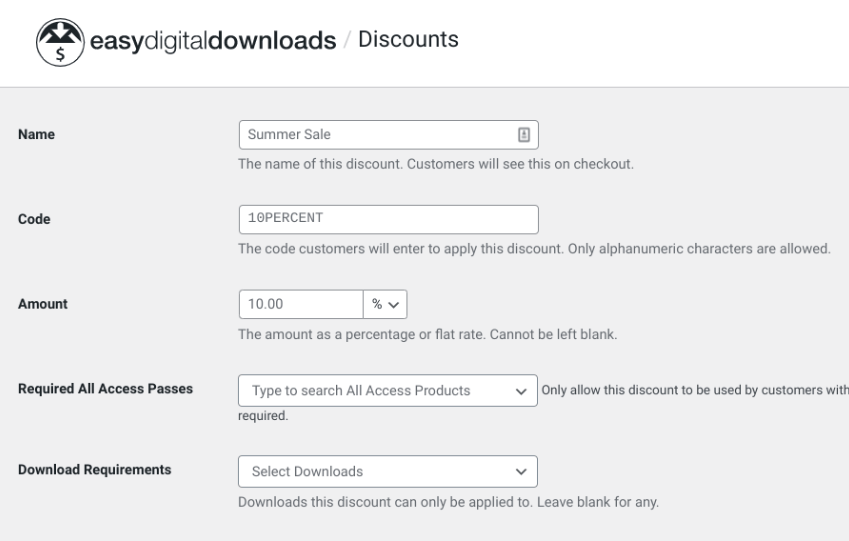 If you upgrade to a paid plan, you can also install Discounts Pro and Discount Code Generator for more options. You can configure the settings to automatically apply a discount at checkout once certain criteria and conditions are met. You can also use the Coupon Importer extension to import a CSV of existing coupons to your EDD site.
Reward programs can also be effective. Social Discounts and EDD Purchase Rewards are included with a paid license and give you options for rewarding customers for certain purchases or sharing and promoting your products.
| Feature | EDD Free | EDD Pro |
| --- | --- | --- |
| Discount Codes | ✅ | ✅ |
| Social Discounts | ✖ | ✅ |
| Discounts Pro | ✖ | ✅ |
| EDD Purchase Rewards | ✖ | ✅ |
| Discount Code Generator | ✖ | ✅ |
| Coupon Importer | ✖ | ✅ |
Email Marketing Tools + Integrations in EDD
As you may have already learned at this point, one of the biggest differences between EDD free vs paid are the extensions and tools included. Premium versions of EDD provide a ton of add-ons for email marketing and other third-party tools and services.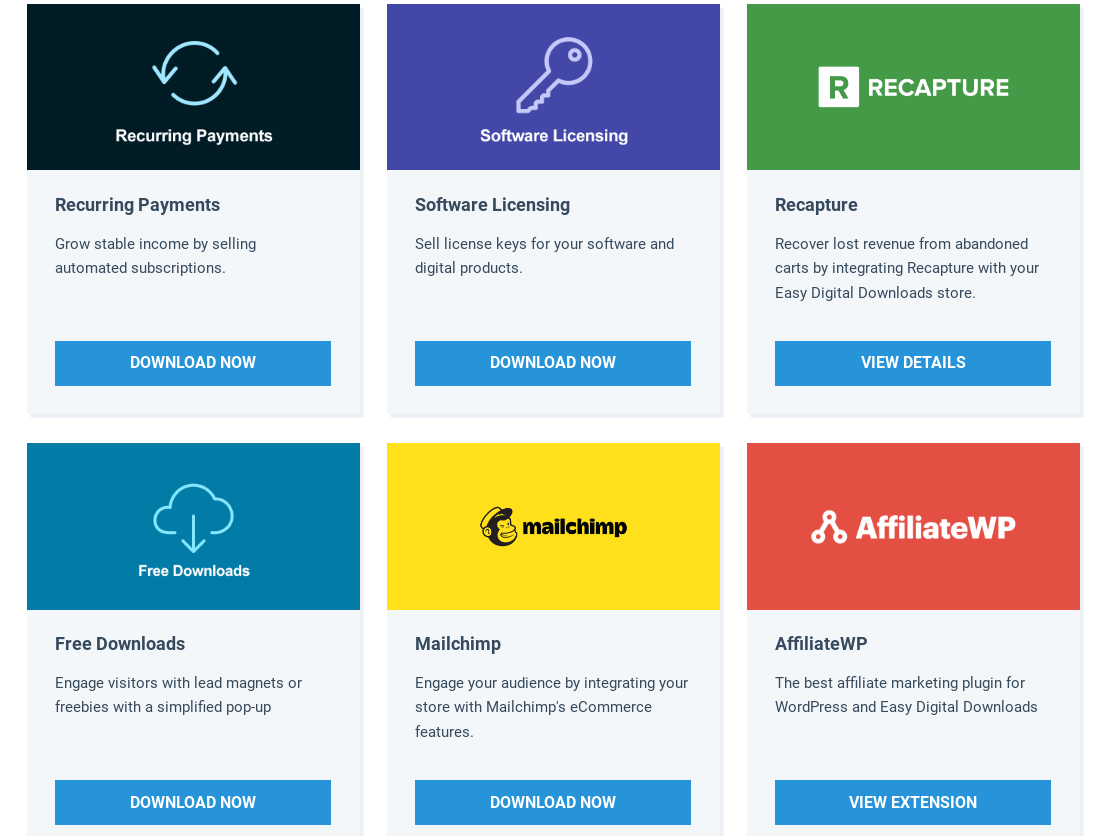 For instance, you can use Zapier to connect your store with over 5,000 web services and products, which can take your workflow and automation to the next level. You can also connect to email extensions such as Mailchimp to build your email list. You can create, manage, and track email marketing campaigns and newsletters using GetResponse, Active Campaign, or Campaign Monitor.
Purchase Receipts and Invoices
Out of the box, Easy Digital Downloads comes with features for recording order and payment history. You can use the Order History, Receipt, and Confirmation blocks on any page. They allow you to provide customers with purchase records and receipts: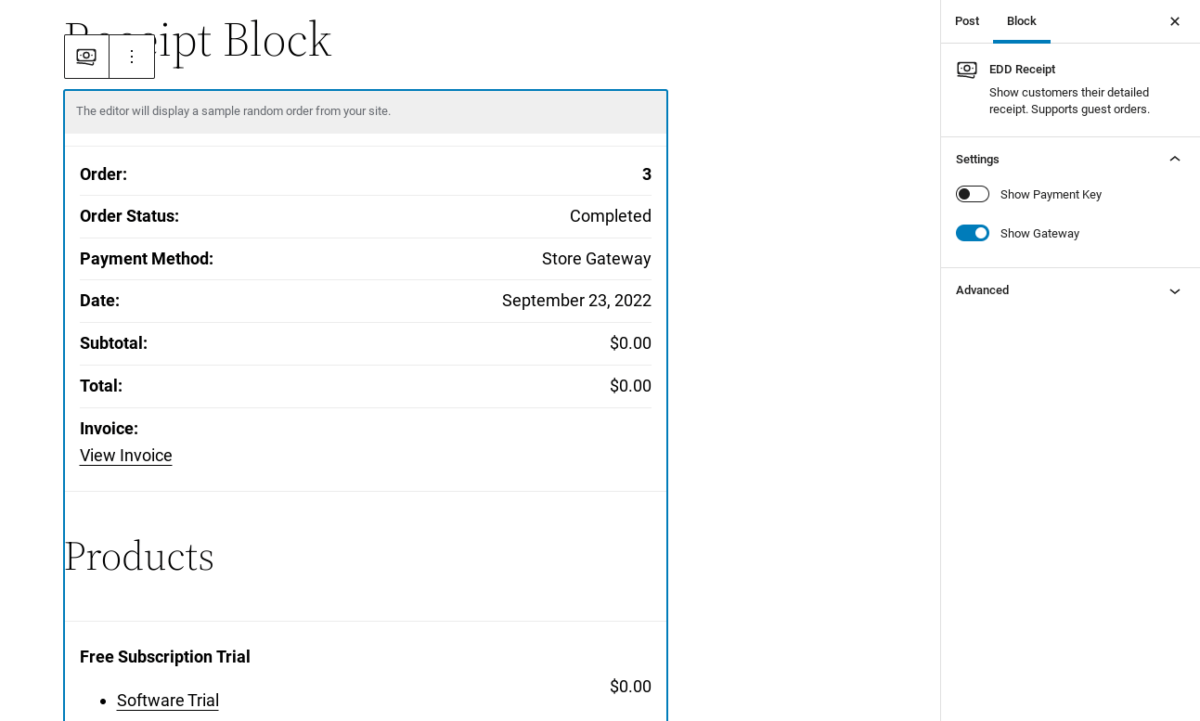 You can include these key details about payments and orders on their customer account pages as well as purchase receipts you send via email: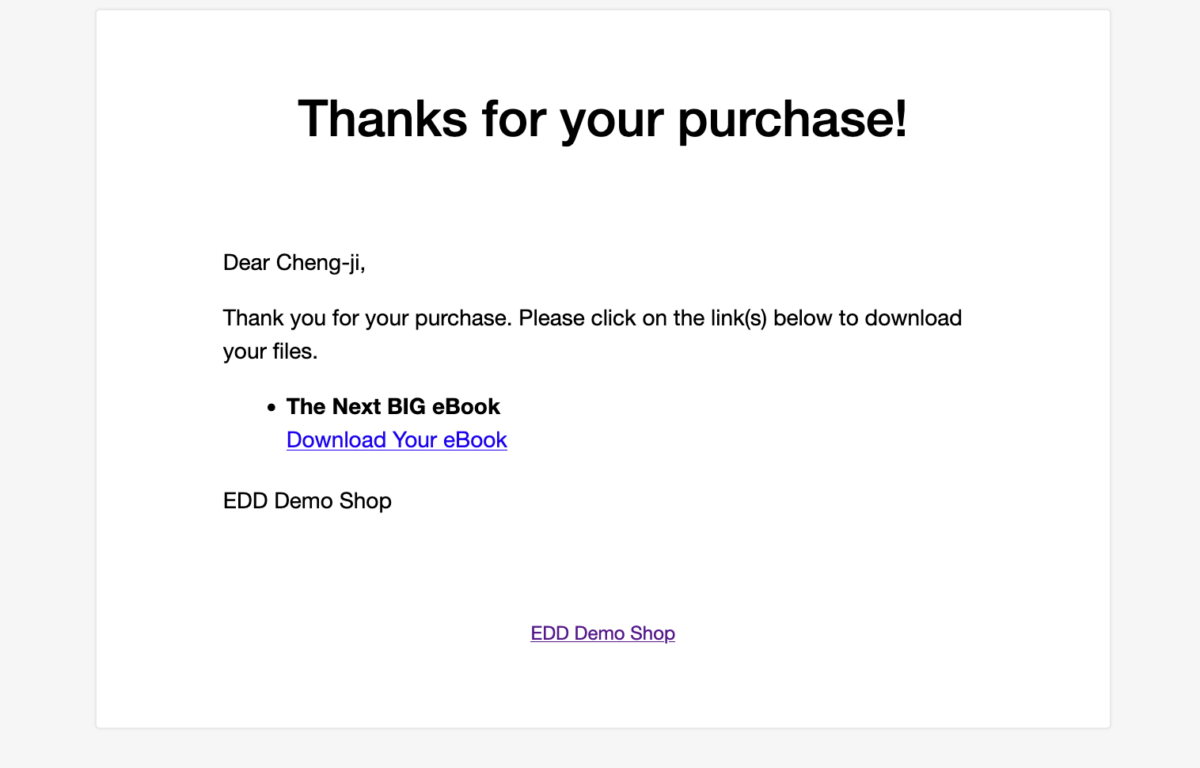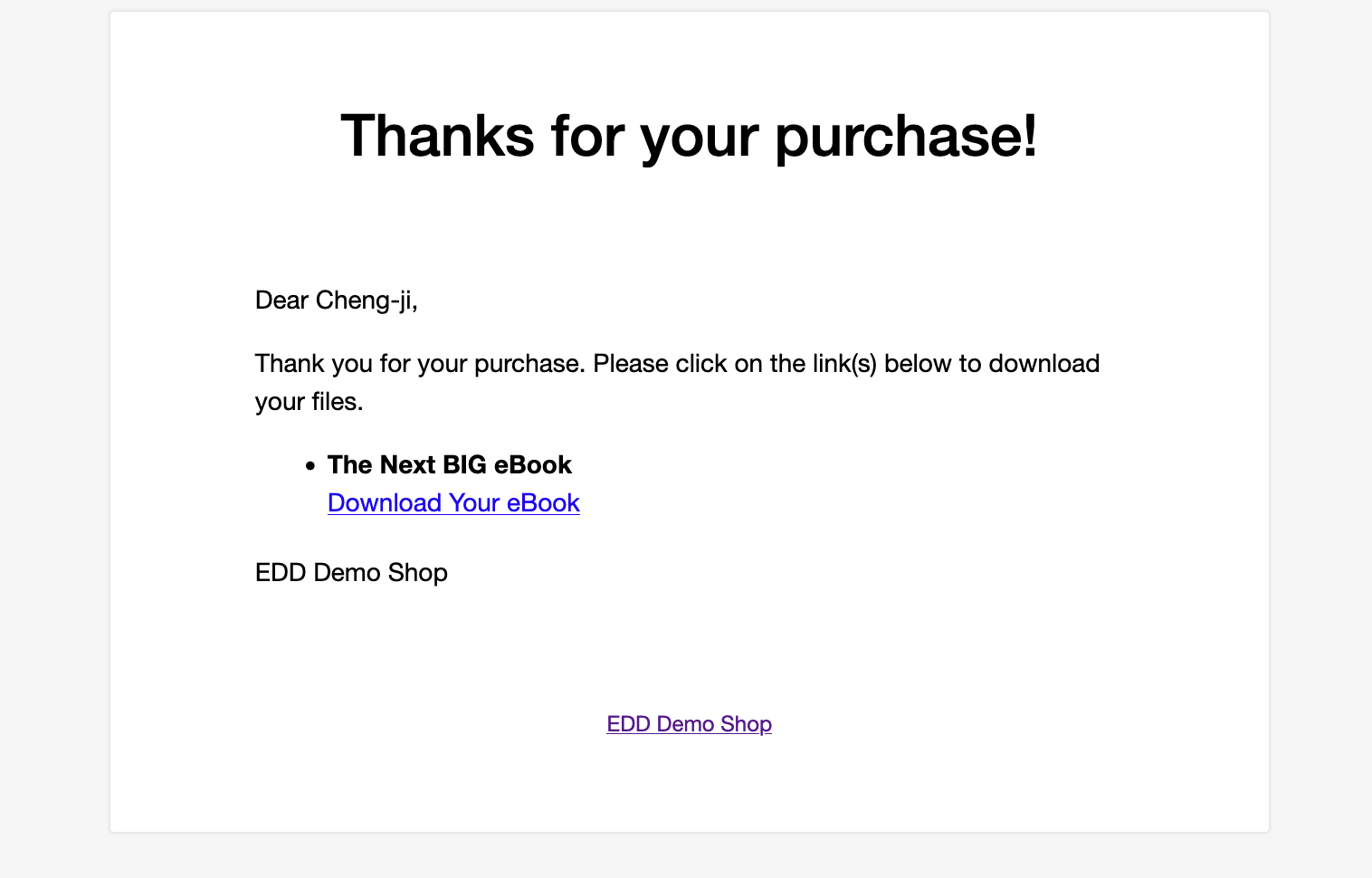 If you upgrade to EDD premium, you can use extensions such as Resend Receipt for purchase receipts with no authentication. Download Email Attachments lets you send download files via email as attachments. You can use Per Product Emails to create custom purchase confirmation emails for products).
| Feature | EDD Free | EDD Premium |
| --- | --- | --- |
| Order History Block | ✅ | ✅ |
| Receipt Block | ✅ | ✅ |
| Confirmation Block | ✅ | ✅ |
| Invoices | ✅ | ✅ |
| Resend Receipt | ✖ | ✅ |
| EDD Disable Purchase Receipt | ✖ | ✅ |
| Download Email Attachments | ✖ | ✅ |
| Per Product Emails | ✖ | ✅ |
File Sharing and Protection in EDD Free vs Pro
One of the benefits of using EDD for digital products and downloads is that all files are automatically secured. All product files are restricted to authorized customers and without any configurations required. You can limit file downloads and create link expirations.
However, if you're looking for additional security and protection or a place to host product files other than your WordPress Media Library, the EDD paid version is the way to go. There are a handful of add-ons that help safeguard both your site and files, including Fraud Monitor and Lock Downloads to IP.
You can install content delivery extensions. For instance, Amazon S3 and Dropbox File Store let you securely host files on those respective platforms.
| Feature | EDD Free | EDD Premium |
| --- | --- | --- |
| Amazon S3 | ✖ | ✅ |
| Dropbox File Store | ✖ | ✅ |
| Upload File | ✖ | ✅ |
| Fraud Monitor | ✖ | ✅ |
| Lock Downloads to IP | ✖ | ✅ |
| Password Meter | ✖ | ✅ |
| MaxMind Fraud Prevention | ✖ | ✅ |
Product Reviews and Comparisons in EDD
Lettings customers leave product reviews, compare products, and create wishlists can enhance the user experience. The free EDD plugin offers limited options for these kinds of features.
But the premium plans give you access to plenty of extensions that can help you strategically showcase and recommend products to increase sales. This includes add-ons such as Recently Viewed Items, Recommended Products, Featured Downloads, and Digital Badge.
| Feature | EDD Free | EDD Pro |
| --- | --- | --- |
| Recommended Products | ✖ | ✅ |
| Reviews | ✖ | ✅ |
| Recently Viewed Items | ✖ | ✅ |
| EDD Wishlists | ✖ | ✅ |
| Compare Products | ✖ | ✅ |
| EDD Featured Downloads | ✖ | ✅ |
| Digital Badge | ✖ | ✅ |
| EDD Favorites | ✖ | ✅ |
Support in EDD Free vs Pro
Regardless of whether you decide to go with EDD free or EDD paid, you can expect the same level of dedicated customer support from our team of skilled experts. Easy Digital Downloads support is free for all of our users. You can open a support ticket whenever you need to.
If you purchase a premium plan or add-on, you can also get extension support. In addition to our team of knowledgeable developers and WordPress experts, you can also refer to our website's Help Center for unlimited access to our extensive collection of guides, tutorials, and documentation.
EDD Free vs Pro: Final Verdict
Easy Digital Downloads is the best WordPress plugin you can use to sell digital products and downloads on your website. Even with the free plugin, you'll get significantly more than you'd expect compared to other tools in the same category.
If you're trying to decide between EDD free vs paid, the answer really boils down to the features and functionality you're looking for. To upgrade from EDD Free/Lite to EDD Pro, you can follow our step-by-step guide.
Each EDD tier offers full transparency. You can explore the plans to learn exactly what's included with each and find the perfect solution for your specific business (and budget!). If you're ready to unlock unlimited access to all of the powerful eCommerce tools, extensions, and solutions for your WordPress site, sign up for an All Access Pass today.
eCommerce without limits!
That is our promise. Most eCommerce solutions limit your creativity
…not Easy Digital Downloads!
📣 P.S. Be sure to subscribe to our newsletter and follow us on Facebook or Twitter for more WordPress resources!