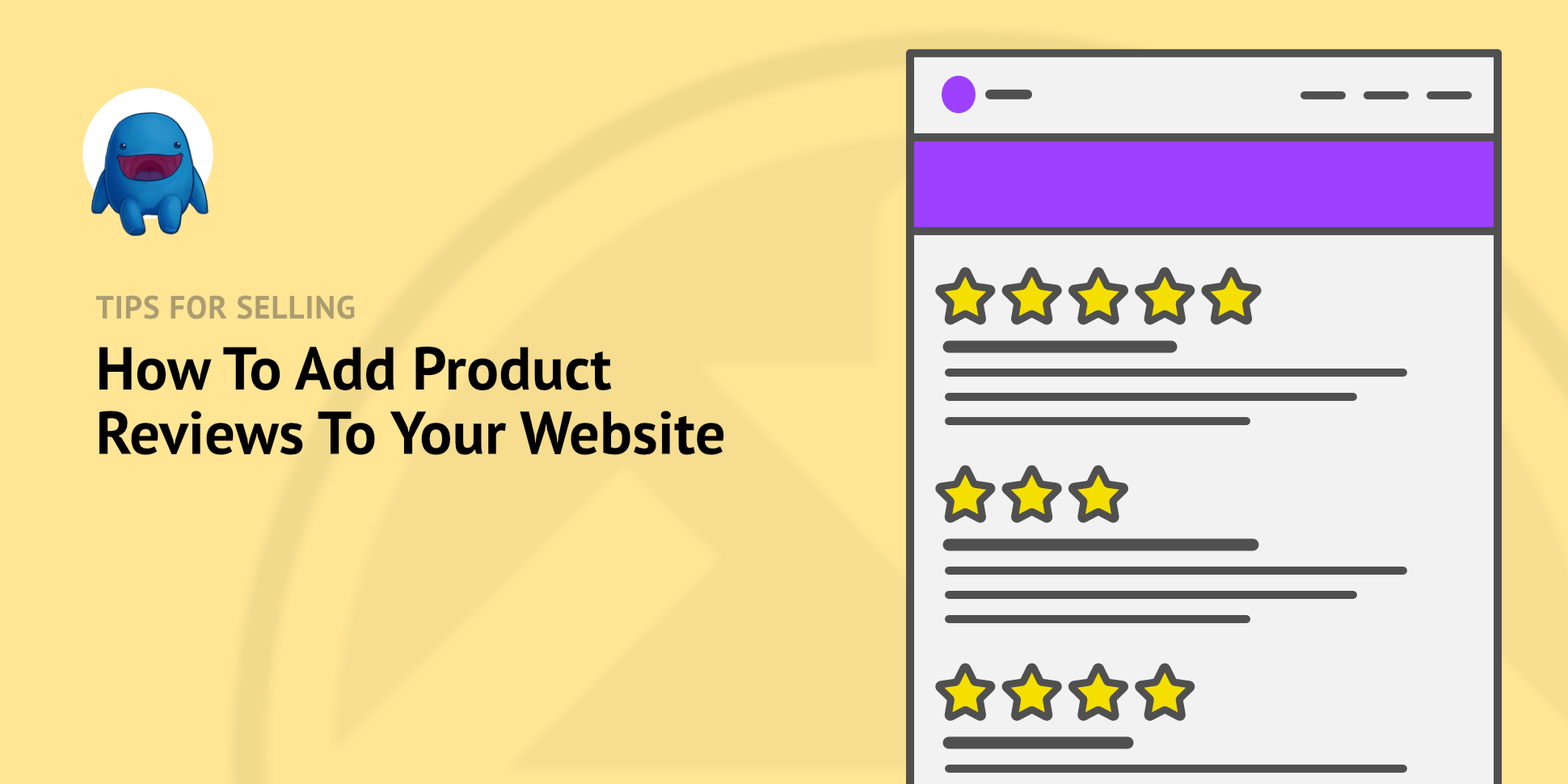 Do you want to increase traffic and sales on your website? One simple and proven way is to add product reviews to your digital store.
72% of customers won't make a purchase decision without first reading product reviews.
In this article we'll show you a powerful solution for adding product reviews and selling digital products with a WordPress website.
Skip around if you want. Let's get to it!
---
Why Product Reviews Are Great
Why? Simple web math. 🧮 Traffic + Trust = More Sales
When used correctly, online reviews bring in more traffic to your website and build trust with site visitors. More trust will bring more sales for your product or service.
Traffic
Product Reviews on your website can increase your visibility on search engines. This helps with search engine optimization. More people see your website in search results so more people come to your website.
You do need to properly format the reviews. We'll show you how -with no effort at all- below!
Trust
Product reviews provide social proof. Social proof describes the way potential customers are likely to buy a product when they see others are buying and happy with it.
When you share an honest collection of customer reviews site visitors can know your products are high quality. They see that real people use them and that they're helpful.
Bonus: Learn
Reviews are also a great way to learn about your customers and improve your products. Smart entrepreneurs and business owners know that even bad reviews can be put to good use.
So let's get this feature added to your website!
---
How To Add Product Reviews to Your Website
The best way to sell your digital products (aka virtual products, downloadable products, or downloads) is with WordPress and Easy Digital Downloads (EDD).
Use EDD's Reviews Extension to accept and display reviews for your digital products.

Step 1: Get WordPress
If you don't have a WordPress site yet, let's get one! We can help.
Purchase an Extended EDD Pass (this gets you access to our Reviews Extension and much more!)
Once your account is set up go to your account area and download and install the EDD plugin.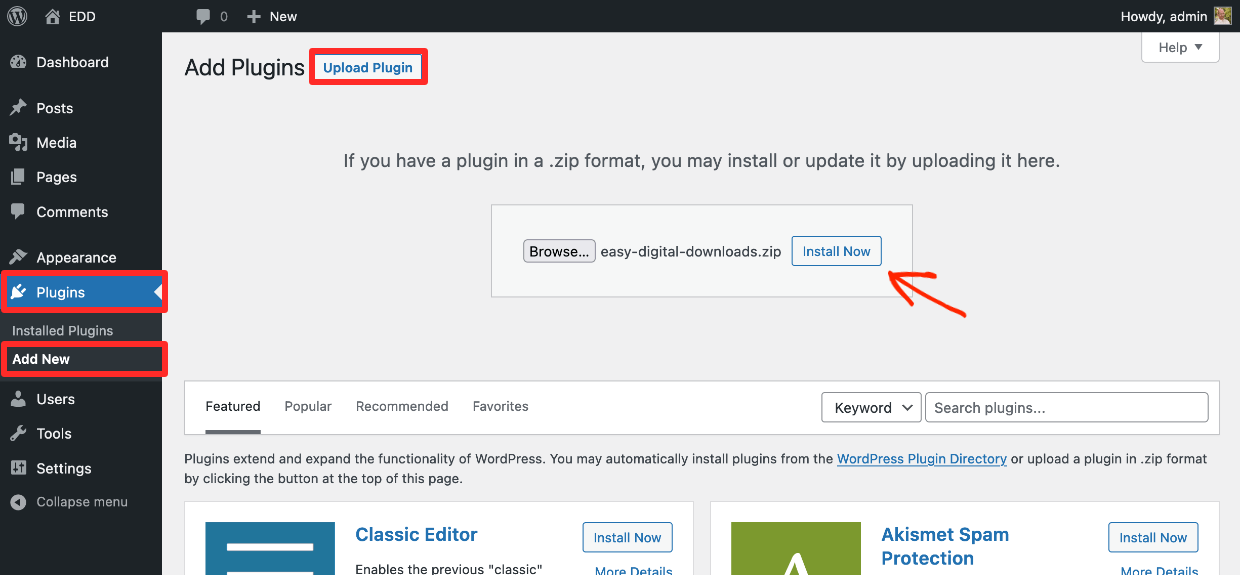 Once you have Easy Digital Downloads installed on your WordPress site you have a full featured eCommerce store! On your WordPress dashboard you'll have a new menu item called Downloads.
Your digital products are called 'Downloads' in EDD. You'll manage Downloads and EDD settings under this tab.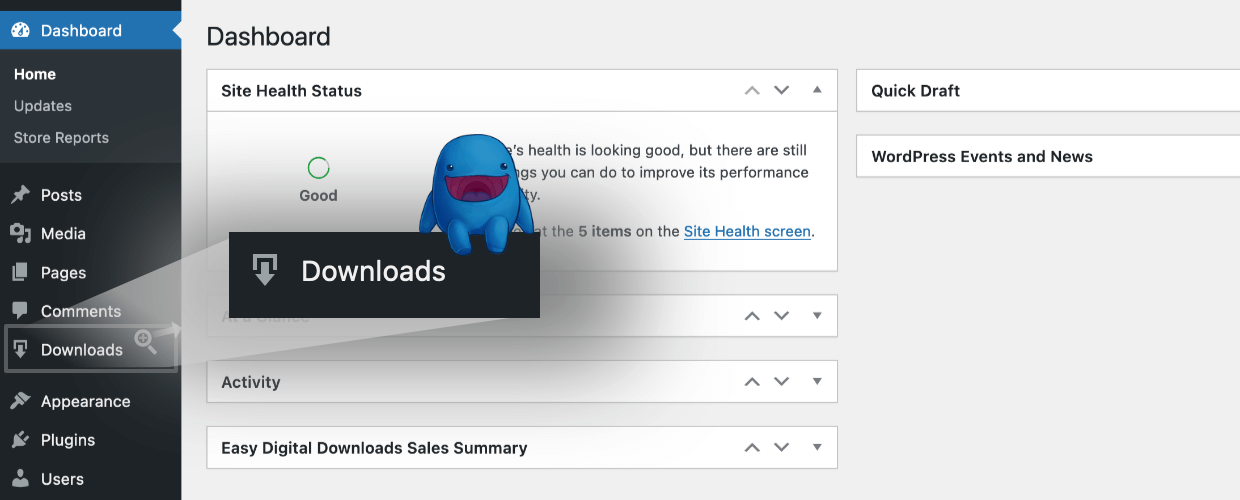 Step 3: Set Up the EDD Reviews Extension
Install the Reviews Extension.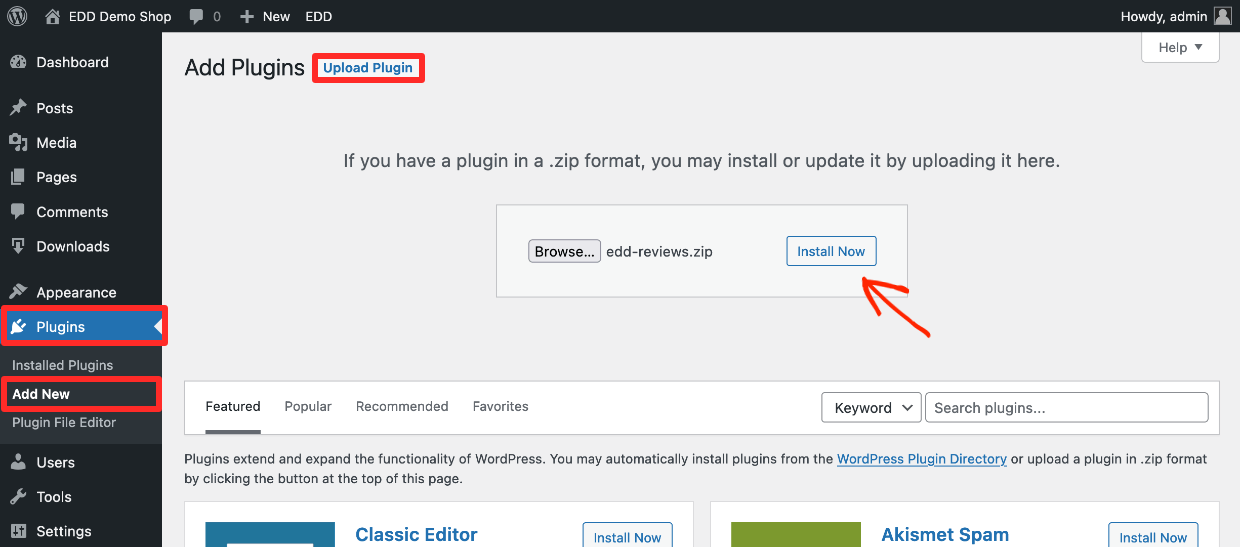 Once Reviews is installed look under Downloads > Reviews. You manage reviews as they come in here.
You can approve/unapprove, reply, edit, mark as spam, or trash each review. It works just like the built-in comments functionality of WordPress.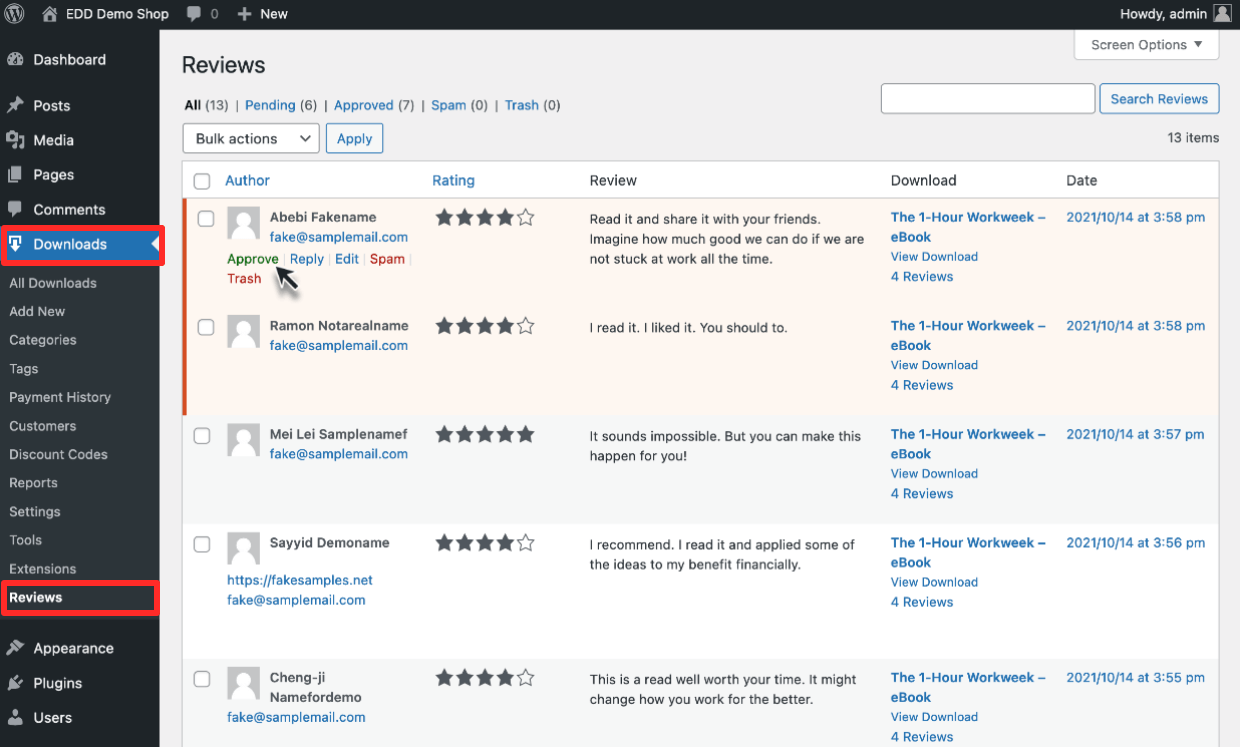 Customers will be able to leave reviews, complete with a title, 1-5 star rating, and a review/comments field.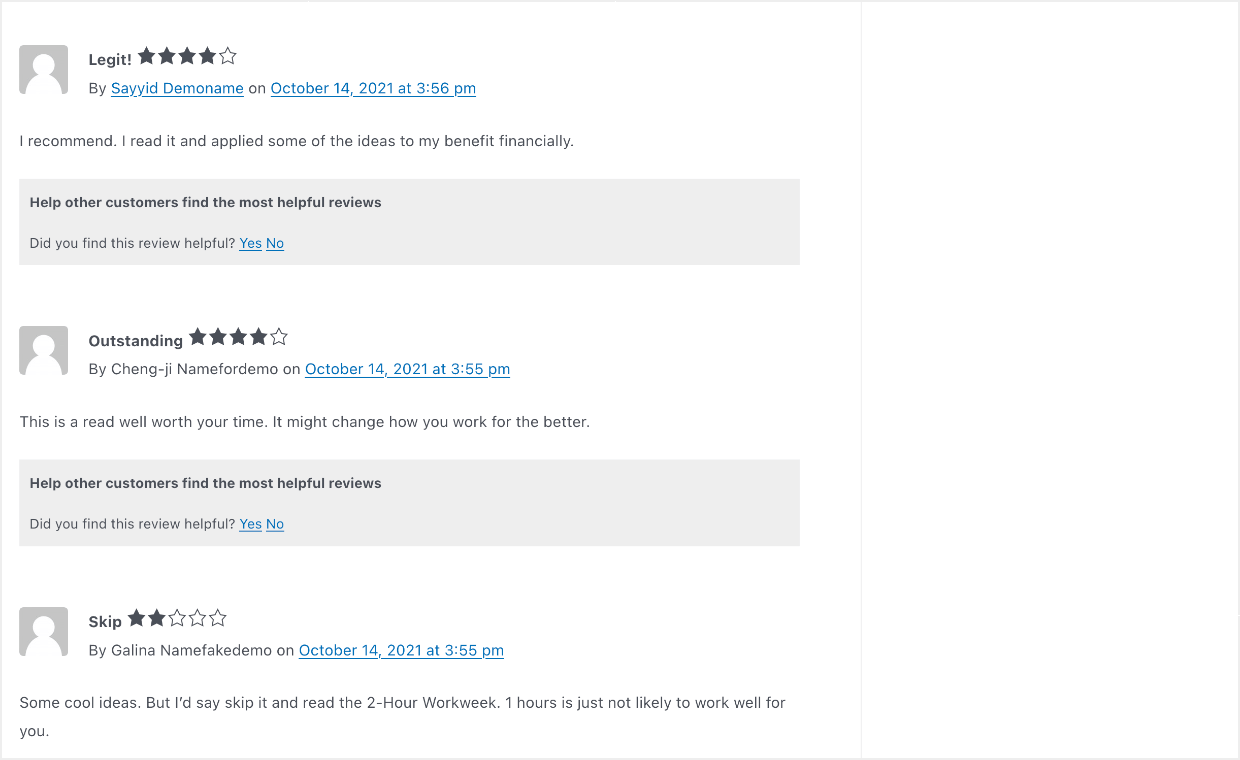 The Reviews extension includes CSS classes. They looks nice on any theme without any customization or coding. You or your developer can use the classes to do more customization if you want.
Improved Visibility on Search Results
EDD + Reviews will output everything as properly structured data (also called schema). On the frontend, your product page will look good visually to website visitors. It will also be formatted, behind the scenes, for the Google bots that crawl your site to create search results. You don't have to code anything.
Have you ever Googled another product (eBook, book, movie) and noticed additional details at the bottom of the search result? Those are called Rich Snippets. They can help you get higher rankings and more clicks leading to more sales.
Here's an example. You're selling an eBook called 'The 1 Hour Workweek' on your online store. Here is your search result page without Reviews.

Now, here is your rich search result page with EDD + Reviews.


Way better right? The reviews add social proof and trust. The prove you provide a good customer experience.
Reviews allows you to add review counts including stars, average rating, and number of reviews given to search results.
This is proven to help you stand out on Google search engine result pages (SERPs). This leads to more clicks and higher sales.
Adding Reviews to a Page
The Reviews Block makes it simple to display customer reviews on any page or post. When you're editing with the block editor, go to the + button on the top left.

Scroll down (or search for) to the block called Reviews and insert it into your page.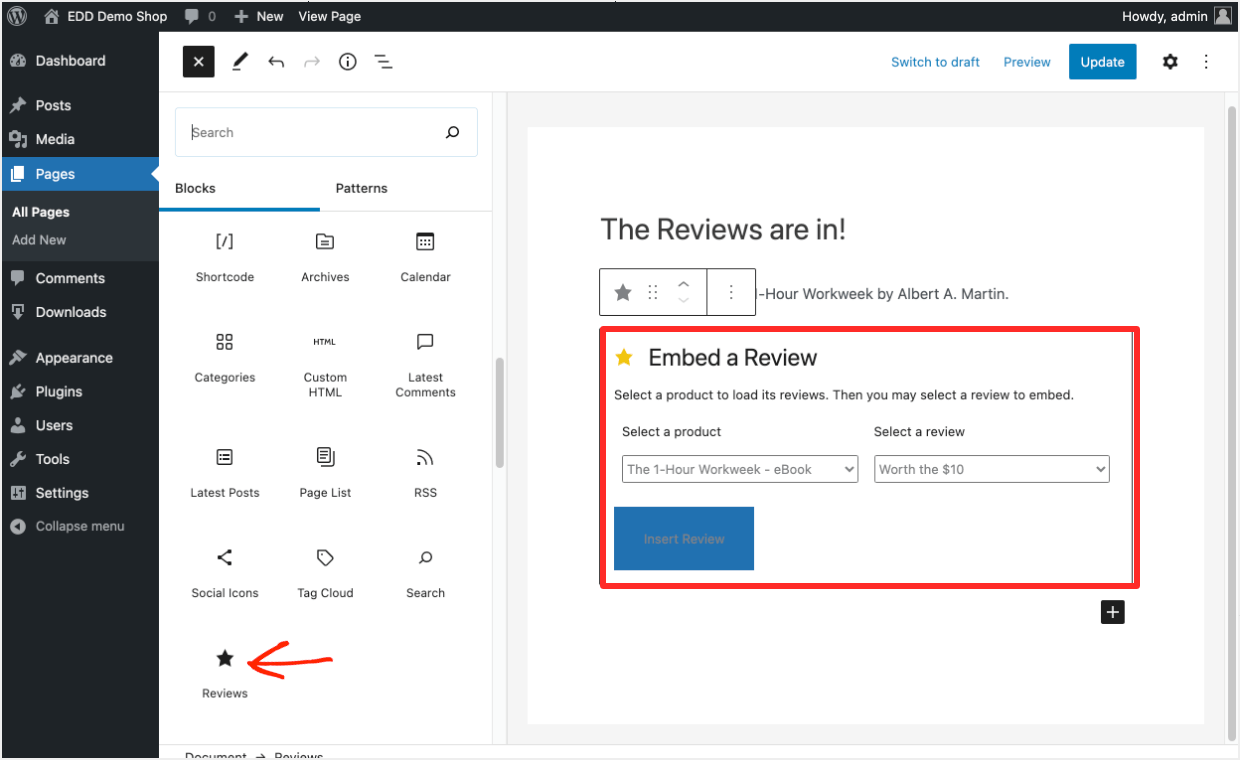 You can select which product and which review you want to add to the post. The review (or reviews) are added to your post with attractive styling.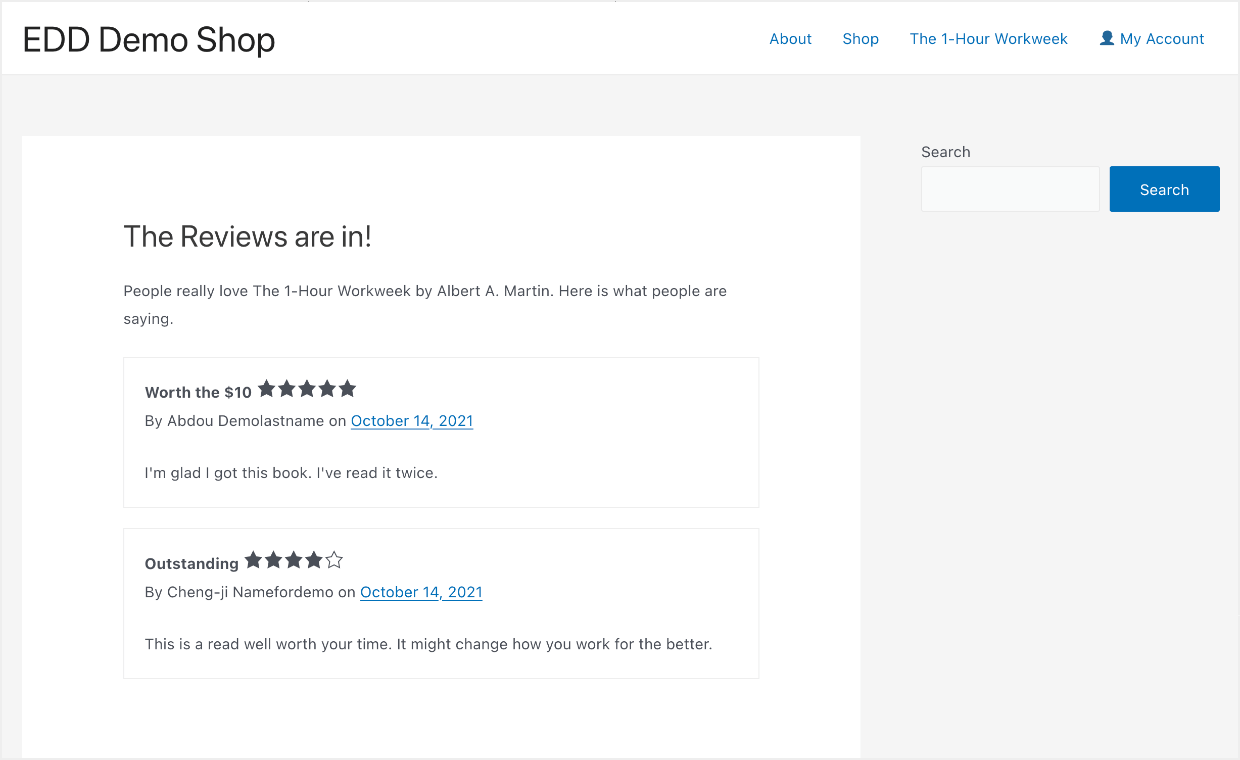 Not using the block editor (Gutenberg) yet? Don't worry.
The Reviews extension supports shortcodes and the classic editor. Visit our documentation to learn more.
Reviews Widgets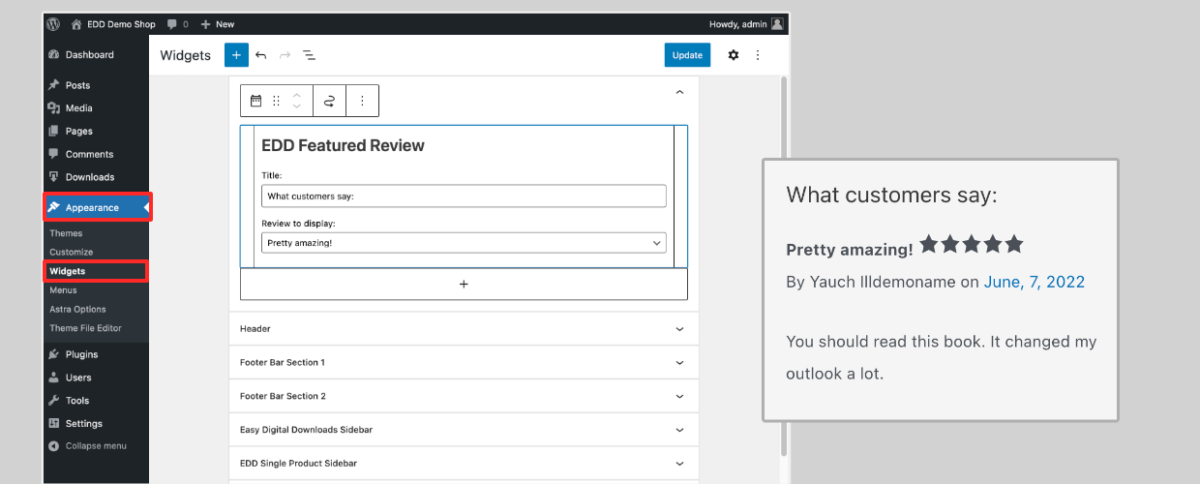 EDD Product Reviews adds three widget options to your store. Showcase a specific review, show latest reviews from across the store, and show recent reviews for a single Download (product).
🔎 Learn more about Reviews widgets
Reviews Emails and Discounts
On your WordPress dashboard under Downloads > Settings > Emails > Reviews you'll find a group of emails that help you collect and manage reviews.
Notification emails – Get notified, or notify a team member, when a review is received for approval or moderation.
Request a review – Encourage customers to give a review. This automated email can be sent right after purchase or set a delay time and takes them to a review form.
Reviewer discount – You have the option to incentivize/reward customers to provide reviews by automatically sending a discount code for providing a review.
Each email can be fully customized.
Reviews API
For advanced functionality and customization Reviews has a REST API allowing you to retrieve reviews in XML or JSON.
Use the Reviews API to automatically display your reviews on other websites, apps, or platforms.
🔎 Learn more about Reviews API
🔎 Learn details about using Reviews on our Docs
---
Why WordPress and Easy Digital Downloads

WordPress websites power more than 40% of the entire internet. It's proven to be powerful and affordable. WordPress has the largest selection of plugins, themes (templates) and service providers. No matter what you need now, or in a few years, it will be ready to grow and adapt with you.
Why EDD?

EDD makes it easy to turn your WordPress site into a full featured eCommerce store without any coding. It has a proven 10-year track record of being well-maintained and constantly improved. More than 50,000 online stores trust EDD to sell their digital creations.
We help small businesses, solo entrepreneurs, and growing companies, some that have millions of customers. We also use EDD ourselves!
EDD is purpose-built for selling digital products. Many other eCommerce website solutions are not. They are built for selling physical products. They have physical goods features like shipping, inventory and logistics that you don't need. This is true of Shopify and WooCommerce.
EDD Features
Install the EDD plugin, and boom 💥 you'll have a powerful store ready and waiting.
Take full control! Here's are just a few of the advanced eCommerce features EDD has:
Protected product files, only paying customers will have access to your digital downloads
Unlimited number of products
White label (full control over branding)
Shopping cart or flexible checkout options
Discount codes
Customer management (basic CRM)
eCommerce reports
Import/export products and data with CSV
Stripe and/or PayPal integration
Choose from 90+ extensions to add special features like email marketing integration, recurring payments (subscriptions), Amazon S3 integration, or DropBox integration
Our Product Reviews extension requires an Extended Pass. This pass also gets you 40 other extensions for growing your business. Learn more about EDD pricing.
---
Tips For Using Reviews
Here are some more tips for using reviews (little 'r', not the EDD Reviews extension) to grow your business.
Other Platforms For Reviews
The best place to show reviews is on your website. Show them on the homepage. Show them on your product pages. This is where potential customers will seem them, sometimes right before they decide to make a purchase or not.
You can gather business reviews from other sources too, if it makes sense for your use case.
Other review sites and review apps to research include; Capterra, G2 Crowd, Trust Pilot, Yelp, and Google Reviews. If you are selling WordPress themes or plugins, reviews on WordPress.org are hugely important. You can also turn positive comments from Social Media into reviews (you should probably ask for permission first).
Pro Tip: Google Reviews are controlled by your Google Business Profile. This used to be called 'Google My Business'. This is geared more towards storefronts or businesses with a physical location.

Google Business Profiles are what show up on the right-side of a Google search with a map. If you don't have a physical location, considering offering consulting services, in a specific region, related to your business. If you do this, your digital product business can also have a presence on Google Maps, and have one of those local listing boxes on the right-hand side of a Google Search.
Responding To Reviews
In most cases, when you get a new review you should respond to it. Especially on other platforms. You may need to set up a monthly or quarterly check-up of third-party review sites so you can regularly monitor things.
When you get positive reviews / testimonials, usually a simple thank-you is a good response.
For negative reviews it's more complicated. It's best not to ignore them, nor to argue against them. Don't get emotional. Tell them you're sorry for their frustration and describe ways you intend to or have already made improvements.
Ask For Reviews
Ask new customers or happy customers for reviews. We recommend setting up automated request emails that you send from time to time. When in the customer journey is your customer likely to be happiest? Consider an automated email that requests a review at that time.
Display Badges
If you accumulate a good amount of positive reviews on an external platform, display a bage on your website. These build trust with potential customers. We have one on our home page for our WordPress.org plugin repository reviews.

---
Conclusion
Great work. You've learned how to increase traffic, trust, and sales on your website by adding product reviews! We know this can help you grow a successful online business.
Nothing makes us happier than helping digital creators like you. We're fellow digital creators too, after all. We have a lot more resources for you.
What do you want to learn about next!?
Selling Guides / Tutorials:
Be sure to subscribe to our newsletter or follow us on Facebook and Twitter to get our latest resources for digital creators.