Reviews comes with a shortcode that you may use to embed a shortcode in any post, page, or custom post type. The shortcode looks like this:
[review id="REVIEW_ID"]

The easiest way to embed a review is to use the Insert Review button above the classic content editor.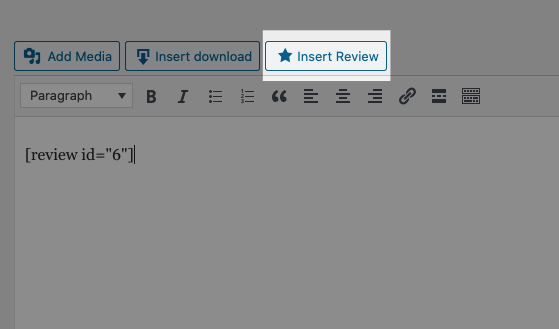 Pressing the Insert Review button will open a modal window. The modal will display a dropdown of all reviews; select the one you want and press Insert Review.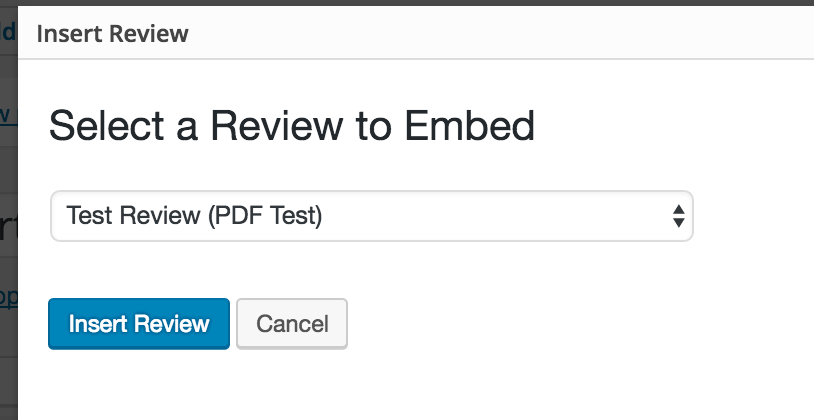 This will render a shortcode like the one mentioned at the top of the article.
If you use the Gutenberg or block editor for your pages and posts, we recommend inserting a shortcode block, then adding the shortcode manually.
Output
A shortcode like this will look like the screenshot below on the page:
The review will show the review title, author, download title, the review itself, the date of the review, and a link to the review.
Displaying multiple reviews
Other parameters can be passed to the [review] shortcode to allow you to display multiple reviews at a time. A shortcode to display multiple reviews looks like this:
[review download="DOWNLOAD_ID" multiple="true" number="10"]

The above shortcode will display 10 reviews for a given download ID.