Migrating to Easy Digital Downloads from Gumroad
If you are looking to migrate your existing Gumroad products to WordPress, Easy Digital Downloads is a powerful and self-hosted way to continue selling your digital products without hosting it on someone else's platform.
In this article, we're show you where to find common features from the Gumroad platform within Easy Digital Downloads so that you can easily start selling your products yourself.
Gumroad Product Types
Easy Digital Downloads is perfect for selling all forms of digital products and services. Many of the custom product types offered on Gumroad can be created as a 'Download' by going to the Downloads section and clicking 'Add New'.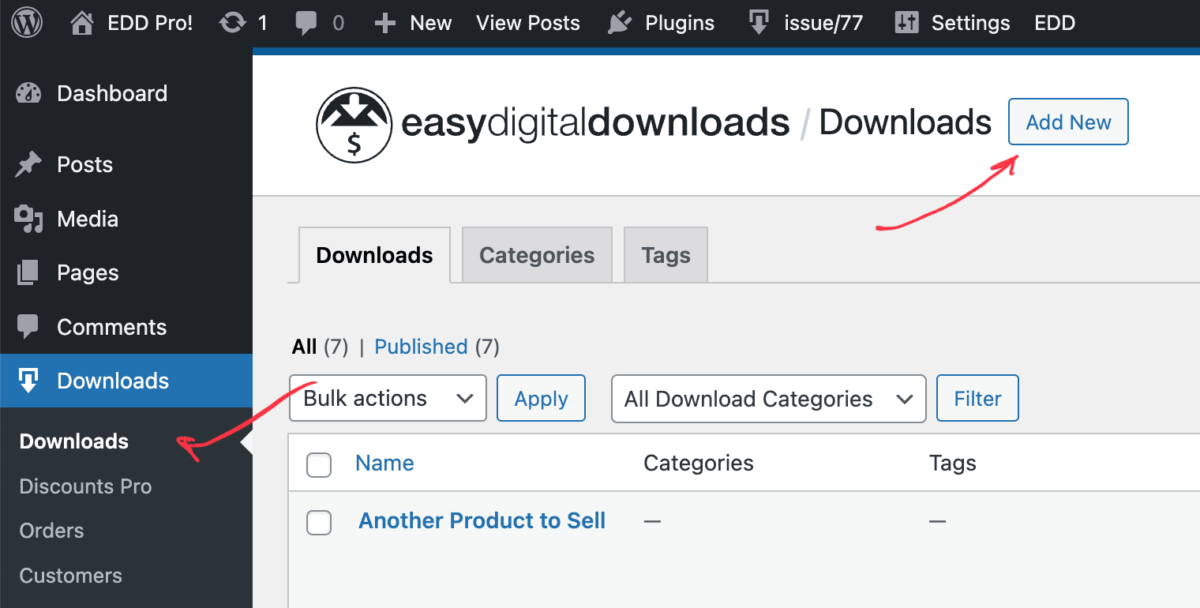 Some of the product types that are available in Gumroad require features only available with the Pro version of Easy Digital Downloads.
Membership
The membership product type is equivalent to a Subscription in Easy Digital Downloads and requires the Recurring Payments feature. Additionally with the Content Restriction feature can be used to restrict your site content based on a user's purchase history.
Both Recurring Payments and Content Restriction are available in the Extended Pass.
Physical Good
While Easy Digital Downloads is designed to sell digital products, we do recognize that you may want to offer a limited number of physical products. For that we have our Simple Shipping feature, which allows you to offer flat rate domestic and international shipping for these products.
Simple Shipping is available in the Professional Pass.
Creating your product
Nearly all of the features in Gumroad have a one-to-one matching feature in Easy Digital Downloads when creating your product. Below is a visual guide of where to insert specific Gumroad product settings into your Easy Digital Download product.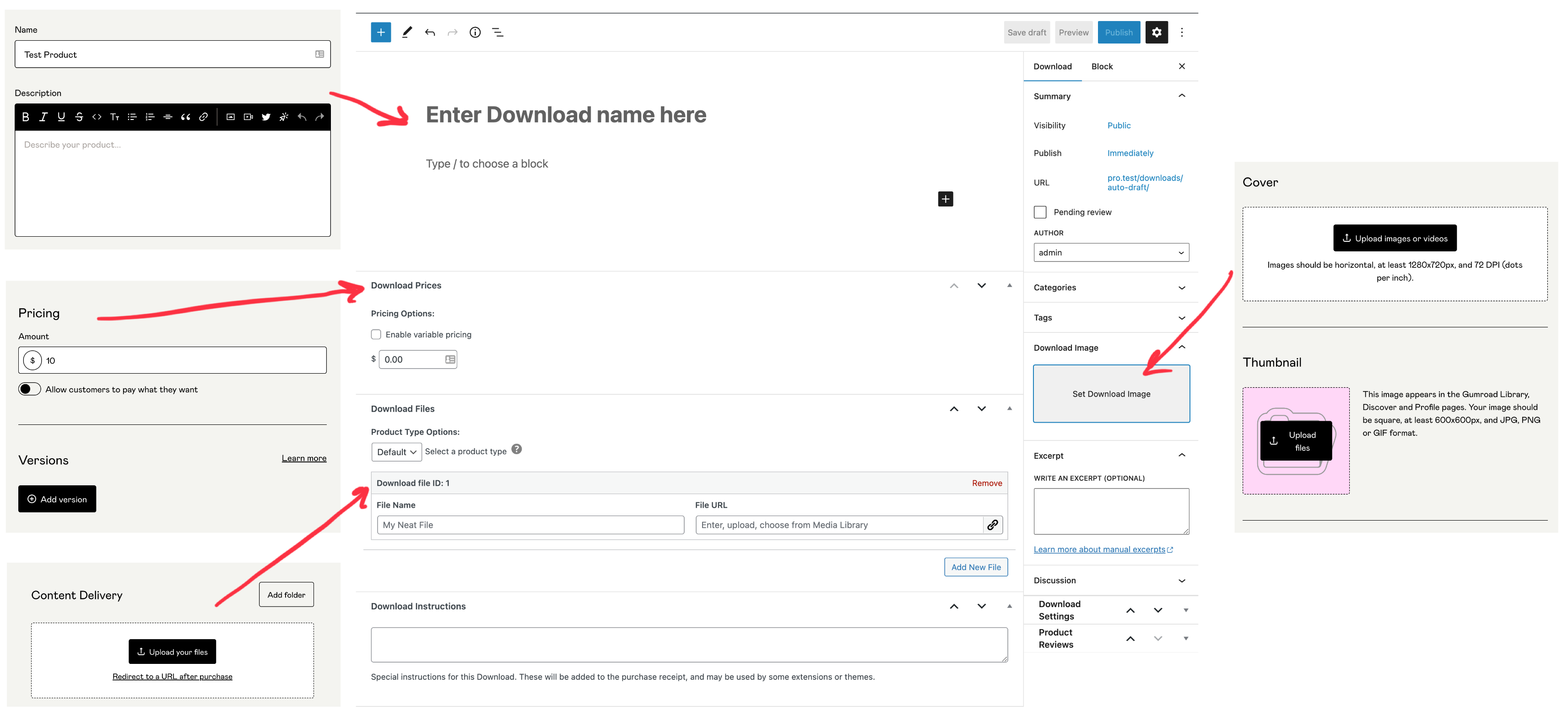 Discount codes
Easy Digital Downloads offers stand-alone discount code management. Discount codes are not tied to a single product and have advanced features to allow you to offer your customers discounts on all products, specific products, and even exclude products. They can also be set with features like:
Starting and Expiration dates.
Percentage or Flat Rate
Included and Excluded products
Single user per customer
Max uses
Maximum discount amount
Custom name (to make it easier to manage your discounts)
To create your discounts in Easy Digital Downloads, you can head to Downloads > Discounts > Add New. You can also read our full documentation on discount codes.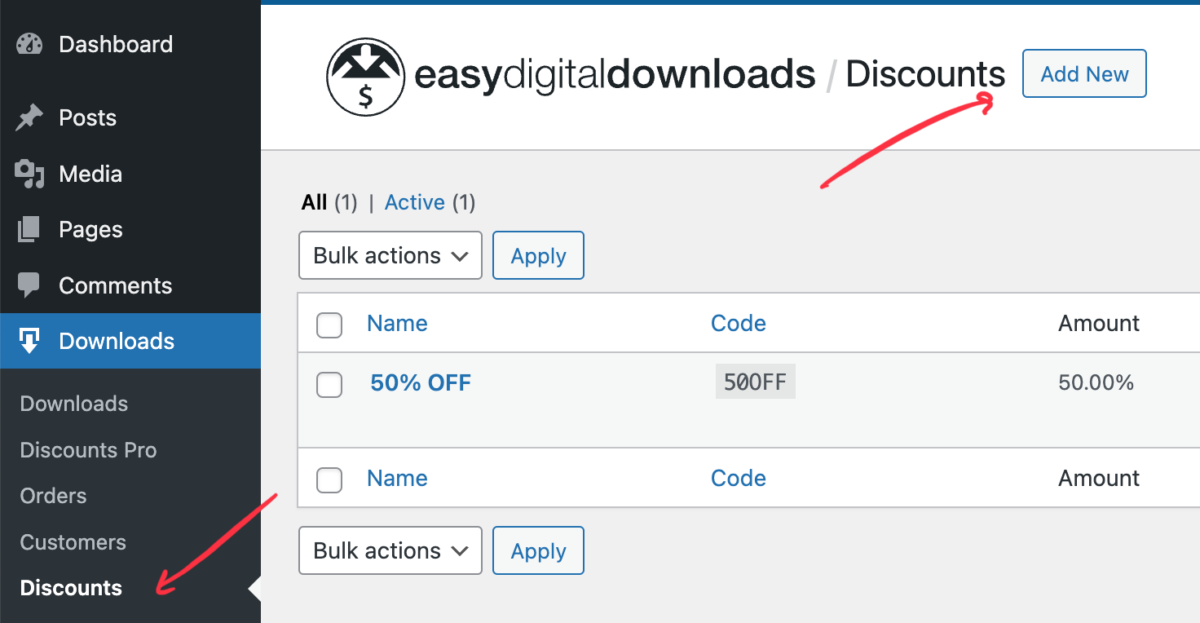 Accepting Payments
Easy Digital Downloads has partnered with Stripe and PayPal to offer you multiple ways to accept payments including Credit Cards, PayPal, Apple Pay, Google Pay, PayPal Credit, and many other available options. Once installed head to Downloads > Settings > Payments, and you can take payments with Stripe and PayPal with our one-click connection.
Additional Features
While we've covered the basic settings needed to create your products in Easy Digital Downloads, there are additional features that Easy Digital Downloads also offers. Below we've outlined these features, with the Easy Digital Downloads equivalent.
Easy Digital Downloads is a fully self-hosted eCommerce Platform that you can add to your WordPress powered site. Self-hosted means that all your data is yours, and is stored on your server. Either way, if you already have a WordPress site or are ready to get started with a new WordPress site, head over to our getting started page, and you can start selling today.