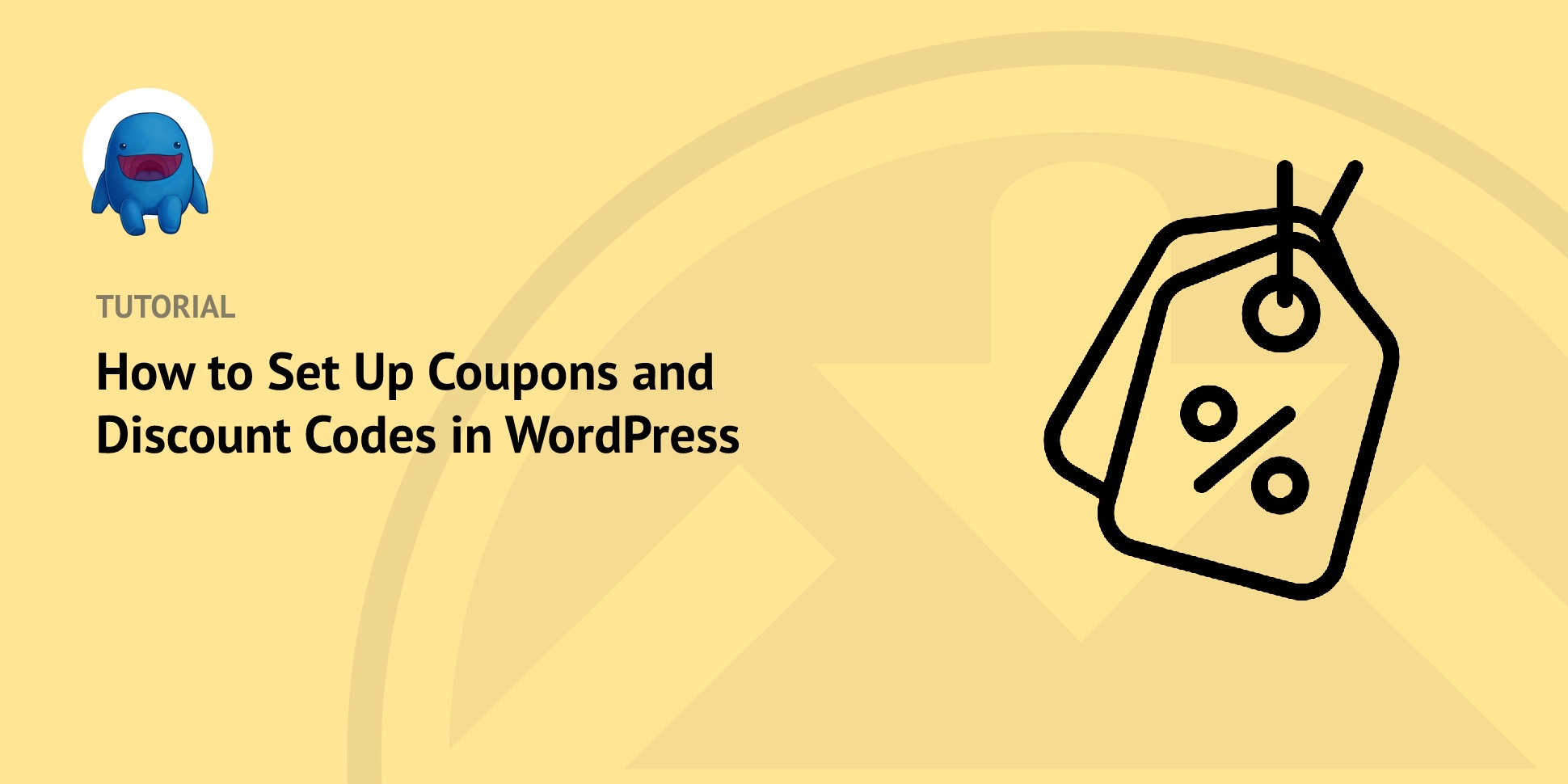 Do you want to learn how to set up coupons in your eCommerce store? If so, this coupons and discount codes WordPress guide is for you.
With the right tools, creating coupons and discount codes to run promotional offers on your site is quick and easy.
There are so many ways to use these codes to increase sales among your existing customers and attract new shoppers to your store. The key is learning how to create, configure, and use them for maximum benefit.
In this post, we'll cover:
Why Use WordPress Coupons and Discount Codes?
Coupons and discount codes are basically vouchers (or promotional codes) that can be redeemed for discounts.
There are many reasons to offer coupons and discount codes to your visitors. They can attract new customers and encourage repeat purchases, which can help boost sales.
Offering coupons and discount codes is also an excellent way to demonstrate your appreciation for your customers. After all, who doesn't love an opportunity to save a few bucks?
Plus, thanks to WordPress plugins, creating and offering them to your customers is quick and easy. For instance, Easy Digital Downloads is a complete eCommerce solution for selling digital products online:

It comes with a built-in coupon feature. In addition, it integrates with a ton of extensions that can help you enhance your coupons and discount codes WordPress offers. This includes add-ons such as Discounts Pro, Social Discounts, CSV Coupon Importer, and more.
Setting Up Coupons and Discount Codes in WordPress (Tutorial)
In the following step-by-step tutorial, we'll walk you through the process of creating coupons and discount codes with WordPress:
Step 1: Install EDD and Discounts Pro
To get started, you can install the EDD plugin and Discounts Pro add-on. The easiest way to do this is to visit the EDD website and grab an EDD All Access Pass: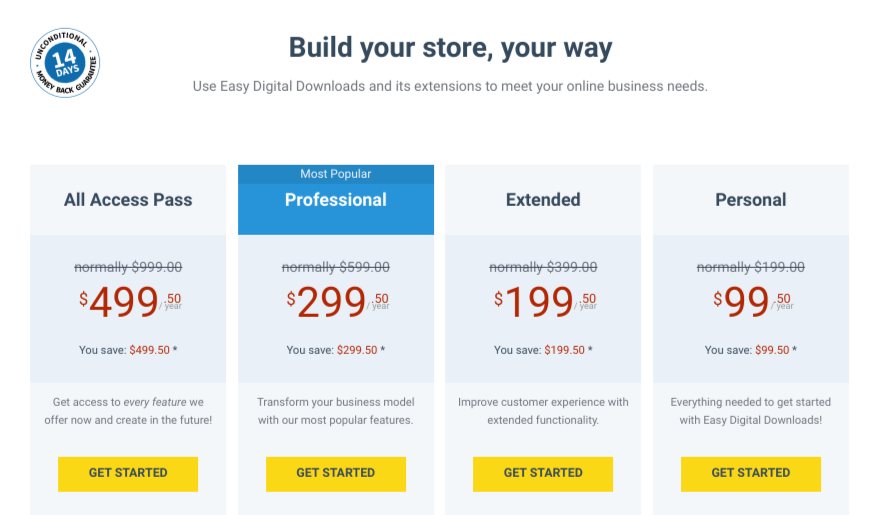 This gives you unlimited access to EDD's functionality and features, including Discounts Pro and all other extensions. Once you complete your purchase, you can visit your account dashboard, then go to File Downloads and click on Get Easy Digital Downloads to download the EDD plugin: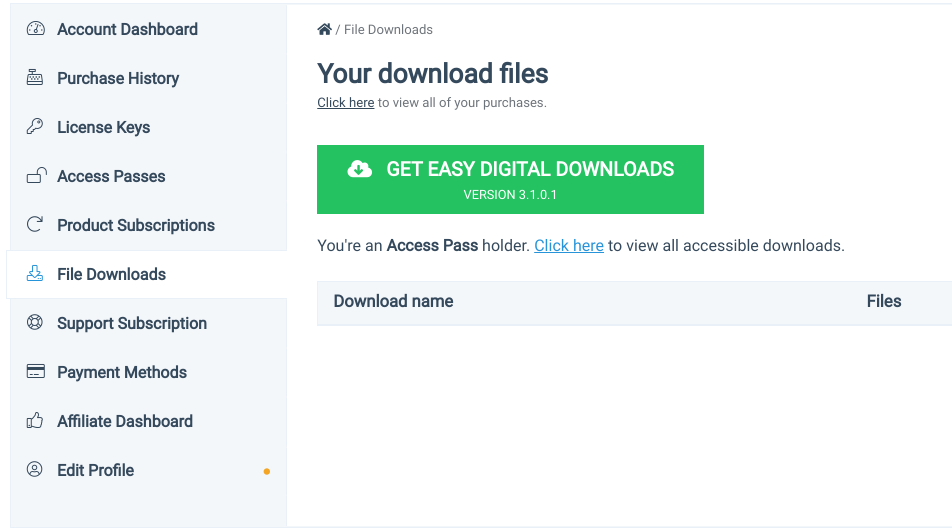 Next, go to Access Passes » View Your Downloads: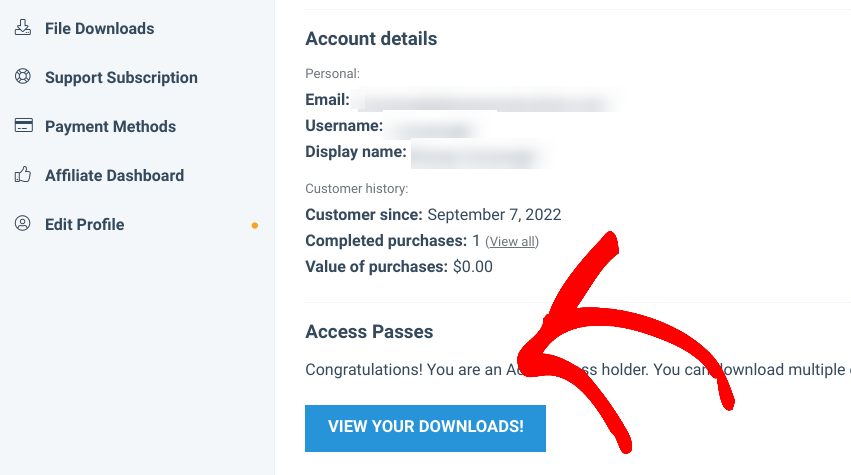 Scroll down and select Next. Locate the Discounts Pro extension, then click on Download Now: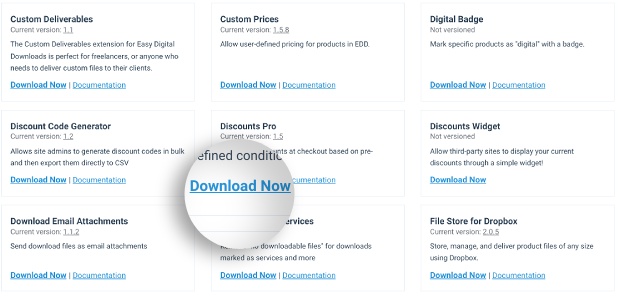 When it finishes downloading, you can go to your WordPress admin dashboard and navigate to Plugins » Add New » Upload Plugin » Choose File:

Select the EDD .zip file, then click on the Install and Activate buttons. You can repeat this process for the Discounts Pro plugin.
Step 2: Add Your Download(s)
Next, if you haven't already, you'll want to add your products to your store. In EDD, any files or products you sell are added to your online store as Downloads.
🔍 For more information and guidance on setting up your store, you can use these guides:
To add a new product, you can go to Downloads » Add New: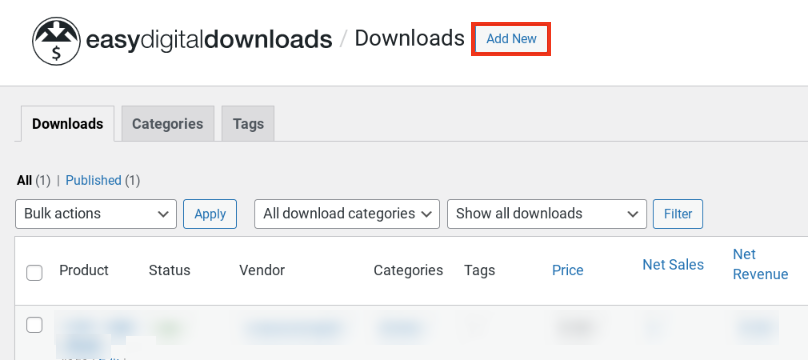 On the next screen, you can name your download and add a description. Under Download Prices you can enter a price: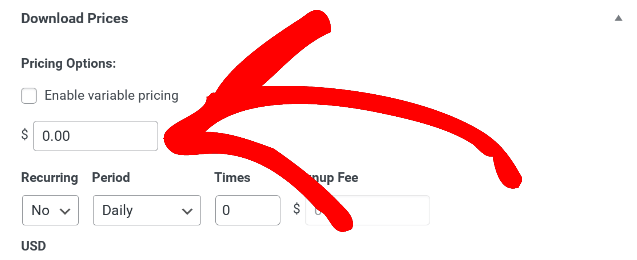 Next, you can upload an image under Download Image. You can navigate to Download Files to enter a File Name, then upload the file under File URL: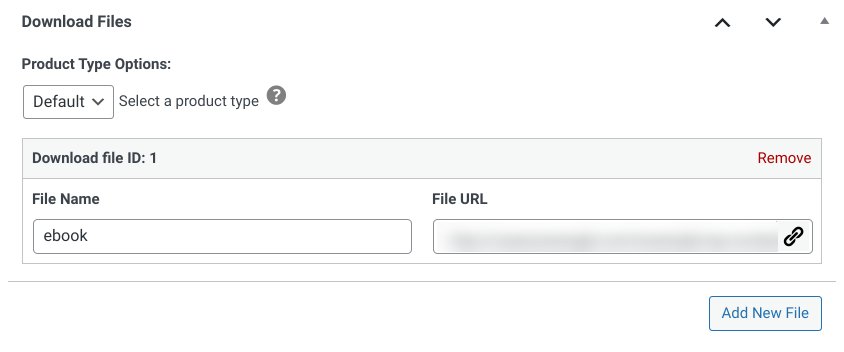 When you're done, you can click on the Publish button.
Step 3: Create a New Discount Code
The next step is to create your discount code.
As we mentioned, EDD comes with a built-in coupon feature. From your WordPress dashboard, you can go to Downloads » Discounts » Add New: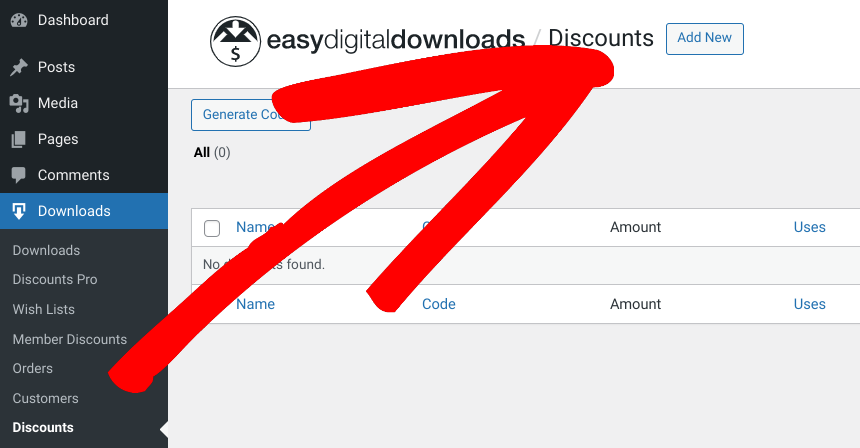 On the next screen, you can create a Name for your first coupon, a Code to be provided by the customer, and a coupon Amount (flat rate or percentage off):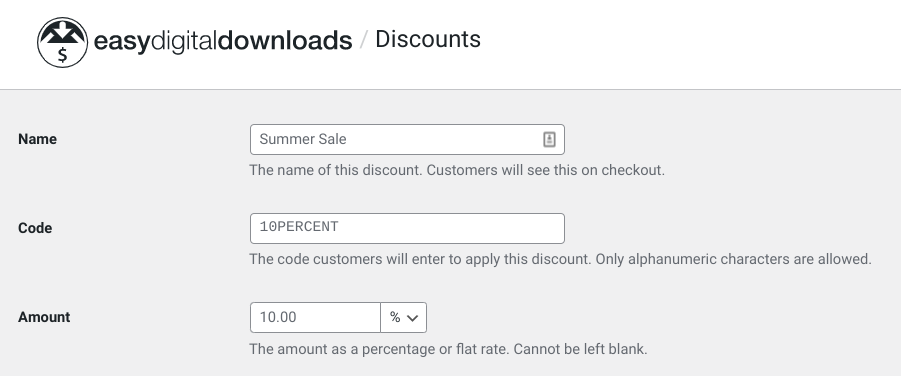 There are also a handful of controls you can modify to customize the discount code terms and usage restrictions: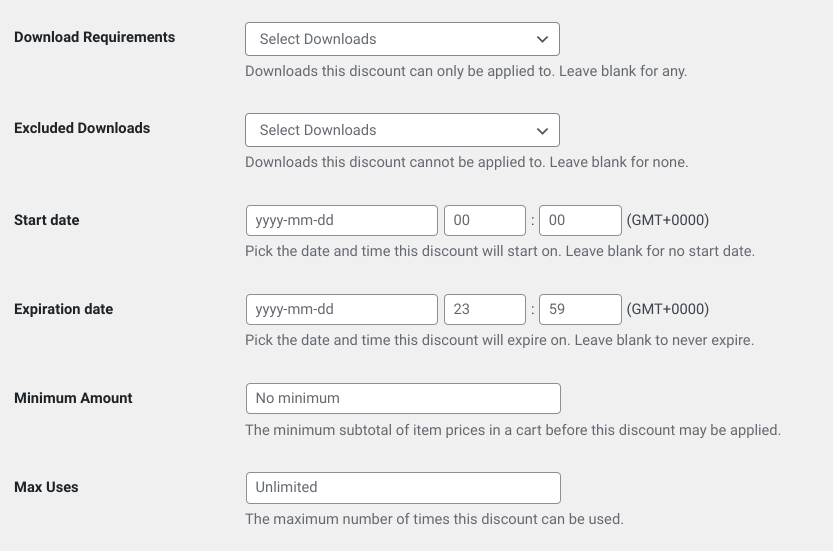 This includes:
Download Requirements to limit the discount code to specific products (if left blank, all your products can have this discount code applied to it)
Excluded Downloads for any products you want to exclude from this discount
Start Date and Expiration Date to restrict the discount to certain dates
Minimum Amount to require customers to spend above an amount before being eligible for the discount code
Maximum Uses to limit the discount code to a certain number of customers (such as the first 10)
Use Once Per Customer to set the usage limits to one use per customer
When you're done, you can click on the Add Discount Code button at the bottom of the screen.
Create an Automatic Discount
The built-in EDD coupon functionality lets you create flat-rate or percentage discounts. But if you have Discounts Pro, you can also create other types of discounts. This includes ones that are automatically applied at checkout based on specific conditions.
For instance, you could create a 25% discount that is automatically applied to shoppers' cart at checkout if they purchase a certain amount of products.
To do this, you can go to Downloads » Discounts Pro » Add Discount: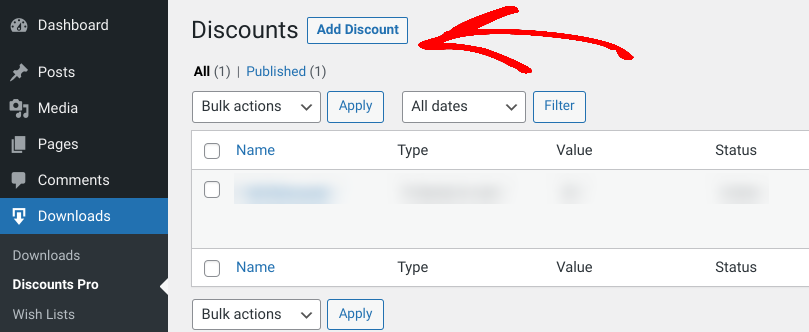 Here, you can enter a name and select the type from the Discount Type dropdown menu: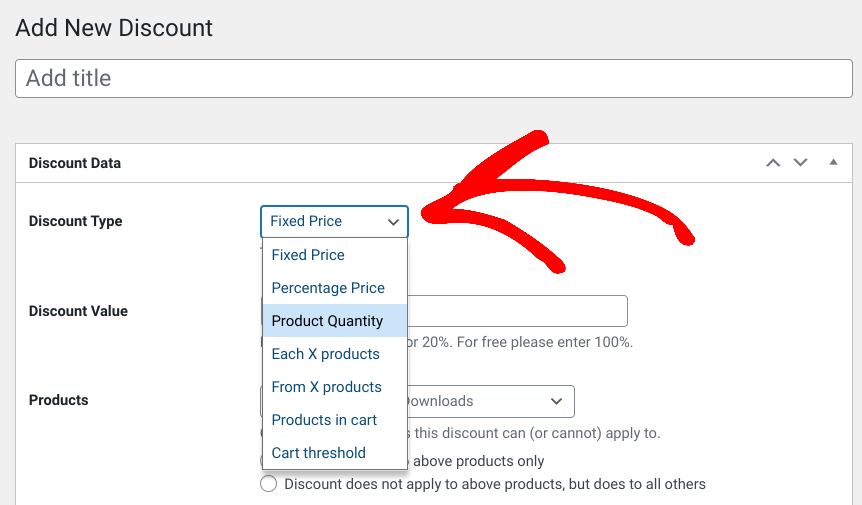 The options include:
Fixed Price
Percentage Price
Product Quantity
Each X products
From X products
Products in cart
Cart threshold
To learn more about what each type can be used for, you can refer to this documentation. Then you can customize the settings to control the terms and restrictions.
We've created a Fall Discount code that automatically applies a 25% discount at checkout when logged-in users have three or more items in their cart: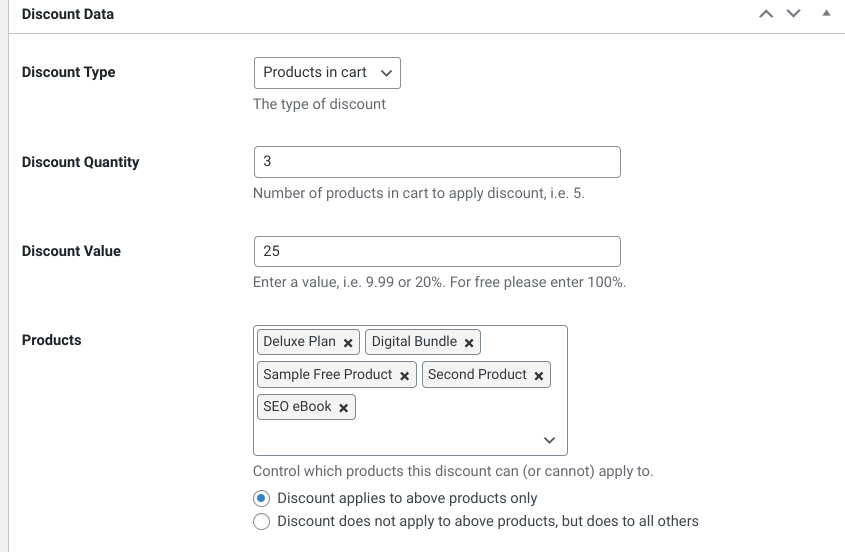 When you're done, you can click on the Publish button. You can find a list of your promo codes on the Discounts and Discounts Pro screens of your dashboard.
Step 4: Promote Your Coupon or Discount Code
After you've created your coupon or discount code in WordPress, your customers will be able to use the code at checkout. On the checkout page, they can click on the Click to enter it link: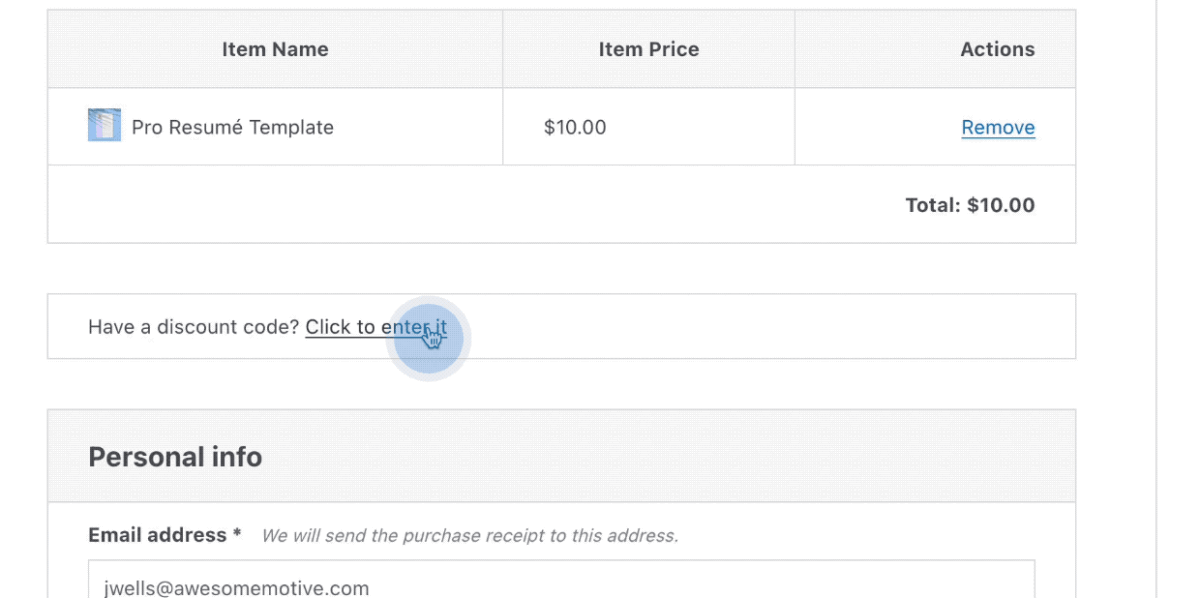 The EDD checkout page automatically calculates the updated price and shows the new subtotal:


When you're running coupons and discount codes WordPress promotions, it's important to make sure that your users are aware of them. You can add the coupon code to any page or post by entering it as a shortcode.
You might also consider creating a Coupons page on your site that lists your current promotions, sale items, and other deals: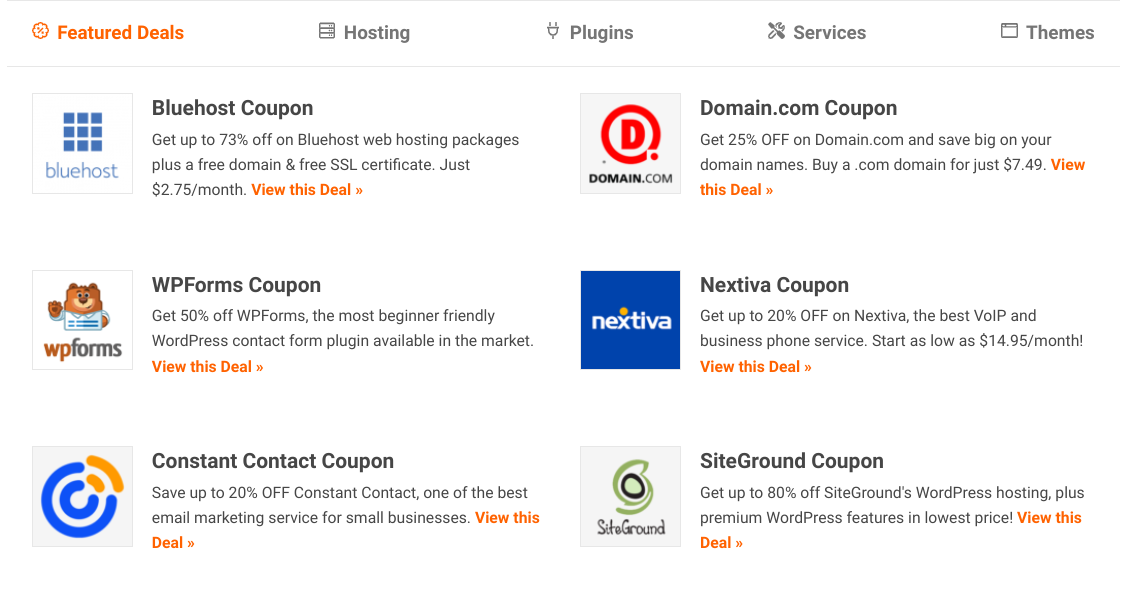 Alternatively, you could add a widget to the sidebar of your WordPress website to showcase specific coupons: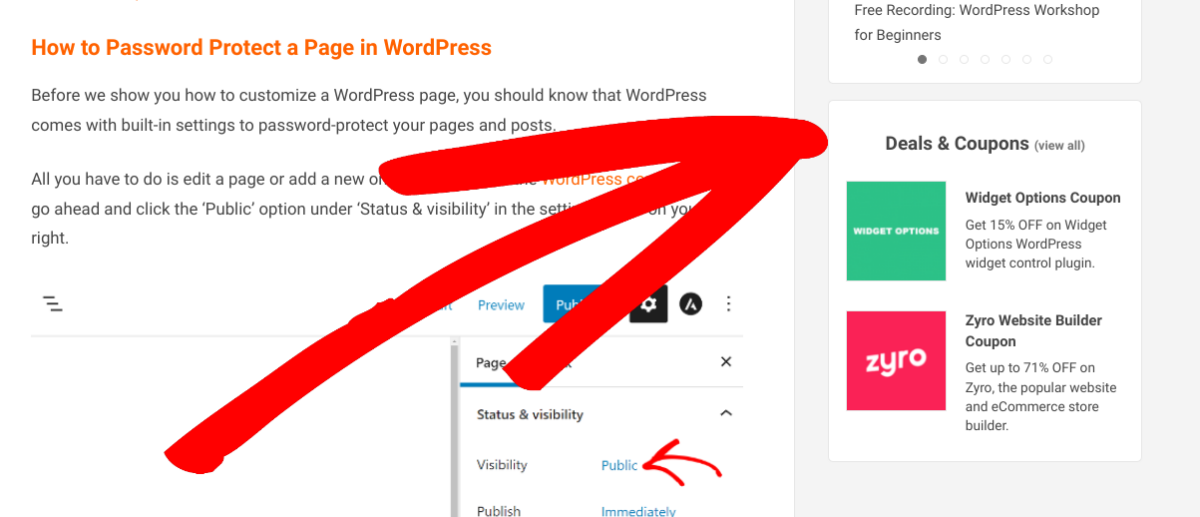 You can also promote discount codes via email and social media. You can include key details of the promotion, then add a coupon button or link that brings users to your WordPress site.
Coupons and Discount Codes WordPress Tips & Tricks
To maximize the effectiveness of coupons and discount codes, there are a handful of tips and tools you can use. This includes:
Target Specific Types of Customers With Your Coupons
One thing to remember is that the types of coupons and discount codes you use should vary depending on your audience. They are most effective when they're targeted at specific types of customers.
For example, if you know that many of your shoppers are moms with young kids, you could offer a coupon code for 20% off baby products on Mother's Day as a special promotion. Or, if you run an online clothing store, you could create a discount code for 15% off children's pants around back-to-school season.
Track Your Coupon and Discount Code Promotions Closely
Another key strategy for using coupons and discount codes is to track your promotions closely. This means monitoring how often you offer these codes, as well as which types of customers are seeing the most success with them.
With this coupon data, you can optimize your promotions over time to maximize their effectiveness and get better results from your store.
This is another example of how EDD can be helpful. With its advanced reporting tools, you can easily collect and view key data and insights. To get started, you can go to Downloads » Reports » Discounts: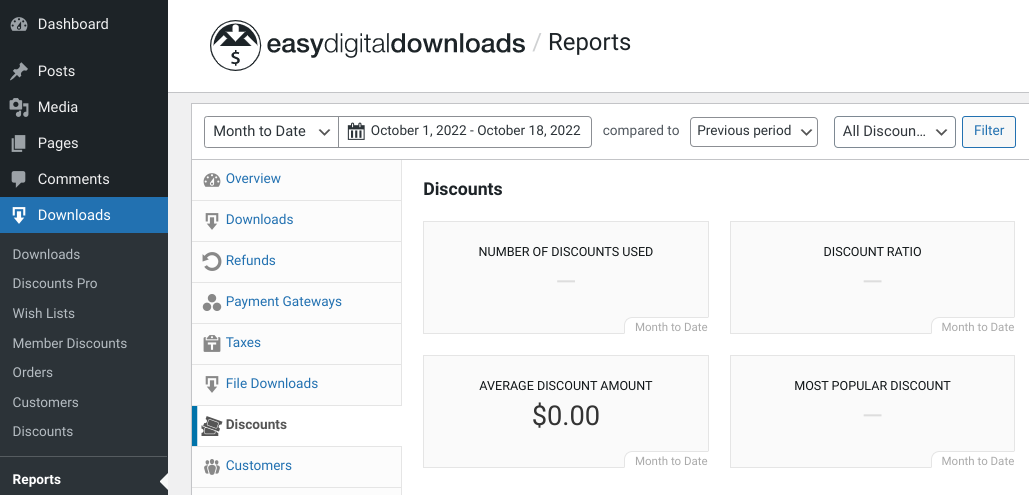 Incentivize Customers to Share Products
When it comes to eCommerce, incentivizing your customers to share products can help expand your reach and boost sales. One way to go about this is to offer customers discounts in exchange for helping to get the word out about your products.
For this, you can use the Social Discounts extension: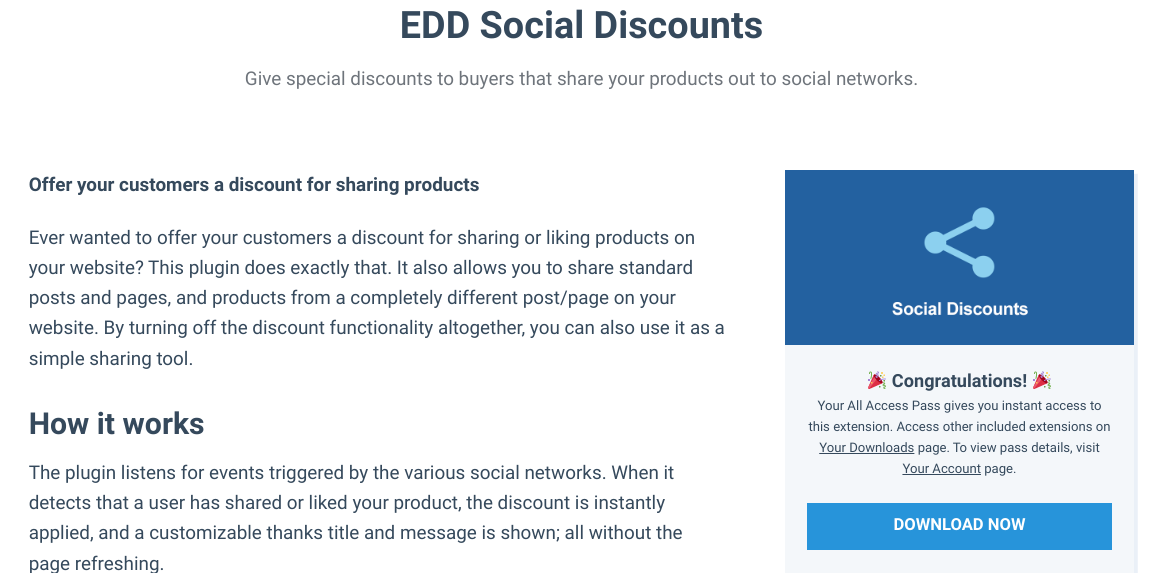 You can use this add-on to add a social sharing option to your product pages. Then your customers will be able to share it to have a discount code automatically applied to their checkout: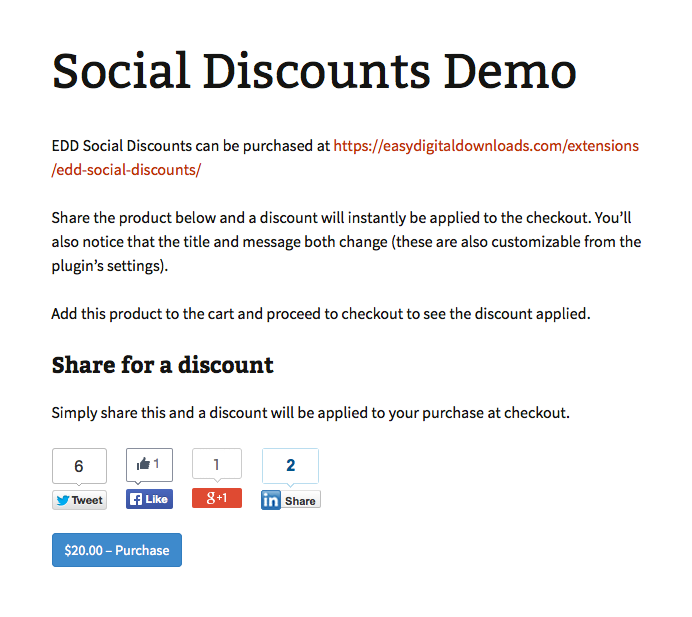 After installing the add-on on your WordPress website, you can go to Downloads » Settings » Extensions » Social Discounts: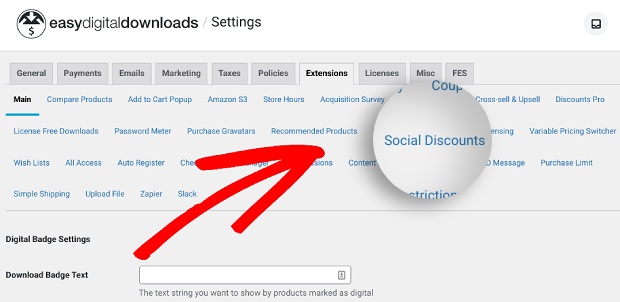 On the next screen, you can configure the settings: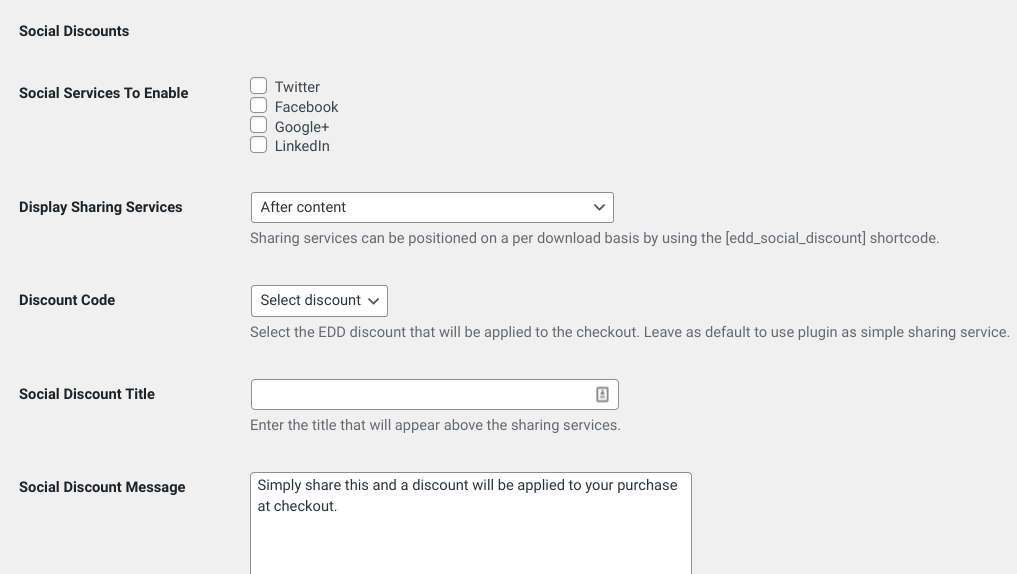 You can choose the social networks to enable it on and where to display the social discount sharing option, select the discount code to apply it to, and customize the social discount message.
When you scroll down, you can also find fields to enter your social usernames and locales and customize how the buttons are displayed. When you're done, click on Save Changes.
Bulk Import Existing Coupons
We've covered how to create new discount codes in WordPress. But if you already have existing coupons that you want to import to your Easy Digital Downloads store, you can easily do so by using the CSV Coupon Importer add-on: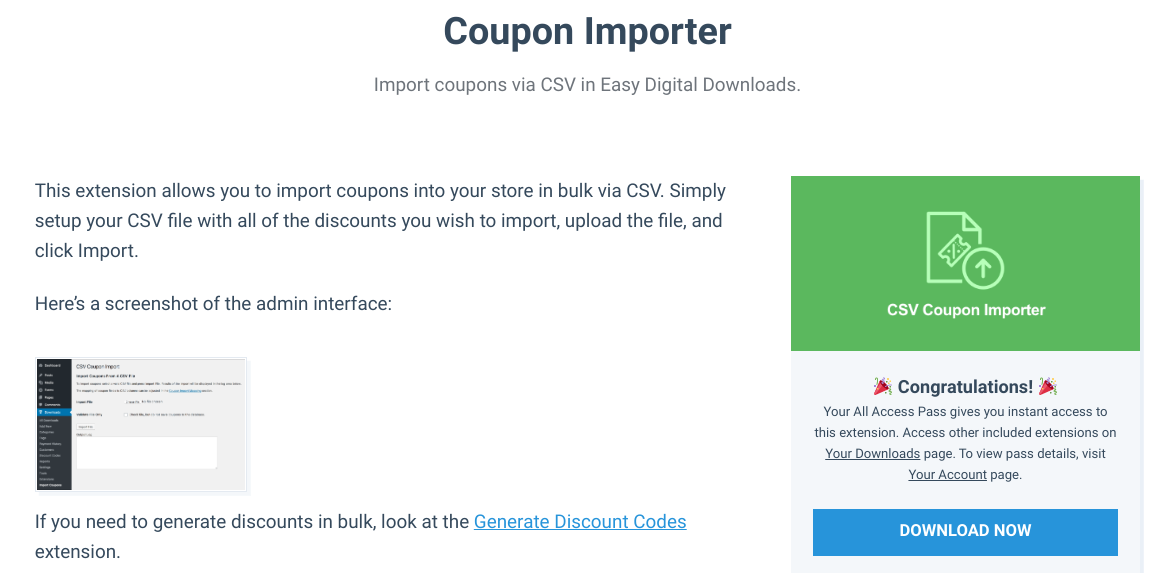 This extension lets you quickly import coupons in bulk via CSV. After you install the extension and create your CSV file with the discounts you wish to import, you can go to Downloads » Import Coupons: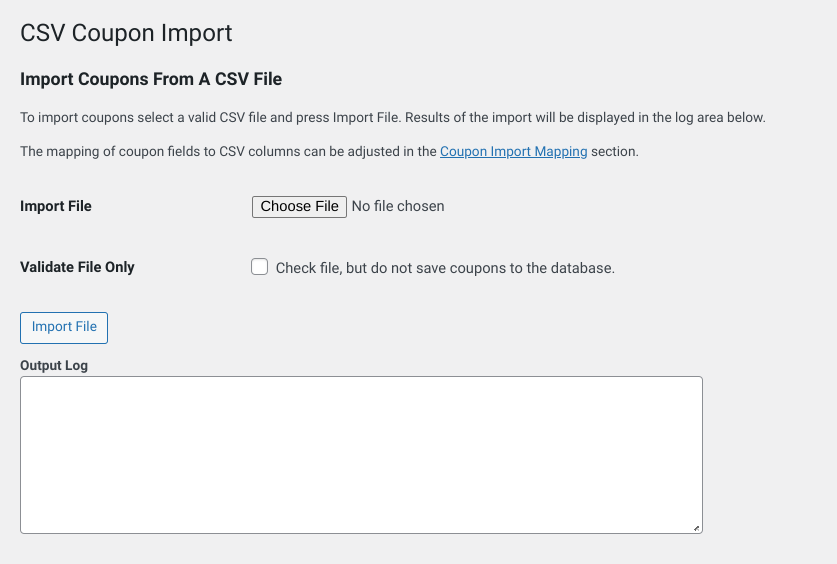 Click on Choose File, upload the file, then select Import File. That's it!
Conclusion: Setting Up Coupons and Discount Codes
If you want to attract new customers and boost sales, offering coupons and discounts can be an effective solution.
In this coupons and discount codes WordPress guide, we showed you how easy it is to set up these promotions with Easy Digital Downloads and Discounts Pro. There are also a ton of other extensions you can integrate to automate and expand discount code promotions on your eCommerce site.
Interested in more ways to promote your products and attract new customers? Check out How to Increase Digital Store Sales With Social Media!
Be sure to subscribe to our newsletter and follow us on Facebook or Twitter for more WordPress resources.