Your products are the core of your eCommerce site. Without them you don't really have an eCommerce site, so setting them up properly and making them easy to purchase is extremely important.
At a bare minimum, creating your first download is very simple.
Click "Downloads" from your WordPress Dashboard menu
Click "Add New"
Enter in a Title and Description for the download
Add tags for the download, if desired
Select categories for the download, if desired
Set a Featured Image, if desired
But you don't really want the bare minimum, so let's take a look at all the options you have for creating your first product.
Download Item Options
Download Prices
The simplest form of pricing is a single price.  You may simply put in a price like this:

and on the front end of the site it will look like this: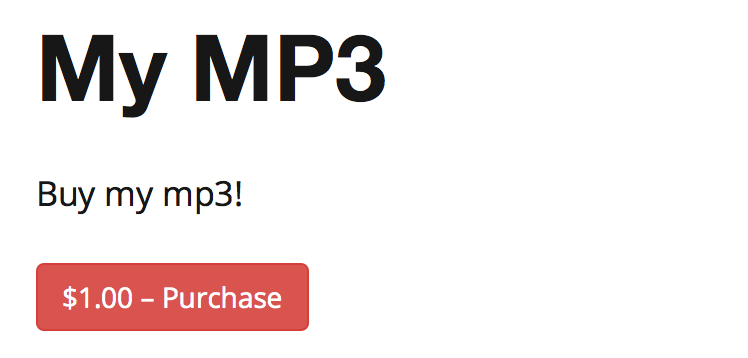 Download Prices – Variable Pricing
If you wish you may set variable pricing for a given item.  This could be used for differing image sizes, audio qualities, or license period lengths.  Here's what that looks like: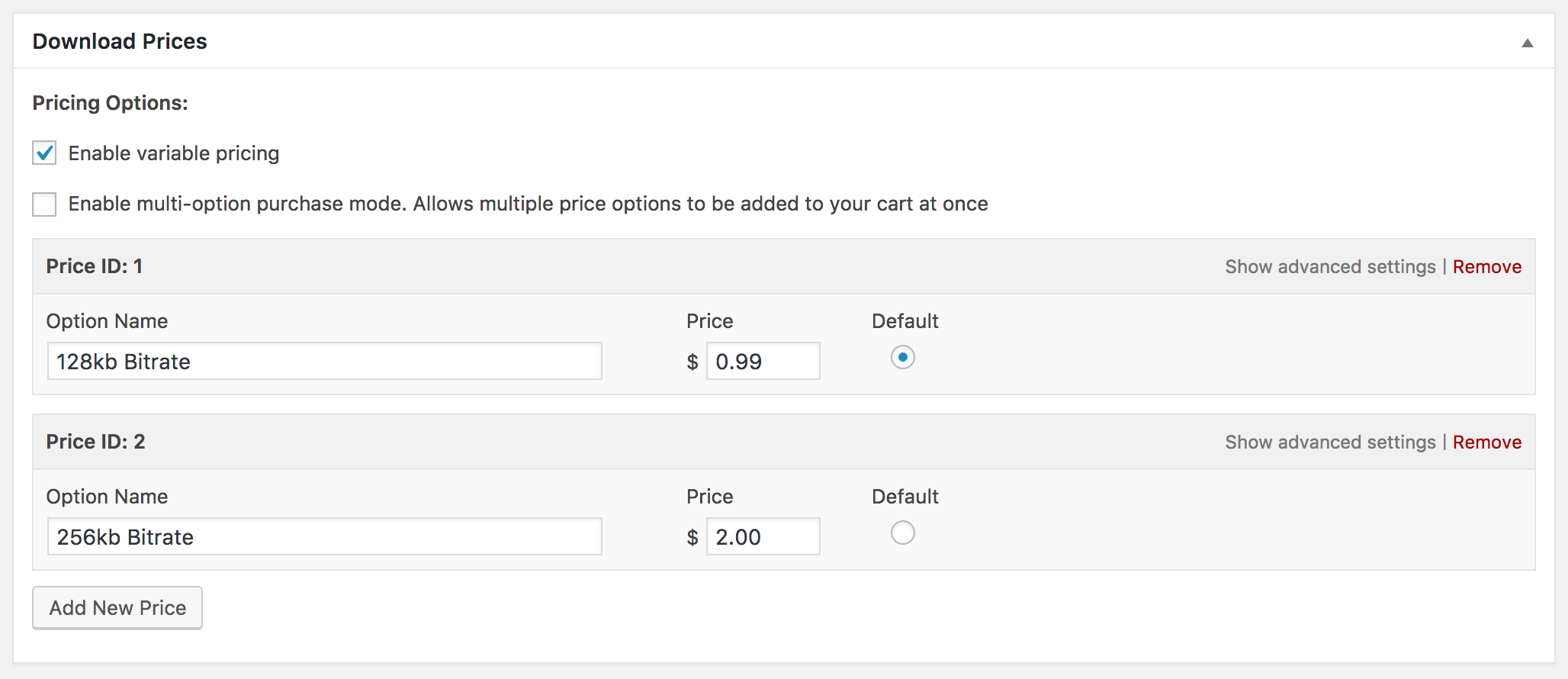 Then, when setting up the different product options in the Download Files section, assign the above options to the various product options: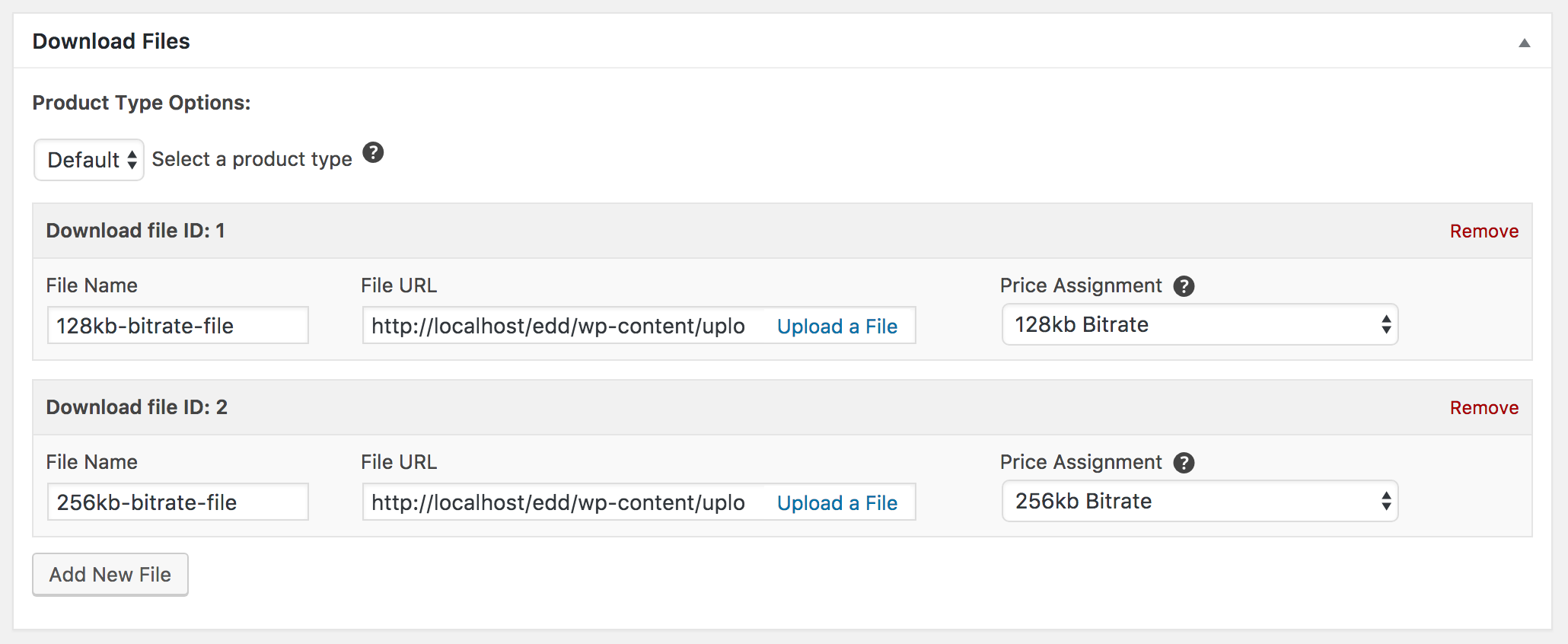 NOTE: Downloads may be re-ordered simply by clicking and dragging the crosses at the left.
And on the front end: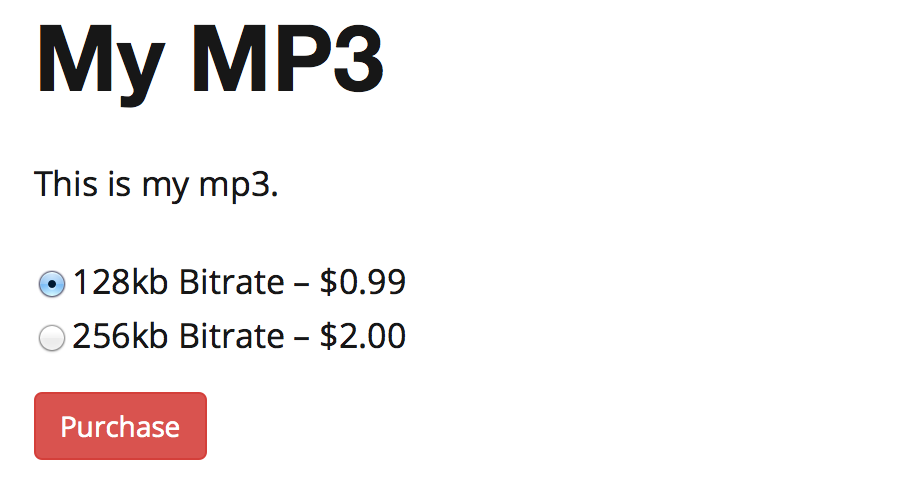 There is a
multi-option purchase mode.  This simply changes the radio buttons to check boxes, so that customers may buy more than one option.
For a detailed breakdown of variable pricing functionality, please read the
Variable Pricing documentation.
Download Files
In this section you list what files the customer will be able to download after purchase. There are two product types, Default and Bundle.
The Default Type is simply a file or collection of files uploaded right in this box.  Here's an example: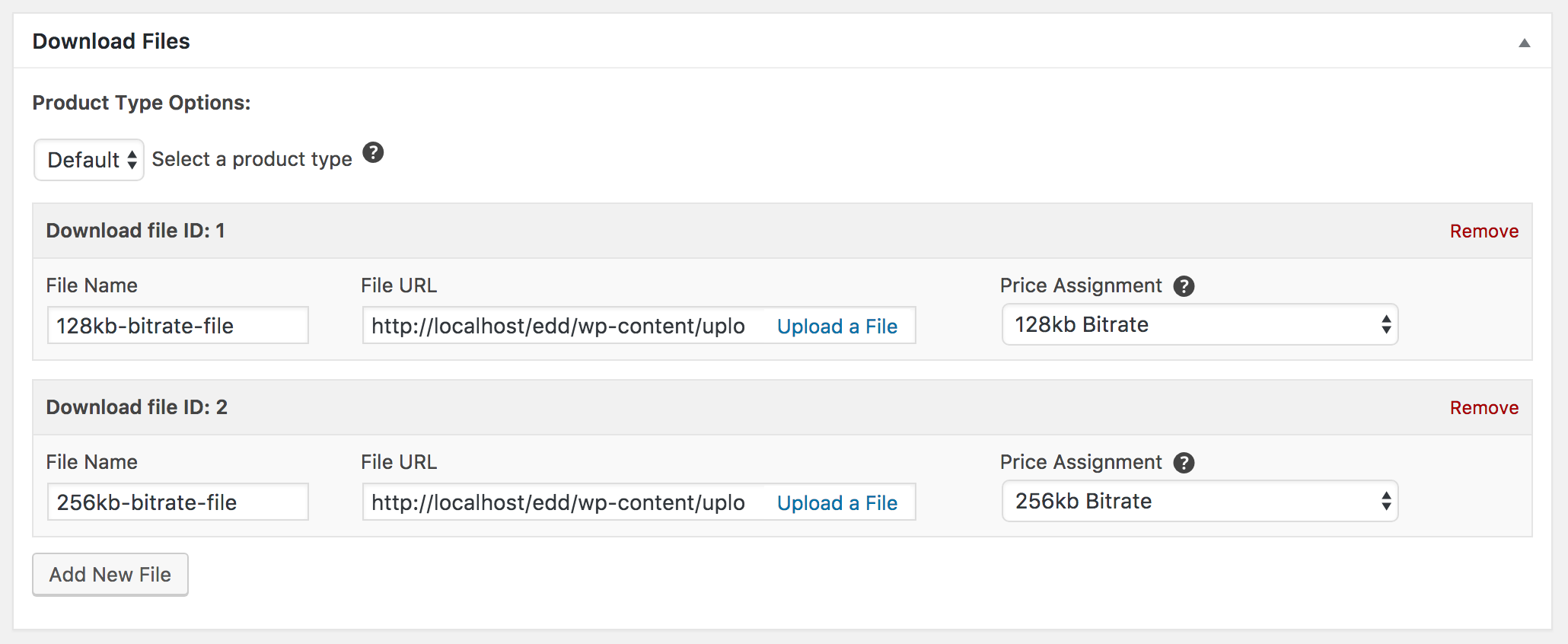 NOTE: Downloads may be re-ordered simply by clicking and dragging the crosses at the left.
The Bundle Type allows you to combine more than one Download into a package.  For example, if you've created 8 mp3s and placed them up for sale individually, you could make one more Download and give it a type of Bundle, and then all 8 mp3s could be sold together at a unique price.  By default, the dropdown menu will display a list of the first 30 Downloads. If you have more than 30 Downloads you can search for additional Downloads by typing the first four characters of the Title. Here's a video showing how to make a bundle:
Once a bundle is purchased, each Download in the bundle is listed individually on the receipt and in the customer's account page.
Download Notes
This is simply a place for the site owner to add some instructions to the receipt for the customer.  These notes are shown only to a customer, on their receipt, never on the front of the web site.
Download Settings
In the right sidebar is a box entitled Download Settings.  In this box you can:
Over-ride your system-wide setting for File Download Limit
Disable the automatic output of the purchase button
When Taxes are enabled system-wide this box offers an option to turn them off for the current item.
If you have PayPal Standard (or a gateway that supports Buy Now), you will see the option to change the add to cart button to a buy now button.
Publishing Downloads
After completing all of the steps above, the final step is to Publish your Download. If you do not Publish your Download it will not be visible on your site to potential customers. The Publish box is located in the right sidebar.
This illustrates what the Publish box will look like when initially creating a new Download. The Publish button in the lower right corner means this Download has not been published and is not visible on your site to potential customers.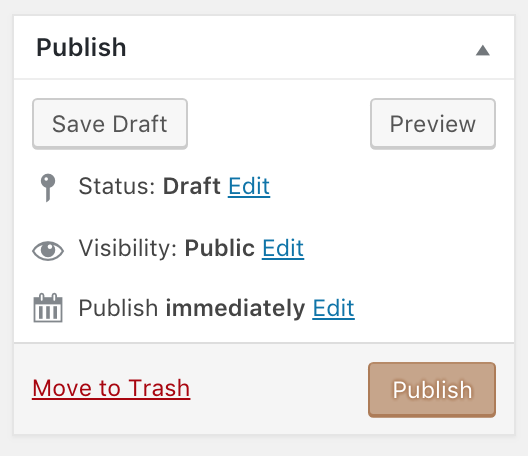 You may change the visibility settings within the Publish box to Public, Password protected, or Private. If your Download is not Public, potential customers will not be able to view it on your site.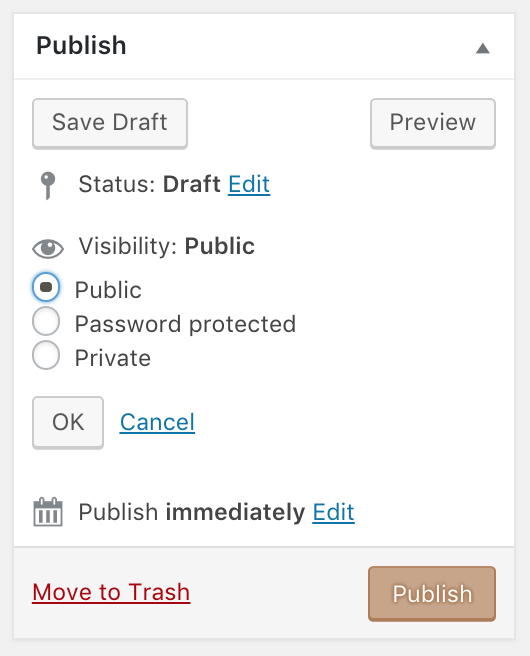 Advance scheduling is also an option within the Publish box. Clicking Edit next to
Publish immediately allows you to enter a future date for publishing your Download. The Publish button will change to Schedule. Clicking Schedule will automatically Publish the Download on the date you've entered.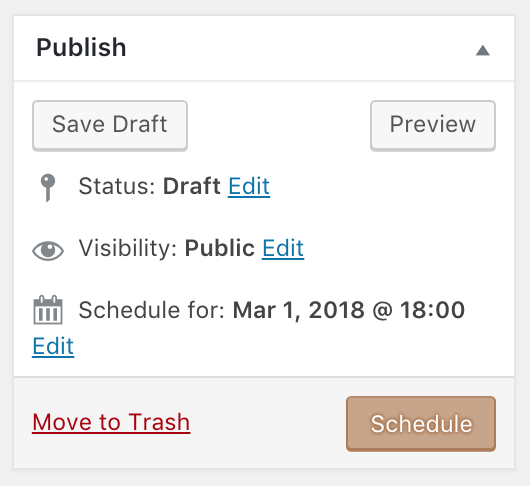 Once your Download has been Published, the Publish box will change to Update and the Published on date will populate. It's important to remember that Downloads will not be visible to potential customers if Visibility is not set to Public and it has not been Published.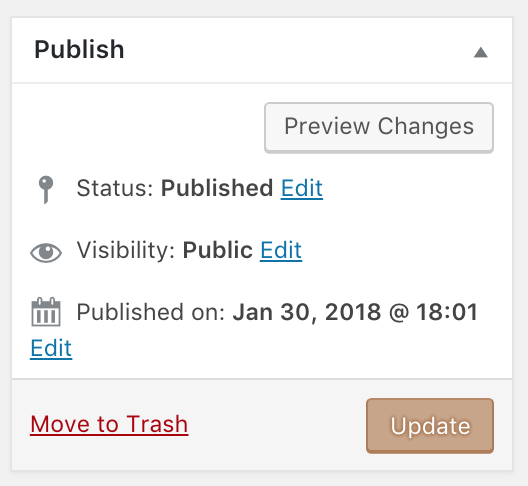 Deleting Downloads
We don't recommend deleting products, doing so will affect the accuracy of your reports. Instead of deleting, we suggest setting the products to Draft or Private. That will allow reports to continue to work while also removing the items from the store.