How to Upgrade from EDD Lite to Pro
Are you ready to upgrade from Easy Digital Downloads to the Pro version? Upgrading to Easy Digital Downloads (Pro) will give you access to more features and powerful extensions.
In this tutorial, we'll show you how to install EDD (Pro).
---
Installing EDD (Pro) Automatically
Once you've purchased a license, you can upgrade to EDD (Pro) by adding your license to your download settings. This will install EDD (Pro) for you.
Activating Your License Key
Note: Activating your key is the same whether you have the free version of EDD or EDD Pro.
To start this process, you'll need to log into your WordPress site. Then go to Downloads > Settings. On this screen, you'll see a field for your license key.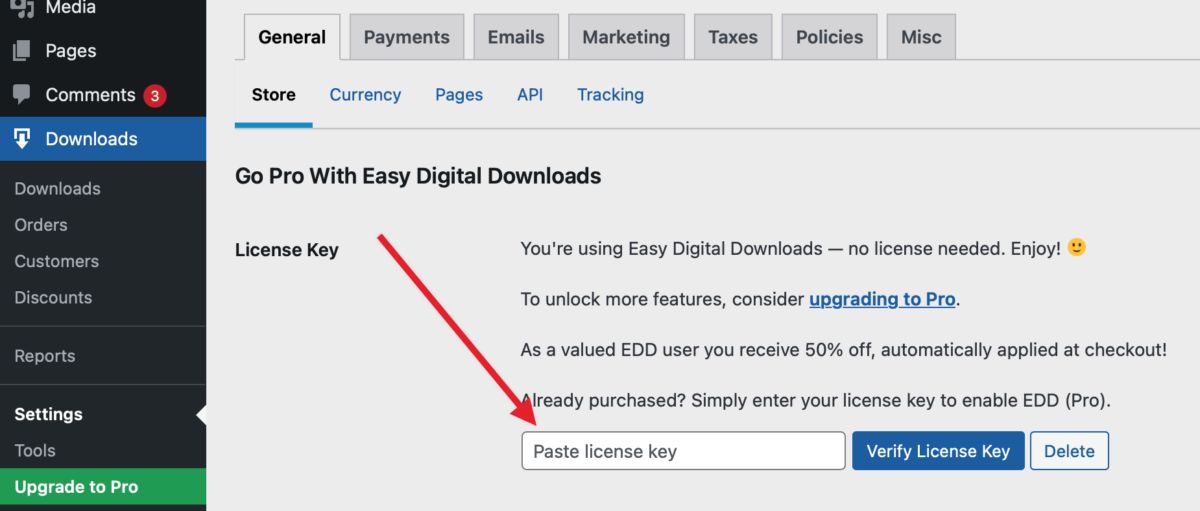 To find your license key, log into your Easy Digital Downloads account in another browser tab or window. Your license key is listed with your pass on the main screen of your account:
Copy the license key; paste it into the EDD settings and click the Verify License Key button.

To begin the installation process, you'll need to click the Connect and Install Easy Digital Downloads (Pro) button.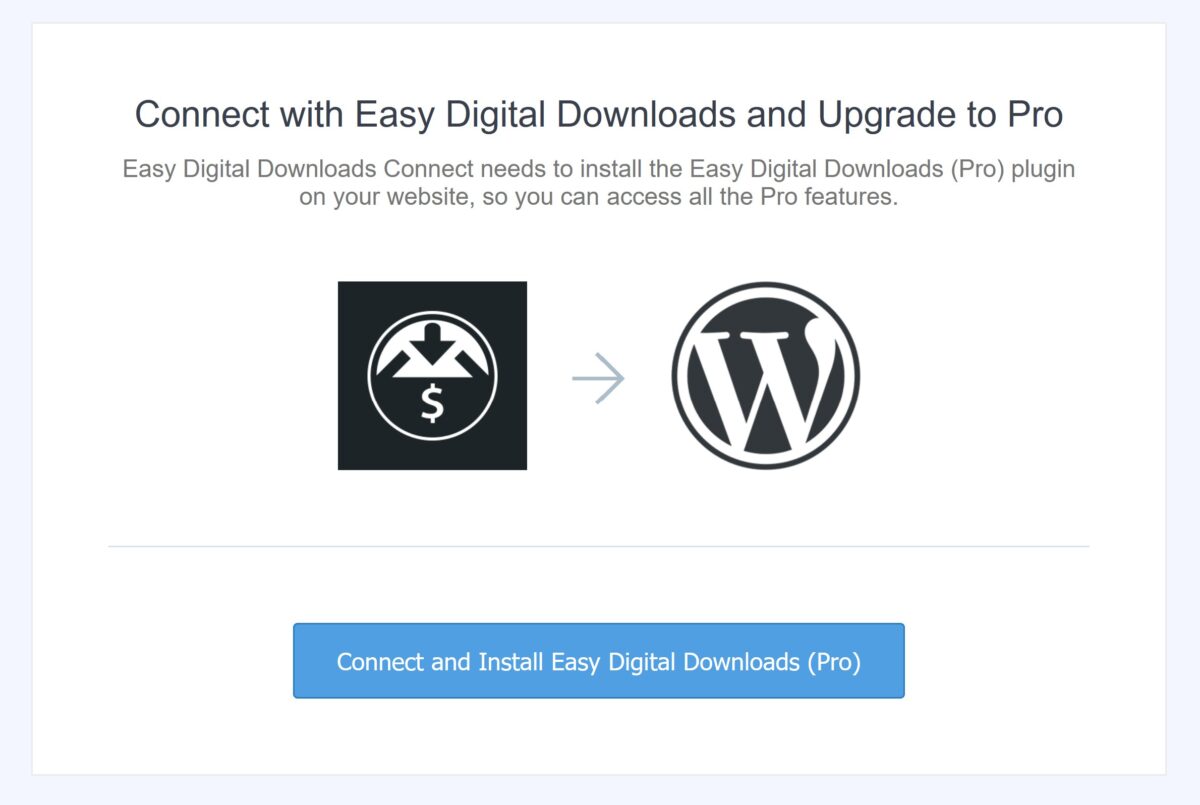 Next, the pro plugin will be automatically installed for you (this may take a few moments). Once it's all done, you'll see a success message.
Note: If the automatic installation fails, your host may have restrictions that prevent it from running. You'll need to manually install the paid version of the plugin instead.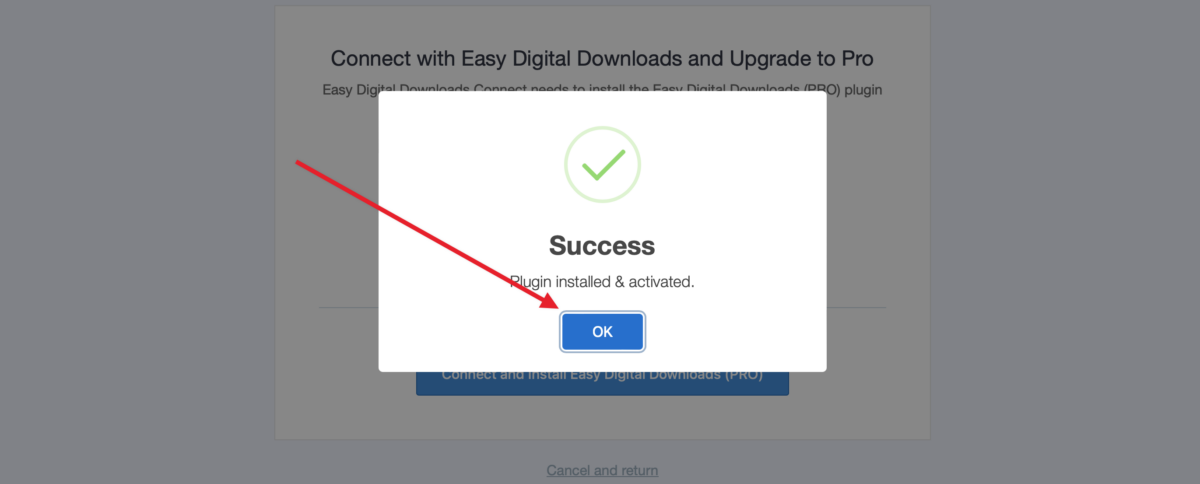 After you click the OK button, you should be redirected back to the Easy Digital Downloads settings for your WordPress site. The pro version of EDD is all set and ready for you to use!
You should see that your license key has already been verified, and key license data will be displayed.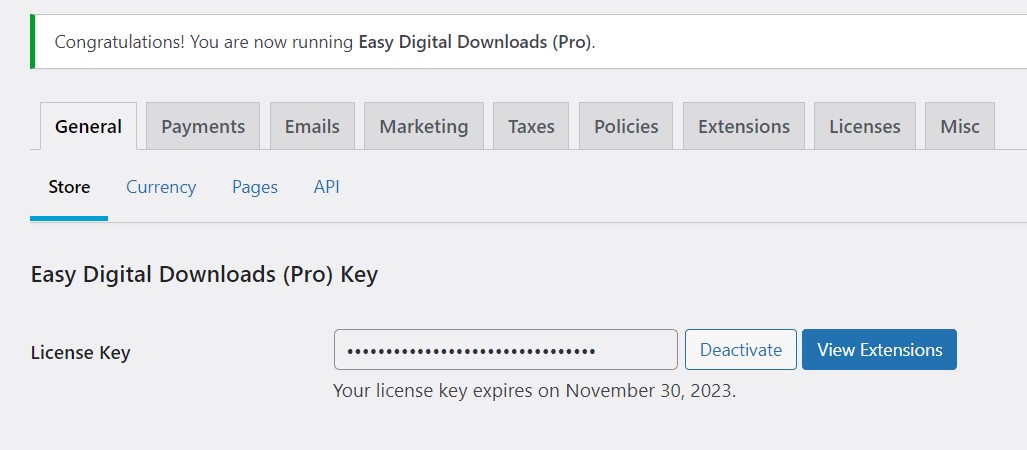 You can now Install Extensions directly from your WordPress site.
Additionally, you will no longer need to enter a license key for individual extensions covered by your pass; they'll be covered by the license automatically.
Installing EDD (Pro) Manually
To get started, log into your EDD account. Just click on the Download Easy Digital Downloads (Pro) button next to your active pass. This will save a zipped file of the pro plugin to your computer.
For now, you don't have to download any extensions, since you'll be able to easily install and activate extensions from inside your WordPress dashboard later.
Once you've downloaded your zip file, go ahead and navigate to the site where you'd like to install EDD (Pro). Then, inside the admin dashboard, go to Plugins > Add New (1) and click the Upload Plugin (2) button.

From here, you'll see the option to upload the plugin. Click on the Choose File button and select the EDD (Pro) zip file you just downloaded. After your file is uploaded, click on the Install Now button.
This will begin the installation process for you. Once the plugin is installed, click on the Activate Plugin button to activate EDD (Pro) on your site.

After activating the plugin, be sure to activate your EDD (Pro) license key to receive automatic updates and plugin support. Adding your license key will also allow you to easily install and activate EDD extensions from inside your WordPress dashboard.
That's it! You can now begin using EDD (Pro) on your WordPress site.