This document is going to go through the bare minimum steps you need to take to set up a store and sell something simple like an eBook. The settings in Easy Digital Downloads are either required (like how your store sends you money) or have sensible defaults that you don't have to touch if you don't want to.  We're going to cover only the required settings in this document.
Follow the steps in this document and you should have a working store at the end.
1. Installation
Easy Digital Downloads is available in the WordPress.org plugin repository, so the easiest way to install it is within WordPress itself.
First go to the Plugins area in the WordPress admin, and on that page click the Add New button.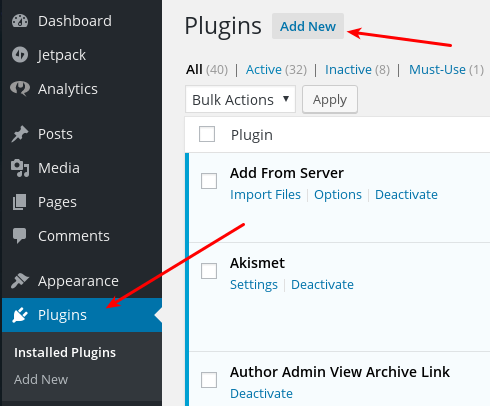 Then in the top right of the next page put Easy Digital Downloads into the search field and press enter.

Easy Digital Downloads should be the top search result, click the Install Now button you find in the EDD box.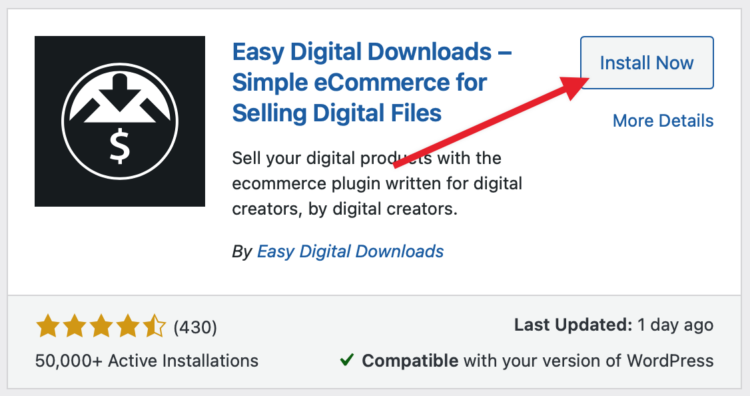 Clicking the Install Now button will show some information about the download and installation process, and then offer a link to Activate Plugin. Click Activate Plugin.
After you've activated the Easy Digital Downloads, "Downloads" will be added to the WordPress menu: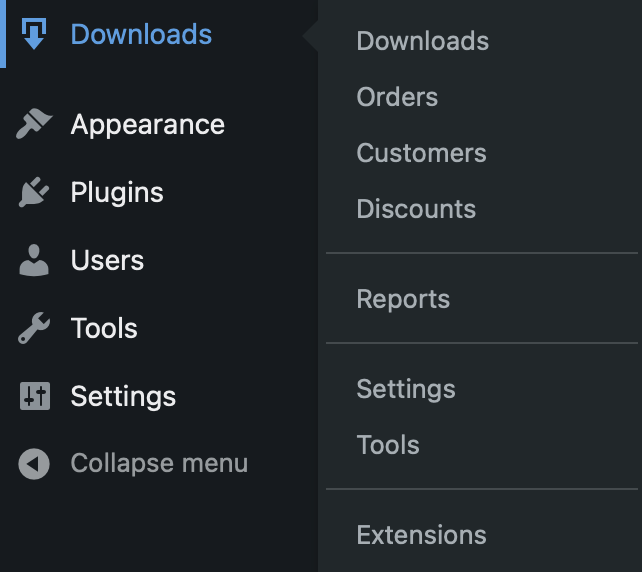 Now Easy Digital Downloads is installed and ready to be configured.
2. Settings and Configuration
All settings for Easy Digital Downloads are in the WordPress admin.  In the left column look for Downloads, then select Settings.
Business Information
The default settings that appear is the Business Information. Complete out your Business Info here.
Other General Settings
The other General Settings includes Currency, Pages, API and Tracking. Review each section but for most stores, the default settings should be appropriate. If you are outside the United Status, you will likely need to update the Currency Settings.
Payment Gateways
These are the tools that let people pay money. EDD has built-in PayPal, Stripe, and Amazon. All of these allow for paying with credit cards. Your customer wouldn't need a PayPal account, but they would need an Amazon account to use Amazon.
Simply choose which ones you want to use and choose a default. It's possible to have many different Payment Gateways installed, may sites use Stripe and PayPal, but be careful not to enable more than one or two, else the customer could become confused about which to use.
Stripe allows customers to input card payments directly on your checkout page.
PayPal allows you to add a PayPal button to your site, customers can pay with their PayPal account or via card, without an account.
Store Gateway can be used to test payments.
Amazon allows customers to pay via their Amazon account.
Note: The Active Gateway(s) (except for Store Gateway) will have to be configured under the Gateway's settings, Downloads > Settings > Payments > (Select Gateway).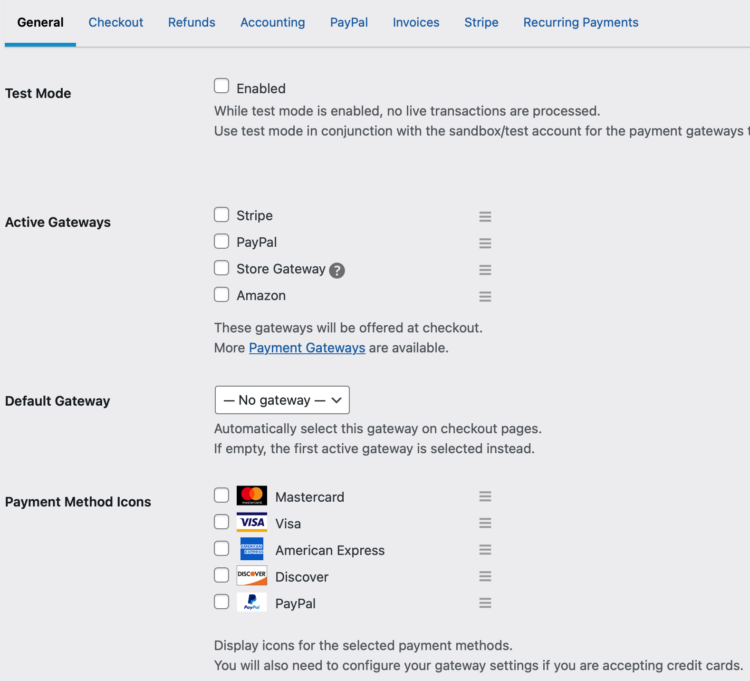 Emails
EDD will automatically send an email receipt and store owner notification that the purchase occurred. No steps are required but review the General Settings under the Emails tap to confirm it's configured to your liking.
Note: WordPress is not alway to most reliable at email delivery. See Email Troubleshooting if you ever experience problems.
Taxes
You need to know whether you're required to charge taxes. If you are not, skip this section. If you are required to charge taxes fill out the form on this page.
3. Creating Products
There is complete documentation on how to create products, but in this document, we'll show you how to make a single basic product.
To begin creating a product, click the Downloads link in the left column of the WordPress admin. On the resulting page you'll see an Add New button in the top of the page as well as in the left navigation.

Clicking Add New will take you to a page where you can fill in information about your product.
First, enter a title and then some descriptive content about your product.  You may include images in the description if you wish.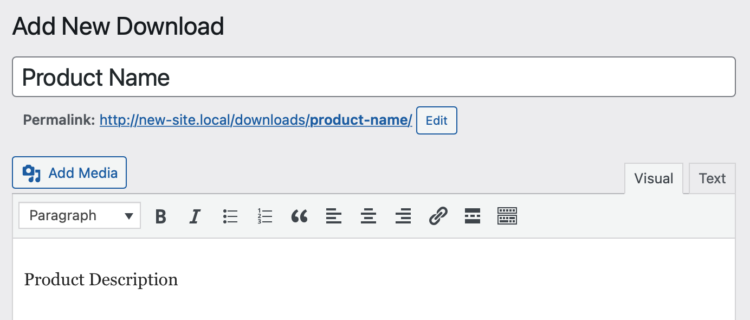 Next, we want to put in a price. There's a box called Download Prices and there's a text box to input a price.
Next, we need to upload our file (or add it from the media library if you've already uploaded). There's a box labeled Download Files. Leave the Product Type Options at Default for now, and click the Upload a File link.  This will open the WordPress Media Manager. Upload your file or choose an existing file there.

Once you've chosen your file the File Name and File URL fields will fill themselves in.  You may change the File Name to anything you wish, but don't change the File URL.
Lastly, you may optionally add a Download Image.  This is exactly the same process as for a Blog Post Featured Image, look for the box that says Download Image, click the Set Download Image link and either upload to choose from your Media Library.

Summary
You've now installed Easy Digital Downloads, configured it, and created your first product. This is all you need for a basic store, but there are many more things you CAN do. Products can have categories and tags, you can set limits on downloads, and install extensions for more functionality.
Information on how to do all of these things and more can be found in our  Easy Digital Downloads documentation.