How To Use an EDD Pass and Access Extensions
In this article, we'll explain how to extend Easy Digital Downloads with a Pass.
---
🎟 What is an EDD Pass?
An EDD Pass is a bundle of EDD extensions designed to save you money and help you as you grow your business.
EDD Extensions are plugins you install on your site to add functionality as needed.
You'll save hundreds of dollars, in some cases thousands, with an EDD Pass instead of purchasing EDD Extensions one at a time.
Each EDD Pass is designed to level-up your store as your business grows.
Personal Pass – As you get fully set up and established; grab this entry-level bundle of extensions for engaging with customers.
Extended Pass – When you're ready, you'll likely expand into automation and recurring (subscription) billing options. Add the online shopping features customers will expect.
Professional Pass – Expand your store with marketplace features (to allow others to sell products on your store) and software licensing (to manage license codes and renewals).
All Access Pass – Just be done with it. Get everything we make and will ever make on an unlimited number of sites. This Pass is perfect for serious store owners looking for an edge as well as web developers and agencies empowering others.
🖐🏾 Grab a Pass and get 50%-off introductory pricing
---
How To Get An EDD Pass
It's easy to get started with an Easy Digital Downloads Pass. How does half-off sound? Get 50% off your first year with any new Pass purchase.
Visit the pricing page and click on the Pass that is right for you. You can upgrade your Pass any time in the future.
🖐🏾 Grab a Pass and get 50%-off introductory pricing
Once you have a Pass, go to your Account Area or WordPress admin to access your EDD extensions. We'll explain in full detail below. 👇
---
How To Access Your EDD Extensions
Click here to open your Account Dashboard and go right to your downloads.
Or look for the 👤 icon on the top menu of the EDD website. Click on the Account Dashboard. Be sure to log in with the email address you provided upon purchase.

After logging in, you'll be taken to an overview of your account. Click on Access Passes.
From there, click on View Your Downloads to view all the Extensions included in your Pass.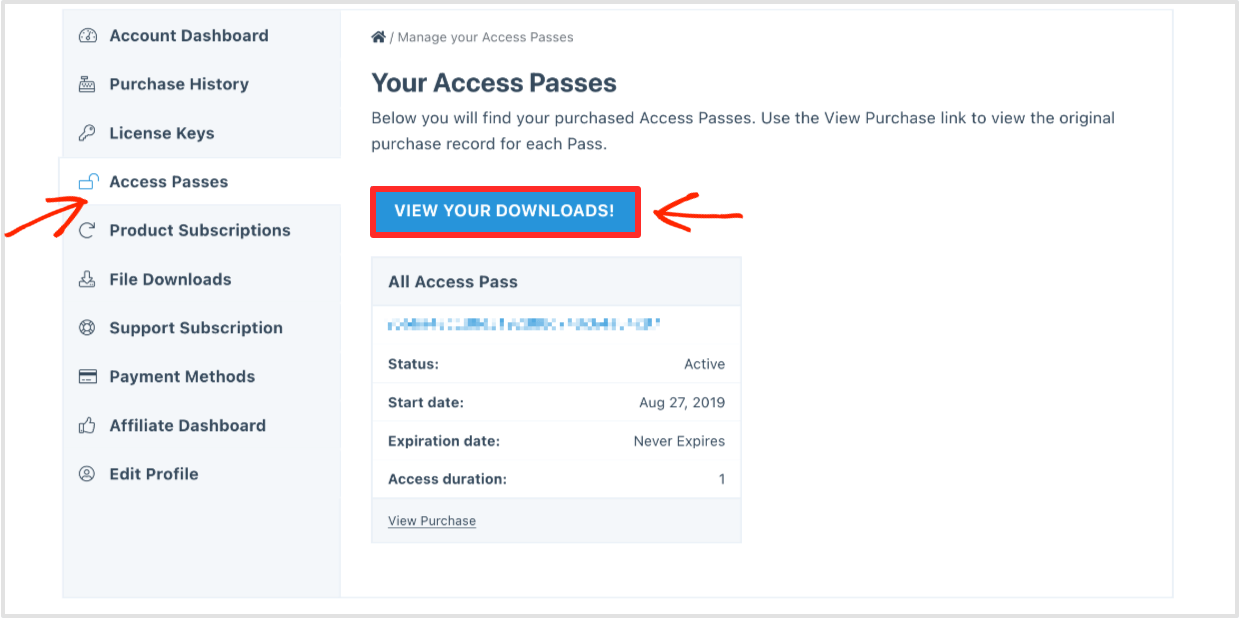 You'll be taken to a list of all the extensions available to you on your Pass. Click Download Now next to any and all Extensions you want to try out!
The Extension will be downloaded as a ZIP file to the 'Downloads' folder set up in your web browsers settings.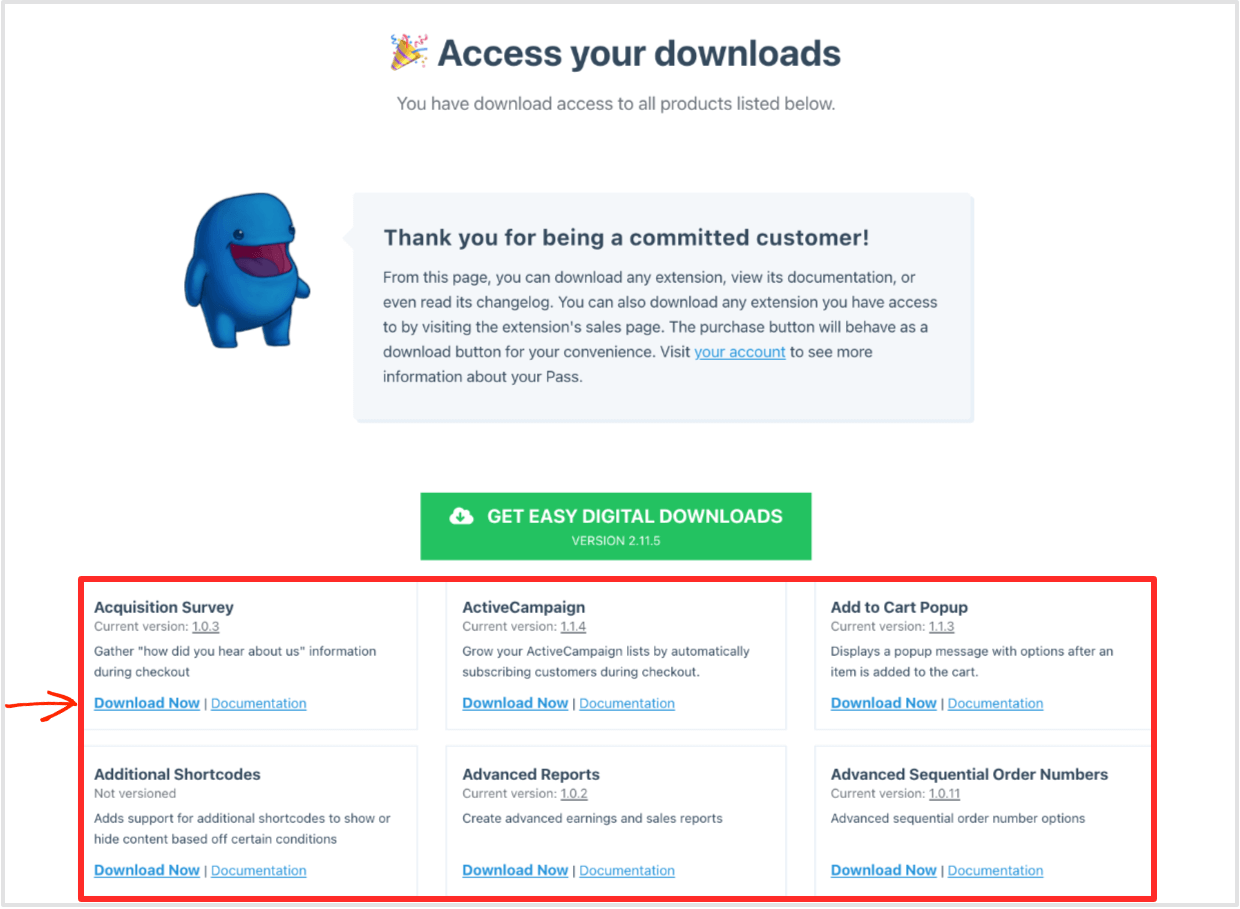 How to Install Your EDD Extensions
After you've downloaded your EDD Extension/s (described above) it's time to install them on your WordPress site.
First, locate the file you just downloaded. It will be a ZIP file. In this example we'll use our Acquisition Survey extension.

Note: Some web browsers will automatically un-zip any ZIP file you download. This is a challenge and annoyance when you are installing WordPress plugins. Click here for quick ways to work around this.
Next, on your WordPress admin go to Plugins > Add New. Click the Upload Plugin button on the top-right side, and the Browse/Upload button to select your ZIP file.
Click on the Install Now button.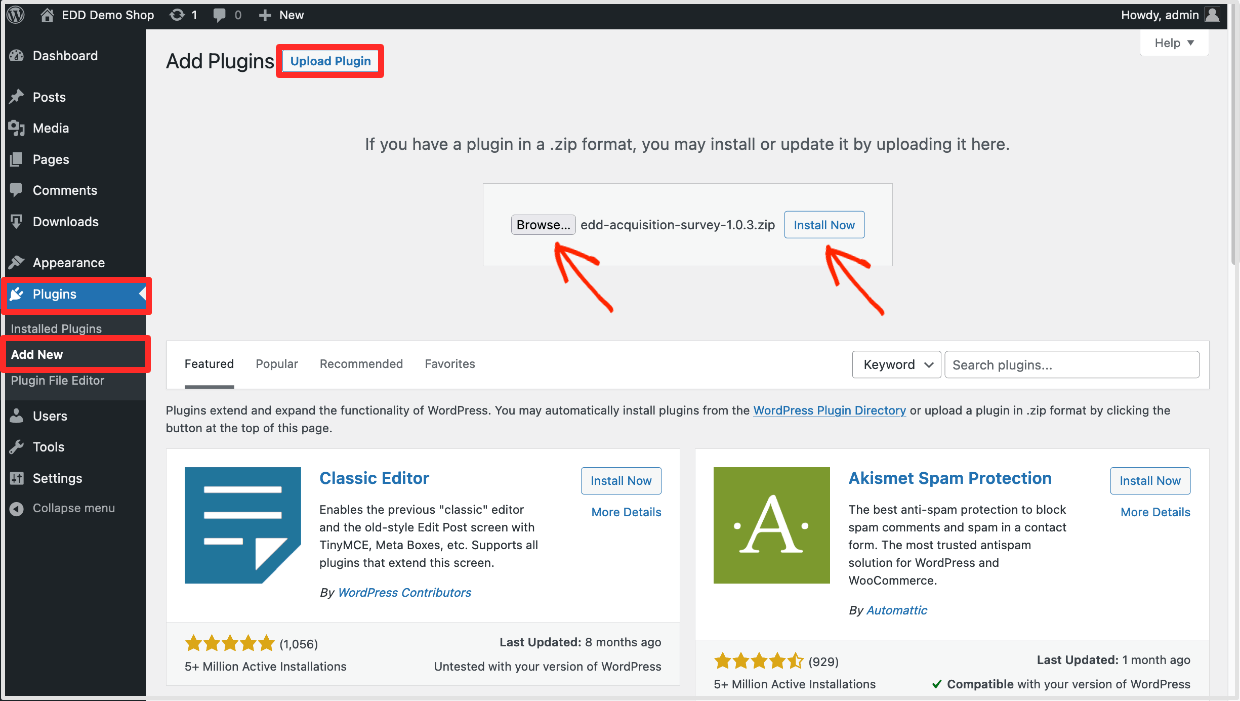 The plugin will install. Next hit the Activate Plugin button to finish the process.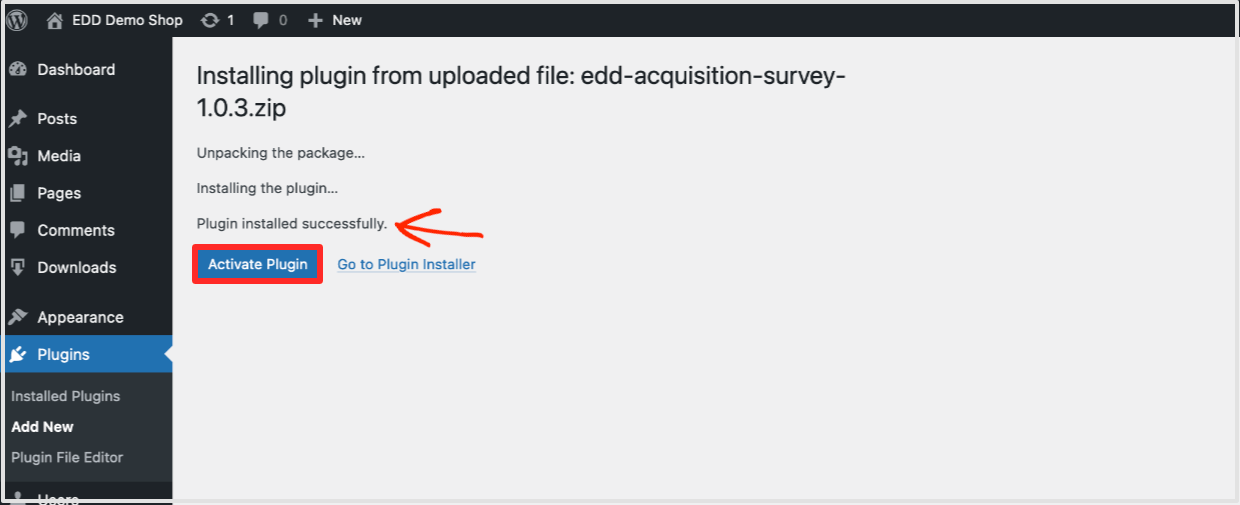 Once that is completed be taken to your Plugins page where you can see all your activated and deactivated plugins listed. You'll get a confirmation message that the plugin was activated successfully.

You're done! Your new Extension/s are installed. For more detailed information on installing plugins check out this article.
---
How to Activate Your EDD Licenses
To activate the license for your EDD Extension/s go to Downloads > Settings on your WordPress admin. Then click Licenses on your EDD admin menu.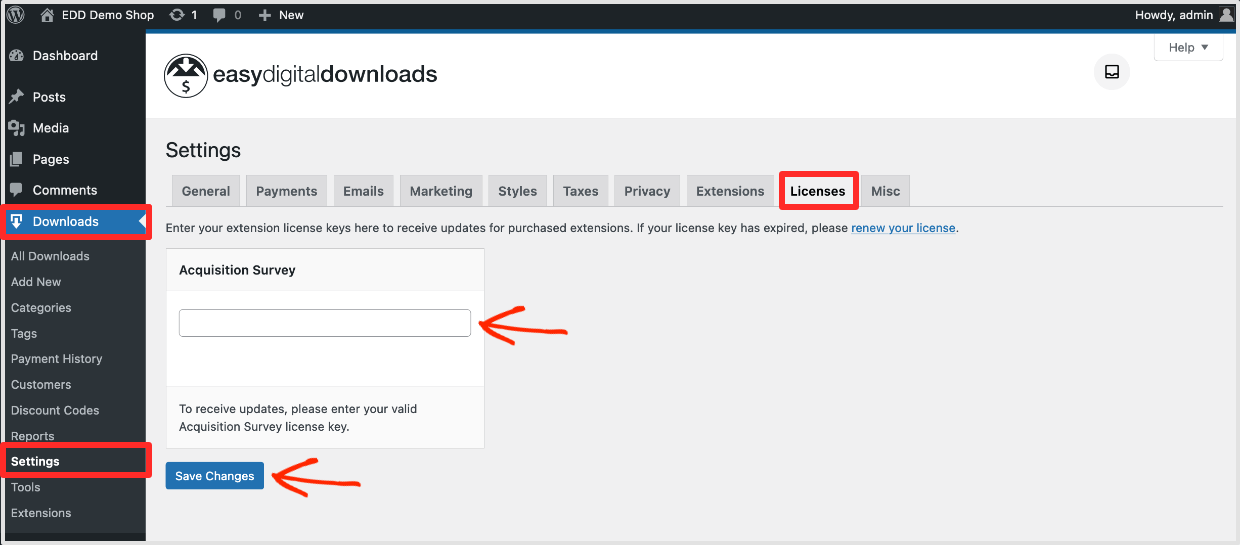 For each Extension you paste in your license code. If you have an EDD Pass, you will use the same code for each Extension.
You can find your license code on our Account Dashboard or Purchase Confirmation email. Past it into the field like this: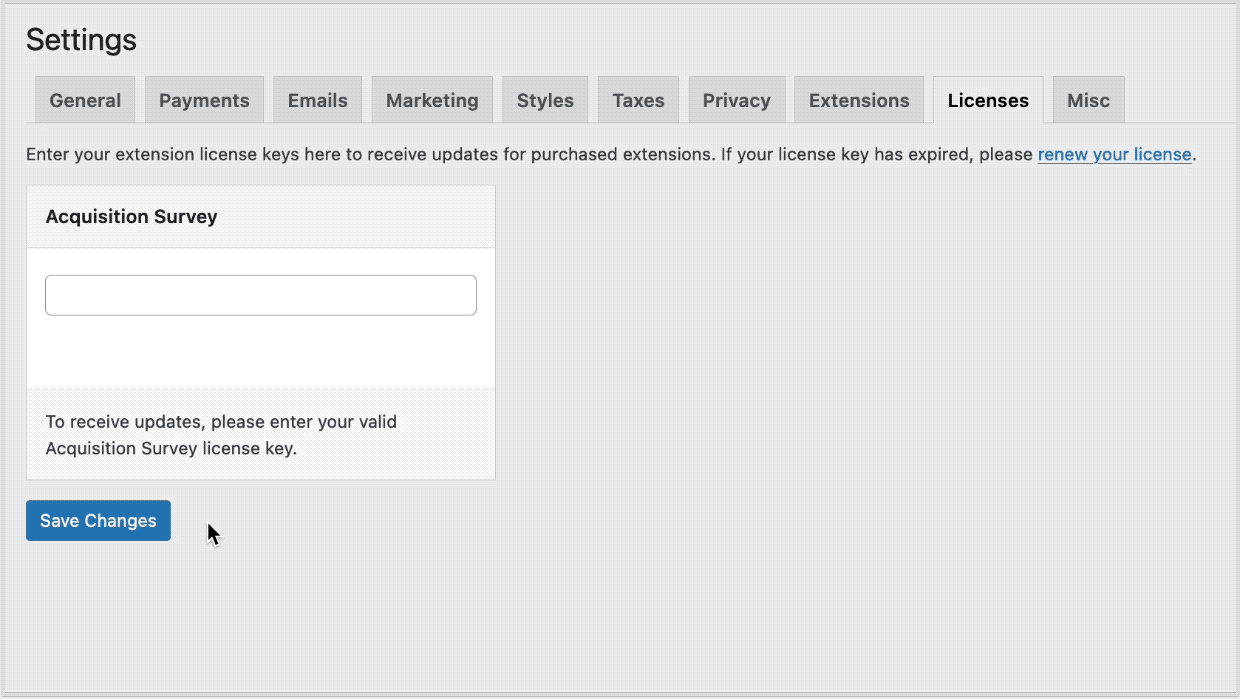 Be sure to hit Save Changes when you're done.
---
How to Set Up Your Extensions
Once you have installed and activated an Extension there are two places where you configure its settings.
Look under Downloads > Settings on your WordPress admin. Then click Extensions on your EDD admin menu.
Or the settings controls will be added under existing tabs in appropriate places. For example if you install the Mailchimp email marketing Extension the settings will be under the Marketing tab.
Here are two examples: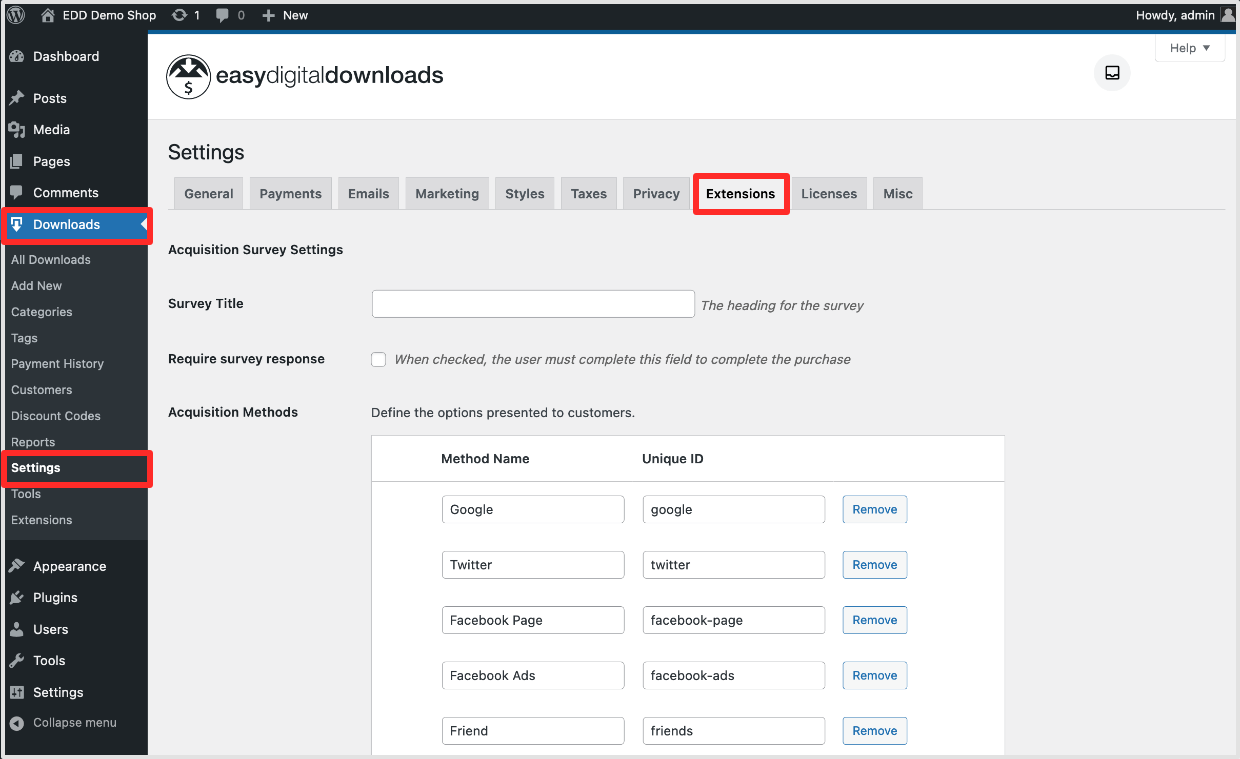 ⬆️ Extension settings for Acquisition Survey under 'Extensions'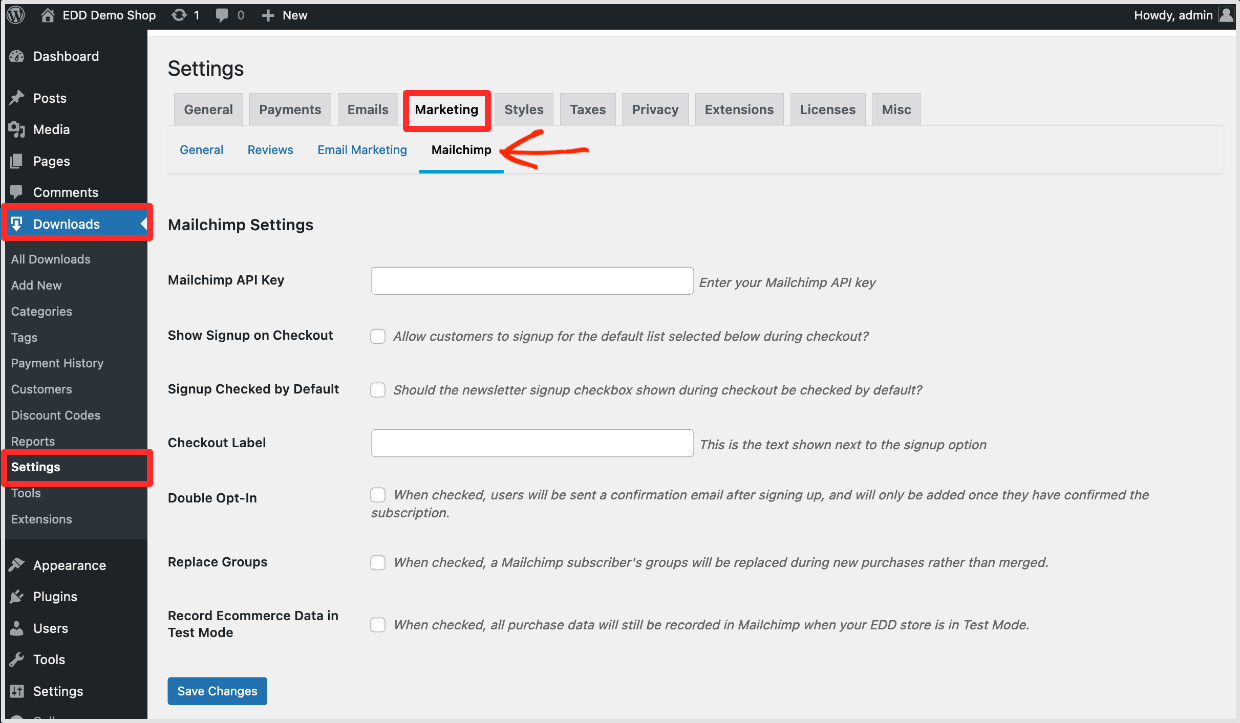 ⬆️ Extension settings for Mailchimp under 'Marketing'
---
You are ready to go. We're excited to see how our EDD Extensions help you grow your business.