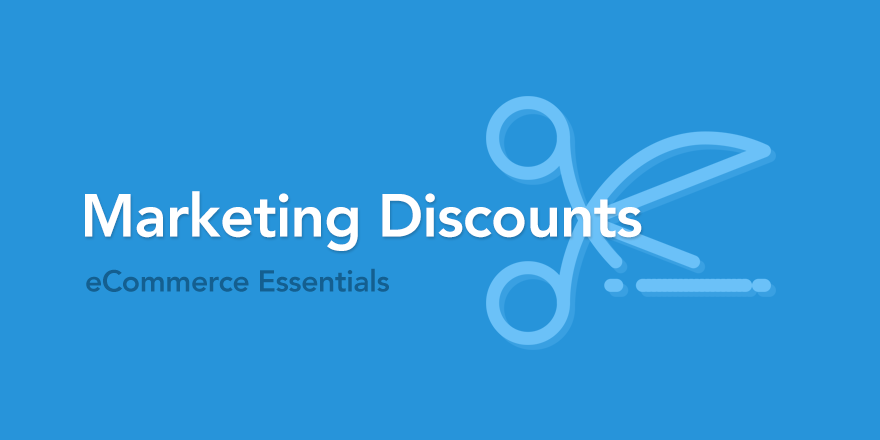 It's no secret that marketing plays a major role in just about every type of business there is. Some industries depend on aggressive marketing just to stay afloat while others can be selective in their marketing efforts. Regardless of strategy, most businesses will suffer without some type of marketing effort.
Contrary to popular belief, building an eCommerce business is no different. When your entire business is based on a publicly accessible website and you've created a company page on every social network in existence, it almost feels like the marketing job is complete. Set up a few auto-share tools and you're good to go, right?
Not even close.
While there's no way we can cover all marketing techniques in one article, we can discuss one that should be part of every eCommerce business at one point or another: discounts.
Whether your business model depends on them or you've tried using them once and were unhappy with the results, discounts can be an effective way to nail down eCommerce marketing and increase revenue. Let's get started.
Do I even need to use discounts?
Before diving into the fine details, we need to address the elephant in the room.
If you were to conduct a survey asking all eCommerce business owners how they feel about discounts, my experience tells me that a significant percentage of them would say that discounts hurt their business and are not worth the entitlement mentality they may foster.
In short, this can be true. Like with any conclusion, though, evidence is key.
While customers are obviously willing to pay something for a product, 20% off of something is easier to justify. So it would make sense that if you have a habit of offering discounts on the weekends and everyone knows this, sales will suffer during the week.
For many of the naysayers taking the survey, their experience with discounts is pretty similar to the example above. Unfortunately, that experience is insufficient and inconclusive.
To understand whether or not discounts are a lucrative tool for your eCommerce marketing efforts, you must first understand the different types of discounts, the effects they have on your customers, and when you should use them.
Different types of discounts
First, let's establish the fact that not all types of discounts are created equal. Some discounts require effort from the customers in order to use them while others are automatic. Some discounts have to be earned while others are given away freely.
While it's easy to say that discounts either work or do not work for your business, it is only an accurate statement if you've considered (and tested) all types.
Let's go over a few discount types.
Discount Codes
A discount code is a series of numbers, letters, or special characters that a customer must provide in order to receive a discount on a purchase. These are very common, especially in eCommerce marketing.
Discount codes are popular for a number of reasons. For one, they are easy to distribute. You can share them on social networks, via email blasts, or even in a temporary notice on your website.
Another benefit to using discount codes is that they do not have to be used. If for whatever reason one of your potential customers does not have the discount code, perhaps because he or she is not part of an email list, no discount has to be applied to the shopping cart.
Because this type of discount requires the customer to possess the code itself, discount codes are a great way to make trade-offs with customers for access to the codes. For example, you can provide exclusive discounts to users that sign up to an email list. For those who do not wish to sign up, they will not receive the discount codes.
Conditional Discounts
Conditional discounts require that certain conditions are met before a discount is applied. For example, you may want to offer customers a discount for purchasing a specific combination of products in one transaction. If any of the required products is not present, no discount is applied.
These types of discounts are usually automatic, meaning the shopping cart will detect whether or not the conditions are met and apply the discount if they are, rather than the customer having to take action to apply the discount.
While applying them automatically is not always necessary, it's a far more streamlined process than requiring the customer to understand and meet the conditions while also applying a discount code.
Conditional discounts can be based on things like product combinations, number of products, or even previous purchases.
Incentive Discounts
Incentive discounts have already been mentioned, in a way. However, they deserve their own category as they come in many different forms. An incentive discount is a discount given for actions taken. They can be in the form of discount codes, conditional discounts, or any other method you can think of.
Incentive discounts typically demand a specific action [or specific actions] from a customer before they are accessible. For example, you may automatically apply a 10% discount to a customer's purchase if he or she first shares your product on Twitter.
This type of discount is designed to reward favorable behavior, usually something that benefits the company in other ways.
The great thing about incentive discounts is if you use them right strategically, you can get much more in return than the discount's monetary value would suggest.
Using discounts for eCommerce marketing
When it comes to eCommerce marketing, most discount methods fall under one of the aforementioned types. Let's take a look at some examples of how you can use discounts for your business.
Providing discount codes to customers
If you are an Easy Digital Downloads user, this method is probably the most obvious to you. Easy Digital Downloads comes with built-in discount code functionality.
The easiest way to get started with eCommerce marketing by way of discounts is to create a discount code and give it to potential customers directly. This may be as simple as offering a temporary discount on all purchases made by a certain calendar date.
If this discount is open to everyone, you can share it on social networks, send it to your email subscribers, or even display the code on your website. The more people who see your code, the more people will have to decide if it is worth using or not.
Sometimes, how lucrative a simple discount can be comes down to probability.
Here are a few ideas for sharing discount codes:
offer a temporary discount code when launching a new product
send a discount code to new email subscribers in your "welcome email"
provide a discount code to honor a specific event, like a holiday or company anniversary
after a purchase, encourage up-sells to different products at a discounted rate
give an unhappy customer a discount code as a form of apology (don't forget to apologize)
The list goes on. Discount codes are a versatile tool with endless possibilities.
Discounts as rewards
Discounts have the power to create customers, and therefore create revenue. There are some people who simply will not bring themselves to purchase your product until they realize it can be purchased at a discounted rate.
That's powerful, but if you stop there, so does your power to create revenue.
Offering discounts as rewards is not only a method that can be used on brand new customers, but also existing customers. Chances are, you've seen one of the following examples:
"Share with your Twitter friends for a 10% discount on your next purchase!"
"Join our email list for exclusive member discounts and promotions."
"Renew your license key and receive a 30% discount."
"Refer 3 friends for 50% off your next purchase!"
"Buy one, get one free!"
All of the above methods and many, many more strategically offer a discount once an action is taken. Though it may not always seem obvious to the customer, the action is usually more valuable than the discount.
For example, it is well understood that onboarding a new customer is usually more expensive than keeping a customer. Likewise, return customers tend to develop trust and brand loyalty once they're onboard. That said, offering a 30% discount on a customer's first purchase may open the door to a customer lifetime value far greater than the initial discount.
Offering discounts as rewards is a game of strategy. Your eCommerce marketing efforts are nowhere near complete until you have experimented in this area of providing discounts.
Easy Digital Downloads discount tools
Here at Easy Digital Downloads, not only do we use several different methods for offering discounts, we also ensure that our users have options.
Below, you will find a number of different tools and extensions available to Easy Digital Downloads users.
Core Discount Code Functionality
As mentioned previously, Easy Digital Downloads comes with built-in, extremely flexible discount code functionality. When creating a discount, you can set:
discount type (percentage or flat rate)
discount amount
which products must be included for the discount to apply
which products the discount cannot apply to
discount availability start and end dates
minimum shopping cart amount before the discount can apply
maximum number of times the discount can be used
whether or not a single customer can use the discount multiple times
Discounts Pro Extension
The Discounts Pro extension is best defined as automatic discounts at checkout based on pre-defined conditions.
These discounts do not require the user to input a discount code. Instead, Discounts Pro will detect whether or not a discount should be applied based on conditions set when the discount was created.
Discounts Pro allows you to create the following discount types:
Fixed Price – give a flat discount (such as $5) to any customer that meets the defined conditions
Percentage Price – give a percentage discount (such as 5%) to any customer that meets the defined conditions
Product Quantity – give a flat or percentage discount to any purchase that has a specific quantity of items in the cart
Each X product – give a flat or percentage discount for every X number of products in the cart
From X products – give a flat or percentage discount on every product after a specific number
Products in cart – give a flat or percentage discount for all purchases that contain X number of products in the cart
Furthermore, Discounts Pro lets you narrow the above conditions down to:
specific products
product categories
product tags
specific users
user roles
start and end dates
whether or not the customer has already used this discount
Volume Discounts Extension
Volume Discounts allows you to automatically apply discounts based on the number of items in the cart. For example, you can easily apply a discount for any customer that purchases more than five of your products at once.
Social Discounts Extension
Social Discounts offers customers a discount for sharing your product on the following social networks: Twitter, Facebook, Google+ and LinkedIn.
Also, Social Discounts allows you to display the share buttons on the product pages as well as regular WordPress pages and posts. You can even place the share buttons anywhere you'd like using the included shortcode.
All output is fully customizable.
Restrict Content Pro Member Discounts
Restrict Content Pro Member Discounts is a "bridge" extension between Easy Digital Downloads and our sister membership plugin, Restrict Content Pro.
Using Restrict Content Pro Member Discounts allows you to provide a discount on Easy Digital Downloads products based on a user's membership subscription level in Restrict Content Pro.
Not only does this provide an incentive for subscribing to your membership site, but it also encourages product sales.
Endless discount tools
Easy Digital Downloads has several extensions that focus on discount functionality. You can see many of them highlighted in our extensions catalogue.
Also note that discount functionality is built into many extensions whose primary focus is unrelated to discounts. Here are a few examples:
Things to think about
When it comes to eCommerce marketing, discounts are undoubtedly an important factor. How you use them determines their value, not just the discount amount.
Offering discounts should be strategic and the performance of your discounts should be analyzed over time. Don't make the mistake of reducing discounts down to an all-or-nothing tool.
If you have questions about the possibilities of discounts in the Easy Digital Downloads ecosystem, please feel free to ask in the comments below.