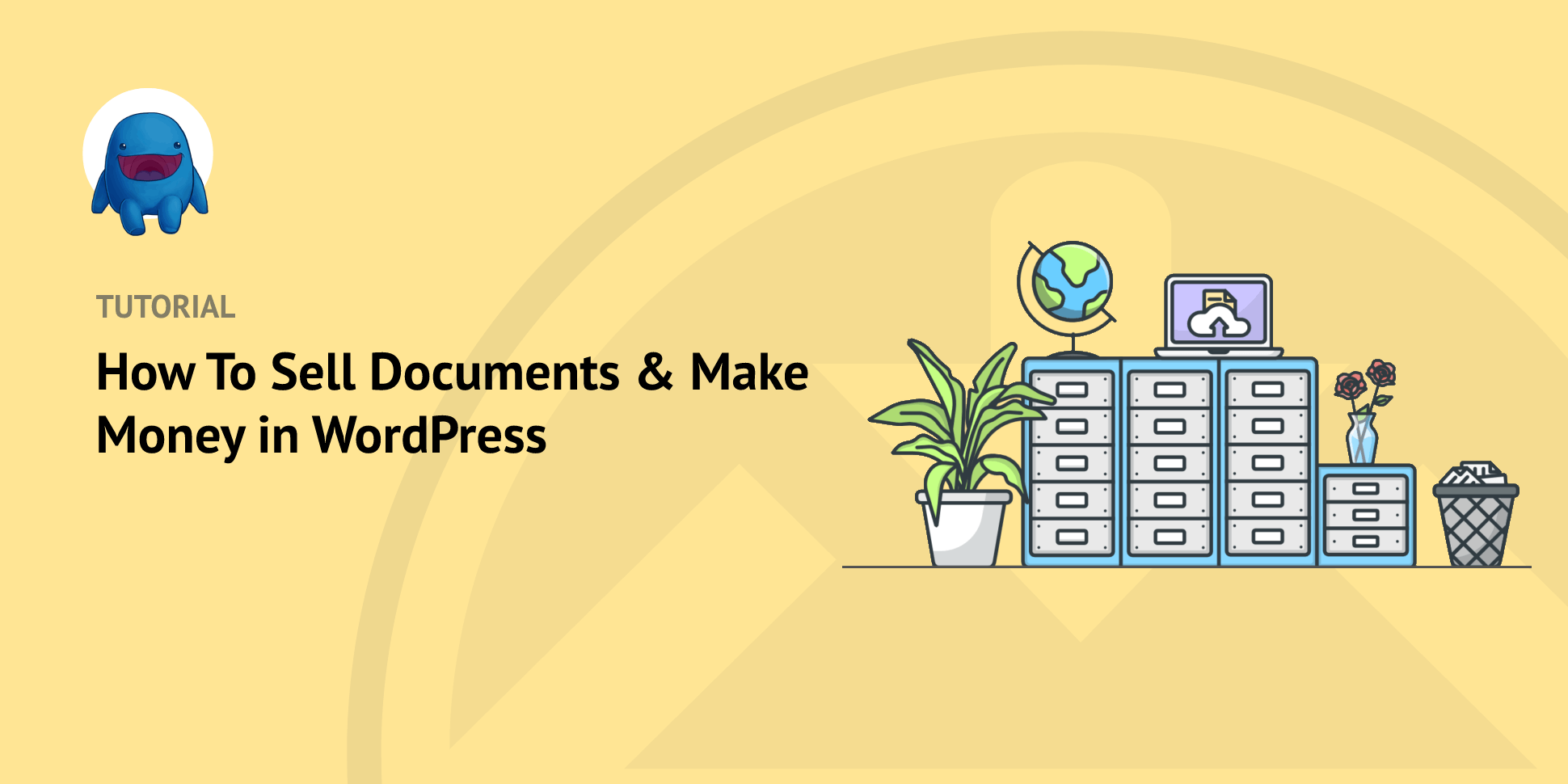 Do you want to sell documents and make money online? There are smart, simple ways you can go about doing so.
If you're good at, experienced in, or passionate about a certain topic, chances are that you can turn that knowledge into a side hustle to sell digital documents and earn some extra cash. You just need to decide the type of document and choose the right eCommerce tool(s).
At Easy Digital Downloads (EDD), our eCommerce solution helps customers sell digital products, including shareable and downloadable documents. So we'll walk you through the process and get you started in no time.
🔎 In this article, we'll cover:
Why Sell Documents Online?
Whether you make it your primary focus or a part-time hustle, selling documents online is a great way to monetize your content. Whether you're an independent author or publisher, blogger, entrepreneur, or even a business offering resources and guides, selling digital documents can be a fantastic way to make money.
You don't typically need extra equipment to get started—just an internet connection. You can reach a global market of potential customers and generate revenue from online document sales while avoiding the extra costs associated with printing physical copies. Plus, you can update or modify digital documents as needed without having to reprint the materials each time.
There are many different document types and file formats. Some popular examples of digital document products you can sell online include:
Supplemental worksheets (budget, formula, self-help, etc.)
Templates (resume/CVs, planners, presentations, legal contracts, etc.)
Spreadsheets
Reports, case studies & white papers
Sheet music, manuscripts
Guides & how-to manuals
PDFs/eBooks
Stationary
Contact lists & other types of 'live documents'
Content/web copy packs
Study materials (summaries, course notes, study guides, etc.)
There are a handful of common document file formats.
FILE
FORMAT INFO
USES
.DOCX/.DOC .GDOC
Microsoft Word Documents
Google Docs
Resumés, reports, & legal/professional templates
.PDF
Adobe Acrobat Reader (stands for portable document format)
Guides, white papers, reports, manuals, printables
.EPUB
eBook file format
Guides, case studies, & informational content for eBook devices & reading apps
.XLSX/.XLS .GSHEET
Microsoft Excel Spreadsheet
Google Sheets
Reports, data, charts
.PPT
.GLSLIDES
.KEY
Microsoft PowerPoint
Google Slides
Apple Keynote Presentation
Slide decks and presentations
If you're wondering which format you should use to sell documents online, consider your audience. How will they use the digital document? For instance, if it's something they'll need to edit or complete, it's smart to start with a .docx. For a read-only guide, you could use PDFs.
If you have multiple documents or formats, you can also group them and sell them as a ZIP file.
Choosing the Right Platform to Sell Documents
You'll need to decide which platform to use for selling documents online. One option is to sell on a large marketplace platform. These can be helpful for beginners and may seem inexpensive upfront, but there are considerable downsides.
In addition to being highly crowded and competitive, there's limited control over the customization and design and typically have associated fees. Essentially, they let you "rent" digital real estate on their popular platform in exchange for a percentage of your sales.
Another option is to build a store using WordPress. This is easier than you may think, even if you're not technically savvy. WordPress walks you through the process and gives you simple, easy-to-follow instructions.
You don't need to be experienced with HTML or the coding-side of things. You only need to worry about the "front end", meaning what your customers will see. It uses a "blocks" system and drag-and-drop functionality to easily create and design pages and fill them with your content.
🛍 Learn More About Marketplaces vs. Your Own Website
Some of the benefits of selling documents with WordPress are:
Full control over the design & functionality of your store
Ability to set your own prices with no middleman fees or hidden costs
Plugins to add more features that aren't included by default
Simple setup and usability
Plenty of online store themes
Integration with other tools, including social media & affiliate marketing
The only thing a WordPress store needs (other than the content you decide to fill it with) is a domain name and hosting. Your domain is the URL web address customers use to find your website. Hosting is where your website's files are stored.
You can use a web host like SiteGround's EDD Managed Hosting that makes the entire experience effortless. After you purchase a hosting plan, you'll be onboarded to everything you need to start your store. Plus, it only costs a few dollars a month altogether! I'll cover this more in the next section.
If you plan to use WordPress to sell documents online, I recommend Easy Digital Downloads (EDD):

Unlike other plugins, EDD is built specifically for selling digital and downloadable products. You can get WordPress + EDD (plus domain/hosting) in one package with SiteGround Managed EDD Hosting. They'll handle installation, security, and automatic updates. It doesn't get any easier.
eCommerce without limits!
That is our promise. Most eCommerce solutions limit your creativity
…not Easy Digital Downloads!
How to Sell Documents Online (Step By Step)
In this step-by-step tutorial, I'll show you how to sell documents online using WordPress + Easy Digital Downloads as this is the best approach. If you use a different plugin or platform, the general idea is the same, though the specific steps and available features may vary.
Step 1: Set Up Your Store
The first step is to set up your online store using WordPress and Easy Digital Downloads. The steps for doing this will depend on whether or not you already have a WordPress website.
If You Don't Have a WordPress Website
If you don't have a WordPress website, you'll first need to get your domain, hosting, and a new WordPress installation. As I mentioned, the SiteGround package handles all of this for you.
Your Managed EDD Hosting plan will include a few SiteGround-specific features.
Managed WordPress: Each plan comes pre-installed with WordPress and includes a WP Starter site-building wizard. It also offers managed auto-updates for core WordPress software and plugins.
eCommerce solution: The Easy Digital Downloads plugin comes pre-installed. This includes a full shopping cart system so you can start selling digital downloads right away.
Free SSL: SSL (required for selling goods online with the Stripe payment gateway) also comes pre-installed on your WordPress website at no extra cost.
WordPress theme: The Vendd theme, is a full-featured marketplace theme for EDD. It's the best choice for running a digital store.
Every EDD Hosting plan also comes ready with a ton of essential tools for growing your eCommerce website: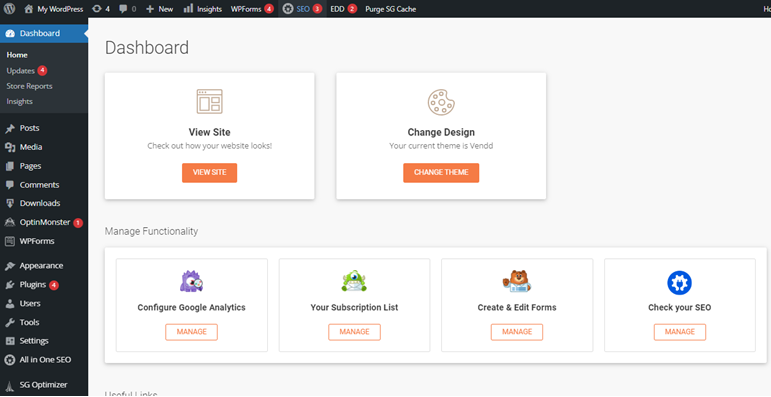 This includes a handful of plugins for the following.
To get started, visit the SiteGround Managed EDD Hosting website and select Get Started. Choose your plan, then follow the prompts to get your WordPress website set up. Then you can follow the steps below to complete your online store setup.
If You Already Have a WordPress Site
If you already have a WordPress website, the next step is to visit our site to grab an EDD pro license. Both free and paid versions of Easy Digital Downloads let you sell documents. However, more extensions, features, and tools are included with the latter.
After you choose a pass, visit your account area to download the Easy Digital Downloads plugin. Upload it to your WordPress dashboard (Plugins » Add New » Upload Plugin » Choose File):

If you have never installed a plugin on your WordPress site, here is a great tutorial.
After you install and activate the plugin, a new Downloads menu item appears on your WordPress admin: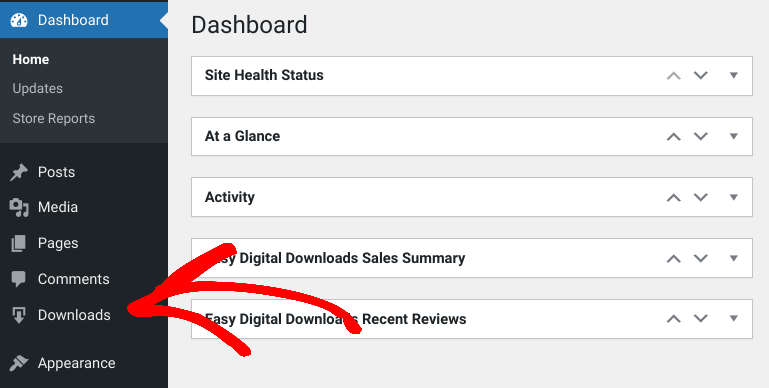 You can configure your store and EDD settings under Downloads » Settings. Use the General tab to enter your business details, choose a currency, and more: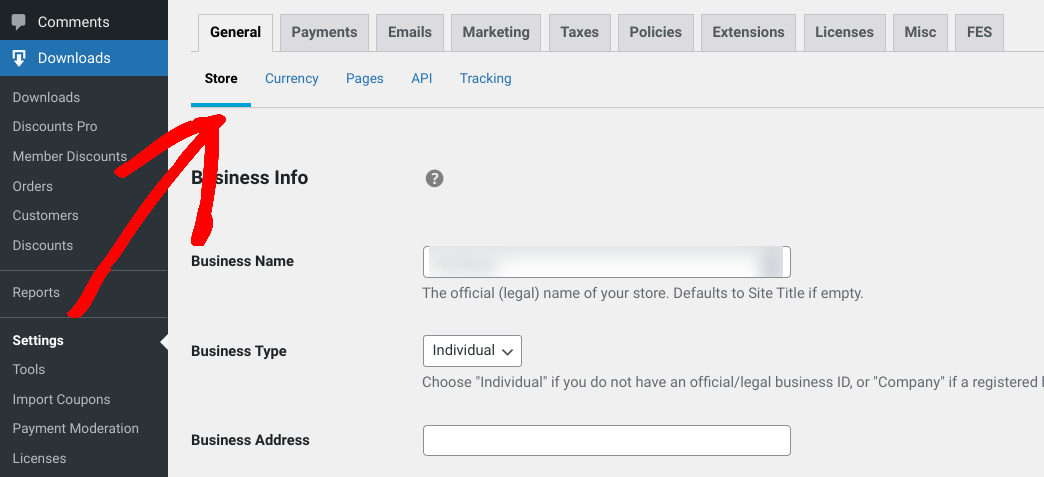 Next, you must select a way for customers to pay you. Under Payments, you can choose your default payment gateway: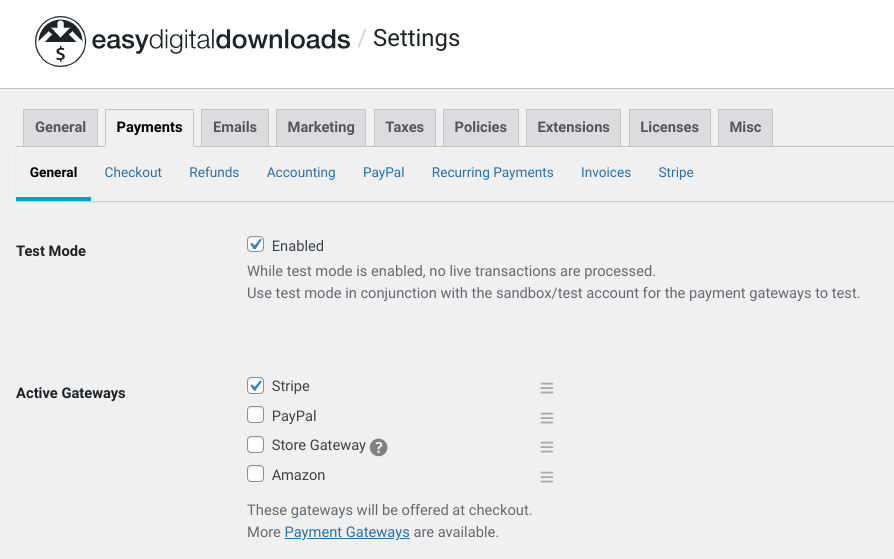 I recommend Stripe for its great features, ease of use, and ability to set up Apple or Google Pay. If Stripe is unavailable in your country, PayPal is a good option.
You can follow these links for more guidance:
Another important part of setting up your online store is choosing a high-quality WordPress theme (Appearance » Themes). Use these guides for help:
eCommerce without limits!
That is our promise. Most eCommerce solutions limit your creativity
…not Easy Digital Downloads!
Step 2: Add Your Spreadsheets + Digital Documents to Sell
Once your store is set up, the next step is to add the documents you want to sell. EDD calls the digital products for sale on your website 'downloads'.
First, go to Downloads and click Add New: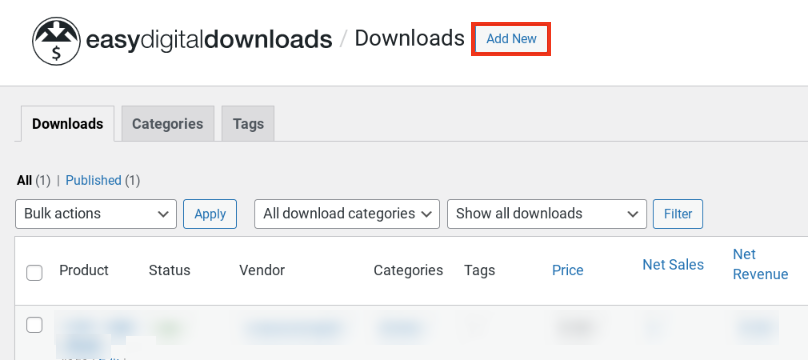 Give the digital document a name. Then add a description in the main text area: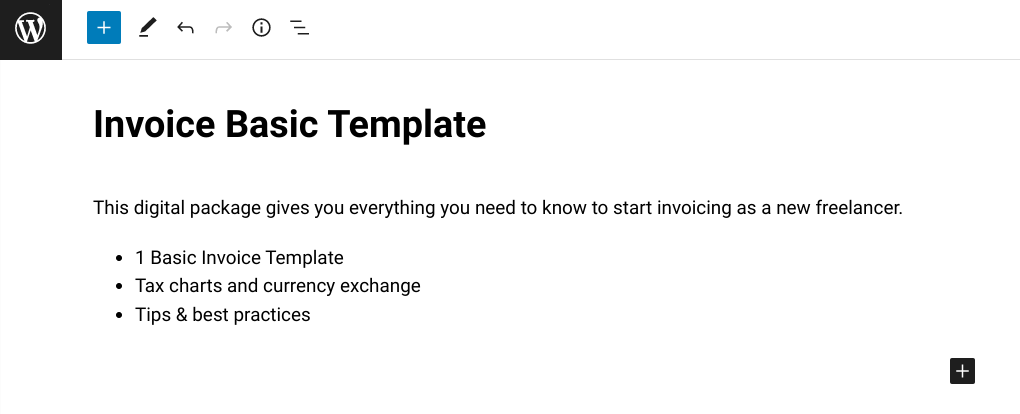 Explain how your digital document can solve the problems of your customer and include any technical details. Under Download Prices, you can enter the amount you want to sell the document for: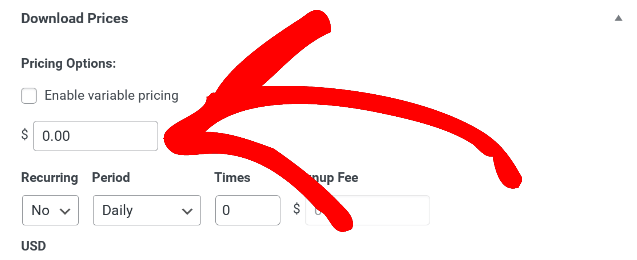 Next, we can configure the Download File settings. This is the document your customers are sent via an auto-expiring link once they complete their purchase.
Under File Name, enter a phrase that describes the document product, such as "My Document". This is the clickable link text used on the confirmation page and email. Under File URL, select Upload a File (the link icon) and upload your document file: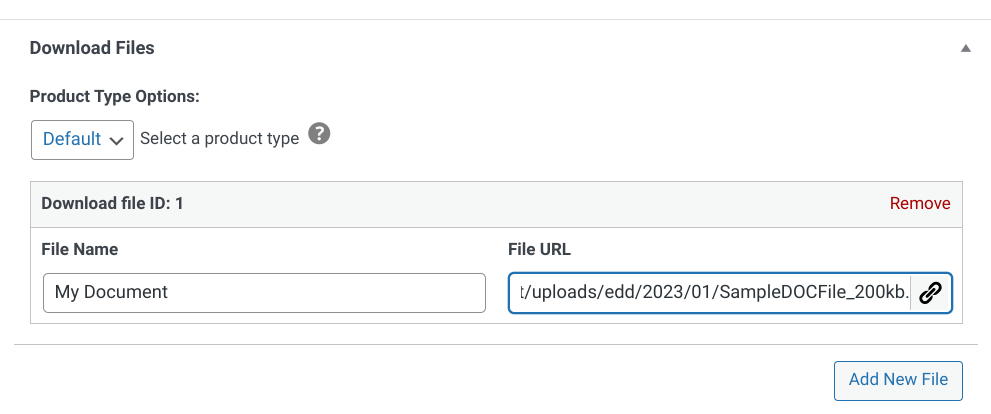 Finally, you can add an attractive Download Image. This is the product image that customers see when they're shopping: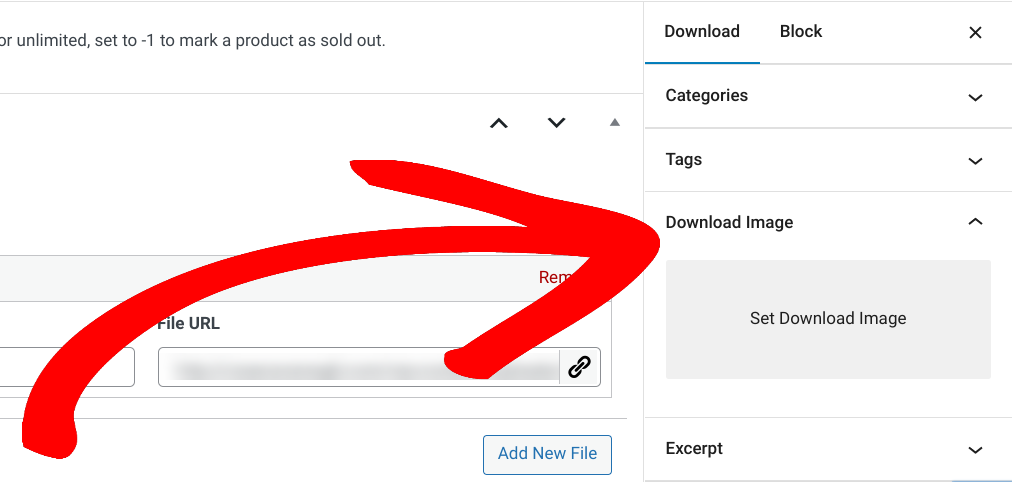 Not sure how to make a product image? Click here to download our free Canva document product image template!
When you're done, you can click Save draft/Preview to see how it looks on the front end of your website: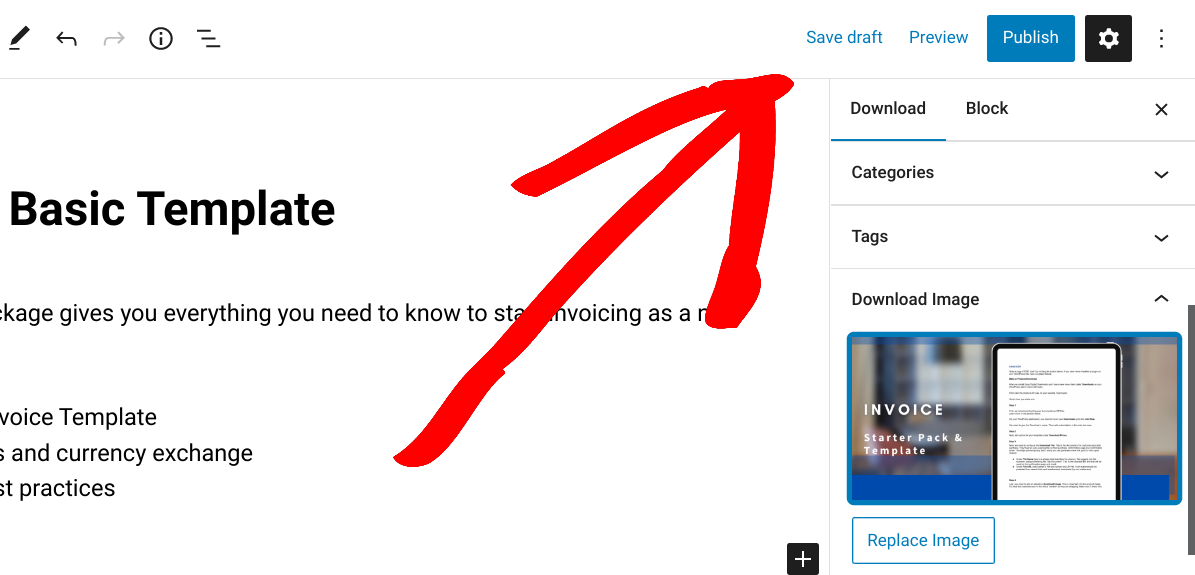 Your page's look and feel will vary depending on which WordPress theme you have. If you're happy with it, you can click on Publish to make it available for purchase.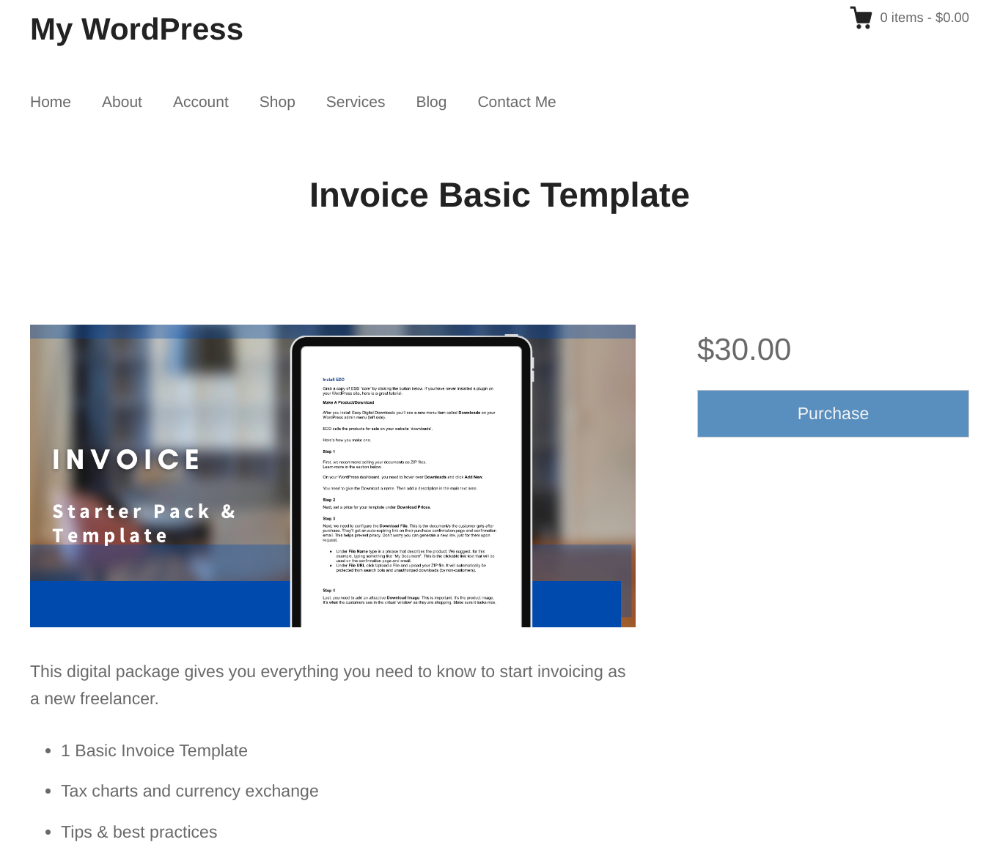 Step 3: Configure the Document Download & Delivery Settings
Once a customer makes a purchase they'll get a purchase confirmation email that looks like this: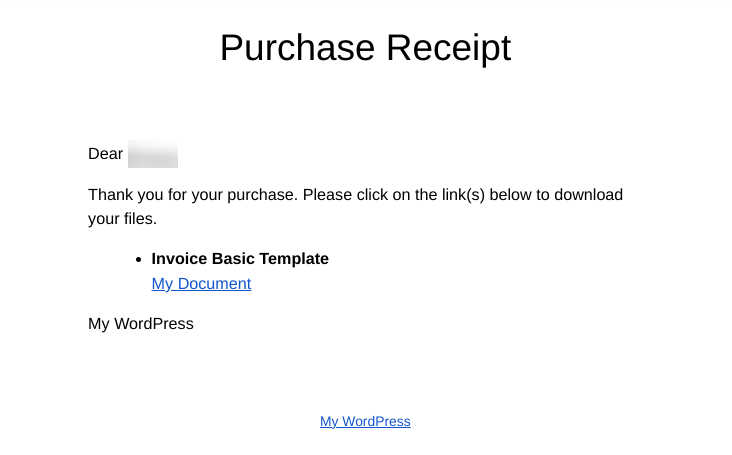 You can customize this email all you want under Downloads » Settings » Emails » Purchase Receipts: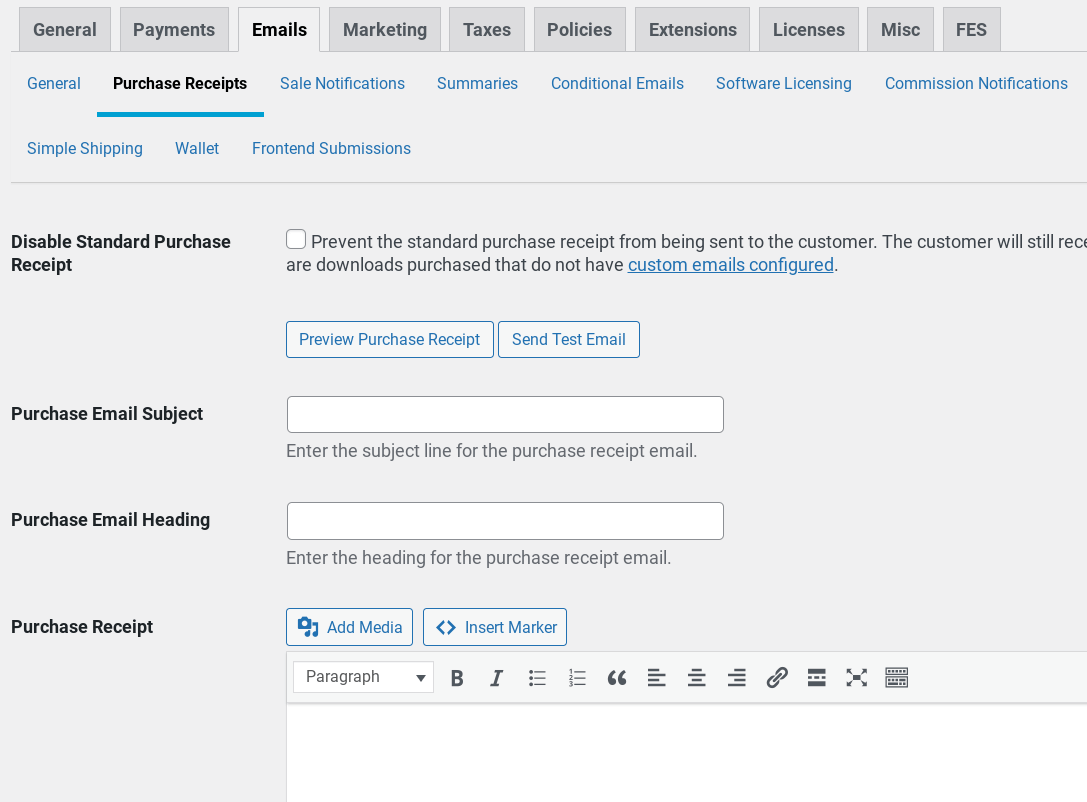 The 'My Document' link that you set up above is what the customer uses to grab their download. The link provided expires after 24 hours. You can:
You can also modify the download/purchase buttons and delivery method. Go to Downloads » Settings » Misc » Purchase Buttons if you want to change the button text or colors:

Under File Downloads, you can enable a variety of settings: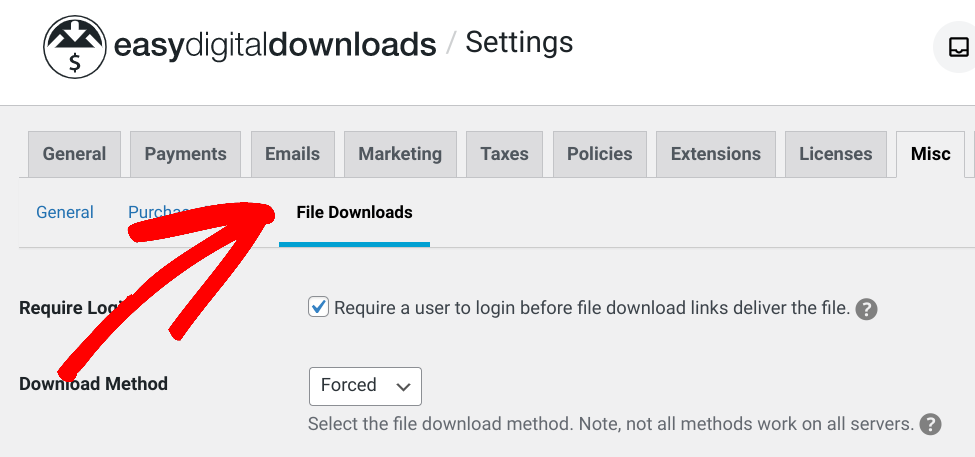 For instance, you can require users to log in before downloading your document. You can also change the default delivery method from Forced to Redirect.
Step 4: Promote & Grow Your Online Business
Ready to start selling documents in WordPress and growing your online business? There are a handful of strategies you can use.
One way to make more money is by selling document subscriptions, bundles, or all-access passes.
Easy Digital Downloads has 3 powerful extensions to help you grow revenue with your documents:
Recurring Payments allows you to sell subscriptions to customers. Set up a regular automatic payment that is monthly, quarterly, annually, or other less common intervals.
All Access lets you give customers self-serve access to all or a certain selection of your products. You can give customers a single purchase to download anything they want or limit by categories or product variations.
Multi Currency helps by growing a global audience. It gives you a currency switcher for easy multi-currency display and automatically keeps exchange rates up to date behind the scenes.
Another way to grow your business and increase sales is to offer a product demo. These can boost sales, minimize refunds, and increase customer confidence. Follow our guide to learn everything to know about creating a product demo.
Finally, you might consider increasing sales by making a lead magnet. In exchange for their email address, give potential customers a preview or sample of your document/s. This way they can be sure they like the content and make sure it's what they are looking for. They'll come back looking for more!
FAQs About Selling Documents in WordPress
Can I use WordPress to sell documents?
Yes, you can sell documents using WordPress to sell documents. However, self-hosted WordPress sites don't come with eCommerce functionality built in. To accept payments on your website, you'll need to install a plugin.
What's the best plugin for selling digital documents?
Easy Digital Downloads is the best plugin for selling digital documents in WordPress, including PDFs, spreadsheets, etc. It's free to use. Even if you expand functionality with one of the premium passes, it costs less per year than many solutions. You get to decide if, and how much, you want to spend.
Many other e-commerce solutions like WooCommerce are great if you sell physical products. But if you're not, you'll have to install and set up a bunch of shipping and inventory management tools you don't even need. In some cases, this can slow down your website.
If you are only selling digital products EDD is easier to use.
Can I sell physical documents online?
EDD is primarily designed for selling digital products. Perfect for downloadable products (files). However, if you want to sell some physical documents, you can do this with EDD. You don't need a completely separate eCommerce solution.
How can I protect the documents I sell online?
Easy Digital Downloads comes with a handful of tools and features that you can use to protect documents that you sell online. For example, you can password protect PDFs to prevent unauthorized access.
Easily Sell Documents in WordPress With EDD
Well done! You have learned how to sell documents online (and how to make money doing it). This is a great way to generate passive income and build a business.
Ready to get started? Download Easy Digital Downloads to sell documents in WordPress. Grab an EDD pro license to get advanced features for growing document stores like Free Downloads (for lead magnets), Recurring Payments (for subscriptions), or Amazon S3 / Dropbox integration.
eCommerce without limits!
That is our promise. Most eCommerce solutions limit your creativity
…not Easy Digital Downloads!
We have tons of articles for entrepreneurs and digital creators like you! What do you want to learn about next?
📣 P.S. Be sure to subscribe to our newsletter and follow us on Facebook and Twitter to learn more about WordPress and selling digital products online.