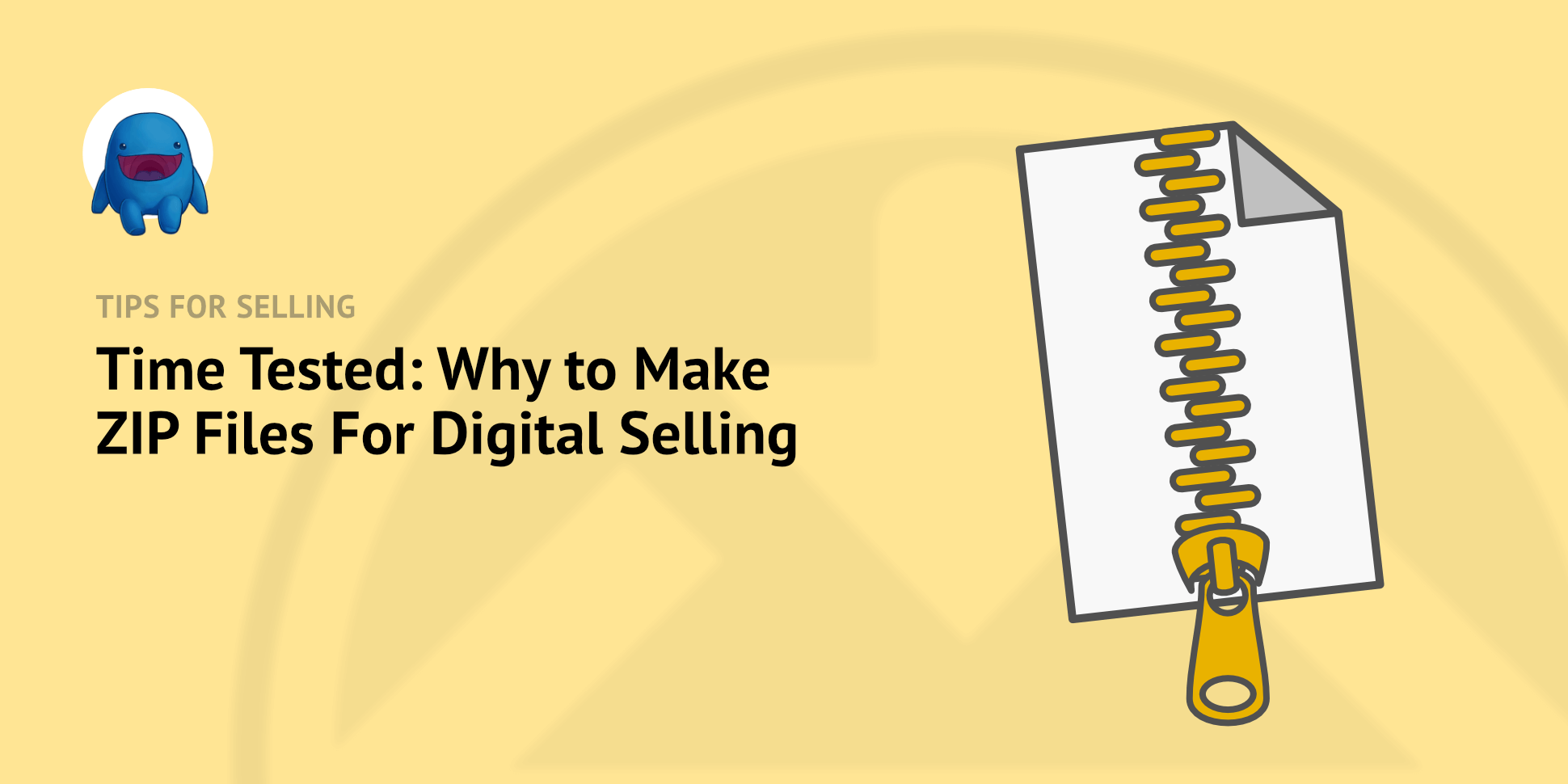 Are you selling digital products or downloads online? Or giving them away? Then we should talk about how and why to make ZIP files.
It may not sound exciting. But it's important. It could save you a lot of time with customer support. In this article we'll show you how and why to distribute your digital product files as ZIP files.
We'll zip right through this:
---
Why Use ZIP files?

The short answer is: they just work.
In almost every situation where you are distributing files (selling or giving away digital products) ZIP files work and work best.
Why? Two main reasons:
Compression – ZIP files make the download file size as small as possible for your customer. Faster downloads make for happier customers.

Less storage space being taken up on your website or the customer's computer is good too

Archiving – In many cases you may be giving the customer more than one file when they make a purchase. A ZIP file combines (archives) the multiple files into one. This makes it more simple for the customer. Convenience also makes for happier customers.
✅ Convinced? Skip ahead to learn how to make a ZIP file:
Or, read on to learn more about situations that ZIP files can save you from.
Did They Download the Download?
In some cases, depending on the file type, your customer may not actually be downloading your download. This can lead to confused and frustrated customers. This can hurt sales or needlessly increase support requests.
For example, if you are selling PDFs or JPEGs, these are files that can easily be opened in a web browser. Your customer may click the download link you provide them, but the browser might just open the file, without downloading it. This depends on settings on the customer's computer that you cannot control.
In these cases, if the customer closes the web browser, or that tab in their web browser they may no longer be able to access the file. 
Providing a ZIP file will avoid this.
Is Your File Type Allowed?
You can sell any type of file with Easy Digital Downloads. However, there are two reasons you may not be able to.
WordPress may not allow the file type/format
Your web host (server) may not allow the file type/format
Click here to see the list of file formats/types that WordPress allows by default. It covers most common files. However, if you sell an unusual file format, say a 3D printer file or rarely used embroidery format, you may have trouble.
You can install a plugin that makes WordPress accept other file formats.
Or you can simply create a ZIP file. We suggest ZIP files.
ZIP files are very commonly used in web development and server operations. Every web host's server in the world (and outer space) will allow ZIP files. It might be possible that some server somewhere won't let you upload ZIP files, but we'd be totally shocked. We've worked with customers on thousands of web hosts/servers and never encountered this.
🔎 Read our Doc about supported file types for more options and information
Is Your File Too Big?
If you are selling large files to your customers you might run into challenges.
Your WordPress site may be configured to limit upload sizes, or
Your web host likely has a maximum file upload size
🔎 Check out this article on how increase the upload size on your WordPress site
If that 👆looks like too much work, just ZIP your download files. This is what we suggest. In most cases you can zip it and forget it. The resulting file will be small enough and just work.
✅ Ready skip and ZIP? (skip ahead, that is, 🥁🙄):
---
What is a ZIP file?

ZIP is a file format for archiving and compressing data. ZIP supports lossless compression, which means your extracted data is reconstructed to its original form, nothing is changed. If you compress a folder, after it's extracted you'll have a perfect copy of the original folder or original file.
Compression = making the data smaller so the resulting file is smaller. This allows it to be downloaded quicker or fit on a small storage device.
Archiving = taking multiple documents and creating one easy-to-move, easy-to-copy, easy-to-download file.
The process is:
You select one or more files to compress, this creates…
An archive file, which is smaller and combines all the individual files, which you can easily move around, then…
Extract the files after storing or sharing (or selling) to someone else
The ZIP file format was created in 1989 by a company called PKWARE. The letters Z-I-P don't stand for anything, unlike many file formats. Instead they chose ZIP to emphasize that it's fast. The resulting smaller combined single file is faster to copy and download.
ZIP files have become a standard. 10 or 15 years ago, you needed a separate app to create or open ZIP files. But now all commonly used operating systems have ZIP built right into them.
You can easily create or open a ZIP file on your Windows PC, unless you are running a pre-1998 version. The same goes for Mac running macOS, assuming you are not on a pre-2003 version of macOS/OSX. Are you? 😜 Almost impossible, right?
---
Make a Zip File on Your PC

You can view or create a ZIP file right in File Explorer (aka Windows Explorer). That's the file browsing window that you open up on your desktop.
Here are the steps:
Select the file or folder or multiple files that are your digital product to be downloaded
Right-click (or press and hold) the file or group of files and choose Compress to ZIP file
On older versions of Windows you may have to select Send to and then Compressed zipped folder
Windows will compress the file or files and you'll have a new .zip archive file
This is the download/product file you should sell or share with your customers

Password Protected ZIP Files On a PC
Want to password protect your ZIP file? On a PC you'll need to use a third-party app. The most popular one is WinRAR. Here is a tutorial that explains how to do it.
---
Making a Zip File on Your Mac

Similarly to the PC, you can view or create ZIP files on a macOS computer right from a Finder window. Open a new Finder window from your desktop by clicking Command-F.
Click the folder or group of files or file that makes up your digital product to be downloaded by the customer
Right-click the file, or group of files, and click Compress
macOS will compress the file or files and you'll have a new .zip archive file
Use this as download/product file to sell or share with your customers
Password Protected ZIP Files On a Mac
It is possible to make a password protected ZIP file on a Mac. It takes a little bit of work and bravery because you have to open the Terminal app and write command-line codes. You use terminal to select the compressed zipped folder, then apply a password to it. Here is a good article that explains how.
---
How to Easily Set Up A Digital Store

Don't have a digital store for your digital downloads yet? Just add easy.
Easy Digital Downloads (EDD) is a powerful ecommerce plugin for WordPress. 

The best way to sell your digital products or downloads is on your own website. This allows you more control and the ability to keep more of your revenue. When selling n other people's sites, marketplaces, or platforms you'll have little/no control and will likely end up paying middle-man fees. The more you make the more they'll take.
We made EDD for digital creators. Like us! We use EDD every day to sell our digital products and run this website! It powers more than 50,000 websites and helps entrepreneurs make tens of millions of dollars every year.
EDD is free to use! It has a free version, NOT a temporary free trial.
Here's what you get:
White label (full control over branding)
Full control over pricing
Protected product files, only paying customers will have access to your digital downloads
Shopping cart
Flexible checkout options (including Apple Pay and Google Pay)
Discount codes
Customer management (basic CRM)
eCommerce reports
Stripe and/or PayPal integration
Using WordPress and want to get Easy Digital Downloads for free?
Enter the URL to your WordPress website to install.
Don't have a WordPress site?
All you need to get started with WordPress is a reliable web host. The good ones will set up WordPress for you or make it as easy as clicking one or two buttons.
💻 Click here for a guide on choosing a WordPress host. That link also has discount codes!
Customize Your Store
EDD is free forever to use for running a digital product store. As you grow, you might find you want to add functionality like subscriptions (recurring payments) or email integration.
If you are selling large files or a large amount of downloads you can integrate EDD with Amazon S3 or Dropbox for file storage.
These EDD extensions require the purchase of an annual Pass. Click here to see which pass might be right for you now, or in the future.
---
The Dreaded Automatic Un-Zip Issue

We have one last important pro tip for you regarding ZIP files before you go! 🥺
Some web browsers, especially Safari on Macs, will automatically unzip the ".zip" file upon download.
This is a problem if you are selling WordPess themes or plugins. It could also be a problem if you are selling other types of software.
This is because the customer needs to install themes and plugins on the WordPress site as ZIP files. You can't change this, installing ZIP files is just how WordPress works.
There are two ways to work around this challenge:
Instruct customers to right-click the ZIP file and select 'Download Linked File As'.
Or ask customers to disable auto unzip in their web browser
🔎 Click here for our Doc with more details, including link to popular web browser help pages
Be sure to do a few test purchases on your digital store. EDD makes doing that easy. Do some tests and figure out how to best explain this unzip challenge to your customers in your context.
---
Conclusion
Cool. You just learned how and why to use ZIP files for selling digital products and downloads. You also know more about ZIP files in general, which will give you an edge over the competition when running a digital store.
We have plenty of great resources for digital creators and entrepreneurs. What do you want to learn about next?!
Be sure to follow us on Facebook and Twitter to learn more about WordPress and selling digital products.