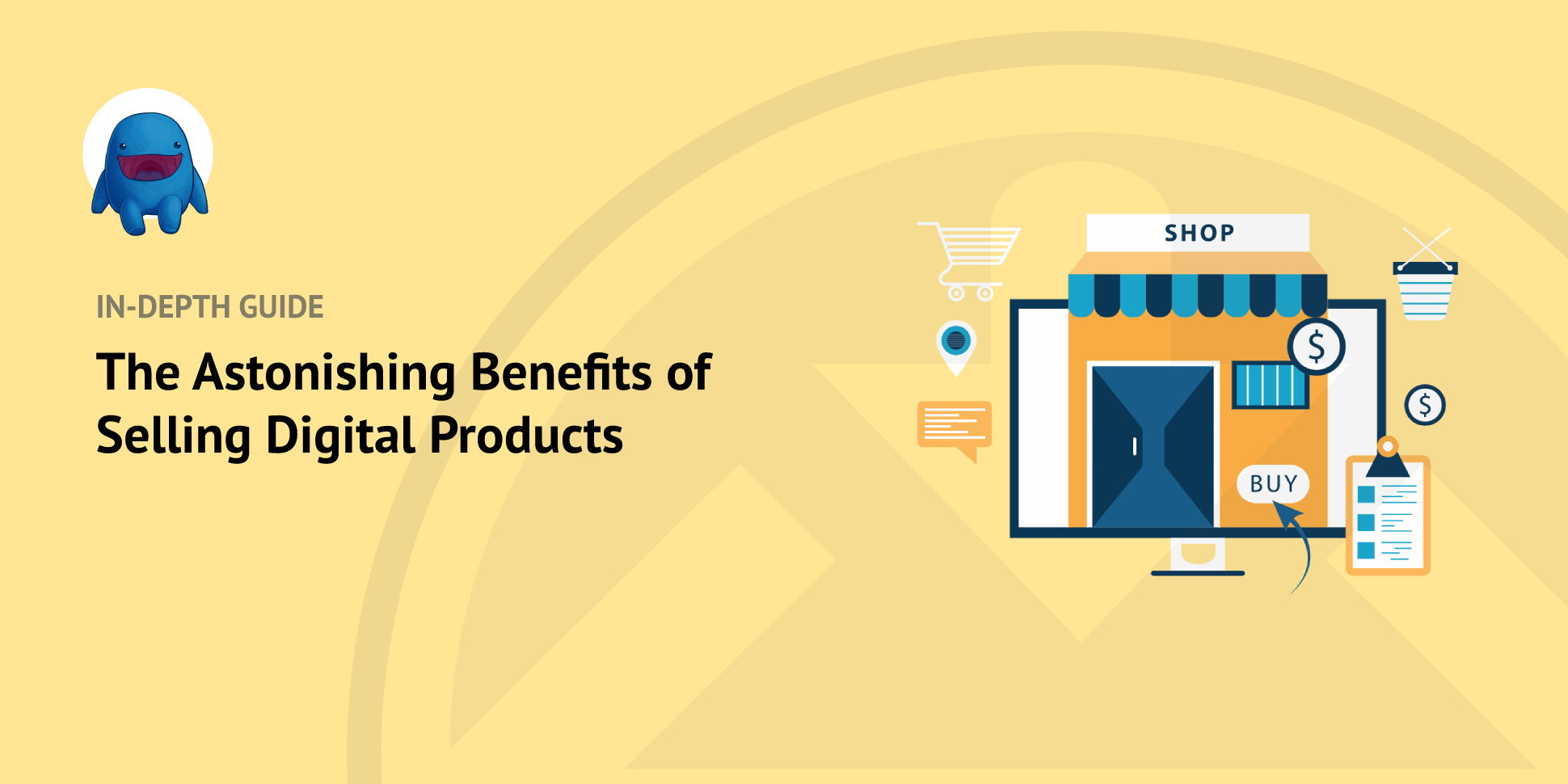 Do you want to make money online using the creativity and skills you already have? Digital products are where it's at! There are so many benefits to selling digital products. It's easy to get started and they can be extremely profitable.
Smart entrepreneurs and creatives all over the world are developing digital products. You can do this too…today!
In this article we'll share the top benefits of selling digital products. We'll share some challenges too. Last, we'll also show you how to get up and selling in no time with WordPress.
Let's Not Get Physical
🔑 Don't miss this key takeaway. The best thing about digital products is that they are not physical products.
Physical products are great, we can't wear digital sweatpants right? But selling digital products offers all sorts of advantages. We'll show you how to leverage these advantages.
Today's topics:
12 Benefits of Selling Digital Products
---
Lower Overhead Costs

Running a digital product store requires far less overhead cost than a physical product store. Just think about the upfront expenses you get to avoid with your startup:
No raw materials
No manufacturing
No storage and warehousing
No packing and fulfillment
No shipping expenses and materials
And, don't forget, you don't have to operate one or more brick and mortar stores. That increases your list of avoided expenses:
No rent or commercial real estate loans
No electricity
No natural gas
No air conditioning and/or furnace (HVAC)
No security and surveillance
No point-of-sale software and hardware
Fewer staff members, or better, you are freed up to hire staff members that more directly help with growth and customer satisfaction
You can also automate many processes. You won't have a staff member doing point of sale. You'll automate checkout, delivery of goods, purchase receipts, and follow up emails.
Staff members can focus on developing new products, marketing, or customer happiness.
Building a Website Is Cheaper and Easier Than a Store
Building your own digital product store is far cheaper and way easier than building or renting brick and mortar a store.
➡️ Click here to learn how to easily set up a WordPress website
The Internet is a Large Market


Running an online business gives you the ability to reach a global audience.
Online physical product stores have shipping and logistic concerns. It may not be possible or profitable to deliver to certain regions from your area.
In-person physical stores have even less access to a global market. You'll be limited by your location and region.
Your Global Niche
On the internet it's easy to find niche communities that want every imaginable kind of unique digital product.
For example, there may only be a few ukulele players in your town that want your sheet music. But how many ukulele players are there in the entire world!? Plenty. More than enough potential customers to build a high-profit margin business.
Lower Barriers to Entry


If you have any creative skills – in writing, design, music, video, computers, coding education, or any other field – you can make digital products. There is nothing stopping you!
It's generally faster to make a digital product than a physical one.
You just need a high quality product, a Stripe or PayPal account, and a marketplace or website to sell your product on.
There is much less risk and financial investment. As we showed above you have less overhead and larger potential market than with a physical product store.
You are also less -or completely not- dependent on others. You won't have to have suppliers, manufacturers, or shipping and fulfillment vendors. It's possible to get started all by yourself.
You can get started with just a computer and an internet connection.
Profit margins are irresistible


One of the most appealing benefits of digital products over physical products is the likely high-profit margin.
Without the costs of physical materials and other expenses listed above, your profit margins are very likely to be higher.
Will it be hard to get started in terms of the 'digital stuff' like building a website, marketing, emails, and social media? Sure. But remember, if you are selling physical products you'll still have to do all those things.
You'll still need a website and/or eCommerce platform for payments, delivery, and customer accounts. You'll still build a website and do digital marketing and connect with customers.
You'll have the digital side and the physical side of the business (managing manufacturing, supply chain, fulfillment and shipping).
With digital products you'll be able to do less, or better do more digital, and do it better. You can focus on marketing (growth) and customer happiness. This will very likely lead to higher profits and faster profits.
Digital Products Last Forever


Unlike physical products, digital products are not subject to wear, tear, or deterioration. There is little risk of them becoming permanently obsolete. There is no storage or warehousing to cause problems. No worries about earthquakes, hurricanes, floods or tornadoes (or global pandemics).
Digital products may become less relevant over time as technology changes. But they can be updated, upgraded, and improved.
This makes it possible for them to last pretty much forever. Digital products can be used indefinitely, remaining in the same condition they were in on the day of purchase.
Most digital products actually get better over time. As long as they are updated and improved as needed.
Think about the potential! How is your five-year-old favorite pair of socks looking these days?
💻 Now think about your favorite app. I've been using Evernote, a great digital product for personal notes and productivity, for 6 years. It is, for sure, even better today than it was back then. It's lasting pretty much forever.
🧦 My socks? Not so much.
Consider pricing your digital product as a subscription so that you have the means to improve it over time.
Check out our article about selling subscriptions with WordPress.
Never out of stock


You can sell (or license) as many copies of your digital products as you want.
Unlike physical products your shelves never run empty. Visitors to your site never have to see the words 'out of stock'. Neither you or your customers have to worry with shipping costs. You have unlimited stock and never-ending shelf life.
Your digital products sell for years and years, with little day-today work from you. They bring in consistent passive income without costing you ever-increasing amounts of time, energy, and money.
It's also easy to release product updates, revisions, or new iterations of your product to customers. Check out our powerful Software Licensing extension that handles license key generation and license key management.
Unlimited product types


A huge advantage of digital products is that there is no limit to the types of products you can make.
🔑 Creating new digital product type often does not require a lot more expense.
This is not the case with physical products. Imagine you are a successful online dog food store. If you want to expand into cat food, just imagine all that is required. Then compare that do a digital store selling dog training guides expanding into selling cat training guides.
| Physical: new cat food | Digital: new cat training guide |
| --- | --- |
| Market research to determine product viability before you risk money | No market research needed, no risk, develop the product |
| New research and development for the product | Then launch it on your store and improve as you go |
| Sourcing of materials | New web page/s |
| New manufacturing process | Optional: new brand or website |
| Supply chain | |
| Packaging | |
| New shipping and logistics | |
| New web page/s | |
| Optional: a new brand or website | |
Types of Digital Products
With digital products, you are only limited by your imagination. The possibilities are endless.
Templates or documents:

Google Slides, PowerPoint, Apple Keynote
Printables: Checklists, Recipes, Cookbooks, Planners
Graphic design or art files: Adobe, Affinity, Sketch, Figma, or Canva

Online courses

Video tutorials
Online learning, LMS
Membership sites, video series

eBooks
Audio
Stock photographs
…the list can go on…and does…
This is just a tiny sample of our digital product ideas. Check out this article which is the definitive list of digital products you can sell.
Easier to manage, sell, and deliver


Managing your digital products is far easier than dealing with physical stock. You really only need digital storage and a website (or marketplace) to keep things organized.

There is far less to do in terms of day-to-day management. You don't have to stock shelves, manage supply chain logistics, or deal with shipping. Your digital product store is always live and serving your goods to customers 24/7.
Selling digital products is more streamlined. Potential customers just check out photos (or a demo) of your product and hit a button to purchase if they want it.
No one has to find and travel to your store. No one has to wait days or weeks for delivery. Your customers just pay and get their digital files. Customers make use of your products right away.
Refunds are easier to manage since there is no re-packing, shipping or restocking involved. Click here for our article about doing refunds.
Direct lines of communication


Digital products offer unique ways to communicate directly with your customers. You can even build entire communities around your products.

Your customers get their product delivered via email. So you have a way to connect and reconnect with your customers. This is not the case at a physical store where the customer just walks out after their purchase.
There are lots of ways to help and stay in touch with your customers. This can also lead to more sales.
Here are some ways to connect with customers that are a natural fit for your digital products:
Email your customers a newsletter with tips, related products, tutorials, and even industry trends
Offer online courses or training on your website
Use social media to connect with customers on an ongoing basis
Offer them exclusive private ways to communicate with you:

Private Slack channel
Special email list
Facebook Group
LinkedIn Group
Discord Server
Your products are digital, so your customers and potential customers are on the internet. Put that to your advantage!
The way of the future


How many people use the internet? How many people take courses online? How many people download items from the web for use in their business or hobby? Lots, right?
Are those numbers going to increase or decrease? Exactly, it will keep increasing. Digital products have a bright future.
More and more people have a digital side of their life. They spend time on the internet, and soon on the metaverse.
People are also used to getting whatever they want right away. Because of the internet we have lots of choices, and instant gratification. Think about social media and streaming television with Netflix, Disney+, AppleTV+ and Hulu. Part of daily life is using digital products and getting what we want…fast!
You can serve this ever-growing market with your digital products, ready to go on-demand.
Personal freedom and lifestyle


When you run your own digital product business it opens up a lot of options.
You can live anywhere in the world you want to live. You can have more control over your time. Make your daily and weekly work routine look just how you want it.
You will be more free to hire people from anywhere in the world. You can have a store with great customer support 24 hours a day, and no one on the team has to work long hours, if you live all over the world.
Digital products, along with working smart and hard, can be a ticket to an entirely new lifestyle. Lots of people talk about the freedoms and lifestyle, but many forget about this other key benefit of selling digital products…
Helping Others


A digital product business allows you to help other people. There are lots of ways:
Help others succeed with your digital product. Of course, your digital products are a way for you to share what you've learned and skills you've gained with others. You'll love the feeling you get when you empower others to succeed in their schooling, business, or hobbies.
Help others with your increased spare time. As we described above, a digital product business can give you more time or at least flexibility with when you work. You can work from anywhere and at any time of the day! You can use this flexible spare time to volunteer with an NGO or nonprofit organization you are passionate about. Or you can serve more at your church, mosque, synagogue, temple or community group.
Helping others through diverse hiring. A digital product business allows you to hire anyone from anywhere. You can bring a tiny amount more equality in the world by providing an opportunity to someone who really needs it. Perhaps someone from an underrepresented community or region. In reality, you are helping yourself and your business by doing this as well with the diverse talent.
The Challenges of Selling Digital Products


There are tons of benefits to selling digital products. But it's not all roses, sunshine, and profits. You'll have hard work to do. There are challenges to overcome.
You'll have to:
Develop high-quality and unique products. With your unique skills and creativity this is totally doable. But do consider how much time and effort it will be. Perhaps all you have to do is watch less TV!
Find customers in a crowded market. The internet is vast and everyone can use it. This is both a blessing and a curse.

How will people find your product? Consider how you'll hone in your solutions to other people's problems.
How will you communicate it clearly?
And then, how you will find and connect with people to convert them into customers?

Set up a website or join a digital product marketplace. This will take time and work. But as we have seen it's less work than setting up a physical product business.
Click here to read our article "7 Common Digital Product Store Obstacles and How to Overcome them".
How to Sell Digital Products with WordPress
The best way to sell your own digital products is on your own website. The best way to do that is to use WordPress and the Easy Digital Downloads plugin.


EDD makes it easy to set up a full online store. With just a few clicks EDD will provide you with full product management, shopping cart, flexible checkout, customer management and discount codes. For how much? Nothing. Free!
EDD is built by us, fellow creators, just like you. EDD is purpose-built to make it fast, inexpensive, and easy to sell your digital products. We rely on it for our business and work hard to empower people like you.
You can get started with EDD for free. You can use it free forever. Add functionality like email automation, subscriptions, upsell, or software licensing by purchasing a Pass.
Our Passes are often less expensive than other solutions. And, unlike some other solutions, you have full control of your pricing and your costs.
Other Solutions
There are other eCommerce solutions, both WordPress and non-WordPress that allow you to sell online. We think EDD is a better solution. Be sure to weigh the pros and cons of marketplaces and other platforms.
Marketplaces
You can sell digital products on marketplaces like Amazon, Etsy, Creative Market, or Redbubble. These marketplaces can be quick and easy at first glance. But they are not a good way to build your own business.
Marketplaces can charge a lot of fees in addition to the unavoidable credit card transaction fees. In many cases they charge platform fees. The more money you make, the more they take.
Many marketplaces also have rules that limit your control and freedom. They may require that you only sell on their platform. They often control how much you can charge for your products. You have no control over the shopping experience. Worse, you don't get the direct line of communication we mentioned above.
😥 They aren't really your customers. They are the marketplace's customers.
Site and Store Builders
Other website solutions allow you to avoid some of the downsides of marketplaces. This is great, but there are other challenges.
One big challenge with many eCommerce solutions is that they are not built for digital products. This is true of WooCommerce, Shopify and Wix. They are built to sell physical products, and then, also, as an afterthought, sell digital products.
You may waste time and expense in the setup process. Because there will be inventory and shipping functionality that you don't need. You can skip all that setup with Easy Digital Downloads.
Also bear in mind, many of these solutions lock you into expensive monthly pricing. Many solutions also control your data. Some even make it hard (or impossible) to export your data away from them if you are unhappy. It's better to own and control your data on your own website.
Be sure to consider the advantages and disadvantages of any digital product eCommerce solution.
Or just join the more than 50,000 digital creators, bloggers, and business owners -like yourself- that use EDD to sell digital goods. You can be up and selling quickly.
Sell Both Digital and Physical Products
With all this talk of the benefits of selling digital products, you might think we are against physical goods. Not at all. It all depends on your business model.
First, the market for physical goods is gigantic too. It is likely even bigger than the digital market. If this is where your passion and skills are, go for it!
Second, you should consider selling both. If you have physical products to sell online, WordPress is a great solution. You can sell both digital and physical products on one website. WordPress is extremely flexible.
When you use WordPress and an eCommerce extension, you avoid all the downsides of marketplaces and many platforms we listed above.
Here is what we suggest:
If you are selling mostly digital products, and a few physical products, use Easy Digital Downloads. It can do physical products too with the Simple Shipping extension (requires a Professional or All Access Pass).
If you are selling mostly physical products, and a few digital products, use WooCommerce. Here is a link to a Bluehost WooCommerce Premium managed hosting solution that will get you up and running the right way quickly. We recommend a managed hosting solution. WooCommerce setup can be complex, and if done incorrectly, it can slow down your website.
Conclusion
There you have it! Consider how you can take advantage of these amazing benefits of selling digital products. Nothing is stopping you, start a side hustle or small business today!
Take advantage of everything EDD has to offer with a Pass. You can add subscriptions, email marketing, or product reviews. Click here for 50%-off introductory pricing.
Get inspired. We have lots of ideas. Click here for our definitive list of digital products you can sell.
Be sure to follow us on Facebook and Twitter for more WordPress information.