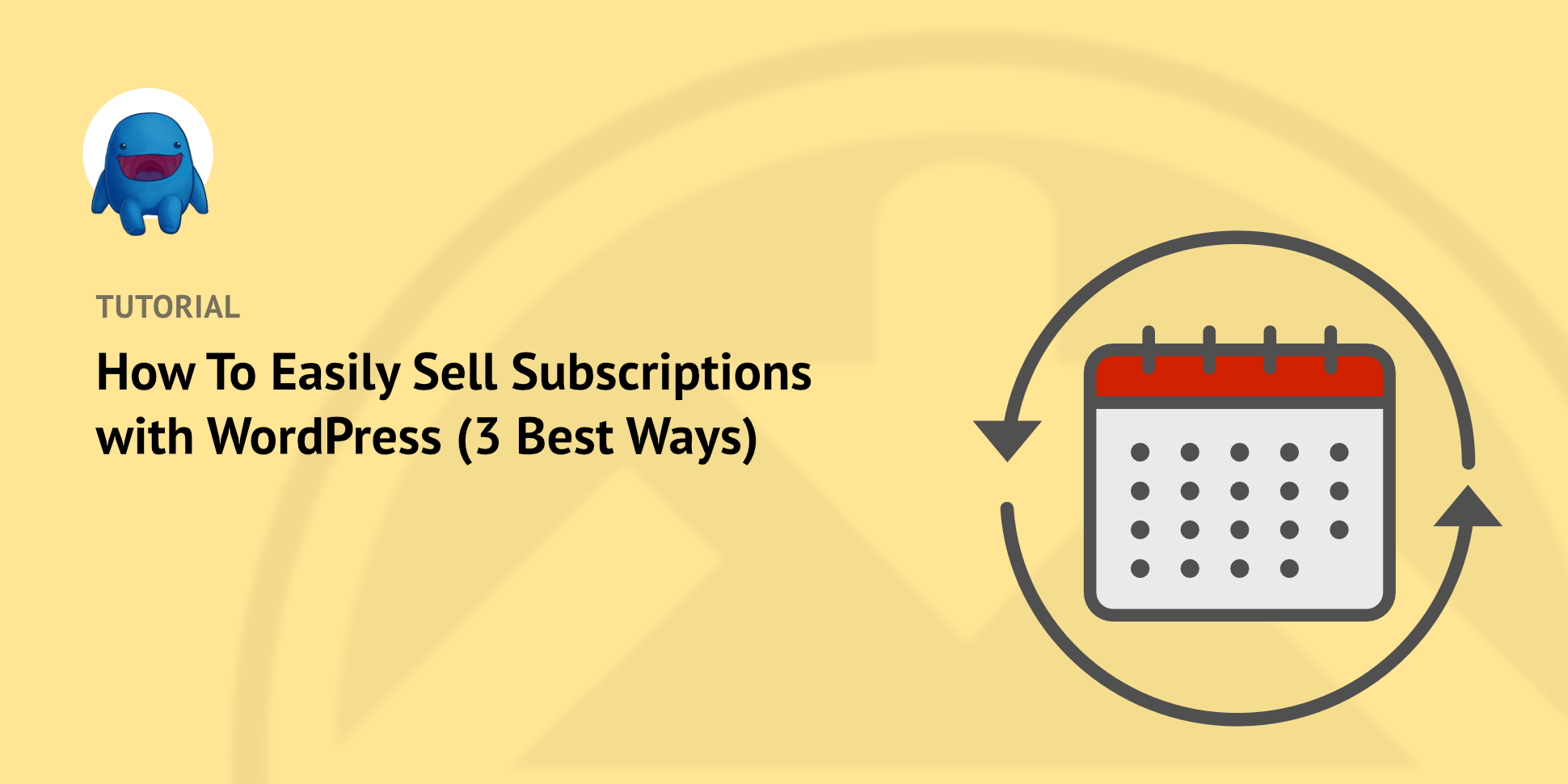 Do you want to sell subscriptions with WordPress? Generating consistent income from subscriptions is a great way to grow your eCommerce business. In this article we'll show you how to sell subscriptions with your WordPress website.
What Type of Subscription Do You Want to Sell?
First, it's important to think about the type of subscription you plan to sell on your website. There are three basic categories: digital, memberships/courses, and physical.
Digital – Are you selling items that customers download like eBooks, software, apps, photos, video, or audio?
Memberships/courses – Are you selling access to premium content like online courses or a private community?
Physical – Or are you selling items that get shipped to customers like a coffee subscription, shaving supplies, or a monthly box of goodies?
WordPress can handle any of these. But you need to choose the right plugin for the job. We have gathered plugins with all the functionality you need. Choose your type below and we'll get right to it!
---
Selling Digital Subscriptions in WordPress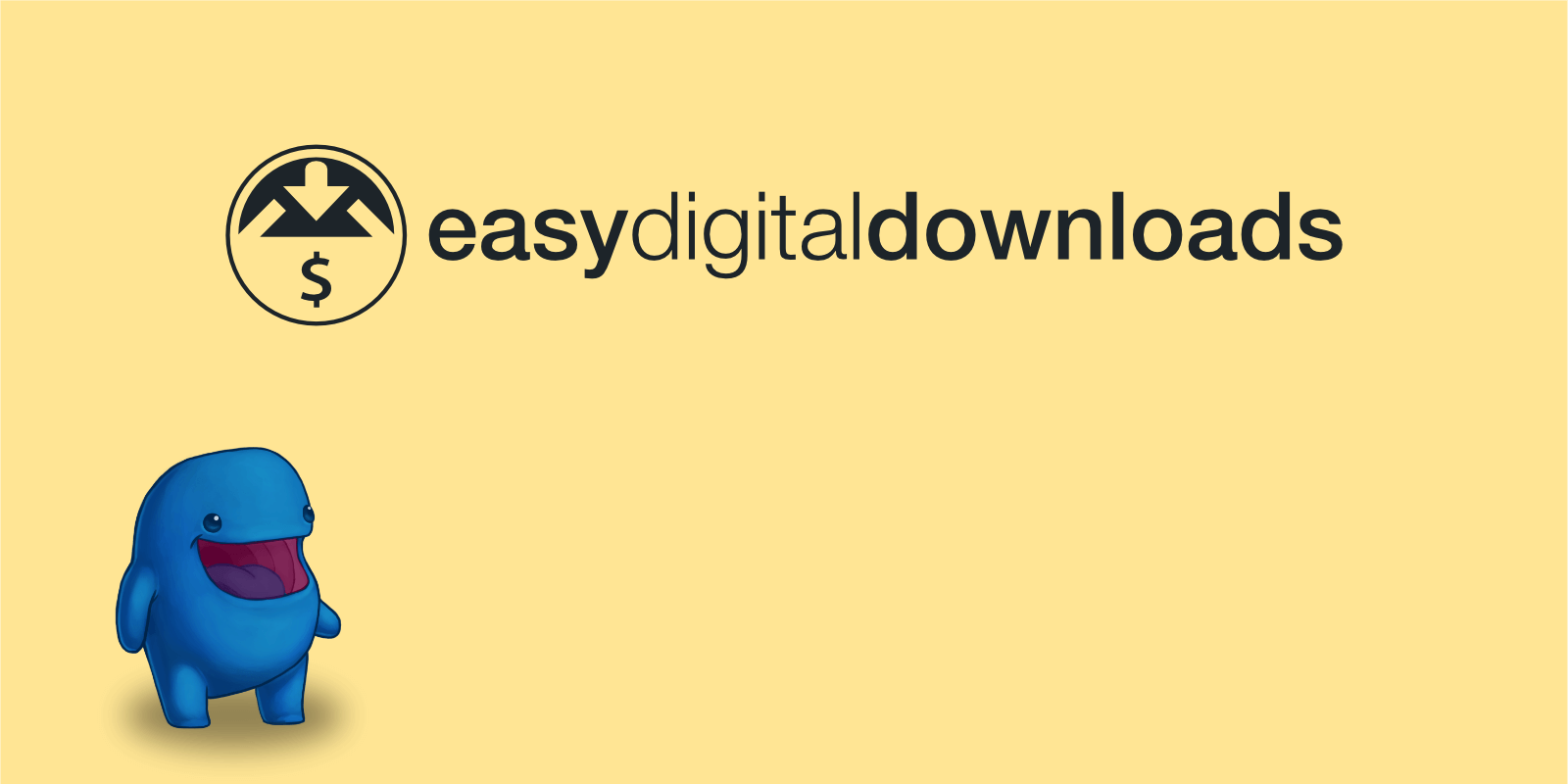 The best way to sell digital products with WordPress is Easy Digital Downloads. EDD is quicker to set up and easier to use if you don't need things like shipping and inventory.
Solutions designed for physical products have features and settings you won't need. Things that get in the way and slow you down. EDD is purpose-built for digital creators.
EDD is trusted by more than 50,000 sites to sell anything from software to eBooks. Anything your customers download. No coding needed.
EDD has a powerful extension called Recurring Payments that makes subscriptions easy. It's a best seller. While EDD is free, this extension is not. You can purchase Recurring Payments by itself, but you'll save money by bundling it in an Extended, Professional, or All Access Pass.
Recurring Payments features:
Automated payments on a daily, weekly, monthly, quarterly, semi-annual or annual basis
Support for Stripe, PayPal, Authorize.net, 2Checkout and other payment gateways
Customer emails; all the reminders and notifications needed to manage the customer relationship
Free trials (optional)
Signup fees (optional)
Set up Subscriptions with EDD
Here are the steps we'll work on to set up EDD to sell digital product subscriptions.
Install EDD
Install the Recurring Payments extension
Set up a Download with recurring payment options
Install Easy Digital Downloads
⏬ First, grab the the EDD plugin (free!).
Using WordPress and want to get Easy Digital Downloads for free?
Enter the URL to your WordPress website to install.
If you're new to WordPress and have never installed a plugin, click here to read a step-by-step guide.
Once you have EDD installed and activated you'll notice a new item on your WordPress dashboard. Look for the menu on the left called Downloads.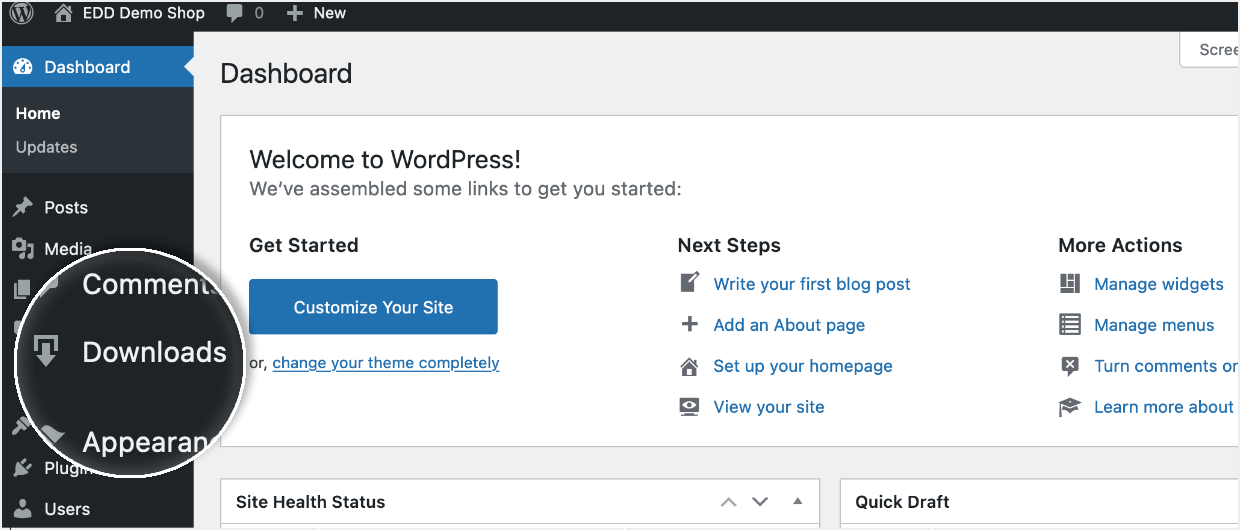 Install the Recurring Payments Extension
EDD is free to use for setting up a digital store. However, to use the Recurring Payments extension you need to purchase an Extended, Professional or All Access Pass.
When you purchase a Pass you also get access to other extensions that can power up your store. All with one simple subscription.
Want to be able to complete all steps in this article? Click below to set up your 100% risk-free EDD account.
Once you have purchased a Pass, visit your account screen, you'll see a button that says View My Downloads.
You need to click on there to see all the extensions that are available to you. Find Recurring Payments and click the Download Now button.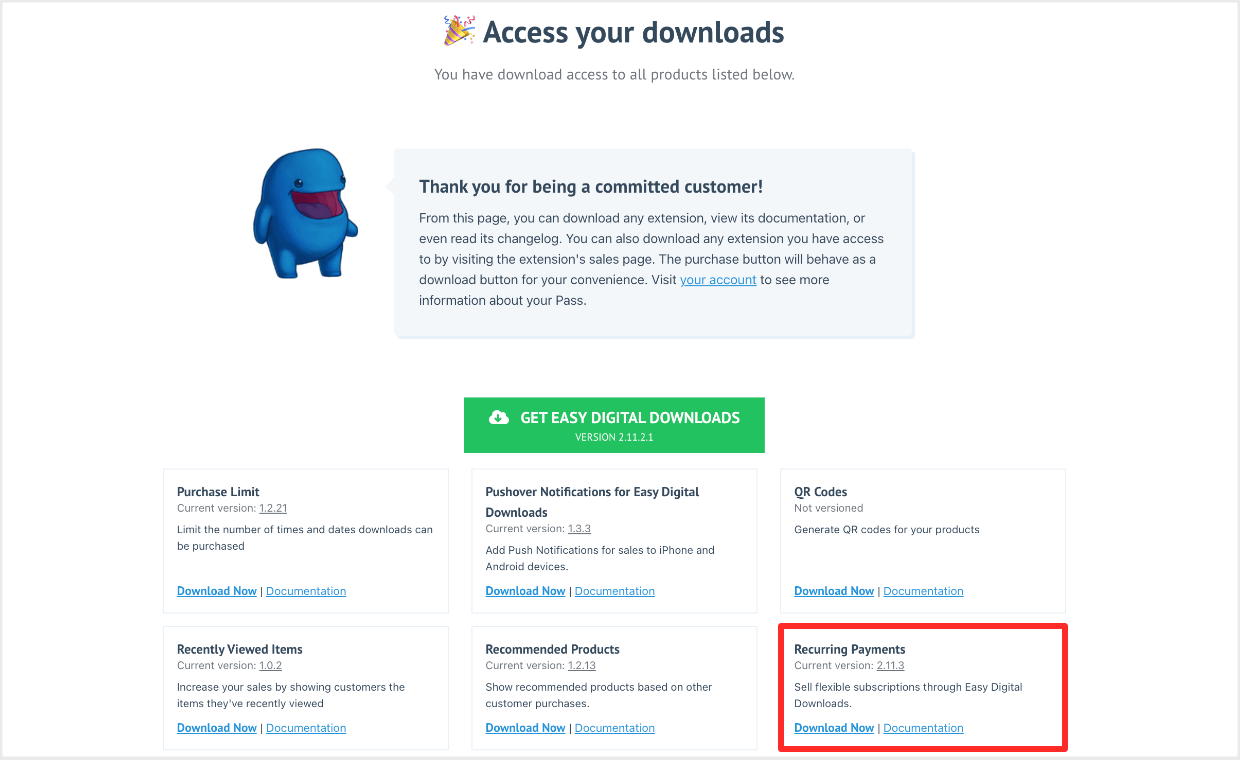 Next, you need to install the ZIP file you just downloaded.
Go to Plugins » Add New from your WordPress side menu. Then, click on the Upload button. Next, click on the Choose File or Browse button to find your ZIP file.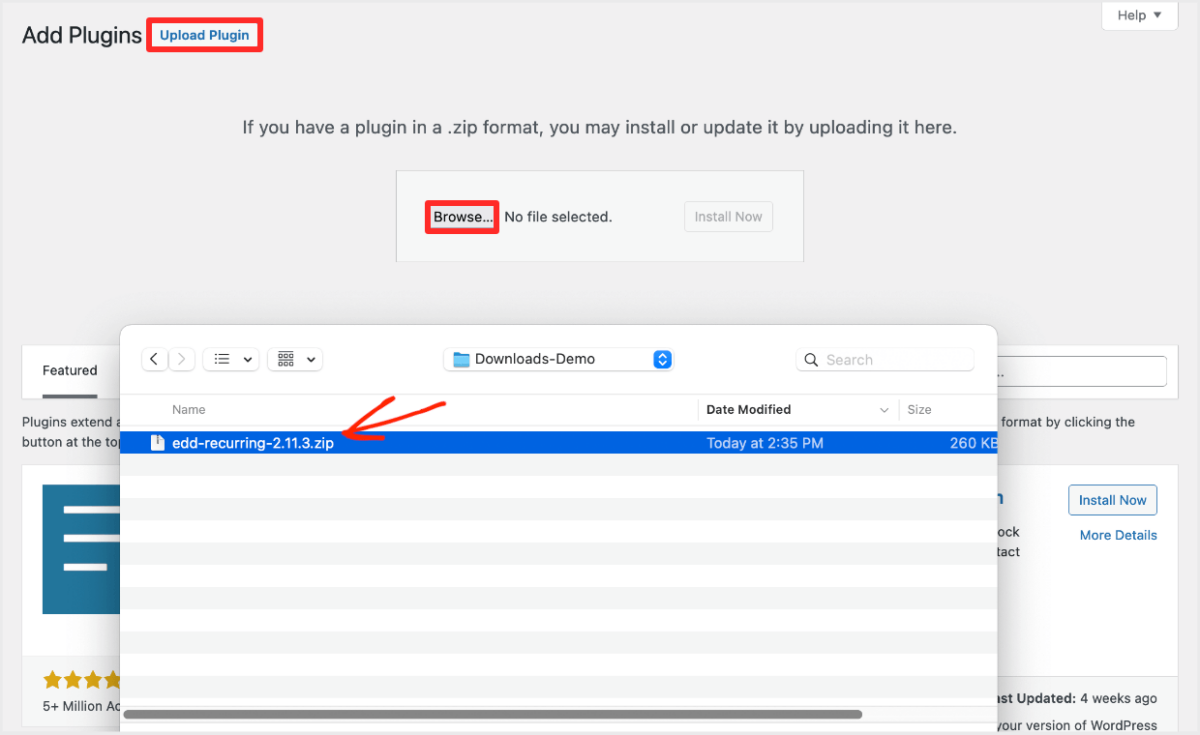 Last, click the Install Now button. The plugin will be installed on your site. Be sure to hit the Activate button.
Awesome. Now you have a full-featured digital store with subscription capabilities. It just took a few clicks!
Set up a Download with Recurring Payment Options
Now you need to create a product. They're called "Downloads" in EDD. In the example below we are going to upload a monthly housing report (PDF). Customers subscribe to it for a monthly fee to see updated data.
On your WordPress dashboard hover over Downloads and then click Add New.
You need to give your Download a title and description.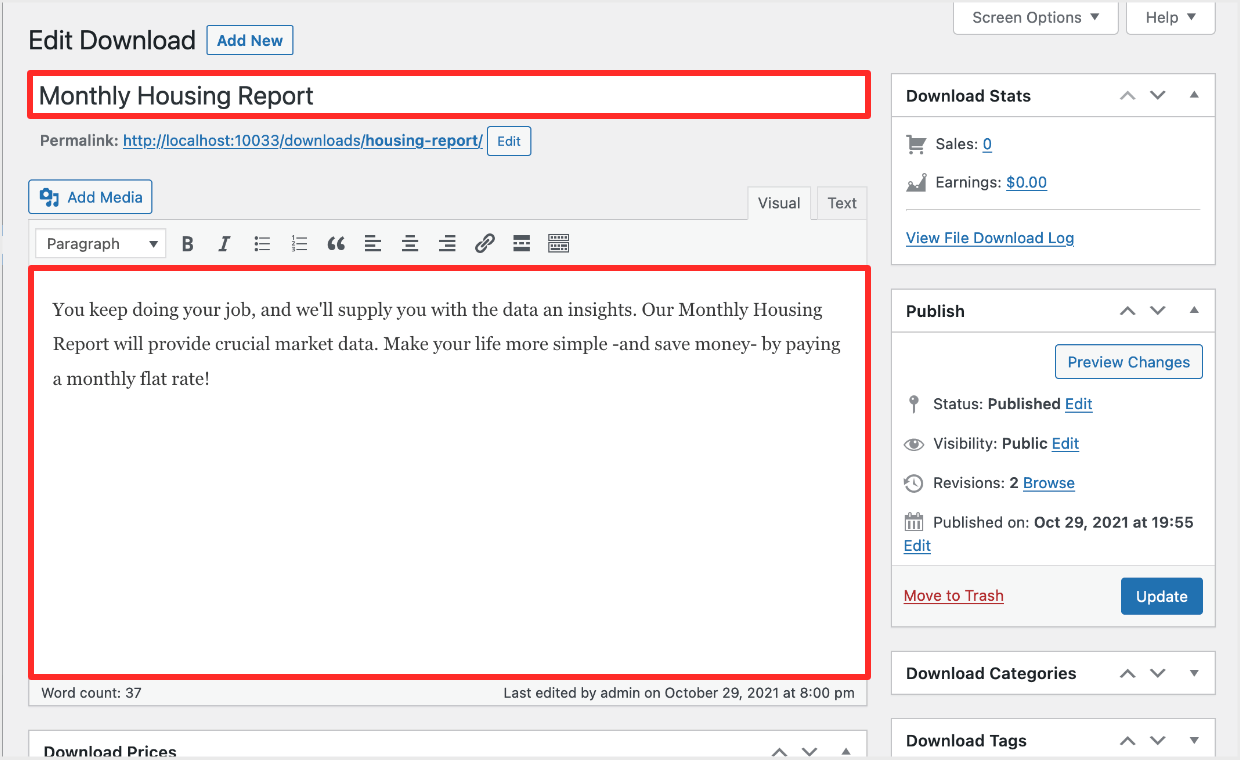 After that, set up the Recurring pricing. Got to the Download Prices box:
Set the price, in our example we chose $10
Set the Recurring setting to Yes
Leave the number of Times set to 0, which makes it automatically renew until cancelled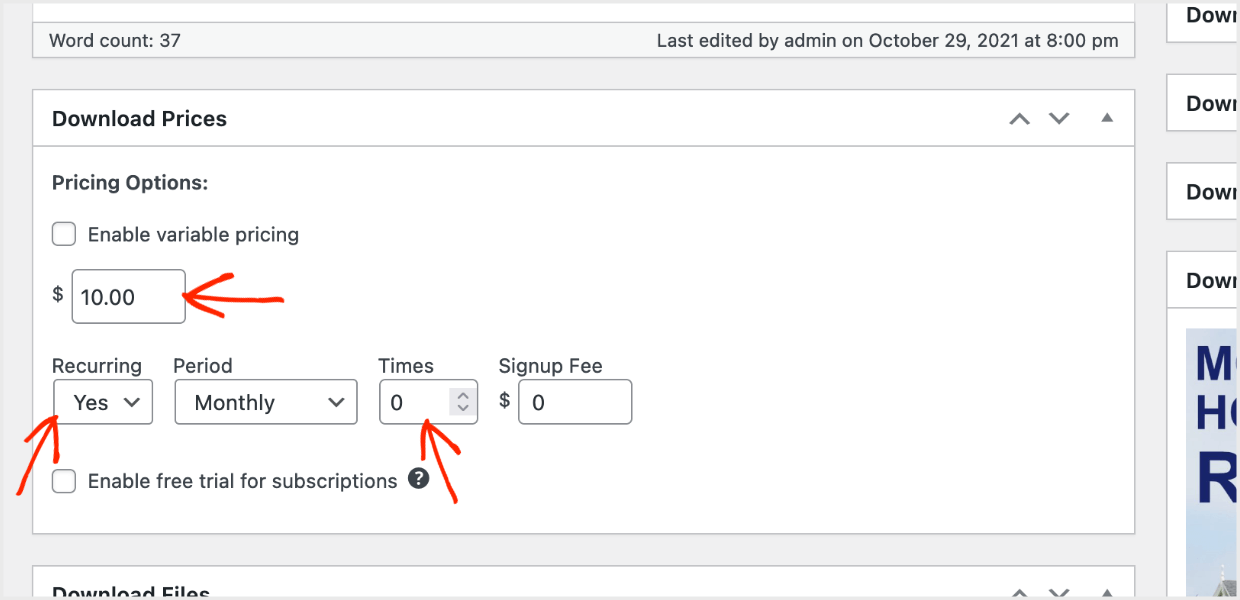 You'll also see a Signup Fee setting for adding a one-time fee at the time of purchase. This is optional.
There is also an optional free trial setting. Click here to learn more about these two settings on our Docs.
Next, you need to add the PDF report file the customers get. In the Download Files box click on the Upload a File button and place your PDF there.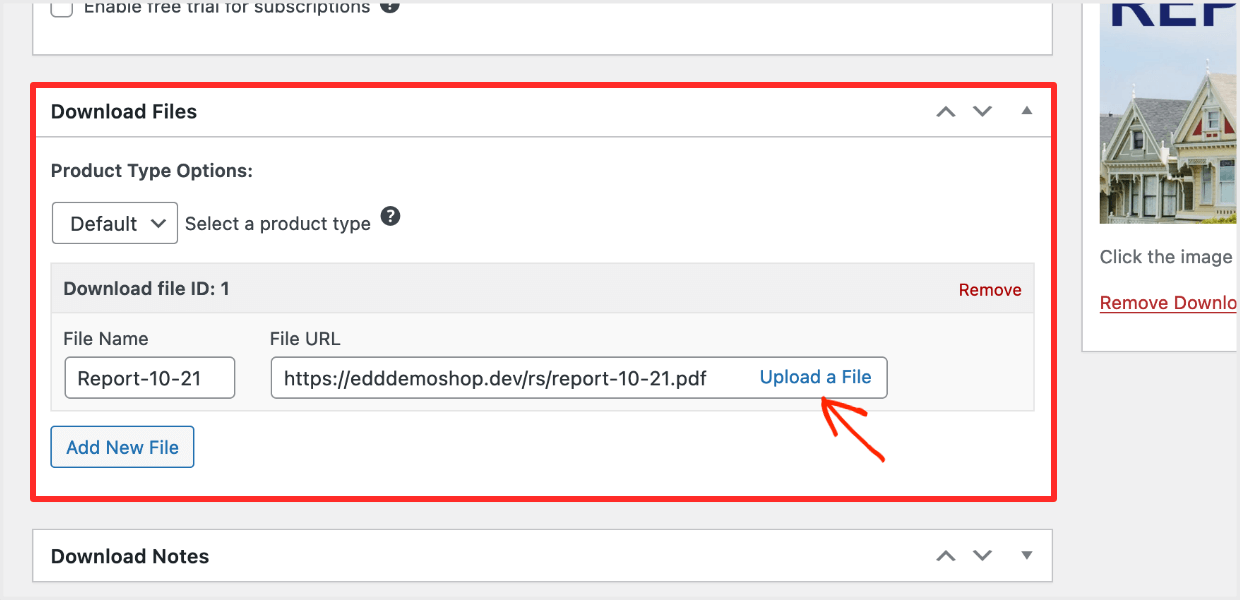 Last, give your Download an image by uploading a JPEG or PNG under Download Image.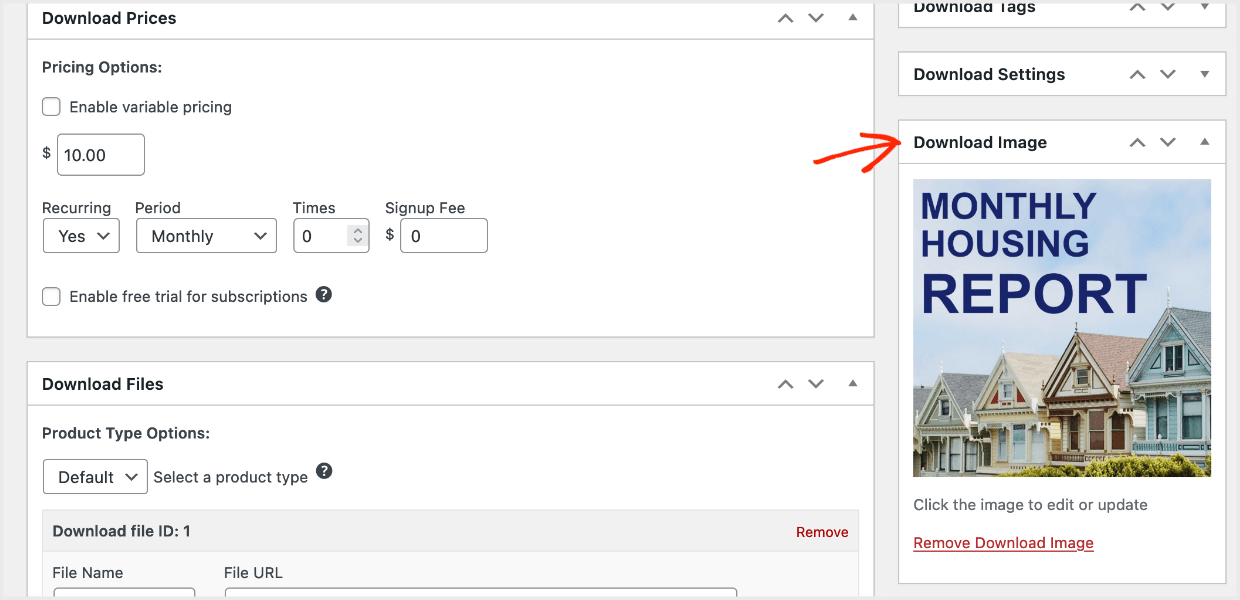 Now your Download is ready, so hit Publish.
View the Download on the Front-end of Your Website
After publishing your Download a banner will appear at the top with a View Download link.

Pro tip – it's often best to right-click and open the page in a new tab, so you can go back and make tweaks if needed.
Click View Download to see your new subscription product on the front-end of your website. In this example we are using the WP Astra theme.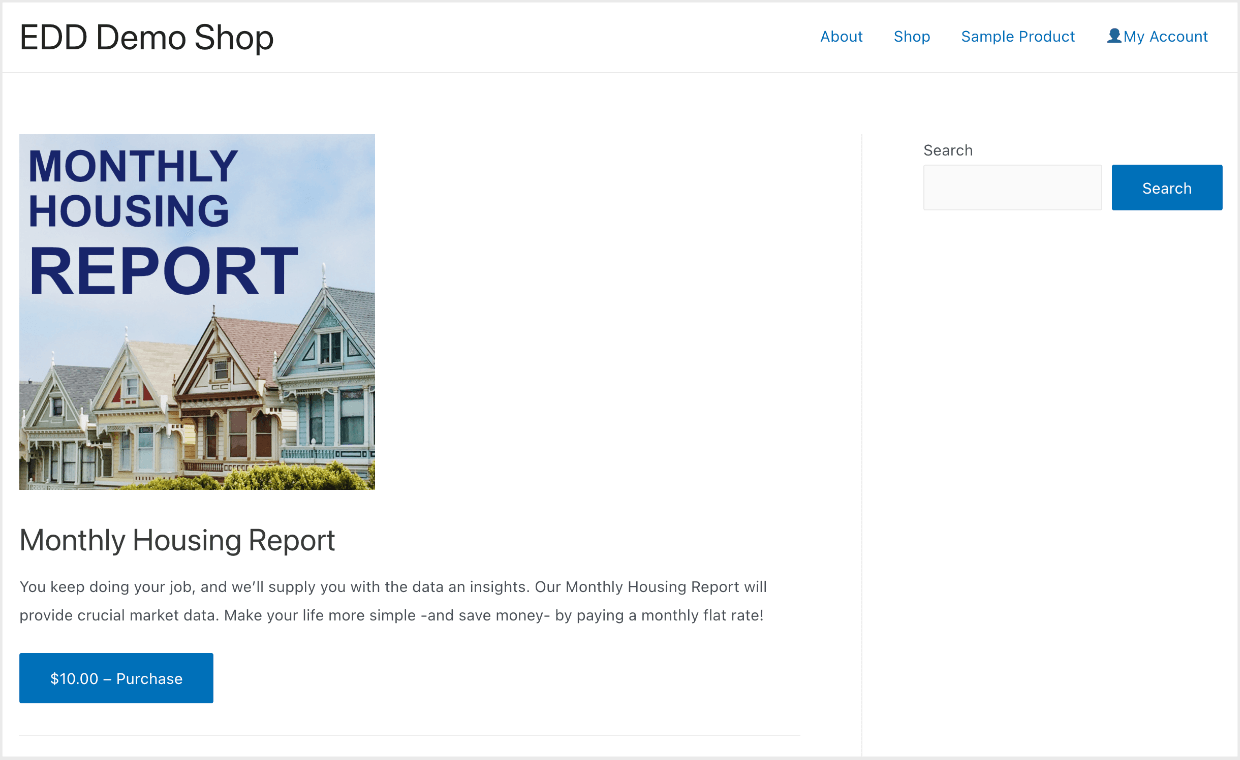 Great work so far! You now have a subscription product ready to sell on your WordPress website.
Click the Purchase button. After you do, the button will change to say Checkout. Click on the Checkout button.
You'll be taken to the checkout page. Notice the 'billed once per month until cancelled' message for the item in the cart.
Once the customer purchases this, they have subscribed to your product. Enjoy that consistent income!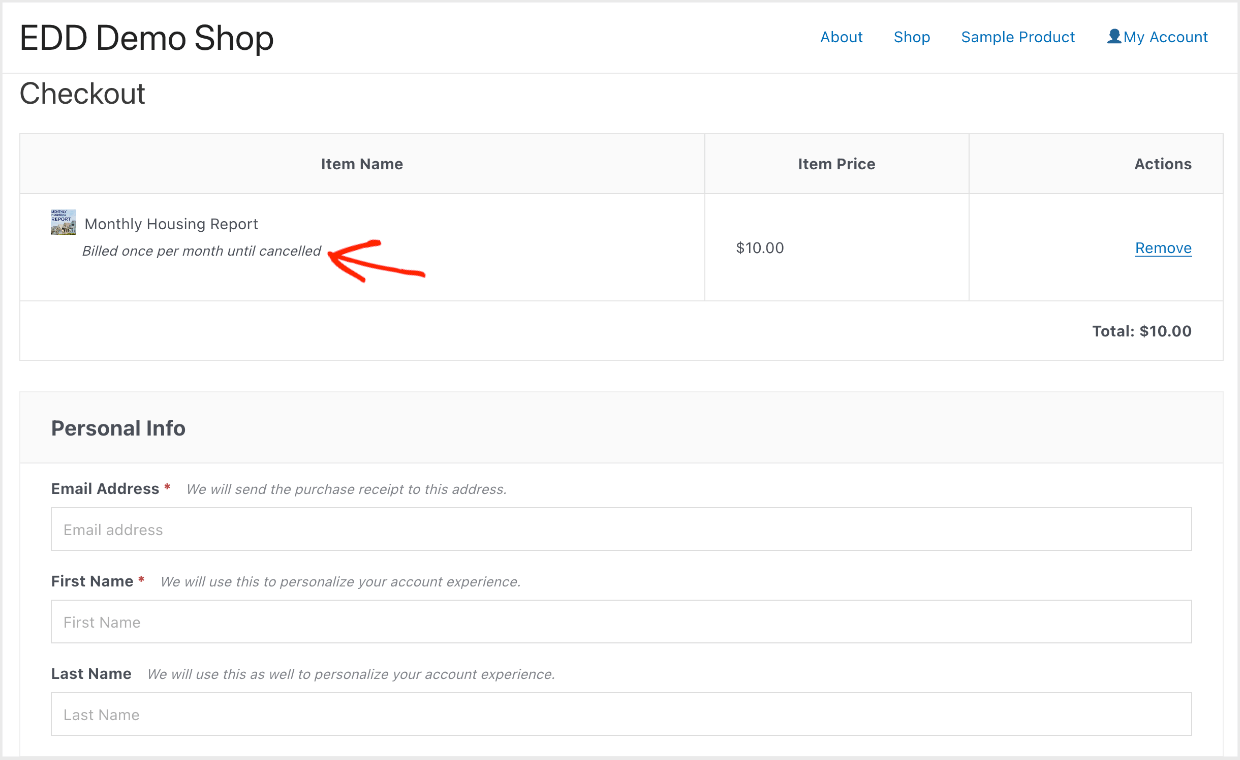 Recurring Payments Integrations
There are two EDD extensions that are commonly used with Recurring Payments:
All Access
Software Licensing
All Access
All Access allows you to sell a subscription (or membership) to your website. With this membership your customers have access to download all of your products for a single monthly payment. Or you can allow access to a certain category of products.

This is great for sites selling stock music, photos, documents, or graphic templates.
We use All Access at EDD every day. If you buy a Personal, Professional, Extended, or All Access Pass you're using the All Access extension. Each of our Passes allows you to license a bundle of extensions with one subscription.
Each of our extensions is categorized to go with certain passes. Then, our All Access pass gives you, you guessed it, access to every extension.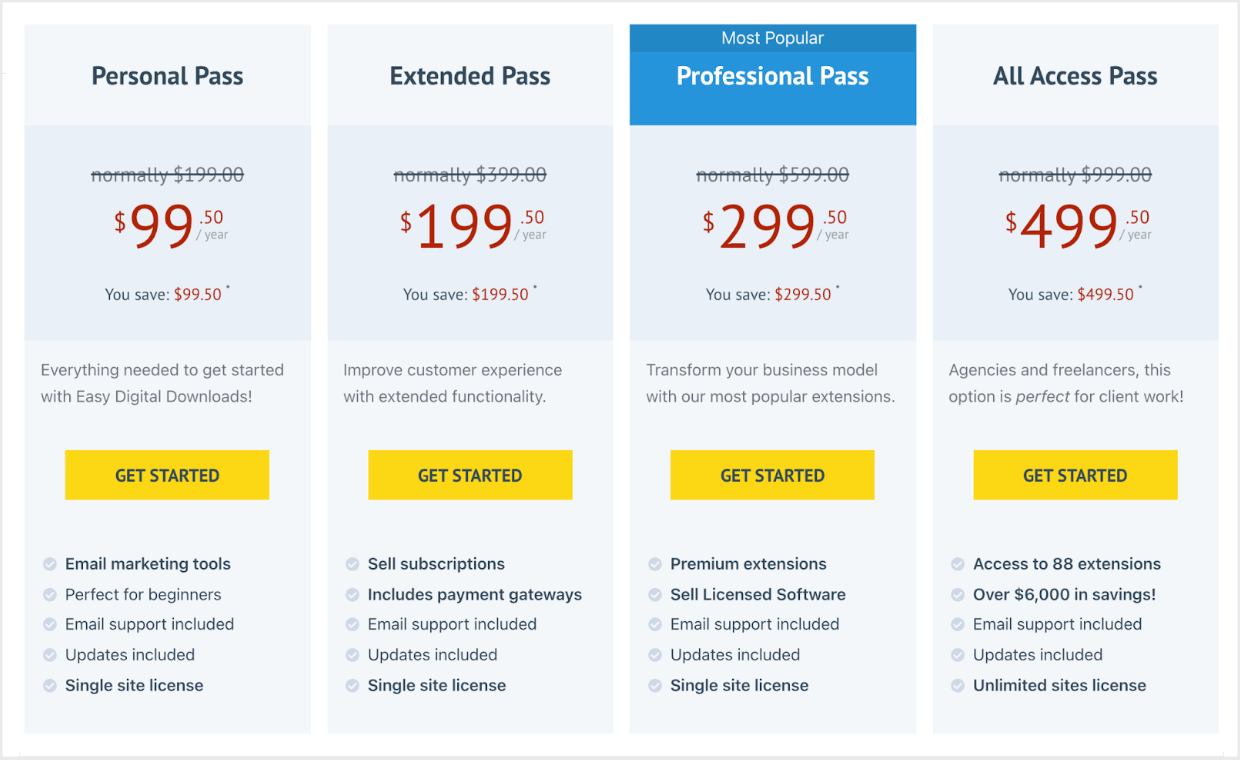 Learn more about All Access here.
Software Licensing
Software Licensing makes it easy to sell subscriptions to software and apps. It works great with anything from WordPress plugins to mobile apps.
Software licensing handles license keys, renewals, upgrade paths, one-click updates for WordPress plugins, and more. It has everything you need to run a software business so you can focus on building your product.

You may have guessed that here at EDD we use Software Licensing. Yep, correct! Not only do tens of thousands of business owners trust EDD, but we trust it every day to run our own business.
EDD is the best way to sell software with WordPress. Other solutions were built primarily for selling physical products, and their digital product set up is an afterthought. Or other solutions act as a middle man and charge you unnecessary fees.
With EDD you just pay for the extensions you need and all the money you make in sales is yours to keep.
Click here to learn more about Software Licensing.
---
Selling Subscriptions for Memberships or Online Courses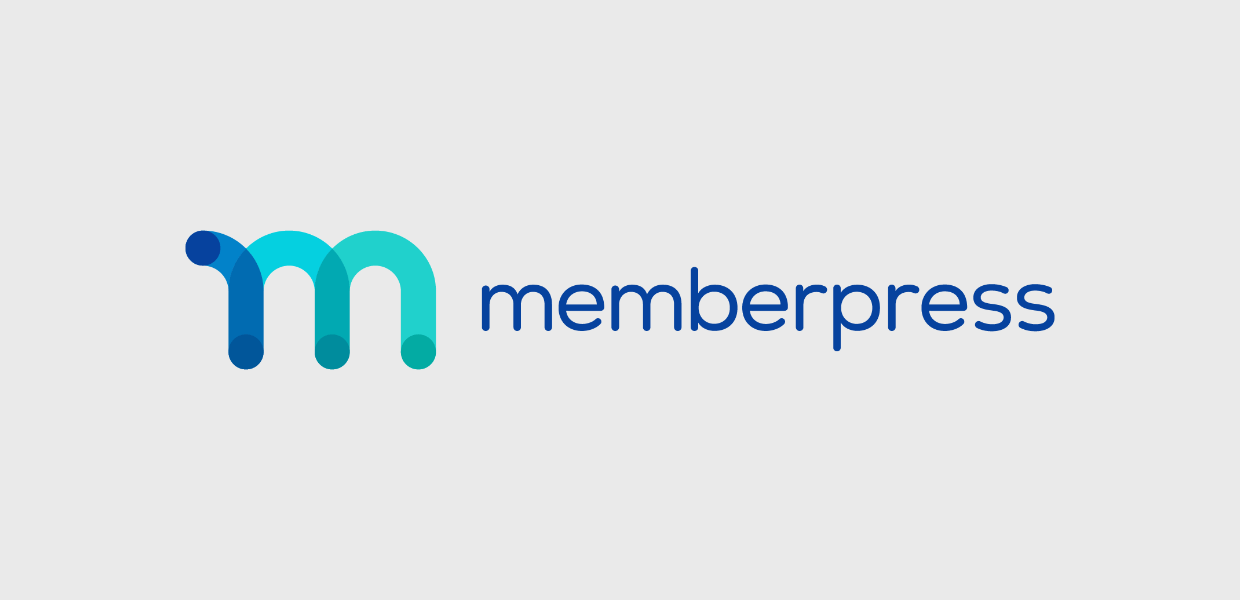 When you are selling digital products you may also want to provide customers with private/restricted content. To set up customer-only content you can use Easy Digital Download's Content Restriction extension.
If the content is the product, you want to make what is commonly called a membership site. A site where you have to be a paying member (or subscriber) to see certain private content.
The best way to sell memberships or online courses with WordPress is MemberPress. Here is a great article and video comparing the 5 best membership plugins on WPBeginner.
We recommend MemberPress for it's powerful mix of features. This one plugin can handle both membership sites and online courses.
Here are some key features of MemberPress:
Easy Setup: including login, pricing, accounts, and thank you pages for your users
Membership levels or subscription plans
Controlled access to content: restrict access to any form of content including pages, posts, categories, tags, files, and more.
Content Dripping: show restricted content on a schedule, great for online courses and e-learning
Sell Courses: full learning management system (LMS) features included, to create and sell online courses
Email integrations: support for AWeber, GetResponse, MadMimi, and MailChimp email marketing platforms
Podcast hosting: integrates with Amazon Web Services and BluBrry
Accept Payments: built-in support for Stripe and PayPal payment gateways, or you can add Authorize.net with the Developer plan
There is an Ultimate Guide for setting up Membership Sites at WPBeginner. Click here to see it and skip to step 3.
---
Selling Subscriptions to Physical Products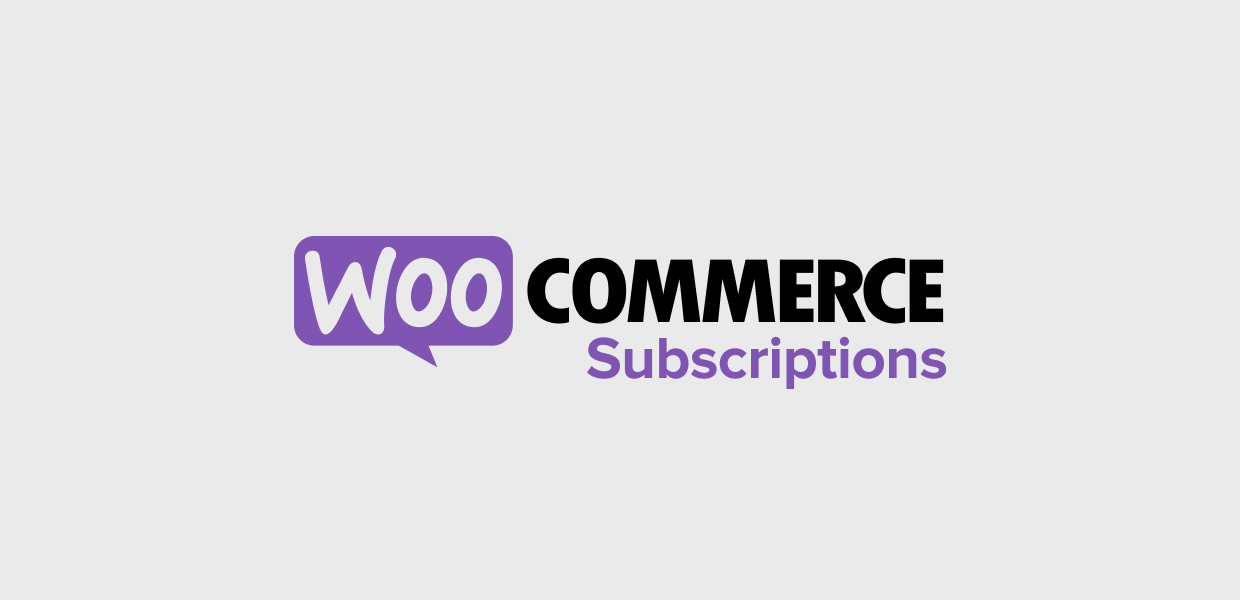 The best way to sell physical products with WordPress is WooCommerce. With physical product subscriptions, you'll also have to plan for inventory and shipping. While EDD can sell physical products, it is purpose-built for digital products. For physical products, Woo is most likely the way to go.
| 🟦 When to use EDD | 🟪 When to use Woo |
| --- | --- |
| Selling mostly digital products | Selling mostly physical products |
| Selling, or might sell, a few physical products to complement your digital line-up | Selling, or might sell, a few digital products to complement your physical goods line-up |
| Example: you sell a WordPress plugin and also some cool hats and t-shirts for fans | Example: you sell premium spa soap and also audio meditation tracks as downloads |
| Example: you sell music downloads and also CDs and vinyl records of your full albums | Example: you sell leather-bound journals and also printable planner templates |
WooCommerce powers over a million online stores!
Pro tip: If you're researching and searching around about selling digital products on Woo, notice that they often use the term 'virtual product'. We don't prefer that term, it can be confusing and sound like video game or VR/AR product. We prefer to say 'digital product' or 'digital download'. But consider using the term 'virtual product' in searches.
WooCommerce is free, however you'll need to purchase a subscription extension. We suggest using a managed WooCommerce web host to make sure your website loads quickly.
We recommend Bluehost WooCommerce Premium. This premium plan is $32.95/month when you pay in advance and this includes subscriptions! Other subscription plugins cost between $49 and $179 a year when setting up separately with other web hosts.
Another advantage of using this managed hosting plan from Bluehost is you get great support. They will help you with setup and using the subscriptions plugin. With other providers you will have to go to one company for setup help and another for subscription help.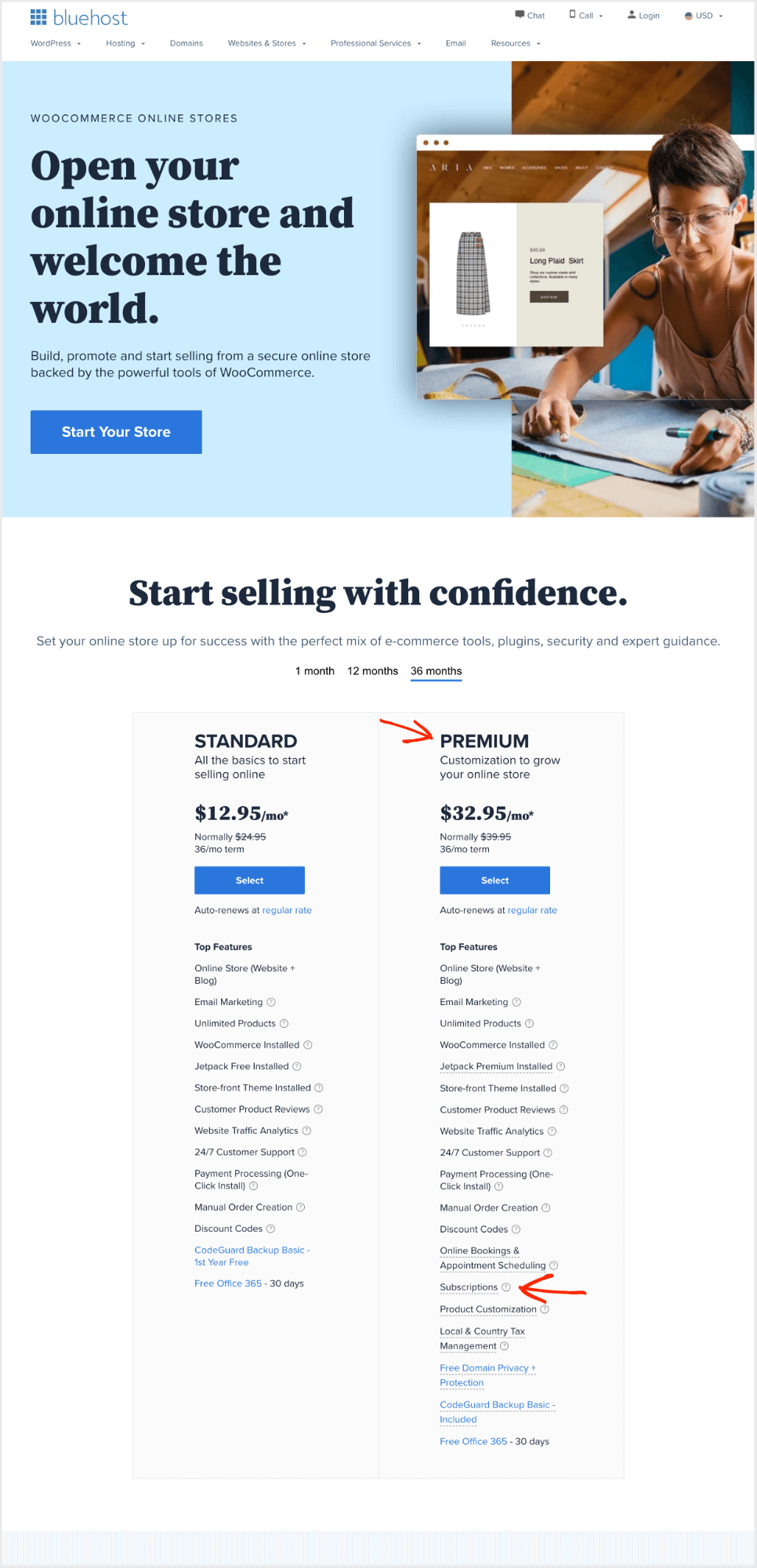 ---
Conclusion
Excellent work! You're ready to sell subscriptions on your WordPress site. They are a great way to grow your eCommerce business.
Looking for ideas on a subscription you could sell? Check out our post describing the 12 most popular products you can sell online.
Want to do more with your store? Grab an Easy Digital Downloads Pass to extend your store's capabilities.
We hope you found our article on selling subscriptions with WordPress helpful.
Be sure to follow us on Facebook and Twitter for more WordPress resources.