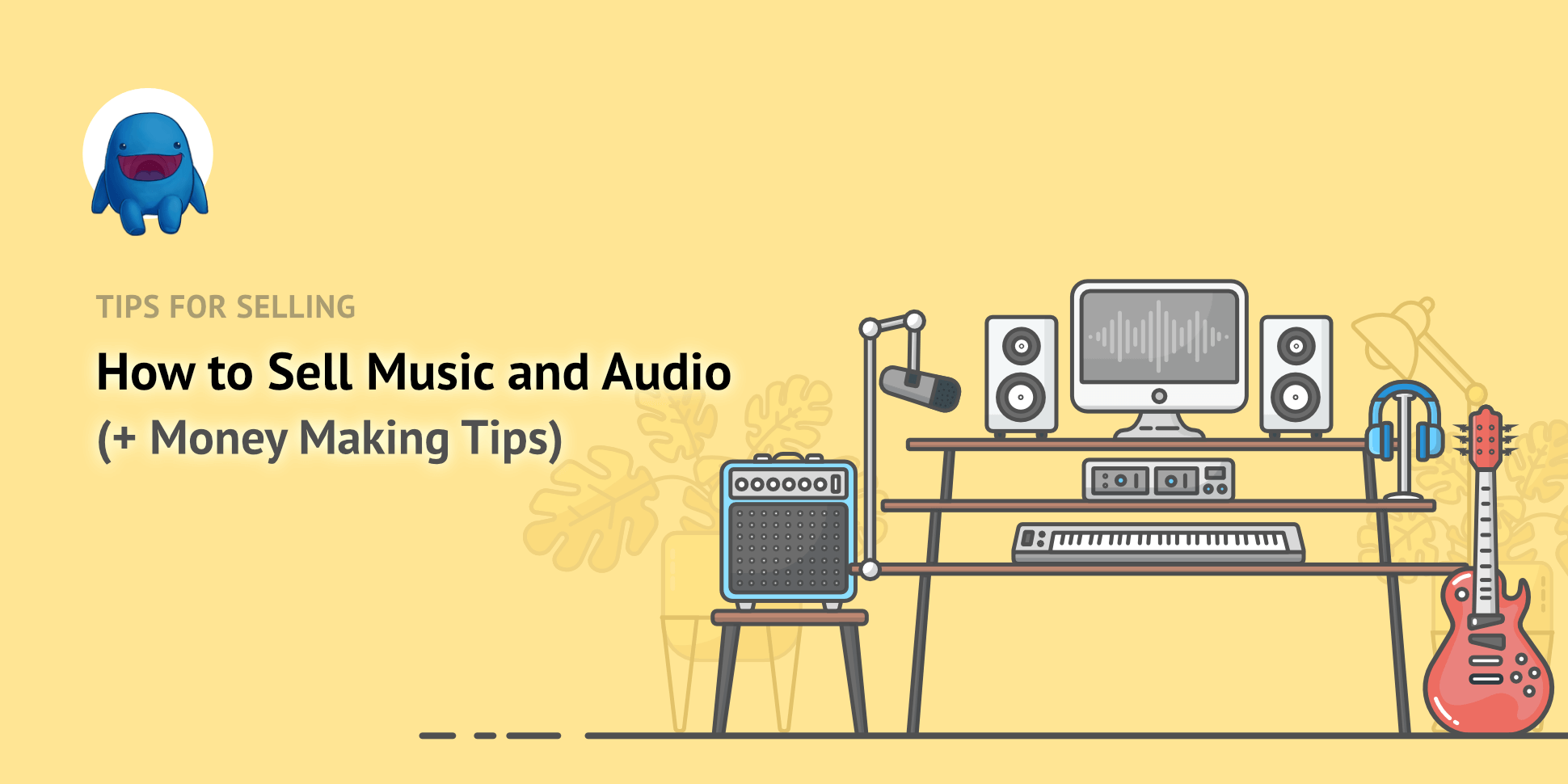 Do you want to sell your music or audio online? This is a rewarding way to use your creativity to build a business or make some money on the side.
In this article we'll give you an overview of the music industry and show you how to easily sell your audio files.
Here's our track list. Take in the whole album or skip around to what sounds most interesting:
---
The Music Industry in the Digital Age

Like everything else, the internet has dramatically changed the music industry.
The Worst of Times
Many complain that it's harder than ever to 'be discovered' and to make 'real' money.
There is a lot of truth to this. The market is very crowded. It's hard to be discovered and build a following when there are so many people doing music.
Not too long ago, there was a lot of money to be made in selling albums on Compact Disc (CDs). The big streaming platforms (iTunes/Apple Music, Spotify, Amazon Music, etc.) have pretty much eliminated CDs as a revenue generator. And those platforms are not known for paying high royalties.
The Best of Times
Change is constant. Technology never stands still. The internet has created many challenges for selling music. But it has created many opportunities as well. Perhaps more opportunities:
Music distribution is something you have more control over.

Before, in the past you relied on 'gatekeepers' like A&R men at record companies, DJ's at radio stations, and television producers. You had to pay out tons of money for posters, and advertising was expensive.
Now, you can use social media (especially YouTube, Instagram and TikTok) to be discovered and build a fan base.  You can create music videos and have them freely available 24 hours a day anywhere in the world! MTV couldn't do that. Nothing is stopping you from being discovered and building a global audience. There are no gatekeepers.
There are more ways for potential fans to discover new music than ever before!

CDs are not money makers anymore, but you can find larger audiences than ever with the big streaming services. Once that's done, you can figure out a way to make more money other ways (like selling out larger music venues with concerts advertised inexpensively on social media).
You also have more ways than ever to talk directly to your fans and customers. This was never possible without the internet.
You can also sell all kinds of products online, more than you ever could before the internet.
Diversity of Products
There are so many different kinds of audio based digital products. People will pay for audio which entertains them, soothes them, informs them, inspires them, and helps them achieve business goals.
In the past, pretty much all you could do was create singles, EP's or full albums.
🧑🏽‍💻 Now, just imagine the unique products you can sell because of the internet:
Background music for ads
Music for YouTube, Instagram stories, TikTok and other social media
Podcast intros
Music for Podcasts
Recorded lectures
Musical samples
Audiobooks
Foreign language lessons
Relaxing background noises
Karaoke versions of popular songs
Reusable sound effects
There are many more…
Teaching Music
This unique 'music product' needs to be mentioned and emphasized all by itself.
If you know how to make music and audio, you likely know enough to teach it! Online courses are a great way to share your creativity and skills with the world. Plus it's rewarding to train up the next generation.
Grab our Content Restriction extension (requires a Professional Pass) and record some lessons. Check out these two really cool EDD websites that do online music training:
If you're interested in doing online lessons check out this article. For some sites we recommend EDD + Content Restriction. For others we recommend MemberPress.
---
Pricing
Music and Audio pricing varies greatly across the internet. And there is a lot of music that is free.
Audio Products for Consumers
Spotify has a free plan. Someone can listen to their vast catalog of music from independent artists all the way to the world's most famous pop stars. Many artists place their music on YouTube. Consumers can get a lot without ever paying a penny.
This can make it challenging to charge a good price for your products. Consumers are used to having options for free music.
If you have notoriety or a big following you can earn money selling individual music tracks on online music stores like Apple Music / iTunes, Spotify, or Amazon Music. Or you can make money selling audiobooks on Amazon's Audible or Barnes & Noble's Nook.
Music – When sold as single digital downloads, most music tracks are sold for $1.29 on Apple Music (formerly iTunes) or Amazon Music. You get a small percentage of that depending on how you handle your licensing (directly or with a music distributor service like Tunecore that charges fees).
Audiobooks – Audiobooks typically sell for $5-20 on Amazon, Audible, or Nook. Often the pricing is based on length. Many audiobook platforms offer a monthly subscription that is popular with customers.
Podcasts – Most podcasts are distributed for free. Creators make money through advertising and other partnerships.
You only get a tiny percentage of the revenue described above, learn more about that in 'The Platform Dilemma' section.
Many artists are not able to earn significant revenue on these consumer platforms alone due to overwhelming competition and low payments per stream or per download.
Audio Products for Businesses
As is the case for most product types, businesses are more willing to pay and willing to pay more than consumers for products that meet their unique needs.
There are many ways to make money when you sell music and audio for business use. Consider ways to make pieces of the products that other companies sell or provide to the consumer.
Short audio tracks for background music in commercials
Podcasts intro "bumper" tracks and background music
Music for motion pictures, television, advertisements, or YouTube
Background music for use on social media platforms (which can be set up to generate royalties automatically)
Sound and music for tutorials, training, etc.
Music for video games (a market now larger than motion pictures)
Sound effects libraries for audio engineers, radio, video, video games or podcasts
eLearning, lectures, interviews
Subscription or Recurring Revenue
Instead of selling one product at a time, consider developing a strategy for recurring or subscription revenue. With one-time sales you have to constantly create new products to increase revenue. With subscriptions, you can get paid automatically every month for access to your products.

Here are a few ideas:
Site memberships – If your catalog is large and high quality, your customers may be happy paying you on a subscription basis to be able to login and download what they need, when they need it.
Provide services – Try offering services which produce audio files. You already have the skills and equipment needed as an audio producer.

Record spoken translations of text or audio in other languages
Create audio versions of text like blog posts, some blogs provide their content written and spoken
Record eBooks, or course material
Produce musical accompaniments like drum tracks or cowbell solos
The possibilities are virtually endless!
For more tips on pricing, check out our post on pricing digital products. Also keep in mind that you can change your prices, and maybe even should change them on a regular basis.
---
Distribution

When selling your music or audio online you face a major dilemma. You could call it the platform dilemma. By 'platform' we mean other apps, websites, or marketplaces.
The Platform Dilemma
The platform dilemma is:
🤔 Should you sell on popular platforms or on your own website?
Using platforms exposes you to a large audience, but they keep a large amount of your revenue
Using your own website allows you to keep all of your revenue, but it's hard to attract a large audience
Consider a business strategy that uses other platforms and your website to achieve your goals.
Using Platforms
The majority of popular artists are on the big platforms like Apple Music, Amazon Music, Spotify, and Soundcloud. These platforms can get you in front of a wide audience. With their playlist functionality, it's easier than ever to be discovered. But they take a huge percentage of your revenue. How much? Usually half. Half of your money!
Some platforms have advantages over others. Bandcamp is a marketplace platform that is popular with many artists. They take, on average, 18% of your revenue to cover their expenses.
In some cases you're making far less than half. If you are on a record label they are taking a cut. Or if you use a distribution service, they take a cut too.
Less Than a Penny?
Most of the major streaming services pay less than a cent per play/stream. A fraction of a penny. Apple at least gives you a penny!
Platform
Paid per stream
After 1,000 plays you'll get
Apple
$0.01
$10.00
Amazon
$0.00402
$4.02
Spotify
$0.00437
$4.37
YouTube
$0.00069
$.69
SoundCloud
$0.00402
$4.02
*You must have a paid Pro Unlimited account at $12/month
These prices are based on internal research. These numbers often change and vary depending on terms of use and distribution agreements with each platform.
It's difficult and time consuming to get your music on each platform. You have to work directly with each platform, or get a music distribution service (like Tunecore) to manage multiple platforms on your behalf (for a cut).

You can see why it's very difficult to make much money on the streaming platforms.
Using Your Own Website
You can make more money selling music on your own website, in theory, but it's hard to get traffic to your website.
There are many advantages to selling your music or audio directly to customers on your own website. You get to:
Build and maintain a relationship with your fans/customers
Have direct communication with customers
Have complete control over pricing
Keep all of your revenue (minus credit card fees)
Develop and control your voice/brand/style
Control the entire experience
Expand and sell other products or 'merch' (CDs, Vinyl records, t-shirts, apparel)
🧑🏾‍🎓 Even if you are using other platforms, marketplaces, and social media to build an audience, it's a good idea to have your own website.
Having your own website is a key element to building a successful business.
Streaming and Downloading
Music and audio on the web can be streamed or downloaded.
Streaming is when you play the audio right off the internet in a web browser or app, you don't keep a copy of it for yourself
Downloading is when you download (usually after purchasing) and play the audio off your device's local storage as often as you want
If you plan to stream your music and audio files, you'll likely need to use one of the streaming platforms listed above. These platforms work well on all devices, and can work well whether the customer has a slow or fast connection to the internet.
If you want to stream or host downloads on your own website, you'll need to make sure you have a powerful and fast web host. You will need to serve your audio files from a CDN (content delivery network).
---
Audio File Formats

Make sure you deliver the right file to the customer and the right file to the streaming platforms. There are many audio file formats. It can be very confusing.
The key thing to understand is that some audio formats are for mastering and some are for listening.
Mastering Audio Formats
Mastering formats contain high quality, often uncompressed audio. You use these to store the master copy of your file. Then you use the master copy to transcode or compress listening files that are suited for streaming or download.
Master format files are large, they use a lot of disk space. They take a long time to upload and download from the web. Master copy files are not good for customers to use for streaming or downloading.
Popular Mastering Audio Formats:
WAV (Windows Waveform Audio)
FLAC (Free Lossless Audio Codec)
AIFF (Audio Interchange File Format)
Apple Lossless
Many of the streaming platforms require that you upload a master format on their servers, and then they create their own listening format copies.
Master files can be used in music production, because they are not compressed. All of the sound data is kept. If you are working together with multiple artists and producers, you would share the working files in a mastering format.
MIDI Files
There is one audio mastering format that is for special use. It's called MIDI which stands for 'musical instrument digital interface'.
These files are not audio files. They contain digital information about musical notes, tempo, structure and descriptions. These are used by music composers and songwriters during the creative process.
There are also physical and digital instruments that communicate with each other and output MIDI. There's even a specialized MIDI computer port you'll find on many keyboards, samplers, and other audio devices.
Songwriters, musicians, and composers may want to sell MIDI files to be used in music production.
Listening Audio Formats
Other audio file formats are designed for streaming and downloading. They are for the end user, the consumer, customer or listener.
These files are compressed. The file size is as small as possible for use on the internet. Some of the audio data is tossed out, only the information needed for end user to hear sound that is pretty good is kept.
Listening files cannot be used in the music production process because they are a low-quality (or lossy) copy. Each copy made after the first generation gets worse and worse.
Popular Listening Audio Formats:
AAC (Advanced Audio Coding)
HE-AAC (High Efficiency Advanced Audio Coding)
MP3
WMA (Windows Media Audio)
Ogg/Vorbis
Transcoding Tools
When you want to compress a master file into a listening file, you need a software tool. Many audio production tools like GarageBand, Apple Logic, or Ableton offer built-in encoding and transcoding.
There are also software tools dedicated to transcoding:
Physical Formats
More and more people are listening to music on their phones, tablets and computers. But there is still a large market of audio enthusiasts who prefer for physical formats. Don't forget about Compact Discs (CDs) and Vinyl records.
There are many services online that produce large or small runs of CDs and vinyl. Here are two options:
---
How To Sell Music and Audio with WordPress

If you are a professional musician, band, or audio producer, you should have your own website and your own domain name. Having this 'digital real estate' is essential to establishing yourself as a serious professional.
You never know when and why you might need your own website. Here are some important business functions that a website provides:
A portal for direct communication with fans and customers, where you don't have to play by anyone else's rules or terms of use
A professional email address (yourname@yourcompany.com)
A platform to have a consistent brand/tone/voice to sell:

Music
Concert tickets
Merch
Physical albums

A cohesive hub for your social media platforms
The Best Website Platform

The best way to build your own website is with WordPress. WordPress is powering 43% of the internet. It's open source. That means it's yours. Yours to use however you want, you own it. Imagine, the world's most popular and powerful website tools is free for you to own.
WordPress has the world's largest ecosystem of plugins, themes (templates), and services. You can rest assured that it can expand to do anything you ever need it to.
🤩 Want proof? Look to the stars. Some of the biggest acts in music use WordPress, including Beyoncé, Mick Jagger, Jay Z, Katy Perry, and Macklemore according to this cool article on the WordPress blog Torque. That list is a few years old, it's surely bigger now.
All you need to get started with WordPress is a web host. The good ones will set up WordPress for you, or provide simple one-click installers.
💻 Click here for our guide on choosing a WordPress host.
Already have a WordPress site? Great! You can get a store setup with just a few clicks. Read on… ⬇️
The Best Way to Sell on WordPress


The best way to sell your music and audio with WordPress is our Easy Digital Downloads plugin. 
The best way to sell your own music is on your own website. Remember, streaming platforms and online music stores take HUGE chunks of your revenue.
Even if you use them as part of your strategy, you should build your own direct-to-customer channel. A place where you can direct people to support you by purchasing directly. Especially when it's so easy.
It used to be hard to set up your own direct-to-consumer store. You had to know how to write code or hire a developer. But with Easy Digital Downloads (EDD) you can set up a full featured eCommerce store with no code.
It's free to get started, use it free forever.
The free version of EDD gets you everything you need with just the quick installation of a plugin.
You'll get:
Protected product files and user verification
Shopping cart
Flexible checkout options
Customer management (basic CRM)
Stripe and/or PayPal integration
eCommerce reports
Discount codes
Using WordPress and want to get Easy Digital Downloads for free?
Enter the URL to your WordPress website to install.
Don't Forget Merch
EDD is purpose-built for selling digital products. But you can also use it to sell physical products.
Are you selling a few physical CDs, vinyl records, hats, or t-shirts? You don't need a separate e-commerce solution.
If your focus is digital, but you sell a few physical goods, check out our Simple Shipping extension. This extension requires upgrading to a Professional Pass.
Simple shipping lets you:
Collect shipping information
Set international and domestic shipping rates and collect shipping fees at checkout
Manage orders
With simple shipping you'll have to manage shipping and fulfillment. If you're really busy, you might want to check out service providers who handle it all: manufacturing, fulfillment, and shipping.
These providers will cost you more per unit, but may be worth the investment. A few companies well suited for music and audio creatives are:
Printful (hats and apparel)
Disc Makers (CDs and Vinyl)
Bandcamp (Vinyl)
Click here to purchase an EDD Pass for advanced features like subscriptions, product bundles, content restriction, or simple shipping.
---
Conclusion
Rock-n-roll! You have learned how to sell your audio and music online. You've also learned about the challenges and opportunities in the music industry.
We have a deep catalog of resources for entrepreneurs and digital creators like you! What do you want to learn about next?
Grab an EDD Pass for advanced features needed by growing businesses.
Be sure to follow us on Facebook and Twitter to learn more about WordPress and selling digital products.