---
Whether you're starting your first online business, or expanding on your current eCommerce site, pricing your digital products or services will play a significant role in the success of your business.
Over the last five years, we've learned a thing or two about pricing, and, it's true: there is no one-size-fits-all approach when it comes to pricing models. However, while you aren't likely to sell a dog scarf knitting pattern for the same price as an online course for basket weaving, there are some fundamental elements to consider when figuring out how to price your digital products.
1. Keep your friends close and your competitors closer
Checking out your competitors is one of the first things you should do when you're ready to determine your pricing. Your products or services should be priced fairly for you and your customers, whilst taking into account the value your offering provides. Pricing your products much lower than your competition can devalue your products and lead your customers to believe the quality isn't as good as your competitor's product. Pricing your products higher than your competition shows your customers that you bring something more to the table.
When comparing your potential prices to those of your competitors, consider the following:
What features does your product or service offer that your competitor's product doesn't?
What makes not just your product or service great, but also your company?
Who are you selling your products or services to?
Don't be afraid to stand out in the crowd. Take a look at your competitors and see what they're doing – they're likely checking you out as well.
2. Pricing is all about value
We sell products to solve a problem and enrich the lives of others. With the amount of time, effort, blood, sweat, and tears (and oftentimes rude words) that go into creating these products, the hope is to also profit from our ability to solve that particular problem.
If you create a plugin that is essential to the success of an online store, such as a payment gateway, that provides immense value to a user. They literally could not run a store without taking payments on their website.
If you sell a complex sewing pattern on your site, you are giving your customers the gift of enjoyment that comes with creating something handmade, without the stress and the "how-on-earth-do-I-do-this?!" emotions.
You're providing your customers with a key component they need to accomplish a task. You're saving them time so they don't have to do something themselves. You're providing value.
Price is what you pay. Value is what you get.

Warren Buffett
Software development, writing, and designing ain't easy! Considering the value of your product is incredibly important when determining price. And while it sounds difficult to put a price on your time spent, or their time saved, most people simply won't even consider the time you spent creating the product they buy from you (harsh, but true). Whether you've spent hours, weeks, or months on a product, to a customer, they are buying something that will allow them to save time, save money, save effort, or will make their life better in some way. That is the real value you're selling to your customers.
If your product is the right fit for your customer's specific needs, they'll pay a higher price. You're reading this because you create incredible digital products to sell – don't underestimate your own worth!
3. Hosting Services, Gateway Fees, Marketing Costs, OH MY!
The excitement of starting your business and making that first sale can quickly fade when you start to add up running costs. When you figure hosting, gateway fees, and marketing costs into your budget you may realize that you'll need to sell a lot of $1.99 music downloads to cover monthly expenses and make a profit. For example, Stripe Pay As You Go pricing currently charges 2.9% + $.30 per successful card charge. After all the hard work you put into that $1.99 piano solo, you're keeping $1.40.
Yep… $1.40.
When pricing your products, think long-term and look towards the future. Price higher than you think you initially should.
What is the first price that comes to mind that you believe you could safely sell your product for? Write it down, and now raise it 20%.
Martiel Beatty
As your site grows and your product features or benefits expand, your operating costs will also rise. Introducing price increases for existing digital products or services down the road may discourage existing customers from renewing or purchasing newly-released products.
Pricing higher to start with will help you avoid a drastic increase in the future to cover any additional expenses. Remember to factor in the after sale costs when picking that just-right price. It also means you can partake in seasonal promotion periods like big holiday sales, or your own promotions, and still be able to to cover your expenses without bottoming out! Price your products or your service higher than your gut tells you.
4. Customer service doesn't end at checkout
The "Customer Experience" encompasses every touchpoint a customer has with your business. From visiting your website, to completing a purchase, to after-purchase interactions, to receiving a follow-up email, and so on. The interaction with your customers should never stop when a sale is completed.
One aspect of ongoing customer interaction is customer support. The amount of support requests generated from selling digital products can be hard to anticipate, and is based on your business and the product or products you sell. Selling plugins and themes will yield more after-purchase support than selling eBooks or digital photography. These requests can range from complex technical issues to simple refund requests.
Spend some time thinking about the volume and difficulty of the customer requests you're likely to receive. Can you handle these requests and keep your customers happy on your own? Or will you need to bring on some help? Have you attracted the right customers for the value you're providing and the services you're selling?
Take a moment to consider this scenario: You're selling a hot new plugin that offers all the bells and whistles. To reach a larger customer base and compete in your industry, you've decided to price it at $29 per license. Each one of those customers may have after-sale support needs.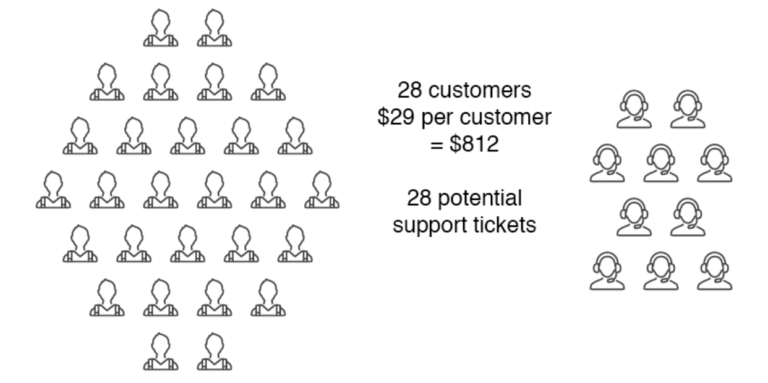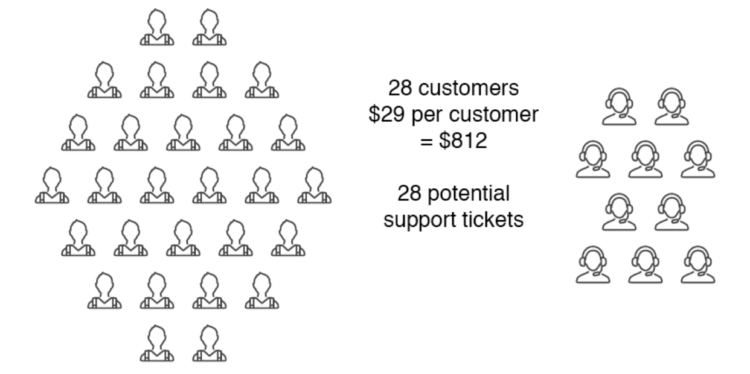 Now consider the effects of pricing that plugin just a bit higher – let's say $58. You're showing a more representative value of the available features, and attracting higher quality customers. There are now fewer customers which will result in a lower number of interactions after the sale, and you're making the same amount of money.


5. Variety is the spice of life
Quantity and quality are the two main characteristics that come to mind when someone mentions tiered pricing. The more you get, the better the value, the more you pay. Tiered pricing creates variety which allows you to reach a wider audience, and this pricing model can apply to nearly every digital product available.
If you sell digital photography you may have a low resolution, and high resolution, version of each image. When faced with multiple price points, customers will often pick the middle-of-the-road option. The lowest price may not present as much value to your customers as the highest price point, but the highest priced option may be slightly out of reach. One size does not fit all and offering tiered pricing allows your customers to pick the option that's best for their needs, and budget.
6. Would you like fries (AND a drink) with that?
If you've ever been to a fast food restaurant and purchased a "Number 4", you've taken advantage of bundled pricing. Why pay for each, individual component, when you can take advantage of a pre-made bundle? It's easier to purchase and offers a better value versus purchasing each item individually. Bundling digital products can be a great way to offer your customers the same ease, and value.
When creating bundled pricing for your products make sure the products complement one another, and that it will provide value to your customers. Bundle your newest yoga video with a meditation guide to achieve maximum zen. Bundle a premium plugin with a premium theme and give your customers an all-in-one website solution at a slightly discounted price – it's better than buying them separately!
You know your business best
Pricing isn't an exact science. It's subjective, and depends greatly on the customers you're targeting, the products/services you're selling, and the value you're providing. So before you throw a number at that new product in the hopes it sticks, think about the short-term, and long-term factors. Competition, value, and cost are just a few of the defining aspects in the decision you make.
At the end of the business day, remember that it's an impossible feat to please everyone. The pricing decisions you make should be based on some of the tips mentioned in this article, but also on your company goals. Be nimble if you choose to be, but ultimately, stay true to your business model and beliefs.
Have you employed any pricing tactics for your own business? What pricing advice would you give to someone just starting their online store?