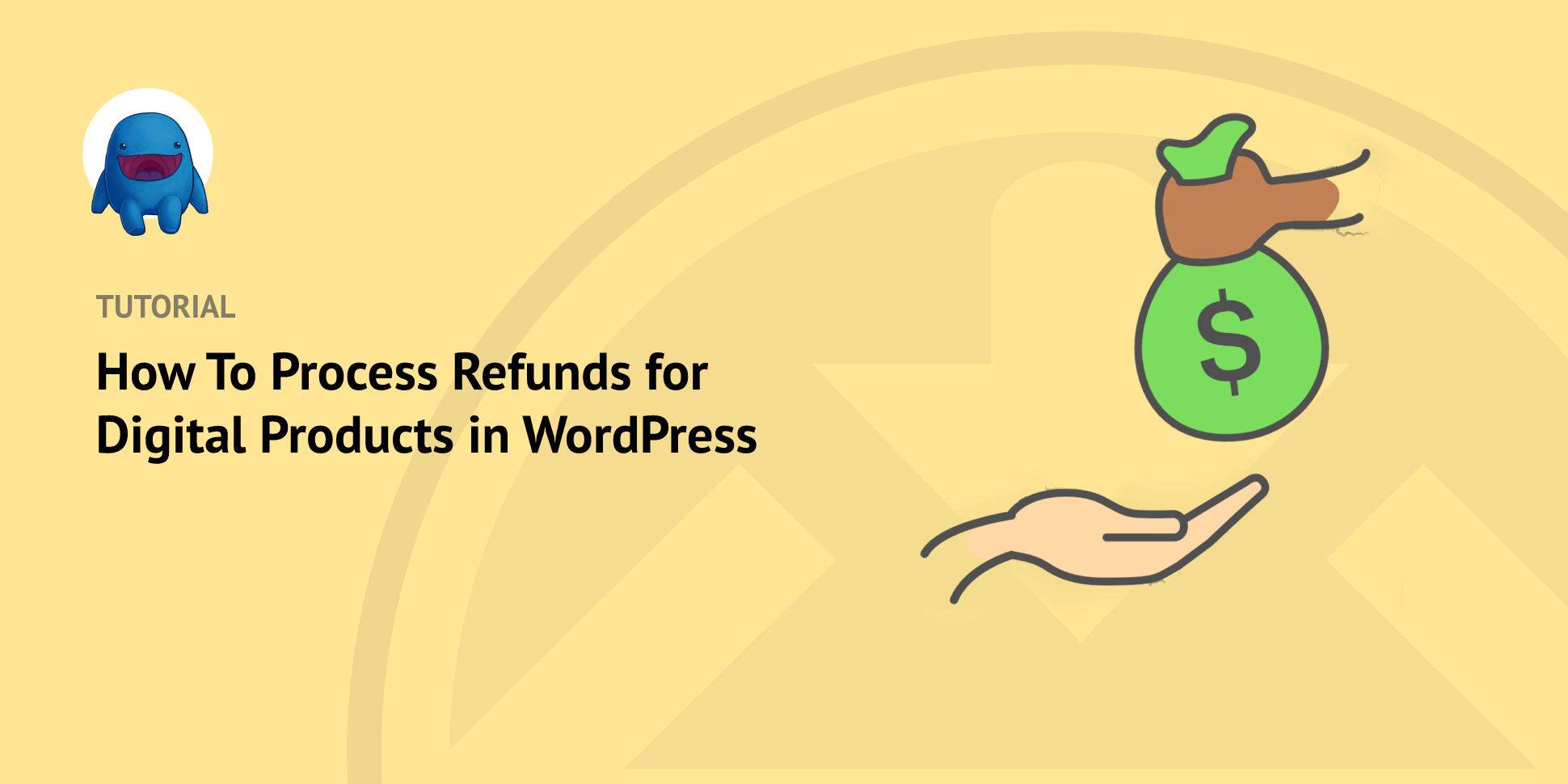 Are you trying to figure out how to handle refunds for digital products or an online store? We can help.
Refunds are an unavoidable fact of life for entrepreneurs. Be sure to have a plan.
In this article we'll show you how to be ready to handle refunds.
Let's get this taken care of! Here's what we'll cover:
---
Don't Panic

What happens when you've sold an eBook to a reader who suddenly realizes they were actually looking for a thrilling mystery series, and not a steamy romance novel?
🤔 Confusion
😖 Frustration
😡 Anger
😭 Disappointment
🙀 Panic
These are all feelings you might have. You've put countless hours into your product. That refund request can pack a mighty punch in the gut.

But it doesn't have to, and it shouldn't!
Repeat after me:
"Refunds are an unavoidable fact of life."

— The voice of experience
The sooner you accept this as fact, the sooner you can learn how to handle them like a pro.
---
What Not To Do
If you want to succeed in online selling you need a good reputation and happy customers. If people don't have a positive experience with your business, you will fail.
How you handle refunds can be a big part of this.
We suggest NOT doing these two things:
Don't go 'back and forth' with customers
Don't refuse to do refunds all together
👎🏾 Doing the Back and Forth
Remember, we are digital creators just like you. We use Easy Digital Downloads every day to power our business. Here's what we've learned about refunds from selling our software products…
In the past, like many others, we tried to "save" almost every refund request we got. We wanted to make every customer happy. We didn't want to lose money.
We'd go back and forth with customers attempting to resolve their issues. Big issues. Small issues. Issues that didn't really have anything to do with our product, but with WordPress sites in general.
This resulted in unnecessary stress for our team. Also, our customers were unhappy with the drawn-out process. Not OK.
Those refunds might sting, but we learned:
Say it with me again: refunds are an unavoidable fact of life
Ain't nobody got time for that (you or your customer)
Your reputation can make or break your business
It's better for ex-customers to walk away happy, than drag it out and make it painful.
The last thing you want is a rant-worthy experience that results in a negative review somewhere.
👎 Refusing To Do Refunds
If you refuse to issue refunds you are going to develop a bad reputation. Having a strict no refund policy may actually cause more problems.
You may find yourself in trouble with your regional government authorities. Most countries have customer protections in place allowing refunds under certain circumstances.
Making a fair and reasonable refund policy will give customers peace of mind and build trust. Customers who trust you are more likely to purchase from you.

In the big picture, trust is more important to your bottom line than one or two refunds.
---
👍🏽 What To Do: Provide A Refund Policy

We encourage you to allow full refunds on digital products. We also suggest having a written policy on your website.
Why to Allow Refunds
Allowing refunds helps protect customers. It also has other benefits that are often overlooked:
You can stand out from your competitors that don't offer refunds.
You will build trust with potential customers.
Former customers will walk away feeling good about your swift handling of a refund.

They may return in the future when their needs change
This can result in a good reputation and word-of-mouth advertising
This prevents negative reviews

Knowing customers can request a refund keeps you and your team accountable. You'll be motivated to make good products and improve them, resulting in happy customers.
➡️ Chargebacks are a nightmare. If you refuse to issue a refund, your customers may take matters into their own hands and dispute the charge with PayPal, Stripe, their credit card, or other payment processor you use. These chargebacks result in a lot of wasted time and expense.
How to Write a Refund Policy
You want to write a refund policy that covers you and your customer. A policy that meets:
The needs of your business,
The desires and needs of your customers
Then, everyone can walk away from the purchase feeling satisfied.
Make sure your refund policy is easily identifiable on your website. Here are some best practices that we suggest and use ourselves.
✅ Have the refund policy easily viewable on the product or pricing page: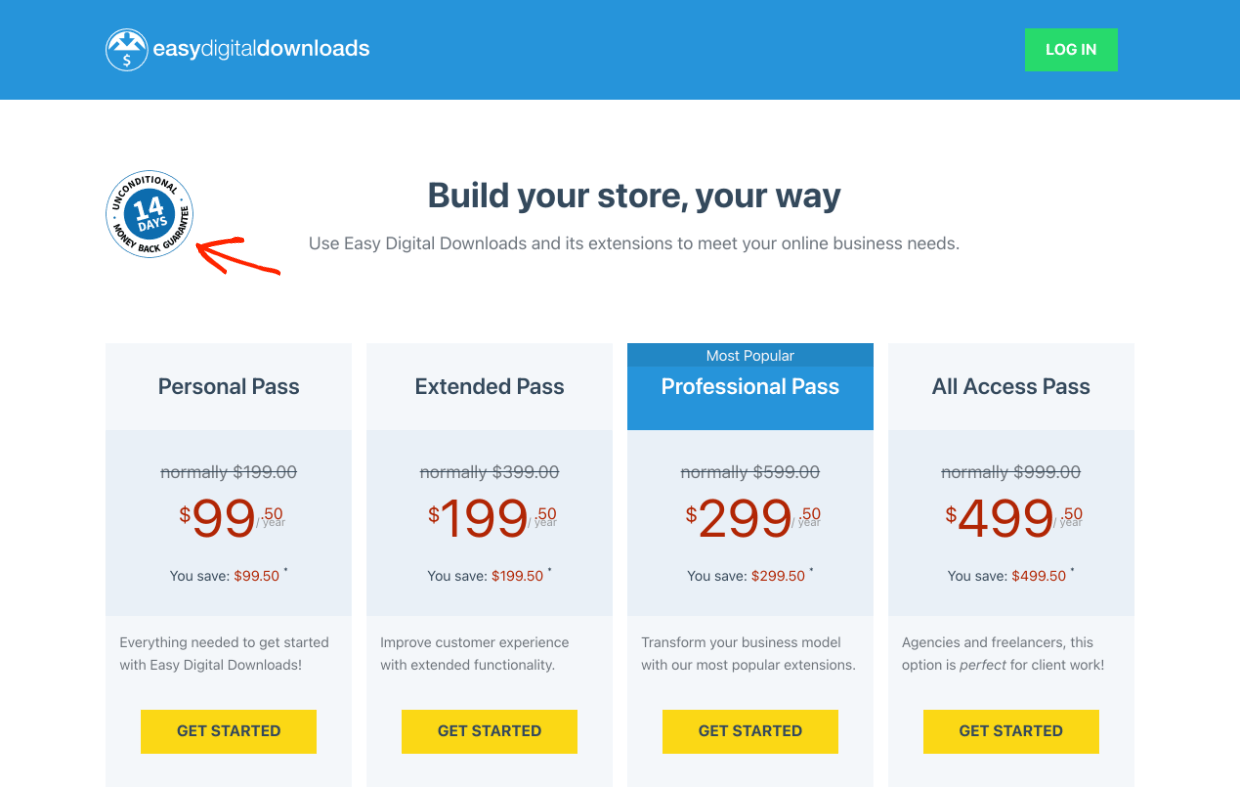 ✅ Summarize your return policy, and have a link to the full policy on your checkout page:
✅ Also have a link to the policy on your website footer:
✅ Place links to the policy on your FAQ page, your Documentation, and your Contact page: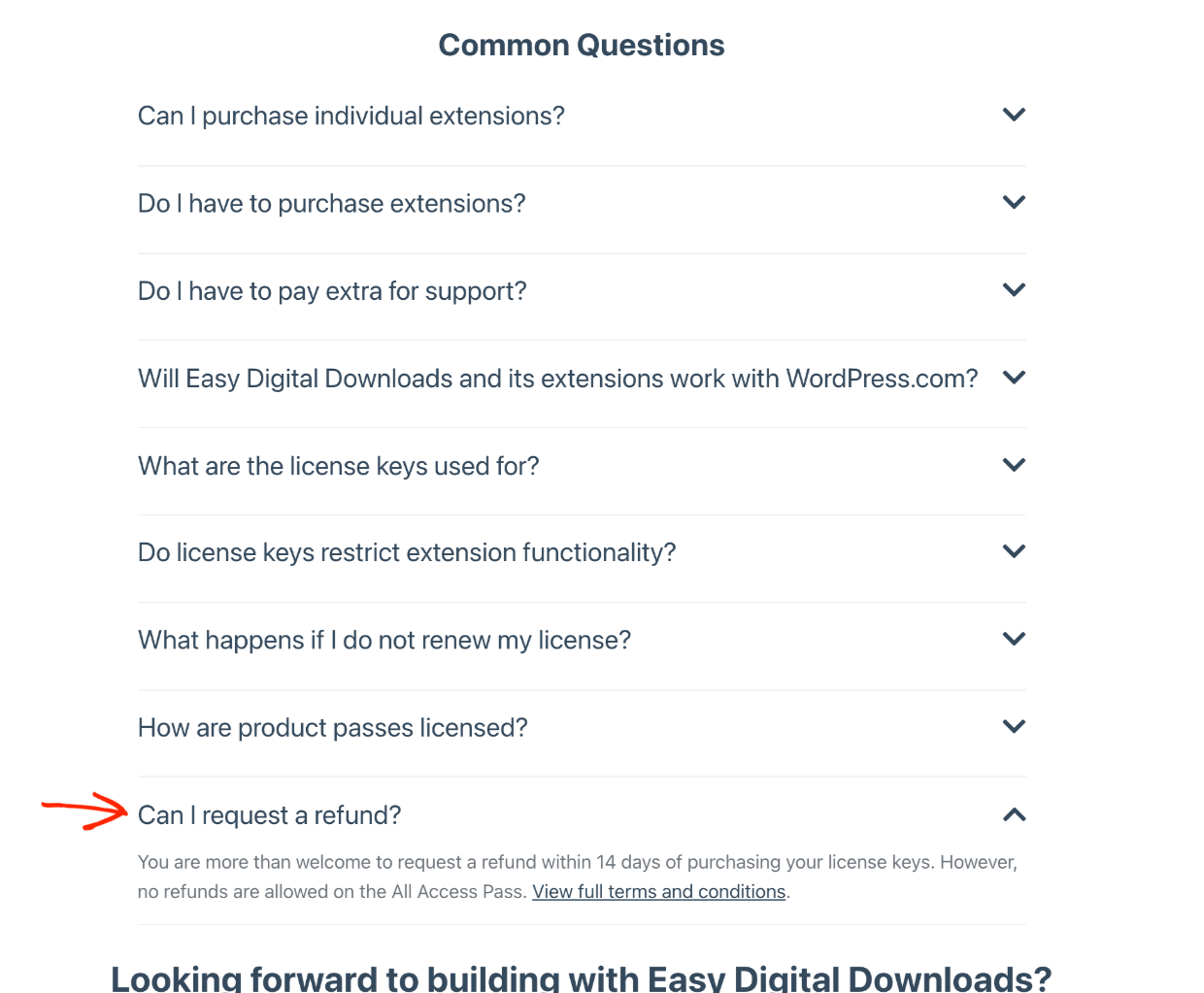 Be sure to clearly outline your terms. A good refund policy should include:
Timeframe. How many hours or days notice do you require from the date of purchase?
Non-refundable products. Are you selling any products that are non-refundable? Be sure this is clearly stated in your terms and on the product page.
Consequences. Once the refund is issued, what happens next? Customers may lose access to support, downloads, your content, or future updates.
How to request a refund. All of the above information won't be helpful to a customer if they don't know how to contact you. Include a link to your support form or the appropriate email address to simplify the process.
At Easy Digital Downloads we offer a 14-day, no questions asked, no-risk, money back guarantee.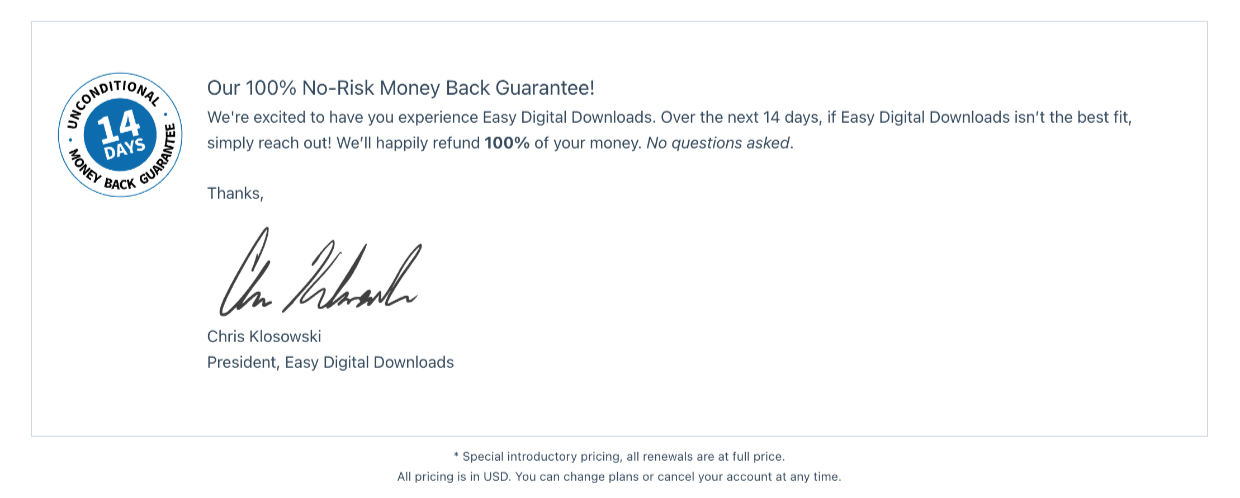 A money back guarantee like this is a good way to build trust with customers.
Should I Process The Refund or Try and Save the Sale?
A good principle would be to simply refund in most cases.
But there may be times when you should try to save the sale. Only try to save the sale when you are very confident there is an easy way to clear up a misconception. First, be sure the customer really will be happy with the product.
Some examples:
The customer might be confused about what services or features are available. Clear things up.
They might think you didn't include something they needed, but you actually do include it. Point it out.
They might not know how to use or install your product. If you're sure they'll be happy with some quick help. Give them the help.
The customer might simply have experienced a download issue. Show them how to get started.
There are times to save the sale. Just be sure you aren't being pushy or greedy. Your reputation is more important.
Gather Information From Refunds
Refund requests are not all bad! Often they allow you to figure out what customers want. What they were missing. This allows you to make improvements to your product or website.

Many customers will be very clear as to why they'd like a refund. Set up an automated email that goes out after a refund asking for feedback.

It's perfectly OK to ask, "Could you tell me what you didn't like about the product you purchased?" Be careful how you do this. Customers may mistake your genuine interest as a way of getting out of the refund.
Be sure you give them a refund, and make it easy. That will make them more happy and more likely to offer feedback.
Be Willing to Make Exceptions to Your Rules
Sometimes, rarely, you can make an exception to your written policy.
Here's an example. Let's say your policy clearly states that all refunds must be requested within 30 days of purchase.
Then, a customer requests a refund on day 42. Your first reaction will be to deny the refund. They are well past the 30-day period.

But it can be worth your while to look at each case, briefly. Before you rush to any quick decisions, consider the customer's side. There are other options:
Did the customer ask for help trying to resolve an issue with their purchase prior to requesting a refund?
Was there a holiday or were they out of town?
Is there a different product the customer would rather have?
Does another product you offer fit their needs?
Can you offer a discount or credit on a future purchase?
If you're able to save the sale and keep those hard-earned dollars in your pocket, fantastic! But be willing to review all aspects of the situation and adjust your decision accordingly.
Be Willing to Hold Your Ground
Refund policies are meant to protect both parties, the business and the customer.
There will come a day when you'll be asked to make an exception to your refund policy and you'll politely deny the request.
Whatever the reason may be, the most important thing to do is stand by the decision that was made.
The policies you've established exist for a reason and should be enforced. Ignoring your own written policy can decrease customer trust. It can hurt your reputation with your customers and your team.
Be prepared to stand by the policies you've enacted when necessary. If you don't follow your own word, that can spread over social media and the web. You'll have a lot of explaining to do then.
Make Refunds Easy
Think about refunds from the perspective of your customer.
When a customer has decided the product they purchased isn't for them, a lot of things have probably already happened:
The product may not function as they had hoped it would
They may have already contacted you regarding quality issues
They might be frustrated
They're likely busy running their business, and want to resolve this situation quickly
Making it easy for your customers to get their money back can help to soften the blow for both of you.
If your refund policy doesn't clearly state how to request a refund, customers will eventually take matters into their own hands.
Things typically go one of two ways when this happens, and neither scenario is ideal for a business owner.
Verbal Attack
Social media and review sites make it easy for customers to share their opinions to a wide audience.
When a customer is displeased with the level of service they're getting they may go on the verbal attack.
Resolving an issue via social media or in public can be challenging and puts all eyes on the wrong part of your business.
Chargebacks
If requesting a refund is difficult, some customers will open a chargeback to reverse the payment. They may contact their bank, credit card provider, or the payment gateway.
This will very likely have a negative impact for you. Chargebacks are a costly expense for your business.
"Approximately 8 in 10 customers admit to filing a chargeback instead of working out issues directly with a seller."

— eConsumer Services
When a dispute is opened with a bank, credit card, PayPal, or Stripe, you'lll be asked to gather the required data to resolve said dispute.
In most cases there is a fee you'll have to pay in addition to the original refund amount!

You'll have lost more than the initial refund amount and wasted countless hours working to resolve it.
Make it extremely clear in various places on your site how customers can request a refund.

🔍 Click here to review the 'How to Write a Refund Policy' section.
Be sure to make it easy to find and easy to do.
---
Refunds for Digital Products: Challenges and Solutions

The refund process is pretty easy when you need to return that new pair of Chuck Taylors high top sneakers. You return the shoes to the retailer and the retailer returns your money. Even-steven.
The process of refunding is less clear when dealing with digital goods and downloads.
Physical Products
Here are just a few of the reasons used when consumers return physical goods and request a refund.
Too small
Too big
Wrong color
Wrong item
I don't even remember ordering this!
Digital Products
Often the customer can't return the item, because it's a digital copy of a file on their device. You can't remove it and have no control.
For digital goods, the reason for the return is often quite different and more complex:
The purchased product didn't function as expected (typically software)
The product wasn't compatible with a user's existing setup (typically software)
The item was of lesser quality than expected
The charge was for a subscription renewal payment
The customer didn't understand what it was they were purchasing
The customer changed their mind or decided the product was no longer required
They can't figure out how to use it (often only with software)
These are just a few of the refund request reasons you might encounter. But, wait just a minute there… what happens to the actual product?
The File Abides
When a refund is requested on the purchase of a physical product, the product is returned before the money is refunded.
However when a refund is requested for a digital product, there is no way for the customer to truly return the purchased item. The digital file likely remains in their possession.
This can be a daunting scenario, especially if you're just getting started. But there are ways to lessen the uneasiness you may be feeling:
Structure your business around providing extra capabilities and features when a customer completes a purchase. Extra capabilities and features that will no longer be available if a refund is issued.

If you sell software – Use software licensing codes to prevent fraud, and offer support or access to updates that go away if a refund is processed.
Selling photos or graphics? – You could choose to only allow a certain amount of images to be downloaded per month.
If you sell courses or a series of eBooks – You could set them up as membership levels that can only be unlocked after prior online courses or books have been purchased.
Running a membership or online courses site? – One of your terms can be that access to content is revoked when a refund is issued. Be sure to clearly outline the terms of membership upfront so customers aren't surprised further down the road.
---
How to Process Refunds
How do you do a return? It depends on what you are using to sell your digital products.
If you are selling on a platform or marketplace, you'll have to contact their support team. It might be complicated.
You might have no control over how they do returns. You may have no way to control the customer experience.
We suggest setting up a store with WordPress and Easy Digital Downloads (EDD). You'll have full control of the costs and customer experience.

With EDD processing a return is as simple as a few clicks.
EDD integrates with Stripe, PayPal, and many other popular payment gateways. Many of these gateways allow you to process a return with just a few clicks all within your WordPress admin. This makes it easy for you to make customers happy while freeing up your time for other tasks.
EDD's integrations with Stripe and PayPal also allow you to process returns on the payment gateway's control panel.
🔍 Click here to learn more about processing returns with EDD
Sell Your Digital Products and Downloads for Free
Easy Digital Downloads is one of the most trusted plugins ever made for WordPress. More than 50,000 businesses of all sizes trust EDD for their ecommerce needs.
Get started for free!
Here's that the free version (not free trial) includes:
Protected product files, only paying customers will have access to your digital downloads
Full control over pricing
Shopping cart
Flexible checkout options
Discount codes
Customer management (basic CRM)
eCommerce reports
Stripe and/or PayPal integration
White label (full control over branding)
Easy processing of refunds
Using WordPress and want to get Easy Digital Downloads for free?
Enter the URL to your WordPress website to install.
As you grow, or if you need certain advanced eCommerce functionality, you may want an EDD Pass. Passes give you access to extensions like Software Licensing or recurring payments for subscriptions. Learn more about EDD Passes.
Don't have a WordPress site?
You should get one. There is no better way to get both endless flexibility and affordable pricing. All you need is a good web host to use WordPress' free industry leading website tools. A good web host will install WordPress for you or make it as simple as a few clicks of a button.
🔍 Click here to find a great web host (discount codes included!)
---
How to Reduce The Amount of Refunds

What steps can you take to reduce the number of refund requests?

Answer: Provide as much relevant information as possible up-front. Also make and sell high quality digital products that deliver on your promises.
These are our top tips for preventing refund requests:
Be honest with your website copy. Make sure your product delivers what it promises.
Write clear, detailed product descriptions.
Provide useful supporting documentation and answers to common FAQs.
Make use of demo videos, samples, and free trials.
Make pre-sale support a priority, or offer a pre-sale chat or email feature on your site.
These are proven ways to help customers before they purchase. Helping your customers make an informed decision is a great way to reduce the number of refund requests you get.
Up-front information is also likely the best way to get happy customers.
Don't Give Up
Remember: Refunds are an unavoidable fact of life.
They can be a positive experience for your customers and your business. They can be a way to strengthen your relationships with existing and prospective customers, and improve the reputation of your brand.
"While dealing with refunds is inevitable, dealing with them graciously is more important."

— Paolo Tajani | AyeCode.io
Over time, you'll learn to not take every refund request personally. Soon, the sting you might feel will eventually fade.
Listen to your customers and learn from them.
Questions To Answer
What can you change, add, or improve upon to better service your customer?
Does your eCommerce business currently have a cancellation/refund/returns policy? Is it easy for customers to locate?
Are you clearly stating your policy and the steps a customer needs to take to request a refund?
Conclusion
That's it! We hope this article helped you learn how to handle refunds for your digital products. Processing refunds in a timely manner is important to succeeding in business and keeping a good reputation.
We have more resources for entrepreneurs and digital creators like you. What do you want to learn about next?
Be sure to follow us on Facebook and Twitter to learn more about WordPress and selling digital products.