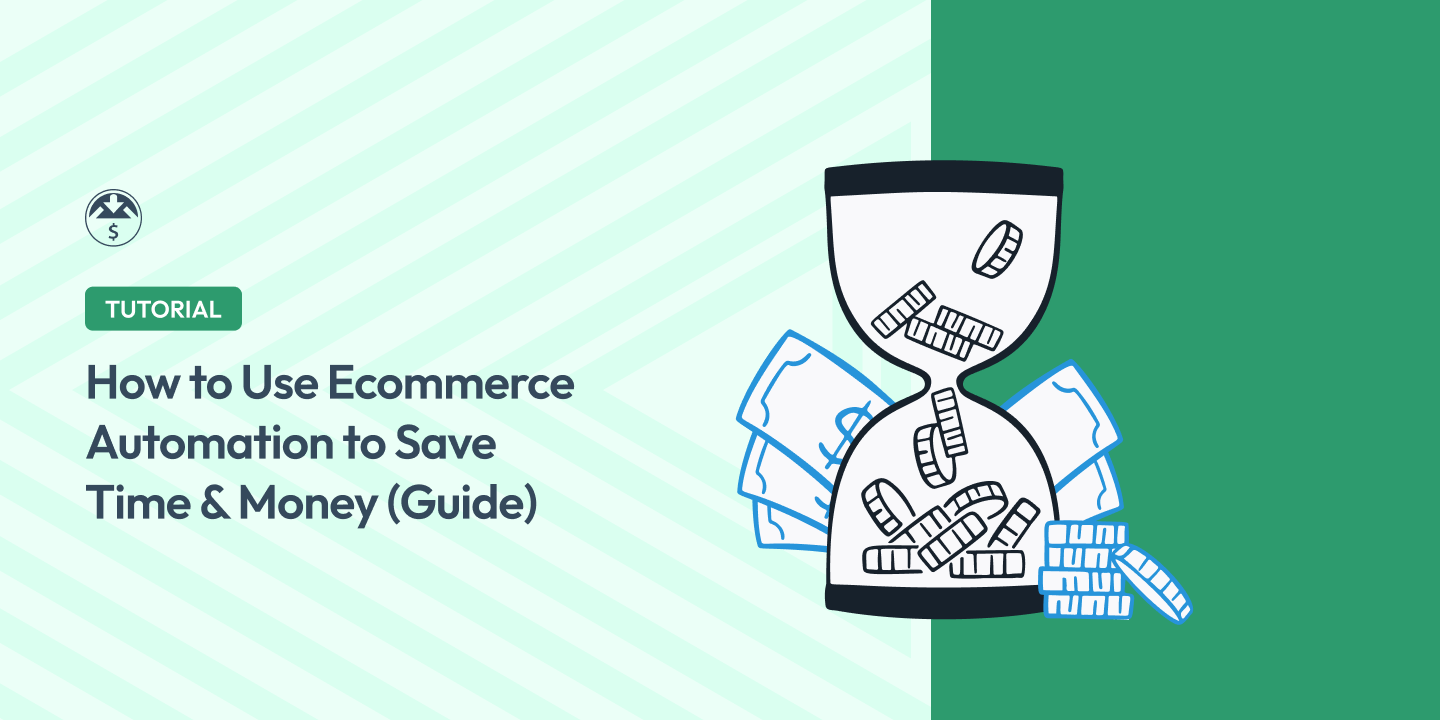 If you're running an online store, eCommerce automation should be a priority.
There are tons of tools available that can help streamline many aspects of your eCommerce business, from email marketing and social media to customer service and admin tasks. Implementing the right technology saves money and time, and even helps minimize risks associated with human error.
The fewer tasks you're responsible for handling (especially manually), the easier it is to focus on other critical areas of business to help drive sales and revenue.
🔎 In this article, we'll cover:
What Is eCommerce Automation?
Ecommerce automation is the practice of using software and technology to perform repetitive tasks and time-consuming processes in an online store automatically. This includes order processing, customer communication, marketing, and analytics.
Business owners can use apps, plugins, and other types of eCommerce automation software to streamline a variety of workflows. Not only can this help with saving time, but it can result in better customer relationships.
Benefits of eCommerce Automation
Ecommerce automation for WordPress sites offers several significant benefits that can help small businesses accelerate operations and improve efficiency. Here are some key advantages:
Time & cost savings
Reduced human error
Higher levels of customer satisfaction
Quicker order fulfillment
Improved efficiency
Enhanced customer experience
Consistent & timely marketing campaigns
Detailed analytics & reporting for informed decision-making
Scalability & competitive advantage
The functionalities provided by automation solutions let you spend less time on manual tasks and more time enhancing customer experiences and driving sales.
Types of eCommerce Automation
There are different areas of eCommerce automation. Let's explore some of the most popular.
eCommerce Marketing Automation
A comprehensive marketing strategy is crucial for eCommerce success. But between content, email, and social media marketing, there's a lot of ground to cover.
Ecommerce marketing automation tools can help create, optimize, and deliver targeted campaigns, run limited-time offers and promotions, schedule social media posts, conduct keyword and market research, and more.
Email Automation
Using an automated system for eCommerce emails can make communicating with customers significantly easier (and more effective). It can be used to deliver order confirmations and purchase receipts, downloadable files, etc.
Email automation can also help with marketing. Email marketing automation tools are often used for sending timely and personalized recommendations, special offers and promotions, follow-up emails to recover abandoned shopping carts, and more.
Customer Support
When it comes to eCommerce, customer satisfaction is of utmost importance. Poor customer support, such as slow response times, can hurt your retention rates and overall success.
Customer Relationship Management (CRM) software, ticketing systems, and live chat or chatbot software all help facilitate and manage effective support needed to build customer loyalty.
Automated Reporting & Analytics
Automated sales reporting and analytics are ideal for collecting, analyzing, and sharing performance metrics and customer data without manual effort. It saves time and money by streamlining the process and providing actionable insights to make informed decisions.
You can use automation to generate daily or monthly sales summaries, track the performance of new products, identify trends, and monitor customer behavior. This makes it easier to allocate resources more efficiently, optimize your marketing strategy, and quickly respond to changing market conditions.
Plus, automated reporting reduces the need for manual data entry and analysis, freeing up team members to focus on higher-value tasks.
Secure Payment Processing
Payment processing tasks are crucial for ensuring smooth and secure transactions on your site. Automated payment processing tools can help seamlessly verify payment details, detect fraudulent transactions, authorize and capture payments, and manage refunds and renewals.
Order & Inventory Management
If you sell physical goods through a WooCommerce store or other platform, eCommerce automation can help with your order fulfillment and inventory management operations.
Order management systems can automatically update inventory levels in real-time, generate shipping labels, send alerts for low-stock items, update product availability on your site, trigger shipping processes, send order status notifications to customers, and more.
Best eCommerce WordPress Automation Tools
One of the advantages of using WordPress as your eCommerce platform is the amount of integrations available. There are plenty of affordable, powerful, and versatile plugins and tools you can use to optimize and automate your online business.
Let's take a look at some of the best eCommerce automation plugins for WordPress sites.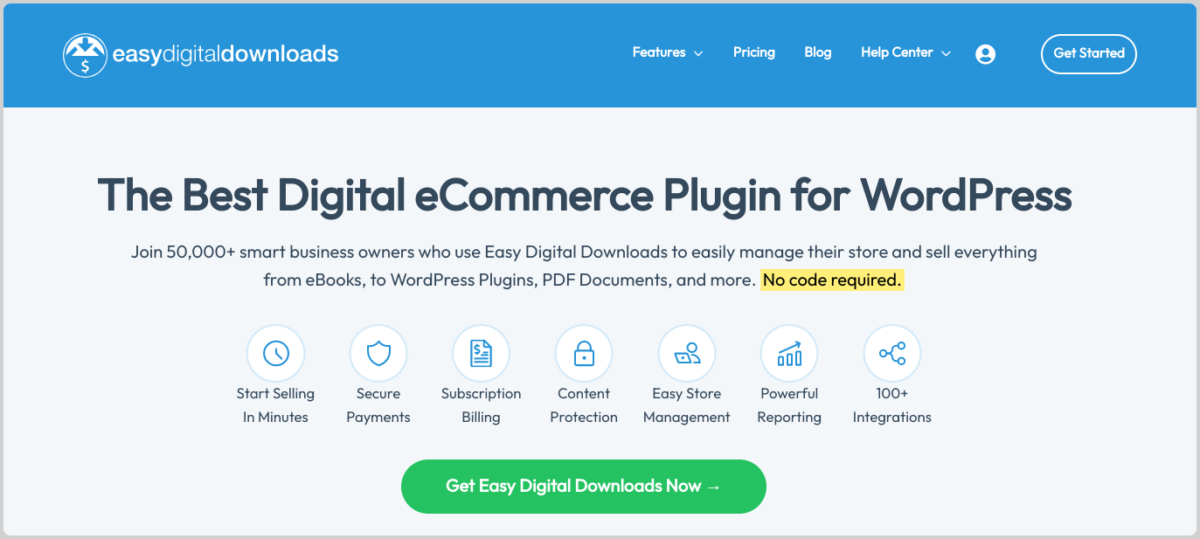 Easy Digital Downloads (EDD) is the best WordPress plugin for selling digital products.
More than just an automation tool, it offers a complete eCommerce solution for creating an online store and selling downloadable goods, such as eBooks, software, and digital artwork.
EDD adds a full shopping cart system to WordPress sites, enabling you to create product listings, accept online payments, and automatically deliver digital files to customers upon purchase.
This powerful WordPress plugin can handle many aspects of eCommerce automation. Here are some tasks it can help you do.
🔑 Key Features
Integrate popular email tools like Mailchimp, ActiveCampaign, MailPoet, GetResponse, Constant Contact & more
Recapture shoppers through abandoned cart emails
Securely & automatically process payments, including recurring & subscription
Track eCommerce performance & collect detailed sales reports
Secure downloads with purchase limits, expiry URLs/dates & other restrictions
Automatically register users at checkout
Show product recommendations to customers based on past purchases
Build customer loyalty through purchase rewards
Pricing: There is a free Lite version of Easy Digital Downloads. However, upgrading to Easy Digital Downloads Pro offers the most value as it includes access to premium add-ons and features. Plans start at $199 per year.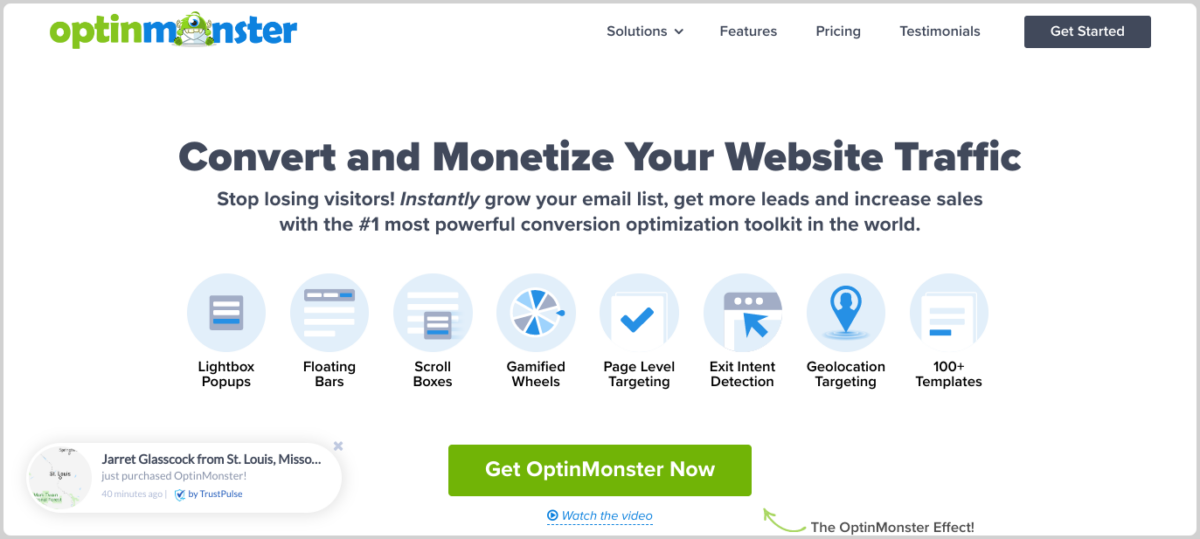 OptinMonster is the best WordPress lead generation plugin that specializes in conversion optimization. While also not a complete eCommerce automation tool, it plays a crucial role in enhancing eCommerce operations.
OptinMonster helps businesses capture leads, reduce cart abandonment, and boost conversions on their websites. It can be used to increase email subscribers and conversions by creating and displaying highly targeted opt-in forms.
You can use it to create eye-catching and highly targeted opt-in forms, pop-ups, and exit-intent messages to engage visitors and convert them into customers.
🔑 Key Features
Customizable opt-in forms & pop-ups to capture email leads
Drag & drop builder
Pre-built templates
Exit-Intent Technology that reduces abandonment
A/B testing to optimize forms for higher conversion rates
Targeted campaigns with behavior triggers & display conditions
Integration with popular email marketing, eCommerce & CRM platforms
Geo-location targeting for specific promotions or messaging
Detailed analytics & reporting
Pricing: OptinMonster offers a range of pricing plans, starting at $9/month (billed annually). It also has a 14-day money-back guarantee.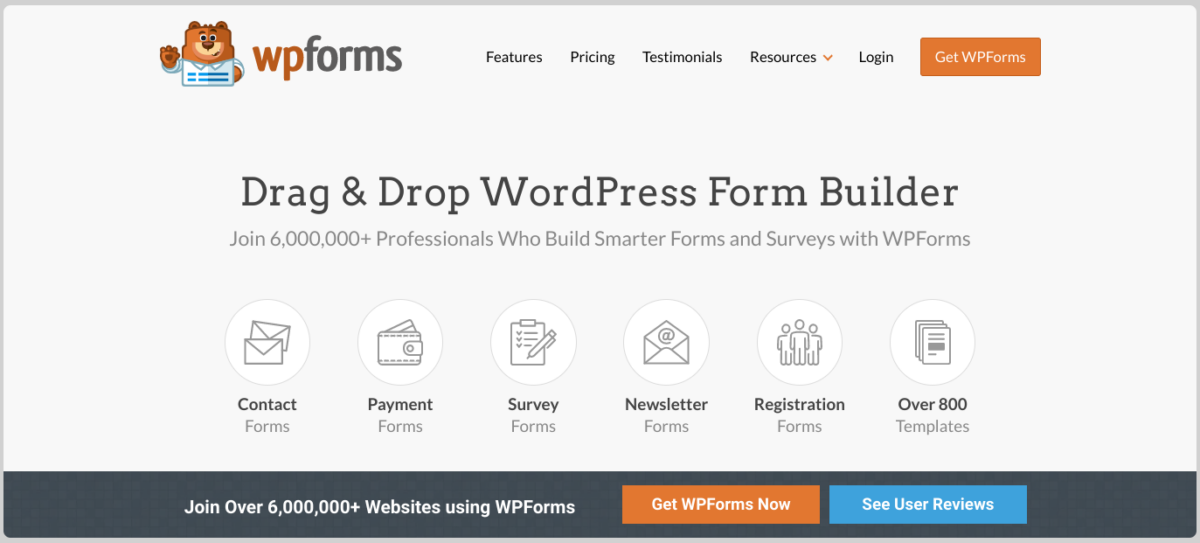 WPForms is a popular WordPress form plugin that simplifies the process of creating and managing forms on your website. Thanks to its ability to facilitate data collection and integrate seamlessly with a wide variety of email marketing services, WPForms helps enhance email automation for online businesses.
In an eCommerce context, WPForms can be used to create order forms, capture customer information, and connect with third-party tools to automate email responses and marketing campaigns.
🔑 Key Features
User-friendly drag & drop form builder
1000+ form templates
Integration with popular email marketing services
Automatically add users to email lists
Email sequence triggers
Advanced field types like payment fields, file uploads, & conditional logic
Drip newsletter signup & HubSpot lead generation forms
Accept online payments
Spam protection features like reCAPTCHA
Form submission entry management & CSV export
Notification & confirmation emails
Pricing: There is a free, Lite version of WPForms. Plans with premium features start at $49.50 per year.

HubSpot is a comprehensive CRM, sales, & marketing automation platform. It's designed to help businesses attract, engage, and assist customers.
While technically a suite of tools and software, HubSpot does have a free WordPress plugin that can help with email marketing, CRM, lead management, and other aspects of eCommerce automation.
This is an excellent option for businesses looking for a way to manage customer relationships, track interactions, and store customer data in one centralized location. You can use HubSpot to create and automate marketing campaigns, segment your audience, and track performance.
🔑 Key Features
Email marketing campaigns automation
Sales automation & contact management
Helpdesk, ticketing system, & knowledge base to support customer service operations
Lead capture forms
Workflow automation
Detailed reporting & analytics
Content management
Live chat support
Pricing: HubSpot offers a free WordPress plugin and CRM with limited features. Premium pricing varies based on the features and services you need. Paid plans start with the Marketing Hub, which begins at $50 per month. The full Growth Suite of tools starts at $113.52 per month.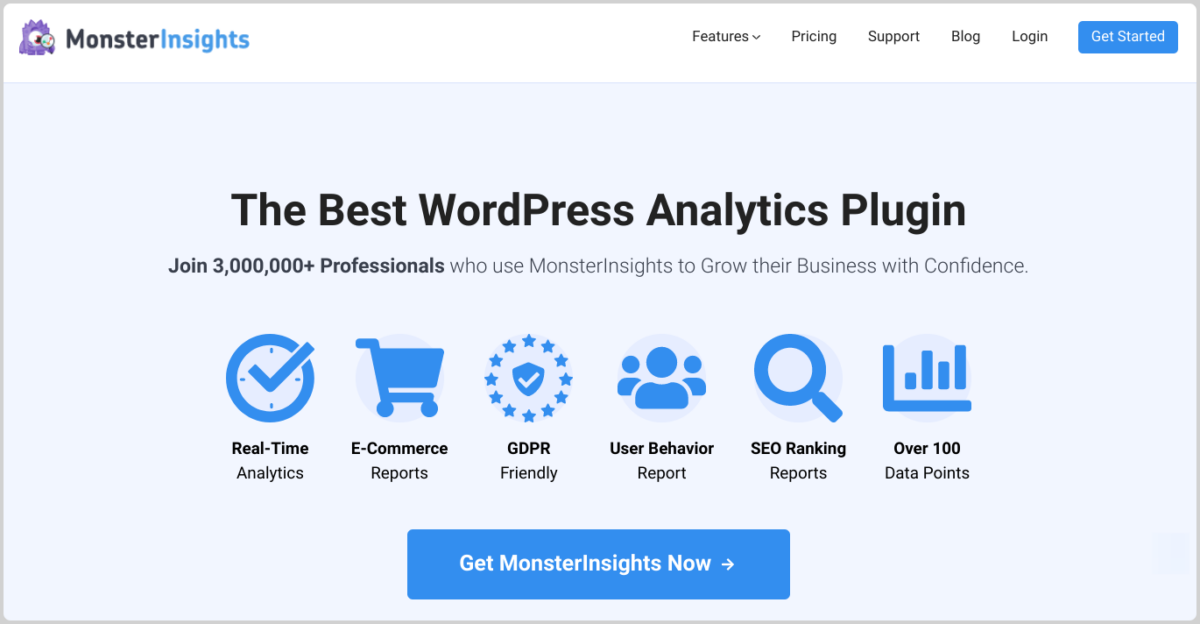 MonsterInsights is the leading Google Analytics WordPress plugin. It enhances eCommerce operations by collecting and providing valuable data and insights to improve performance and marketing efforts.
MonsterInsights empowers businesses to make data-driven decisions and optimize their eCommerce strategies. It's also convenient and easy to use.
After installation and setup, it automatically connects your WordPress site with Google Analytics, providing easy-to-understand reports within your WordPress dashboard.
MonsterInsights also integrates with eCommerce plugins like Easy Digital Downloads and WooCommerce. It offers enhanced eCommerce tracking to provide detailed insights into product performance, revenue, conversion rates, and shopping behavior.
🔑 Key Features
Google Analytics WordPress integration
Track website traffic, user behavior & conversions with no manual setup
Enhanced eCommerce tracking
Conversion tracking for marketing campaigns (ad clicks, affiliate links, & form submissions)
Custom dimensions & events tracking
Page-level analytics for product pages
Real-time stats to monitor user activity on your site
User engagement tracking
Pricing: MonsterInsights offers a free version with basic analytics features. Premium plans, including Plus, Pro, and Agency, start at $99.50 per year and provide access to advanced features like eCommerce tracking, custom dimensions, and priority support.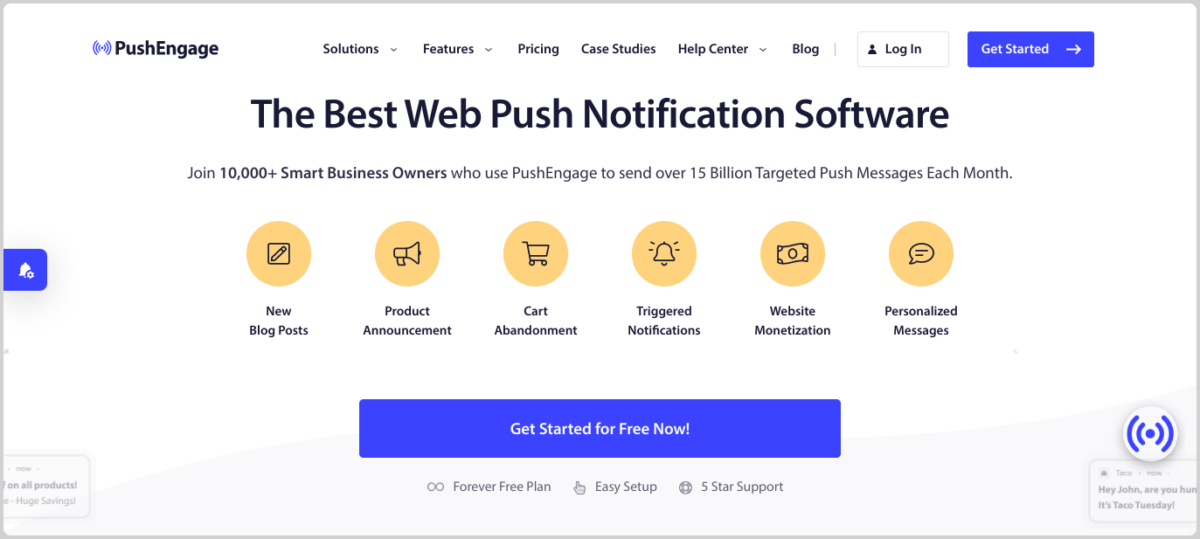 PushEngage is a leading push notifications software for sending automated, real-time notifications. It helps boost engagement, site traffic, and conversions as well as reduce shopping cart abandonment.
Whether you're promoting a new product, publishing a blog post, running a special offer, or simply want to keep your community engaged and informed on the latest happenings, push notifications can help.
As an eCommerce business owner, you can use PushEngage to create, customize, and schedule notifications for desktop and mobile devices. Once you integrate the PushEngage plugin with your eCommerce store, you can do all of this directly from your WordPress site.
Users can opt-in to receive these notifications based on the configured triggers and schedule.
🔑 Key Features
Web push notifications to users' browsers & devices
Personalization & segmentation based on user behavior, preferences, & demographics
Automatic triggers for cart abandonment recovery
Automated drip campaigns to nurture leads
Instant & scheduled notifications
Customizable opt-in prompts & Calls To Action (CTA)
Performance analytics
Pricing: PushEngage offers a free plan with limited features and a limited number of subscribers. Premium plans start at $8 per month when billed annually or $19 per month.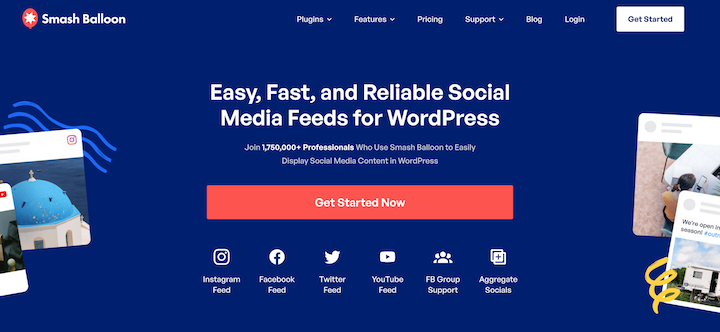 Smash Balloon is a popular suite of plugins used to display social media feeds in WordPress. The four plugins make it easy to showcase content from Instagram, Facebook, Twitter (X), and YouTube.
These plugins work by connecting to your social media accounts, pulling in your content, and displaying it in customizable feed formats to help enhance engagement and interactivity. It serves as a way to display social proof on your site to help increase trust and credibility among your visitors.
With over 1.4 million active users, Smash Balloon is the most popular social media feed plugin for WordPress. It's a reliable tool with extensive customization options and mobile-friendly feeds that can adapt to any screen size.
🔑 Key Features
Customizable feeds
Support for Facebook, Instagram, Twitter & YouTube
Display posts, followers, comments & like counts
Pre-designed templates
Easy setup
Content moderation
Automatic feed updating
Pricing: Smash Balloon offers both free and premium versions of its plugins, with premium licenses typically ranging from $49 to $299 per year, depending on the specific plugin and features you need. Premium versions provide access to advanced features and priority support.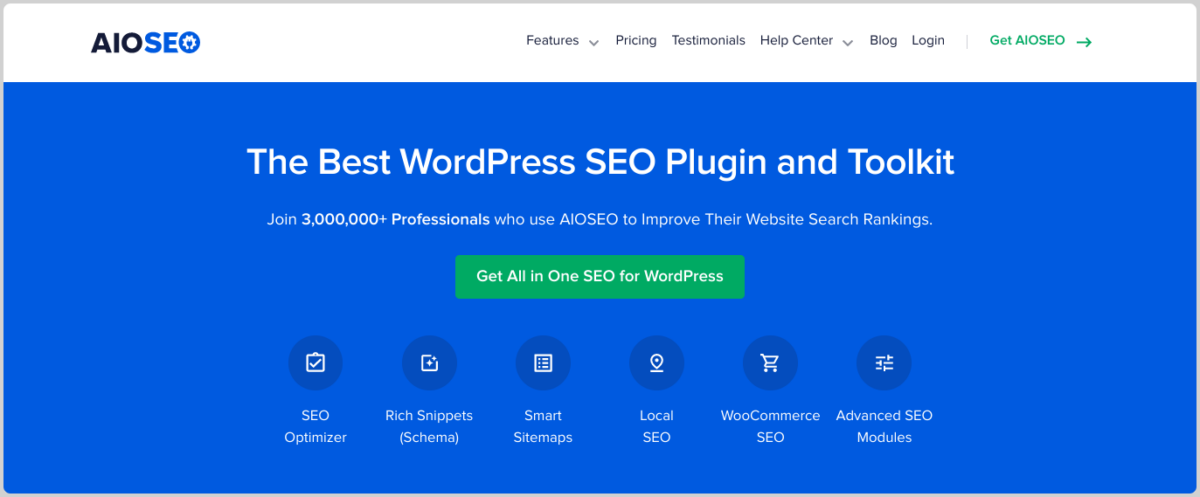 AIOSEO, short for All in One SEO, is a leading WordPress tool for creating optimized content. It helps eCommerce marketing automation by improving your site's SEO for better search visibility, increased website traffic, and higher conversion rates.
With this feature-packed tool, you get just about everything you need to handle technical and on-page SEO optimization. It offers content analysis and optimization recommendations to improve the quality and relevance of product descriptions, blog posts, and other content to make it easier for both search engines and customers to find your site.
You can also use it to automatically generate XML sitemaps, schema markup, and more.
🔑 Key Features
SEO & content optimization
XML sitemaps & schema markup
Metadata management to optimize meta titles, descriptions, etc.
Image SEO
Easy Digital Downloads & WooCommerce Integration
Local SEO
Social media integration
Performance analysis
Pricing: A free version of AIOSEO is available with basic SEO features. The premium version, AIOSEO Pro, starts at $49.50 per year for a single site, offering advanced features, priority support, and more extensive SEO capabilities.

Blog2Social is a WordPress plugin that simplifies the process of sharing and promoting content across various social media platforms. It can be a useful social media marketing automation tool for your eCommerce business because it helps streamline marketing efforts.
You can use it to schedule, customize, and post content to multiple social media channels directly from your WordPress dashboard. This convenience can significantly aid in automating the marketing of eCommerce products, promotions, and blog posts. Not only can this save you time, but it also helps to ensure a consistent online presence.
🔑 Key Features
Social Media integration (Facebook, Twitter, LinkedIn, Instagram, Pinterest, & more)
Content scheduling & auto-posting
Post customization for different platforms
Content curation
Analytics (likes, shares, comments, & click-through rates)
Hashtag suggestions to increase content discoverability
Visual calendar
Pricing: There is a free version of the Blog2Social plugin available in the WordPress Plugin Directory that includes basic features and limited social media accounts. Premium plans start at $7 per month for a single site.

As I mentioned earlier, customer support is an important part of running a successful online business. If you need help automating support on your site, a live chat or chatbot WordPress plugin like Tidio can help.
This plugin is designed to enhance customer support and service automation on websites. It allows website owners to engage with their visitors in real time, provide instant support, answer questions, and automate certain customer interactions through the use of AI-powered chatbots.
Tidio is especially valuable for eCommerce businesses looking to improve customer experience and streamline their support processes.
🔑 Key Features
Live chat widget that enables real-time communication
AI chatbots to automate responses to common customer questions & offer 24/7 support
Visitor tracking
Multilingual support
Integration with popular eCommerce platforms, email marketing tools, & CRM systems
Canned, predefined responses
Mobile app
Email marketing
Rich media support
Pricing: Tidio offers a free plan with basic features, including live chat and chatbots. Premium plans start at $25 per month.
FAQs About eCommerce Automation
Let's wrap up with some frequently asked questions.
How can I get started with eCommerce automation?
Begin by identifying your most repetitive tasks and researching automation tools that suit your needs. Start small, and gradually expand your automated processes.
Can I use multiple eCommerce automation tools together?
Absolutely. Many tools integrate seamlessly, allowing you to create a comprehensive automation ecosystem tailored to your business.
Are there risks associated with over-automating?
Yes, excessive automation can lead to a lack of personalization. Balance automation with personalized interactions for the best results.
Use EDD Pro for eCommerce Automation
Automation is a game-changer for WordPress eCommerce business owners. By automating various aspects of your online business, you can save time, cut costs, and focus on growth.
If you sell digital products, Easy Digital Downloads can help with so many aspects of your eCommerce automation. Grab your pass to get started:
📣 P.S. Be sure to subscribe to our newsletter and follow us on Facebook or Twitter for more WordPress resources!