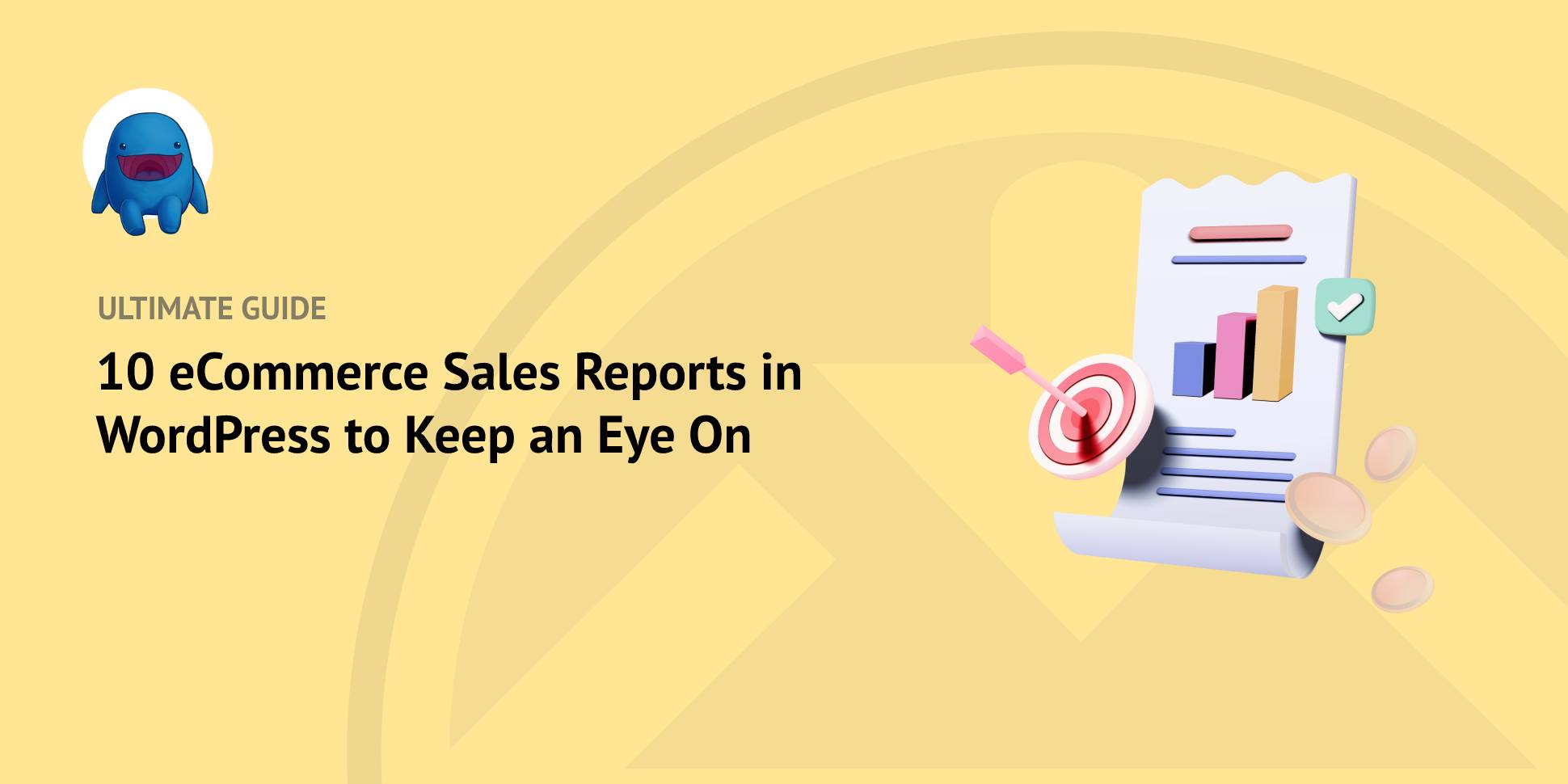 There is no doubt about it – tracking eCommerce sales reports in WordPress is important.
It allows you to identify what's working and what isn't in your business model. This information can help you improve customer engagement, minimize cart abandonment, reduce the number of returns and refunds, optimize your WordPress site for performance, and more.
When you use an eCommerce plugin such as Easy Digital Downloads, tracking sales and key metrics is simple. But it's crucial to know which reports to monitor and understand what each can tell you.
In this post, we'll discuss:
The Importance of eCommerce Sales Reporting
There are many benefits to tracking sales reports in your eCommerce business. Two of the most important ones are increased revenue and optimized customer experience.
By analyzing the data that you gather from your sales reports, you can identify trends and patterns that will help you make informed decisions about how to improve profit margins.
When customers have a good user experience shopping on your site – whether it's easy navigation, organized product pages, speedy checkout, or quality assets – they are likely to return again and even recommend your business to friends and family. Tracking sales reports allows you to see where there might be room for improvement, whether it be with your shopping cart, customer service, or something else, and make changes accordingly.
This is one of the reasons selecting the right eCommerce solution is so critical. The plugin you use can make tracking key metrics and reporting sales significantly easier.
eCommerce Sales Reporting With Easy Digital Downloads
Easy Digital Downloads is a robust, user-friendly tool for selling digital downloads and products:

As we'll show you throughout this post, the eCommerce platform lets you leverage a range of tracking and reporting tools to keep a close eye on the data and insights that can help boost your online store's performance.
All data and metrics can be found under Downloads » Reports: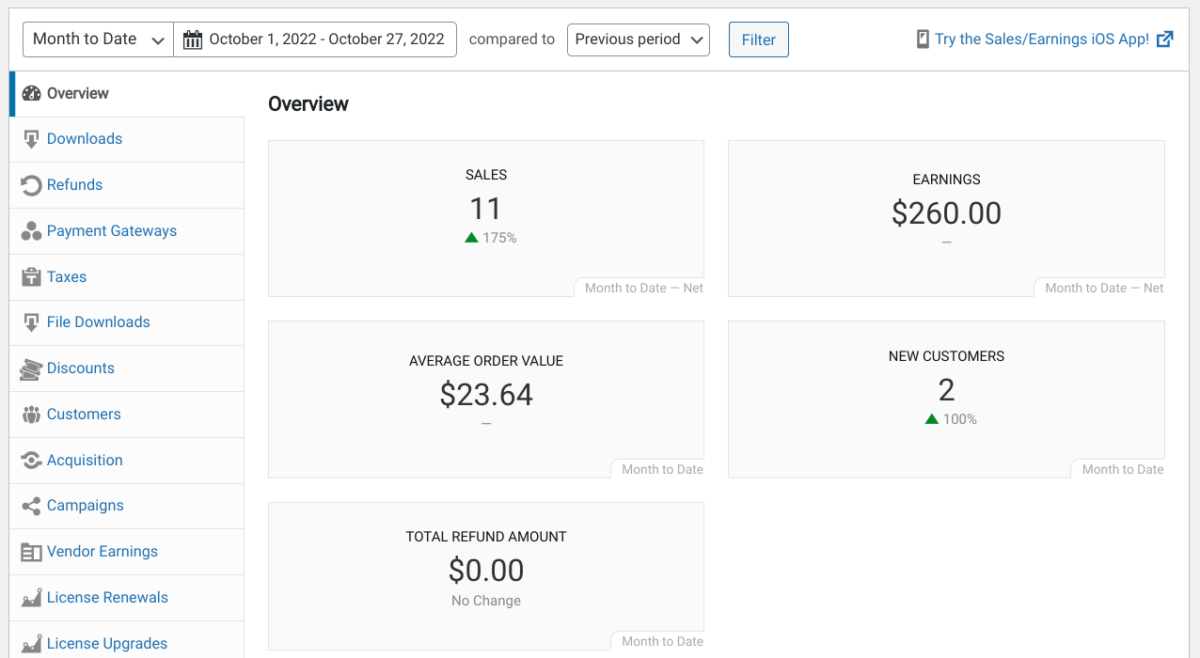 You can also easily export your reports as CSV files.
Another advantage of using EDD for eCommerce reporting is the Email Summaries feature (Downloads » Settings » Emails » Summaries):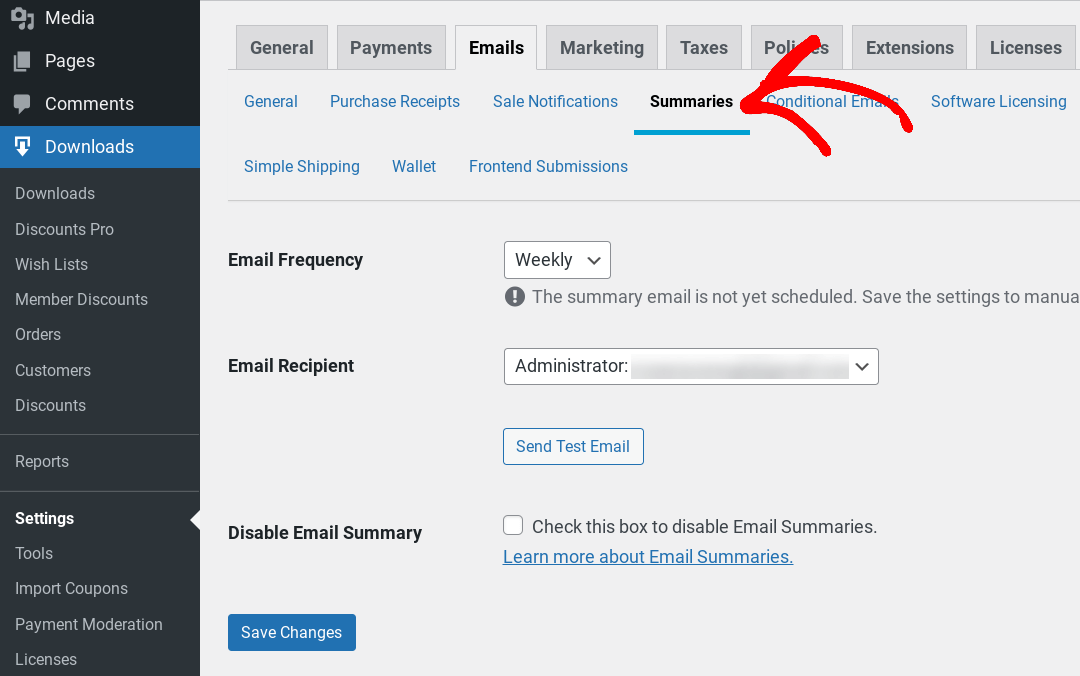 It lets you send weekly or monthly store reports to your admin or other chosen emails. This automation means you can get key highlights from your eCommerce sales reports delivered directly to your inbox on a consistent basis: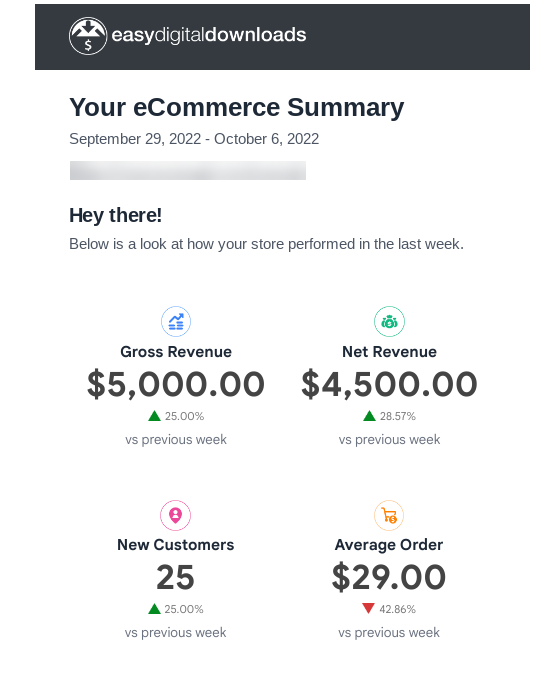 You can also leverage the Advanced Reports extension. The tool lets you generate detailed, custom reports for your store's activity, including sales, earnings, and taxes. You can also filter the reports based on products, payment status, date, etc.
There are plenty of WordPress plugins and third-party tools and services that EDD can integrate with to further elevate your reporting. For instance, you can use the MonsterInsights plugin to connect your eCommerce website with Google Analytics and monitor your campaigns in real-time.
To use these features and tools for maximum benefit, it's helpful to first understand which eCommerce sales reports in WordPress you should keep tabs on.
10 eCommerce Sales Reports in WordPress to Monitor
Below are 10 eCommerce sales reports in WordPress that are important to keep track of. For each, we'll explain the usefulness of the report, the kind of information you can glean from it, and how Easy Digital Downloads delivers it.
1. Total Sales
Naturally, Total Sales are important to keep track of when you're running an online business. They can help you identify trends over time. The insight, and any patterns you uncover from them, can help inform your future business and marketing decisions.
With EDD installed and activated, this information is immediately available from your WordPress dashboard under Reports » Overview: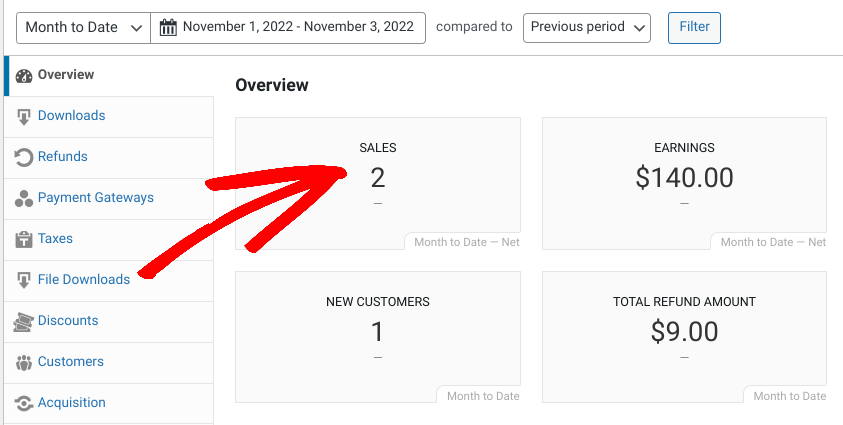 The Overview gives you a snapshot of some of the most important metrics and analytics from your eCommerce store, including Total Sales. You can use the filtering options to sort total sales based on dates and time periods and compare them across quarters.
The eCommerce sales report also lets you track both Gross Sales (total quantity of downloads sold) and Net Sales (total quantity of downloads sold minus any items that have been fully refunded).
2. Total Earnings
A Total Earnings report can provide you with important insights into the profitability of your business and its various channels, products, or marketing campaigns. This data can help you identify areas where your revenue is growing or declining over time. It can also help you pinpoint specific factors or trends that may be contributing to these changes.
As with Total Sales, you can find this report under Reports » Overview: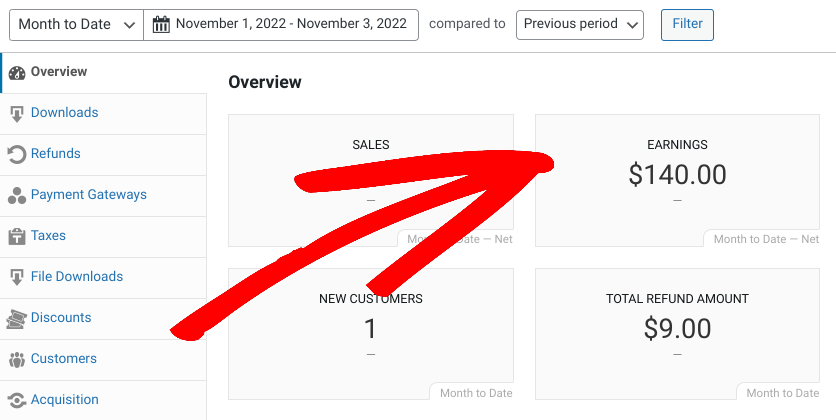 EDD Reports also provide Gross Earnings (sum total of your earnings, before expenses, such as discounts, fees, and taxes) and Net Earnings (sum total of the earnings after expenses).
3. Average Sales/Earning By Downloads
If you want to get a more granular view of your sales based on specific products(downloads), this is also an option. You can go to Reports » Downloads: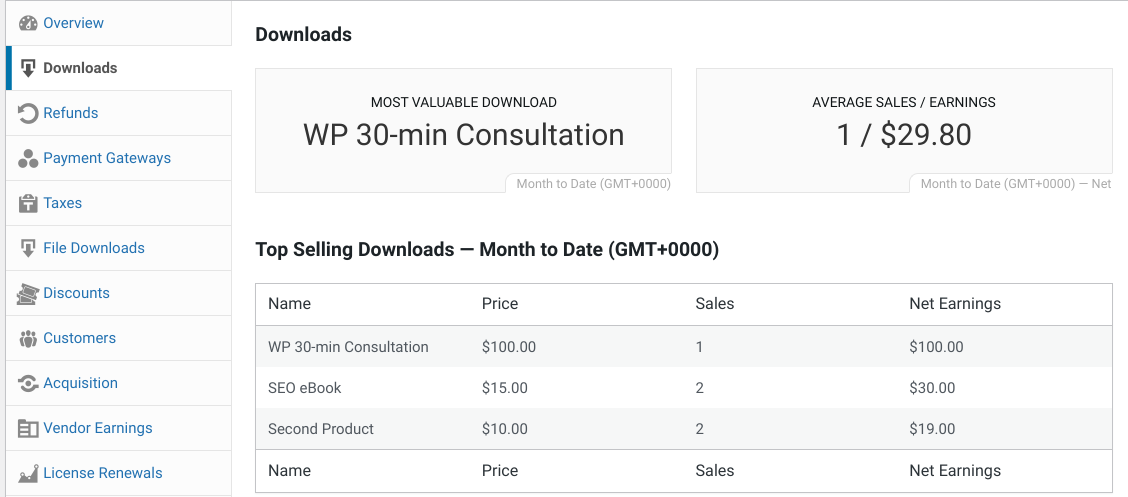 Here, you can find data on your Most Valuable Download as well as Average Sales/Earnings.
The report also tells you your store's top selling downloads (month to date) and earnings by taxonomy. This can be helpful for discovering which of your products are performing the best and attracting the most sales among shoppers. The more information you have about your product sales and website visitors, the easier it will be to calculate your conversion rate.
4. Average Order Value
An Average Order Value is a type of eCommerce sales report that tracks the average amount of money spent on each purchase made by your customers. This information can help you understand which pricing and promotion strategies are most effective. It can also indicate which products or categories are more likely to result in higher spending.
This data is available under Reports » Overview:
5. New Customers
A New Customers report is, as you might've guessed, a type of sales data that tracks the number of new customers you acquire over a particular time period. By analyzing this type of report, you will be able to better optimize your marketing activities and improve the growth potential of your eCommerce business moving forward.
To find it, you can go to Reports » Customers: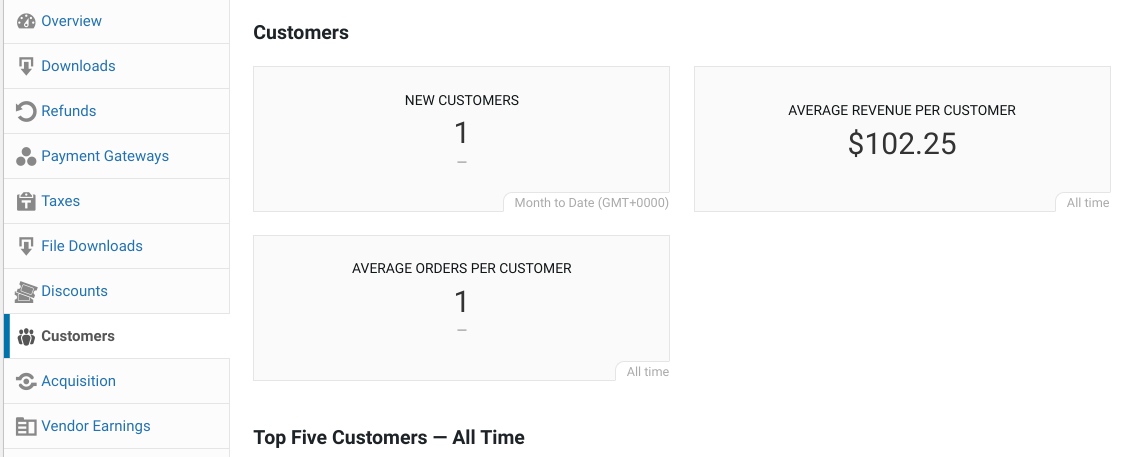 There are stats for Average Revenue Per Customer and Average Orders Per Customer. You can also learn about your top five customers of all time and view data on your most valuable customers.
6. Sales by Payment Gateway
When you're running an eCommerce store, it's important to offer your customers convenient payment gateways for them to complete their purchases. Popular examples include Stripe and PayPal.
Under Reports » Payment Gateways, you can track sales by each option:
It offers a ton of Gateway Stats, including:
Complete Sales
Pending/Failed Sales
Refunds Issued
Total Sales

These charts and graphs can help you better understand which gateways the majority of your customers use to complete their transactions.
7. Refunds
Refunds and refund-related data are important to include in eCommerce sales reports because they can help you identify trends in customer behavior as well as measure the performance of your products. For example, if you notice that a large number of refunds are being issued for a particular product category or item, this may indicate that the pricing is either too high or too low relative to market demand.
Additionally, refund-related data can also be useful when conducting competitor analysis, as it can help you understand how other businesses in your industry price their products and whether they have higher or lower rates of customer dissatisfaction.
EDD tracks a handful of key metrics for refunds in your store (Reports » Refunds). This includes Number of Refunds, Total Refund Amount, and Refund Rate: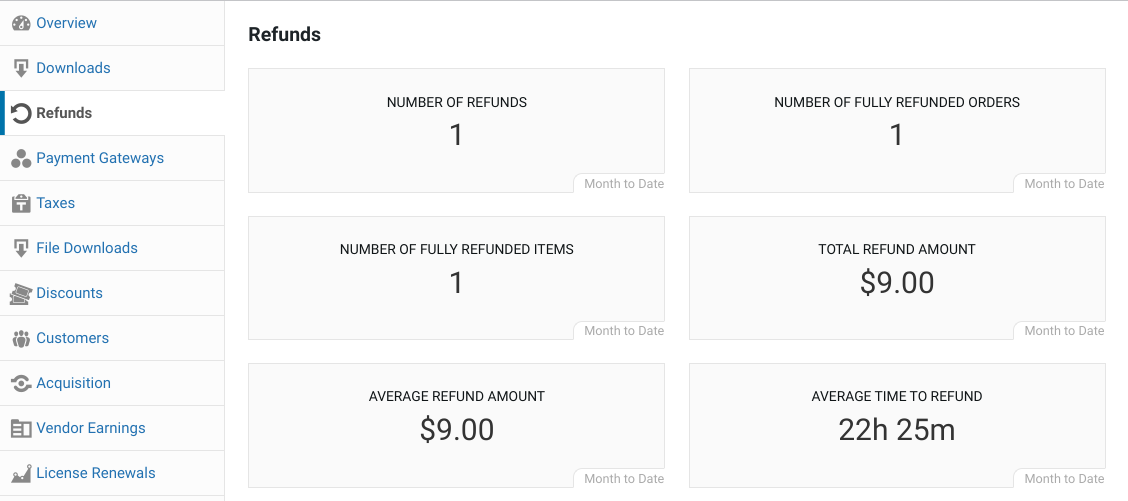 The Refund rate calculates the percentage of transactions that are refunded during a specific time frame. The Number of Refunds will tell you how many refunds were completed during the specified time, as well as the total amount.
8. Discounts
Offering discounts to potential customers can be an effective way for store owners to attract people to their eCommerce site. You can promote coupons and other offers on social media, across your WordPress website, and using email marketing.
But when it comes to eCommerce tracking, it's smart to use an analytics tool that lets you incorporate the discounts into your sales reports. EDD reports (Reports » Discounts) let you easily learn the Number of Discounts used, Average Discount Amount, and Customer Savings: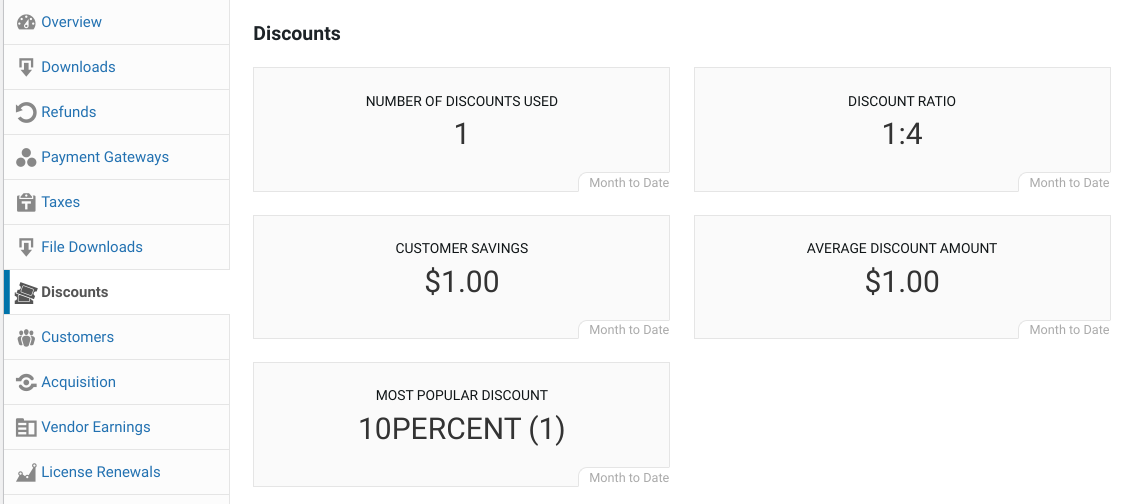 9. License Renewals & Upgrades
If you offer licenses for your products or services, tracking renewals reports help you measure the number of customers who have renewed their licenses. If you offer multiple plans or pricing tiers, such as on a subscription or membership site, License Upgrades can also be informative.
Reports » License Renewals and License Upgrades (respectively):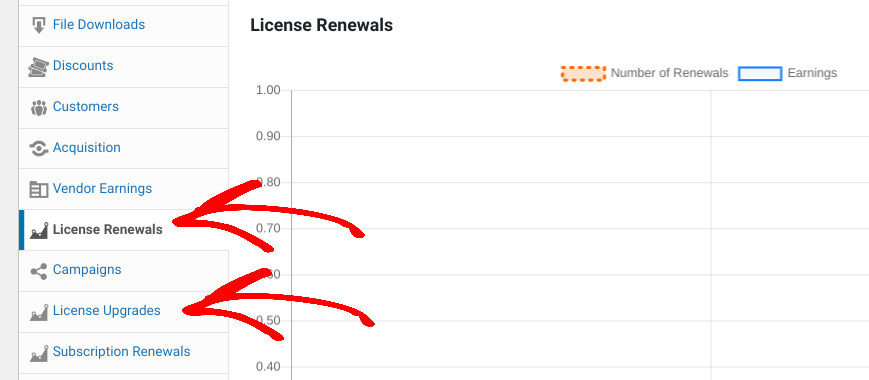 10. Cross-Sells & Upsells
In the eCommerce space, tracking the data of cross-sells and upsells can be valuable for a handful of reasons. They can offer insight into how effective your promotions are for marketing and selling complementary products or services to your existing customers.
They can also help you better understand which products and/or categories are most commonly purchased together. This can highlight opportunities to increase revenue by suggesting certain items to customers making purchases.
You can find these analytics under Reports » Cross-sells and Reports » Upsells.
These are just a handful of the many reports you can generate using Easy Digital Downloads. There are plenty of options to customize the reporting tools to best fit your store's specific needs.
Automate eCommerce Sales Reports in WordPress
To run a successful online business, consistently and thoroughly monitoring your store's performance is a must. One way to make this easier is to identify the key eCommerce sales reports to keep your eye on.
Easy Digital Downloads makes collecting, analyzing, and distributing these reports as simple as possible. The core plugin comes with built-in reporting functionality. For even more features and custom capabilities, you can purchase a premium plan to unlock access to tools such as Advanced Reports and more!
Be sure to subscribe to our newsletter and follow us on Facebook or Twitter for more WordPress resources!