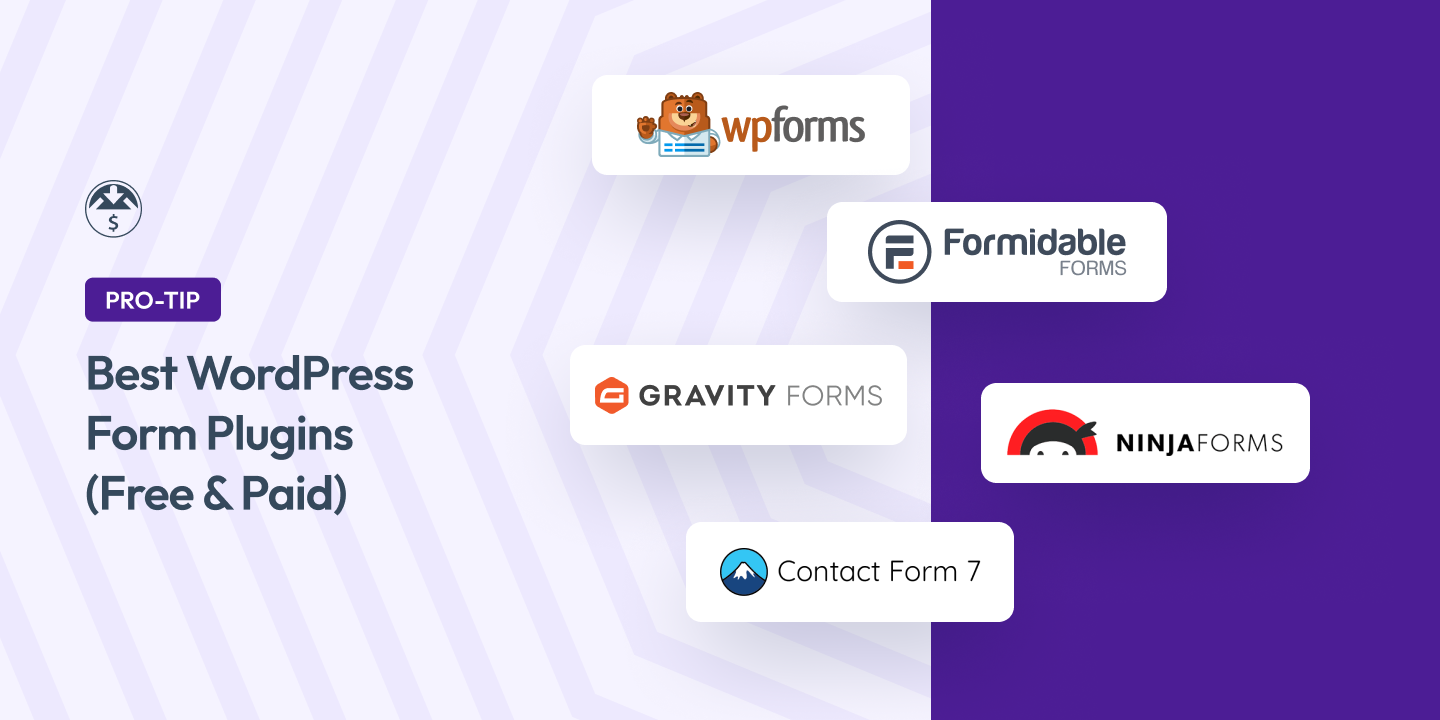 Looking for the best WordPress form plugins to use?
If you run a WordPress website, you know the importance of having intuitive and functional forms to interact with your users effectively.
Whether you need a contact form, a survey, or a lead generation form, using the right WordPress form plugin can significantly boost your website's performance and user engagement.
🔎 In this article, we'll cover:
Benefits of WordPress Form Plugins
Using a WordPress form plugin on your eCommerce site can bring several benefits. Here are some reasons why you might consider using a WordPress form plugin:
Contact & support. You can create WordPress contact forms to allow customers to get in touch with you easily. Additionally, support forms are great for letting customers submit inquiries or issues.
Feedback, surveys & reviews. Collecting feedback from customers is essential for improving your products and services. You can create review or survey forms to gather valuable insights.
Customization & flexibility. Many WordPress form plugins offer various customization options, allowing you to design custom forms and layouts that match your website's branding and style. Bonus points if it integrates with popular page builders like Elementor or SeedProd.
Lead generation. Lead generation forms capture potential customers' information, like email addresses, allowing you to reach out to them with targeted marketing campaigns. You can also integrate them with third-party services like Constant Contact, Zapier, etc.
Order forms. If you run an eCommerce business, you can use order and payment forms with customized fields.
Payment automation & checkout integration. Some advanced form plugins can integrate with payment gateways, like PayPal and Stripe. This enables customers to make payments directly through the online form, streamlining the checkout process.
Security & anti-spam features. Many WordPress contact form plugins come with built-in security features to prevent spam submissions and protect your site from potential threats.
By utilizing a WordPress form plugin on your website, you can streamline communication with customers, gather valuable data, and improve the overall shopping experience.
What to Look for in WordPress Form Plugins
When choosing a WordPress form plugin, several important factors and features should be considered to ensure you select the one that best fits your needs.
Ease of use. Look for a plugin with a beginner-friendly interface that allows you to create and customize forms easily, even if you have little technical knowledge.
Pre-built form templates. Having pre-designed form templates can save time and effort, especially if you need to create simple forms like contact, feedback, or registration forms.
Form fields. Check if the plugin provides a wide range of form fields, including text fields, checkboxes, radio buttons, dropdown menus, file uploads, etc., to cater to different types of data collection.
Conditional logic. This feature allows you to create conversational forms with fields that show/hide based on the user's responses.
Spam protection. Built-in spam protection features like Google reCAPTCHA prevent automated bot submissions.
Integration with third-party tools & apps. Check whether the plugin can integrate with essential tools like email marketing services, HubSpot & other CRM systems, payment gateways, or analytics platforms.
Support, updates & documentation. Ensure the plugin is actively maintained, has regular updates, and provides proper documentation, tutorials, or customer support channels in case you encounter any issues.
Cost. Consider the pricing structure of the plugin, whether it's a free or paid version, and evaluate whether it aligns with your budget and requirements.
5 Best WordPress Form Plugins (Compared)
Now that you know more about why form builder plugins can be so useful, let's explore some of your options. Below are five of the best WordPress form plugins.
| WordPress Form Plugins🔌 | Free Version🏷 | Pricing🛒 | Templates🖌 | Best For💡 |
| --- | --- | --- | --- | --- |
| WPForms | ✅ | $49.50/yr | 800+ | Complete, all-in-one WordPress form solution |
| Formidable Forms | ✅ | $49.50/yr | 200+ | Creating advanced forms |
| Gravity Forms | ✖️ | $59/yr | ✖️ | Advanced users & developers |
| Ninja Forms | ✅ | $199/yr | 17 | Basic contact forms with premium addons |
| Contact Form 7 | ✅ | ✖️ | 1 | Beginners on a budget needing one simple contact form |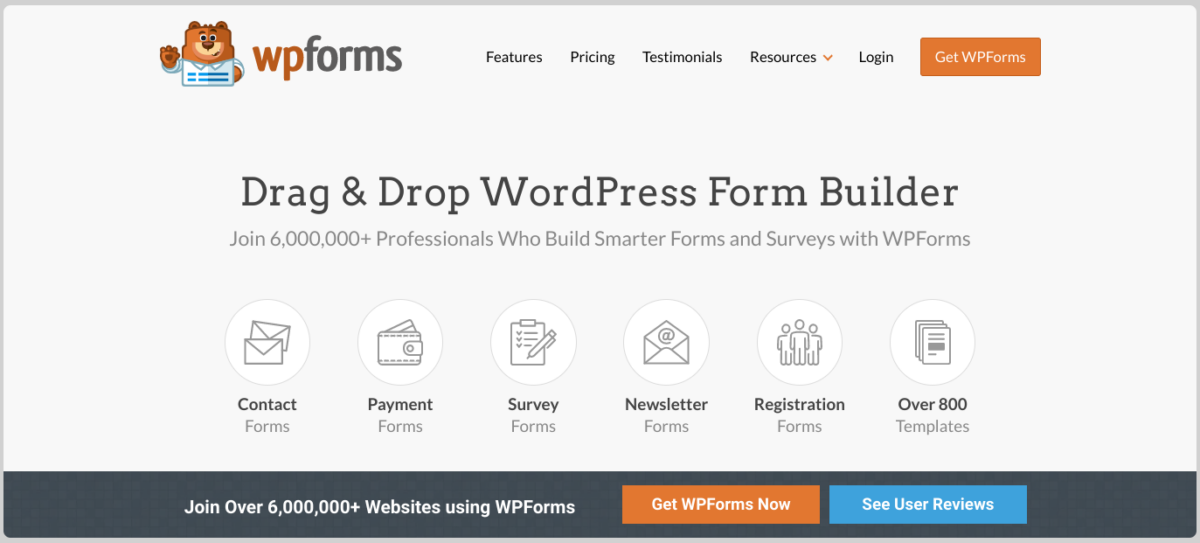 WPForms is essentially the Swiss army knife of WordPress form plugins Feature-packed and user-friendly, this freemium plugin offers a myriad of form-building tools. It's a top choice for both beginners and experienced users.
With its drag-and-drop form builder, customizable templates, and seamless integrations, WPForms' functionality streamlines the form creation process and allows you to create stunning and complex forms in minutes, and without any coding knowledge.
It can be used for everything from contact and newsletter signups to user registration forms.
You can also make your forms as simple or as dynamic and interactive as you wish. For instance, you can use conditional logic to show/hide fields based on user input.
🔑 Key Features
Drag-and-drop interface
800+ Pre-built templates
6+ million active installations
12+ thousand 5-star ratings
Multi-step forms
Accept payments
Conditional logic & conversational forms
Mobile responsive
Seamless integration with popular email marketing services & CRM platforms
Exceptional performance & flexibility
GDPR checkboxes
Spam filtering & reCAPTCHA
Form entry tags
Pricing: WPForms Lite is a free plugin. Pricing for the premium version of WPForms starts at $49.50 per year.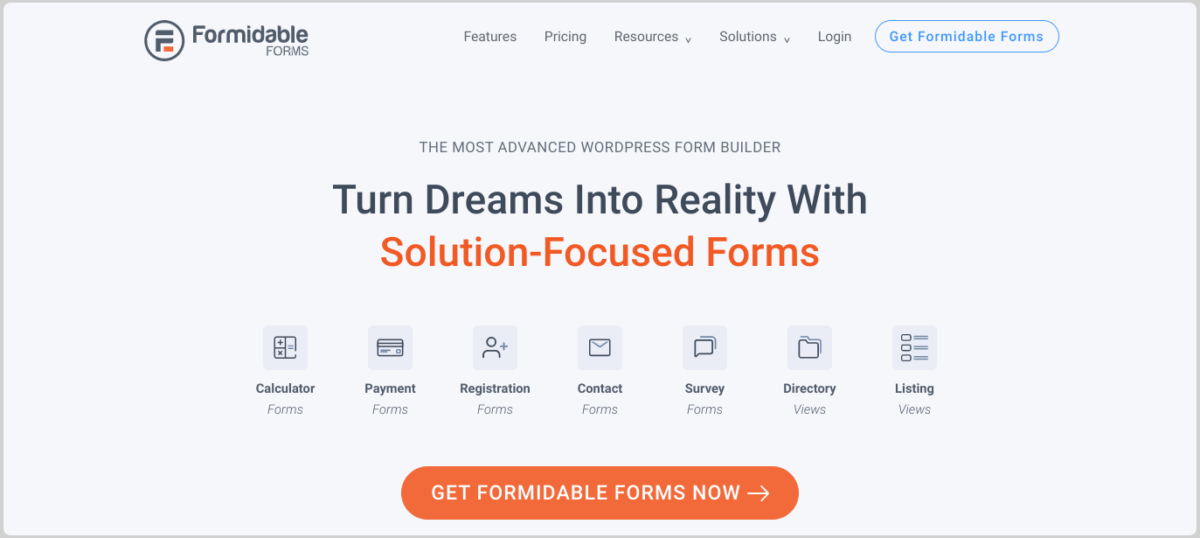 Formidable Forms is a popular, powerful, and data-driven form builder solution. It's perfect for creating advanced forms, surveys, quizzes, and directories with ease. If you're looking for a solution that goes beyond basic forms and delves into data-driven applications, Formidable Forms is worth considering.
You can use it to turn form data into insightful charts and graphs. It also makes it easy to break lengthy forms into multiple pages for a seamless user experience.
🔑 Key Features
Drag & drop form builder
Real-time data visualization
Advanced forms with calculations
Multi-page forms
Custom views
User tracking & signature-enabled forms
Spam protection
Pricing: There is a limited free version available. Pricing for the Formidable Forms Pro version starts at $49.50 per year.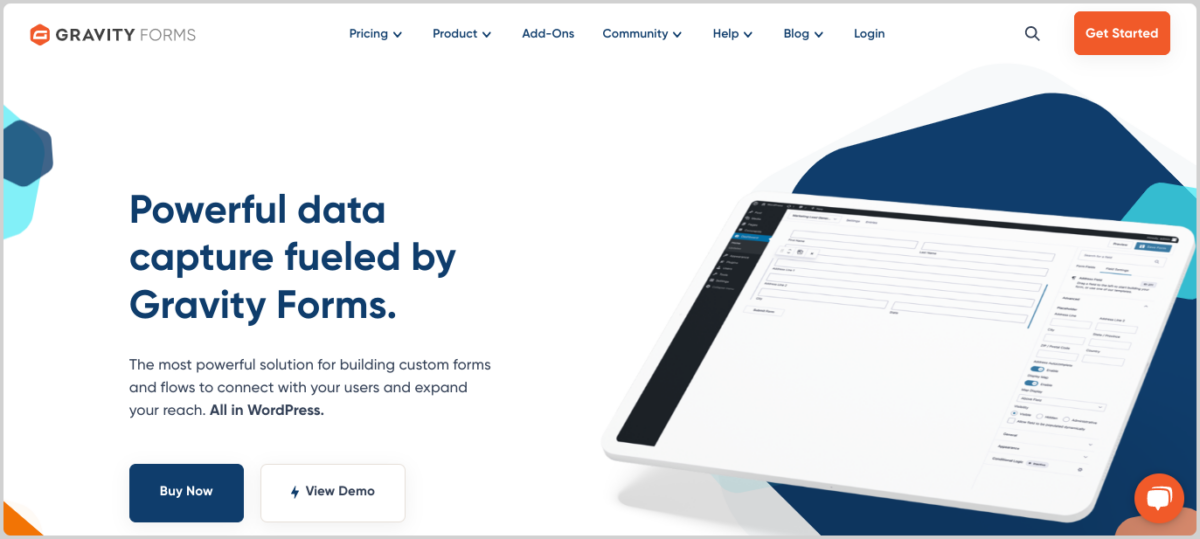 Another one of the best WordPress form plugins you can use on your site is Gravity Forms. This plugin is excellent for advanced users. It's powerful, versatile, and comes with a variety of advanced features and capabilities that can help streamline your workflow when building and optimizing web forms.
While it may have a steeper learning curve compared to some other plugins, Gravity Forms makes up for it with its extensive add-ons and robust integrations. It's a go-to choice for many developers and agencies.
🔑 Key Features
Visual form builder
30+ form fields
Advanced forms for quizzes, surveys, etc.
Ecommerce capabilities
Discounts & automated payments
Conditional logic
Add-ons library
Developer-friendly
CSV form import
Field validation
Pricing: Gravity Forms plans start at $59 per year.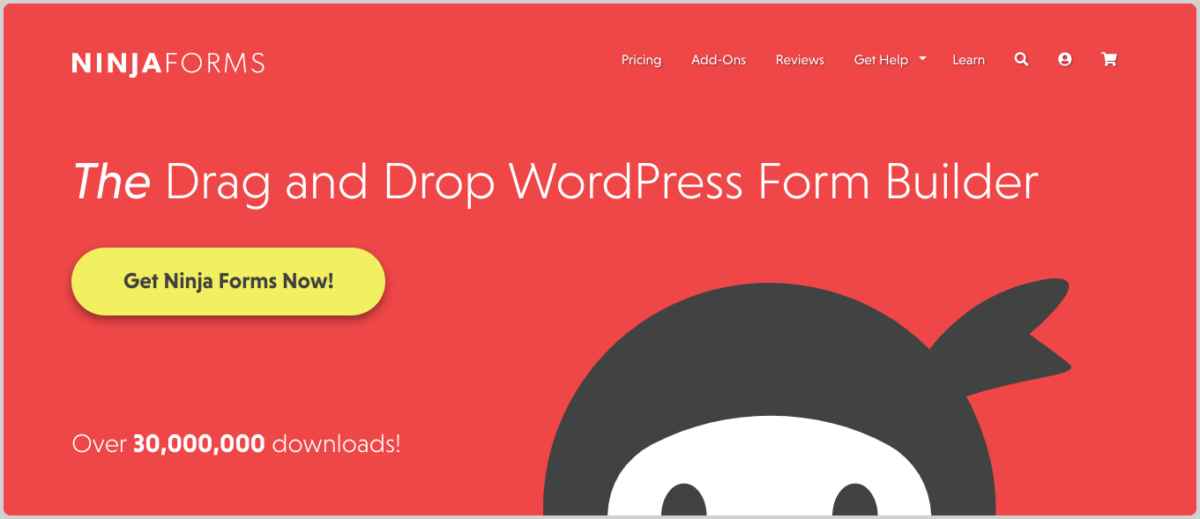 Ninja Forms is an impressive freemium contact form builder that offers premium addons, making it easy to tailor it to your specific needs (and budget). The plugin caters to various form building needs.
While there is a lite version available, the real value in Ninja Forms comes from its membership plans. In addition to addons, you can integrate with a wide range of third-party tools and services. It also lets you create multi-step forms, accept payments, and import/export form data.
🔑 Key Features
Drag & drop visual form builder
Pre-built & customizable form templates
27+ form field types
Conditional logic
File uploads
Unlimited forms & form submissions
Customizable email notifications
Spam protection
Accept payments
Multi-step forms
Custom CSS
40+ premium addons
Form submission export
Pricing: You can download and use Ninja Forms for free. Premium addons are available and memberships start at $199 per year.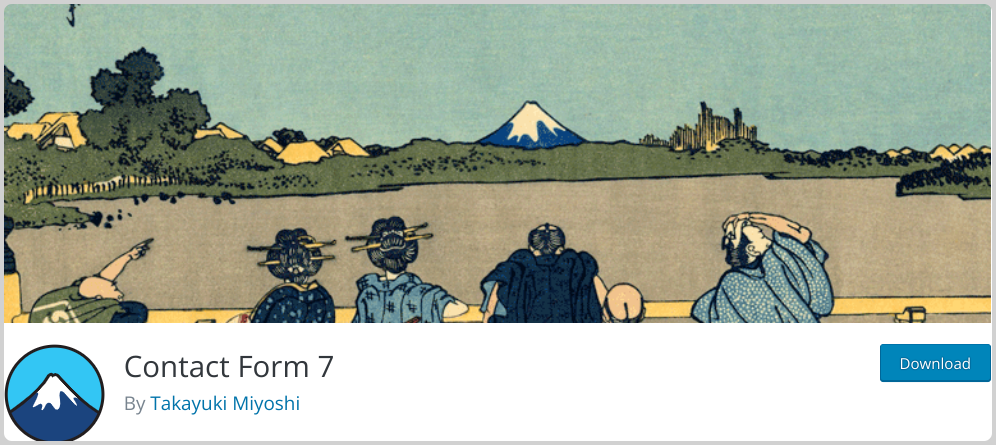 Rounding out our list of the best WordPress form plugins is Contact Form 7. This is one of the oldest and most popular free form plugins available. It's simple, straightforward, and does the job well. While it lacks some visual and advanced features found in other plugins, its reliability and ease of use make it a favorite among many WordPress users, especially beginners on a budget.
🔑 Key Features
Completely free
Unlimited forms
Easy setup
Free addons
Simple shortcodes for inserting forms
CAPTCHA support to prevent spam submissions
Multi-language support
Dropdown menus, checkboxes, dates, etc.
Extensive documentation
Pricing: Free.
FAQs About WordPress Form Plugins
Let's wrap up by answering some frequently asked questions about WordPress form plugins.
What is the best form builder plugin for WordPress?
All in all, the best WordPress form builder plugin is WPForms. The drag-and-drop form builder and user-friendly interface make it an excellent choice for beginners without any coding experience. You can use it to create nearly any type of form you can think of, no matter how simple or complex.
What is the best free form builder for WordPress?
If you're looking for a WordPress plugin that is completely free, Contact Form 7 is one of the most popular options. But you get very few features with it.
Unsure how many features you'll actually use or how many different types of forms you'll want to create? I recommend using a freemium plugin like WPForms or Formidable Forms. This way, you can start with the lite version and upgrade as needed without having to switch to an entirely different plugin.
What is the most advanced WordPress form builder?
Gravity Forms is often considered one of the most advanced WordPress form builder plugins. It's a particularly purpose-driven tool that focuses a lot on data collection and visualization. However, many of the pro versions of the plugins from your list, including WPForms, Formidable Forms, and Ninja Forms, come with plenty of sophisticated features and/or addons that let you access more advanced functionality.
Download the Best WordPress Form Plugins
Selecting the right WordPress form plugin can significantly impact your website's user experience and conversion rates.
There are a handful of high-quality, affordable options to choose from. The ideal solution may vary depending on your specific needs, such as the types of forms you want to create. But overall, the best WordPress form plugin you can use is WPForms.
Want to integrate forms with your online store? Start by downloading Easy Digital Downloads:
Then you can follow our guide on Adding WPForms to Your WordPress Site!
📣 P.S. Be sure to subscribe to our newsletter and follow us on Facebook or Twitter for more WordPress resources!