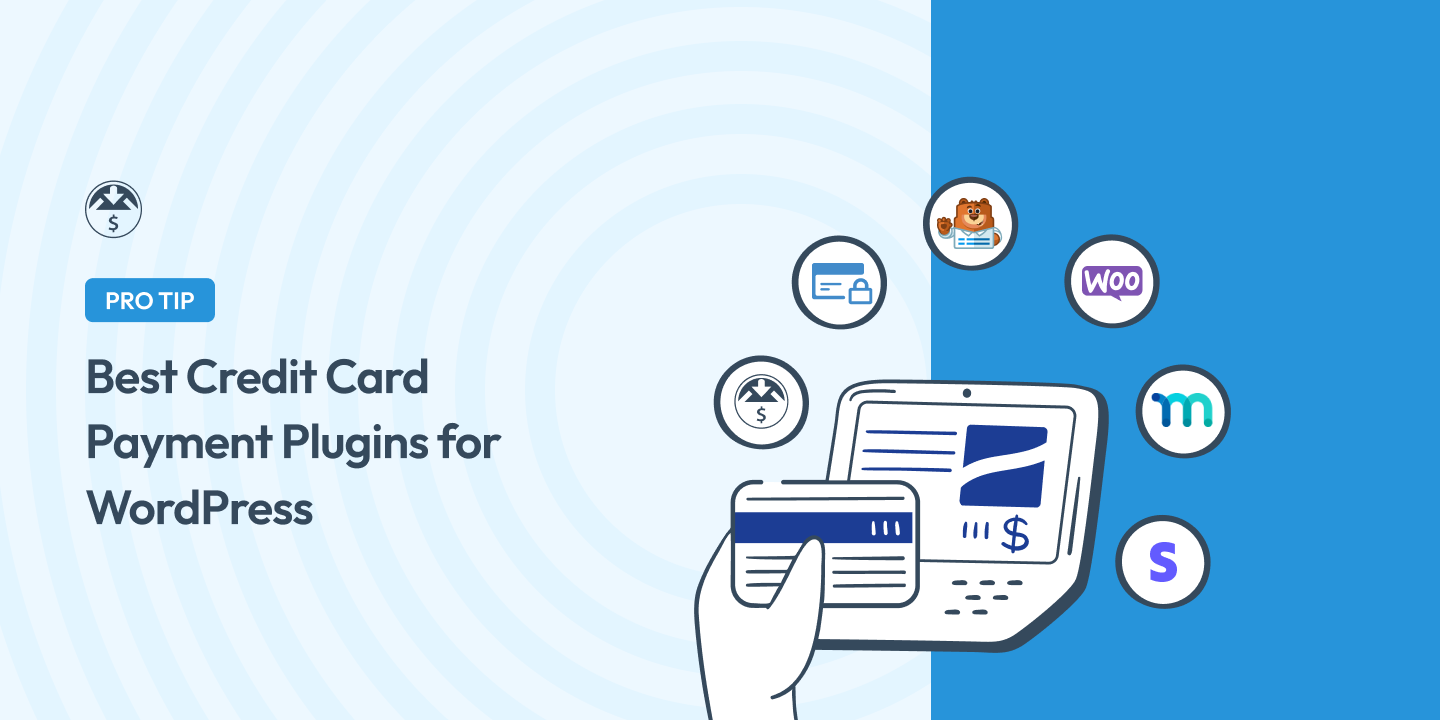 Looking for the best credit card payment plugins for WordPress?
When you're running an e-commerce site, it's important to be able to accept credit card payments. There are a handful of plugins that can add this functionality to your store. But deciding which one to use can be challenging.
Comparing the top options available will help ensure you find a solution that meets all your needs.
🔎 In this article, we'll cover:
Benefits of Credit Card Payment Plugins
Integrating a WordPress credit card payment plugin into your online store offers several advantages. It benefits both you and your customers.
By accepting online payments directly on your WordPress site, you provide a seamless and convenient checkout experience for your customers. They can complete their transactions without being redirected to external payment gateways, saving time and reducing friction.
Accepting credit card payments instills confidence in your customers. It signals that your business is legitimate and trustworthy, as credit card transactions require robust security measures and compliance with industry standards.
Credit card payments are widely accepted and preferred by customers worldwide. By offering this payment option, you open your business to a larger audience, including international customers who may not have access to other payment methods.
Credit card payment plugins automate payment processing, making it easier to manage and track transactions. You can generate reports, view sales data, and streamline your financial management processes, saving you time and effort.
What to Look for in WordPress Payment Plugins
When selecting a WordPress plugin for accepting debit cards and credit cards on your online store, it's important to consider certain factors to ensure you choose the right one for your needs. Here are some key aspects to look for.
Security Features: Security should be a top priority when handling credit card information. Look for WordPress payment plugins that offer robust encryption, PCI compliance, and other security measures to protect payment data.
Payment Gateway Options: Check if the plugin supports multiple payment gateways. It's also important to choose gateways widely used among consumers. For instance, research shows that, with over 1 million live websites currently using it, Stripe makes up more than 68% of e-commerce payment processing marketshare in the U.S.
Ease of Use: The plugin should have a user-friendly interface and intuitive configuration settings that make it easy to use, even for beginners. A complex setup process can be time-consuming and may require technical expertise.
Customization Options: Look for plugins that offer customization options for payment forms and checkout pages. This allows you to align the payment process with your brand identity and provide a consistent user experience. It's also helpful to consider variety in the type of payment buttons/options, such as Buy Now buttons.
Support and Updates: Ensure that the plugin developer provides regular updates and offers reliable customer support.
Additional Features: Some plugins may offer additional features like recurring payments, subscription management, tax calculations, or integration with other e-commerce plugins. Evaluate if these features align with your business requirements.
By considering these factors, you can select a credit card payment plugin that best meets your needs, providing a seamless payment experience for your customers while ensuring the security of their sensitive information.
Summary: Best Credit Card Payment Plugins
| Plugin 🔌 | Lite/Free version | Pricing🏷 | Best For 🛍 |
| --- | --- | --- | --- |
| Easy Digital Downloads | ✅ | $199 – $999/yr | Selling digital products |
| WP Simple Pay | ✅ | $49.50 – $299.50/yr | Accepting one-time or recurring payments without a shopping cart |
| WPForms | ✅ | $199.50 – $299.50/yr | Building custom payment, order & contact forms |
| WooCommerce | ✅ | Varies by addon | Selling physical products |
| MemberPress | ✖️ | $179.50 – $399.50/yr | Selling membership site content & online courses |
| Stripe Payments | ✅ | ✖️ | Accepting Stripe payments |
Gateway
EDD
WP
Simple Pay
WPForms
WooCommerce
Member
Press
Stripe
Payments
Credit & Debit Cards
✅
✅
✅
✅
✅
✅
Stripe
✅
✅
✅
✅
✅
✅
Apple Pay
✅
✅
✅
✅
✅
✅
Google Pay
✅
✅
✅
✅
✅
✅
Amazon Pay
✅
✖️
✖️
✅
✖️
✖️
PayPal
✅
✖️
✅
✅
✅
✖️
PayPal Advanced/
Commerce
✅
✖️
✅
✖️
✖️
✖️
Authorize.Net
✅
✖️
✅
✖️
✅
✖️
Braintree
✅
✖️
✖️
✅
✖️
✖️
Square
✅
✖️
✅
✅
✅
✖️
SOFORT
✅
✖️
✖️
✖️
✖️
✅
Pay later options
✅
✅
✖️
✅
✖️
✅
6 Best WordPress Credit Card Payment Plugins
Ready to take a closer look at the best credit card payment plugins for WordPress? Below, we'll explore the top options, including the key features and pricing details.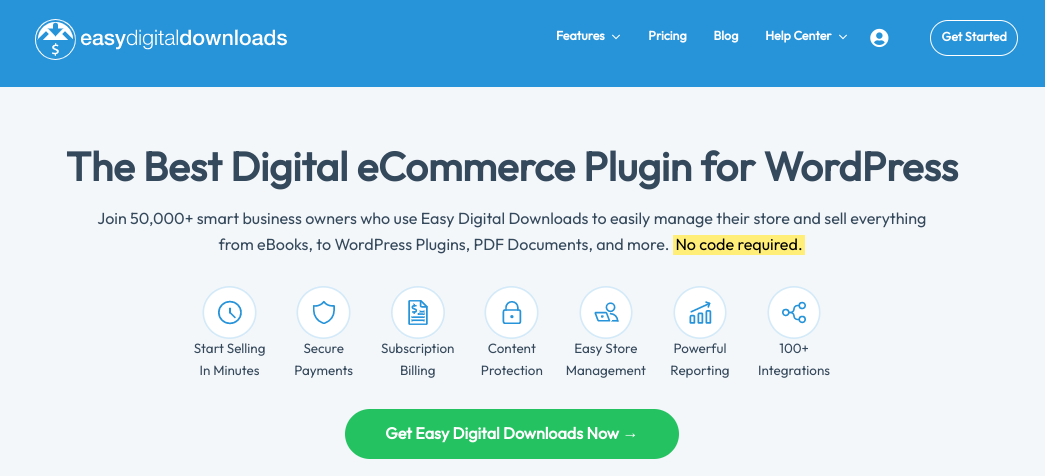 Easy Digital Downloads (EDD) is a powerful plugin designed specifically for selling digital products, including eBooks, software, PDFs, and any other downloadable content. The complete e-commerce solution offers excellent integrations with all major payment processors.
In addition to the standard and popular payment gateways available out of the box (PayPal, Stripe, and Amazon Payments), EDD's ecosystem includes a range of other payment addons. This includes extensions for Authorize.net, Braintree, SOFORT, ClickBank, and more.
With an All Access Pass, you can get access to the entire extension catalog, eliminating the need for you to add multiple third-party credit card payment plugins. Instead, you can easily install payment gateways on an as-needed basis directly from your WordPress site.
There are plenty of other features to enhance your online selling experience. From customizable purchase receipts and discount codes to detailed sales reports and customer management tools, EDD has everything you need to run a successful online business.
🔑 Key Features
Support for PayPal (Express, Pro, Advanced, & Commerce), Stripe & Stripe Pro (Apple Pay/Google Pay), Authorize.net
Software Licensing & Front-end submissions
Email marketing integrations
Full shopping cart
Option to save payment details for customers
Buy Now & Add to Cart buttons
100+ extensions & integrations
Support for Multi Currency payments
EDD Gateway Fees extension to pass credit card processing fees to customers
Test Payments
Ability to manually approve/deny payments
Pre-approve payments to charge at future date
Detailed reporting & analytics
Easy refund management
Customizable product pages
On-site checkout options
No transaction fees
💰 Pricing: A free/Lite version of Easy Digital Downloads is available which supports Stripe, PayPal, and Amazon Pay. EDD Pro plans start at $199 per year. Learn more about EDD Free vs. Pro.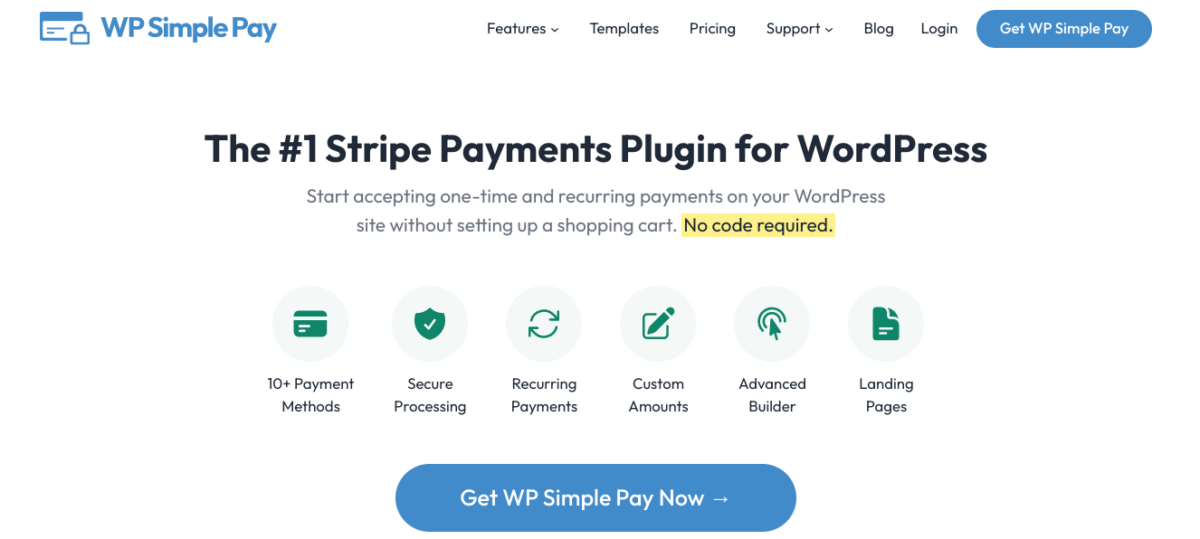 True to its name, WP Simple Pay is one of the simplest credit card payment plugins for WordPress that you can use. It's an excellent Easy Digital Downloads alternative if you don't sell many products or don't want to add a full shopping cart. It's ideal for accepting one-time payments on your WordPress site.
WP Simple Pay uses Stripe as its primary payment processor. It also supports multiple currencies and lets you add clean, intuitive payment forms on your site. It supports more than 10 payment methods, including alternative options such as Afterpay, ACH Direct Debit, Alipay, and more.
🔑 Key Features
Support for Stripe, Apple Pay & Google Pay
Location detection to auto-fill customer payment & shipping info at checkout
Drag-and-drop payment form builder
10+ payment methods
Support for alternative payment methods (ACH Direct Debit, SEPA Direct Debit, Afterpay, Klarna, Alipay, & more)
Automatic tax calculations
Support for one-time & recurring payments
Discounts & coupon codes
Email receipts
Integration & compatibility with most WordPress themes and page builders
Summary reports
Ability to remove Stripe transaction fee for every transaction
Multi-language support
Ability to accept donations
Support for SCA (Secure Customer Authentications)
💰 Pricing: WP Simple Pay is a freemium plugin. Premium plan pricing starts at $49.50/year.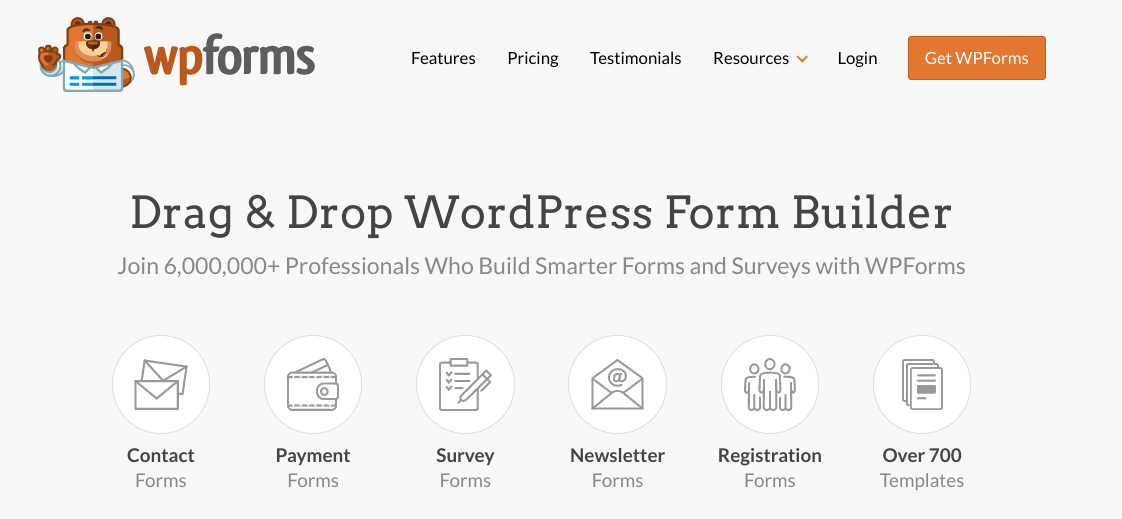 WPForms is a bit different from the other credit card payment plugins on this list as it's a WordPress form builder. It's the best plugin for creating any type of form for your website, including contact, survey, payment, registration, and order forms.
This beginner-friendly tool lets you create forms and accept payments directly from your website. You can integrate the forms with email marketing services, add conditional logic fields, add multiple steps, and much more.
Similar to WP Simple Pay, WPForms is a great choice if you don't want to add a full shopping cart to your site. Instead, you can use it to accept one-time payments or donations via forms. In addition to Stripe payments, WPForms supports multiple other gateways to allow customers to complete credit card transactions.
🔑 Key Features
Support for multiple payment gateways, including Stripe, Apple Pay, Google Pay, PayPal, Authorize.Net, & Square
Drag-and-drop form builder
3000+ templates
Pre-made & importable templates
One-click payments
Marketing & conversion tools
Payment, order, booking & membership forms
Support for recurring payments
Landing pages
Option to require payment on file upload forms
Form notification emails
Built-in spam protection
Analytics & entry management
💰 Pricing: WPForms Lite is available. Pricing for premium plans starts at $49.50 per year.
4. WooCommerce

WooCommerce is the most popular and widely used e-commerce plugin for WordPress. It not only provides comprehensive online store functionality but also offers robust credit card payment options.
With WooCommerce, you can easily accept payments from major credit card providers, including Visa, Mastercard, American Express, and more.
Out of all the credit card payment plugins on this list, WooCommerce is most similar to Easy Digital Downloads. However, where EDD is ideal for selling digital goods, WooCommerce is better suited for physical products.
As the most popular e-commerce plugin for WordPress, WooCommerce is an excellent, affordable, and flexible choice for building an online store. In addition to all major debit and credit cards, it supports several popular payment gateways, including Stripe and PayPal as the default payment processors. Through addons, you can also accept online payments via Apple Pay, Google Pay, and WooCommerce Payments.
🔑 Key Features
Accepts all major credit & debit cards (MasterCard, Visa, American Express)
Support for Stripe & PayPal out-of-the-box
Option to collect Apple/Google Pay, WooCommerce Payments & more
Free & premium addons
Compatible with Stripe refunds
Supports SCA & PCI-Compliant
Shipping & inventory management
Detailed reporting & stats dashboard
Wide range of integrations (email marketing, CRM, e-commerce, etc.)
💰 Pricing: WooCommerce itself is free as are several of its payment gateway addons. Pricing for premium extensions vary.
🔎 WooCommerce vs. Easy Digital Downloads: Which Is Best?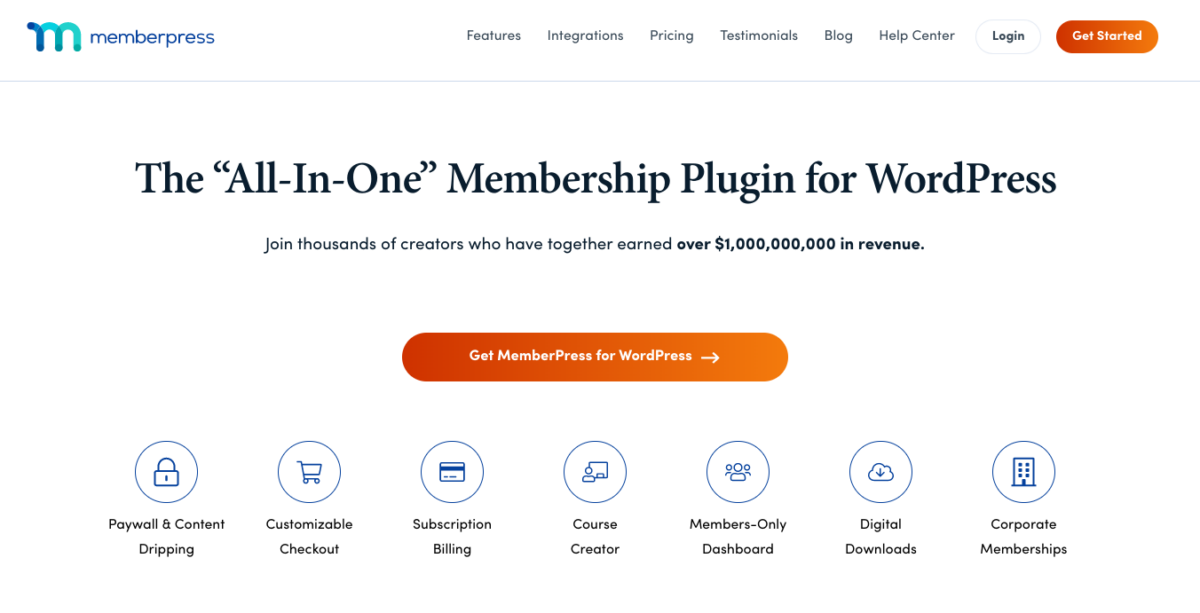 If you're interested in selling online courses and similar content, MemberPress is one of the best credit card payment plugins you can use. This WordPress membership site plugin offers an all-in-one solution for monetizing your website and creating a paywall for exclusive content.
MemberPress lets you create drip content that is only available to paying customers/subscribers. You can restrict access to your site based on membership levels and create scaled subscription plans.
It supports multiple payment gateways, making it easy to collect credit card payments from your users. You can also accept one-time or recurring payments.
🔑 Key Features
Membership site
Drip content & paywall
Ideal for selling online courses & course content
One-time or recurring payments/subscriptions
Support for Stripe (Apple/Google Pay) & PayPal
Addons for Authorize.Net & Square
Ability to create multiple membership levels with variable pricing/perks
Integrations with bbPress, MonsterInsights, & other popular tools
Detailed reporting & stats
Coupon code generation
💰 Pricing: MemberPress is a premium plugin. Plans start at $179 per year for one site. This includes a 14-day money-back guarantee.

Rounding out our list of the best credit card payment plugins for WordPress is Stripe Payments. As you can likely guess, this plugin is built for WordPress users looking to process payments via Stripe.
One of the things that makes this plugin unique is that it is completely free to use. Of course, this means it isn't as feature-rich and sophisticated as some of the other credit card payment plugin options. However, it might be perfect if you're looking for a cheap, straightforward solution and only want to accept Stripe payments.
It comes with a handful of useful features, including one-click payments, Buy Now shortcodes, and the option to accept donations.
🔑 Key Features
Accept credit card payments via Stripe
Payment forms
Buy Now button shortcodes
Easy installation & setup, even for beginners
Authorize-Only payment options
SCA Compliant
Ability to accept donations
Order management system
Simple Stripe payment buttons & widget to add to sidebar, posts, and pages
Ability to sell physical or digital goods
Tax & shipping calculations
Remember-me features for returning customers
Addons for Subscription Payments, Apple & Google Pay, SOFORT & Multi-Currency
💰 Pricing: Stripe Payments is a free payment gateway plugin.
FAQs About Credit Card Payment Plugins
What is the best recurring payment plugin WordPress?
The best recurring payment plugin for WordPress is the Recurring Payments extension available with an Easy Digital Downloads pass. It integrates seamlessly with your online store and makes it easy to sell subscriptions.
Is Stripe free with WordPress?
It depends on which plugin you use, and which version of Stripe you want access to. For instance, the free/Lite version of Easy Digital Downloads lets you use Stripe for free. However, if you want to remove the additional transaction fee on each transaction and get more advanced features, you can upgrade to Stripe Pro Payment Gateway. This premium addon is available with every EDD Pro plan.
Download the Best Credit Card Payment Plugin
If you run an online business or sell products and services on your WordPress website, integrating a reliable credit card payment plugin is essential for a smooth and secure transaction process.
In this post, we covered some of the best credit card payment plugins for WordPress. If you're looking for an all-in-one solution for accepting online payments and selling digital products, you can't go wrong with Easy Digital Downloads!
💡Ready to get started? Learn How to Use Stripe Payments Element in WordPress
📣 P.S. Be sure to subscribe to our newsletter and follow us on Facebook or Twitter for more WordPress resources!