---
Are you looking for a way to sell digital courses online? Great idea! More and more people are looking to the web as the best and fastest way to learn. There is a huge market for courses.
You can use your unique skills and knowledge to help others and generate passive income by making online courses.
In this article we'll show you two DIY ways to sell your courses with WordPress. We'll also share some marketing tips.
🧑🏾‍🎓 Let's get started. Feel free to skip around:
---
Which E-Learning Style?

First, to decide which WordPress plugin to use for online learning we need to choose which e-learning style you will be doing.
Will your learning be:
Informal e-learning is for topics that are mostly designed for self-improvement, wellness, enjoyment, or hobbies.

Formal e-learning is for topics that are more technical, specific, academic, or for certification in a specific subject matter.
Some example topics for informal online courses include:
Music lessons
Wellness: exercise, fitness, yoga, pilates
Art, drawing, illustration, painting
Mental health, mindfulness
Formal online course topics would include:
Computer programing, coding
Copywriting, marketing, analytics
Software training/tutorials
Academic disciplines; foriegn languages, mathematics, science, communication, etc.
Formal/Informal e-Learning Requirements
For online courses that are more formal you might need quizzes, course builders with structure or ordered learning, and progress tracking.
For that you need an LMS.
LMS – Learning Management System:
A software system for managing e-learning that includes course creation, delivering course materials, and tracking progress.
Formal e-Learning

Requiring structured curriculum, quizzes, tracking progress (LMS features)
Course materials/attachments

Informal e-Learning

No quizzes, less structured course content
Selling digital products and courses
eCommerce Functionality
You want to make and sell online courses, not think about building an ecommerce store. Good news! Both our suggested options below take care of all the complicated eCommerce functionality.
In the past you needed a team of web developers or sick code skills for this type of stuff. Not anymore. After installing one of the suggested WordPress plugins below you'll have a full-featured online store.
You'll have powerful features like:
The ability to accept credit cards with Stripe, PayPal or one of many other payment gateways
A way to set up, manage, display, and sell your products with sales pages
Customer management and subscriptions
WordPress Hosting
🤷🏾‍♂️ Don't have a WordPress site yet? Don't worry.
All you need is a good web host. The best web hosts make installing and managing WordPress sites really easy.
➡️ Check out our guide to choosing a webhost (with discount codes!)
---
Option 1: Easy Digital Downloads

If you're doing informal e-learning and also selling digital products, Easy Digital Downloads is a great solution.
Easy Digital Downloads (EDD) is the best WordPress plugin for selling digital products (aka downloads, virtual products, or downloadable products). You can manage everything from your WordPress dashboard.

EDD has a proven 10-year track record and is trusted by more than 50,000 businesses to sell their digital creations.
Here are two websites that sell music courses with EDD.
Selling Courses with EDD
Although EDD has a free forever version for selling digital downloads, for courses you'll want to get the Extended Pass to add two important extensions (add-ons):
Content Restriction – For setting up pages that only paying customers can access. This is where you'll put your online courses.
Recurring Payments – To set up subscriptions or memberships for customers to use in accessing your courses.
EDD provides many features for getting your WordPress website visitors to convert to customers:
Many payment options; Stripe, PayPal and 10+ other payment gateways
Flexible checkout options; shopping cart or buy now buttons
Discount codes (coupons)
White label (full control over branding)
Customizable email notifications
Helpful Tutorials
---
Option 2: MemberPress

For more formal e-learning, MemberPress is a great solution. It's the best WordPress LMS plugin and membership plugin.
MemberPress makes it easy to create, sell and manage online courses. MemberPress is an 'all in one' membership solution for membership sites.
Membership Site – A website where a site visitor has to become a paying customer or subscriber to access premium content (including courses). Or, a website where your content is the digital product.
MemberPress is trusted by thousands of websites having sold more than 1 billion dollars in memberships.

With MemberPress' Classroom Mode course creators can make beautiful course websites with no code. It works well with any WordPress theme.
Here are two e-learning websites that use MemberPress:
Getting Started with MemberPress
There is an excellent video tutorial on WPBeginner that covers the entire process of getting set up with MemberPress and making your first new course.
No matter where you're at in the process, this tutorial can help. Don't have a domain name or web hosting yet? This step by step guide covers everything. Check it out:
▶️ How to Create and Sell Online Course with WordPress
Disclaimer: There are several other powerful WordPress LMS plugins, including WooCommerce with Sensei, LearnDash, Lifter LMS, and LearnPress. However, we didn't want to cause choice paralysis. Click here for a great article evaluating many top online course platforms.
---
Online Course Marketing Tips

Whether you choose Easy Digital Downloads, MemberPress, or some other online course solution, here are some marketing tips!
Pricing
Decide on a price that's both fair to you and right for your audience. It can be confusing:
Many entry-to-mid-level digital courses are priced around $100-$200
Detailed premium courses can cost several thousand dollars
You'll also find some simpler courses are only $10-20!
So how can you know what to charge?
Look at Your Competition
First, look at competitor prices to get a general idea. Then use these questions and considerations:
What does your course include? Extra content, downloads, worksheets, forum or social media community access, and other bonuses increase the value of your product. They allow you to charge higher prices.

You might decide to offer live Q&A sessions on social media or one-to-one consulting as extras, giving your customers more incentive to pay a higher price.

Premium or affordable? Do you want to make your course widely available to the masses? Or is it a premium product? Depending on your goals and content, you may try for a higher price.

Premium courses can be priced into the thousands. They are for the serious few.
Or, you may prefer giving access to as many people as possible. Then you should develop an affordable pricing structure. Be sure to research your audience to know what they think is "affordable".
What are your competitors doing? It's important to be accurate when comparing your course to other ones out there.

Do your research to be sure your course is comparable in size, quality, and features.
Also look for ways to offer benefits your competitor missed.

Who are your role models? Are there influential figures or educators in your niche?

It's OK to model your own pricing system after others.
However, remember that they may have more industry authority and credibility to justify the prices they charge. Consider your own authority.

Is your course professionally produced? The standards for audio and video courses are high in some niches.

If you want to maximize your earnings, consider investing in your production quality!
How Much Do You Want to Make?
Sometimes content creators price their courses based on their financial goals; how much they want to make to live a lifestyle, retire early, or be their own boss. But you also must consider what the customer is willing to pay!
(Audience (email subscribers + landing page visits) x Conversion Rate)
x Course price
= Revenue Goal / Potential
Example:
( 1,950 subscribers/visitors x 2% conversion rate)
x $150 course price
= $5,850 per month or $70,200 per year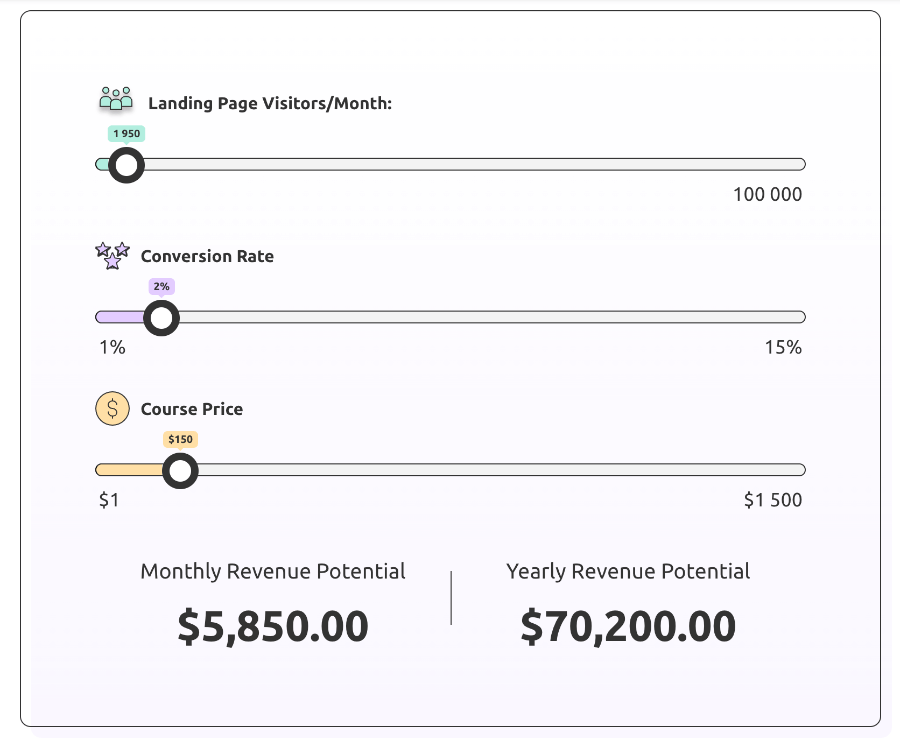 Check out this really cool online earnings calculator at Influencer Marketing Hub to imagine difference scenarios.
Value-based Pricing
Next, don't forget to consider value-based pricing! Your unique knowledge and skills are valuable. You can provide people with more than just facts or know-how.
People value education. It helps them improve their own lives or careers. Consider applying value-based pricing when you're working on your pricing strategy.
Calculate a Price
Last, once you've looked at these factors above, calculate a price. Use our chart below as a guide.
🙌 Remember to not sell yourself short!
| | |
| --- | --- |
| Base price = What is your time, effort, and expertise worth? | ≥ $100 |
| Add on any extra value, such as: | |
| Professional production | (~$50-100) |
| Workbook, PDF guide | (~$10-30) |
| Downloads such as design assets, charts, project files | (~$10-30) |
| Extra assessments and exercises | (~$30-100) |
| Forum and/or online community | (~$50) |
| Access to bonus gated content | (~$20-50) |
| Individual tuition or consulting | (~$100) |
Ongoing Revenue
Digital courses are great for a subscription or membership pricing model. This generates passive income through ongoing revenue.
If you have multiple courses, giving access at a reduced monthly fee means increased long-term income for you.
You can develop loyal customers who are willing to pay on a monthly (or yearly) basis for the value your courses bring them.
One thing to keep in mind, if you go the membership route, is that you will need to keep adding courses to your site.
For customers, it can be less intimidating to commit to a monthly membership fee that gives them the freedom to take courses whenever they want.
Start An Affiliate Program
To further amplify your ongoing revenue, starting an affiliate program is particularly effective. Affiliate marketing is when you recruit customers who already love your product to share it with others for a small commission.
Whether you're running a membership site or just offering one-time purchases of your courses, affiliate links can drive a ton of traffic to your site.
Try to recruit high-quality affiliates who are bigger names, industry authorities, or influencers.
🗣 Learn more about affiliate marketing here and get started!
Marketplaces
There are popular marketplaces for selling courses like Udemy and Coursera. It can be easy to get started on these platforms.
However, many digital creators prefer to go the independent route. Marketplaces can be great for exposure, but they also have big downsides:
They charge high fees, the more you make, the more they take
They are busy and full of your competitors
Some limit the price you can charge

When you're competing on price, the only way to go is down!
On your own site, you can charge higher prices to a smaller, niche audience. Do you really want to price your time, effort, and expertise for less than $20? Under $20 is common on many marketplaces.
If you've established yourself as an expert or go-to source for information on a topic, and
If you have a loyal following, then
Selling digital courses through your own website can be very effective.
You've already got clout and trust from your customers that makes them more likely to buy, and boosts your conversion rates.
You might sell a few more courses on a marketplace due to high traffic, at first, but you probably won't be able to charge as much.
Coexisting
Another strategy is to start off on both your own site and a marketplace. Use the advantages of both options.
You can offer a limited set of course on the marketplace, and try to get them to purchase future courses on your website, and skip the high marketplace fees.
🤼 Click here to look at the pros and cons of marketplaces, or learn more about coexisting.
Course Formats
The primary types of digital courses include downloadable one-off courses, downloadable collections of courses, and memberships/subscriptions.
Video
Video content has risen to the top of the heap, becoming the number one most sought-after content on the internet.
The vast majority of digital courses include video in some capacity. Demonstration and audio-visual have been proven to be among the most effective methods for learning and retaining information.
Streaming video in-browser with platforms like Vimeo or YouTube works well for anyone with a good internet connection.
Videos tend to be larger files that can be hard to download. However, one-off courses and collections of courses that users can download for offline viewing are still popular.
Try to incorporate both streaming and downloads. You can always make downloads optionally available as a part of your web-based service.
Selling guides:
Audio
Another increasingly popular format is audio. People are busy. We have long commutes, love multitasking, and keep a schedule that makes it difficult to find time to sit down and focus.
This is where audio shines because it allows people to experience your course while doing other things. Podcasts and audio lectures have made this popular, enabling people to fit learning into their schedules where previously there was little-to-no time for it.
Audio can be offered as a downloadable .MP3 file, uploaded to audio distribution platforms like SoundCloud and Spotify.
🎸 Check out our guide to selling music and audio.
Other Formats
Other course formats (or add-ons) may include PowerPoint or Keynote presentations, PDF guides, downloadable templates and workbooks (.XLS, .DOCX, .PAGES), images (.JPEG, .PNG) and vectors (.AI, .EPS, .SVG), project files for Photoshop or other creative software.
Structure Your Course For Success
When it comes to selling digital courses, creating value should be your top priority. People will be most happy when you do that in as short a time as possible. Not too short. But, for sure not too long.
Break down your course into easily digestible segments that make it simple for your customers to get the most out of the material.
You are trying to help customers reach their goals. Make the path to learning clear and accessible.
Have a well-structured outline
Clear objectives, and
List specific course outcomes
This makes it easy for your customers to see what they can gain from purchasing. The more likely the customer can see what they can gain, the more likely they will purchase.
Add Interactivity
Engage your customers by including interactive elements, such as exercises, quizzes, checklists, and segment recaps.
This helps them retain the information presented. It also makes the course feel more inspiring and interesting.
Include measurable results to showcase progress. This lets your customer (student) build momentum. It makes your course enjoyable!
MemberPress, with its LMS features, is a better solution for this type of interactivity than Easy Digital Downloads if you require it.
Use Social Media to Promote Your Course
Be sure to build up your social media presence. The more active (helpful) you become in your niche community, the more you will naturally draw new customers to your products.
Get involved and share tips in related Facebook groups, forums, Reddit, Twitter, Instagram, TikTok and other online communities.
LinkedIn is especially helpful for professional topics, and a great place to share about formal courses.
Informal course about hobbies and lifestyle are probably more suited for FaceBook, Instagram, and TikTok.
Start early with sharing on social media to expand your current reach and demonstrate your authority.
Promote Your Course On Your Blog
If you have a WordPress site, you already have a powerful marketing machine. WordPress is the best platform for bloggers.
You can't sell your courses if no one is visiting your website. How do you get more visitors? With search engine optimized (SEO) blog posts. Simply write about your course topics in a way that helps others.
✍️ Click here for tips on promoting your products on your blog. Many are easy, even for beginners.
List Your Course On Indexes
There are search engines specifically designed for listing digital courses, such as Class Central and Accredible. You can submit your course to these websites, taking advantage of their affiliate marketing channels as well!
Make Attractive Landing Pages
A landing page is a page on your website dedicated only to selling a product. For you, that's a course or group of courses.
A landing page should have attractive photos or screenshots, nice design, and copy that explains the course in an appealing way.
How do you add new landing pages to your site that look great? SeedProd is a great option.
SeedProd is a website and page builder that makes it easy to make beautiful landing pages.
SeeProd offers a visual drag and drop builder, and starter templates, that let you make custom pages with no coding.
🎨 Check out this tutorial on making a landing page for free.
Use Lead Magnets
A lead magnet is a valuable free resource that you give away on your website in exchange for a visitors email address.
Examples include checklists, printable guides, or technical whitepapers.
Use the email addresses to build an email list of leads. Email your leads tips, resources, and information about your products (courses). In time, you can convert many of your leads into customers.
Easy Digital Downloads and MemberPress integrate with popular email marketing platforms like Mailchimp, ConvertKit, and Constant Contact.
🧲 Click here for a guide on growing your email list with lead magnets using EDD and the Free Downloads extension.
---
Conclusion

Good job. A+! You've learned how to sell digital courses online with WordPress. You've also learned some valuable marketing tips used by smart entrepreneurs.
We hope this helps you get out there and sell some courses that empower others to pursue their dreams and passions.
We digital creators need to stick together. We have a lot more resources for makers like you. What do you want to learn about next?
Be sure to subscribe to our newsletter or follow us on Facebook and Twitter to get our latest resources for digital creators.