---
Do you want to sell video online? This is a great way to make money and help others. The importance of video on the web keeps growing year after year.
In this article we'll show you how to sell video on the web. There are many methods, so we'll look at the pros and cons of several popular options.
We'll also show you how to sell your video on your WordPress site for free!
🔆 Lights. 🎥 Webcam. 📣 Action! Feel free to skip to the scene that most interests you.
---
The Importance of Video

This year, the average person will typically watch 100 minutes of online video per day. Video is expected to be 82% of all web traffic this year.
Video engages audiences with easily consumed content. It impacts the senses more than audio or visual content alone.
Modern culture continues to shift more and more online. As it does, people are looking to video for education, self-development, community and entertainment.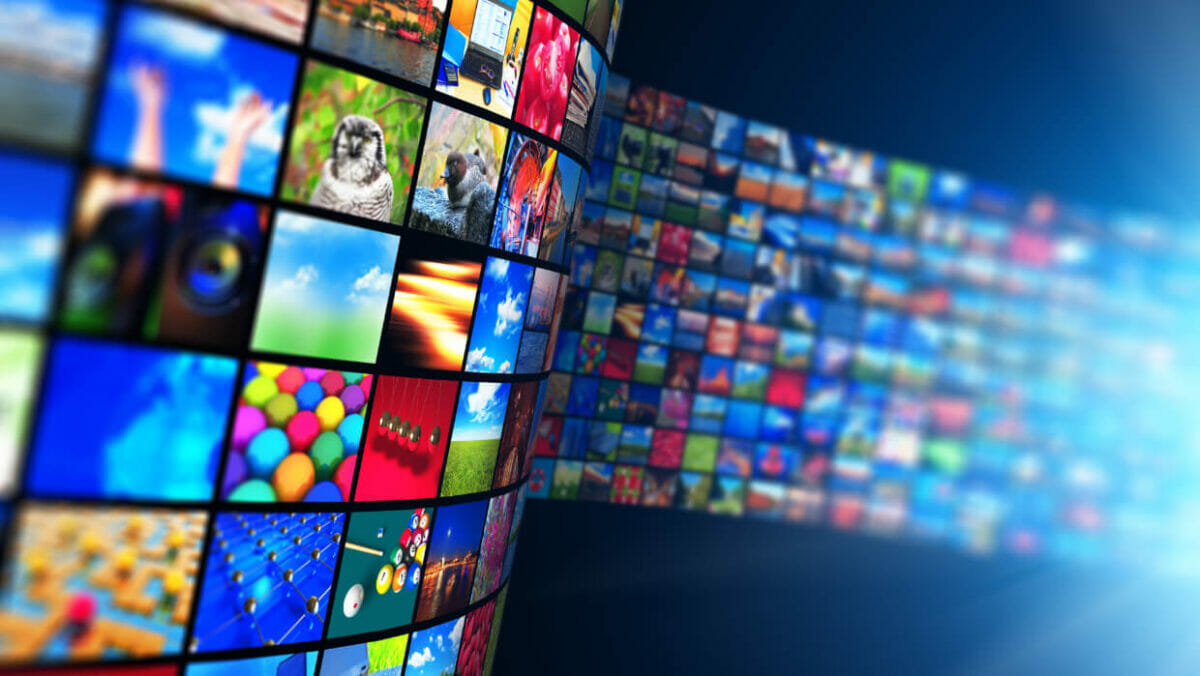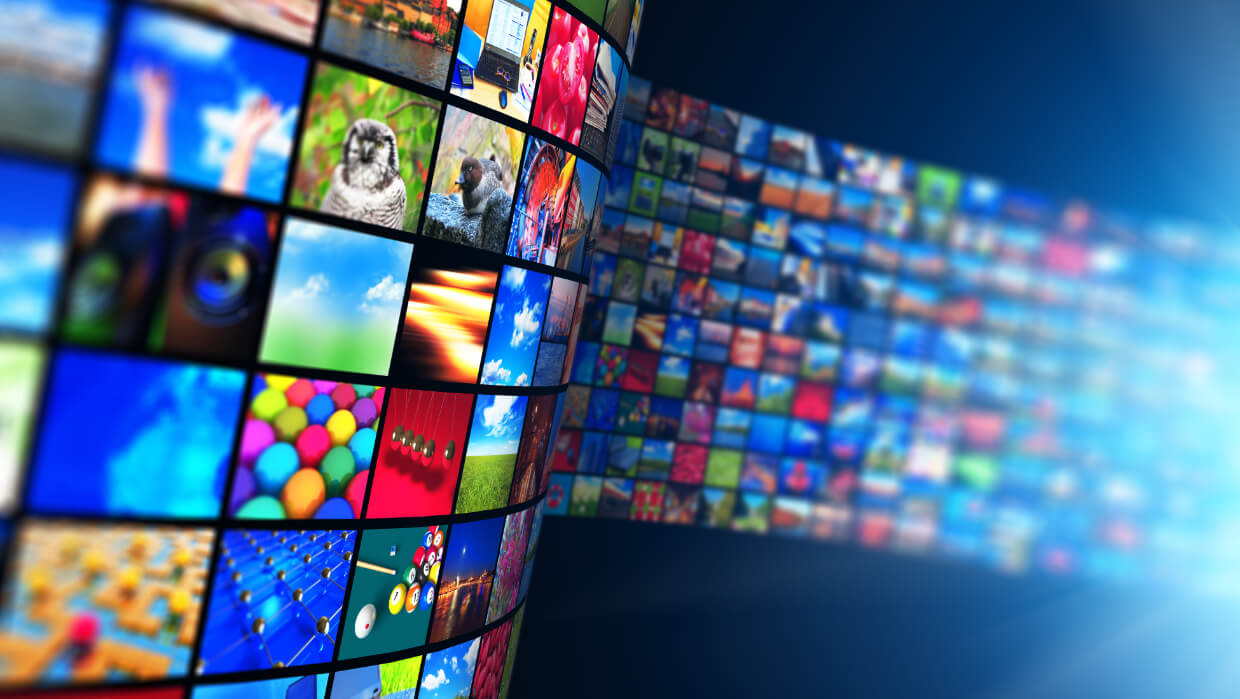 You can use your unique skills, experience, and passion to help others with your video content. Use it to promote your brand or products. Or use your video content directly to make money.
The world of video on the internet is huge and expanding fast. This is a large and complicated topic.
We'll walk you through everything you need to know to get started as a digital creator and entrepreneur.
---
Streaming vs. Downloading

There is one central question to answer for your video selling: what type of video? Will you be streaming or downloading?
Streaming Video – This is when users/customers watch video right off the internet in real-time. No downloading the file.

This is what you do when you watch YouTube or a streaming service like Netflix, Hulu, Disney+ or AppleTV+.

Downloading – This is when users/customers download the video to their device. They can then watch it with smoother playback, even if they are not connected to the internet.

When you purchase or rent a movie from iTunes or Amazon Prime you are temporarily downloading the file.
The main takeaway here is that the sales process and payment structure for streaming or downloading is different.
Selling Streaming
🔑 If you want to sell streaming video you're selling access to the video in a video player.
🔍 Your focus will be on restricting content to paying customers.
You'll need to host your videos on a video platform. The platform needs to make it easy to view your videos. The platform must have the technical capacity to serve videos to a large audience.
We don't recommend trying to build your own video hosting platform. There are many you can use. This will save you time and make your customers happy with fast video playback.
Popular platforms include YouTube, Vimeo, and Wistia for social media and business use.
We'll cover where to sell your videos in more detail below.
Selling Downloads
🔑 If you're selling video downloads, you're selling the actual video file for the customer to download and use whenever and however they want.
🔍 Your focus will be making it easy to browse, preview, and download video files. This is different from streaming.
You can sell a limited number of video downloads right from your website. If you have lots of files or large files, you'll need a specialized high capacity storage service.
Popular storage services include Amazon S3 and DropBox.
---
Video Basics: Terms and Tech Info

There is a lot to know when it comes to video. Here is a quick list of terms that can help you understand the most essential aspects of selling video right now in the current business landscape.
| | |
| --- | --- |
| Video on demand (VOD) | Pretty much all video on the web is video-on-demand. You can access and watch online videos whenever you want. This is different from traditional television or movies. With traditional TV you can only watch what is being broadcast to you in real-time. No pausing. No choice of when you watch it. Watch it or miss it. |
| OTT | Over the top media/video service. This is a similar term to VOD, it's any video service using the internet instead of traditional broadcast, satellite or cable networks. |
| SVOD | Subscription-based video on demand. This is a term that describes Netflix or Disney Plus where you pay a monthly fee to access content. |
| AVOD | Advertising-based video on demand. This describes YouTube or other platforms where you have to watch ads to view videos. |
| TVOD | Transactional video on demand. This is where you pay-per-view. When you rent or purchase a movie on Amazon or iTunes/AppleTV that's TVOD. This can include purchasing the video or just renting it for a few days. |
Video File Formats
| | |
| --- | --- |
| MOV | A QuickTime movie file. This format is popular with video editors and content creators. If you plan to sell downloads to video creators for use in video production, you'll likely want to use format. |
| MP4 | The standard and most popular video format currently used on the web. It's used by YouTube, Vimeo, podcasts and live streams. This is the format you should use to sell video, unless there is a special reason to also use QuickTime MOVs. |
| HEVC | This is a video format used by many iOS devices (iPhones/iPads). It stands for the 'high efficiency video codec'. It's a great format that balances quality and small file sizes. It's not compatible with many devices, however, and you should probably convert videos to MP4 when selling them online. |
---
Where To Sell Your Videos


Let's look at the best ways to sell your streaming or downloadable videos. We'll look at the pros and cons.
Where To Sell Streaming Video
It's really complicated to get your video on one of the major streaming platforms like Netflix, AppleTV Plus or Disney Plus. They are for high quality content like feature films or television series.You'll need to work with a content aggregator service or get an agent. That topic is beyond the scope of this article.
There are ways to get your film or video on Amazon with their Prime Video Direct program.
Digital creators and entrepreneurs like us will want to go one of two routes:
YouTube (free!)
A paid video service like Vimeo or Wistia
First, let's look at YouTube.
| 🟢 YouTube Pros | 🔴 YouTube Cons |
| --- | --- |
| Free | Funded by ad revenue, people will have to watch ads before, and sometimes in the middle of, your video |
| World's most popular video platform | At the end of your video YouTube will suggest other videos, this distracts your viewers, and the videos suggested might not be things you want your customers to see |
| Easy to use | Unprofessional experience for video marketing |
| There are ways to make money (but not until your channel has 1,000 subscribers and over 4,000 hours of video watched 😯) | You can't link to your site or have a call-to-action buttons except in certain circumstances if you are an ad partner |
Next, we'll discuss YouTube competitors.
| 🟢 Vimeo / Wistia Pros | 🔴 Vimeo / Wistia Cons |
| --- | --- |
| No ads | Vimeo has a free tier with limits, Wistia is paid-only |
| You can customize the appearance of the video player to better match your brand | It's less likely your video will be found by people searching the web than if your video is on YouTube. YouTube is, in effect, the second-largest search engine after Google Search. |
| No recommended videos at the end of your video that are out of your control | |
| You can have links and calls-to-action | |
You can embed video players from YouTube, Vimeo or Wistia on your website or social media.
Share your videos on Facebook, Twitter, or LinkedIn. LinkedIn is a great place to share educational videos that solve problems for business owners.
Where To Sell Video Downloads
You can sell downloadable videos in two places:
A stock video website or marketplace
On your own website
Stock Video Website or Marketplaces
Here are some pros and cons of this option.
| 🟢 Stock Video Website or Marketplaces Pros | 🔴 Stock Video Website or Marketplaces Cons |
| --- | --- |
| Stock sites and marketplaces are likely already getting a lot of traffic | You make less money, they charge fees AND/OR take a cut of your sales |
| Faster than setting up your own store/website | Your customers are not 'your customers' they are the website or marketplace customer |
| | Little/no direct interaction with customers |
| | No control over pricing, many sites have rules or limitations over pricing |
| | No control over the customer experience |
| | Your videos are surrounded by your competitors |
On Your Own Website
Ideally, the best place to sell your videos, is on your website. It gives you the best opportunity to make a great first impression and engage with customers how you see fit.
There are pros and cons to all options.
| 🟢 Your Own Website Pros | 🔴 Your Own Website Cons |
| --- | --- |
| You can make more money per purchase, no sharing of revenue, no middle-man fees | You have to find ways to attract visitors to your website |
| Full control over pricing | Takes more time to set up a store/site than list on a stock site or marketplaces |
| Control over the customer experience | You have to maintain your own website (easier than ever, use a managed web host to automate this) |
| Direct communication with customers and leads (emails, lead magnets) | |
| Up-sell and cross-sell to your customers | |
It used to be really hard to set up an eCommerce store. Now you can do it yourself, without knowing how to code!
---
How to Sell Videos On Your WordPress Site

The best way to sell video and make the most money is to use WordPress and Easy Digital Downloads.
Get WordPress
WordPress is the best website builder and CMS (content management system). It's the world's most popular and powerful website platform.


It powers 43% of the entire internet! 🤯 No other open-source platform has even reached 2%.
You can be sure WordPress can handle any use case you can think up.
While WordPress is free, you need to pay for some space for a website on the big ol' internet. This is called web hosting. Click here or below to learn more about choosing a web host.
👩🏽‍💻 Choosing a Web Host + Discount Codes
Save that link for later and let's finish talking about video!
Get Easy Digital Downloads
Easy Digital Downloads (EDD) is a plugin that adds a full-featured eCommerce store to your WordPress site.
Most eCommerce solutions are focused on selling physical products like shirts, coffee, or shaving cream. EDD is purpose-built for selling digital products, like video.


EDD is trusted by more than 50,000 businesses. By digital creators like you and I. We also use EDD every day to run this website and our digital products!
You can use EDD to sell video in a variety of ways.
Get Started with EDD For Free
You can get started with EDD for free and use it free forever. We're not talking about a limited-time free trial here.
With EDD's free version you get:
Protected product files, only paying customers will have access to your digital downloads
Full control over branding and the customer experience (white label)
Full control over pricing
Stripe and/or PayPal integration
Shopping cart
Flexible checkout options
Discount codes
Customer management (basic CRM)
eCommerce reports, keep track of your video sales
Using WordPress and want to get Easy Digital Downloads for free?
Enter the URL to your WordPress website to install.
EDD Quick Start
We'll walk you through uploading and selling a video file. In our example we'll use a lovely shot of a mountain top vista. I shot this in Colorado with my Fujifilm XS-10 in 4k (as an MP4).
First install Easy Digital Downloads. If you have never installed a plugin on your WordPress site, click here for a a great tutorial.
After you install EDD you'll see a new menu item called Downloads. Look for it on the left side of your WordPress admin.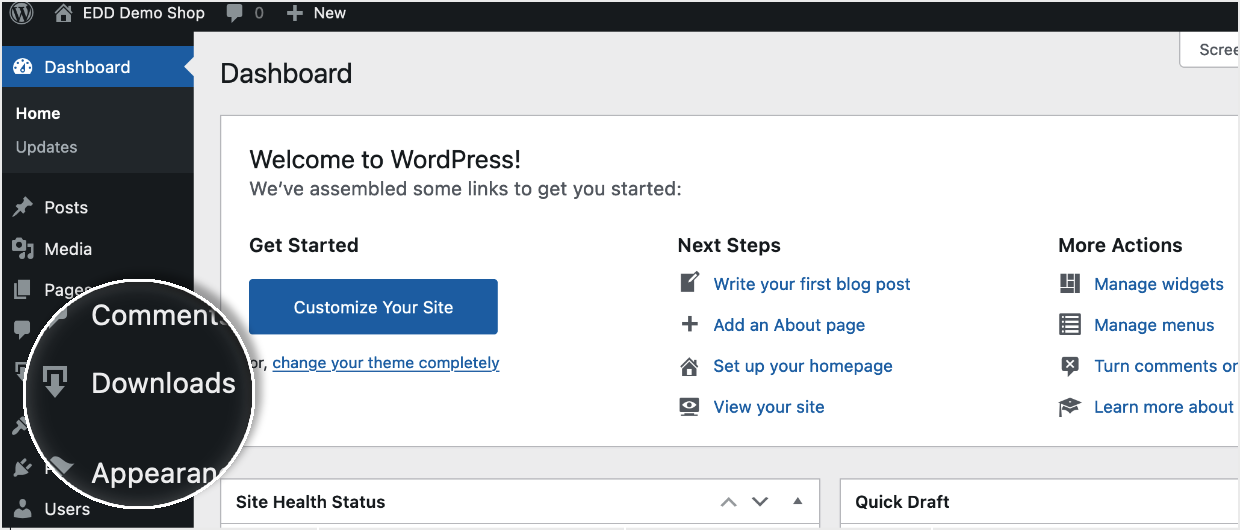 Step 1 – Make a Product (Download)
On your WordPress dashboard, hover over Downloads and click Add New.
You need to give the Download a name. Next, add a description in the main text area below the name.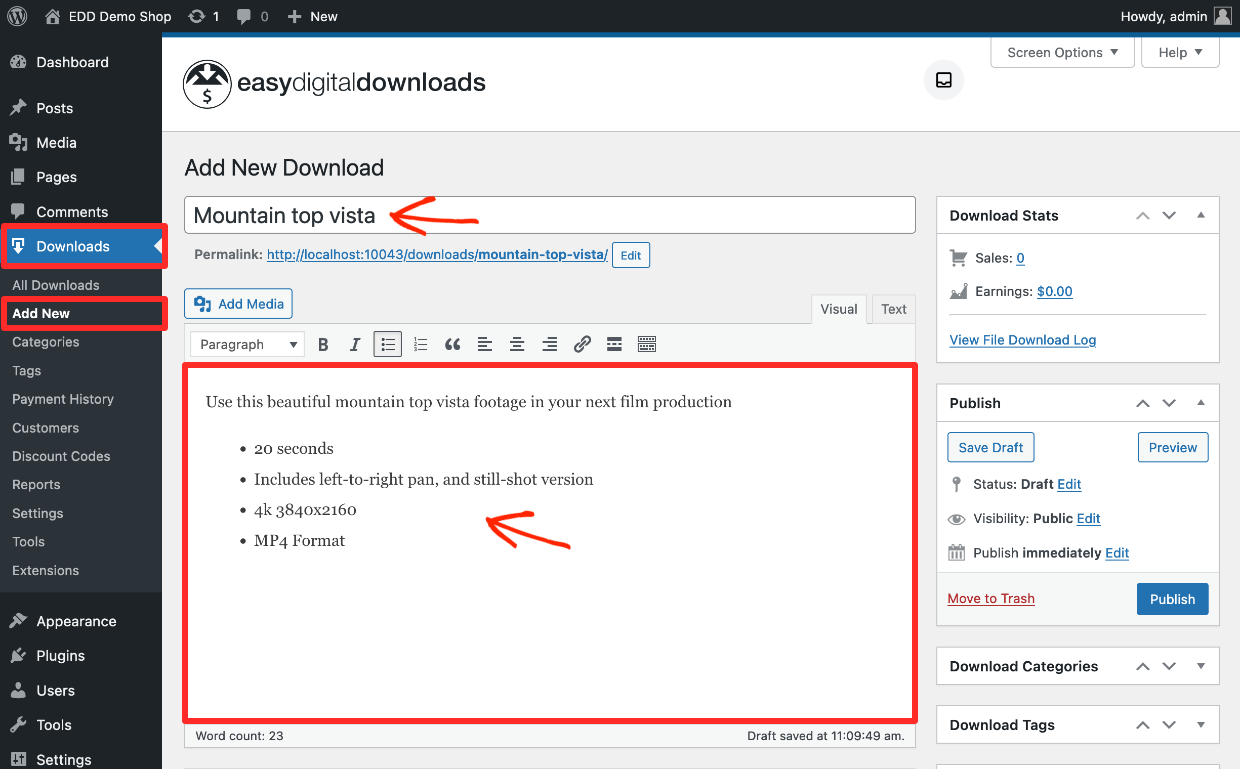 Step 2 – Set a Price
Next, set a price for your download under Download Prices.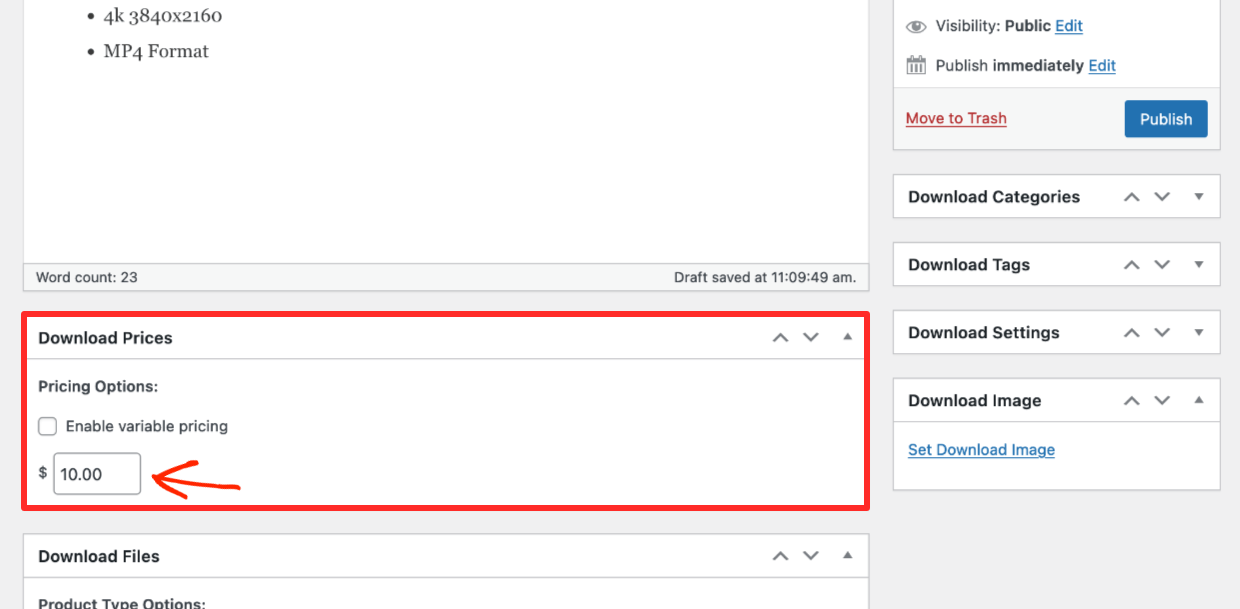 Step 3 – Download File
Next, we need to configure the Download File. This the video file that the customer will get after purchase. They'll get an auto-expiring link on their purchase confirmation page and confirmation email. This helps prevent piracy.
Under File Name type 'Download my video' or a similar phrase. This is the clickable link text that will be used on the confirmation page and email.
Under File URL click Upload a file to place your video on the server. It will automatically be protected from search bots and unauthorized file downloads (by non-customers).
You'll probably want to convert your MP4 or MOV file to a ZIP file. Click here to learn more and why.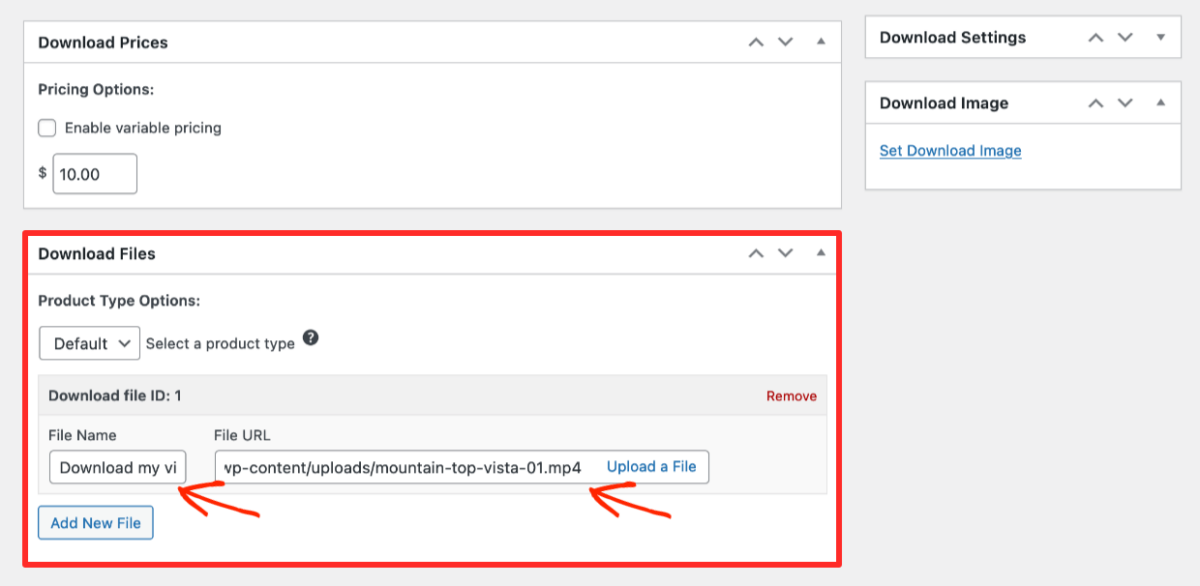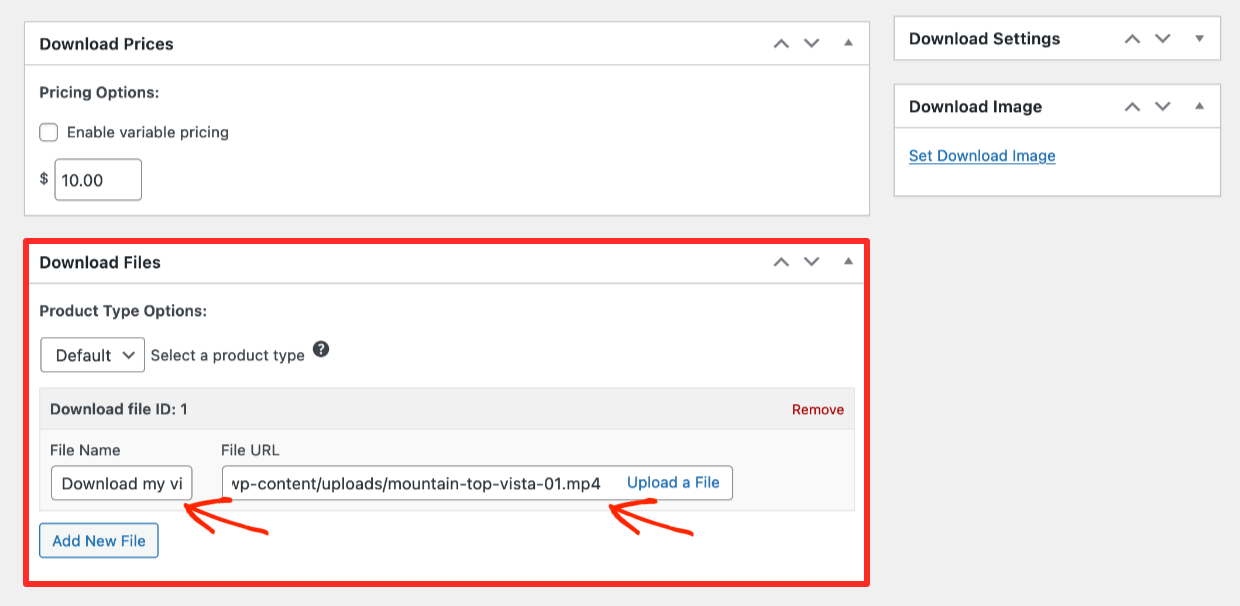 Step 4 – Download Image
Last, you need to add an attractive Download Image. This is important. It's what the potential customer sees when shopping around.
Choose a nice still frame from your video. A good size for the still would be 1280×720. Not too big or too small.
Once you have an image ready, go under Download Image and upload your image.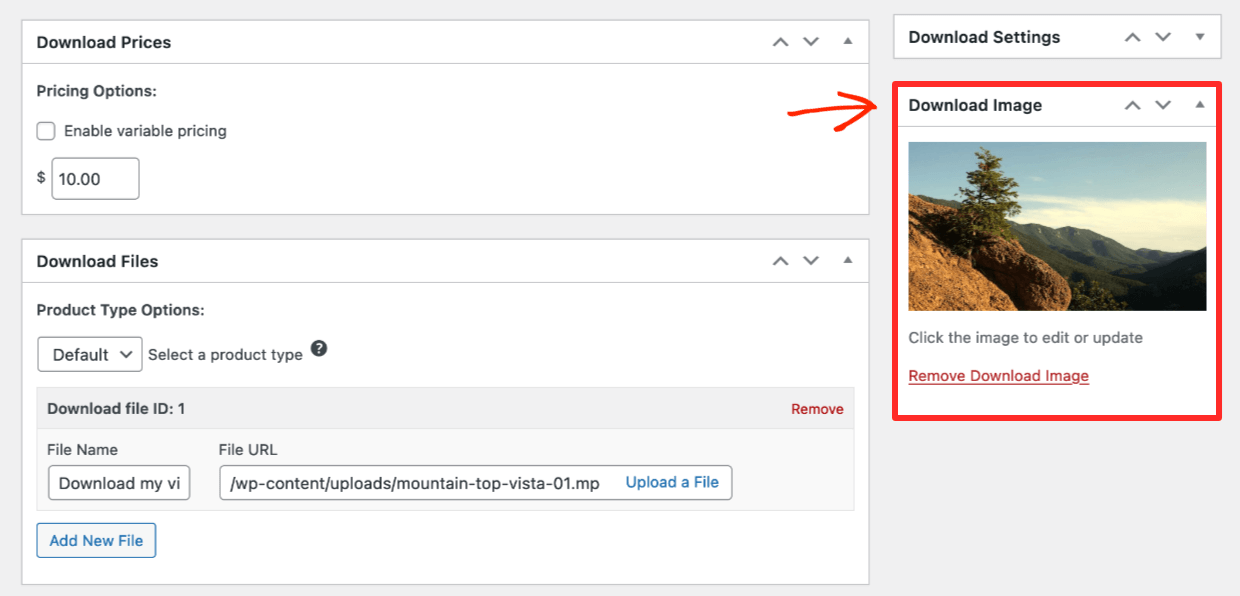 Great! It's ready. Click Publish.
Your download is set up on your WordPress site to sell. Next, look at it as the customer will see it on the product page.
Click on View Download button that appears after publishing.

You'll see your download on your website's font-end. This is the product page or download page.
We are using the free WP Astra theme in the screenshot below. Your site's look-and-feel will vary depending on which WordPress theme you have.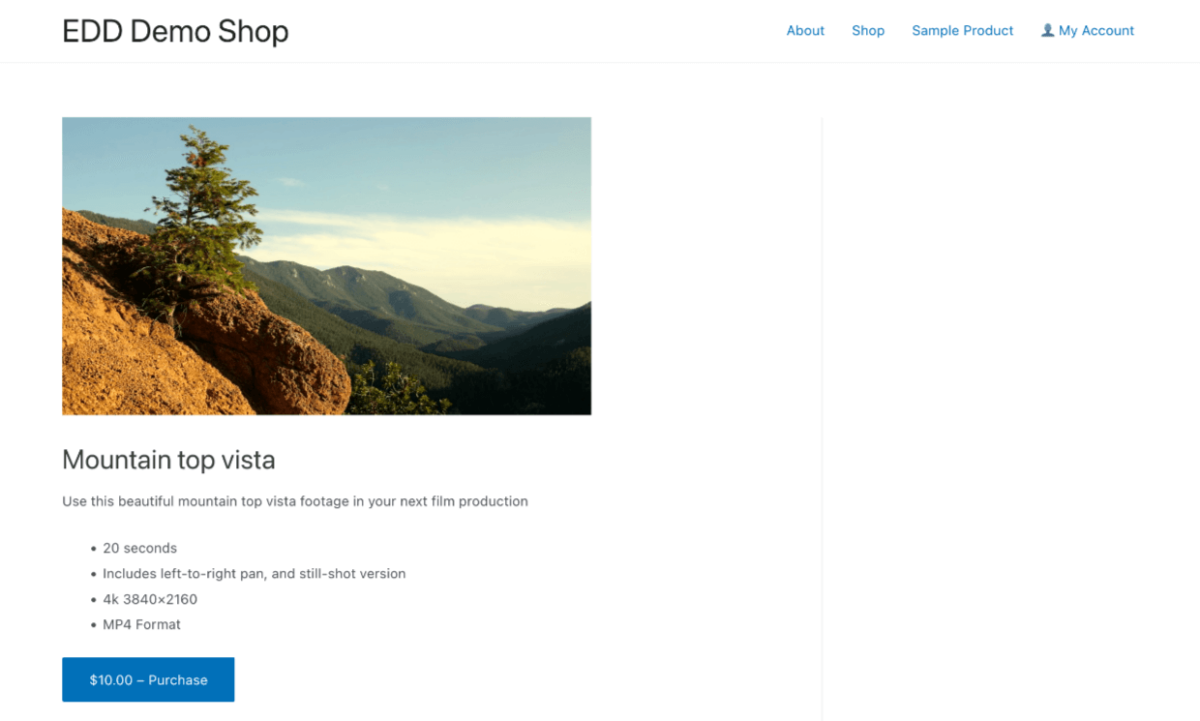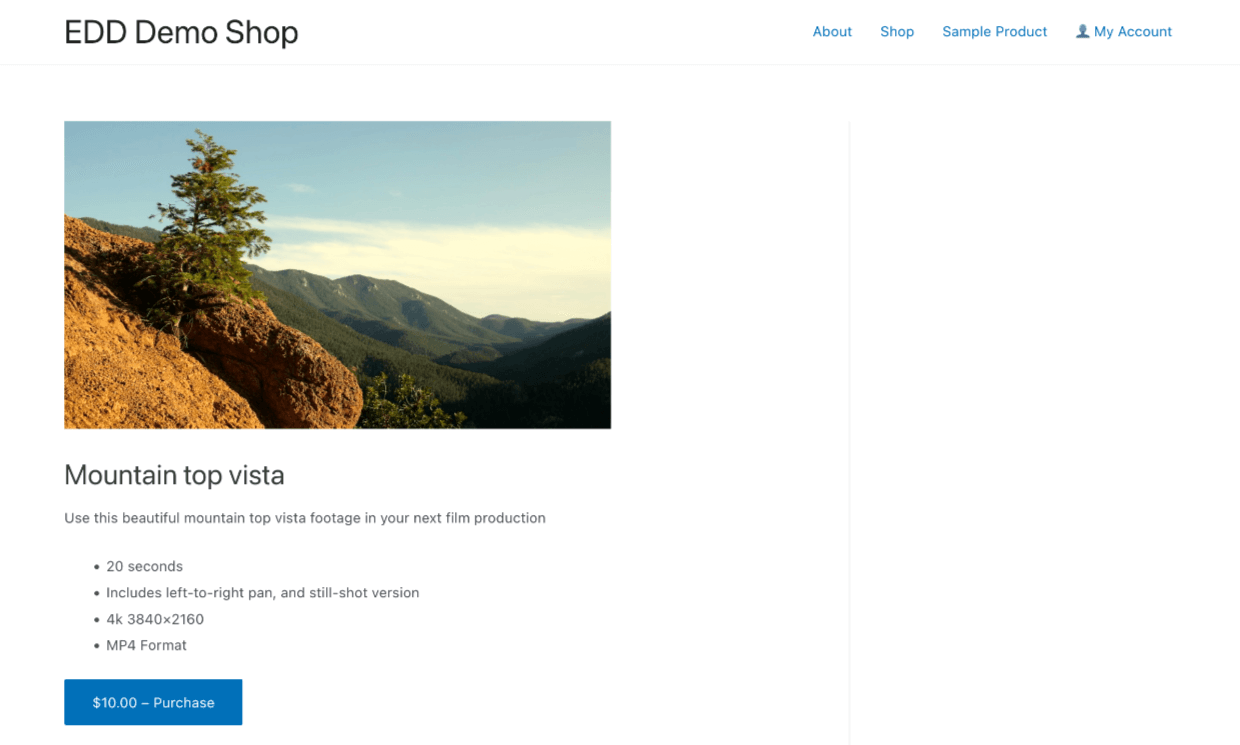 Set Up A Payment Method
Last, you need to set up a way for customers to pay with a credit card (or Apple Pay or Google Pay).
We recommend using Stripe. It's easy to use and has lots of great features.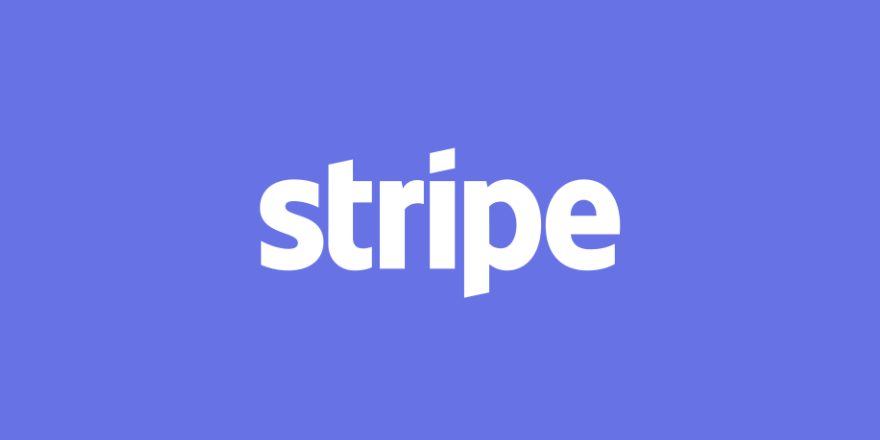 With Stripe you even can set up Google Pay or Apple Pay buttons.
If Stripe is not available in your country, or you need certain currencies, PayPal is a good option.
Click one of the links below to get started:
When the customer clicks Purchase the item will be added to their cart.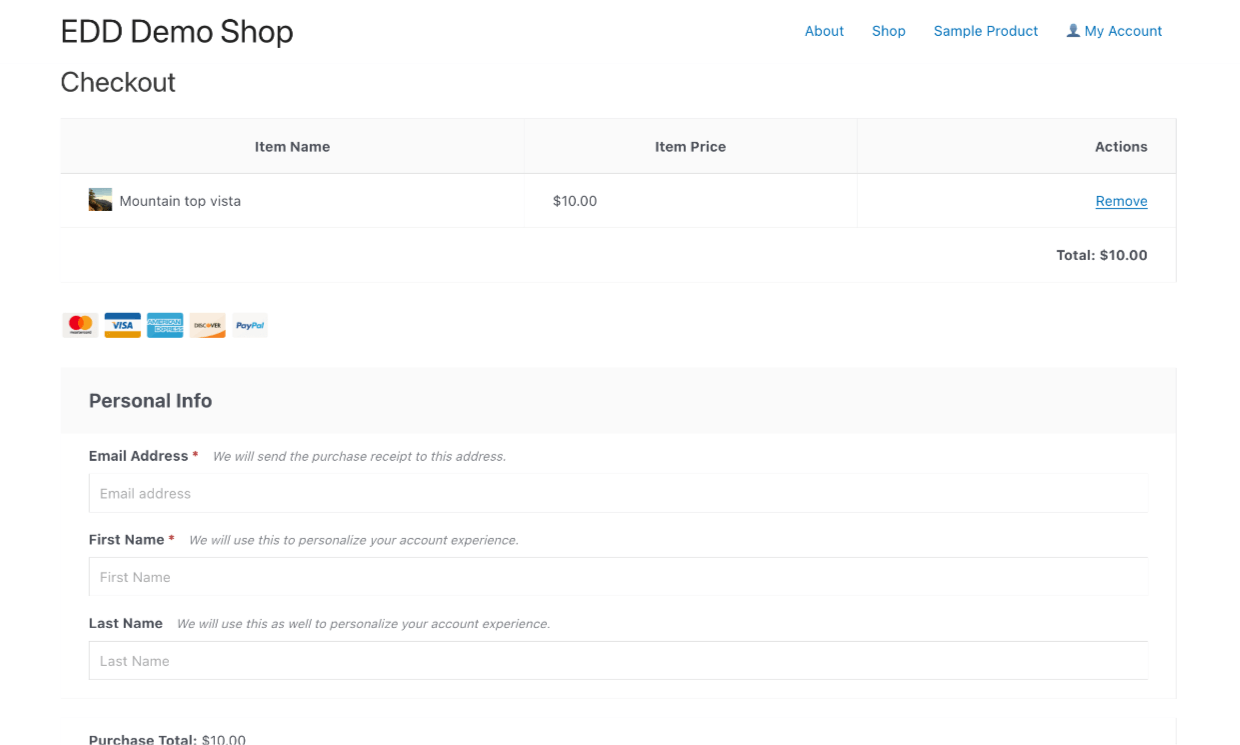 Customer Email
Once a customer makes a purchase they'll get a purchase confirmation email that looks like this: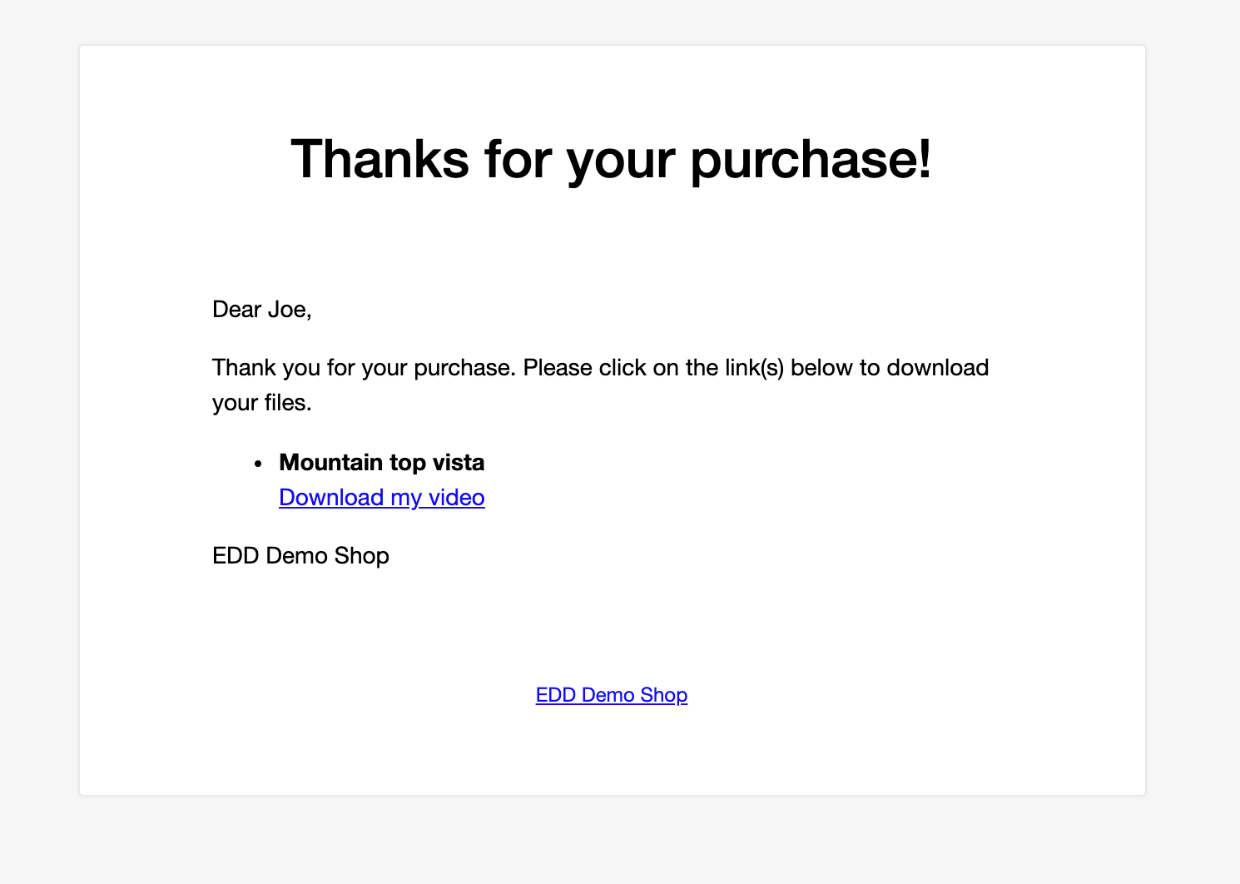 The presets for this email work fine. Or, you can customize this email all you want under Downloads > Settings > Emails > Purchase Receipts.
The 'My Download' link that you set up above is what the customer uses to grab their new video. The link provided expires after 24 hours.
You can change and set that link expiration time to be whatever you want
You can easily reissue a link to a customer at any time
🎬 It's that easy to sell your video files with WordPress and EDD. If you are building a business or side hustle with video, running your own store with EDD is a winning mix of pros and cons over marketplaces.
Bulk Import
If you are uploading a lot of videos (or any product) you don't have to do them one at a time. You can import products as a CSV (spreadsheet). Look under: Downloads > Tools > Import Export.
You'll find a section to Import Download Products. This is part of the free version of Easy Digital Downloads!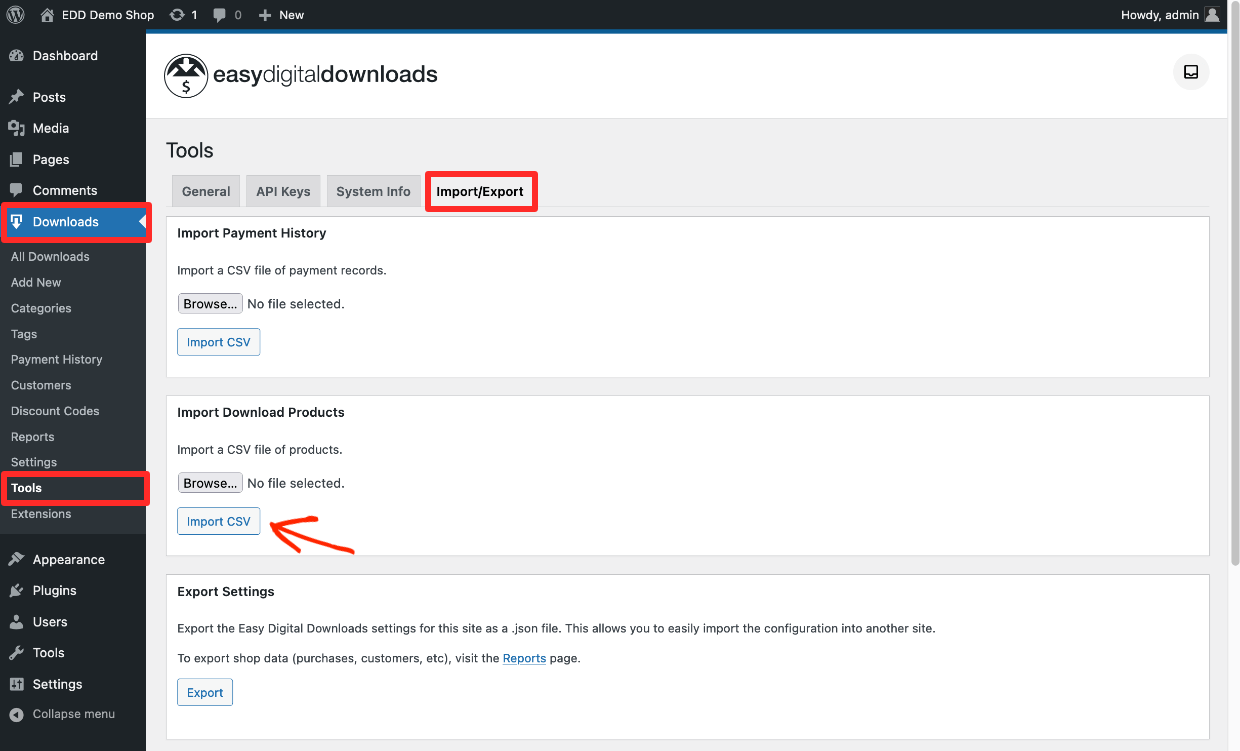 📘 Click here to see our Docs for more information on importing downloads
EDD Bonus Features
While EDD is free to use. You may want or need some EDD Extensions to build a more full-featured video shop.
These Extensions (and 40+ more) are available with an Extended Pass. Click here to learn more about EDD Passes.
🏷 Get 50%-off introductory pricing on an Extended Pass
---
Conclusion
That's a wrap. You've learned how to sell video online. This is a large and complicated topic. We hope this article helps you empower others and develop a business plan for your video content.
We have a bunch more content for digital creators like us! What do you want to learn about next?
Be sure to follow us on Facebook and Twitter to get our latest resources for digital creators.