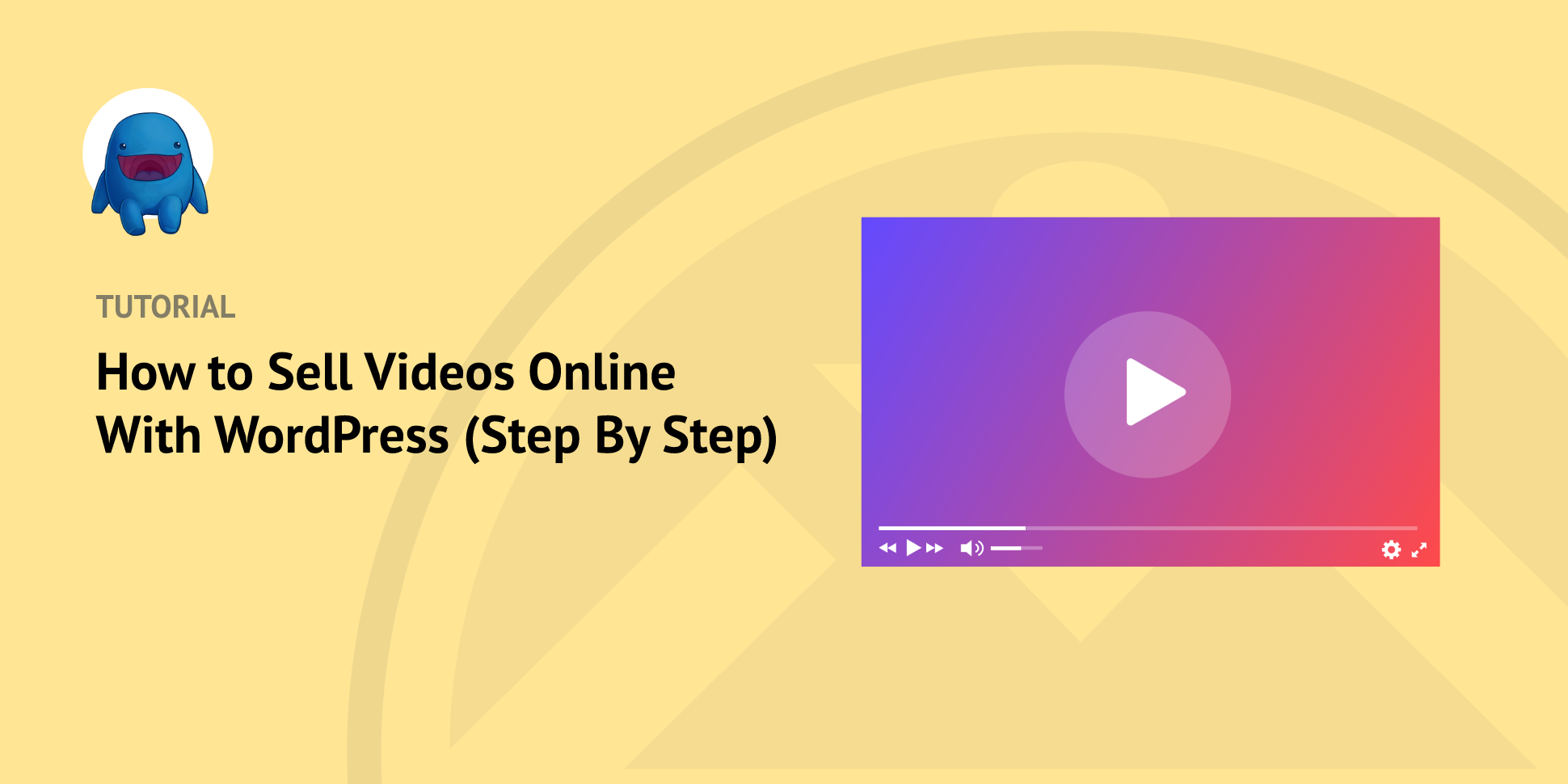 Want to learn how to sell videos online? This is a great way to make money and help others. The importance of video on the web keeps growing year after year.
There are many methods you can use to sell video content online. In this post, I'll explore the top options, explain the advantages of selling videos on your website, and walk you through the process of how to do it.
Don't worry; it's not complicated, even for beginners. You can sell videos on your WordPress site for free with the right tools!
🔎 In this article, we'll cover:
Why Sell Videos Online?
There are many reasons to sell videos online. It's an excellent way to reach a wide audience and monetize your work.
If you're a business owner, selling videos allows you to generate more money than you may otherwise be able to through sales alone. Videos can be a great way to supplement your blog or other content in a way that is convenient and engaging to your audience.
People worldwide love watching videos (over 3.3 billion!).
Making video content available online means customers can purchase the videos whenever they want. You don't need to spend unnecessary money on ads or specialized campaigns to promote your product.
Additionally, by using digital tools such as eCommerce platforms and social media, you can create, tailor, and target specific audiences. This creates a great level of control over how your content reaches users and offers potential for increased engagement.
Types of Videos to Sell Online
Modern culture continues to shift more and more online. As it does, people are looking to video for education, self-development, community, and entertainment.
You can use your unique skills, experience, and passion to help others with your video content. Use it to promote your brand or products. Or use your video content directly to make money.
There are many different types of videos you can sell online. Some popular options include:
Video tutorials
Exclusive Vlogs
Films/Movies/Series
Stock Footage
Where to Sell Videos Online
The best place for selling videos online depends on a few factors. One is the type of video you're selling. There are two main formats for selling/consuming videos: streaming and downloading.
| Streaming | Downloading |
| --- | --- |
| Users watch videos online in real-time | Users download video to their own device |
| No downloading file | Can watch at own convenience, with smoother, high-quality playback even when offline |
| Ex., YouTube, Netflix, Amazon Video, etc. | Ex., Buying/renting movie from iTunes or Amazon Prime |
| Selling access to video player/platform | Selling downloadable file to use whenever/however |
| | |
Where to Sell Streaming Videos
If you want to sell streaming video, you could use YouTube or a paid service like Vimeo.
| 🟢 YouTube Pros | 🔴 YouTube Cons |
| --- | --- |
| Free | Funded by ad revenue; people will have to watch ads before, and sometimes in the middle of, your video |
| World's most popular video platform | YouTube suggests other videos, potentially distracting viewers |
| Easy to use | Unprofessional experience for video marketing |
| Ways to make money (only once channel has 1,000 subscribers and over 4,000 hours of video watched 😯) | Can't link to your site or have a call-to-action buttons except in certain circumstances (if you're an ad partner) |
| 🟢 Vimeo / Wistia Pros | 🔴 Vimeo / Wistia Cons |
| --- | --- |
| No ads | Vimeo has a free tier with limits, Wistia is paid-only |
| You can customize the appearance of the video player to better match your brand | Less likely your video will be found by people searching the web than if your video is on YouTube |
| No recommended videos at the end of your video | |
| Can have links and calls-to-action | |
You can embed video players from YouTube, Vimeo, or Wistia on your website or social media.
Where To Sell Video Downloads
You can sell downloadable videos in two places:
A stock video website or marketplace
On your own website
| 🟢 Stock Video Website or Marketplaces Pros | 🔴 Cons |
| --- | --- |
| Stock sites and marketplaces are likely already getting a lot of traffic | Make less money, they charge fees AND/OR take a cut of your sales |
| Possibly faster setting up your own store/website | Customers are not 'your customers' they're the website or marketplace customer |
| | Little/no direct interaction with customers |
| | No control over pricing; many sites have rules or limitations over pricing |
| | No control over the customer experience |
| | Videos are surrounded by your competitors' |
Ideally, the best place to sell your videos online is on your website. It gives you the best opportunity to make a great first impression and engage with customers how you see fit.
| 🟢 Your Own Website Pros | 🔴 Own Website Cons |
| --- | --- |
| You can make more money per purchase, no sharing of revenue, no middle-man fees | Have to find ways to attract visitors to your website |
| Full control over pricing | Takes more time to set up a store/site than list on a stock site or marketplaces |
| Control over the customer experience | Maintain your own website (easier than ever, use a managed web host to automate this) |
| Direct communication with customers and leads (emails, lead magnets) | |
| Up-sell and cross-sell to your customers | |
🛍 Learn More About Marketplaces vs. Your Own Website
How to Sell Videos Online With WordPress
If you don't already have your own website, don't worry. Creating one is incredibly easy, especially with WordPress!
Ready to get started? In this step-by-step guide, we'll show you how to sell videos online using WordPress and Easy Digital Downloads (EDD).
Step 1: Set Up Your WordPress Site
WordPress is the best website builder and CMS (Content Management System). It's the world's most popular and powerful website platform.
While WordPress is free, you need to pay for web hosting.
Choosing a Web Host + Discount Codes 🌐
If you don't already have a WordPress website, the first step is to sign up for a hosting plan.
You can use a web host like SiteGround's EDD Managed Hosting. It only costs a few dollars a month and gives you everything you need to start an online store/WordPress website:
Each plan includes:
WordPress + a WP Starter site-building wizard pre-installed
Easy Digital Downloads eCommerce plugin re-installed so you can start selling videos & other downloadable products right away
Free SSL pre-installed at no extra cost
You also get a handful of essential tools for growing your WordPress site: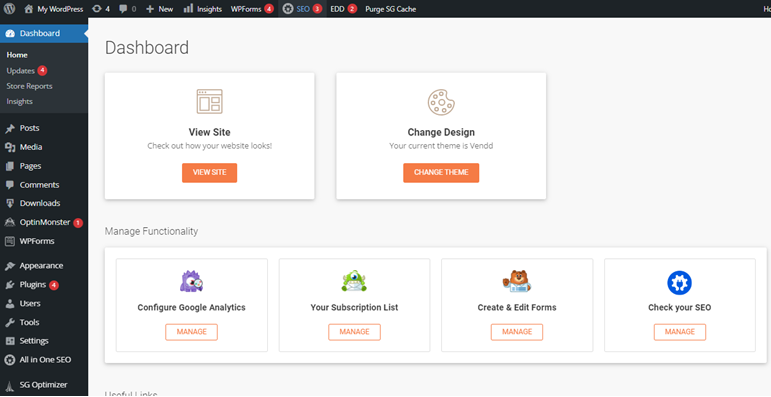 To start, go to the SiteGround Managed EDD Hosting website and click Get Started. Select a plan and follow the prompts to get your site set up.
Step 2: Get Easy Digital Downloads
Next, you can download and install Easy Digital Downloads (EDD):

This powerful WordPress plugin adds a complete, full-featured eCommerce store to your website. EDD is an excellent WooCommerce alternative if you don't offer physical products. It's purpose-built for selling digital products, like video.
You can use EDD for free. The Lite version lets you add digital products (like videos), create product pages, configure payment methods, and much more. This version comes pre-installed with SiteGround WordPress hosting plans.
However, I recommend grabbing an EDD pro license. This unlocks access to even more extensions, features, and functionality that help you expand, optimize, and grow your online business.
eCommerce without limits!
That is our promise. Most eCommerce solutions limit your creativity
…not Easy Digital Downloads!
Once you choose your plan, you can download the EDD plugin from your account area and install it on your WordPress site.
If you need help installing a plugin on your WordPress site, here is a great tutorial.
After you install and activate the plugin, a Downloads menu item is on your WordPress dashboard: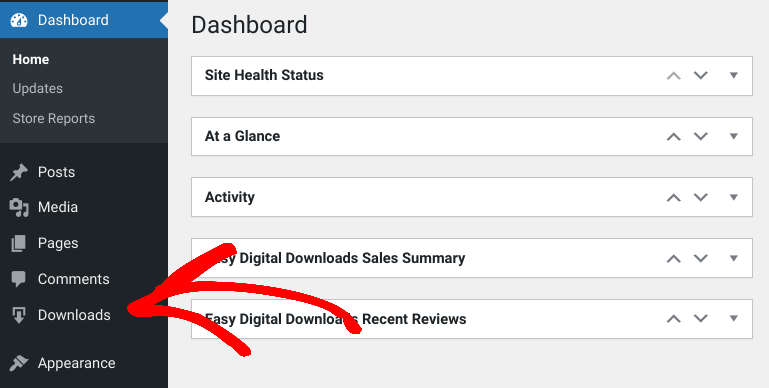 You can configure your store and EDD settings under Downloads » Settings. For instance, you can go to the Payments tab to set up your payment gateway.
Click one of the links below to get started:
Step 3: Create Your Download Product (Video)
Once your store is set up, the next step is to add video you want to sell as a digital product. EDD refers to digital products 'downloads'.
Go to Downloads and select the Add New button: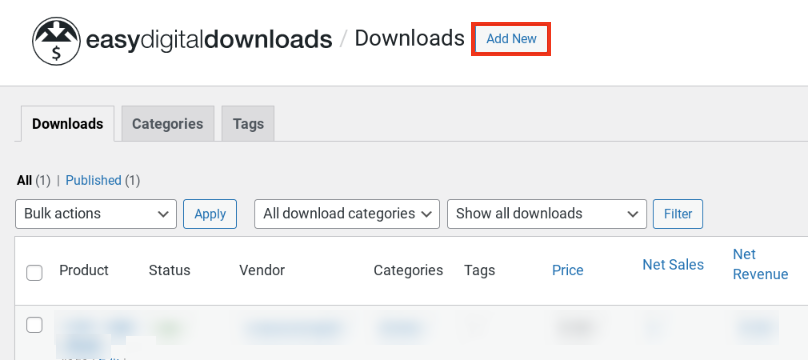 Next, you can name the video and add a description in the text area below: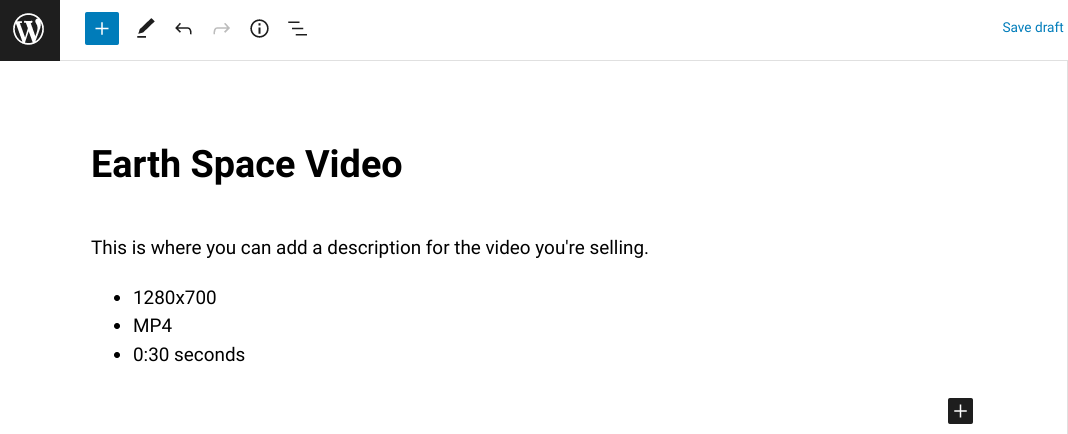 You can set a price for your download under  Download Prices:

If you want to offer it as a free download, you can leave the amount at "0".
Next, we need to configure the Download File. This is the video file that the customer will get after the purchase. They'll get an auto-expiring link on their purchase confirmation page and confirmation email. This helps prevent piracy.
Under File Name, type 'Download my video' or a similar phrase. This is the clickable link text that will be used on the confirmation page and email.
Under File URL, click Upload a file to place your video on the server. It will automatically be protected from search bots and unauthorized file downloads (by non-customers).
You'll probably want to convert your MP4 or MOV file to a ZIP file. Click here to learn more and why.

To the right, under Download Image, you can add a featured image that potential customers will see when shopping around: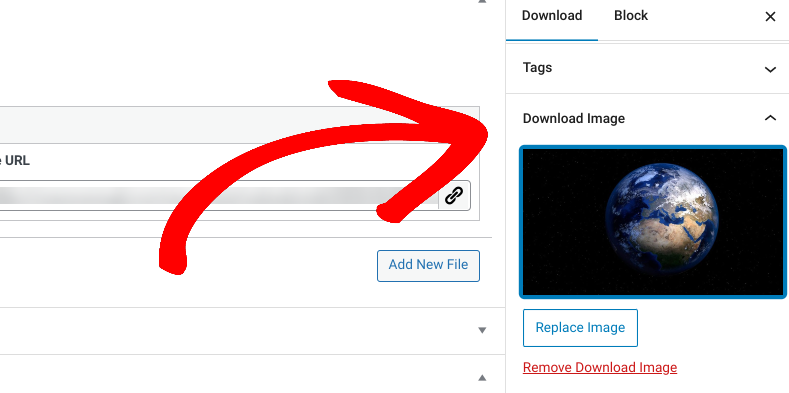 When you're done, click on Save draft at the top, followed by Preview to see how it looks on the product page: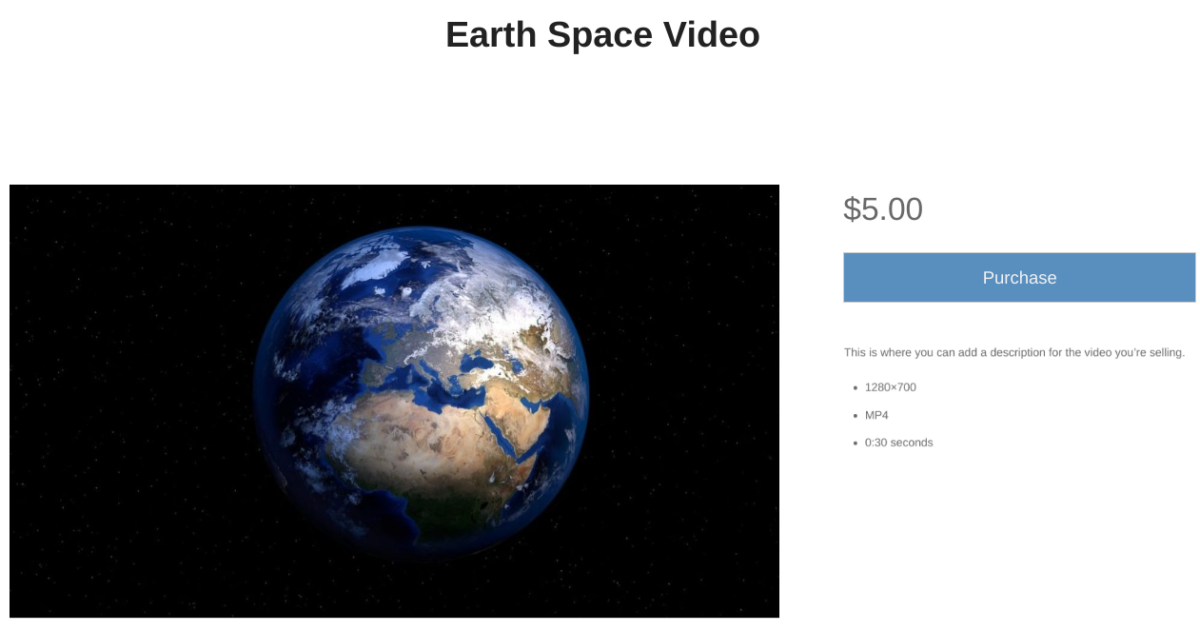 Note that your site's look and feel will vary depending on which WordPress theme you have.
Step 4: Publish & Sell Video Online
If you're happy with how everything looks, you can push the product page live by clicking on Publish!
Once a customer makes a purchase and completes the checkout, they'll get a purchase confirmation email that looks like this: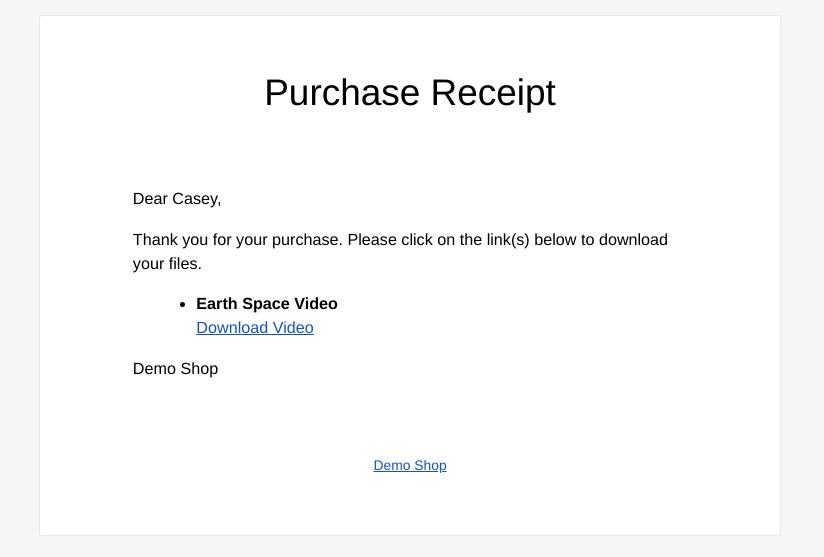 The presets for this email work fine. Or, you can customize this email all you want under Downloads » Settings » Emails » Purchase Receipts.
The 'Download Video' link that you set up above is what the customer uses to grab their new video. The link provided expires after 24 hours.
EDD Bonus Features
While EDD is free to use, you may want or need some EDD Extensions to build a more full-featured video shop.
Amazon S3 or DropBox Integration – Useful if you are selling a lot of large video files for download. You might need to store the video files on a server designed to serve up videos at a high volume. Some web hosts can't handle video files well. Amazon S3 and Dropbox are affordable and powerful solutions.
Content Restriction – If you want to sell access to streaming video, this is a great way to do it. Restrict your video pages to paying customers.
All Access – If you want to sell video downloads, you can create bundles of certain videos by category. You can also make an unlimited access option to allow customers to download whatever they want.
Recurring Payments – If you sell bundles or an unlimited download option, you can set up automatic subscription payments. Choose from monthly or yearly (as well as less common setups like daily, weekly quarterly or semi-annually).
These add-ons (and many more) are available with an Extended Pass. Click here to learn more about EDD Passes.
FAQs About Selling Videos Online
What is the best way to sell videos online?
The best way to sell videos online is through your own website. This gives you the most control over pricing, customization, and customer interactions. WordPress is the most popular website builder/CMS platform. You can turn it into an eCommerce site and easily sell videos and other digital products online with the Easy Digital Downloads plugin.
Can I import videos onto my WordPress site?
Yes. If you are uploading multiple videos/products, you can bulk import them or import them one by one. You can import them as CSV files. In EDD, you can go to Downloads » Tools » Import.
Use EDD + WordPress to Sell Videos Online
That's a wrap. You've learned how to sell video online. I hope this article helps you empower others and develop a business plan for your video content.
Start selling videos online with WordPress + Easy Digital Downloads today!
eCommerce without limits!
That is our promise. Most eCommerce solutions limit your creativity
…not Easy Digital Downloads!
EDD offers a ton of content for digital creators like us! What do you want to learn about next?
📣 P.S. Be sure to subscribe to our newsletter and follow us on Facebook or Twitter for more WordPress resources!