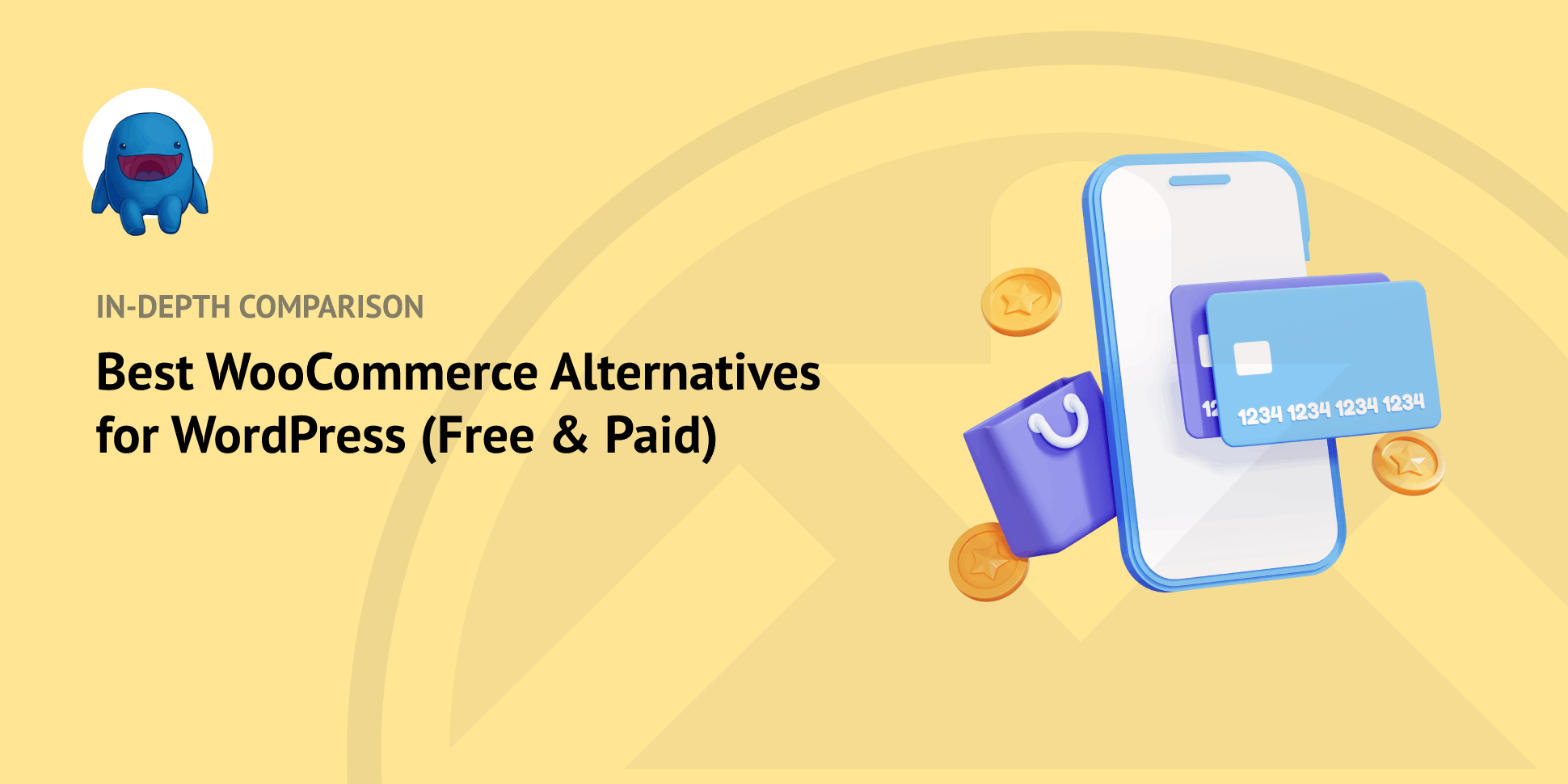 Are you looking for the best WooCommerce alternatives? You've come to the right place.
As the most popular WordPress eCommerce plugin, WooCommerce has a lot to offer. But it isn't the best option for everyone. It all depends on what you're selling and the features and functionality you're looking for in your online store.
There are a handful of excellent alternatives to choose from, no matter what your budget is.
🔎 In this post, we'll cover:
Choosing a Platform for Your eCommerce Site
When starting an eCommerce store, there are a handful of platforms to choose from.
One option is an online marketplace such as Etsy or Amazon. They make creating a store a simple process, but also tend to charge high transaction fees. Your products can get lost in the crowded, competitive environment. Plus, you have little control over the customization and customer experience.
Another option is Software-as-a-Service (SaaS) platforms, like Shopify, BigCommerce, or Gumroad. But most only offer brief free trial periods followed by pricey monthly subscriptions. Some (like Gumroad) take about 10% of your sales and can get more expensive as your business grows.
The third option, which is often the most affordable and flexible, is self-hosted WordPress. WordPress is a free, open-source Content Management System (CMS) used by millions of website owners. It's beginner-friendly and completely customizable.
A WordPress installation is free. You pay for a domain name and WordPress hosting, plus any premium plugins or themes. While WordPress doesn't come built-in with eCommerce functionality. But you can easily add it via plugin. Some hosting providers even offer one-click installations.
➡️ Need a WordPress site? All you need is a good web host. Click here to learn about SiteGround + Managed EDD Hosting!
WooCommerce is the most popular eCommerce plugin for WordPress. It lets everyone from bloggers to business owners create online stores and sell products on their WordPress websites without coding or programming knowledge.

WooCommerce is user-friendly with incredible ease of use. It offers a variety of customizable options and extensions. However, it isn't without its cons. Before assuming it's the ideal eCommerce solution for you, it's smart to consider the best WooCommerce alternatives.
Why Consider WooCommerce Alternatives?
WooCommerce is a great plugin for creating an eCommerce website. But there are some drawbacks. It's geared toward sellers of physical products and goods and items. If you sell digital products or downloads, there are simpler, more focused solutions.
WooCommerce may require additional plugins for key eCommerce features you might've assumed were included. The cost of premium addons for things like shipping options or payment gateways can add up.
Also, as such a robust tool, WooCommerce stores typically use a lot of resources. So they may require more expensive hosting plans than would otherwise be necessary.
Finally, WooCommerce is backed by a large, engaged developer community. There are many tutorials and documentation online to help you use it. But WooCommerce doesn't offer much direct support or customer service, which can make it hard to get help when needed.
Summary of the Best WooCommerce Alternatives
WooCommerce Alternative
Free Plan
Premium Pricing
Shopping Cart System
Best For
Easy Digital Downloads
✅
$199.50 – $999.50/yr
✅
Digital products,
downloads, & subscriptions
WP Simple Pay
✅
$49.50 – $299.50/yr
✖️
Few products & donations
WPForms
✅
$39.60 – $239.60/yr
✖️
Payment & order forms
MemberPress
✖️
$179.50 – $399.50/yr
✅
Online courses & membership sites
BigCommerce
✖️
$29.95 – $299.95/mo
✅
Large stores with external hosting needs
5 Best WooCommerce Alternatives for WordPress
Ready to learn more about the top WordPress plugins to use for eCommerce? Below are 5 of the best WooCommerce alternatives.

Easy Digital Downloads (EDD) is the best WooCommerce alternative. Whereas WooCommerce is ideal for selling physical goods, EDD is the better option for downloadable and digital products. This includes eBooks, software, files, templates, etc. Plus, you can use it to sell subscriptions and accept recurring payments.
With EDD, you can easily create an online store, manage customer accounts, track orders, and more. It has built-in support for popular payment gateways like PayPal and Stripe to make accepting payments incredibly simple (and safe!).
Another factor that makes Easy Digital Downloads the best WooCommerce alternative is that even its free version is packed with powerful features. Many of the eCommerce tools included with the core plugin are ones that other WooCommerce alternatives only offer with premium licenses.
🔑 Key Features
Unlimited digital products
Flexible payments & multiple currencies
Quick & easy setup
Discount codes
Social media & email marketing tools
Notifications & purchase receipts
Full real-time data reporting (including support for Google Analytics)
Extensions & integrations
Product reviews and wishlists
Designed for large or small stores
Software licensing
Amazon S3 or Dropbox integration for file storage
Customer support from a dedicated full-time team
💰Pricing: Free, with multiple pricing tiers available starting at $199.50. With a Pro pass, you can access premium addons to extend and expand the plugin's functionality.
✍🏻 To learn more about the differences in plans, check out EDD Free vs Paid: Which One Is Right For You?

WP Simple Pay is another one of the best WooCommerce alternatives. It's especially great if you don't need a full shopping cart or store. It makes selling services/single products and accepting one-time payments quick and easy.
It offers prebuilt templates and a drag-and-drop builder for creating payment forms. WP Simple Pay supports multiple payment gateways, including PayPal, Stripe, and Authorize.net.
Additionally, the freemium eCommerce plugin is incredibly simple to set up. You can add buy now buttons and accept donations. It's a powerful tool if you don't sell physical products and don't need shipping or inventory management.
🔑 Key Features
eCommerce without a shopping cart
One-time and recurring payments
Pre-built templates and form builder
Donations
Multiple payment gateways
💰 Pricing: Free | Premium plans start at $49.50. With a Pro license, you can accept on-site and recurring payments.

WPForms is like WP Simple Pay because it offers a simple, straightforward way of accepting payments via order forms on your WordPress site. It's a solid solution if you don't need a complete shopping cart or checkout system but have a single product or service to sell.
As one of the best form builder plugins for WordPress, WPForms lets you create and add billing/order forms to your site using an intuitive drag-and-drop interface. In addition to online order forms for selling products and accepting credit card payments, you can also use it for registration, newsletter, and contact forms.
🔑 Key Features
Online billing & order forms
400+ templates
Drag-and-drop form builder
Conditional logic & advanced form fields
Form landing pages
Support for multiple payment gateways (Stripe, PayPal, Square)
Recurring subscriptions
Surveys & polls
Automated notifications & confirmations
User journey tracking
💰 Pricing: Free. However, you'll need a Pro license ($159.60 per year) to accept payments through your forms.


If you're looking for the best WooCommerce alternatives for selling online courses, MemberPress is definitely worth considering. This impressive, premium WordPress plugin is built for creating, managing, and selling course content, membership websites, and other exclusive content.
It lets you easily configure subscription payments, add custom/Drip content, and create membership levels. There's a wide variety of virtual assets you can use it to sell, from online classes and webinars to digital newsletters and podcasts.
🔑 Key Features
Online courses
Membership sites
Subscriber-only (drip) content and paywalls
Quizzes, podcasts, & webinars
Member activity tracking
Automated emails
One-time or recurring payments
💰 Pricing: Plans start at $179.50. There is no free version, but there is a 14-day money-back guarantee.

BigCommerce itself is not a WordPress plugin. It's its own fully hosted solution.
What does that mean? Simply, it's an individual SaaS platform that provides an all-in-one package of eCommerce services. Besides hosting, this includes web design, Search Engine Optimization (SEO), payments, etc.
The biggest downside is that it lacks customization options. It's also on the pricier side.
However, if you want to (or already) use BigCommerce, you can integrate it seamlessly with WordPress using the free BigCommerce for WordPress plugin. This can be an effective way to free up server space and resources. Plus, you can optimize your site for WordPress and integrate it with the WooCommerce plugin.
🔑 Key Features
Fully hosted platform
Seamless WordPress integration
Digital download support
Advanced shipping & complex product catalog support
Multiple payment options
Customer account management
High scalability
Option to sell across multiple platforms (Instagram, Amazon, etc.)
Coupon codes and discounts
💰 Pricing: The BigCommerce for WordPress plugin is free, but you need a BigCommerce plan to actually use it. Plans start at $29.50 per month.
Best WooCommerce Alternatives: FAQs
Next, let's look at some FAQs. Then we'll wrap up with a summary review of the best WooCommerce alternatives.
Can I accept payments directly on my WordPress site?
Yes, it's possible to accept payments directly on your WordPress site. To do so, you'll need to integrate a payment gateway with your website. Popular options include PayPal, Stripe, and Authorize.Net.
In addition to using dedicated payment gateways, you can also use an eCommerce plugin like WooCommerce or Easy Digital Downloads. These tools let you create an online store and accept payments.
How can I sell on WordPress without WooCommerce?
You can sell on WordPress without WooCommerce. You just need a different eCommerce plugin or payment gateway integration. There are plenty of affordable WooCommerce alternatives.
If you need a free option, what are the best WooCommerce alternatives?
The best free WooCommerce alternative is Easy Digital Downloads. It's a complete eCommerce WordPress solution for selling digital products and downloads. But if you don't need or want a full shopping cart system, WP Simple Pay is also an excellent option.
Summary of Best WooCommerce Alternatives
WooCommerce Alternative
Free Plan
Premium Pricing
Shopping Cart System
Best For
Easy Digital Downloads
✅
$199.50 – $999.50/yr
✅
Digital products,
downloads, & subscriptions
WP Simple Pay
✅
$49.50 – $299.50/yr
✖️
Few products & donations
WPForms
✅
$39.60 – $239.60/yr
✖️
Payment & order forms
MemberPress
✖️
$179.50 – $399.50/yr
✅
Online courses & membership sites
BigCommerce
✖️
$29.95 – $299.95/mo
✅
Large stores with external hosting needs
Download EDD as a WooCommerce Alternative
WordPress is a flexible, powerful solution for building a website. But it's important to use the right eCommerce plugin. The best WooCommerce alternatives depend on the type of online business you have and what you're selling (among other factors).
For digital creators offering downloadable products, you can't go wrong with Easy Digital Downloads. Plus, with SiteGround Managed EDD Hosting, you can get your online store up and running in no time!
📣 P.S. Be sure to subscribe to our newsletter and follow us on Facebook or Twitter for more WordPress resources!