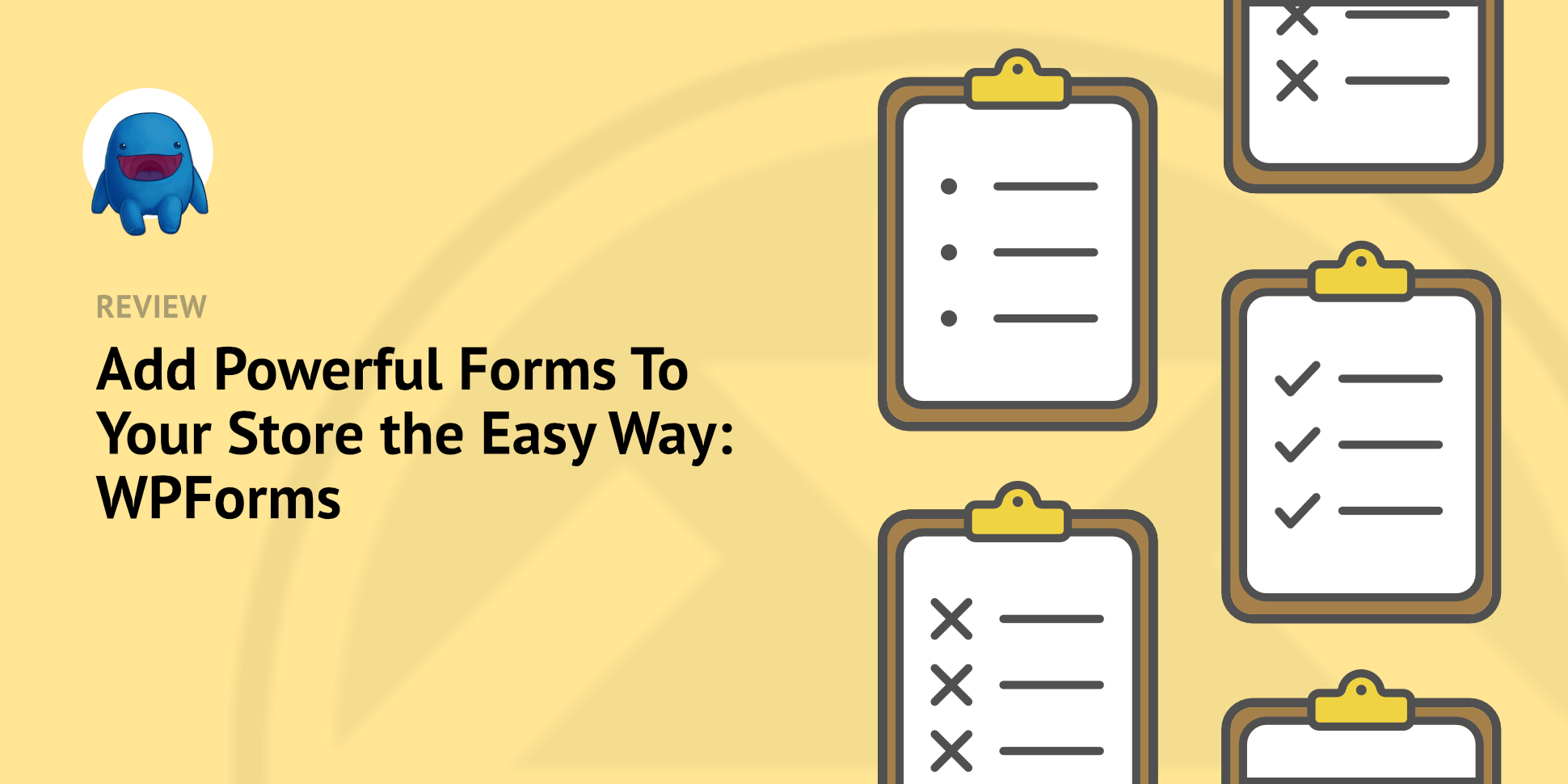 Are you looking to add forms to your digital product store or website? Forms are an important tool for building a successful online store. You need forms for support requests, the contact page, or customer surveys.
WPForms is one of the most popular form builder plugins for WordPress, which comes with tons of valuable features.
In this post, we'll review all the different components of this plugin so that you make an informed decision while shopping for WordPress contact form plugins.
What Is WPForms Good For?
WPForms is a beginner-friendly contact form plugin that allows you to create any type of form for your WordPress site easily.
WPForms has two big advantages over other form builder plugins:
It's powerful AND just plain easy to use. With other form builders you might worry about a client, business owner, or co-worker working with forms. But with WPForms they'll be completely comfortable creating or editing their own forms!
It comes with tons of templates, sometimes it's very helpful to not start with a blank slate, you can easily customize the forms just how you want.
With WPForms, you get a massive variety of functionalities like drag-and-drop building, multi-step forms, and simple customization of form pages.
You can install WPForms on your website like any other WordPress plugin. First, purchase a WPForms Pro license. Then, install and activate the plugin on your site.
WPForms Review: A Quick Look
We will cover some of the key features that you get with WPForms in this post. Here are the contents of this WPForms review:
Let's dive into it.
WPForms Features
Now, let's talk about each of these features in some detail.
1. Drag and Drop Form Builder
WPForms was mainly designed for individuals and small businesses that want a quick and easy way to add forms to their site. This is why WPForms comes with a drag and drop builder interface.
You need no prior experience or technical skill to use WPForms effectively and build forms that work exactly the way you want. All it takes to create a new form is to drag and drop from the left side of the builder onto your desired spot on the right (which is a live preview of your actual form).
Once you've added a field to the form, you can edit it and change its settings. For instance, you can change the name of any field and control whether the field is required or optional.
WPForms lets you do all of this using its simple visual form builder, making WPForms one of the most easy-to-use contact form plugins available.
2. A Vast Form Template Library
It's outstandingly simple to create new forms from scratch using WPForms. But to make your job even easier, WPForms has a built-in library of 300+ form templates.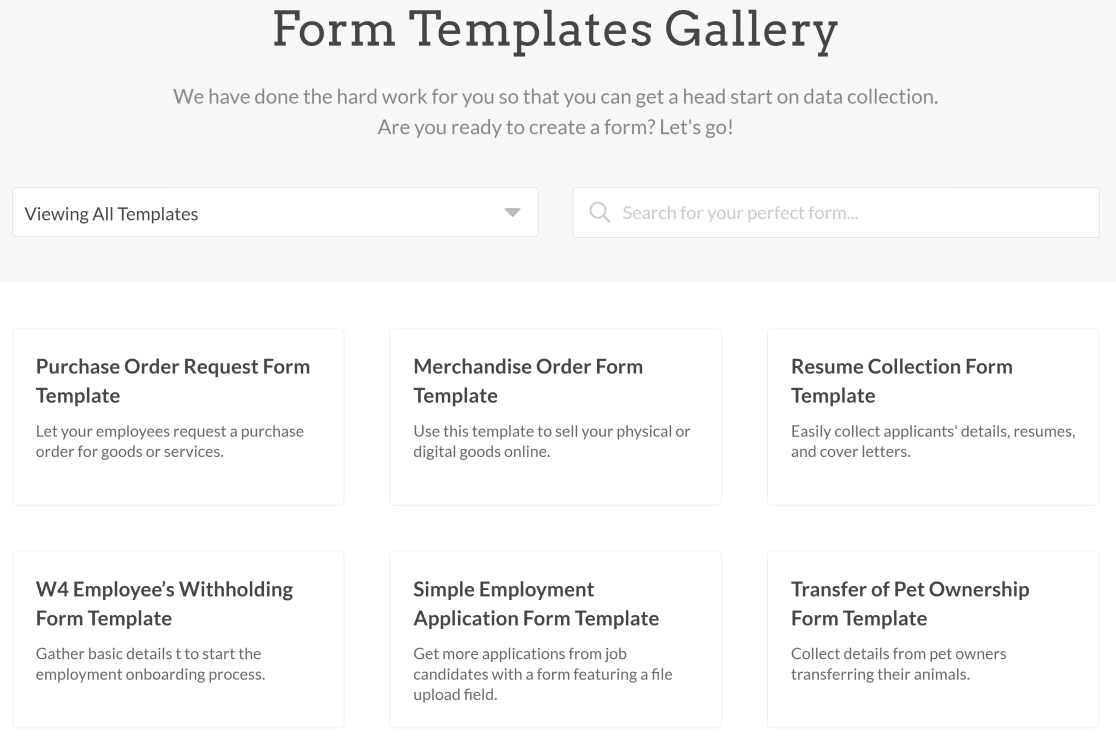 These templates range from simple contact forms to more advanced forms like doctor's appointments. There's a template optimally designed for almost every market and industry that you can think of.
These templates not only speed up your form-building process, but they're modeled after real forms that have proven to be successful for other businesses. So if you aren't sure which fields you should add to your form, these templates are a great help.
What's more, every template is customizable so you can add new fields or remove existing ones until the form looks perfect for your goals.
3. Conversational Forms
WPForms goes the extra mile to make sure that your users actually complete their entries and don't abandon midway.
One of the most effective ways to increase conversions is to use Conversational Forms, one of the best WPForms features.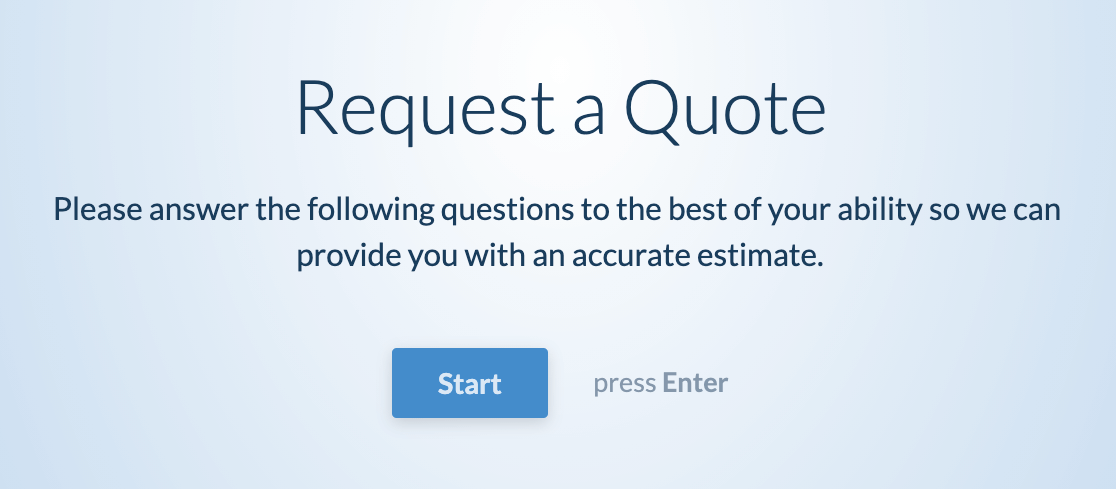 Conversational Forms make your forms a lot more appealing and distraction-free, and feel like a real conversational interaction rather than a bland fact-based form.
Moreover, Conversational Forms are a lot more mobile-friendly and can be completely filled out using just your keyboard/touchpad input.
4. Form Abandonment
Although Conversational Forms are very effective at reducing form abandonment rates, there are always some users who will quit filling out a form.
This is where WPForms' Form Abandonment features come into play. Available as an addon, activating Form Abandonment allows you to capture email addresses even if the user didn't finish the form.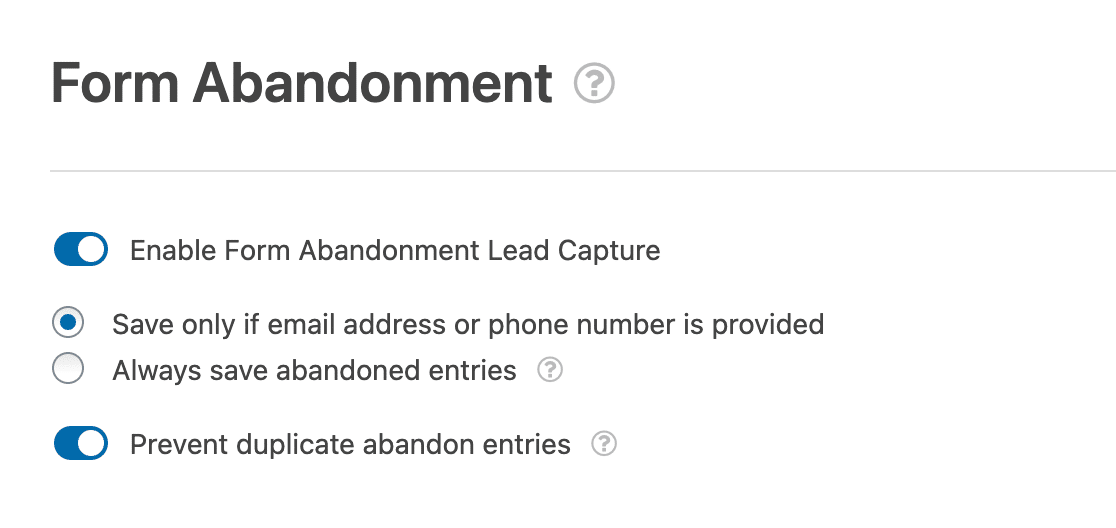 As a result, you can always obtain useful information, even from partially filled entries.
5. Surveys & Polls
If you run a digital product store, getting customer feedback is very important. WPForms makes it really easy to create surveys and polls with fabulous visual reports for your survey results.
To access the unique survey-making capabilities of WPForms, you'll need the Survey and Polls addon which comes with:
Likert scale surveys
Star ratings
Polls
Net Promoter Score (NPS) surveys
Graphical survey reports within WordPress dashboard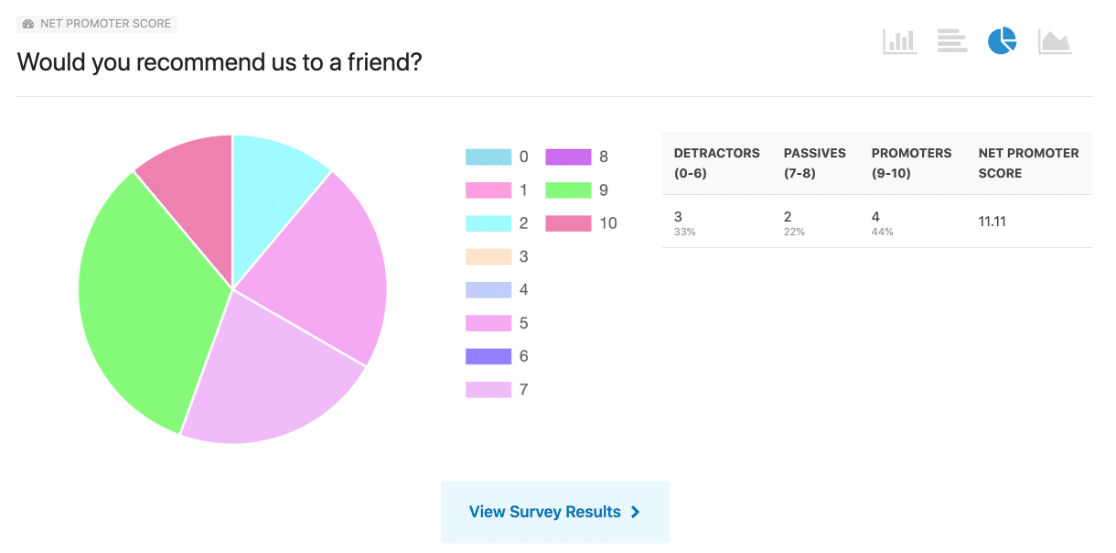 Use surveys to gather important information from your customers. Features like these make WPForms a complete solution for your form-building needs. You definitely won't be needing a third-party survey tool if you have WPForms.
6. Conditional Logic
One important characteristic of effective forms is that they are easy and as short as possible. It's hard to provide a good user experience when your forms are too long.
Thankfully, WPForms has an easy solution to tackle this problem using Conditional Logic. This allows you to set up simple rules to show or hide form fields for each user based on their previous choices. 

Since every user is different, it makes for a smoother experience when they are only shown relevant form fields based on their responses. Plus, Conditional Logic improves your ability to collect only the most essential information from each user.
7. Form Entry Management
WPForms is great at making it easy for you to add forms to your site. It also has a great entry management dashboard that maintains an organized record of all submissions. 
You can view all user form submissions directly from your WordPress dashboard. This way, you can always keep track of the responses you've received from your customers.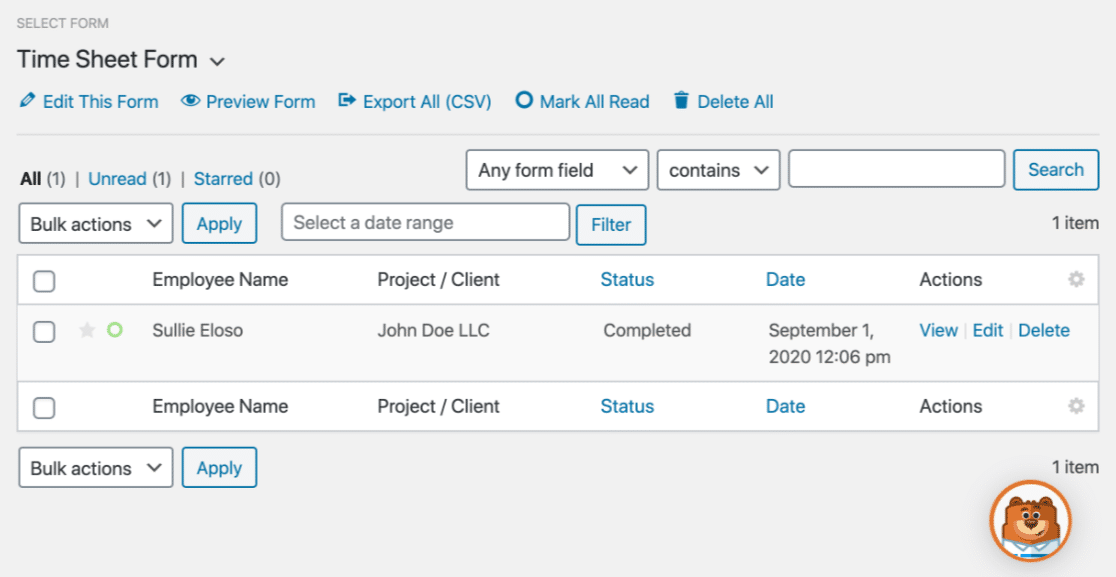 What's more, WPForms has a fantastic search feature that lets you search for entries if you're looking for anything specific. You can even filter form entries by date range.
These entry management capabilities make WPForms a really user-friendly choice for store owners.
8. Marketing Integrations
To help you with marketing and automation WPForms also comes with support for various integrations. 
For instance, if you'd like to automate some of your administrative tasks, you can integrate WPForms with other apps using Uncanny Automator or Zapier.
Plus, you can integrate WPForms with services like Active Campaign, Constant Contact, Mailchimp, and more. These integrations are convenient and many of them are also integrated with Easy Digital Downloads.
9. User Journey Tracking
WPForms is effective for a lot more than just building highly functional forms. For instance, it also has a user journey tracking feature that shows you exactly how your customers are finding your forms.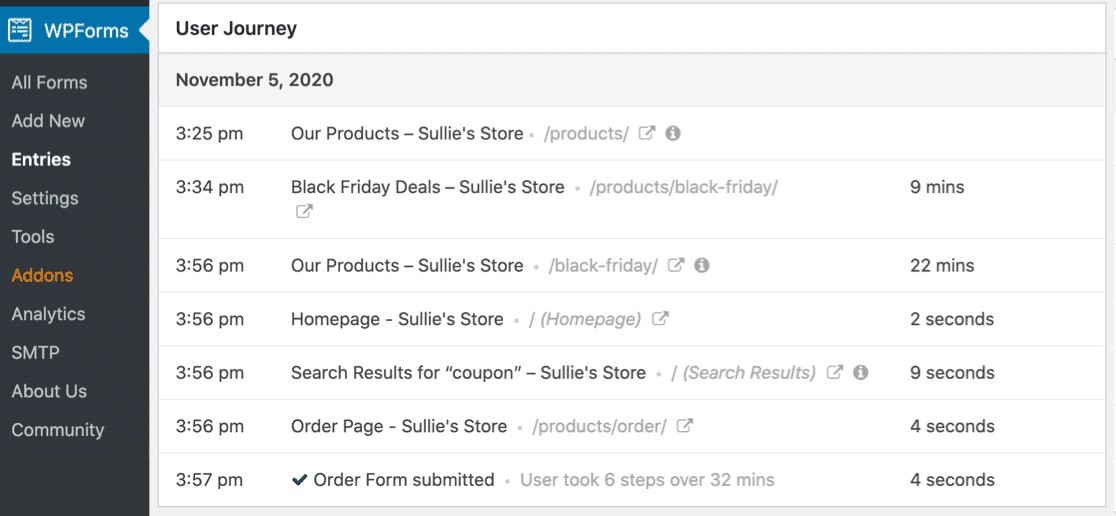 For instance, if you've deployed forms to various parts of your website, it's unlikely that all of these are equally effective at collecting submissions. The User Journey addon traces exactly where your form leads are originating from, allowing you to identify which areas of your site are performing well and which might require improvement.
10. Extra Features and Addons
WPForms is a very feature-rich plugin, so it's almost impossible to cover every single one in full detail here.
But here is a quick mention of other useful WPForms features: 
Geolocation: WPForms has powerful geolocation tracking, which is used to autocomplete the user's address and phone number.
Form Locker: Easily protect your forms with a password or impose other access controls like age restrictions.
Multi-step forms: Break longer forms into multiple steps for easier filling. 
Save and Resume: Let users save partial entries and resume filling at a later time. This is great as another form of abandonment reduction.
Spam protection: WPForms supports modern anti-spam tools like Google reCAPTCHA v2 or v3 and hCaptcha. 
Form pages: Create form-based landing pages free of distractions and with great visual customization options.
Notification customization: Control which team members should receive notifications for different kinds of form entries.
File uploads: Drag and drop a file upload field to allow users to upload documents, images, and other media files.
Privacy compliance: WPForms gives you full control to ensure GDPR compliance with consent checkboxes and provides easy ways to delete your subscriber's information from your site upon request.
WPForms Pricing
WPForms is one of the most affordable contact form plugins for WordPress, starting as low as $39.50.
There are four different WPForms plans:
Note: These prices are for the first year of subscription only. Renewals are charged at the full price.
| | |
| --- | --- |
| WPForms Basic ($39.50) | Best for new websites that need essential tools to build and customize forms. Works on 1 store/site only. |
| WPForms Plus ($99.50) | Expands support for marketing integrations and automation, and can be used on 3 sites. |
| WPForms Pro ($199.50) | Offers the best value with tons of additional features, including payment fields, advanced addons, conversion tools, and more. Supports 5 sites. |
| WPForms Elite ($299.50) | Unlocks the complete range of premium WPForms features with premium integrations, site management tools, and supports unlimited sites. Best for developers, freelancers or agencies. |
Overall, WPForms provides excellent value for money, considering its huge feature set and functionalities. 
WPForms Support
WPForms puts great emphasis on customer satisfaction and the quality of customer support is proof. 
With an average response time of less than 60 minutes, WPForms is setting a high standard of customer service in the WordPress community.
Your support options include an extensive library of product documentation, reference materials, and video tutorials.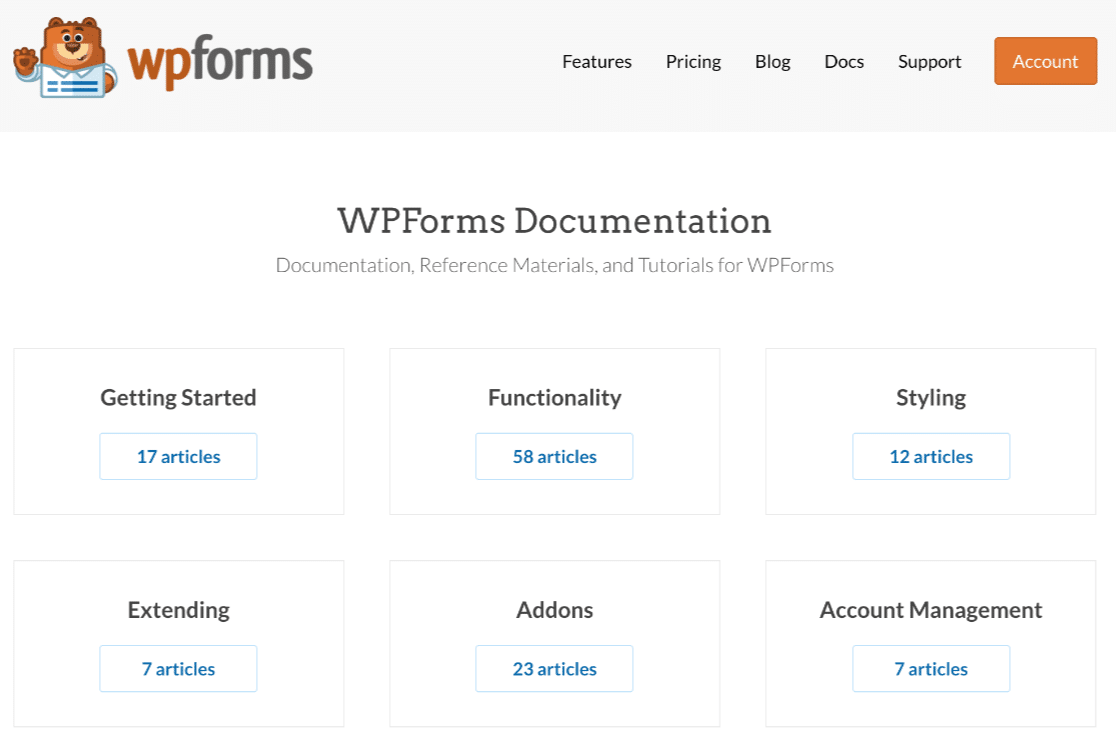 Above and beyond that, you can find help on WPForm's WordPress support forum, where the staff is always highly responsive and professional. You can also join the WPForms VIP Circle, which is a Facebook group for support and technical assistance. 
If that's not enough, then paid users also get the privilege of ticket support. Any issues and complaints you forward through tickets are evaluated by WPForms' technical specialists, who respond to your particular inquiry until your problem is resolved to your satisfaction.
Overall, WPForms has one of the best support departments on the contact form market.
Final Verdict: Is WPForms Worth It?
WPForms is one of those rare WordPress plugins that combine ease of use with powerful functionality. With so many valuable features, addons, integrations, and such a simple visual interface, we can safely say that WPForms is definitely worth it.
WPForms powers more than 5 million websites!
Even if you don't want the paid version of WPForms, you can still achieve a lot with WPForms Lite (which is completely free forever). But if you like the excellent form-building capabilities of WPForms Lite, you're more than likely to find WPForms Pro well worth the extra investment.
There's a 14-day risk-free money-back guarantee with all paid WPForms plans, so you can get your refund if you're not happy after upgrading your plan.
Conclusion
And there you have it! If you need to add forms to your store or website, we hope this review helps you decide if WPForms is the perfect fit.
We have plenty of great resources for entrepreneurs and digital creators! What do you want to learn about next?!
Be sure to follow us on Facebook and Twitter to learn more about WordPress and selling digital products.