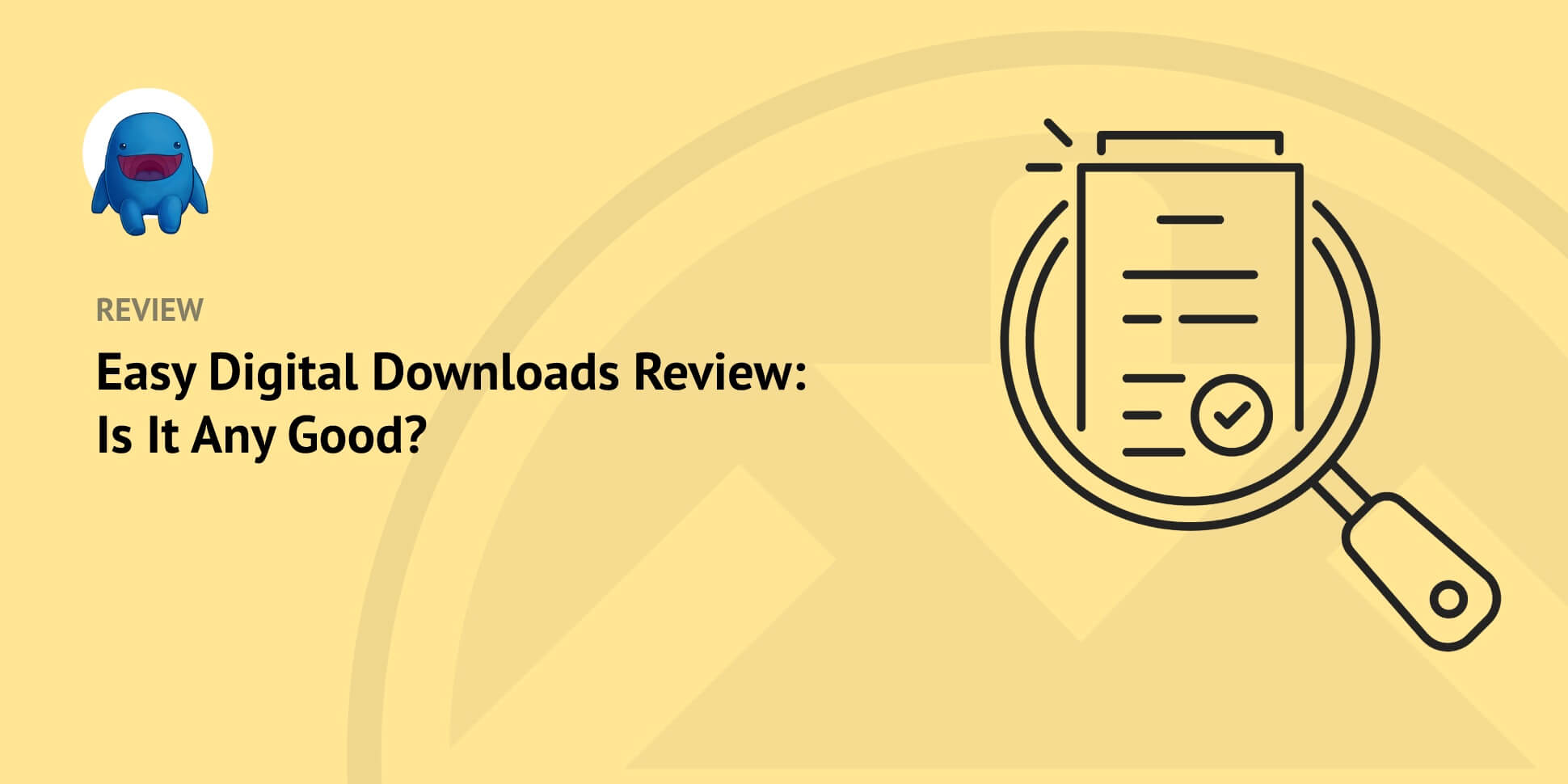 Are you looking for an Easy Digital Downloads review to determine whether it's the right solution for you?
We've got you covered. This popular and powerful eCommerce plugin comes with many features for selling digital products. Learning more about the plugin and how it works can help you to better understand how you can use it to increase sales, drive revenue, and take your business to the next level.
In this post, we'll cover:
What Is Easy Digital Downloads?

Easy Digital Downloads (EDD) is a WordPress solution that lets you sell digital products on your website. With the Easy Digital Downloads plugin, you can easily create and offer digital products such as:
Software
WordPress themes and plugins
Spreadsheets and templates
Photography
Music
Videos
Much more
It's a simple, lightweight solution that you can use to turn your small business WordPress website into a full eCommerce shop. Used by over 50,000 websites, EDD is an excellent alternative to other eCommerce platforms such as Etsy, Shopify, etc.
What Is EDD Good For?
Easy Digital Downloads is good for anyone who wants to sell digital products on their website, especially if you're a WordPress user. If you have a product that you want to sell online, EDD makes it easy.
You can use it to quickly add digital products to your site and accept payments from major credit cards, PayPal, and other payment gateways.
WooCommerce is one of the most popular eCommerce plugins available to website owners. However, where WooCommerce focuses primarily on physical products, Easy Digital Downloads is geared toward selling digital goods and downloads.
When you use EDD, downloads are automatically delivered to your customers. It integrates seamlessly with WordPress and has a plethora of extensions and add-ons that you can use to extend its core functionality and features.
EDD Review: Getting Started & Ease of Use
When searching for Easy Digital Downloads reviews, many people look to learn about the plugin's usability. One of the main draws of it is how easy it is to use, regardless of your experience level.
It's clean, organized, and simple to navigate, making it both beginner- and user-friendly. The free, core version comes with all the basic tools you need to start your digital online store. You can install and activate it the way you would any other WordPress plugin (Plugins » Add New):

You can also purchase a premium plan (the recommended option) to get access to the full suite of extensions, features, and tools. Once installed and activated on your site, you can set up your payment gateway by going to Downloads » Settings » Payments: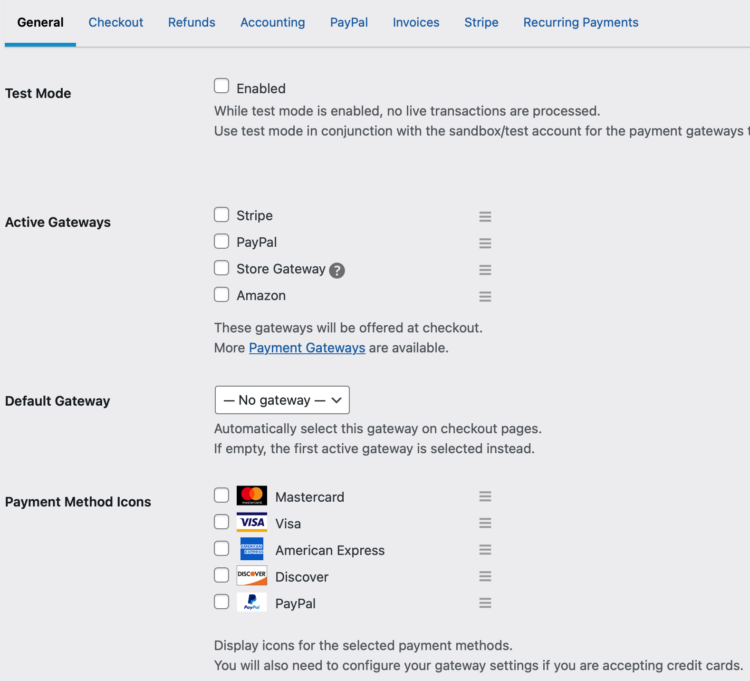 From your WordPress dashboard, you can add new products by going to Downloads » Add New: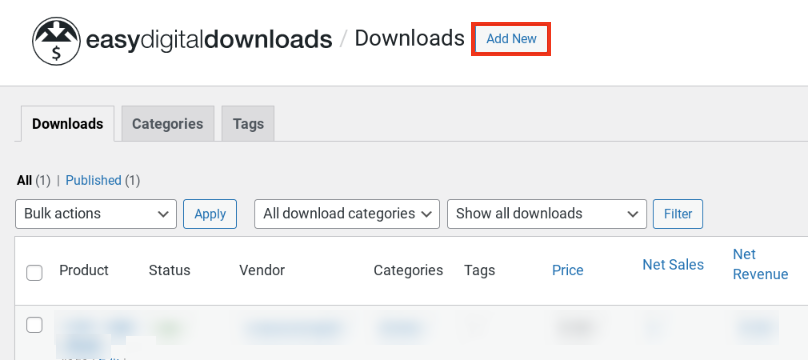 On this screen, you can add a title, description, image, price, and much more. There is also a Download Stats box that shows you the number of sales and your total earnings: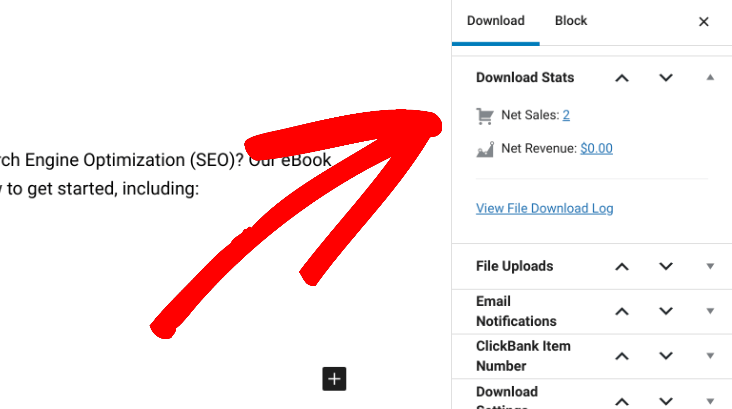 Easy Digital Downloads Review: Key Features
As such as a powerful plugin, there are a lot of features to discuss in an Easy Digital Downloads review. In the next sections, we'll take a closer look at some of its main offerings that you can expect, including:
1. Full Shopping Cart
With EDD, your customers will be able to use the complete shopping cart system to purchase multiple (or unlimited) downloads. The cart elements are cleanly designed, making it easy to use and understand.
You can build custom checkout forms (Downloads » Checkout Forms) using conditional logic and the drag-and-drop builder:

You can support registered user or guest checkouts and automatically redirect customers to checkout. There's also an option for enabling cart saving. This setting creates a unique, temporary link to a customer's cart. It lets them bookmark it to come back to it later or share it with someone else.
2. Flexible Payments
Another benefit of EDD is the variety of payment methods it supports. Within minutes, you can begin accepting credit card payments via:
You can also set up recurring payments and variable prices on your downloads: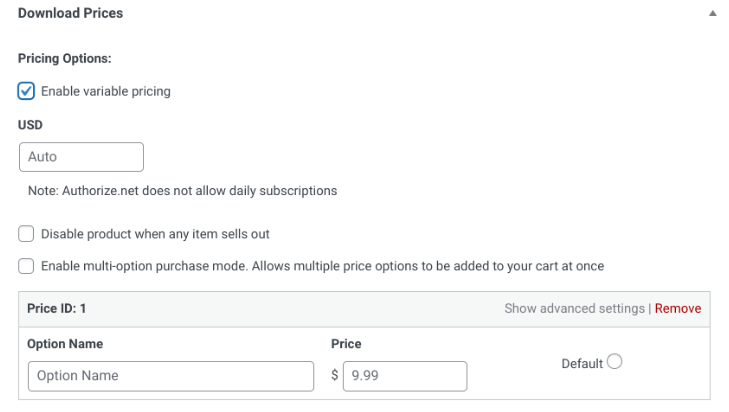 These options come in handy when you want to create a membership site or have multiple versions of a digital product to offer.
Thanks to automated billing, you also won't have to worry about keeping up with invoices or renewal reminders. Your customers will be able to manage their own subscriptions using the customer account page.
3. Discount Codes
If you want to encourage customers to make purchases through your store, you can take advantage of discount codes. EDD discount codes (Downloads » Discounts » Add New) are easy to create: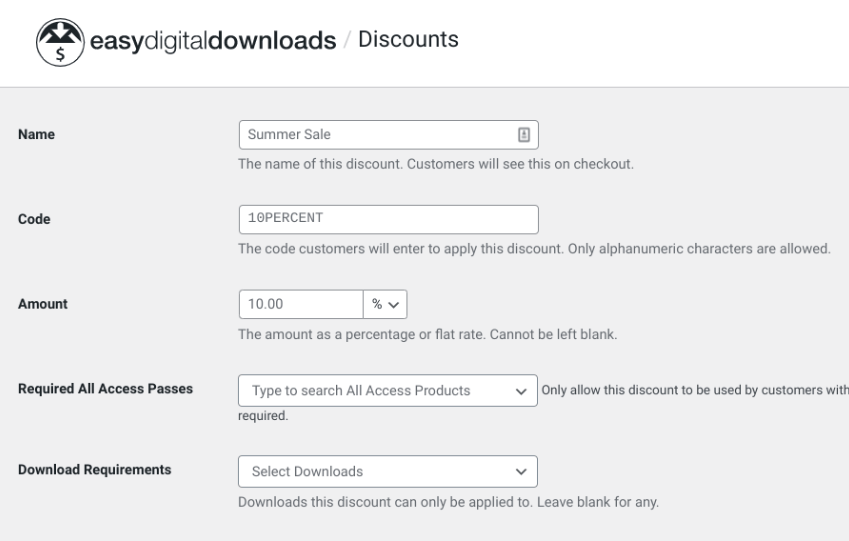 You can choose between a flat rate or percentage, add a short, unique name, and share them across multiple platforms, such as email and social media.
The plugin also lets you set a minimum amount that shoppers need to reach before they're eligible for or able to use the discount: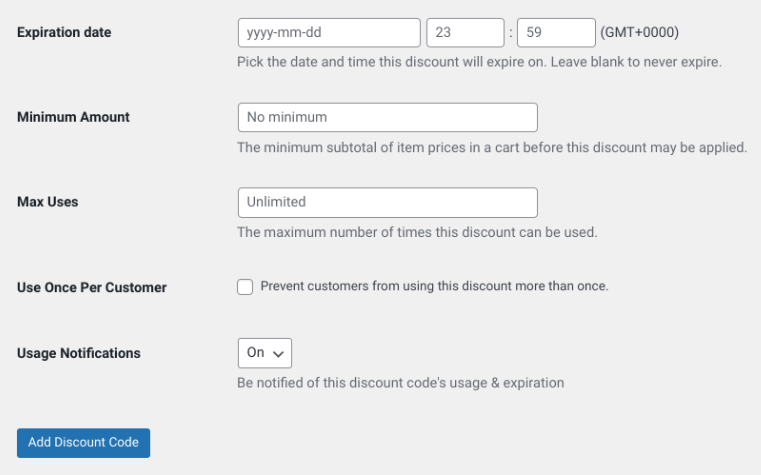 Additionally, you can set a limit on the number of times each customer can use a discount code.
4. Full Data Reporting
When you're running an eCommerce website or online business, accurate bookkeeping is essential. Fortunately, Easy Digital Downloads offers full data reporting that includes built-in features for viewing key stats, creating custom reports, and monitoring all aspects of your store, including downloads, earnings, and sales: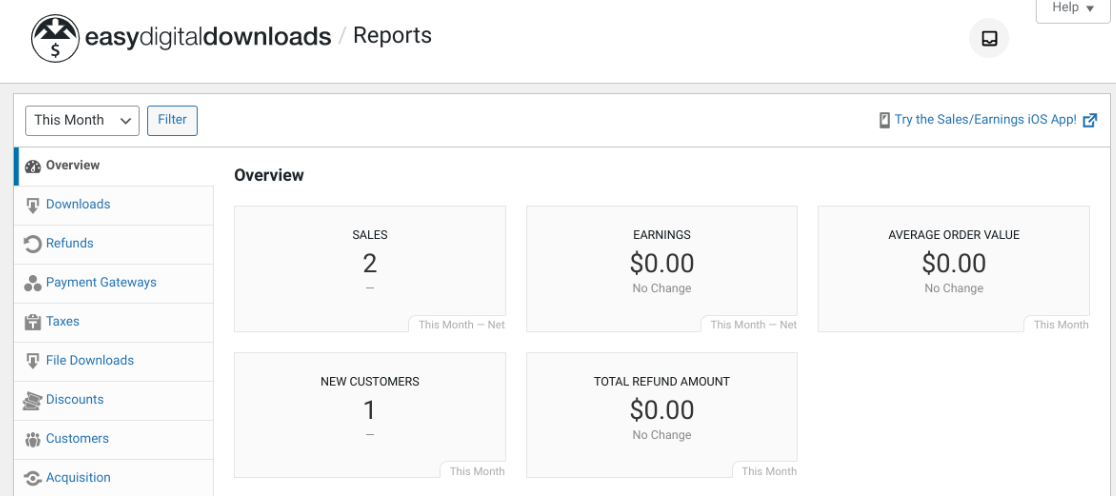 You can filter reports by dates and products and export the store data to CSV files. EDD keeps a separate record for each of your customers. So you can view, edit, and manage these records at any time directly through the backend of your site.
5. Extensions & Integrations
It's near impossible to provide an Easy Digital Downloads review without mentioning the plethora of extensions, add-ons, and integrations it offers. EDD comes with a ton of extensions that can help you grow your business: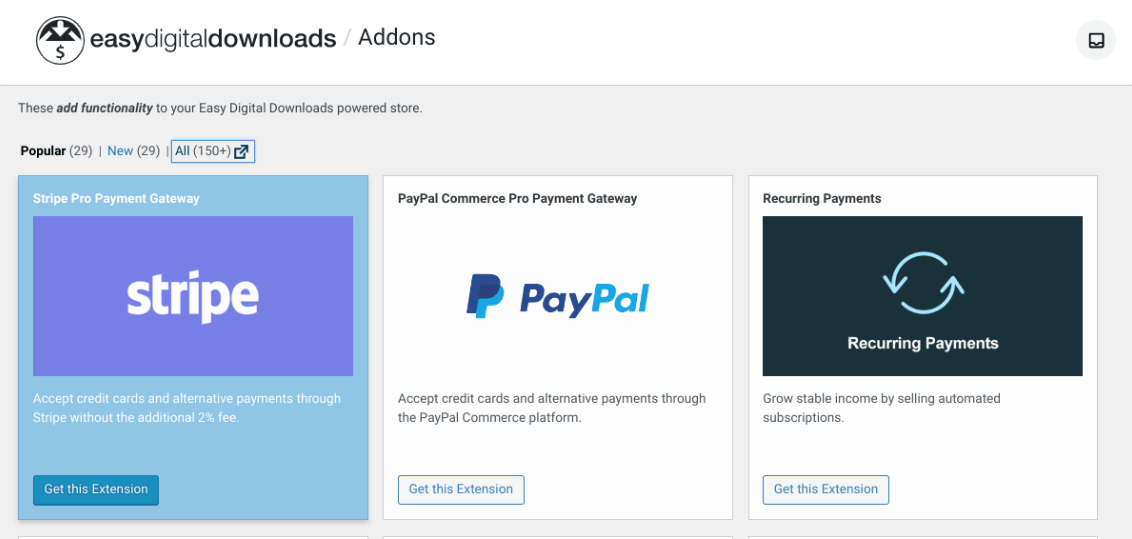 This includes options for:
Adding payment gateways
Collecting customer reviews
Sending purchase receipts
Managing email marketing campaigns
Growing your subscriber list
Starting an affiliate marketing program
Creating software licensing
And much more
The extensions also include a wide range of options for other popular tools, services, and plugins. For example, there are addons for Mailchimp, Dropbox, Slack, Amazon S3, etc.
There are also free and paid options. You can grab an EDD All Access Pass to unlock access to the entire catalog of extensions for your eCommerce site.
EDD Pricing
Finally, let's get into pricing and costs. Easy Digital Downloads offers a free version. The core plugin comes with the key tools needed to create your store and start selling digital products. The free version of EDD supports Stripe, PayPal, and Amazon Payments.
There are also four tiers of premium plans to choose from. The All Access pass gives you unlimited access to all that the plugin has to offer. The best option depends on the type of features you need and how many sites you want to use the tool on.
You also get a 100% no-risk, money-back guarantee.
EDD Support
If you're new to WordPress or eCommerce, solid customer support is probably important. Easy Digital Downloads is backed by a large and knowledgeable community of developers and WordPress experts.
Premium plans include plugin updates and email support. Also, you can open a ticket with the support team anytime and manage your subscription through your account dashboard.
You can also find a wide range of documentation, tutorials, and guides on the EDD website.
Easy Digital Downloads Review: Final Verdict
Overall, EDD is an impressive eCommerce plugin that is perfect for WordPress users wanting to sell digital products. It's user-friendly, affordable, and reliable.
This Easy Digital Downloads review discussed many of its core features and offerings. However, there are also many other aspects to appreciate about it. If you're interested in learning for yourself how EDD works and how it can help you grow your business, you can sign up for a plan to get started today!
Be sure to subscribe to our newsletter or follow us on Facebook and Twitter to get our latest resources for digital creators.